With its close proximity to Naples and Capri, incredible outlook over the Bay of Naples, top quality hotels, and historical and cultural significance, it's no wonder Sorrento is a popular destination for those visiting the Amalfi coast. As a compulsory stop on the 19th-century 'Grand Tour' famous faces have been visiting the town for decades. This interest was first piqued thanks to the poet Byron, whose penchant for romance can only have been fuelled by this picturesque place. Read on to find out more about The Luxury Editor's pick of the best luxury hotels in this charming Italian resort…
Bellevue Syrene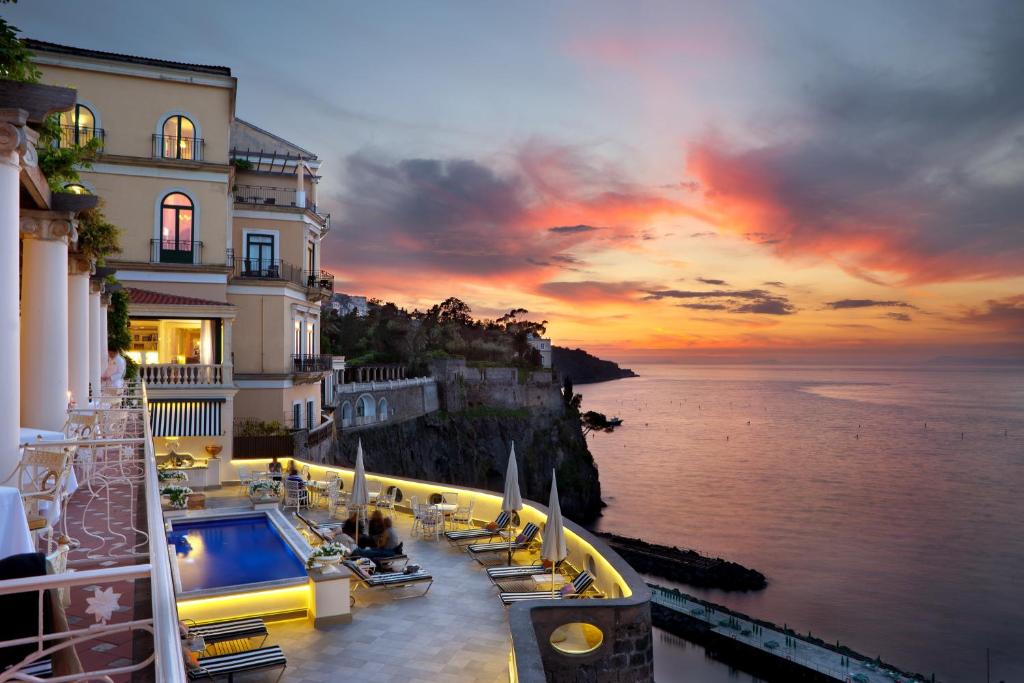 According to legend this hotel is built on a site which was once home to sirens, dangerous creatures who lured nearby sailors to shipwreck on the cliffs with their enchanting music and voices. Whilst you may see some beautiful people with flowing tresses around the hotel, it's more likely the jet set and Hollywood A-listers these days. This flamboyant hotel is brilliantly OTT in a truly classic Italian way. Interiors are bold and vibrant, taking inspiration from the natural beauty of the surrounding Sorrento. The hotel's not short on facilities either with a spa, a gym, manicured gardens, a library, a sunbathing platform, a restaurant, a bar, and a club lounge all on site. We would recommend the Superior Sea Rooms for their sophisticated Italian elegance, opulent chandeliers and antiques, and of course, those incredible views over the Gulf of Naples.
Maison La Minervetta
Arguably one of the most stylish hotels in the area, we love this boutique hotel for its refreshing, breezy feel, perfect for escaping that Italian heat. Located right above Sorrento's original fishing port, hanging onto the cliffs, La Minervetta is owned (and designed) by architect Marco de Luca and has the perfect contemporary nautical look for your ideal summer, seaside retreat! Walls are painted white throughout, whilst hand-painted Vietri tiles and colourful, vibrant ceramics and textiles really make the rooms pop. Many of the rooms have huge picture windows offering unrivalled scenes of the Gulf of Naples whilst open-plan public spaces with comfy sofas offer plenty of opportunities to sit back and relax. This hotel truly feels like someone's (very stylish) seaside home, with the added luxuries of a sun terrace, a bar, a pool and a small whirlpool tub.
Parco dai Principi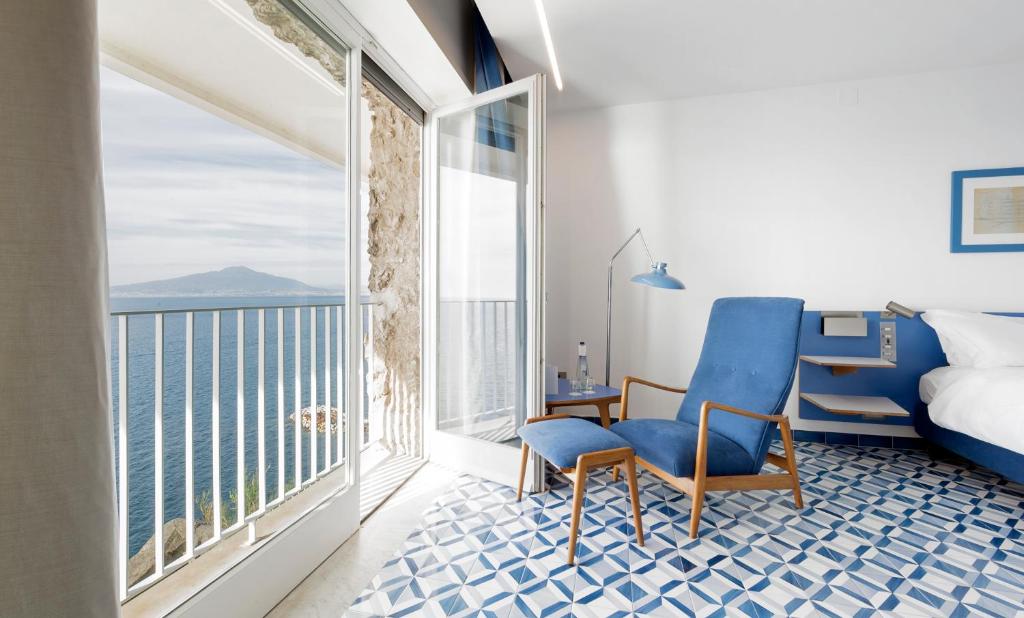 A shrine to Italian modernist icon Gio Ponti, the Parco dei Principi opened in 1962 and retains many of the hotel's original features. It may be outside the centre of the town, but this allows for true peace and quiet alongside incredible views and space for some fabulous facilities. The hotel boasts a private beach accessed by a tunnel through the cliff rock, an amazing salt water pool, the Gio Ponti restaurant with floor the ceiling windows of the sparkling gulf, a three-hectare botanical (and very romantic) garden featuring many rare plants, plus a lounge bar and high spec gym. Like many properties in the area, the land on which the hotel sits has some cultural and historical importance too as it belonged to the King of Naples, Ferdinand IV of Bourbon, who acquired the land in the 18th century to build a stunning villa for his cousin. The current building designed by Gio Ponti is a stunning example of the architect's modernist work, a structure rooted in the earth, inspired by the ancient villa and the Sorrento coast. Inside, this inspiration continues through a 1960s-aesthetic mixed with blue and white tones influenced by the local natural beauty. Some may find the extensive cubism and cool colour scheme too minimal, but we think it makes for a very tranquil atmosphere throughout.
Palazzo Jannuzzi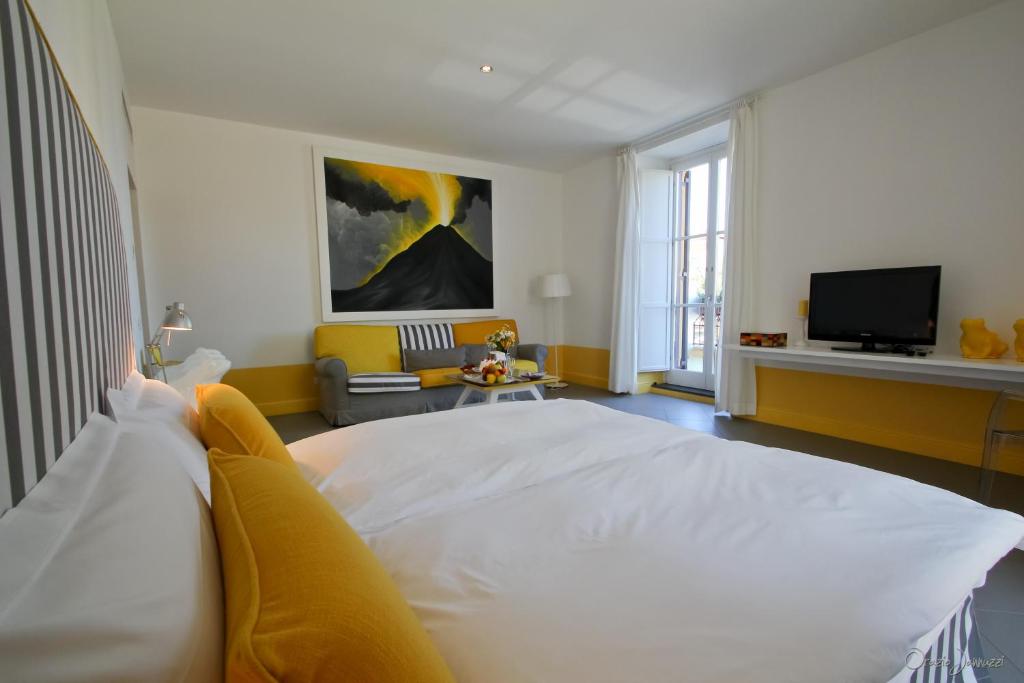 Situated slap bang in the middle of Sorrento town on the Piazza Tasso, Palazzo Jannuzzi has been a family owned hotel for years and offers warm and welcoming hospitality. From here, everything is within easy walking distance so no need to worry about transportation, and whilst the hotel is small and doesn't offer a restaurant, you are so central, this doesn't pose a problem. With just 12 spacious guest rooms all decorated in cheerful, vibrant, yellow tones offset with contemporary black, white and grey, the rooms at Palazzo Jannuzzi are bound to put anyone in a positive mood! Rooms are spacious, clean and modern with Mediterranean touches and tall French windows leading onto terraces and balconies. Whilst the hotel is compact and facilities are limited, it does boast a generous rooftop terrace, sunny public areas, a small but tranquil sitting area, and a reception open 24 hours a day.
Grand Hotel Excelsior Vittoria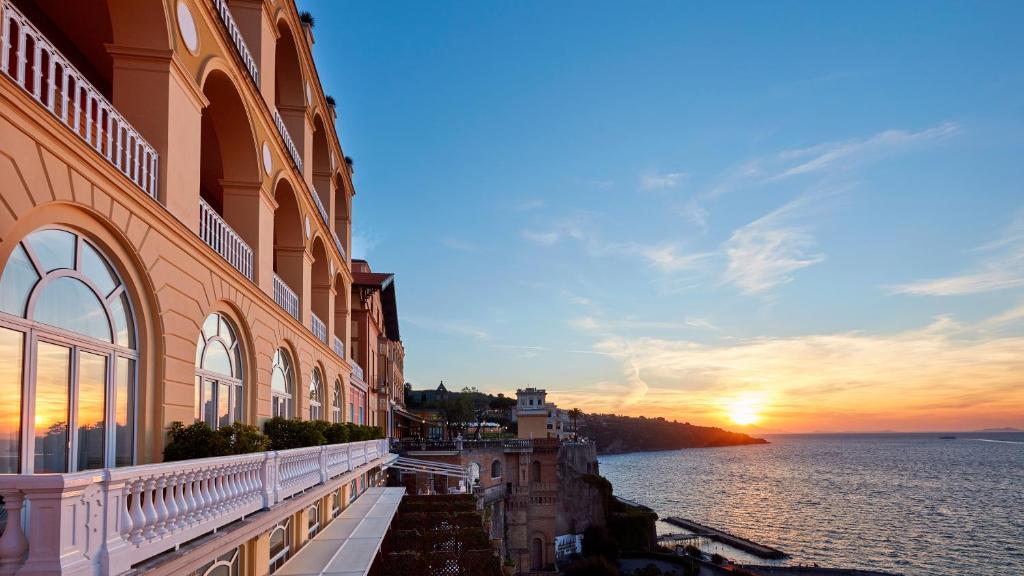 This 180-year-old 5-star hotel features 84 rooms and suites each unique in design with original period furniture and many with almost unbelievable seafront views. Originally founded by the Fiorentino family in 1834 as the Amalfi Coast Hotel, the hotel has had a long tradition of upholding warm Italian hospitality and this amazing service is still at the forefront of the business today. The location, on a high cliff near Sorrento town centre, is supposedly meant to be the site of Roman Emperor Augustus' Amalfi coast villa. The property is surrounded by lush greenery and gardens, whilst the hotel also boasts a spa, a pool, a Michelin-starred restaurant, and a top of the range gym. In terms of style, its elegant with a twist of opulence. There are plenty of original features including marble floors, stucco cupids above doorways, and intricate metal fretwork, whilst furnishings are also pretty traditional. Rooms are peppered with antiques, classical busts and ornamental vases. This one is truly fit for an emperor.