The Scandinavian nation boasts wonderful holiday opportunities for the discerning traveller. Its capital, Stockholm, serves as a fascinating, stylish and hip city break destination, as do many of its other coastal cities, like Malmö and Gothenburg. Sweden's far northern climes provide glimpses of the Northern Lights in season, as well as winter wonderland landscapes, while the many islands and rural regions offer a slice of serenity. Renowned for its friendliness and progressive attitudes, it's an easy place to travel. So whether you plan on touring the country, or staying in one place, here are the best hotels to book while in Sweden. 
Nobis
With old charm style, Nobis encompasses two 19th century buildings and is situated close to Stockholm's exclusive shops and bars. Classic architecture sits artfully alongside the buzz of Stureplan nightclub district as well as the city's theatres. Accommodation benefits from air conditioning and modern designed rooms, with added luxurious touches like marble bathrooms. Home comforts include flat-screen TVs, DVD/CD players and free Wi-Fi. State of the art leisure facilities features a gym for morning workouts, with a steam room/sauna to wind down. Guests can savour cocktails in the golden mirrored opulence of the Gold Bar. Foodies will love the fine cuisine served in Restaurant Noi and Italian dishes in the Bistro.
Grand Hotel
A short walk from the beach, the Grand looks onto the Royal Palace and is close to the Old Town and Central Station. Luxury defines the Grand, boasting haute cuisine and waterfront views. Air-conditioned rooms feature minibars, LCD TV with satellite and 24-hour room service. The Nordic spa is well equipped, including a heated pool and a range of beauty therapies. Guests can dine in the Michelin starred Matbaren restaurant, while Rutabaga serves delicious vegetarian cuisine. The Cadier Baren offers a la carte breakfasts and lunches, as well as popular cocktails. Chauffeur-driven limousine transfers are also available to guarantee a hassle-free city break.
Rival
Based in Sodermalm, this stylish Art Deco hotel enjoys a verdant location in Mariatorget Square. Accommodation features luxurious beds with Egyptian cotton linen, and the rooms display scenes from vintage Swedish cinema. Every modern convenience is available, including iPhone docking stations and flat-screen TVs with Blu-ray. Free Wi-Fi access comes as standard. Reception provides gratis DVD rental, and there are free hot refreshments with biscuits available day and night. The Bistro serves traditional cuisine complemented by a premier wine list, and Rival's bar is an elegant backdrop for enjoying a cocktail.
At Six
Centrally based, this up-to-the-minute hotel is within walking distance of exclusive shopping districts and Stureplan nightclub area. Rooms provide coffee and cocktail making facilities, plus flat-screen TVs with streaming options. Guests can enjoy rain showers or tubs, with luxurious organic toiletries. Drinks are served in the wine bar's outdoor terraced area during the summer, and sampling the hotel's enticing punch bowls is recommended. Relaxing brunches are available at weekends, while afternoon teas are served throughout the week. The on-site bakery produces delicious bread and pastries. Guests relax in the listening lounge, checking out weekly music events showcasing new artists.
Freys
This family-run hotel, only several minutes from Central Station, features the Belgobaren with its almost 300 Belgian beers. Accommodation is designed in bright, modern tones, rooms equipped with cable TV, plus free Wi-Fi as standard. Guests can enjoy a laid-back room service breakfast, while the restaurant serves mouth-watering classics including marinated mussels. In warmer weather, guests can dine on the restaurant's street side terraced area. There are free sauna facilities, the hotel is environmentally responsible and is rightly proud of its Green Key eco-certification. Nearby are popular shopping areas and attractions, with friendly staff happy to recommend interesting places to visit.
Berns
Located less than 15 minutes from the beach, Berns is an upmarket, boutique hotel near Nybrokajen Harbour. This distinguished building boasts a historic dining area, and there is a Scandinavian travel shop in the lobby. Rooms are decorated with individual flair and placed in nine categories as an interesting touch. Since the 19th century, Berns has had an excellent reputation as the place to chill and be seen. Hotel guests can enjoy access to the LE! nightclub which is adjacent to one of the hotel's eateries. It is only a short walk to Stureplan, for indulging in luxury shopping and vibrant nightlife. Berns Asian serves the finest cuisine from that continent, brunch through to dinner, while the Bistro offers intimate, Gallic charm – a seasonal menu is washed down by the best wines encompassing most French regions.
Lydmar
Near to the beach, this elegant waterfront hotel has views of the Old Town and Royal Palace. Accommodation is airy and spacious, rooms individually designed and complemented by wooden flooring. All modern amenities are provided including air conditioning, TV and minibar, with Wi-Fi free as standard. The hotel has beautiful surroundings of note, featuring authentic stucco plasterwork, wooden beams and lofty windows. The restaurant serves haute cuisine, including escargots, steak and freshly caught fish. Guests can enjoy a chilled beer or glass of wine on the terrace during the summer months. Boat tours are accessible from the nearby Stromkajen Harbour, with the Stureplan shopping and nightlight district a few minutes away. Helpful staff can assist with recommendations for sightseeing and excursions.
Gothenburg
Dorsia Hotel & Restaurant
Regal and theatrical, Dorsia is a palatial five-star property decorated in Belle Époque style. The stunning decor is like something from a film or fairytale and each of the 37 bedrooms is completely individual. However, this is a place for adults, a central retreat conducive to romantic getaways and single travellers (rooms for one are available). Bold colours, rich fabrics, heavy drapes, velvet couches, shimmering mosaic tiling, oil paintings and large potted plants are found throughout the boutique establishment that's a member of the Small Luxury Hotels of the World. Guests can dine on tasting menus in the glamorous restaurant, and imbibe on its rooftop terrace, choosing from a large choice of vintage vinos stored in the Dorsia's cellar.
Upper House Göteborg
Perched between the 18th and 25th floors of one of the striking Gothia Towers, this hotel overlooks the Liseberg theme park. Take in the view from the base of the outdoor pool – it has a transparent floor providing a most unique vantage point. The impressive views don't end here, although they are otherwise in the more traditional form of picture windows. There are two further pools inside, as well as a spa with a hammam and gym. The Michelin starred restaurant is a real highlight – allow several hours and an empty stomach to work through the extensive and creative tasting menus. Or you have the option to order single dishes from the bar, as well as room service.
Åre
Copperhill Mountain Lodge
Found just outside of the city, in Åre, this Alpine-style design hotel is perfect for those wanting to ski, hike, or indulge in an extra special spa break. It's the work of acclaimed designer Peter Bohlin whose past projects have included flagship Apple stores, and Bill Gates' own home. Copperhill's wonderful Level Spa & Health Club provides access to indoor and outdoor hot springs, an indoor spa pool, sauna and a gym, with majestic views of Åreskutan. Rooms range from doubles through to large suites with kitchen facilities catering for groups. Guests staying here have the option to book a helicopter transfer service. 
Harads
Treehotel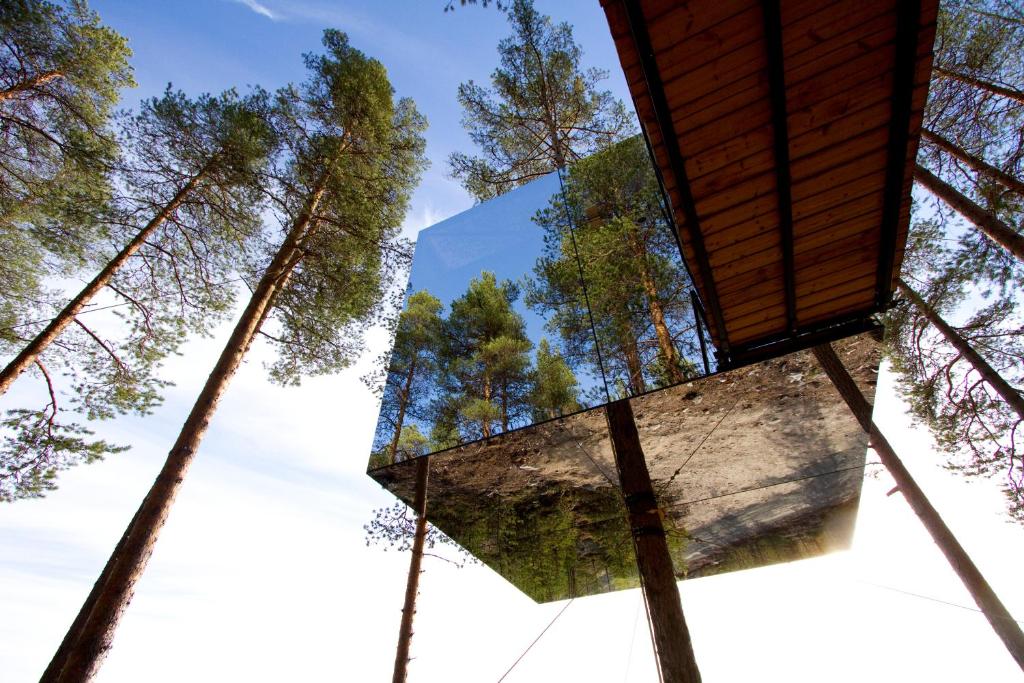 Live your childhood fantasies in reality when you stay at the magical six-bedroom Treehotel. Climb a ladder to your very own simple, yet cosy, den in the sky. Then cross the floating bridges to Britta's Guesthouse (Britta and Kent are the owners) where you can access the shower blocks, saunas – including one in the woodland itself -, a jacuzzi, open-air hot tub, restaurant and 'community' kitchen. If you'd rather not leave the confines of your treetop hideaway, you can order hot and cold platters to the door. And you have environmental peace of mind staying at Treehotel, as this is an eco-friendly resort. 
Västerås
Steam Hotel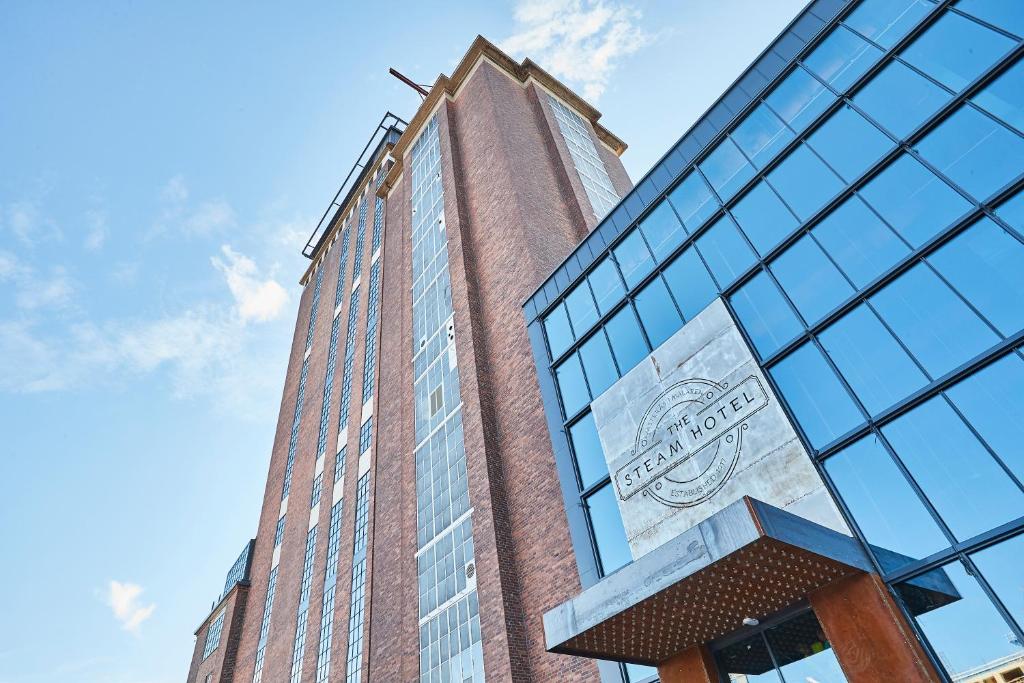 Located on the shores of Lake Mälaren in Westeros, around an hour from the capital, this century-old building was originally a power plant – the industrial styling of the hotel reflecting its past life (an old steam boiler has been repurposed as one of the bars). 264 rooms are spread over the 18 floors of the Steam Hotel. The Voltage Lounge is the spa area with bars, a thermal experience, a funky pool club and a pan-Asian raw bar. The main restaurant, Chamberlin, is a sophisticated chandelier-lit urban eatery with bench and velvet banquette seating. Drinks are served on the art deco style rooftop by lanternlight, with views across the lake.