This mountainous country may be diminutive but ranks as one of the most innovative nations on earth. In addition to its stunning Alpine towns and villages, cities like Zurich, Geneva and Vienna boast incredible architecture and a consistently high standard of living. The home of Heidi and birthplace of the Red Cross is also famed for its lavish chocolatiers and expert horologists. Whether you enjoy bijou boutique hotels, majestic properties frequented by celebrities, or glitzy spa resorts, we have the lowdown on the finest Swiss accommodation. 
The Chedi Andermatt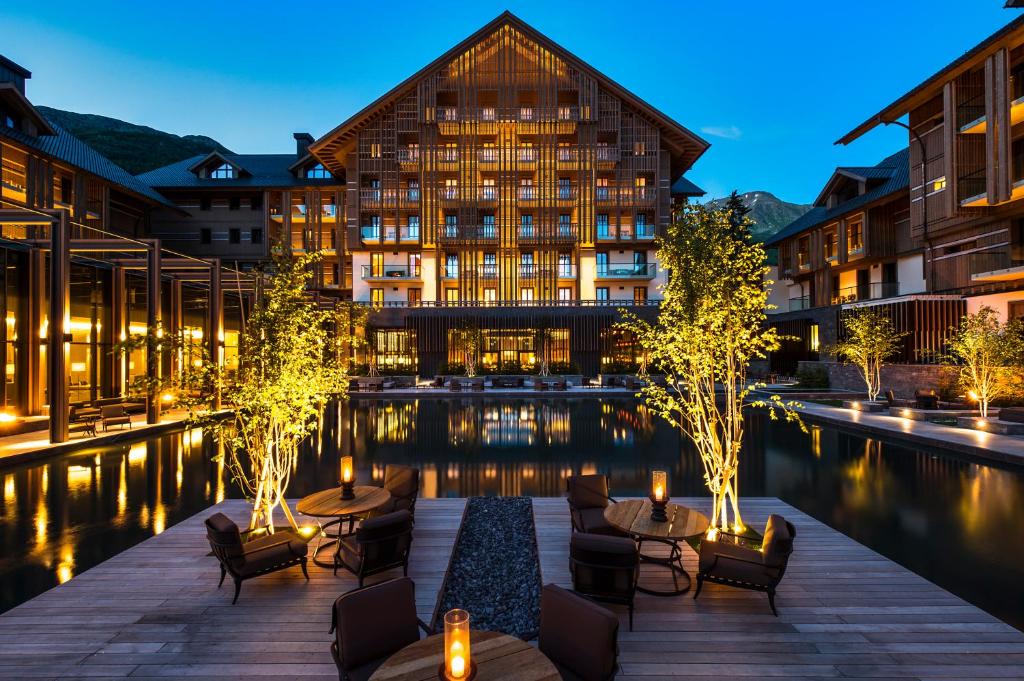 Experience a slice of Asia in the Alps, with a stay at The Chedi Andermatt. Paper lanterns and Balinese art are mixed alongside modern wood panelling, oversized ski prints and open fire pits. Following its theme, the hotel's Michelin starred restaurant serves authentic Japanese cuisine (the sushi is wonderful), alongside Swiss dishes. A 35-metre swimming pool and a hydrothermal area are found in the spa, as well as a heated outdoor pool. Rooms feature Hästens boxspring beds and contemporary electric fires. The hotel sits in the shadows of the Gemsstock, nearly 1500 metres above sea level – guests can take the dedicated ski bus from its door, just a few minutes along to the mountain's gondola. meanwhile, your 'ski butler' will take care of passes, heat your boots and provide slope-related advice. 
Hotel Villa Honegg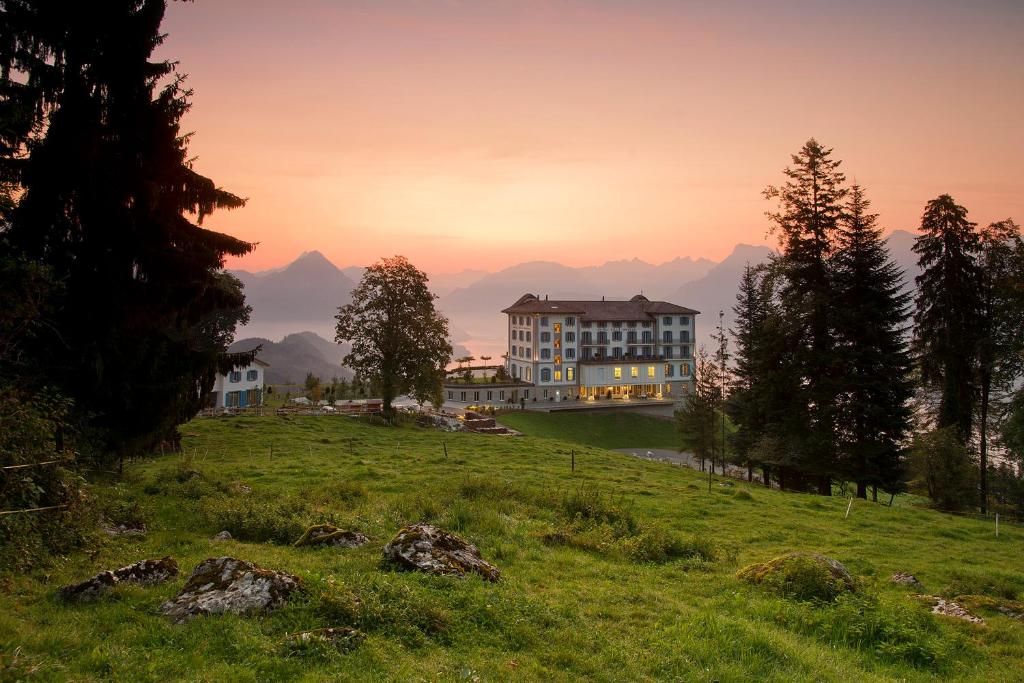 Accommodating just 23 rooms (most of which have balconies), this turn of the 20th-century villa perched on Mount Bürgenstock, offers intimate luxury. There's a private cinema, wellness area, indoor swimming pool and year-round outdoor infinity pool, which overlooks Lake Lucerne and the towering range of mountains beyond. The hotel provides complimentary electric bikes for guests' use, plush terrace loungers for sunny days, a shuttle service and access to its golf course. Award-winning London designers have refreshed the interiors, while the exterior is reminiscent of the Art Noveau era. Each room is completely unique and comes with extravagant Hermes toiletries. 
LeCrans Hôtel & Spa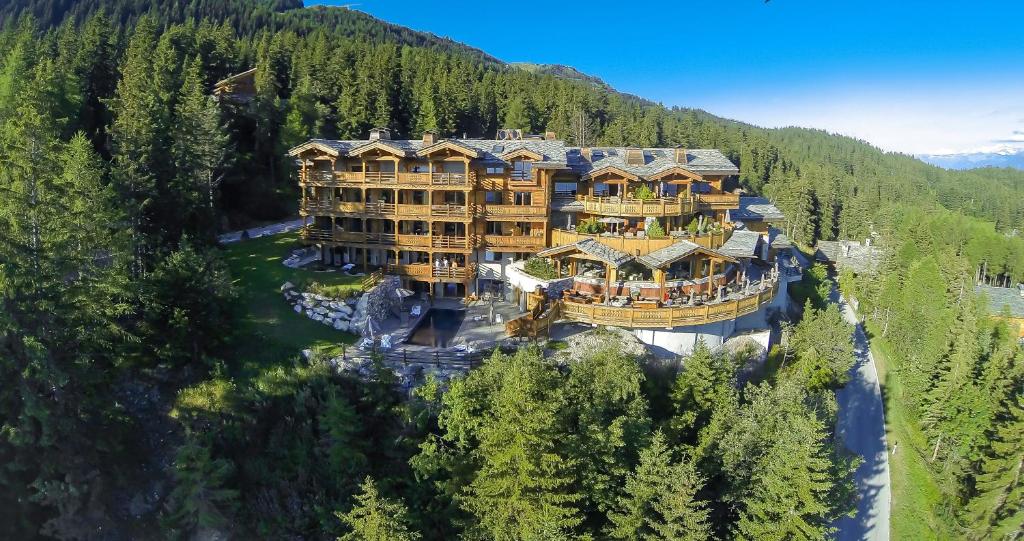 If you're jetting off for an exclusive winter sports break, consider LeCrans Hôtel & Spa. Guests can ski in and ski directly out of the chalet, which is located in the Valais region. LeSpa Cinq Mondes affords incredible views, not least from the heated outdoor pool. At mealtimes, there's Michelin starred cuisine served in the Le Mont Blanc restaurant, created by Executive Chef Pierre Crepaud, and a Cigar Lounge for after-dinner drinks. Eight suites and seven rooms – each themed around mountains of the world – make it ideal for large groups travelling together and seeking privacy. 
The Dolder Grand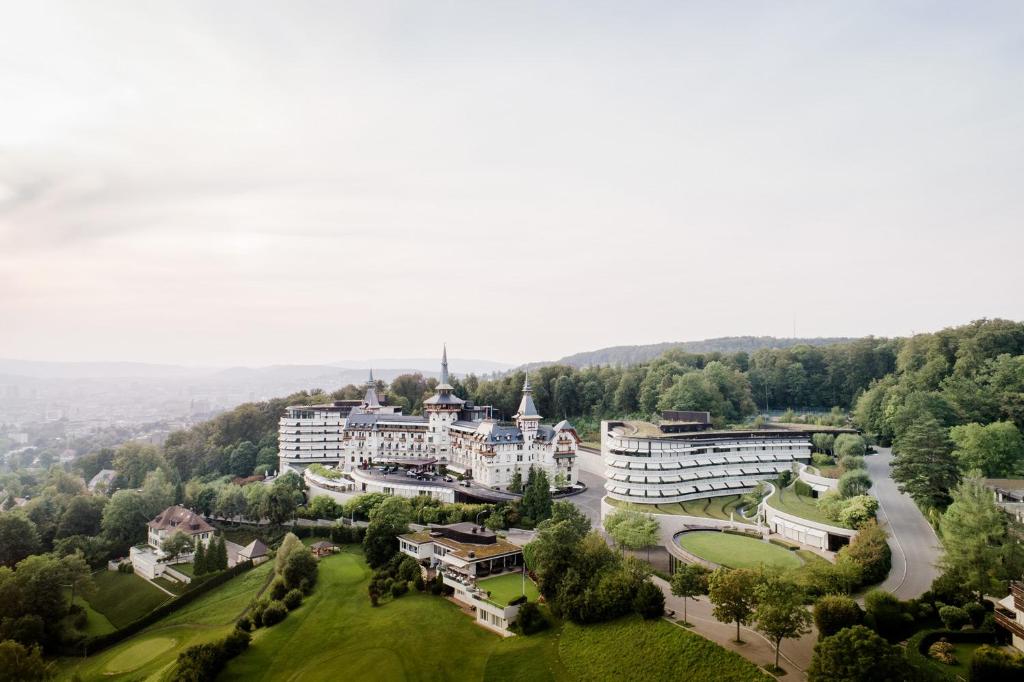 A city break in Zurich is made all the more enticing, with a stay at this turreted, Belle Époque, landmark hotel. Overlooking the lake and surrounded by woodland, it's a ten-minute shuttle ride into the heart of the action. The decor is ornate and classy – an 11-metre Andy Warhol artwork adorns the lobby,  along with grand columns and glittering chandeliers. Facilities in the complex include a tennis court, golf course, ballroom, enormous spa and even an ice rink during the winter months. Past patrons have included the likes of Roger Moore, Sofia Loren, Nelson Mandela and Elizabeth Taylor. So you'll be in good company when you book a room here. 
Hotel Splendide Royal Lugano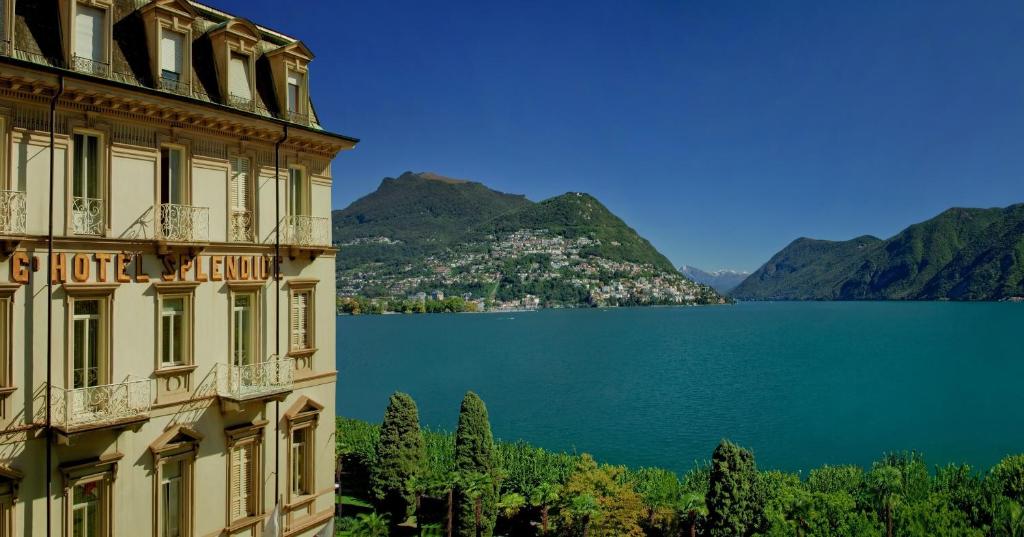 Bring your pooch along for some VIP treatment, when you holiday at the Hotel Splendide Royal Lugano. Part of the Roberto Naldi Collection, the Belle Epoque venue's lakeside building was once a palace. Found in one of the country's most popular tourist towns, a shoppers' paradise is but a ten-minute walk from the hotel's front door. It has a total of 93 rooms, a concierge service and welcomes families, with a babysitting service available on request. Italian dishes are served with a waterside view, at the hotel's La Veranda restaurant. 
Hotel Les Trois Rois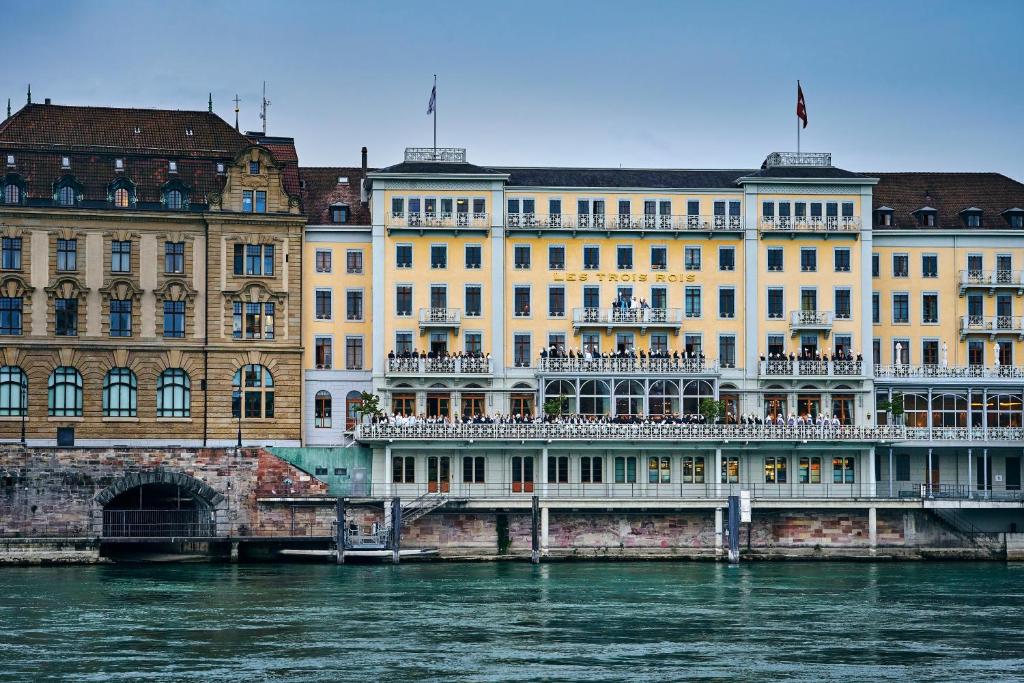 Beside the Rhine River in the picturesque Old Town area of the city of Basel, lies Hotel Les Trois Rois. It was here that ships docked to offload salt in the Middle Ages. Napoleon, Queen Elizabeth II and Pablo Picasso have all graced its rooms with Baroque trimmings, gilt and frescoes. The esteemed Cheval Blanc restaurant has been awarded 3 Michelin stars for its haute cuisine, and there's a chic waterfront terrace for drinks and lighter meals. An extensive wine list has evolved from the hotel's cellar, which contains over 800 vintages.  
Victoria Jungfrau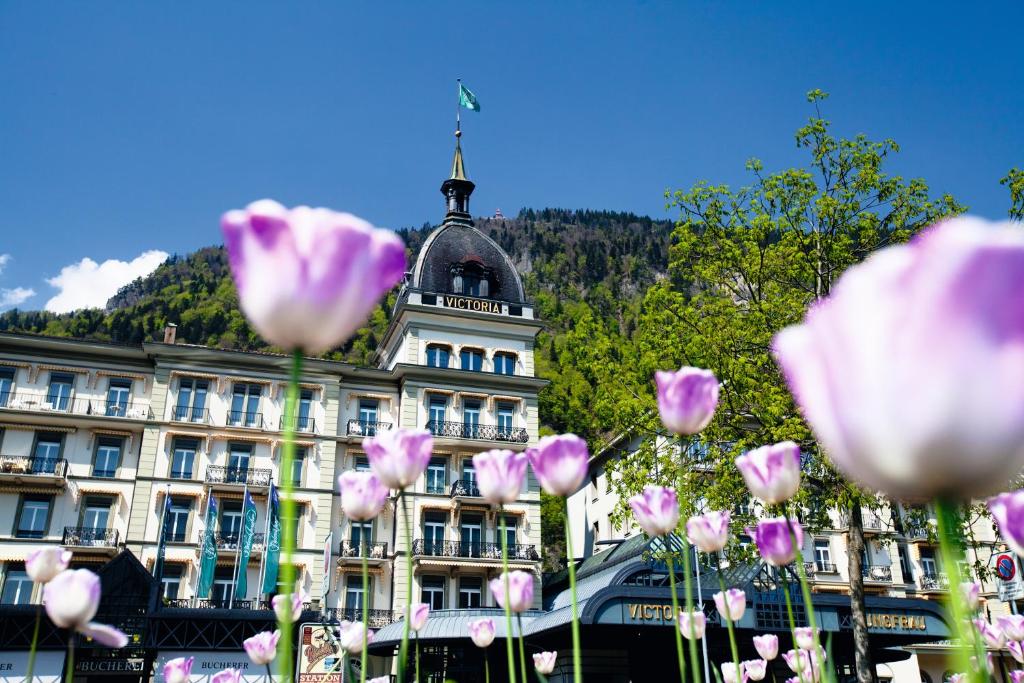 The late 19th-century country hotel used to be two separate buildings, before merging to create one large residence with 224 rooms and suites. It now accommodates two restaurants, a champagne piano bar, six tennis courts, a vaulted indoor pool, fitness suite, atrium, outdoor saltwater pool and the 5500 square metre Spa Nescens. Anti-ageing treatments and health diagnostics from medical specialists are a draw, along with its cosmeceutical procedures and SENSAI treatments. Victoria-Jungfrau can be found in Interlaken's Bernese Oberland and takes part of its name from the continually snow-capped Jungfrau mountain. 
Villa Orselina – Small Luxury Hotel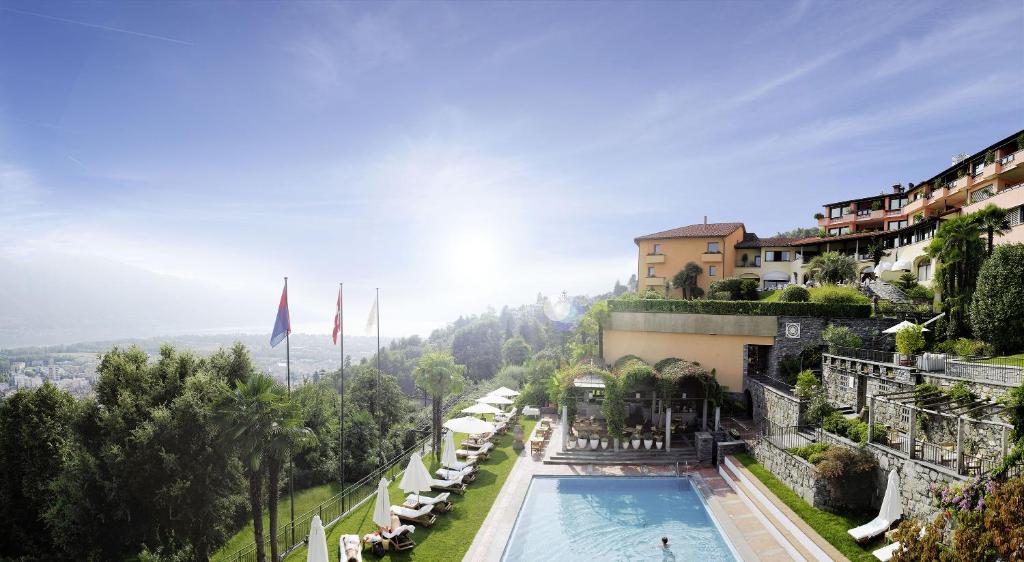 Overlooking Locarno and Lake Maggiore, this boutique residence is within strolling distance of the centre, yet pleasantly tucked away. Tennis courts and an outdoor pool are found on its grounds, while a spa (offering optional alfresco treatments) and indoor swimming pool lie within. Guests can borrow the hotel's electric bikes, or take its boat for a jaunt on the lake. And there's a golf course next door. Picnics baskets or packed lunches are provided on request, but there are two all-day fine dining establishments on site too. Pets and children are made most welcome. 
Park Hotel Vitznau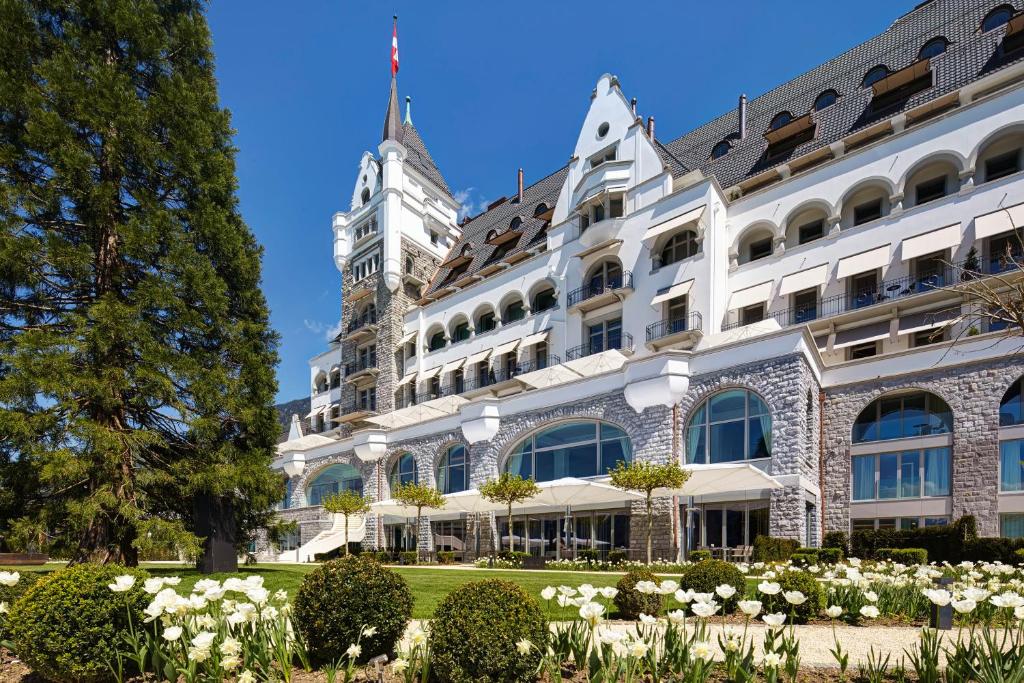 One of the most exclusive hotels in Switzerland, this 47-suite, turreted property, has a traditionally Swiss vibe. Awarded two Michelin stars, the restaurant Prisma serves fusion cuisine paired with a choice of over 32000 different wines housed in six cellars. Opens to staying guests only, the high-end spa includes an ice grotto for the brave. Swim from indoors to the outside, in its partially covered infinity pool, as mountain and lake views are majestically revealed into view. The warm climate and clean air of this region can be enjoyed on the summer terrace as you tuck into the chef's grilled specials.