Positioned along the banks of the majestic Danube River, Vienna, the capital of Austria, welcomes with its rich tapestry of history, culture, and artistic splendour. Renowned as the "City of Music" and the "City of Dreams," Vienna seamlessly blends its imperial past with a vibrant, contemporary charm. As you wander through its elegant boulevards, adorned with opulent Baroque architecture, and meander through cobblestone streets that whisper tales of centuries gone by, you'll find yourself transported to a bygone era of Habsburg royalty and classical brilliance. From grand palaces to world-class museums, Vienna stands as a testament to its enduring legacy as a cultural epicentre which makes is a finatasic city break destination. Here are our favourite 5-star and luxury hotels to stay at in Vienna.
Almanac Vienna
This 19th-century neo-baroque Palais on the Ringstrasse overlooks the Stadtpark. Recently unveiled after a huge renovation, it features interior design by Jaime Beriestain. There are now 80 suites and 31 bedrooms, with the Vienna Art Suite offering the penthouse experience in shades of beige and gold with a huge carved wooden headboard. Unwind in the Almanac's two-floor wellness centre, with its 46-foot indoor pool and thermal waters; grab a coffee in the Viennese-style Elias Coffee Shop; and dine in the Alpine-style Donnerskarkt Restaurant & Bar, where plant-based cooking is at the fore.
Rosewood Vienna
The latest of Rosewood's properties to open in Europe, this hotel has found a home in one of the Old Town's refined 19th-century Petersplatz buildings, featuring Belle Epoque architecture. It maintains the Rosewood's stellar spa reputation, with Sense, incorporating five treatment rooms, a social space and a hydrotherapy relaxation room. With 99 rooms and 27 suites, the property showcases Rosewood's trademark luxurious elegance. Guests can drink in the rooftop bar overlooking the city, dine on a leafy garden terrace, or in a swanky indoor restaurant, feasting on a mix of native and wider European dishes.
Palais Hansen Kempinski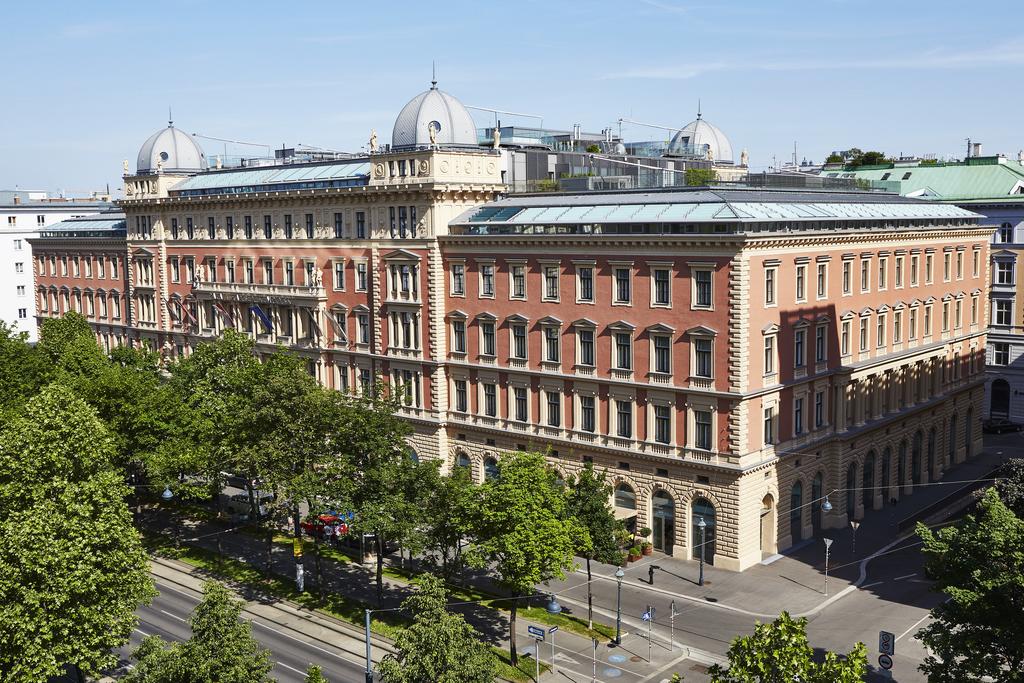 A listed heritage site, this stunning hotel provides luxury in the grand tradition. Its facilities range from modern conference rooms to palatial apartments, reminiscent of old Vienna. There's a ballroom, a flower shop, a spa and even a cigar lounge – if you travel with your own cigars, you can take advantage of the hotel's humidor to store them. The hotel is located near the Danube, in the historic heart of Vienna. There are a number of suites – the Presidential is the largest suite in Vienna. Enjoy a great selection of bars and restaurants too.
The Guesthouse Vienna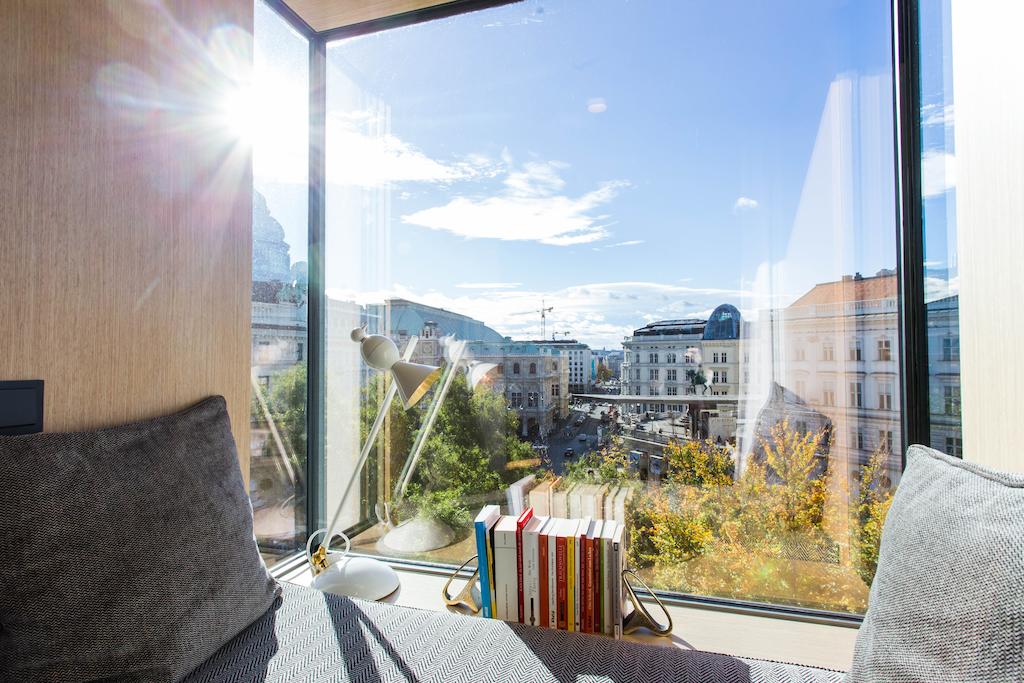 If a boutique hotel is more your kind of thing, the Guesthouse is a member of the Design Hotels group, with Conran-designed interiors. The design ethos is manifest in a relaxed, calm but luxurious hotel that is modern and uncluttered, yet superbly comfortable. The location is right in the middle of the city, behind the Opera. Dogs are welcome, with a free bed and dog cookies provided, and every room has its own espresso machine.
Hotel Sacher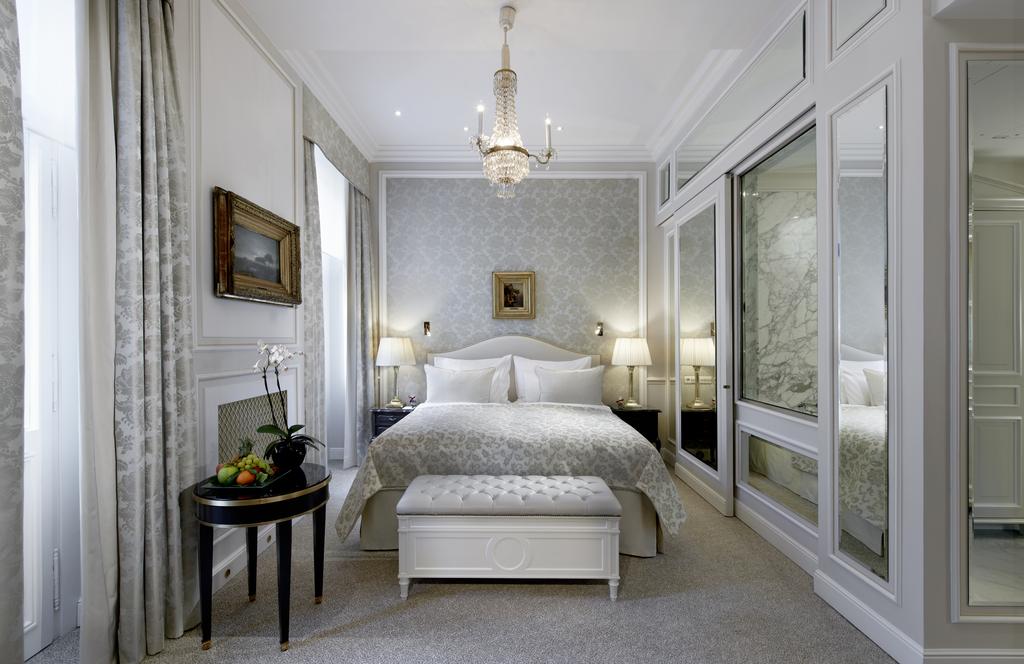 Irresistibly Viennese and very grand, this hotel has hosted everyone from the Queen to Mahatma Gandhi. The rooms have been designed by a French interior designer, preserving the historic features but giving a light and elegant finish. There's a lovely, sunny terrace on the top floor, overlooking the city, an impeccable concierge service and elegant private rooms for dining and entertaining. There are two restaurants, the famous Blue Bar and a typically Viennese coffee room where you can enjoy the original sacher torte, a hotel speciality.
Do and Co Hotel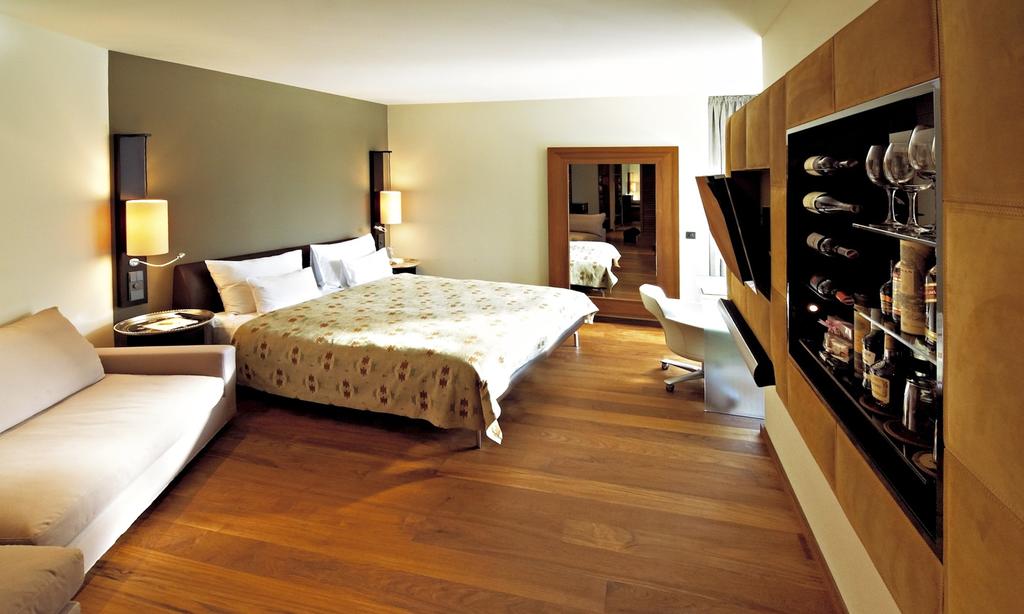 Do and Co is located right in front of St. Stephen's cathedral, a stone's throw from the Opera and Vienna's best shopping streets – a really superb location. One of the smaller luxury hotels in Vienna, Do and Co has a restaurant on the top floor of the hotel with stunning views. The Onyx bar is very popular, and it too has amazing views of the cathedral. The restaurant covers traditional Viennese dishes but it also specialises in sushi, sashimi and fresh fish.
Hotel Bristol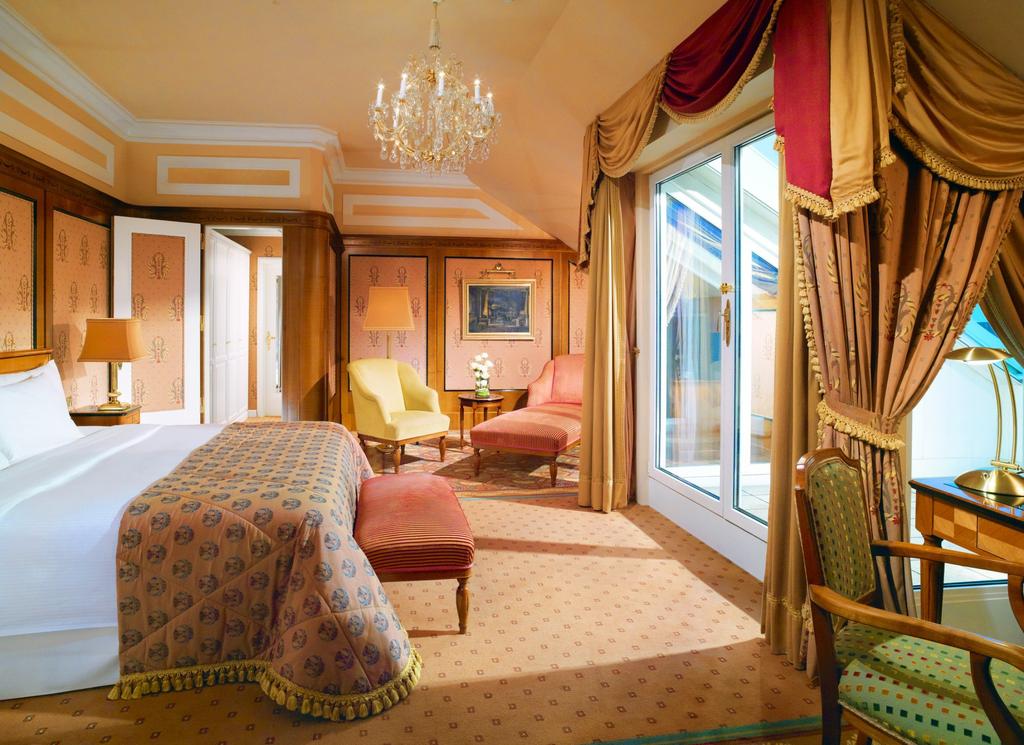 The Bristol opened in 1892 and is now a Luxury Collection hotel. US Presidents, crowned heads and eminent musicians have all stayed here. Located next to the Opera, the hotel is famous for its personalised concierge service. Some of the suites have art deco styling, and one is situated in a tower, with its own terrace. The Prince of Wales suite offers a library, sauna, living room and study. There's a contemporary fine dining restaurant, as well as the Bristol lounge and a winter garden restaurant.
The Ritz Carlton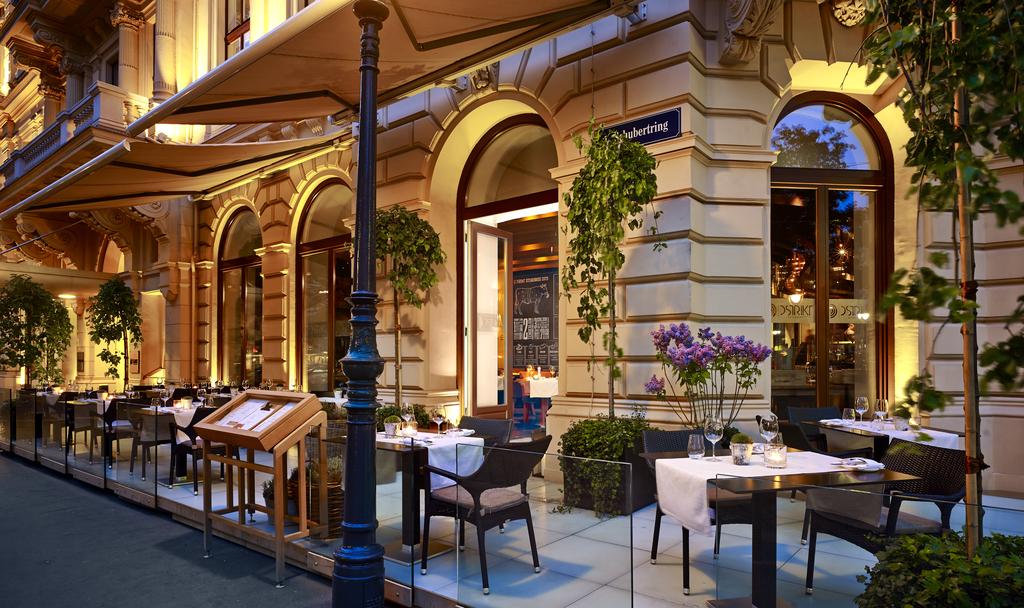 The facade of the Ritz Carlton is one of the most elegant in Vienna, showing its origin as four linked palaces built between 1865 and 1871. The hotel is situated on the prestigious Schubertring. It has a farm-to-table steakhouse along with a lobby lounge for light meals. The D-bar features professional "mixologists" and more than 40 different rums, while the rooftop bar is ideal for taking in Vienna's skyline. For relaxation, the hotel has a spa, fitness centre and swimming pool. The spa suites can be booked by couples, and feature a private whirlpool bath and luxury amenities.
Le Méridien Vienna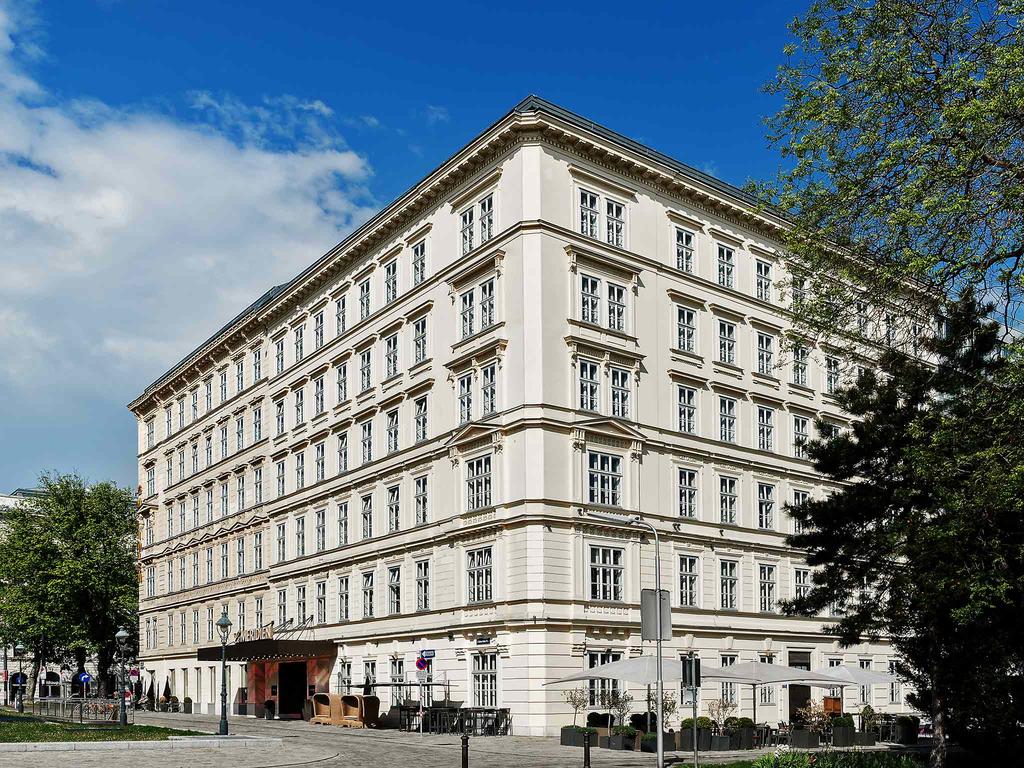 Situated in the city centre between two parks, Le Meridien Vienna is a luxury hotel with an emphasis on combining modern design with ultimate comfort. The rooms are chic, calm and welcoming. There's a superbly designed fitness centre and spa with its own swimming pool, and you can also book a massage, wellness treatment or session with a personal trainer. There are two lounges – one with a DJ or live music in the evenings, while the other is a little more relaxed and has a champagne bar.