Named after the capital, Washington D.C., this Pacific Northwestern state is the political and cultural hub of the US. But venture beyond its iconic city and you'll discover the state's rugged coastline and towering peaks, such as those in the Cascade Range. Its Olympic Peninsula is home to beaches and rainforests, while the towns of Leavenworth and Winthrop exhibit a Bavarian culture, and the state's many breweries and wineries (found across the region) provide tasting opportunities. Seattle is Washington State's second city, with its landmark Space Needle, indie music scene, historic Pike Place Market and the Puget Sound.
Seattle
Four Seasons Seattle
With an around the clock business centre, this is often the hotel of choice for those visiting for work. However, there's plenty to attract guests staying for leisure purposes: an infinity pool with views over the Pugent Sound, a state-of-the-art spa and fitness suite, accessible spaces, an excellent restaurant excelling in sea fare and attentive service. It's just across from the Seattle Art Museum and a block from the waterfront, with most attractions within striding distance. 147 bedrooms have been recently refurbished to create a chic, understated ambience in soothing tones, with contemporary art works.
Kimpton Palladian Hotel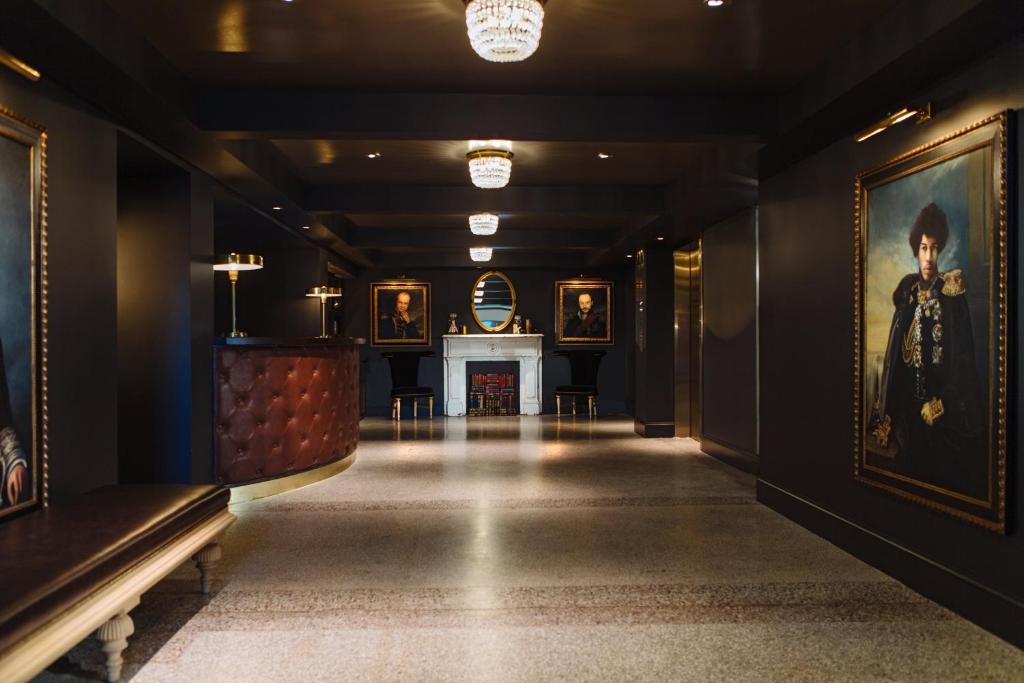 Part of an international chain, Kimpton's 97-bedroom Seattle property takes on a moody, masculine feel. It has a bold, dark colour palette, playful artworks and objects that play with a faux-vintage theme (think huge antique-style oil paintings featuring the heads of celebrities). The design is fashionably edgy, in keeping with its Belltown neighbourhood. Those who are bored of minimalism will be refreshed with the interest and attention to detail incorporated into the quirky decor. And the hotel is glamorous, with polished black bathroom surfaces complimented by gold-coloured metal fixtures. Palladian's seafood restaurant is Shaker + Spear and drinks can be taken in the speakeasy-style lounge, Pennyroyal.
Hotel Theodore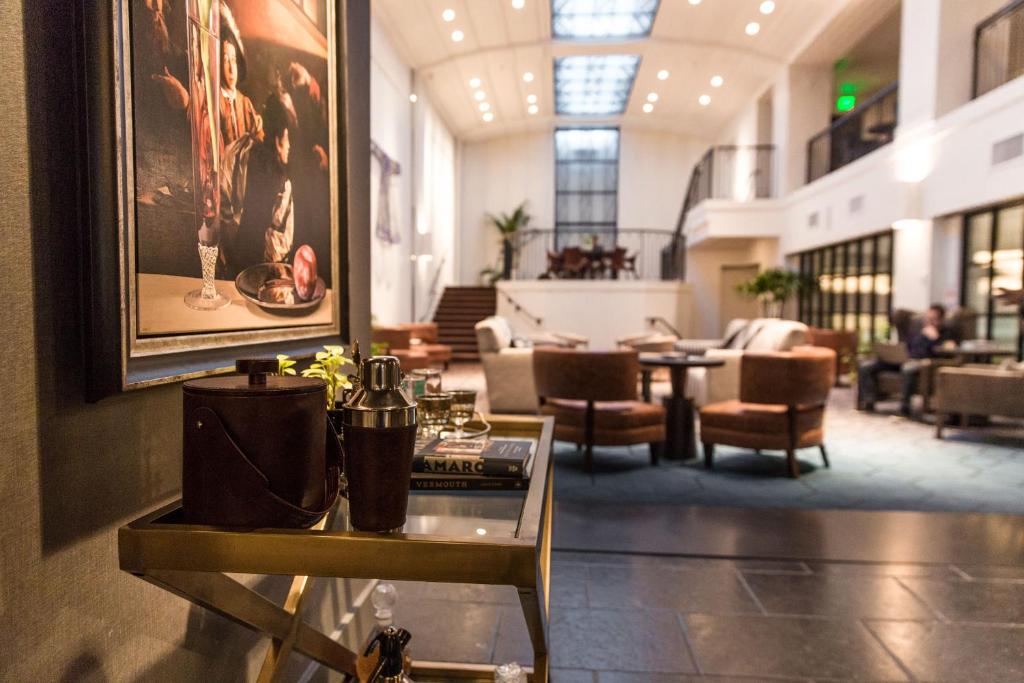 This building's former life began in the year 1930 as the Roosevelt Hotel. Now the 21-storey property is more evocative of industrial-chic, reflecting the city's more recent heritage. It's pretty techy too, fitting for a venue that hosts many digital entrepreneurs; guests can book on-demand, in-room spa treatments via an app and work out in the Technogym. Rooms come with Lather toiletries, an honour bar and Nespresso machines. Upgrade for a room with a record player, a freestanding tub and raincoats you can borrow, as well as robes. Rider is Theodore's all day grill restaurant, while Made Coffee serves daytime treats.
Loews Hotel 1000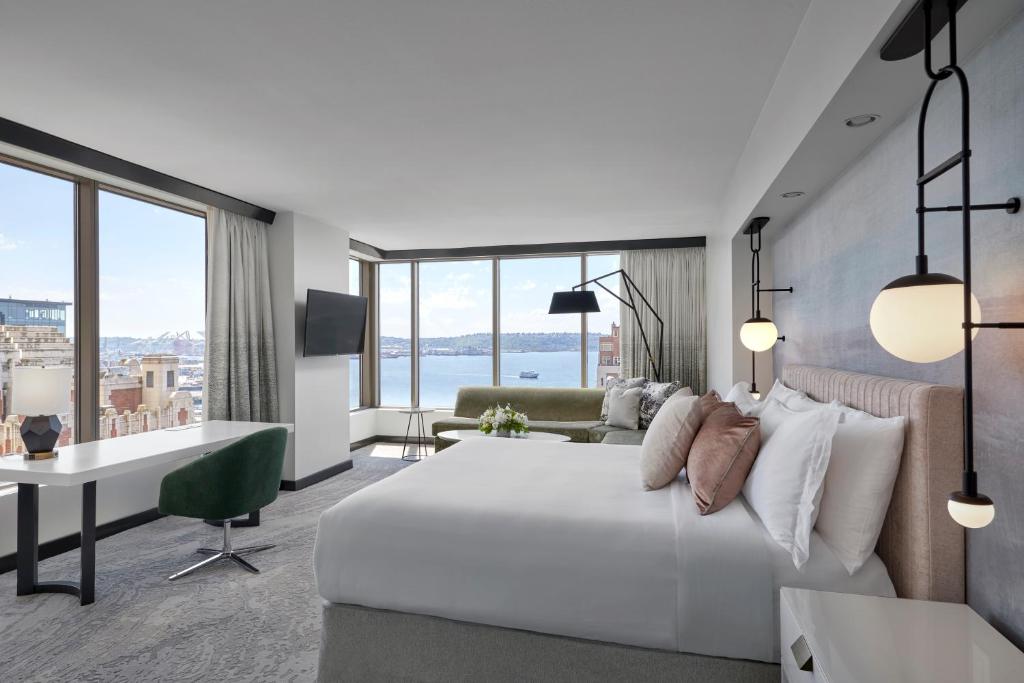 Stay downtown on First Avenue, at this modern establishment that boasts features including an interactive golf simulator, a spa, welcome gifts for younger children and a seafood and oyster bar. On arrival at Loews Hotel 1000, guests are greeted by a striking contemporary lobby area complete with hundreds of glass water-like droplets hung from the ceiling and a modern art style desk, while being handed a glass of chilled bubbly. The colour palette is dusky and serene, very conducive to relaxation, with many rooms boasting epic views, enjoyed while soaking in a freestanding tub.
W Seattle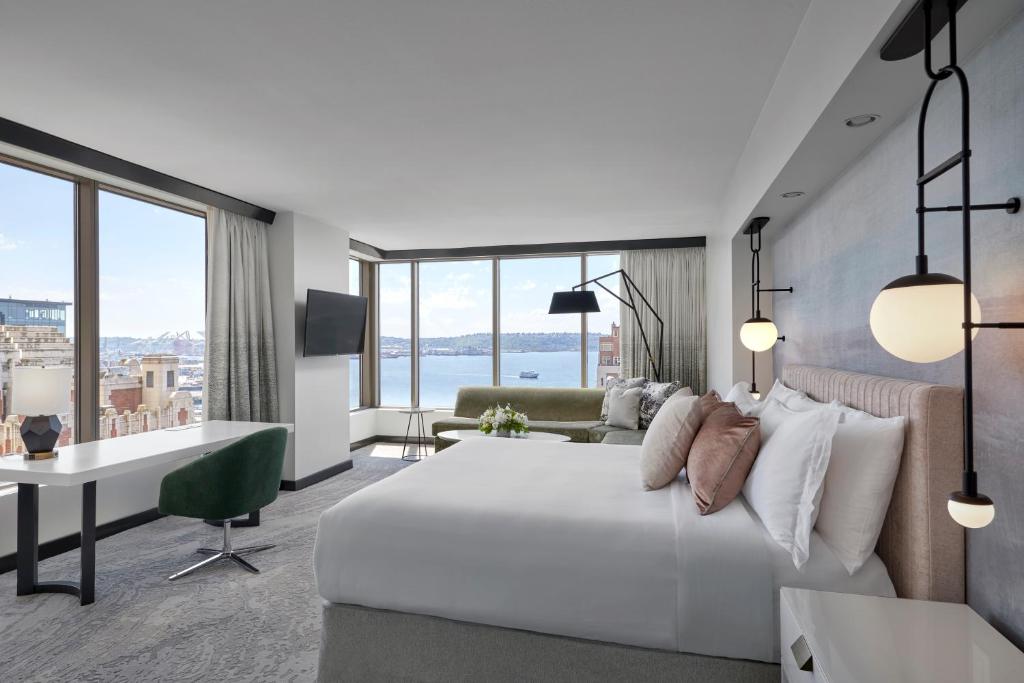 Another downtown option, W's motto is Whatever/Whenever, ensuring guests' needs are fully realised. The funky, clubby property has 424 bedrooms, spread across 26 floors. The design here is bold and geared toward trendy younger guests seeking a vibrant place to stay (definitely the place to come if you do want to indulge in Seattle's nightlife). W has its own in-house soundproofed recording studio, and hosts DJs, live bands and hip-hop yoga. Do check out the property's enormous record collection, the backdrop to its lobby performance area. W's restaurant and bar, Trace has won design awards and serves international delicacies. Rooms are rock-star worthy, with US-brand Bliss' toiletries, and the hotel also has a super high-tech gym as well as a spa.