Mayfair is one of London's most exclusive areas and home to many of the capital's most luxurious hotels, restaurants and shops. The area is bordered by Piccadilly Circus, Regent Street and Hyde Park making it an incredibly convenient base when visiting London. With so many luxury hotels in the area, we have picked out a selection of our absolute favourites to stay at.
1 Hotel Mayfair
1 Hotel Mayfair, the first European property in the 1 Hotel's mission-driven portfolio, has opened in London. The eight-storey luxury hotel, located on Berkeley Street overlooking Green Park, offers 137 rooms and 44 suites, including the largest one-bedroom Penthouse in Mayfair. The hotel features a ground-floor restaurant called Dovetale by renowned chef Tom Sellers, a signature cocktail bar and lounge named Dover Yard, and a daytime café and evening bar called Neighbours. The hotel's design incorporates sustainability and nature, with over 200 plant species and living green-trellised exterior walls. The property also showcases commissioned artworks addressing environmental impact. Guests can explore the city using the emission-free Audi e-tron available for their use. The hotel offers a transformative wellness experience with a Bamford Wellness Spa and a state-of-the-art gym called The Field House. Additionally, the hotel provides unique experiences, events, and workshops for guests to enjoy.
The Beaumont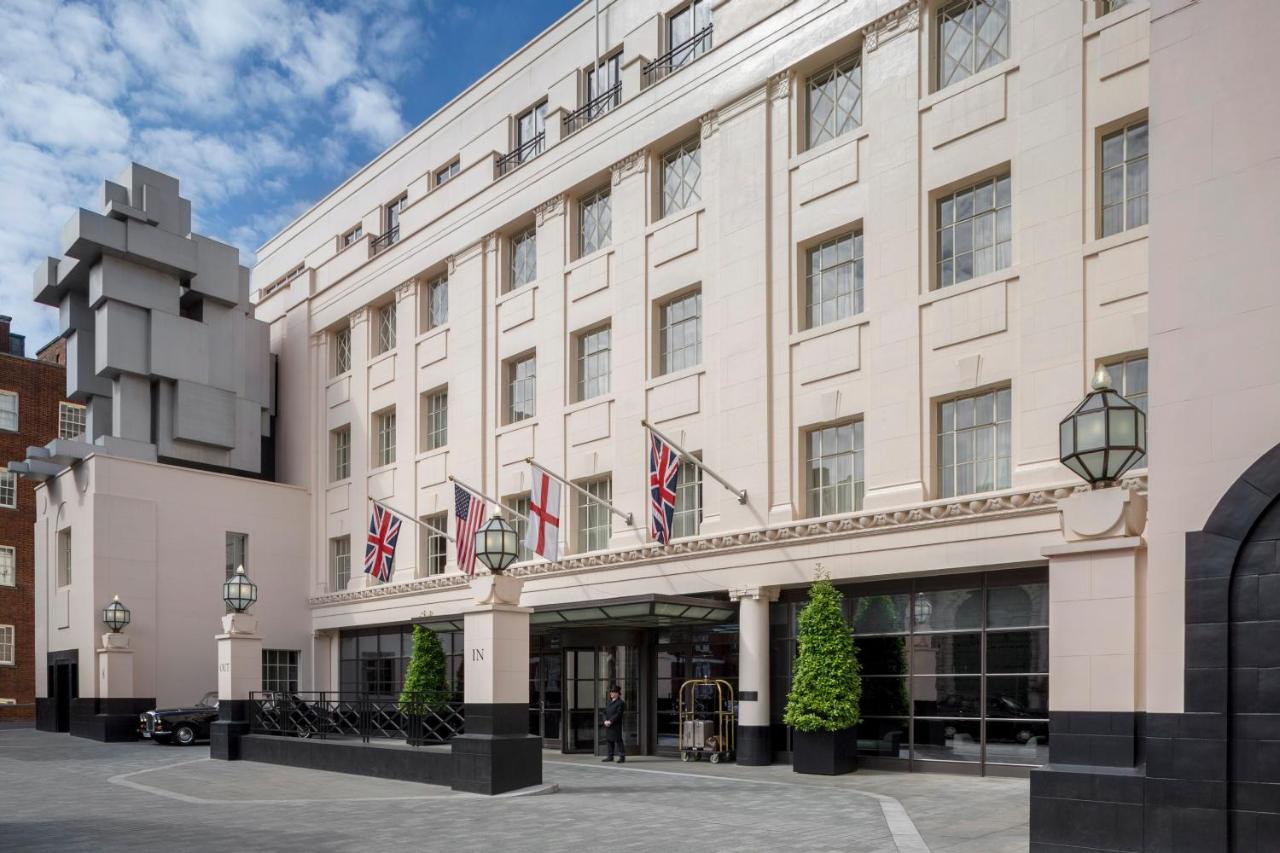 Escape the noise and busyness of the capital, as you set foot inside this imposing, yet intimate Art Deco residence found on a leafy square. The privately owned and independent Beaumont is one-of-a-kind. Stay here if you enjoy an atmosphere of old-world elegance with mahogany wood-panelled walls, highly polished floors, oil paintings, busts, shelves of leather-bound books and a grand piano in the bar. New York designer Thierry Despont gave the place a facelift in 2021, retaining this sense of 1920s grandeur and glamour while incorporating modern fashions and conveniences. It also has a new alfresco terrace, a lounge, a spa, and several restaurants and bars.
The Biltmore Mayfair
Located in London's prestigious Grosvenor Square, The Biltmore Mayfair, is part of LXR Hotels & Resorts and is the essence of style and opulence. Guests immediately feel the distinctive character of this hotel which showcases splendid décor and unrivalled service. These qualities flow throughout the entire hotel which comprises of 250 stylish rooms and 57 curated suites with stunning views of London's iconic skyline, personalised touches and extra comfort for the discerning traveller. Michelin-starred chef Jason Atherton, leads the team to present guests with a superb choice of both formal and casual dining options; from brunch at the tranquil Café Biltmore & Terrace through to a sophisticated evening at The Pine Bar or celebratory Afternoon Tea in the Tea Lounge there is a delicious culinary creation to tantalise every appetite and to fit any occasion.  Guests can also take advantage of one of Mayfair's largest gyms within the hotel – with 24-hour access to the latest fitness technology and a private workout studio.
Brown's Hotel Mayfair
Period features meet contemporary interiors in this hotel opened in 1837. The design by Olga Polizzi was inspired by literary works and former guests – Rudyard Kipling wrote many of his novels here and it's believed that The English Tea Room was the inspiration for Agatha Christie's 'At Bertram's Hotel'. As such, the Afternoon Tea is popular with history lovers, seeking to retrace the steps of heroes and heroines in this award-winning, wood-panelled establishment. Now owned by Rocco Forte, modern comforts in the 33 suites and 82 rooms abound. Elegant muted shades are offset with pops of colour and unique artworks. The in-house restaurant Charlie's, named after the founding Forte Lord Charles, is all about British cooking. While Donovan's bar (named after photographer Terence), is an intimate and playfully decadent spot to enjoy a bespoke sixties-themed cocktail.
The Ritz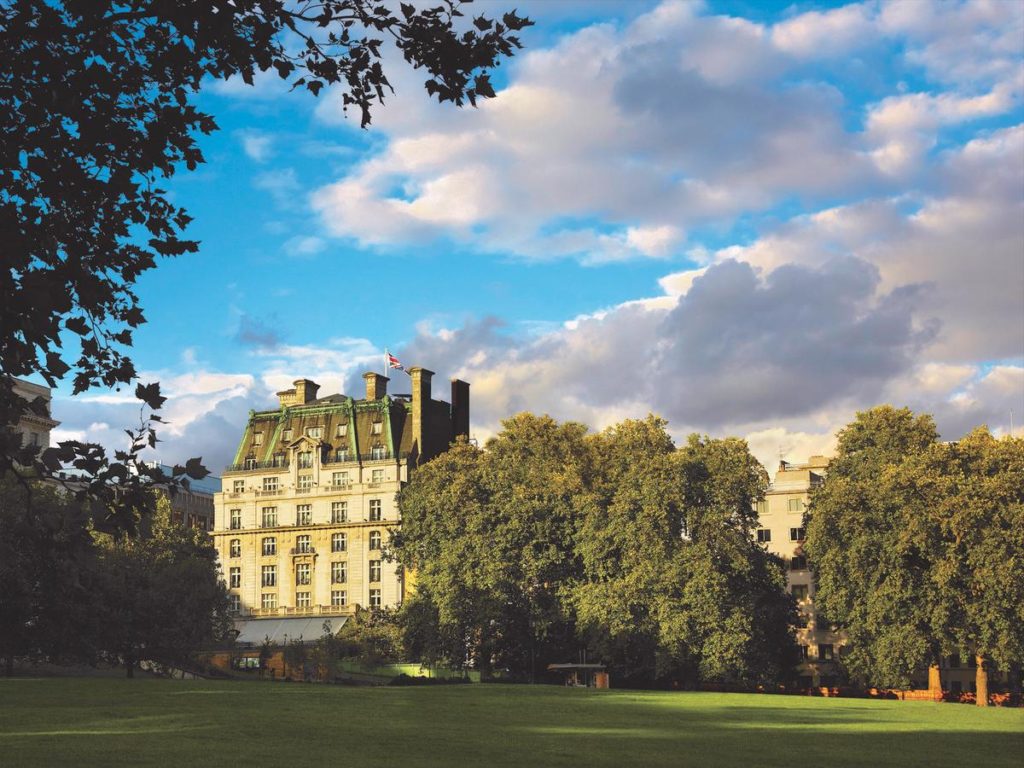 One hundred and twelve years after first opening as the brainchild of Cezar Ritz, The Ritz, London is still one of the world's finest hotels. It was awarded the Royal Warrant in 2002, the only hotel to hold it. Staying at the Ritz is a five-star experience that combines old-world opulence with the highest level of customer service available anywhere. Eat in the Michelin-starred restaurant, still regarded by many as the most beautiful dining room on the planet or take afternoon tea on the terrace. The hotel is close to Green Park and the West End.
The Athenaeum Hotel & Residences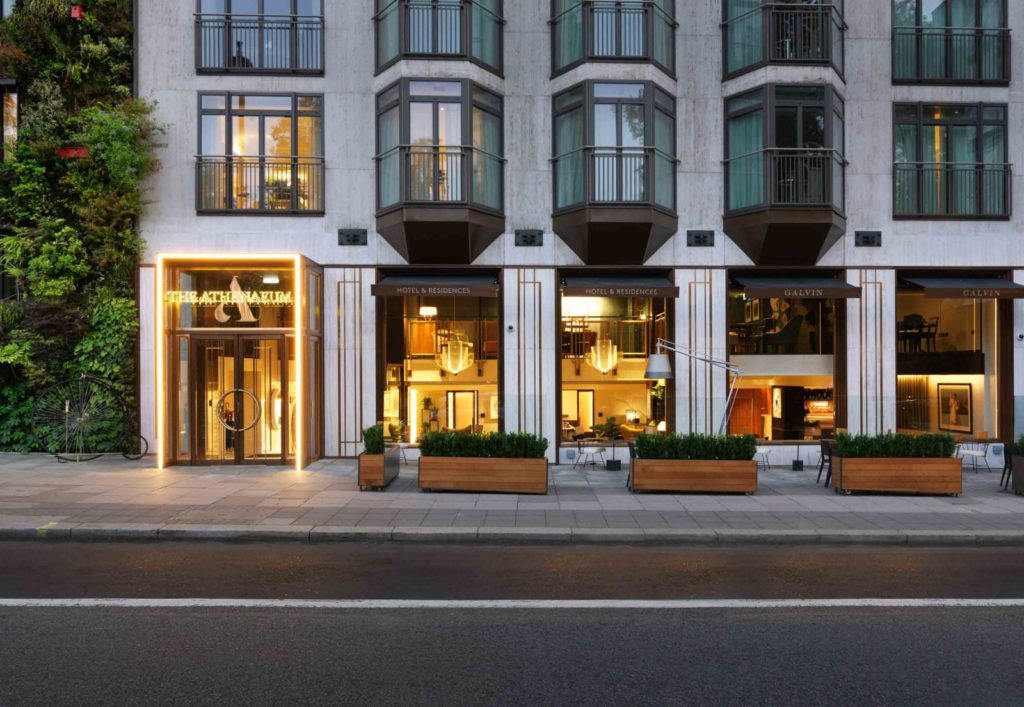 The Athenaeum Hotel is a five-star hotel and residences with a five-star history. Dating back to the 1800's the building has taken many forms; from a popular Gentlemen's Club, a luxurious Art Deco apartment block and a prestigious hotel – The Athenaeum Hotel has become synonymous with the important, the rich and the famous. The Athenaeum has made a name for itself not just as a hotel but also as a dining destination on its own merit. As the name suggests, Galvin at The Athenaeum is the hotel restaurant by Michelin-starred chef brothers Chris and Jeff Galvin, known for the French-inspired menus the brothers have developed a menu for this restaurant that champions classic British produce. The cosy bar is also a firm favourite with hotel residents and non-residents alike, with a carefully curated cocktail menu it's well worth a visit.
Fleming's Mayfair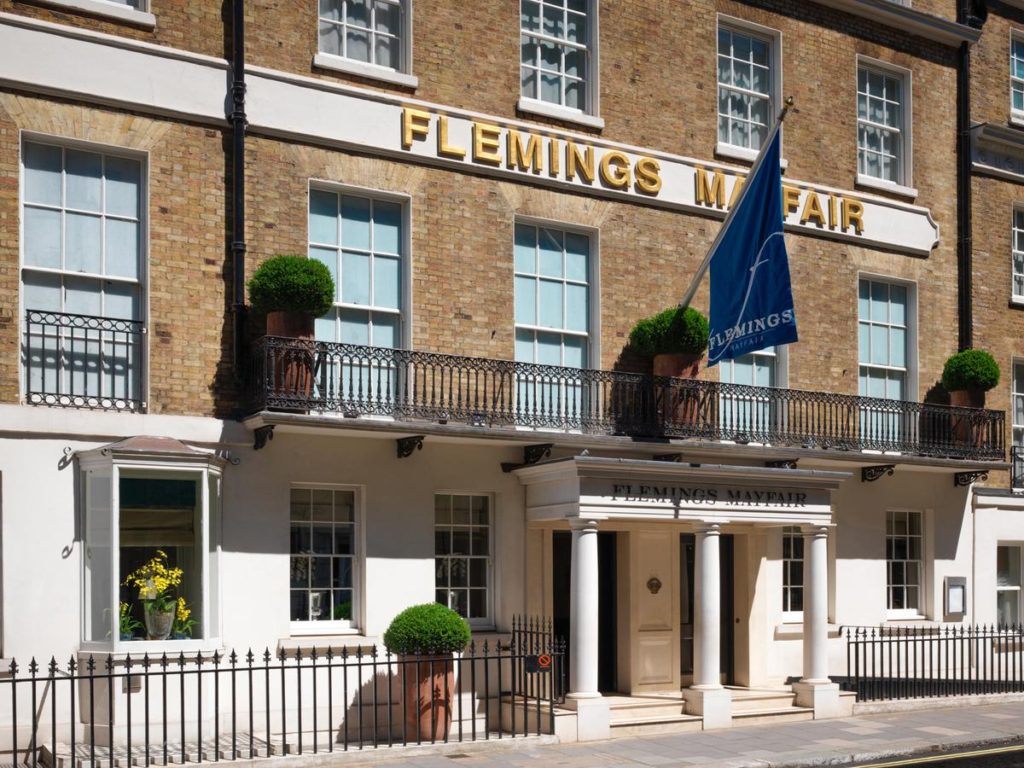 Fleming's is situated on Half Moon Street. Here, modern luxury blends with a historical legacy that offers a range of accommodation packages to the modern traveller. From deluxe singles to double suites, there is something for everyone. Each room is colour-coordinated and incorporates key features of a previous artistic style. The hotel has a gym which boasts the latest cardiovascular and weight-resistance equipment. Dine at Ormer Mayfair, take afternoon tea in the Drawing Room or have cocktails in the Manetta's Bar. It is all there to enjoy.
Dukes London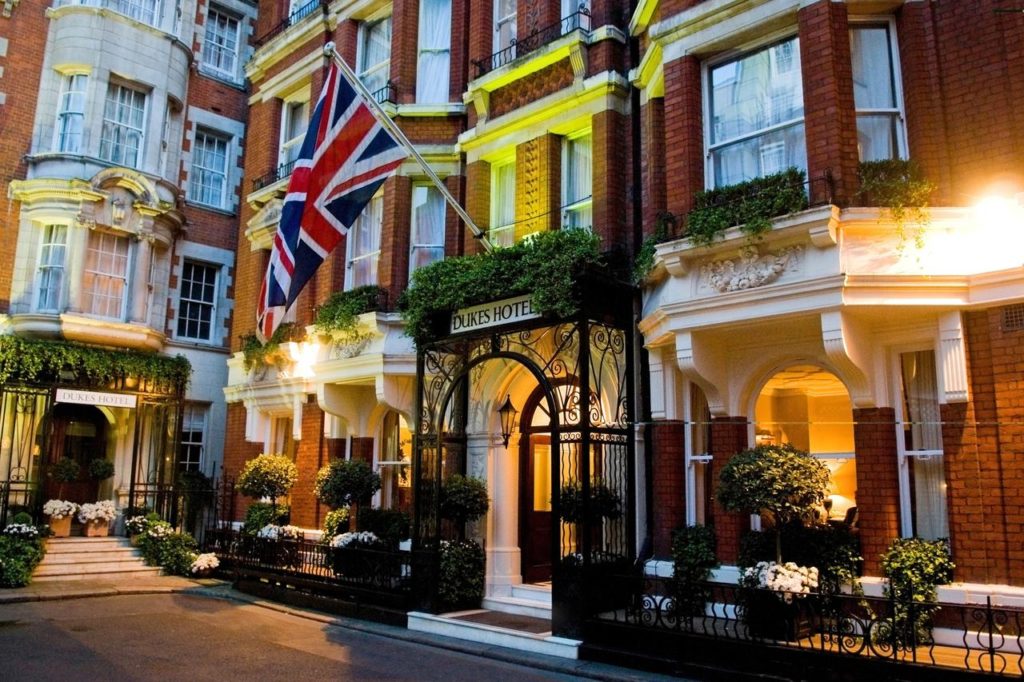 This quintessentially British hotel is located in St James's Place, Mayfair, close to Piccadilly Circus and Green Park. At Dukes, you are offered luxury and sophistication in a hospitable environment where the in-house team will do everything possible to make your stay perfect. Refinement and elegance matter here; it is all part of the magical concoction that creates Dukes' unique ambience. Bedrooms and suites are beautifully appointed; there is even a dog-friendly room.
The Connaught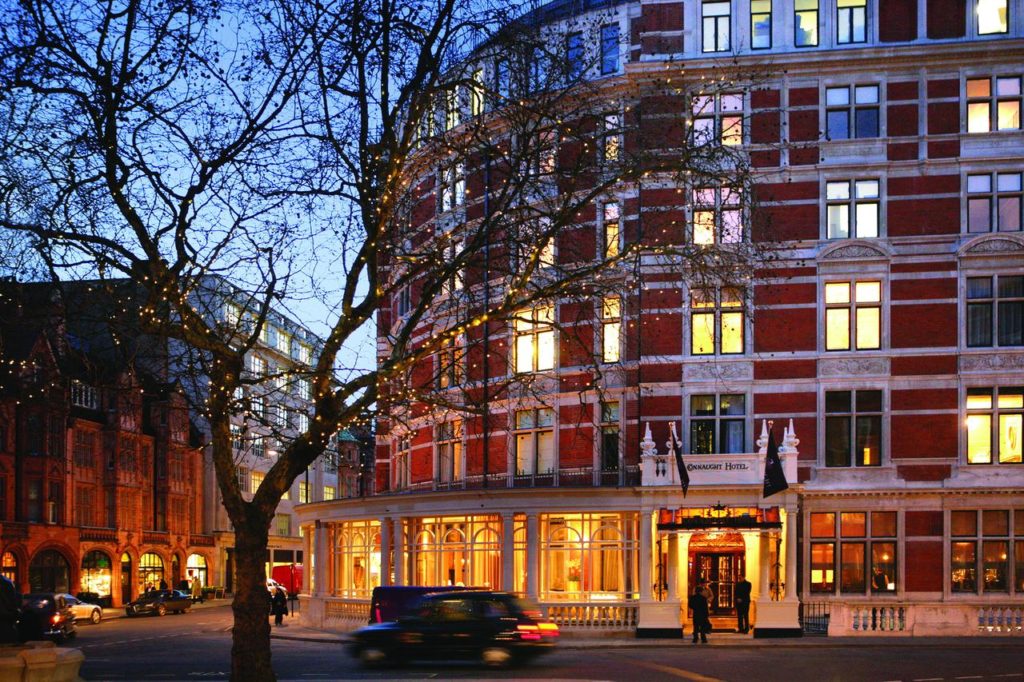 In recreating the rooms at the Connaught, Guy Oliver and Guy Collins have fused modern styling with retro touches which help keep the overall impression in harmony with this hotel's architectural roots. Every room is generously apportioned, particularly the suites; the Sutherland Suite has its own Baby Grand Piano. Restaurant Helen Darroze at the Connaught offers a package that won her two Michelin stars. Relax in the restaurant's magnificent interior, designed by India Mahdavi. Alternatively, dine at Jean-George's where British classics blend with Southeast Asian flavours. The hotel also has a spa that offers a range of treatments and alternative therapies.
St James's Hotel & Club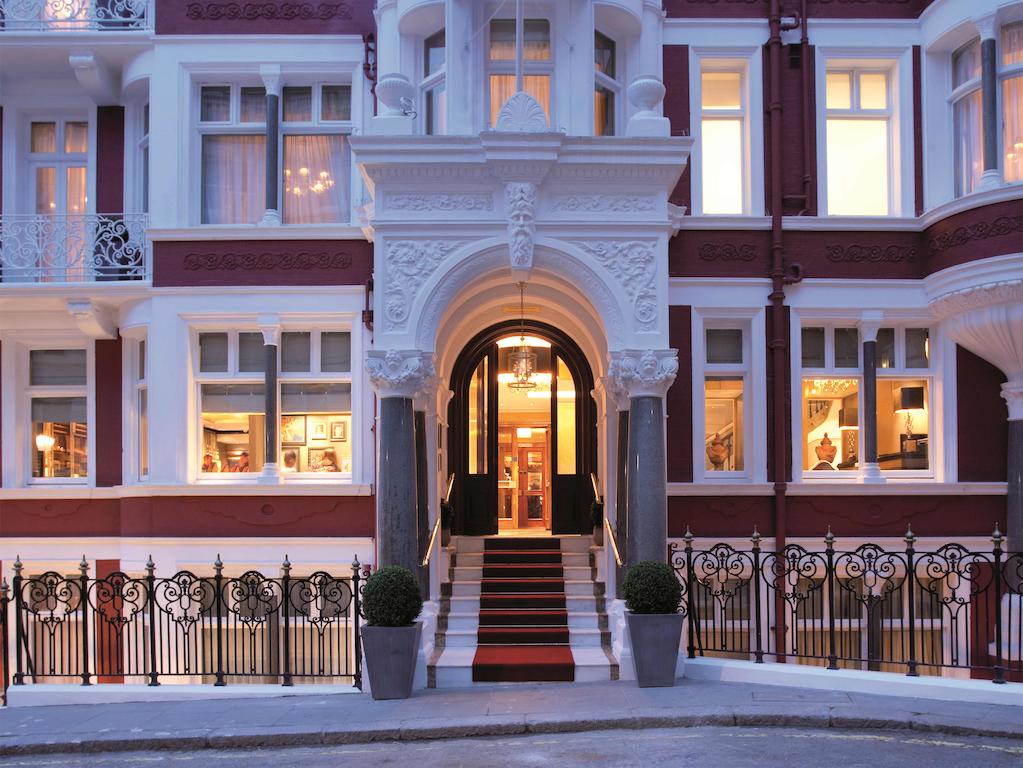 There is so much to entice the weary traveller at this luxury 5-star boutique hotel with a private members club, nestled in the heart of St James's. The hotel oozes Victorian charm blended with contemporary style. The eye for detail, visible in every piece of high-end furniture, upholstery and general décor is a thing to behold. In addition to the usual accommodation options, St James's offers terrace suites and a Penthouse with its own private lift. There is a range of food options which include, Michelin-starred 7 Park Place under the watchful eye of William Drabble. There is also a Bar and Bistro.
Claridge's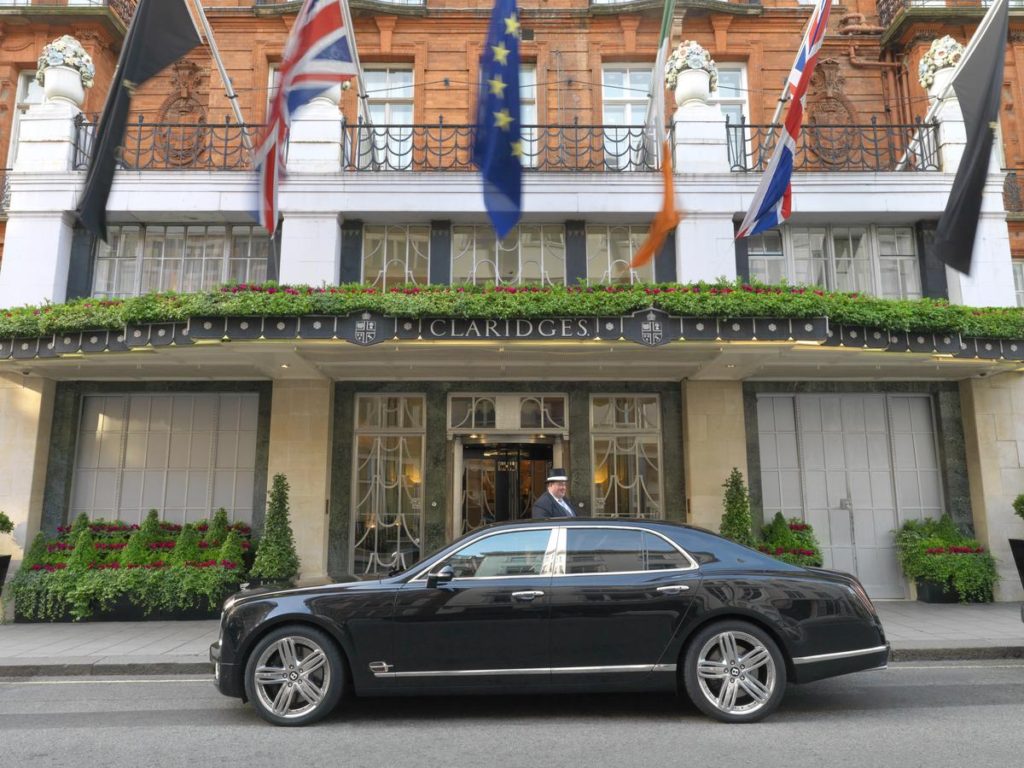 Claridge's is a name to conjure with when it comes to the world of the highest of top quality hotels, Situated in Brook Street, Mayfair it has an impressive history that goes back to 1856. The standard of accommodation at Claridge's is world-class and includes spacious suites that resemble the drawing rooms of stately homes. Fera at Claridge's provides British Cuisine at its very best, befitting its status as a Michelin star holder. Food is also available in the Foyer and Reading Room. This is a family friendly hotel and children are welcome. Claridge's also has its own health club and spa.
JW Marriott Grosvenor House
Reward yourself with 5-star service and luxury amenities at the JW Marriott Grosvenor House. Located in one of the capital's best addresses Park Lane Mayfair and moments away from many of the city's best attractions like Oxford Street, Buckingham Palace and Knightsbridge. Make yourself at home in their elegant rooms and suites, featuring plush pillow-top beds, marble bathrooms and many with views out to Hyde Park. Savour delicious dining at JW Steakhouse and start the evening off with a cocktail at Red Bar and the Bourbon Bar. This landmark hotel is perfect for business travellers and guests who appreciate a touch of contemporary British design and style without the stuffiness.