As the kitchen is the heart of the home and where the culinary magic happens, it makes sense that this room should be equipped with the most beautiful — and convenient — gadgets. With this in mind, here are a few of our favourite food and drink prep accessories.
Thermapen One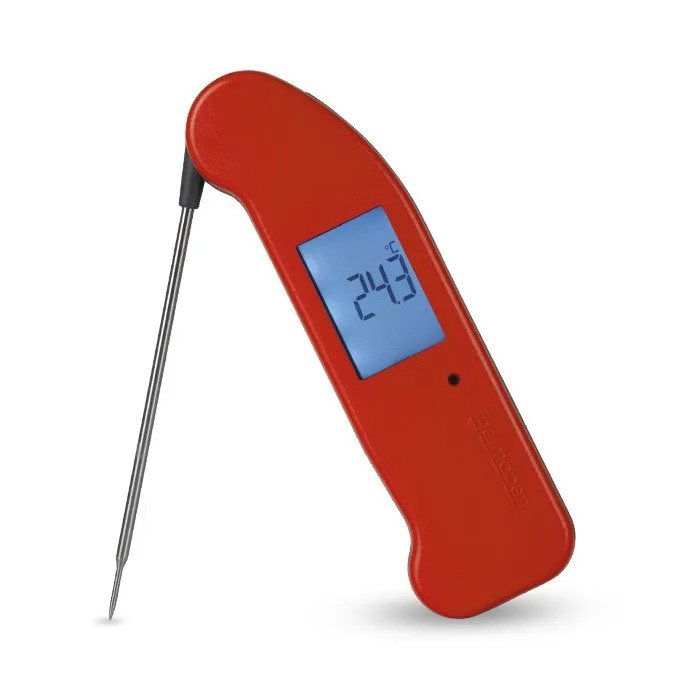 The Thermapen One is a kitchen thermometer designed to take the guesswork out of cooking, making it easier to create great food by accurately measuring temperatures instead of relying on time. It is quick, accurate, easy to use, and features a waterproof casing, a rotating backlit display, and an unrivalled accuracy of ±0.3 ºC. It can be used to cook roast meat, BBQ, cakes, jams, breads, and chocolate, as well as reheat leftovers and deep fry.
Karaca Air Pro Cook XL 2 in 1 Airfryer
Karaca has launched its multi-functional Air Pro Cook air fryer, which is a 4-litre appliance that can be used as a slow cooker, dehydrator, oven, grill, reheater, air fryer and homemade yoghurt maker. It is available in two colours (black and ruby) and has a capacity to cook a meal for up to 12 people at a time. It requires only one spoonful of oil or less thanks to its Less Fat Technology and Circulation Air Tech's top-down hot airflow technology that cooks every part of the food quickly and evenly making it an indispensable kitchen gadget. Buy online or visit their first UK store in London's Islington Square which is an emporium of homewares offering an array of pieces suited for everyday living, blended with many luxury items.
simplehuman Liquid Soap Sensor
The simplehuman sensor pump is the best way to wash your hands, as it leaves no germs or smudges behind. Its clog-proof tubing pump provides a precise and consistent flow, while the silicone valve prevents messy drips. You can control the amount of soap desired by positioning your hand closer or farther away from the sensor. While the funnel refill opening makes refills fast and easy, and the pump is waterproof for easy cleaning. It recharges with the included charging puck and one charge lasts up to 3 months.
Assure Elite 7pce Knife Block Set
The Elite Assure 7 piece Knife Block Set from Viners has been developed for the more discerning cook alongside experts in the catering industry. Maintaining the distinctive squared tip and supreme performance, the taper ground blades are crafted from premium German stainless steel with a high carbon content to maintain a sharper cutting edge while the handles provide optimum comfort and grip with a bolster located at the front, adding equal weight throughout the whole piece. This collection of knives provides all you need for the slicing, dicing and chopping food preparation tasks.
OXO Good Grips Folding Dish Draining Rack
The OXO Good Grips Aluminum Fold Flat Dish Rack is a dish rack that is designed to be flexible and to accommodate items of all sizes. The dish rack also has a built-in drain board and non-slip feet to help keep it stable on countertops. It folds completely flat, making it ideal for use as a drying board for smaller loads as well as compact for easy storage. The built-in drain board features raised ridges that elevate items away from water for quick, efficient drying, and non-slip feet help keep the Rack stable on countertops. The clean design complements any kitchen.
OXO Steel Salad Spinner
The OXO Steel Salad Spinner comes with a basket that can be used as a colander and a stainless steel bowl (with a non-slip base), which doubles as a serving vessel. To use, just rinse your leaves and drop the basket into place. Put the lid on and use the non-slip pump to get things spinning. Give it a few pumps and then hit the brake to stop the motion. The lid comes apart for thorough cleaning and the pump locks into place for storage. Dishwasher safe.
Typhoon
Elements Dark Marble Rectangular Board
The Typhoon Rectangular serving board is perfect for entertaining. The board, crafted from marble and acacia wood, is elegant and eye-catching with a sophisticated style. The serving board is ideal for appetisers, desserts, or charcuterie, and will add an elegant touch to your next dinner party. The marble section of the board is naturally cool, so it's ideal for keeping cheese platters at the correct temperature. The board is easy to clean and also has non-slip feet to keep it in place when in use.
Alessi Juicy Salif Citrus Squeezer
Designed by Philippe Starck, this is as much a modern art piece as a practical kitchen gadget. The mirror-polished squeezer prepares the freshest juices, as well as looking stunning. It comes in a beautiful presentation box ideal for gifting. 
MacKenzie-Childs Flower Market Colander
Coming from the Flower Market range, this dishwasher-safe colander is ever-evocative of springtime. Its floral graphic has been applied to the glazed steel by hand, creating an elegant, cheery and slightly retro effect. Fill it with fruit and place it on your worktop, or use it to drain and serve garden leaves at your lunch table. 
Jonathan Adler Le Wink Salt and Pepper Shakers
Arty and gorgeous, these on-trend, boho-chic salt and pepper shakers have been crafted in high-shine porcelain with gleaming gold accents; they're sure to bring compliments to your table. The pair comes with a presentation box that can also be used to store them between uses. 
Alessi Barkroll Kitchen Roll Holder
Kitchen roll isn't exactly the most glamorous component of any home. But when displayed in this 25cm Italian made holder by Michael Boucquillon and Donia Maaoui, it can be. Created from a laser-cut steel sheet, its pattern is inspired by the designers' local trees in Lucca, Italy. Perforations recall knots in wood grain, while the cylinder shape apes that of a trunk. 
Tom Dixon Stone Pestle and Mortar
Grind your herbs and spices the old-fashioned way to release maximum flavour and aroma – part of Dixon's stone collection, this mortar is made of ultra-pure Morwad marble making it flawless and robust. This is complemented by a mirrored brass pestle that's sleek to the touch. Display this piece as a fashionable feature in your ultra-modern kitchen. 
KITCHENAID Artisan 2-Slot Toaster
Even those who hate cooking need a toaster. And as it's always on display, it should be suitably stylish, to do your kitchen proud. This one has a sensor that automatically lowers and lifts your slices of loaf, browning them up to seven grades of golden (pick your shade), counted down by an LED timer. There's also a "keep warm" feature, a rack for drip-free toasties and a bagel/bun setting.
SAGE The Barista Express Coffee Machine
Does everyone clamour for a coffee at once? With this nifty machine's Thermacoil heating system and powerful 15-bar pressure system, you can brew two at once, from bean to cup in under 60 seconds, with the option of (high-powered) milk frothing. The sleek Barista Express also has a warming tray and is self-cleaning.
KITCHENAID Artisan Food Processor
Buy an artisan food processor to speed up the tedious tasks of slicing, chopping, grating, puréeing and blending; then you can spend more time getting creative with your recipes and playing with flavours. This is the renowned brand's most versatile processor yet, so a must for keen cooks who mean business in the kitchen.
LE CREUSET Cast Iron Bread Oven
A few items of boldly coloured Le Creuset are essential components in the fashionable and functional kitchen. The cast-iron French-made pots are oven and dishwasher-safe and make for the perfect receptacle to bake bread. This purpose-designed piece ensures it's a cinch to achieve a golden crust and fluffy inside, while the signature ripple will create a gorgeous effect for your loaves.
SAGE The Smart Kettle
If you're the forgetful type, you'll be grateful for Sage's auto shut-off function that makes sure your kettle never boils dry, as well as a button that keeps your water ready for a brew for a full 20 minutes after boiling. There are five settings (black, green, white or oolong tea and French press coffee) to help you make the perfect beverage that's neither too hot, nor too cool. In a brushed stainless steel, this kettle is ideal for the contemporary home.