St Anton is an Austrian village located in the Tyrolean Alps and played a significant role in inventing ski-ing as a sport. Boasting an extensive network of lifts and cable cars the resort is known as the gateway to the Arlberg ski region – with easy access to the slopes of Valluga and Rendl.
Known for its challenging ski runs, spectacular beauty and well maintained pistes it is a popular resort with the more experienced snow adventurers. With a lively après-ski scene, too it is a great choice for those wanting to enjoy the social side a ski/snow holiday should offer.
Read our guide to Luxury Ski and Snow Holidays
If you are planning a luxury snow holiday to St Anton check out our top picks for the best luxury chalets in the resort. Each chalet presents its own individual Austrian charm and each has a selection of amenities including; ski-in/out locations, gourmet catering, cinema rooms, chauffeur services and more …. all to ensure your stay is the ultimate luxury chalet experience.
Lodge Christoph

The Lodge Christoph is located in the Stadle area, just a five minute walk to the Rendl ski lift. It is divided into four chalets, Adler, Bodensee, Christoph and Danube. The Lodge Christoph accommodates eight people and all bedrooms have an ensuite.
Lodge Christoph is a family friendly ski chalet with dedicated nannies that can be hired to ensure that the kids are safe while the adults go skiing. A private chef service is also available and guests can enjoy delicious dishes and gourmet dinners all of which are provided with wine on six nights of a seven night stay. A private chauffeur driven 4 wheel-drive vehicle is available for the use of guests too.
Chalet Cristal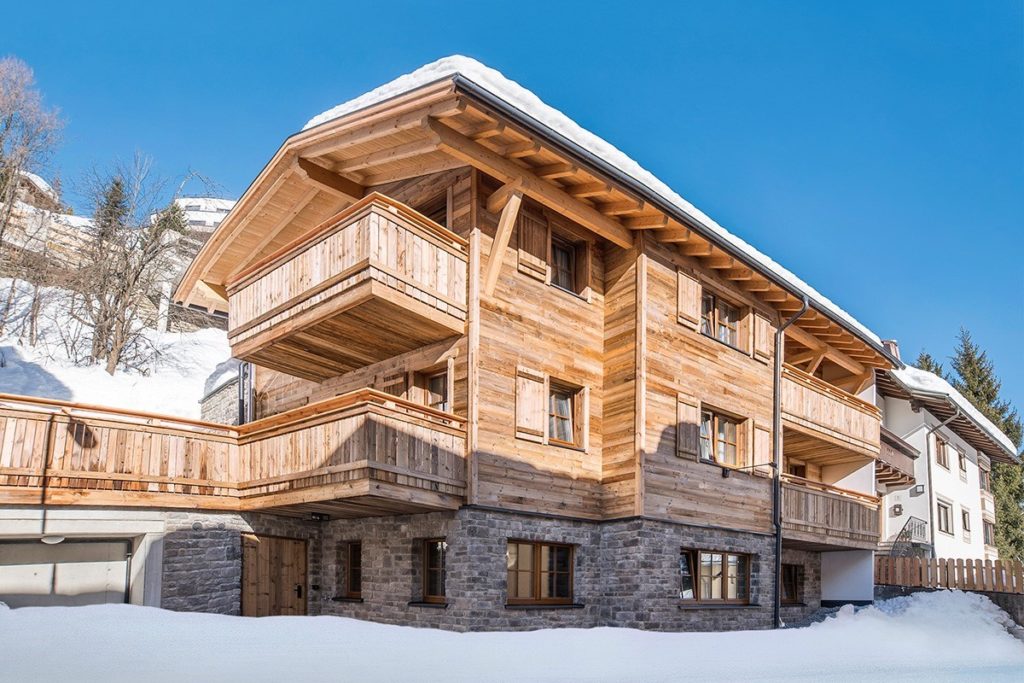 Chalet Cristal is located around Arlberg, a few minute walk from the famous St Anton nightlife and a couple of minutes walk from Galzigbahn station. The chalet is an imposing stone and timber edifice with stylish interior design which really adds to the luxurious feel. The building accommodates uo to 14 guests in 7 en-suite rooms over the 1st and the 2nd floors.
Meals are freshly prepared by professional chalet hosts. A sauna and a small relaxation area is also available for guests to relax in after a day on the slopes. Chalet Cristal is a great place to stay if you are looking to ski around Arlberg.
Sweet Little Home
The Sweet Little Home is a unique Alpine chalet located right by the main high street and only moments away from the hustle and bustle of St Anton nightlife. Although it was constructed in 1911, it has since undergone complete modernisation. It is part chalet, part town house and the architecture makes it a unique venue.
There are five en-suite double rooms across between the ground floor and the first floor. The ground floor has 1 x double/twin bedroom with en-suite bathroom while the first floor has 2 x double/twin bedrooms with en-suite bathrooms. Another 2 x double/twin bedrooms provides access to a shared balcony. All the rooms are spacious and equipped with walk in wardrobes and wet room showers.
The 2nd floor has 2 x master suites which can be reconfigured with the advantage of having an additional lounge for relaxation. The rooms are equipped with stand-alone bath tubs and walk-in showers.
It's outdoor hot tub located is a great place to relax after a day on the slopes.
Chalet Eden Rock
Eden Rock is located in the Nasserein area, close to the ski lift, and it only takes about 10 minutes to get into town by foot. The architecture of the building combines traditional with contemporary styling, with its Austrian style shutters and a mix of antique wood and local stone exterior.
Eden Rock is split into three large apartments with an average bedroom size of 22 square metres and a bathroom of about 10 square metres on average. The Arlane apartment has three large bedrooms and sleeps six people. The Kanzi sleeps eight people in four large bedrooms while the Zari, located over the 2 upper floors has three large bedrooms and a balcony with spectacular view.
The chalet provides full gourmet catering, open bar and in-resort chauffeur service. Guests who are fitness conscious will find a luxurious wellness area in the lower part of the building.
Chalet Tschoder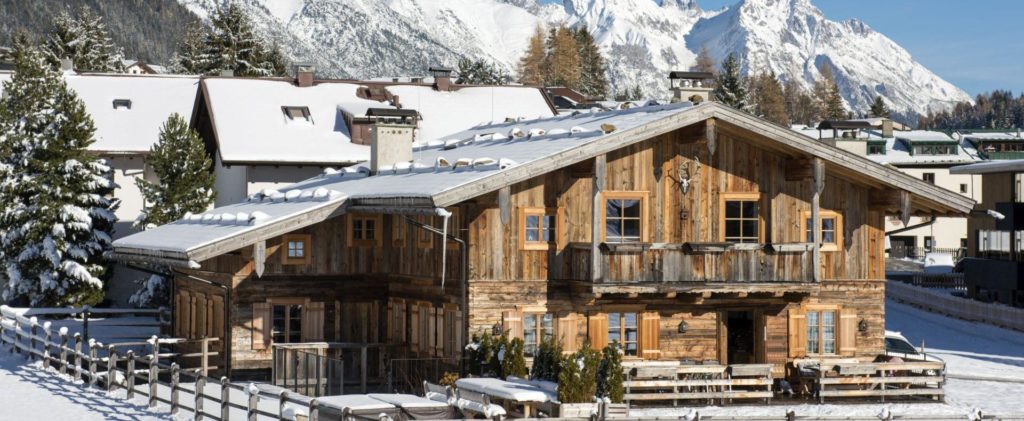 Located on the edge of the piste leading down to the Nasserein lift, Tschder is located in an ideal spot for skiers who may wish to ski to and from the chalet. This relatively new chalet combines the use of traditional alpine materials with contemporary design.
The chalet sleeps 14 people in seven large bedrooms and these rooms are spread over four floors. Exotic furnishings made out of rich fabrics and wooden beams add to the aesthetics of the interior. The main drawing room, located on the ground floor has an open fire place and co-located on this floor is a bar where guests can relax and enjoy a drink.
Full gourmet catering, selected complimentary drinks and two days complimentary ski instructions are provided based on the exclusive use of the chalet.
Chalet Kanzi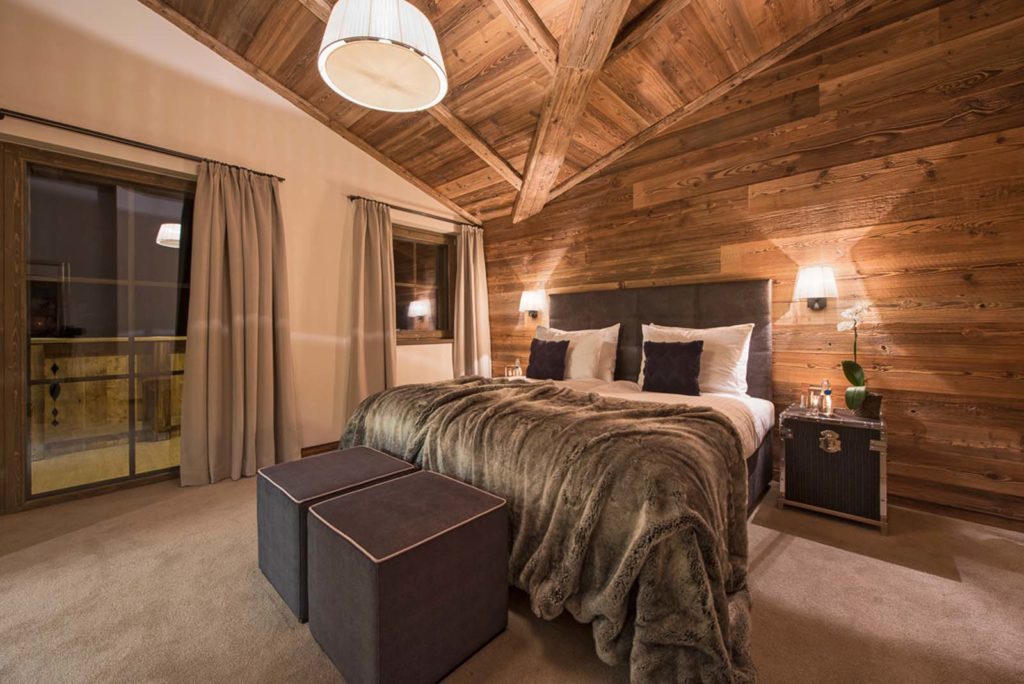 Kanzi is part of the new Eden Rock project and so it is located in the tranquil Nasserein area, about 10 minute walk into town. The exterior has a traditional look with painted Austrian shutters, natural stone and antique wood.
It is an attractive four bedroom chalet built over two floors. The 1st floor has one x twin bedroom with en-suite bathroom and the second floor has three x twin bedrooms with en-suite bathrooms. Each of the bedrooms has access to a balcony and a spacious en-suite bathroom with separate shower and double sinks.
The lower part of the building has a spacious wellness area which provides access to the spa and a fitness room. Exclusive use of the chalet entitles guests to full gourmet catering, open bar and in-resort chauffeur service.