Need to get away for a long weekend or even a midweek break? Here is a selection of the UK's most stylish city break hotels; from Edinburgh, to London, Manchester to Belfast we have got the UK covered.
Read our guide to best Spa Hotels In The UK
The Laslett – London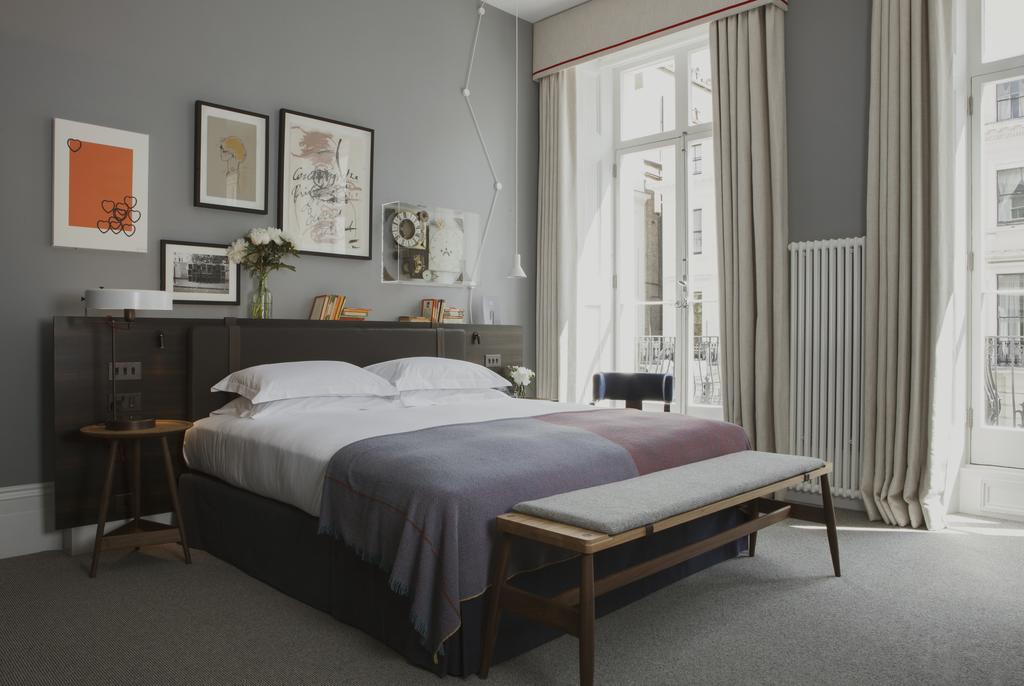 Just past Notting Hill Gate station, turn onto a quiet residential street filled with stunning traditional Victorian townhouses and you'll find solace from the hustle and bustle. Set in five interconnecting Grade II listed Victorian Townhouses, the Laslett is a haven of tranquillity, elegance and sophisticated design. Experience the best of British furniture, art and food after a day of exploration and shopping and you'll get to know the trendiest part of West London.
At A Glance:
Location: Notting Hill, London, England
Best for: Exploring Portobello Road Market, enjoying fashionable restaurants and bars and being at the heart of Notting Hill Carnival
Style and Size: With 51 guest rooms and suites each inspired by local culture and British style, there's plenty to choose from. Whether looking for a single, double or master double bedroom (240 – 356 Sq FT in size), each room feels like you've stepped into a friend's stylish townhouse, matching a warm and residential feel with the essence of cool and sophistication you'd expect in Notting Hill.
Food and drink: Henderson's Bar and Coffee Shop, named after 'Russ' Henderson, a well-loved Trinidadian musician and founding father of the Notting Hill Carnival, has a daily evolving menu that serves simple, elegant and seasonal British dishes, specialty teas, and delicious cakes perfect for afternoon tea. They also offer first-class cocktails, an excellent way to start or finish any evening.
Facilities: Complimentary high-speed Wi-Fi, 24-hour room service, complimentary passes to a local, private gym, in-room spa treatments, luxury toiletries, off-site parking, on-site library filled with books on art and design
Of interest:  The Laslett is named after Rhaune Laslett a well-loved community activist known for organising the original Notting Hill Festival.
Malmaison – Belfast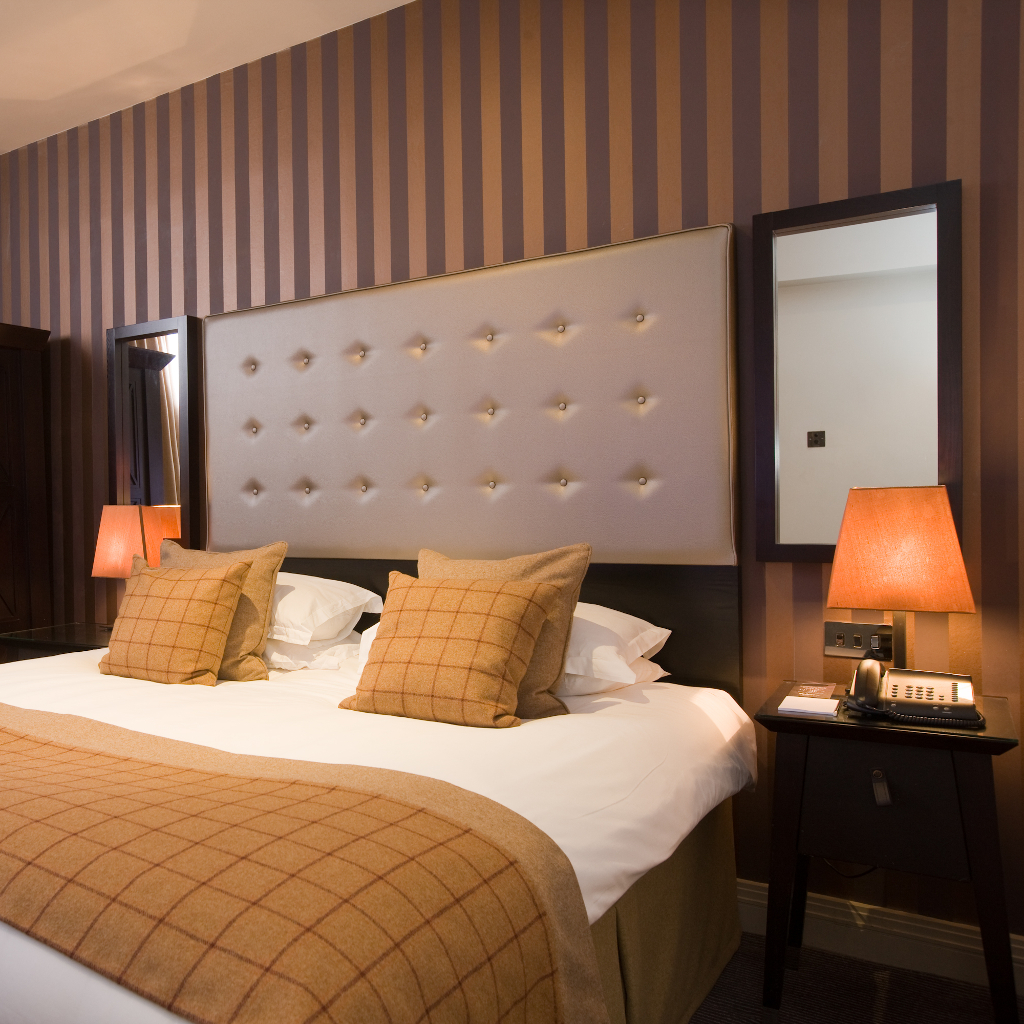 It's not often you can arrive to a city by car, by plane or by boat. Belfast is one such spectacular location that's been shaped by the sea. The Malmaison is located in the heart of the city, and is the gateway to Titanic Studios and of course the story of the Titanic ship. From theatre to dance, arts and local music, sumptuous food, there's plenty to see and do from your doorstep.
At A Glance:
Location: Belfast, Northern Ireland
Best for: Exploring the history of the Titanic, getting a close-up view of Game of Thrones and enjoying exceptional Irish nightlife
Style and Size: Within the 62 rooms and suites, you'll find everything is of Titanic proportions. Though luxury is standard throughout, the Executive Suite really is a must try. 'Samson' as it's known, is decked out with snooker table in the lounge, two televisions, a working fire, walk in shower, roll top bath and an enormous seven-foot bed to stretch out in.
Food and drink: Boasting beautiful booths, brushed steel tables and stellar culinary creations, the Mal Brasserie offers essential taste sensations you shouldn't miss. Using local, ethically produced ingredients, their chefs create beautiful plates at all times of day. For something a bit more casual or for a delectable business lunch, MalBar is the place to be. From cosmos to cakes, you'll find this relaxed atmosphere the perfect place to spend an afternoon. And to bring in the weekend, don't miss TMI Wednesday | Thursday | Friday. £5 cocktails between 5pm and 8pm to help you relax after a hard week.
Facilities: Same day laundry service, 24 hour room service, free WiFi, luxury toiletries, additional beds available, meeting rooms, private dining at the Brasserie, weddings
Of interest: In the 1860s, the property was two separate seed warehouses. Despite its' transition to luxurious hotel, it still boasts a number of original features including stone carved gargoyles.
The Grand Hotel & Spa – York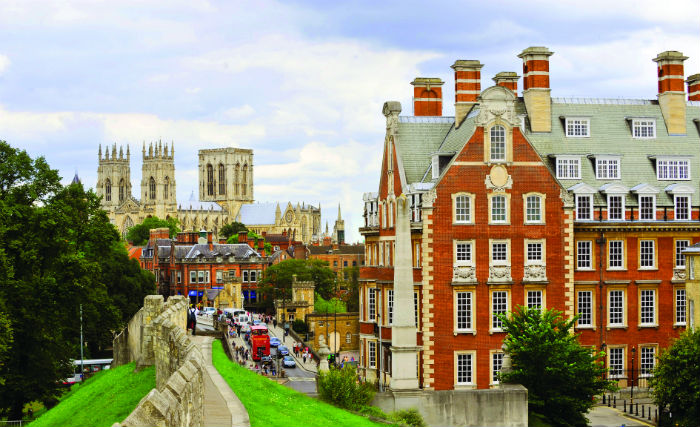 Yorkshire's only 5-star hotel is a beautiful Edwardian structure that was built in 1906 as one of the great railway buildings in York. With stunning views overlooking the Minster and the ancient city walls, you'll easily soak in the historical atmosphere of the city. Despite the age of the city and the building, The Grand Hotel is as modern and luxurious as you can get, with indulgent décor, leisure and business facilities, an open air roof garden and an exquisite spa complex with indoor pool and treatment rooms. Located only minutes from the train station, the Grand Hotel is more than a place to rest your body after a long day, it's a place to rest your soul.
At A Glance:
Location: York, Yorkshire
Best for: Getting a first-hand glimpse at Railway history, enjoying a relaxing weekend, attending or being part of a beautiful wedding
Style and Size: Each of the 107 guestrooms is individual and unique. With seven different room types, and 13 suites, there's plenty of space, beauty and comfort to choose from. Though the luxury traveller won't find anything missing in the standard rooms, the Penthouse Suite is the ultimate experience in York. With super-king sized bed, a spacious dressing area, a separate lounge with sofa, separate guest toilet, double walk-in showers and feature windows, you can hide yourself away for a romantic weekend without missing out on the sites.
Food and drink: From classic cocktails to champagne cocktails, there's plenty to enjoy in the Grand Bar. If beer is more your drink, try the Minster Ale, brewed only 100 yards from the hotel in the York Brewery. For a special meal, or just an indulgent dinner, book a table at Hudson's, the 3 AA Rosette winning restaurant. If afternoon tea is more your thing, don't miss a champagne tea, or Hudson's, Mad Hatters Afternoon Tea. Don't miss an evening at the Whisky Lounge. With more than 110 different bottles to try, there's plenty of sitting and sipping to be done.
Facilities: Luxury toiletries, Egyptian cotton bed linen, bathrobes and slippers, free WiFi, spa, pool, fitness centre & gym, room service, wedding, meeting rooms
Of interest: You have access to your very own umbrella for the duration of your stay, perfect for those rainy days and nights in York.
Titanic Hotel – Liverpool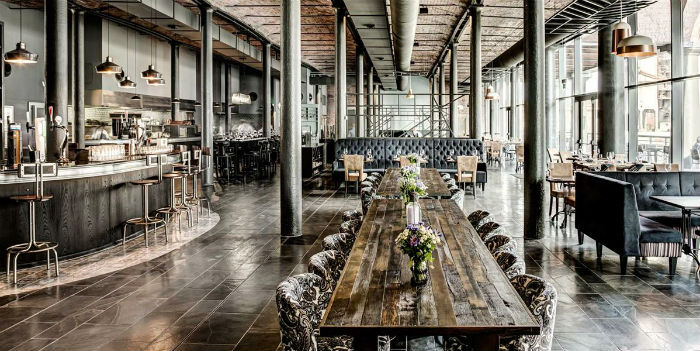 Located in the historic Stanley Dock, this restored building brings to life an era long past but not forgotten. With a nod to the past, the original windows offer breath taking views over the historic Port of Liverpool, while the décor is modern, smart and distinguished, making it a spectacular alternative to other hotels in Liverpool. While the Titanic Hotel may be just off the beaten track of Liverpool's main cultural and recreational hub, it's still an easy hop, skip and a taxi ride away from everything. So, whether you're there for the races, the football or the Beatles, The Titanic Hotel is the perfect starting place for your Merseyside adventures.
At A Glance:
Location: Liverpool, Merseyside
Best for: Dockside views of Merseyside, Spa weekends at Maya Blue Spa, visiting Beatles sites, going to the Aintree Racecourse, watching football at Anfield Stadium and discovering the thriving nightlife
Style and Size: Using warm earthy fabrics, exposed brick and original vaulted ceilings in each room, each of the 153 rooms uniquely styled rooms has a warm and homely feel, like a lived in loft apartment. Inspired by the historical influence of the Stanley dock conservation area, the rooms feel light and airy, with even the most basic of rooms having at least 56sqm in each. But it's in the Presidential Suite where you get the most opulence and luxury, with a full 72sqm of space, separate lounge / entertaining area, kitchenette, Egyptian cotton linen, deep tub and drench shower to wash away the day.
Food and drink: Try a tipple at the Rum bar which boasts 60 different rums, some exclusive to the hotel. For something to eat, Stanley's Bar and Grill has a relaxed atmosphere, both for afternoon tea and for an evening meal. Whether you want a hearty meal or a smaller a la carte option, you'll get a feast fit for a king. Look out for their theatre kitchen, allowing you to watch the staff skilfully prepare your meal.
Facilities: Free WiFi, room service, free parking, spa, pool, fitness centre, meeting rooms, business centre, additional beds available
Of interest: The Rum Warehouse has floor to ceiling windows and stunning views of Stanley Dock.
Hotel Du Vin & Bistro – Newcastle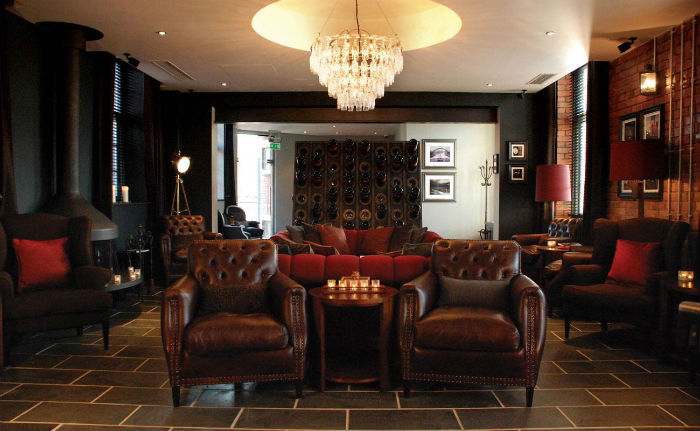 Once the home of Tyne Tees Steam Ship Company, this refurbished Edwardian building on the banks of the River Tyne is the perfect place to explore the city's sites. Referencing it's nautical past at every turn, the Hotel Du Vin & Bistro reminds you of its humble beginnings with the use of ships' ropes in the courtyard and the porthole windows in the showers.
At A Glance:
Location: Newcastle, England
Best for: Shopping at the Eldon Square, High Bridge Street or at the fashion conscious suburb of Jesmond, taking in the spectacular surroundings at the Quayside and the Millenium Bridge, enjoying art at Gateshead's BALTIC Centre for Contemporary Arts and enjoying the eclectic and energetic Geordie nightlife
Style and Size: Get cozy in one of their 42 rooms, each with air-conditioning, minibar and DVD players, plasma TV and coffee / tea makers. As standard, each room also boasts handsprung mattresses, fine Egyptian linen and deep baths for relaxing with. But it's the Large Open Plan Suites that are most exciting, with large sitting rooms, mezzanine levels with roll top baths and large monsoon showers.
Food and drink: The classic French-bistro menu of the Hotel Du Vin & Bistro showcases a Gallic influenced menu using fresh and seasonal produce. With dark-stained reclaimed wooden floorboards, restored fireplaces, comfortable seating and soft lighting, the Bistro has a warmth in flavour, ambience and style.
Facilities: Free WiFi, meeting rooms, private dining available, dry cleaning, wedding, dog / pet friendly
Of interest: Cigar-lovers can choose a cigar from their humidor and enjoy a relaxing moment in their courtyard cigar shack.
The Balmoral – Edinburgh
Make your way to where the Old Town meets the New Town and you'll find the Balmoral Hotel sitting on the most prestigious address in Edinburgh. The majestic railway hotel, opened in 1902, has, since it opened, defined the skyline of this important Scottish Capital city. With kilted doormen, Michelin-starred restaurant, signature whisky bar and award winning spa, the Balmoral is stop you'll want to make.
At A Glance:
Location: Edinburgh, Scotland
Best for: Enjoying first-class foodie experiences, discovering exciting history, being surrounded by opulence and warm Scottish hospitality
Style and Size: Spend a night in one of their 168 opulent suites and stylish rooms for a luxurious stay in Scotland's hottest city. Whether you book a Castle view or the courtyard view, you'll be in awe of what you see.
From the Italian marble bathrooms in the Superior Deluxe rooms to the in-room bars in each of the 20 Suites, there's plenty of luxury being showcased. For the ultimate stay in opulence however, the Scone & Crombie Suite, at 95 sqm, offers a full in-room bar, an unpacking and packing service, in-house movies, in-suite check-in and a personalised concierge service. You'll also receive a personalised experience, including fast-track tickets to Edinburgh Castle, Whisky Journey or a private tour of an iconic Edinburgh Jeweller.
Food and drink: Hadrian's Brasserie offers simple yet elegant food perfect for a light lunch, business meeting or informal dinner. Using traditional cooking techniques, they create Scottish fayre with a contemporary twist. Any foodie worth their salt would spend an evening at Number One, one of Edinburgh's finest restaurants. Receiving a Michelin star fourteen years in a row, they showcase the best in modern Scottish cuisine. From delectable Afternoon Tea at Palm Court to a quiet drink in the Gallery, a dram in Scotch to sample their 400 whiskies, or a G & T in The Balmoral Bar, there's plenty to eat, drink and be merry about at the Balmoral Hotel.
Facilities: Free WiFi, pool, room service, fitness centre, spa, family rooms available, meeting rooms, laundry facilities, babysitting, business centre,
Of interest: The clock atop the Balmoral runs three minutes fast (on purpose).
The Royal Crescent Hotel & Spa – Bath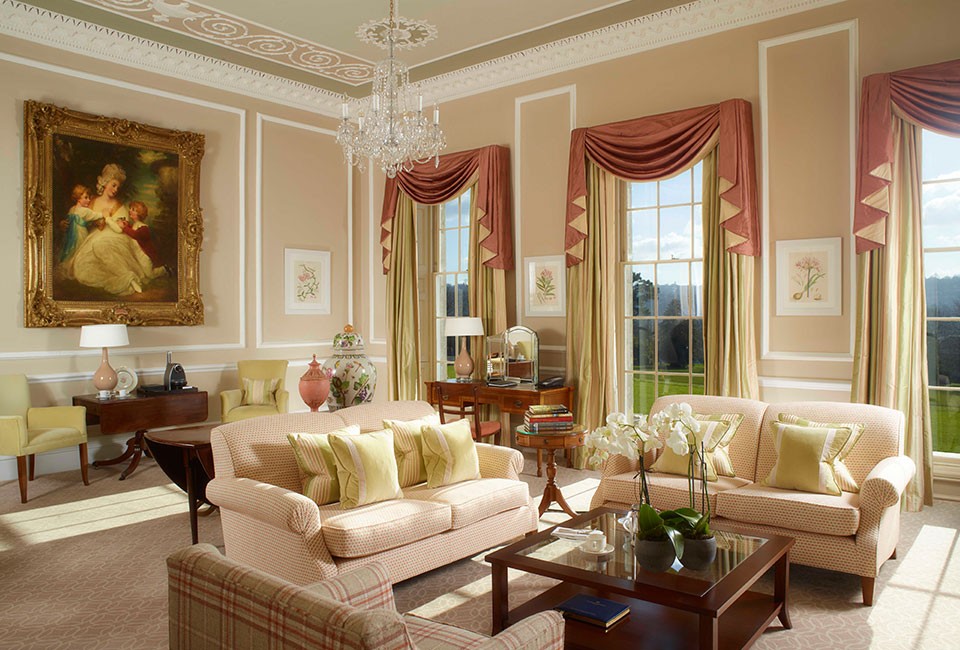 Occupying the two central buildings of a stunning crescent in the centre of Bath, the Grade I listed buildings were designed by the famous Georgia Architect John Wood the Younger, and were built between 1767 and 1774. Beyond the elegant buildings, enjoy one-acre of immaculately landscaped private gardens and beautiful out buildings where you'll find their award-winning restaurant and spa.
At A Glance:
Location: Bath, England
Best for: Enjoying breathtaking countryside, discovering all things Austen, watching the steam rise from the natural hot springs at the Roman Baths, being perfectly placed for a trip to Stonehenge
Style and Size: Whether you stay in a Classic Room or a Master Room, you'll find your surrounding are a beautiful marriage of period charm with contemporary style. Enjoy elegant period features, complimentary bottles of water, docking station and flat screen TVs to help make your stay more comfortable.
But it's in the Suites where the Royal Crescent excels itself. Enjoy four-poster beds, Nespresso coffee machines, stunning views over the Royal Crescent or the secluded Garden, and live amongst beautiful antique pieces that accent the contemporary design.
For the more private type, you can also hire the Garden Villa, replete with two suites and two bedrooms and its own private garden and terrace.
Food and drink: The Dower House, a 3 AA Rosette winning restaurant, overlooks the secluded gardens and is a wonder of culinary excellence.
Eating doesn't always have to be indoors. Picnics are a wonderful way to enjoy the beautiful countryside. Whether you want a lavish breakfast, a sumptuous Afternoon Tea or a light bite to enjoy the setting sun, guests are welcome to indulge in al fresco dining straight from the Dower House's kitchen. For some liquid imbibing, discover the Montagu Bar & Champagne Lounge, perfect for discovering delicious cocktails and decadent Champagnes. Feeling peckish? They also offer a wide range of nibbles, light bites and substantial dishes until 10pm.
Facilities: Free WiFi, Room Service, pool, spa, fitness centre, dog / pet friendly, additional beds available, babysitting, business centre, dry cleaning, meeting rooms, concierge
Of interest: The Royal Crescent has been featured in a number of films and television shows over the years, and is where actor David Suchet MBE stays when visiting or performing at the Theatre Royal in Bath.
The Lowry Hotel – Manchester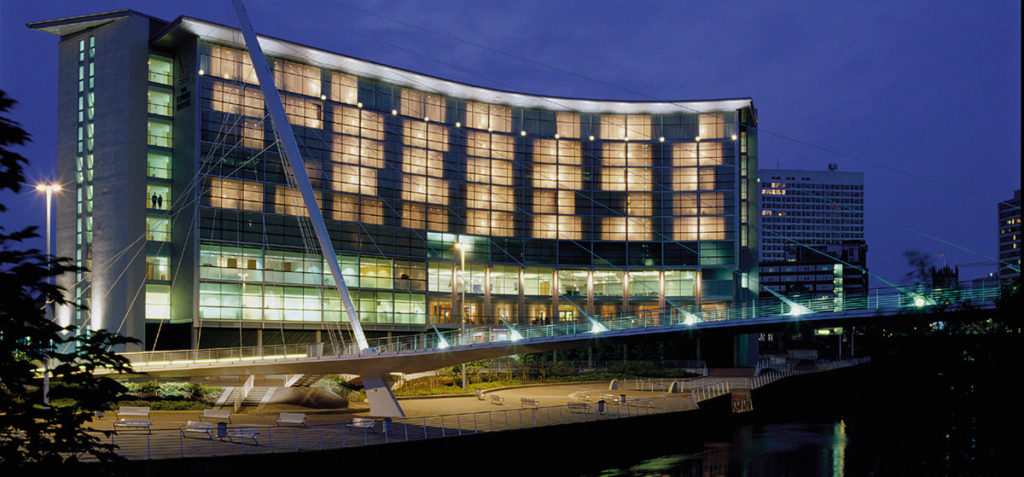 Located on the banks of the River Irwell on the recently-developed Chapel Wharf, this award-winning hotel is the perfect place to explore Salford's theatre and art district. Originally the site of where 'The Dandy' and 'The Beano' were printed, the Lowry keeps a sense of fun throughout while still exuding an air of contemporary beauty and sophistication. Whether you venture out to explore art from the hotel's names sake L.S. Lowry, or enjoy rejuvenating treatments in the award-winning QMS Medicosmetics Skin Spa, your stay will be filled with beauty, luxury and relaxation.
At A Glance:
Location: Manchester, England
Best for:  Exploring the Lowry Theatre and Gallery complexe, rejuvenating spa weekends, romantic getaways
Style and Size: Rich, contemporary designs are a standard throughout their 165 rooms, with dark woods, leather-covered chaises, rich fabrics and neutral tones. Flooded with natural light throughout from their floor to ceiling windows, your stay will be the perfect balance of light and dark.
Feel a touch of luxury at every turn, with beautifully finished bathrooms with Italian porcelain tiles, luxury toiletries, slippers and bathrobes and fluffy towels. And keep in touch with the world around you with all the mod cons, including 40" SMART TV, iPod docking station and a high speed internet connection.
Don't be afraid to indulge yourself with the Charles Forte Suite, the ultimate penthouse with 145 sqm. Enjoy a baby grand piano in the lounge / dining area, kitchenette with fridge, microwave and Illy coffee espresso machine, a table that seats eight for dinner, so you can host your own soiree, an adjoining bedroom with super-king-size bed, vanity, walk-in dressing room as well as Italian porcelain bath and double shower in the bathroom. With stunning views over the city, in-suite check-in, a bag packing service and valeting, there are plenty of perks to traveling in style.
Food and drink: The River Restaurant, with its stunning riverside views, will make every meal, whether delectable breakfast, light lunch, dainty Afternoon Tea or indulgent dinner, a feast for the eyes and your tastebuds.  For an intimate and informal drink, the River Bar is the perfect stop. From classic cocktails to their signature Lowry Hotel cocktail –  Trinity Bridge, which includes a shot of Champagne, there's plenty of tipple to sip. When hunger hits, you can order from their bar menu or something more substantial from the grill.  For a little quiet time, don't miss the library, tucked away at one end, perfect for an indulgent after-dinner Cognac.
Facilities: Free WiFi, room service, fitness centre, spa, dry cleaning, meeting rooms, laundry service, concierge, business centre
Of interest: QMS Medicosmetics Skin Spa has a private couples room, perfect for a romantic trip to the spa