Belt bags were huge in the nineties and now they're back, but with added style and finesse. The world's most prestigious fashion houses have been releasing their own takes on the classic. Serving as a practical and convenient way to carry valuables, alongside everyday items we love to have close at hand (such as headphones, gum and charging cables), these belt bags will ensure you're always prepared, and always in vogue. 
Tom Ford – Buckley Grained-Leather Belt Bag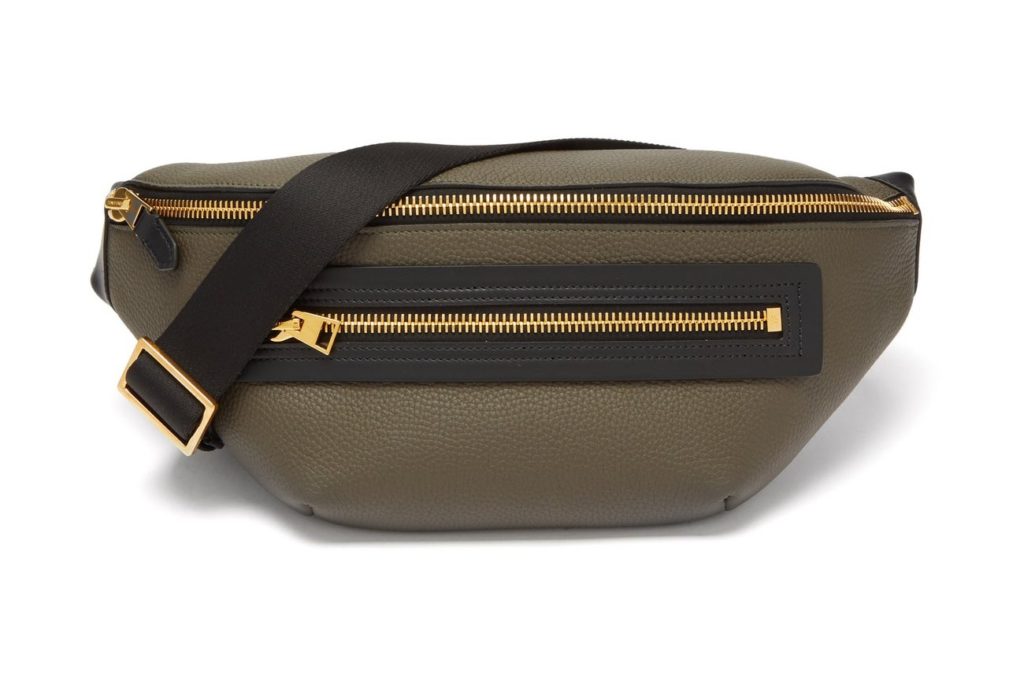 This khaki-green Buckley belt bag displays expert Italian craftsmanship. Created from grained leather, the texture is offset by a canvas strap (that adjusts for the perfect fit) and shiny gold hardware. A matching zip gives way to an inner compartment finished in black twill. There is an additional zipped pocket and a further slip pocket. 
https://www.matchesfashion.com/products/Tom-Ford-Buckley-grained-leather-belt-bag-1418533
Balenciaga – Expandable Recycled-Nylon Belt Bag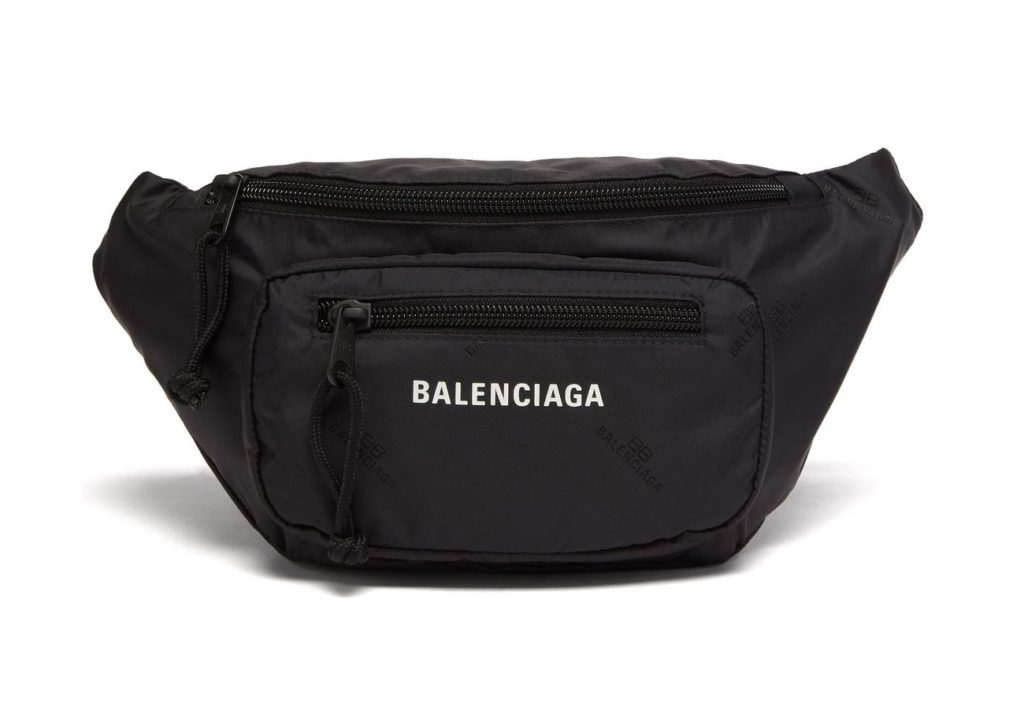 Wear this one of three ways; across the body, over the shoulder or on the hips – the webbing strap can be adjusted to suit your own preference. An environmental choice, it's made in Italy from recycled logo-jacquard nylon. Inside you'll find two pockets and the main compartment, all of which are finished with a matte black zip fastening.
Balenciaga – Camouflage-Print Canvas Belt Bag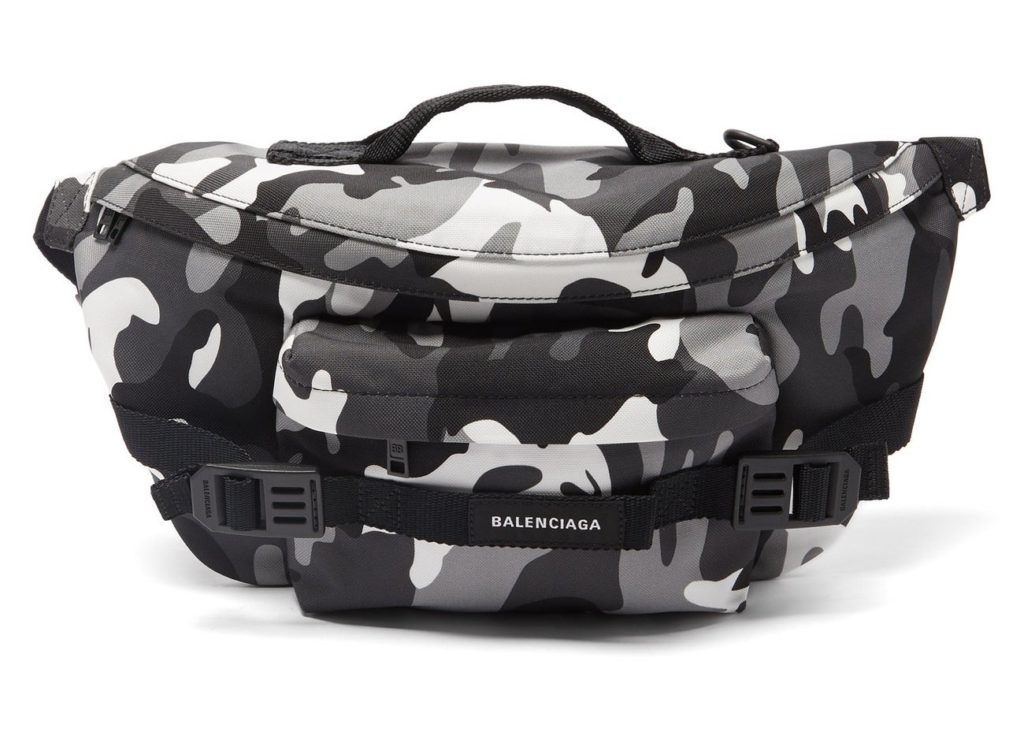 A canvas textile adds to the casual feel of this design which can be worn low on the waist, or crossbody. The black and grey piece has two zip pockets featuring a logo-jacquard patch and a buckle that releases once pressed. 
Christian Louboutin – Parisnyc Cl-monogram Canvas Cross-body Bag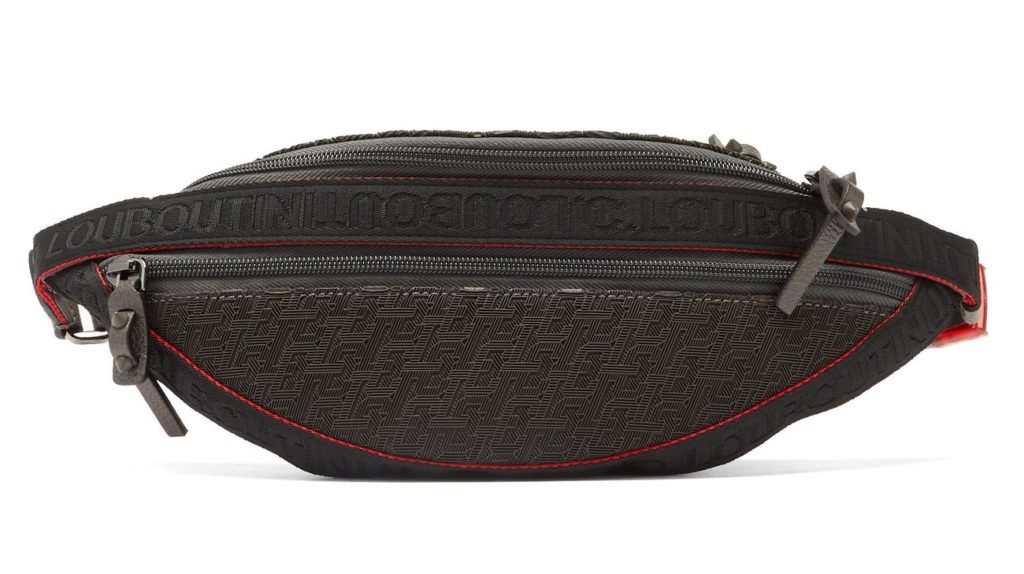 Inspired by the label's ParisNYC cross-body bag, this belt bag comes in a cool black and grey two-tone. It's set with the house's iconic CL monogram to ensure you make a statement. The silhouette itself is somewhat retro, with a zipped front and back compartment complete with card slots. Finally, the logo-jacquard strap is secured using the chunky logo-engraved silver buckle.
Gucci – Off The Grid Gg-jacquard Canvas Belt Bag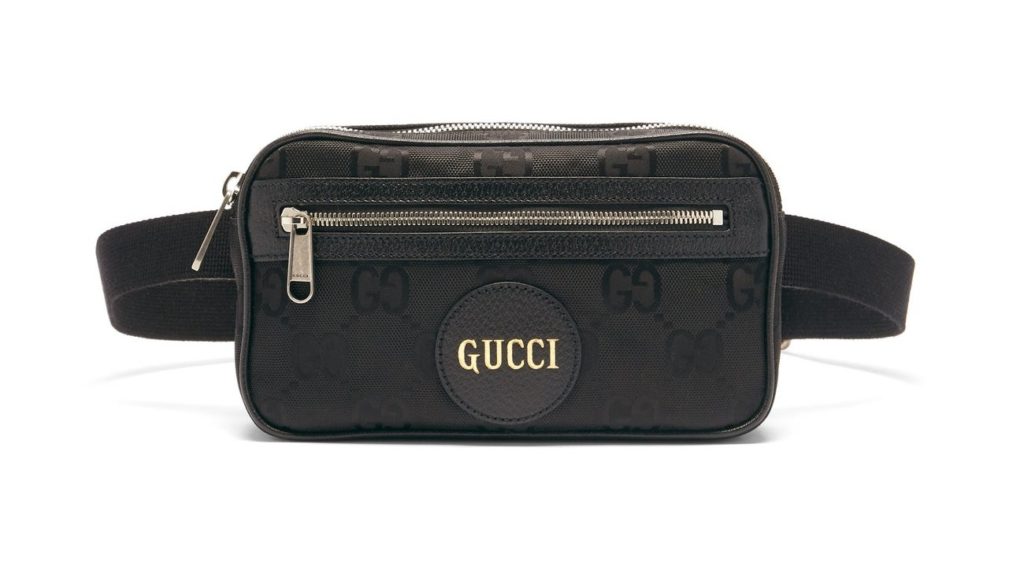 Gucci's Off The Grid collection is all about using sustainably sourced materials along with eco-friendly practices. As such, this bag is made in Italy from GG-logo jacquard ECONYL® canvas. More compact than some of the others on our list, it has leather trims and is hallmarked with a hot-stamped logo. The bag fastens around the waist via a detachable belt.
Fendi – Logo-debossed Leather Belt Bag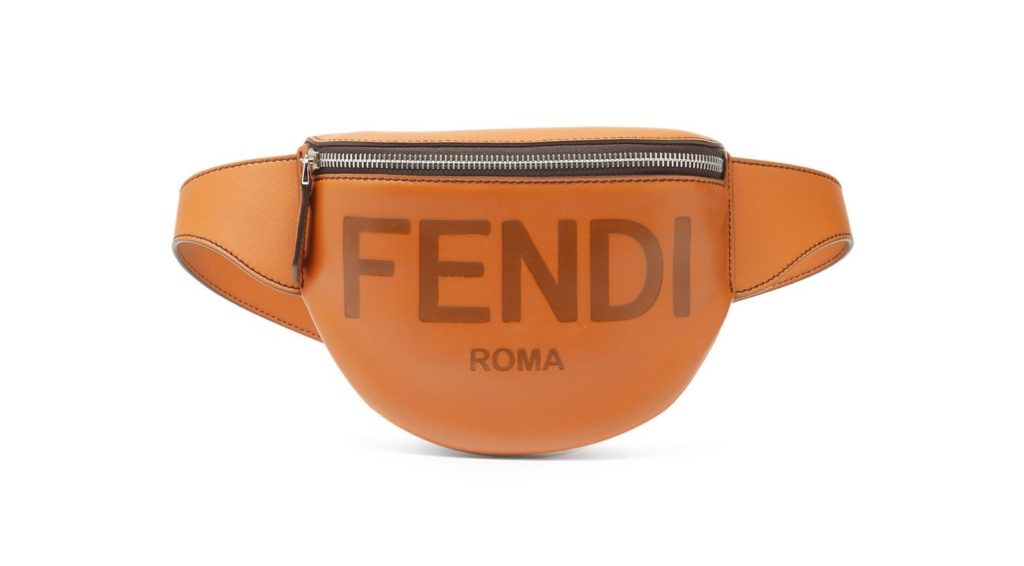 This tan belt bag is so impeccably crafted, durable and timeless in design, it'll be with you for a lifetime as it develops its patina. Made from robust leather to a clean-lined saddle-shaped curve, the Fendi bag has suede lining and is completed by a debossed hand-painted logo. Adjust the strap for a personalised fit.
Christian Louboutin – ParisNYC Printed-Canvas Belt Bag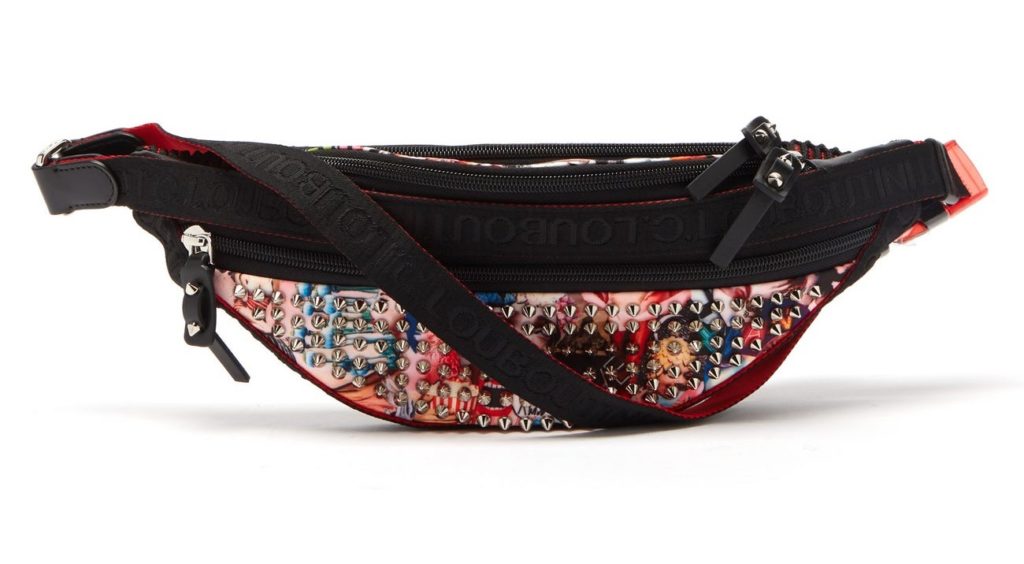 A colourful incarnation of the aforementioned CL-monogram canvas cross-body bag, this version is decorated with the Louboutin's Oh Xtian print. The collaged motif is created from cutout magazine graphics, studded with unique Loubispikes, panelled with logo-jacquard canvas trims and a black and red mesh back. It's bold and fun, with a belt adjuster to wear it as a cross-body or on the shoulder belt bag.
Versace – Logo-plaque Leather Belt Bag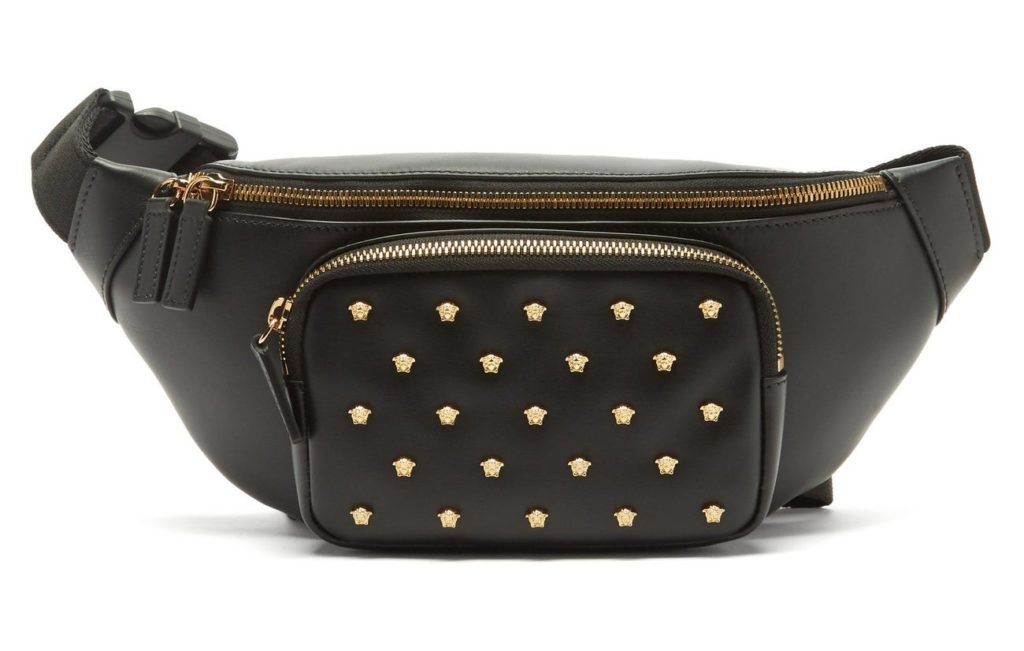 Tiny gold Medusa logo plaques are studded across the front of this leather belt bag. This is in tribute to label founder Gianni Versace's fascination with ancient mythology. The exterior is made up of ultra-smooth leather, with the interior lined in twill. Made in Italy, it features an adjustable strap and gold hardware.
Berluti – Rider Signature Canvas Belt Bag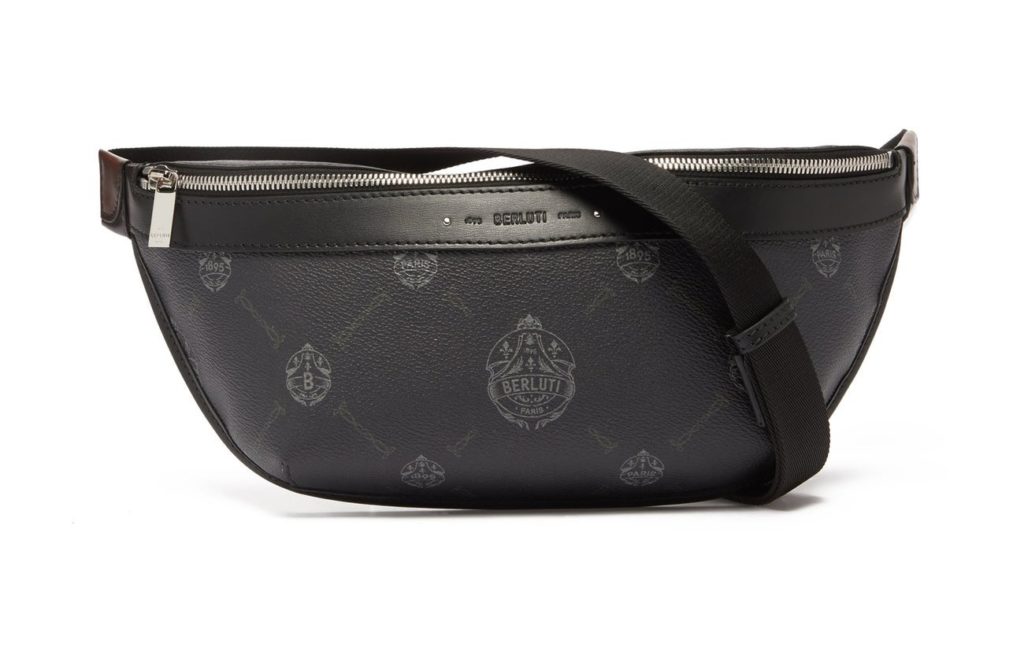 This black Rider belt bag has a tactile feel thanks to the label's textured Signature Canvas casing and smooth leather trim. Its black logo print adorns the largest part of the body and pays homage to over a century of Berluti craftsmanship. The bag is shaped in Italy and includes an adjustable strap fastened by a clip buckle.