There is nothing quite like a cool, crisp Gin & Tonic to refresh the palate on a warm summer's day and with the rise of many independent gin producers, along with the well-established household names, the choice of different botanical blends is superb.
Variety brings with it decisions and there are many factors to consider when choosing your preferred distilled spirit. If you're in it for the flavour then balance and Botanics is key, or perhaps you're more about the mixer – which type of gin will compliment your favourite tonic or presse? And for the showstoppers amongst us, the bottle and label design may be the calling card.
Maison
Mirabeau

's Dry Rosé Gin

Mirabeau Gin is a classic Dry Gin made from a 100% grape–based neutral spirit using grape skins, lemons, coriander seed, orris, angelica roots, rose petals, lavender, jasmine, bay, thyme, and rosemary. It is inspired by the botanicals growing wild around a wine estate near Saint Tropez, France and is perfect for making a Pink Martini or a signature Mirabeau G&T.
Gin In A Tin – Lemon Peel, Coriander & Cardamom
Lemon Peel, Coriander & Cardamom Gin by gin company Gin In A Tin is a classic dry gin that uses traditional botanicals such as coriander, lemon peel and cardamom. It has a smooth and crisp taste with juniper at the forefront, citrus notes of lemon and orange, and a subtle note of cardamom. Serve it over ice with tonic and a garnish of pink grapefruit, or mix it up as a martini.
57
˚
Sky
e
Earth
and
Sea
Gin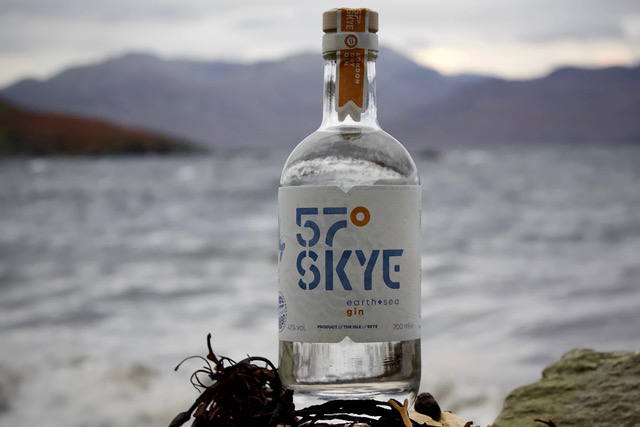 57˚ Skye Earth and Sea Gin is a unique gin made with Skys local and coastal botanicals such as heather, blossom, rowan berry, yarrow, juniper, angelica, lemon peel and smoked laminaria and kelp seaweed. The combination of these botanicals creates a gin with a peppery warmth that is balanced with the earthiness of the coastal elements.
Amarula African Gin
Amarula African Gin is a unique take on gin, made from marula fruit spirit and premium botanicals. For every litre of Amarula African Gin sold, £1 goes to the Amarula Trust to support elephant conservation and local communities. It has a complex yet delicate flavour with gentle juniper notes and subtle orange blossom and is best served over ice with Indian tonic and a slice of fresh grapefruit.
Beefeater

 Rhubarb & Cranberry
Beefeater Rhubarb & Cranberry is the perfect blend of the classic British flavours of rhubarb and cranberry, inspired by the recipes of our founder James Burrough in the 1800s. Crafted in their famous London copper still, Beefeater Rhubarb & Cranberry is made with natural ingredients and follows our award-winning London Dry recipe. Enjoy it as a G&T with tonic water, orange bitters, and a lime wheel, or in your favourite gin cocktails.
Fords Gin
Fords Gin, a London Dry, is a collaboration between 10th generation Master Distiller Charles Maxwell of Thames Distillers and Simon Ford. It's been designed in unison with professional bartenders and celebrated distillers from around the world. From its beginning, Fords Gin has earned credibility within the craft bartending community and has become a go-to gin for use in cocktails. Fords Gin is one of the top 10 best-selling premium gins in the USA and is the newest member of the Brown-Forman portfolio, joining in 2019.  Fords Gin won the Chairman's Trophy at the Tales of the Cocktail Spirited Awards 2019, and it remains on the 50 Best Bars top trending gin list.
Bombay Sapphire Premier Cru Murcian Lemon Gin
Bombay Sapphire Premier Cru Murcian Lemon is a small–batch gin that celebrates the finest flavours of Murcia's citrus fruits. The lemons, mandarins, and sweet oranges used in this gin are all sourced sustainably and of the highest quality, hand-picked and hand-peeled from the late harvest when their flavours are most intense.
HYKE Gin
HYKE Gin is a sustainable grape gin made in Sussex, England. The grapes used are leftover from bunch trimming to fit into supermarket punnets. The grapes are distilled to create a grape spirit, which is blended with grain spirit and botanicals, including juniper, myrrh, rooibos, and coriander. The gin has a sophisticated flavour profile with citric notes and can be enjoyed with a simple tonic or used in cocktails.
Burgh Island London Dry Gin
The Burgh Island Hotel has announced the launch of its own bespoke Burgh Island gin, in partnership with North Point Distillery. The rich history of the island, which has hosted guests such as Winston Churchill, The Beatles, Agatha Christie, and some of today's most celebrated musicians and film stars, is captured by the gin's ingredients. The first batch of this carefully curated bespoke London dry gin is infused with delightful citrus notes and is blended beautifully using 17 different botanicals including Rosa Rugosa and Gorse stemmed from their very own tidal island.
58 and Co Apple and Hibiscus Pink Gin
At 58 and Co they believe that no fruit should go to waste, which is why they have teamed up with Loddington Farm in Kent to supply them with their 'wonky' apples. These apples are cosmetically defective but perfectly good to eat, and make for a delicious, naturally sweet pink gin. The hibiscus in the gin cuts through the sweetness of the apple with a tartness that pairs perfectly well with cranberry sauce. So if you're looking for a festive, pink gin this winter, look no further than this one!
Stuzzi Gin Per Negroni
The four guys behind Stuzzi Restaurants have created a gin specifically for the Negroni cocktail. The gin is made with candied Sicilian oranges, bergamot, Italian liquorice root, orris root, lavender, and cinnamon, which work together to amplify the complexities of the vermouth. The resulting gin is a game changer for negroni lovers.
Monterey Helford Gin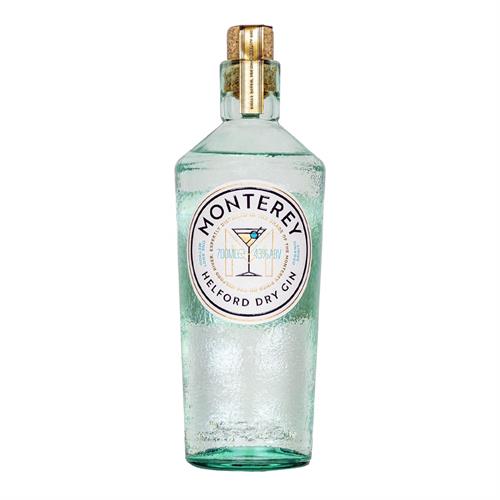 This gin is made in Cornwall, England, under the shade of Monterey pines on the banks of the Helford River. The Monterey pines are native to the coast of California, but they have become familiar on the Cornish coast as well. The gin is made using an organic base spirit and the finest botanicals. It is presented in a beautiful way, due to the history of the Monterey pines in Cornwall.
Vitoria Regia
Named after Queen Victoria's Amazonian lily pad and the Brazilian symbol of botany, Vitoria Regia is an award–winning artisanal organic gin that handcrafts quality distilling with exotic 'new world' flavours. Using only natural ingredients and sustainable techniques, Vitoria Regia is available as an Organic Dry gin (44% ABV) as well as four other exciting flavours: Organic Rose, Organic Tropical, and Organic Citrus (38% ABV). Each gin features base botanicals of juniper, cardamom, lime, coriander, and all spice, with added exotic fruits and spices to create different exciting flavours and infuse the essence of Brazil into every sip.
Penny Drop Cornish Old Tom Gin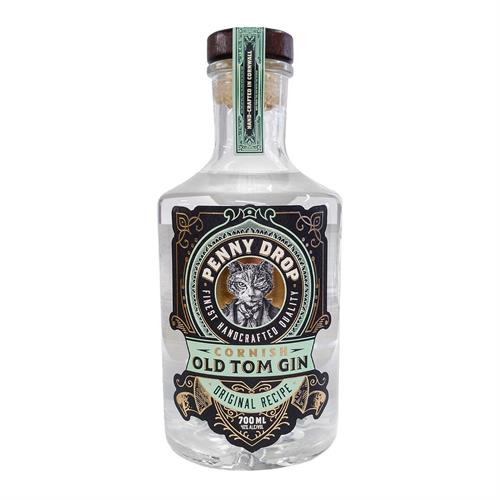 Penny Drop Gin is hand-crafted in Cornwall by (Drink Finder / Constantine Stores) and made to a premium criteria set out by owners Mark & Andrew. Penny Drop Gin Old Tom is made with the finest hand-selected botanicals, these include juniper berries, coriander seeds, black pepper, cassia bark, vanilla, meadowsweet, lemon peel and seabuckthorn berries harvested here in Cornwall. To raise the sweetness in the profile and reach the classic Old Tom style, they have used locally sourced honey from Polwheveral here in Constantine, Cornwall. The end result is a delicious and high-quality Cornish take on the Old Tom style of gin. Old Tom Gin is traditionally a little sweeter than London Dry gins, and not as sweet as Dutch Genever.
Rock Rose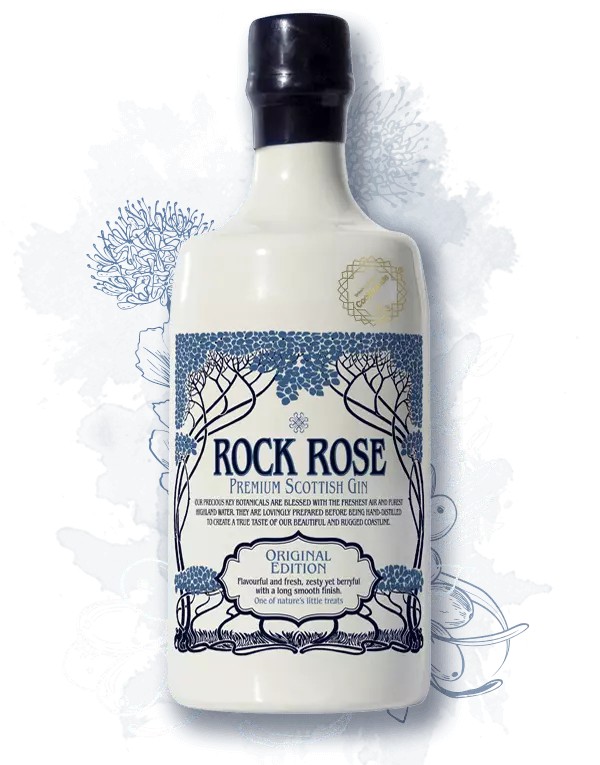 Rock Rose Gin is a small batch, handcrafted gin made with local and traditional botanicals. The botanicals are carefully selected for their flavour properties to create the perfect taste. The final recipe was chosen after fifty-five experiments by distillery owners Martin & Claire. with the first batch being distilled on the 17th August 2014.
G Vine Gin
Crafted in France, G'Vine is a luxurious French gin made from grapes. It has a smooth, floral flavour that is perfect for a refreshing G'Vine & Tonic. The gin is delicate and aromatic made with vine flowers, smooth grape spirit, juniper berries, and eight other botanicals. It is well-balanced, full-bodied, and soft, making it a refreshing and enjoyable drink for gin lovers and non-gin-drinkers alike.
Barra Atlantic Gin
The spirit of the island, Barra Atlantic Gin is distilled, bottled, and labelled on the remote Scottish island of Barra. Made with seventeen specially selected botanicals, including organic carrageen seaweed, hand-harvested from the shores of Barra, this gin showcases a perfect balance of floral and herbal notes on the nose, with juniper, citrus, and dulcet carrageen flavours rolling across the tongue like the mighty Atlantic surf breaking on Barra shores.
Santa Ana
Santa Ana Gin is a wonderful new gin with a myriad of tropical botanicals. It gets its name from the Santa Ana Cabaret in Manila, which was the largest cabaret in the world back in the 1920s. Santa Ana Gin has a foundation of classic botanicals like juniper, coriander, orange, angelica, and orris root, with the addition of four botanicals from the Philippines. These include ylang ylang and Alpina, which bring delicate floral fragrance to balance the fruity zest of calamansi and dalandan citrus. Santa Ana Gin is housed in an art deco-inspired glass bottle, adorned with a splendid jungle scene. If you want to add an exotic twist to your favorite gin drinks, look no further than Santa Ana Gin!
BULLDOG Gin
BULLDOG gin is a smooth, eminently mixable gin with multiple layers of flavour. It is handcrafted at an English distillery that has been making the highest quality gin for over 250 years. Its 12 botanicals include White Poppy from Turkey, along with Dragon Eye and Lotus Leaf from China; adding a layer of distinction to its refreshing citrus notes. Enjoy the BULLDOG Gin and Tonic with sliced blueberries, a BULLDOG Supersonic Gin and Tonic with cassis and blackberries. Pairs well with Fever-Tree Mediterranean Tonic Water due to its smooth, citrus flavour.
Monkey 47 Schwarzwald Dry Gin
Monkey 47 Schwarzwald Dry Gin is a full-flavoured gin with a complex taste that is perfect for mixing into cocktails. It's made with 47 different ingredients, including juniper, citrus, spices, and a real Black Forest "secret weapon", fresh lingonberries. The gin is distilled and matured in traditional earthenware containers, which brings out all of the flavours of the ingredients. Aficionados, bartenders and connoisseurs the world over have come to appreciate the incredible complexity and harmony of a gin, which has consistently been voted the No.1 Top Trending Gin brand in the World's Best Bars.
Plymouth Gin
Plymouth Gin is a smooth, creamy, full-bodied gin that has been distilled using the same blend of seven exotic botanicals since 1793. It is produced in small batches only three times a week at England's oldest operating gin distillery in the South West of England. Ideally served with Fever-Tree Aromatic Tonic over ice with a twist of lemon. Alternatively, savour its smooth taste in a classic cocktail.
No.3 Gin
More than a decade ago Berry Bros & Rudd created No.3 to be "gin, just as it should be". Since then, it has been awarded World's Best Gin four times.  It took them two years to get the recipe just right working with Dr David Clutton, the only man to hold a PhD in gin, as well as the world's leading mixologists and Master Distillers to perfect the combination of juniper, citrus and spice.  The gin's character comes from the way in which it is distilled and they hose to work with a family-owned company in Holland – the original home of gin where it has been distilling for over 300 years. No.3 is produced in a 100-year-old, brick-encased, copper pot still. The result is a classic London Dry spirit, combining coriander, angelica root, cardamom, grapefruit, sweet orange peel and juniper. Whether in a G&T or a dry martini, No.3 Gin is crisp, refreshing and perfectly balanced.
Shroton Fair Gin

Inspired by a Royal Bengal Tiger once exhibited at the Shroton Fair in Dorset in 1767, their craft Gin pays homage to the Fair itself, a piece of Dorset heritage for over 700 years which has since passed out of collective memory. Like the Royal Bengal Tiger exhibited at Shroton Fair in 1767, the warming spices distilled into every drop of their signature gin – Zummit Dry bring a splash of the Orient to rural Dorset. Best served over ice, with no garnish to allow every single one of its 16 hand-selected botanicals deserves to be savoured
Cambridge Distillery Truffle Gin
Cambridge's Truffle Gin is the first digestif gin made using white Piedmont truffle from Alba in Piedmont. Complex and decadent, it is a bold and surprising gin. And with its extremely long, expressive finish and unique rewarding taste, Truffle Gin is a fitting accompaniment to the finest of dining. Truffle Gin is the perfect gift for the drinks connoisseur, an impressive tipple for those who love to entertain, or for those seeking a personal treat, to be served after a meal. Drink it neat on ice, or in a Truffle Negron.
Salcombe Gin Rosé Sainte Marie
Inspired by the coastal vitality of Salcombe and its shipbuilding heritage, Salcombe Distilling Co. creates exceptional gin at its waterside distillery on Island Street, Salcombe. Live life in colour, with their exceptional dry rosé gin 'Rosé Sainte Marie'. Distilled and crafted using the finest Macedonian juniper berries to provide structure in the background, partnered with a natural, but not overpowering soft sweetness from strawberries and angelica. Fresh citrus peels of lemon and orange which are hand peeled each day prior to distillation and combined with ten further hand sourced botanicals including lemon verbena, rose petals, orange blossom and pink peppercorns are combined to create this truly exceptional gin that is elegantly soft and smooth.
Mermaids Pink Gin
Aromatic and refreshing, Mermaid Pink Gin infuses the flavour of fresh Island strawberries with the smooth yet complex taste of our award-winning Mermaid Gin, a blend of lemon zest, grains of paradise and fragrant rock samphire. Perfectly balanced, subtle yet vibrant, less sweet than most pink gins with no added sugar.
Hernö Old Tom Gin
From the Swedish Hernö distillers comes a sweet, lip-smacking Old Tom Gin. Made from the same distilled gin as its Hernö Gin and Hernö Navy Strength Gin, the only difference is the addition of extra Meadowsweet in the distillation, and after diluting it down to 43%, a touch of honey is added. The sweetening lifts the floral notes, releases an array of juniper and makes it even smoother.
Eight Lands Gin
Eight Lands Organic Speyside Gin is a fresh, bold, juniper and citrus-led London Dry gin which is complemented by locally foraged cowberries and wood sorrel from the family's organic estate. Sorrel provides a citrus element, complementing the fresh lime and fresh lemon peel alongside the tart berries that bring a touch of fruity sweetness. The gin includes 11 botanicals including orris root, cardamom and coriander seeds.
ORO Gin
This award winning classical style Scottish Dry Gin is distilled with a few traditional gin botanicals and some more unusual ingredients (such as cassia bark, Malabar cardamom, pink peppercorns and lemongrass). Starting with robust notes of juniper smoothly moving to a zingy citrus mid-body, finishing nicely dry, with a note of spiced vanilla.
Jaisalmer Indian Craft Gin
Jaisalmer is the first Indian craft gin and is named after the glorious and breathtaking city. The gin pays homage to the imperial age of Maharajas and Maharanis. The gin is a triple-distilled neutral grain spirit, re-distilled in traditional copper pot stills at a distillery based in the foothills of the Himalayas. The drink retains the classic gin flavour of juniper berries but with a refreshing twist coming from a wonderful blend of hand-picked Indian botanicals.
Conker Gin
Set up by Rupert Holloway in April 2015, Conker was Dorset's first gin distillery that has now sold over 200,000 bottles around the UK. Conker embodies the spirit of Dorset, blending British wheat spirit and New Forest Spring Water with botanicals that can be found across the Dorset coast and New Forest. Passionate foragers, distillers and bottlers, the company handcrafts its spirits in small batches to ensure no shortcuts or compromises are taken when it comes to the craft processes, the ingredients and the final quality.
O'ndina Gin
Full of fresh, herbaceous tones, a distinctive, savoury Italian flavour and presented in a unique, eye-catching bottle, O'ndina Gin is a perfect gift for Gin lovers. The notes of fresh Grande Verde de Genova basil, sourced from Liguria and famed for its sweetness and vibrant colour, take you right to the sea. Bright notes of juniper then make way for a bouquet of Italian herbs; marjoram, fennel, sage, citrus, orris and liquorice.
6 O'clock Gin
Strikingly Smooth 6 O'clock Gin London Dry has a clean flavour led by Juniper. Try it with your favourite premium tonic to create your own moment of "ginspiration". The smoothness flows from our custom-built copper still with its unique double sphere head, together with the careful selection of our botanicals and our distiller's craft. Only the pure heart of each run makes the cut.