We recently had the pleasure of staying at Hotel Indigo Kensington whilst on a business trip to London. Once a beautiful Victorian townhouse, the hotel is now a boutique hotel located in the affluent Borough of Kensington and Chelsea.
The Hotel Indigo brand is part of the InterContinental Hotel Group and this brand prides itself on ensuring that each of their hotels present their own quirky individual characteristics reflective of the area in which it is located combined with the exacting standards the group is known for delivering.
Arrival
The hotel is located just off the main high street on a beautiful London suburbia style street and still stands with great Victorian elegance.
Reception is bright and spacious, showcasing many 'arty' and local interest artefacts. There was a very pleasant and helpful team on hand to do a seamless check-in and although our rooms weren't ready for us (we were early and didn't expect them to be) the team offered us complimentary drinks in the bar and set aside our bags so if we did want to go and explore we could do so comfortably.  A very kind and unnecessary gesture.
There is a wall in the reception area where local artists can adorn the walls and there was a young talented girl doing just that when we arrived. It was great to see but I forgot to ask her name and when I came back she'd gone!
Facilities
The hotel boasts an onsite fitness centre and guests can also use Soho Gym which is a short walk from the hotel. We were only visiting overnight and didn't bring our gym kit so didn't take advantage of sweating it out.
There are some useful business services too including scanners, copying, courier and a few meeting rooms to choose from too.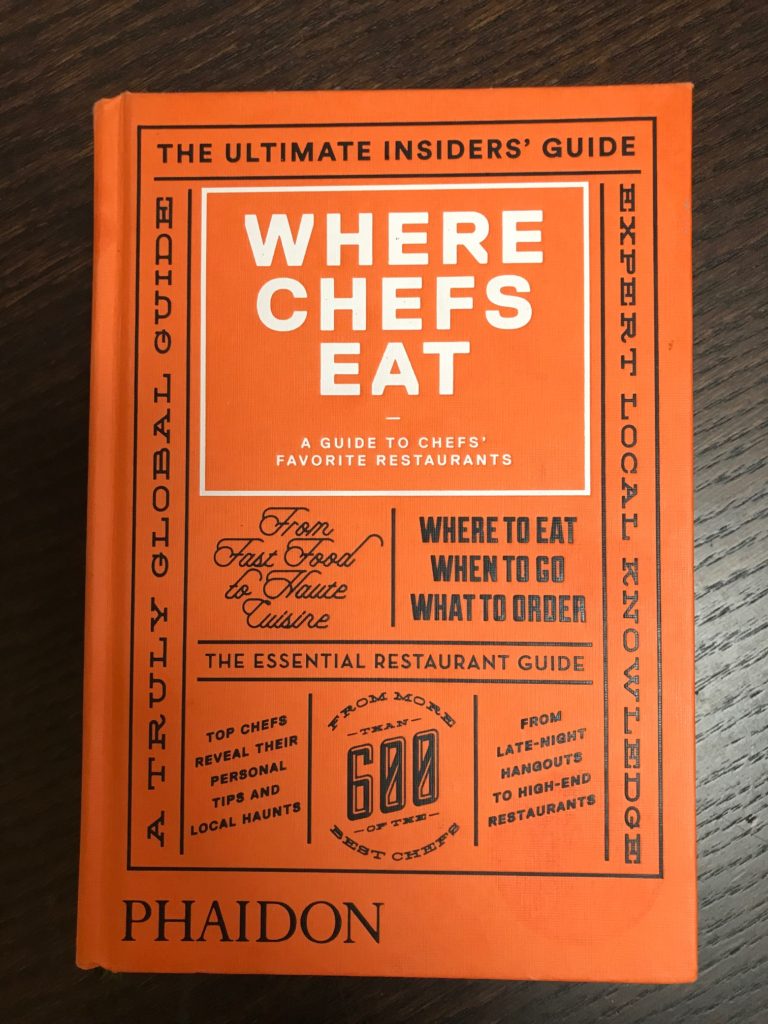 There were lots of guides for the local area and wider London too, should you be there to explore the neighbourhood and beyond. I overheard one guest compliment the receptionist on her local knowledge and for the galleries she'd recommended.
The hotel is pet friendly too, should you be traveling with your furry friend.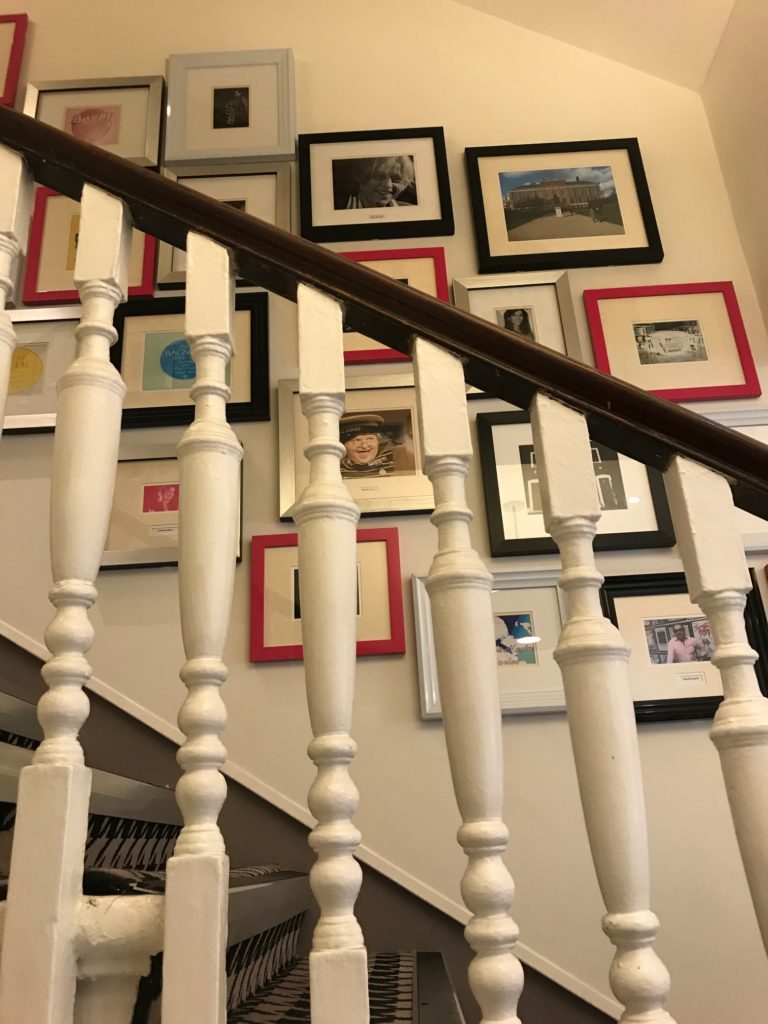 Throughout the hotel there was a great range of quirk art works and photography along with floating shelves about the place with an eclectic selection of books to borrow throughout your stay.
Restaurant
Just behind the reception area is another bright, open and relatively contemporary (in a rustic kind of way) restaurant which can be also accessed from a separate entrance as it is open to both hotel residents and non- residents. The restaurant was very busy and after we had our lunch it was easy to see why; a short menu with some classic yet very appetising Italian dishes crafted by acclaimed Chef Theo Randall is the basis of Theo's Simple Italian. We opted for a fresh pasta dish and a risotto; both of which were absolutely delicious. The portion size was very deceiving, I thought I'd been given the smaller option but the waiter confirmed it was in fact the larger portion and as it turned out it was more than sufficient!  however, it was delicious A good wine list and very pleasant surroundings – in fact it was a shame we had meetings to attend as we felt so comfortable we could have stayed all afternoon!
The Rooms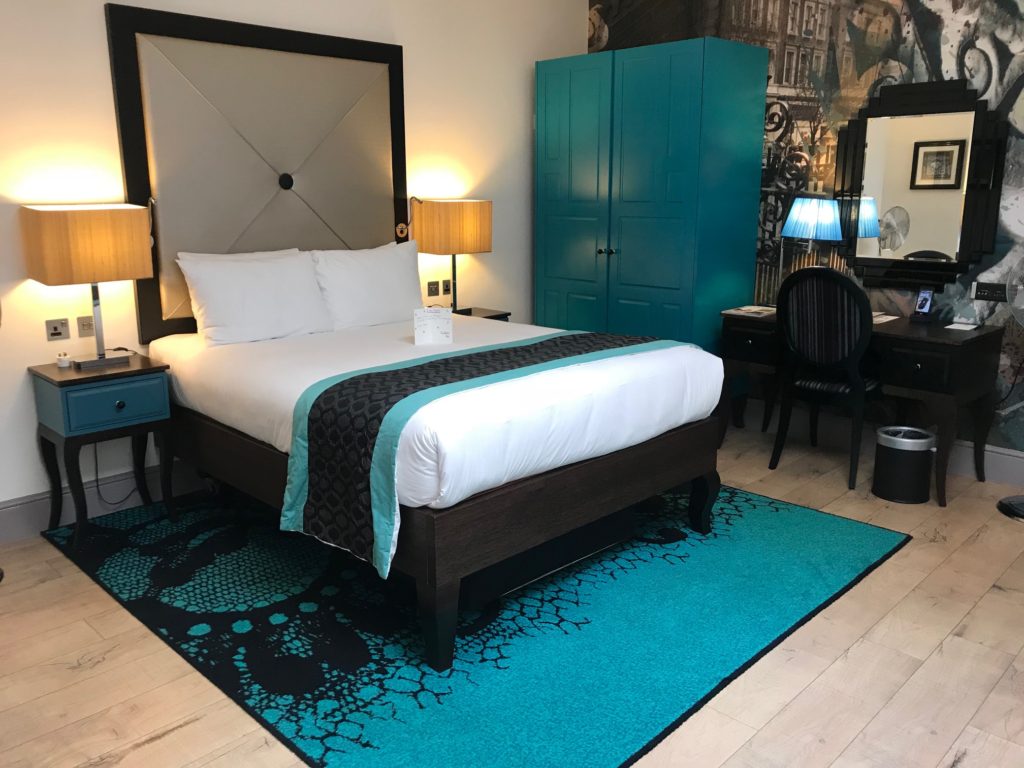 We were both upgraded to an executive room which were tastefully decorated in a contemporary style. Each room has its own personality and both of ours were spacious with all the mod-cons you'd expect and a great work-desk should you need it. There was a separate sofa area should you want some down time and a good selection of magazines in the room.
The complimentary refreshments were all top quality independent brands and the mini-bar was well stocked.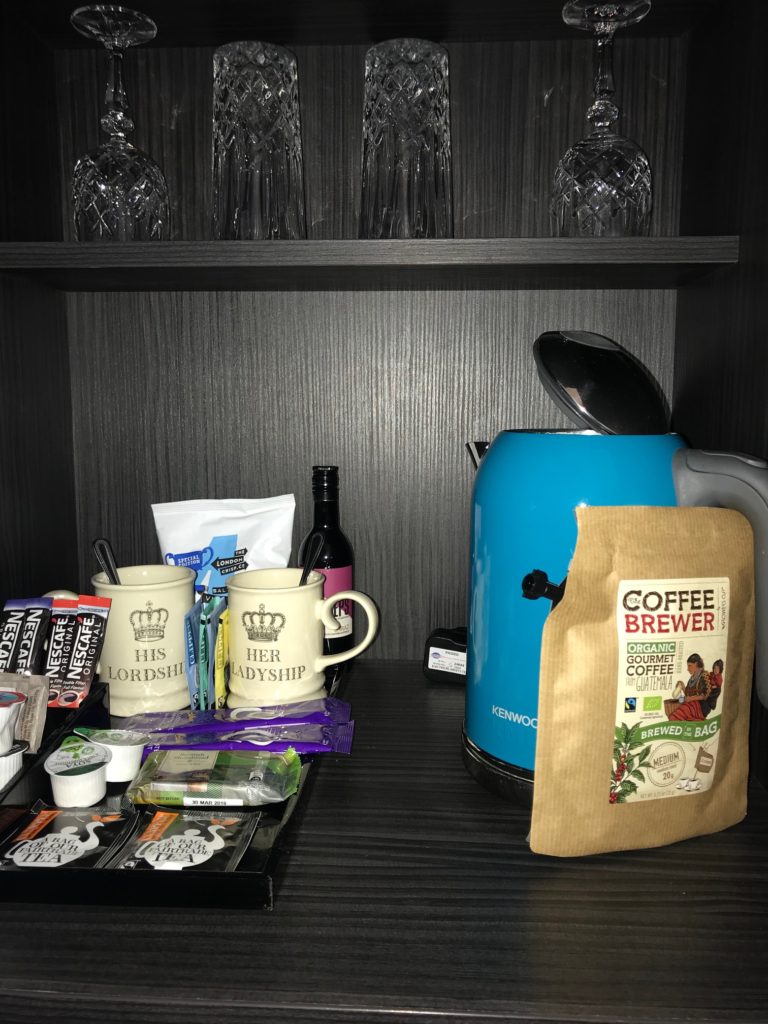 I always love a wardrobe light and wasn't disappointed!
The bed was beautifully made and super comfy and presented a hand-written welcome card – offering sentiments that we hope we enjoyed our stay.
Although my bathroom didn't have a bath the large walk in shower and the rest of the amenities gave it a spa-like feel and the blue atmospheric night-time lighting added to the spa-like sensation.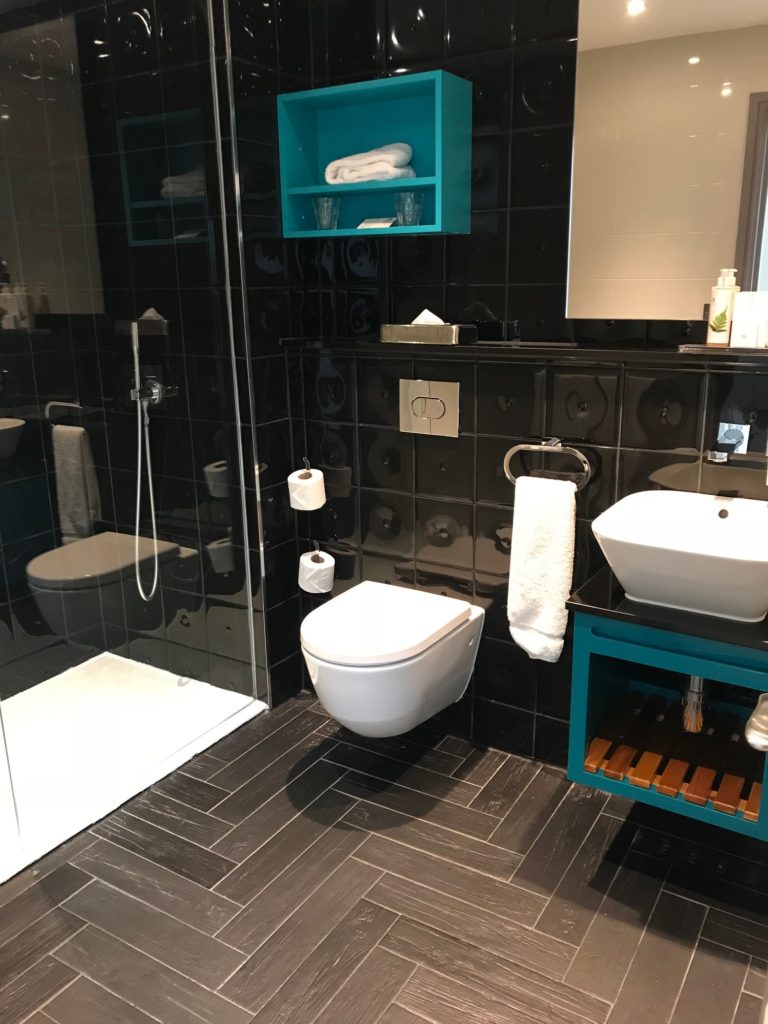 Breakfast
Breakfast was served between the hours of 6.30am – 10.30am which caters perfectly for business and leisure guests. The hot menu presented some very tasty choices with a mix of tempting treats or healthier options.
I couldn't decide what to have but after perusing the buffet decided I didn't need a cooked breakfast; as tempting as they were! The buffet selection of fresh pastries, home-made granola, big juicy fruit compote, peanut butter, fresh bread, fresh seasonal fruit, cold meats and salmon – oh I was in my element! In fact, I definitely over indulged!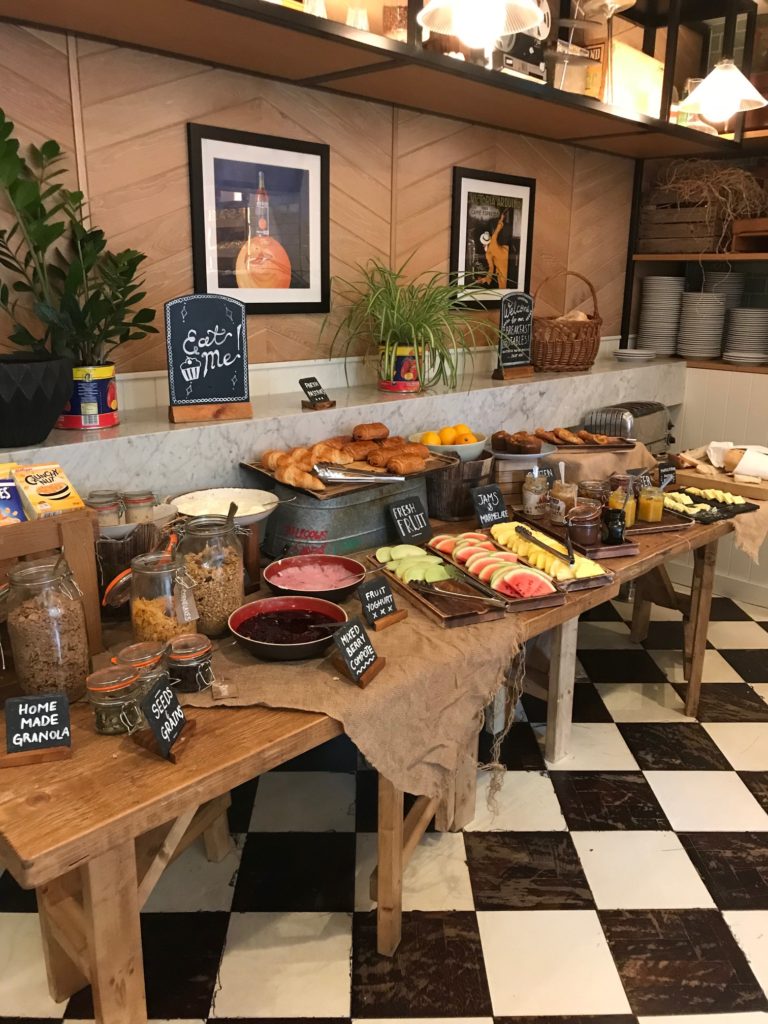 If you are staying here then I would make the effort to enjoy a breakfast here. I don't know if it's an option but even if I wasn't staying here I'd try and go for breakfast.
Accessibility
Just a short walk (5 mins) from Earls Court Tube Station meaning you can easily explore many of the great sights of London including the British Museum and the must-see Buckingham Palace.
Final Thoughts
I really liked the hotel's vibe and all the restaurant / food options were of a great standard. We were there on business and it served its purpose perfectly, if I was going on a leisure break to London I would also consider this as a place to stay as it does everything a boutique hotel should do very well.
Costs
Rates vary but at the time of booking the best rate available was £155.00
Contact Details
Website: click here
Address: 34 – 44 Barkston Gardens| London | SW5 0EW|
Telephone:  44-20-73737851