Whenever we visit London there is one area of the city that we make a beeline for, Shoreditch of course! A wave of gentrification over the last 10 years has transformed the area from grit to hip and whilst the area has changed beyond all recognition with luxury hotels and cocktail bars sprouting up it has maintained a 'soul' that is sometimes void in other parts of the capital. Read on and find out where you should be staying the next time you are in London's coolest district.
 Discover more about our favourite quirky hotels in London, or the latest luxury hotels in the capital or relaxing spa experience in London?
The Boundary Project
Rather than call itself a hotel, Boundary's tag line is 'Restaurant, Rooms and Rooftop'. Founded in 2008, the Boundary is, as expected from a project with design maestro Terrance Conran behind it, an incredibly beautiful hotel. Located in a renovated Victorian warehouse, the hotel is a mecca for those with an appreciation for good design. Each of the 12 individually considered guest rooms are tributes to famous designers or design movements such as the colourful and graphic Bauhaus room, or the modernist Mies Van der Rohe room complete with a legendary Barcelona chair.  Expect to find the rooms full of bespoke furniture and unique original art pieces. This design focus extends to other areas in the hotel. The huge 'double-height' basement area has had its industrial features preserved and is now home to the classic French-style restaurant, whilst the Rooftop Bar and Grill is a modern extension on top of the original warehouse, filled with citrus trees and offering panoramic views over the east end. Truly spectacular!
The Hoxton
The Hoxton Hotel is now recognised as being one of the coolest stay-overs in London. Not only is demand to stay in the hotel itself high, but with an eclectic programme of events including exhibitions in their art gallery space, and interactive seminars from industry experts, the Hoxton is a popular place for locals to hang out too. Their 'Eat, Drink, Work and Play' mantra has resulted in a stylish hotel with adaptable spaces and multiple functions right at the centre of the bustling Shoreditch community. Rooms are compact like most city hotels, but the contemporary design focus creates bright and comfy spaces that never feel stuffy.
The Curtain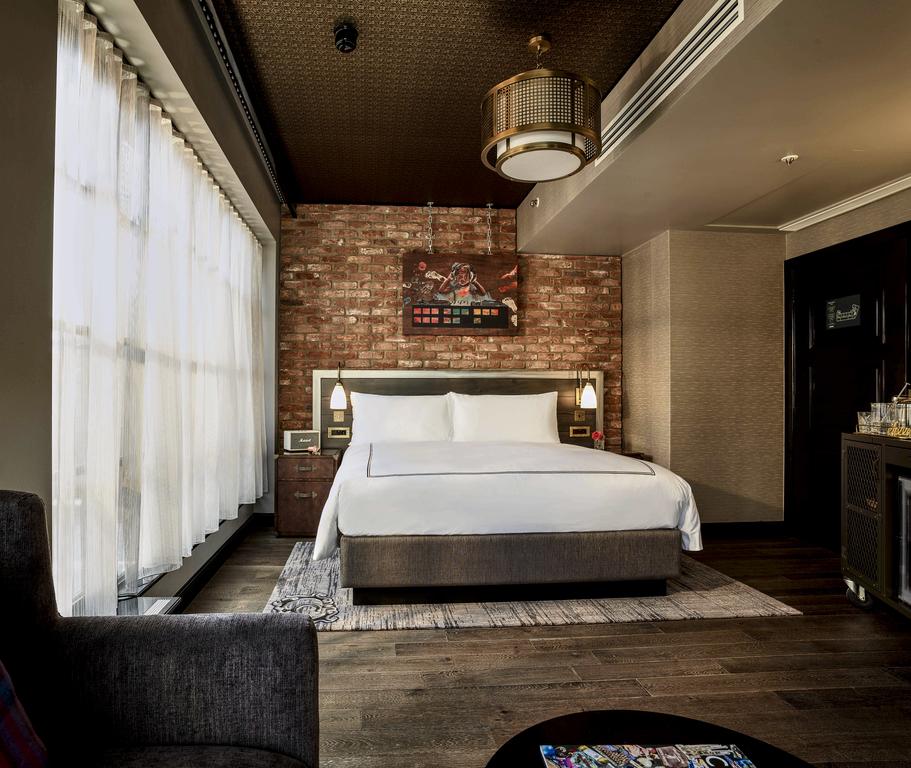 The Curtain is more than just a five-star hotel. It's home to trendy restaurants, a live music venue and members club. Located right in the heart of Shoreditch, the luxury property comprises of 120 guest rooms and suites. All rooms and suites include a well-stocked mini bar, lavish toiletries, steam showers and bespoke artwork guests will enjoy the utmost in luxury. Guests also have exclusive access to the gym and wellness centre and the co-working space is ideal for business travellers. There's a fine selection of dining options but the cream of the crop is the LIDO rooftop restaurant and pool – an experience only to be enjoyed by guests and Curtain members. For guests making frequent visits consider becoming a member to enjoy a whole host of exclusive benefits.
Ace Hotel
Ace hotels have successfully exported their American-hipster formula to London in the form of Ace Hotel, Shoreditch. The details in this hotel will satisfy any guest with customised A.P.C quilts on the beds, Rudy's Barbershop bath products in the en-suites, locally sourced modern art on the walls, and bikes from Tokyo Bike available to hire at the front desk. Possibly the most attractive aspect of Ace Hotel is their huge selection of eating and drinking choices. From their High St. Window which is a street facing vendor offering fresh, healthy juices and snacks in the day time and comfort-food and sweet nibbles in the evening, to the more up-market Hoi Polloi, curated by food maestros Pablo Flack, David Waddington (of Bistrotheque fame) and head chef Simon Gregory, serving up 'fiercely seasonal' and forward-thinking dishes.
M by Montcalm
The sophisticated M by Montcalm hotel situated in the heart of London's tech city, offers accessible luxury for those looking for that extra something to their hotel stay. Rooms are contemporary, comfortable and the definition of understated luxury – think muted tones, contrasting textures and minimal styling. Tonic and Remedy, the mezzanine cocktail bar offers some inventive and unique tipples, while the Urban Coterie restaurant situated on the 17th floor offers both incredible views over the city and beautiful food from renowned head chef Anthony Demetre. Where some inner-city hotels struggle to squeeze in a tiny bar, M by Montcalm's modern building also houses a spa, for those wishing to unwind in more peaceful surroundings. The true indulgence however, of an experience with the M hotel comes in the form of their exclusive concierge services. From the Scent Steward who will provide an aroma menu for you to select a unique scent for you room, to the Bath Butler who will run you the perfect spa-worthy bath in your luxurious en-suite after a busy day.
Batty Langley's
If something traditional is more your thing then Batty Langley's is a delightfully different accommodation offering, which revels in its Georgian influences without compromising on luxury. Batty Langley was a famous garden designer, who was renowned for publishing handbooks to help inexperienced clients when designing their Georgian houses and grounds. The property not only owes its name to the influential designer but also much of its décor inspiration. Guests can expect period artwork and antiques in rooms, Georgian four poster beds, and bathrooms with restored period plumbing and deep roll top baths. Where other hotels in the area promote their modernity, Batty Langley's is the antidote to repetitive contemporary décor. Every room is a spectacle and named not numbered. Immersing yourself in the period features of this hotel however, doesn't mean you will be out of touch with reality – all rooms have WiFi, TVs with media hubs, a well-stocked mini-bar, and indulgent REN toiletries in the bathrooms. Although the hotel might not have its own restaurant and bar, the central location means you are a stone's throw away from Shoreditch high street where you can find some great eateries and popular watering-holes.
Shoreditch House
Shoreditch house has long been known as a regular celebrity haunt – this exclusive private members club offers jet-setters and A-listers the chance to enjoy a night of revelry out of the public eye. But what you might not have realised is Shoreditch House is also home to a boutique hotel. You don't need to be a member to stay here, although membership does grant you a healthy discounted rate on rooms! A former east-end pub and lodging house, Shoreditch House hotel provides simple elegance in the form of white wood-cladded rooms, fresh Egyptian cotton sheets, and Cowshed spa toiletries. As with most city centre hotels, the rooms are miniature and Shoreditch House make this no secret, naming the different rooms 'Tiny', 'Small', and 'Small +', But as they say, good things come in small packages! For unwinding the Cowshed partnership continues through to the spa where indulgent beauty treatments are available, plus the hotel manages to squeeze in a well kitted out gym with popular spinning classes. Food and drink isn't forgotten here either, with a Fifth Floor restaurant serving varied classics from Mac and Cheese to 'Curry Tuesdays' and of course, roast dinners on a Sunday.