Earlier in the year we visited Tallinn Estonia and we were enchanted by its medieval beauty,  wealth of wonderful sights and vibrant food and drink scene. It's the perfect city break destination for the luxury traveller looking to veer slightly off the beaten track. But there is much more to Estonia than just Tallinn, the country offers plenty to be discovered so learn more about this incredible country in our handy guide.
Tallinn – North Estonia
First established in the early medieval era, today Tallinn is an exciting mix of old and new, making it the perfect city break getaway. Start the day at the Baltic Station Market, known for its fresh local produce, versatile street food and traditional crafts. Visitors can then check-out the street art in Tallinn's trendiest neighbourhood, Telliskivi Creative City, featuring several small designer stores and galleries and unique dining and drinking places.  For lunch, stop by the newly opened Fotografisk, which serves up 'Instagenic' Estonian cuisine with a zero-waste mindset.  You can explore the city's Old Town on your own or take a walking tour, with the guide introducing Tallinn through colourful legends, myths and mystical folklore, passing by the Town Hall Square, Estonian History Museum, Patkuli viewing platform, Alexander Nevsky Cathedral, Toompea Castle and Maiden Tower. Later, stop by the PROTO Invention Factory, which opened in October 2019, and go back in time to the 19th and 20th century. The exhibition features VR technology and historical inventions for visitors to try out themselves, such as the world's first car, airbike, locomotive and hot air balloon. As the afternoon approaches get away from the hustle and bustle of the city and watch the sunset at NOA, known for its Estonian flavours and breath-taking view of the Tallinn skyline and sea. For evening entertainment, a new cultural hub in Noblessner, Kai Art Center (will open its doors on 20 September 2019), in the former submarine production plant. The cultural centre will showcase international contemporary art exhibitions, movie programs and other cultural events.
We Recommend Staying Here:
Hotel Telegraff
Savoy Boutique Hotel
Hotel Schlossle
Metropol Spa Hotel
Read our guide to the best luxury hotels in Tallinn
Tartu – South Estonia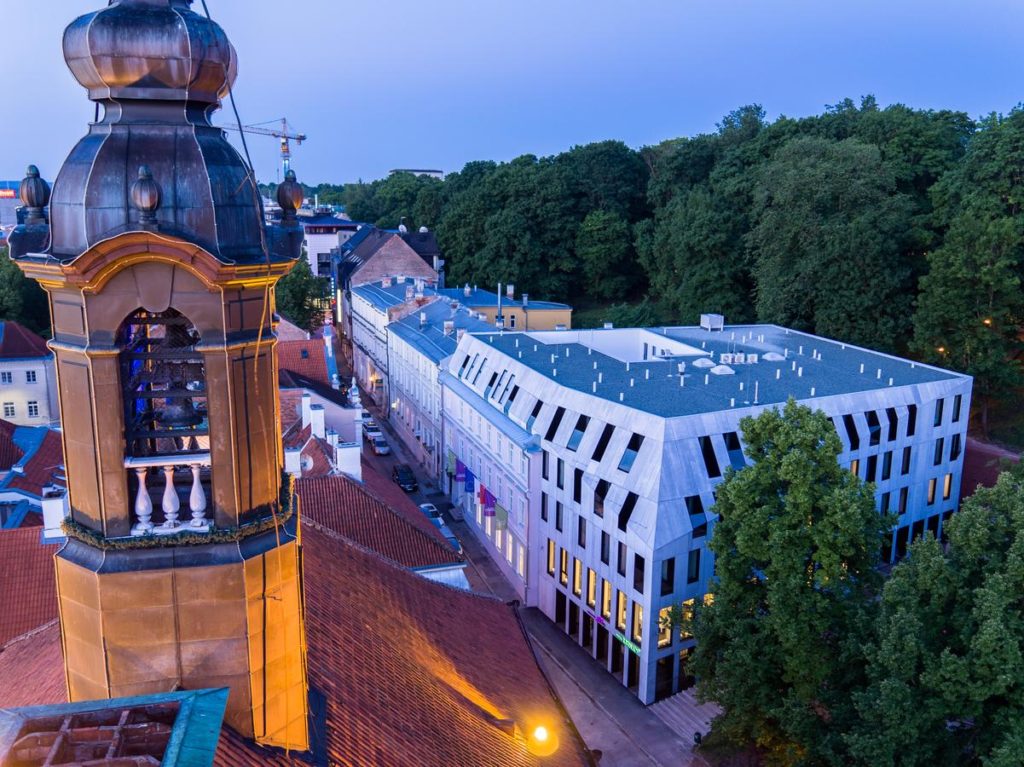 The second largest town in Estonia, Tartu, is known as a hub for students, education and creatives and is home to one of Northern Europe's oldest universities, a wealth of museums and a lively nightlife. When you first arrive in the city you will be welcomed by the Kissing Students fountain, a well-known symbol of Tartu. Next up, the Estonian National Museum is sure to intrigue, filled with pieces of Estonia's past and providing insight into the countries traditions and rituals. For lunch, stop by Umb Roht, where chefs' find inspiration from local flora and fauna, and offer unforgettable flavours during any season.  As the afternoon approaches you can take a guided tour of Tartu's Old Town, starting at the Town Hall Square and passing the University of Tartu Museum and the greenery of Toomemägi Park. Another option is to discover Tartu from an alternative angle and take a Street Art Tour in Karlova. If the weather takes a turn the V Spa and Sauna World features 11 different pools and hot tubs and three types of saunas with the Kneipp Therapy trail of cold and warm water sure to keep visitors entertained.  A night spent in the Aparaaditehas Creative City will be sure to delight, with the venue hosting a variety of different art and cultural events each week to suit all tastes; from concerts and workshops to parties and exhibitions. For dinner, Kolm Tilli is the perfect spot to try Aparaaditehas Creative City's street food, with an open kitchen in the middle of the restaurant and separate areas for making pizza and bakery products. 
We Recommend Staying Here:
Antonius Hotel
Lydia Hotel 4 Superior
V Spa Hotel
Pärnu – West Estonia
Pärnu is the ultimate summer holiday destination in Estonia for those wanting to escape the crowds, with only 60 people per square kilometre residing in the town. The summer capital attracts locals and visitors with its sandy beaches, laid back vibe and trendy bars and restaurants. Start the day with an early morning hike along the Pärnu coastal meadow hiking trail, which is positioned by the sea in the midst of Pärnu beach. Later, enjoy a lunch at the elegant Mon Ami, known for its combination of classic and contemporary trends and 'something special' offering with traditional dishes. Afterwards, the Mole of Pärnu is perfect for a stroll. Pärnu is the perfect weekend break during any season, with several festival, cultural shows and entertainment events organised throughout the year. For dinner, the Rannahotell offers mouth-watering Scandinavian cuisine and has glamour of the 1930's. For some after dinner drinks, visitors can head to Lime Lounge to try their signature cocktails and Mojitos.
We Recommend Staying Here:
Hedon Spa and Hotel
Villa Ammende
Estonia Resort Hotel
Narva – East Estonia
Estonia's eastern-most town, Narva, is a mix of Estonian and Russian cultures and is known for its iconic historical sights, Soviet-era architecture and world-class spa facilities. Start your day passing by the Baron von Velio's house, dating back to 1845 and the Narva Town Hall. For lunch, stop by Rondeel, which offers exquisite fish and meat dishes, with fresh local ingredients. A visit to the museum in Narva Castle is a must, where you can try out various techniques for handicrafts and explore the history of the town.  Later on head to the Narva-Jõesuu beach for some afternoon sun or alternatively, the infrared sauna and salt chamber at Meresuu Spa & Hotel if the weather takes a turn. The Dark Garden in Narva is ideal for a night stroll, offering spectacular views of the Narva River Promenade, which separates Estonia and Russia.