Amid the lush hills and serene landscapes of northern Thailand lies a city that beckons travellers with adventure, culture and profound tranquillity. Chiang Mai, sometimes called "Rose of the North," is a place where time seems to slow down, where you can immerse in ancient traditions and sample the most authentic dishes. Every moment here offers an opportunity to embrace the beauty of your surroundings – it's a haven for explorers and wanderers. So, pack your bags and prepare to be enchanted by the timeless charm of Chiang Mai's food, landscapes, experiences and hospitality.
---
How To Get There
Getting to Chiang Mai is straightforward, thanks to its well-connected transportation network. The most common way to reach this northern Thai city is by air. Chiang Mai International Airport (CNX) serves as a major gateway, offering domestic flights from Bangkok and other Thai cities, as well as international connections to nearby countries like Laos, Myanmar, and China. Alternatively, visitors can opt for scenic train journeys from Bangkok, with the overnight sleeper train being a popular choice for those who enjoy a leisurely ride through the picturesque Thai countryside. Adventurous travellers can embark on a road trip or hire a private driver to explore the scenic route from other parts of the country.
Fly Qatar Airways Qsuite
If you are travelling from the UK to Chiang Mai you will need to transfer from Bangkok's main airport Suvarnabhumi, then fly to Chiang Mai either via Suvarnabhumi Airport or Don Mueang. We recommend travelling to Bangkok with Qatar Airways, which offers exceptional business-class cabins across its fleet globally. They also offer Qsuite Business Class cabins on their Doha to Bangkok route, which is the best way to travel in our opinion!
Best Time To Visit
The best time to visit Chiang Mai is during the cool, dry season, which typically spans from November to February. During this time, the weather is pleasantly mild with daytime temperatures averaging around 25-30 degrees Celsius (77-86 degrees Fahrenheit). The skies are clear, making it ideal for exploring the city's numerous temples, lush jungles, and bustling night markets.
---
Eat
The foodie scene in Chiang Mai is a vibrant one where modern meets traditional. For a relaxed rendezvous, there are plenty of trendy bars, cafes and restaurants. For something extra special the fine-dining options take culinary creativity to a new level and of course not forgetting the fun and super tasty traditional dishes that can be enjoyed from a street stall. Here are a few of our favourites to tantalise the taste buds.
Service 1921
A place as enigmatic in personality as in name, Service 1921 is a purveyor of mystique and intrigue, with its own range of "secret" recipes. You'll enter what used to be the British Consulate, via a wooden door, emerging into a dark and moody space, with wood panelling and vintage British sensibilities. Antiquities like gramophones, magnifying glasses, antique telephones, a wireless and leather-bound books are dotted around an environment that feels straight out of a retro spy movie set. Here you'll tuck into prime meat cuts, like in-house dry-aged beef alongside Thai ingredients, while enjoying views of the Ping River. The menus are presented by South African Executive Chef David Eldridge.
Baan Landai Fine Thai Cuisine
In receipt of the Michelin-awarded Bib Gourmand, this unassuming establishment has become a go-to for discerning foodies over the past few years. It's under the leadership of Chef Landai, whose recipes are inspired by his mother, from whom he learned his craft. You can expect dishes inspired by local cuisine from across Thailand, such as pork ribs with red wine sauce. Ask for a table close to the internal window if you want a view into the kitchen's activity. Baan Landai Fine Thai Cuisine is open for lunch and dinner from 11am to 10pm daily.
The House By Ginger
For nearly two decades, The House by Ginger has been serving customers from an old colonial mansion house that dates back to 1937. The venue comprises a candlelit restaurant, a cocktail bar with comfy sofas and two private dining rooms and is found in the old city. It presents traditional Thai fare, with artisanal beverages. There's a definite sense of nostalgia, not least in the decor, with its chintzy wallpaper, standard lamps and ornaments, but also in the menu, where classics are reinvented. Everything is home-cooked and made from scratch, for that personal touch.
For more dining inspiration check our guide to the Best Restaurants in Chiang Mai
---
Do
Luxury experiences present themselves in the simplest, yet most fulfilling, of ways in the Northern Province of Chiang Mai. With a rich tapestry of culture, nature, and cuisine there's something for everyone to enjoy, making it a destination that leaves a lasting impression on travellers from around the world.
Spa and Wellness Retreats
Chiang Mai, is celebrated worldwide for its exquisite traditional Thai massages and opulent spa experiences that offer a haven of rejuvenation and relaxation. Immerse yourself in a day of pure indulgence at renowned wellness sanctuaries such as the sublime Spa at the Four Seasons Chiang Mai or the blissful Anantara Chiang Mai Spa. Here, ancient healing traditions harmoniously merge with cutting-edge wellness practices amidst lush, tranquil surroundings, ensuring a transformative escape into serenity and well-being like no other.
Discover more Spa hotels in Thailand here
Private Thai Cuisine Cooking Classes
Immerse yourself in the flavours of Northern Thai cuisine amid the picturesque rural surroundings outside Chiang Mai with Grandma's Cooking Class. The culinary adventure begins with a visit to a local market, where you'll select ingredients while engaging with friendly locals. Under the guidance of a skilled chef, you'll gain insights into Thai food culture, exotic herbs, and spices. As you chop, fry, and cook your way through mouthwatering Thai dishes, the chef will share personal stories and cooking tips. Finally, savour the fruits of your labour, and return to your hotel with a deeper appreciation of Chiang Mai's culinary scene.
Hot Air Balloon Rides
Chiang Mai's serene landscapes are best experienced from the skies, and a hot air balloon ride offers a unique perspective on this beautiful region. Drift gently above the lush forests, rice fields, and rolling hills, and witness the tranquillity of the Thai countryside as the sun rises. This enchanting experience is a perfect blend of adventure and luxury.
Learn to Tie Dye at Baan Thongjaya
Step into the captivating world of Baan Thongjaya, a historical house with Royal ties that immerses you in the era of industrialisation while surrounded by lush paddy fields. This half-day itinerary allows you to explore the intricately designed rooms and hidden wooden house, an expert instructor guides you through a hands-on tie-dying craft activity, allowing you to create your own souvenirs like t-shirts, shopping bags, scarves, or tablecloths. While your piece dries, enjoy a coffee break in the historical house and savour the flavours of traditional Thai cuisine. Bid farewell with enriched hearts and minds, taking back cherished memories and your crafted souvenirs.
Experience The Magic Of Chiang Mai's Temples Traveling By Traditional Rickshaw
Stay at 137 Pillars House and enjoy a traditional temple tour by rickshaw. Your guide will meet you at the 137 Pillars House, and from there, you'll walk to the Wat Ket Museum located at the Wat Ket Temple, founded by Jack Bain in 2001, though it's currently under restoration. Crossing the Ping River, you'll visit the Warorot Market, where samlors await to take you to the Old Walled City of Chiang Mai. Within the Old City, you'll explore various temples, starting with Wat Laam Chang and Wat Chiang Man, the city's oldest temple. You'll then visit Wat Phra Singh, Wat Phuak Hong, Wat Phuak Taem, Wat Phra Chao Mengrai, and the Chiang Mai Gate market to sample local delicacies. The tour continues to Wat Chedi Luang, partially reconstructed after an earthquake, and Wat Phantao, a beautiful wooden temple. Finally, you'll return to the 137 Pillars House, concluding your Chiang Mai Temple Tour.
Read our review of 137 Pillars House here
Discover Thai Modern Art
The opening of the MAIIAM Contemporary Art Museum was met with great excitement by the creative community in Chiang Mai. Housed in a transformed minimalist building with a striking reflective exterior, located just 20 minutes outside downtown Chiang Mai. Inside, the two-story space features a mix of rotating and permanent exhibitions, showcasing artworks from the personal collections of Jean Michel Beurdeley, his late wife Patsri Bunnag, and their son Eric Bunnag Booth, who also serves as the managing director at Jim Thompson. The collection includes pieces by renowned contemporary Thai artists like Kamin Lertchaiprasert and the late Montien Boonma. The thought-provoking and innovative art within the museum's 3,000-square-meter space has played a pivotal role in establishing Chiang Mai as an international arts destination.
Go on a Luxury Ethical Elephant Adventure
Elephant Hills, a luxury tented jungle camp in Thailand, has recently opened a new camp in Chiang Mai, blending the concept of African national park camps with the unique Thai tropical forest environment. They offer 2-day, 1-night experiences. On the first day, guests are transferred from Chiang Mai to The Bush Camp, where they enjoy a Thai lunch and engage in various activities, including interacting with elephants in their natural habitat. The day ends with a mountain-top sundowner and a buffet dinner. On the second day, guests participate in morning rituals, learn about elephant care, and enjoy a final lunch with scenic views before returning to Chiang Mai.
Shopping Spree
Chiang Mai's markets and beautiful boutiques like Rivers & Roads and Vila Cini offer a wide range of local and luxury goods, including handcrafted jewellery, designer clothing, and high-quality home decor. Don't miss the chance to shop for unique souvenirs and gifts at the upscale boutiques in the Nimmanhaemin area at One Nimman and MAYA Lifestyle Shopping Centre.
---
Sleep
Chiang Mai has a superb selection of luxury hotels offering first-class service, splendid surroundings, five-star facilities and cuisine that will please even the most discerning gourmand. From award-winning boutiques to expansive resorts, visitors are truly spoilt for choice. Read on to discover some of our favourites.
The Four Seasons Resort Chiang Mai
The Four Seasons Resort Chiang Mai is a seamlessly integrated Lanna-style retreat nestled in the Mae Rim Valley, around a 30-minute drive from Chiang Mai City. Featuring 20 acres of lush greenery, wooden pavilions, serene lily-filled ponds, and a low-rise design the resort places a strong emphasis on wellness, offering yoga, meditation, naturopathic treatments at the Wara Cheewa Spa, and plant-based cuisine. Guests can even engage in immersive local activities at Chaan Baan like pottery making, tie-dying, rice planting, and even water buffalo bathing. Combining rural charm with luxury, the resort boasts fine dining at North and Khao, as well as glorious accommodation options like its garden or rice terrace pavilions, pool villas, and longer stay multi-bedroom residences as well as amenities like its library, shops, and tennis courts guests are never short of something to do, and you can't leave without taking a dip in their two insta-worthy terraced infinity pools.
137 Pillars House Chiang Mai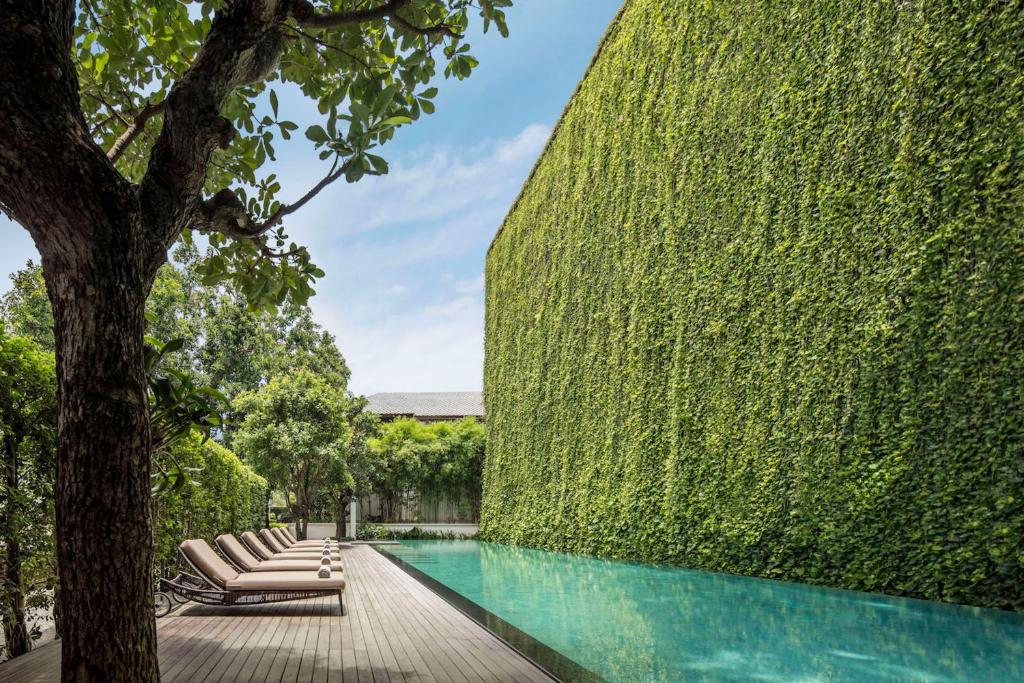 137 Pillars House Chiang Mai is an award-winning boutique hotel nestled in a lush residential area near Chiang Mai's historic Wat Gate Temple and the Ping River. The hotel's rich colonial heritage is rooted in the original teak homestead from the late 1800s, painstakingly preserved by architectural historians and conservationists. The hotel offers 30 luxurious suites, each featuring high ceilings, spacious walk-in wardrobes, exquisite bathrooms with Victorian bathtubs, indoor and outdoor showers, and four-poster beds. Guests can enjoy a range of amenities, including personal butler service, pillow menus, Bluetooth sound systems, and an indulgent in-room trolley stocked with premium brand spirits and Nespresso coffee machine. Dining options include The Dining Room for breakfast, Palette for gourmet evening meals, and Jack Bain's Bar for the best-handcrafted cocktails in Chiang Mai. The hotel also offers a serene spa, fitness centre, and a stunning 25m swimming pool positioned alongside a jaw-dropping vertical plant wall. 137 Pillars House Chiang Mai offers a blend of classic colonial charm and modern luxury in a historical setting that is ideal for exploring the city.
Shangri-La Chiang Mai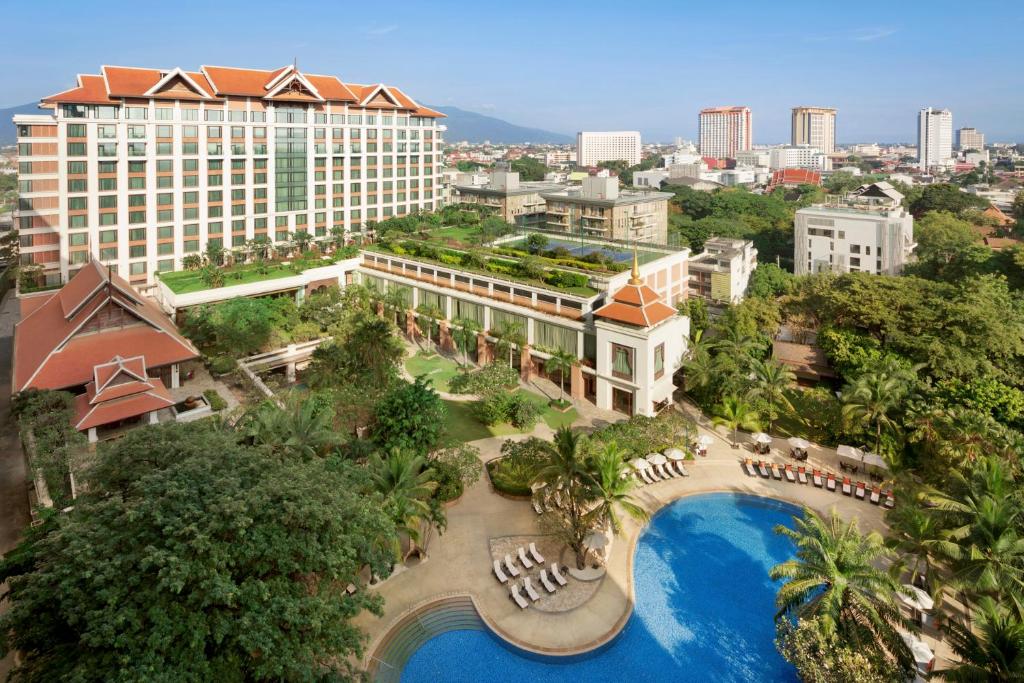 This large hotel boasts the biggest pool in the city, along with 277 guest rooms (designed in a modern Northern Thai style) and four places to eat. The Shangri-La's range of facilities makes it ideal for parents travelling with children — there's cartoon bedding for younger travellers, playpens, colouring sets, everything you need to feed/bathe a newborn, mini-bathrobes and slippers, a splash zone, kids' club, and supervised creative activities run daily. Then while the children are being entertained, you can indulge in a traditional Asian healing treatment at CHI, The Spa.
For more hotel inspiration check our guide to the Best Luxury Hotels In Chiang Mai