This 9th-century pilgrim city has long been renowned for its unique light and, as the final point of the St James Way, has received thousands of visitors year on year, for hundreds of years. Found in a valley in the A Coruña region of northwest Spain, Santiago De Compostela is a place of religious and architectural significance. UNESCO has recognised it as a World Heritage Site, with its medieval ramparts, Gothic structures, bell towers and monastery. Both Galician and Spanish are spoken here and you can enjoy lots of dishes specific to the region, as well as visit some excellent art galleries.
Eat
Restaurat A Tafona by Lucia Freitas
Within a hotel of the same name, this informal restaurant is just a few streets from the city's food market. Chef Lucia Freitas is at the helm; having gained experience at some of the country's top restaurants, she brought the establishment its Michelin star within three months of opening it. The menu focuses on seasonal, locally sourced ingredients, with Galician specialities reworked to be imaginative and avant-garde. Dishes are small and presented with elan. The restaurant itself is also bijou, creating an intimate atmosphere, with friendly service and minimalist decor offset by original stone walls, a feature staircase and a skylight.
Casa Marcelo
While the majority of the city's eateries revolve around local dishes, Marcelo brings Japanese cooking techniques and flavours to the table. And the table is the focal point in the decor here; long and red, lined with stools, it creates a dramatic aesthetic and sociable atmosphere as diners rub shoulders. And as the kitchen is open and dishes (like roasted oyster and sea bass ceviche) are designed to be shared, it's, all in all, a very interactive way to dine. If you're feeling adventurous, let the staff know your likes and dislikes and allow the chefs to prepare you a personal tasting menu. Casa Marcelo is open for lunch and dinner from Wednesday to Saturday and lunch on Sunday.
Do
Cathedral De Santiago De Compostela
This stunning 11th-century edifice is said to house the remains of St James (the crypt is beneath the altar), whose tomb was discovered in the area by a hermit, back in the 9th century. Its elaborately carved stone facades face onto grand plazas, creating stunning photo opportunities and making it the most significant landmark on the horizon. Originally designed in the shape of a cross, many extensions now display diverse architectural styles including Romanesque, Gothic, Baroque, Plateresque and neoclassical. You'll spot many modern pilgrims as you visit the cathedral – it's the last stop on the ancient route.
Monasterio de San Martin Pinario
A Benedictine order, this is the second largest monastery in Spain. The building – which incorporates a seminary – dates back to medieval times, although most of that which can be seen today has been rebuilt post the 16th-century. Covering an enormous 20,000 square metres, it's sprawling, with sections displaying different architecture according to individual rebuild eras. If you're short on time, prioritise the huge half-barrel vault inside. But if you can spare a little longer, take a guided tour and wander the incorporated museum. The Monasterio de San Martin Pinario is open from 10 am to 8 pm daily.
www.espacioculturalsmpinario.com
Gaiás Centre Museum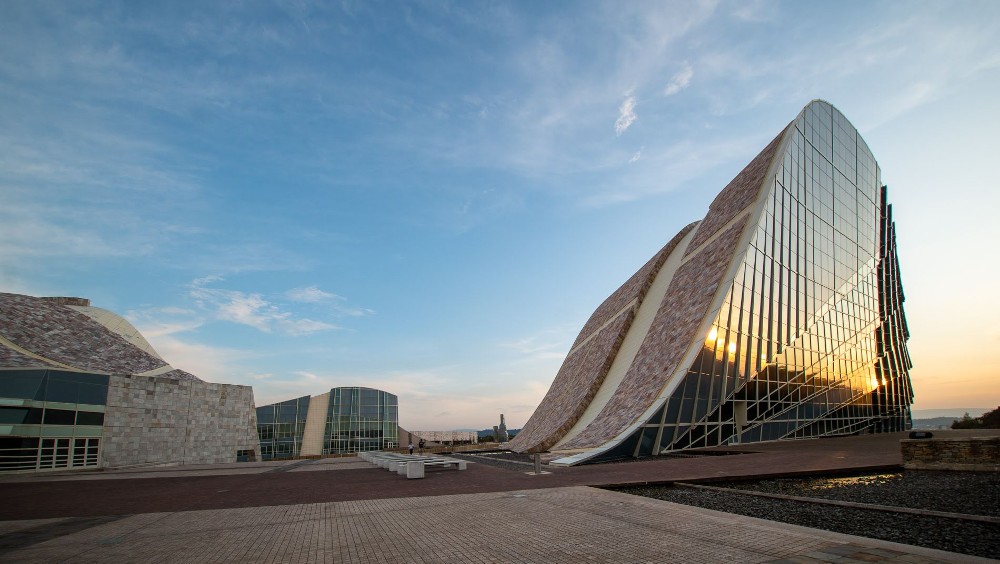 The glistening glass and curved exterior of this modern architectural masterpiece are quite breathtaking (especially when colourfully lit after dark), standing in direct contrast with the proliferation of ancient buildings elsewhere in the city. It stands at 43 metres in height, with a surface of more than 16,000 square metres. Inside, you can enjoy a music recital, and peruse archaeological objects and modern artworks. The Gaiás Centre Museum is open from Monday to Sunday, although avoid Monday if you want to view the exhibitions as they close on this day. It has a cafe restaurant on the ground floor.
Museo Do Pobo Galego
Housed in the Convent of San Domingos de Bonaval which dates back to the late 17th century, the museum opened in the 1970s. It sits just outside the city walls, on a hill beside the pilgrim's way. Museo Do Pobo Galego houses many artifacts relating to Galician culture. Learn about the region's fishing and agriculture industries, stockbreeding, trades, homes, national dress, musical instruments, painting and sculpture and history, in its permanent exhibitions. The adjacent convent often holds temporary exhibitions. Visit from Tuesday to Saturday 11 am to 6 pm, on Sundays and holidays from 11 am to 2 pm.
Sleep
Hotel Palacio Del Carmen, Autograph Collection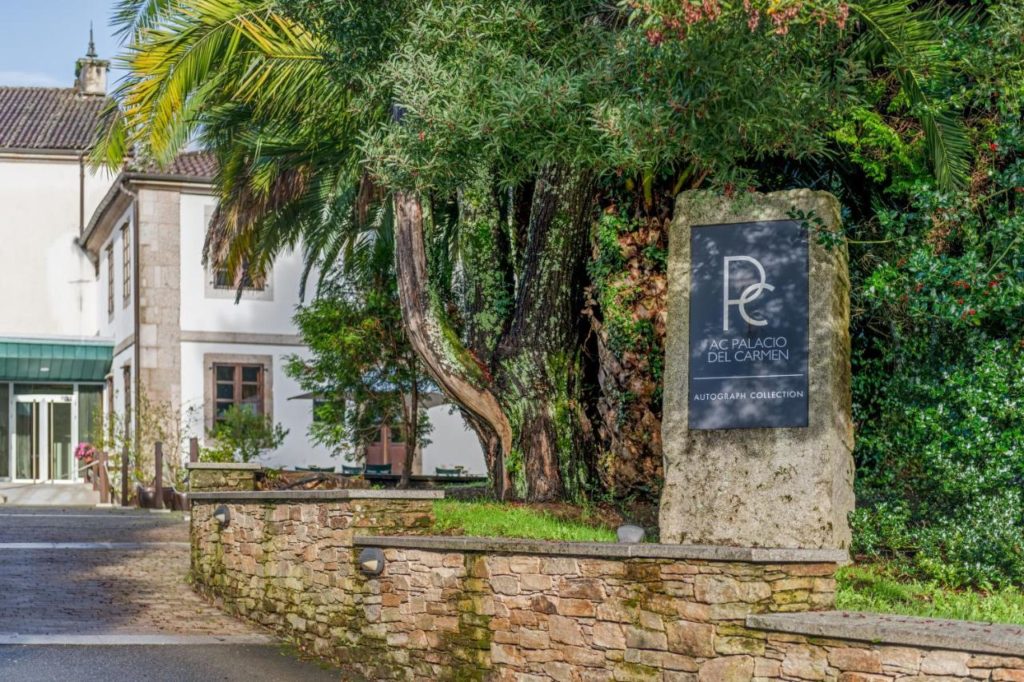 100 years as a tannery, then another 100 as a convent, this building close to the historic centre has had an illustrious past. This is seen in some of the features, such as a chapel turned meeting space with a religious mural, arched windows and thick stone walls. Now, it's a five-star retreat, where guests can book alfresco massage therapies, read or sunbathe in the gardens and book a suite with views of the cathedral (which is 15 minutes on foot from the front door). A contemporary restaurant, bar, saltwater swimming pool and fitness centre are among the Hotel Palacio Del Carmen's amenities.
Hotel A Quinta Da Auga Relais & Châteaux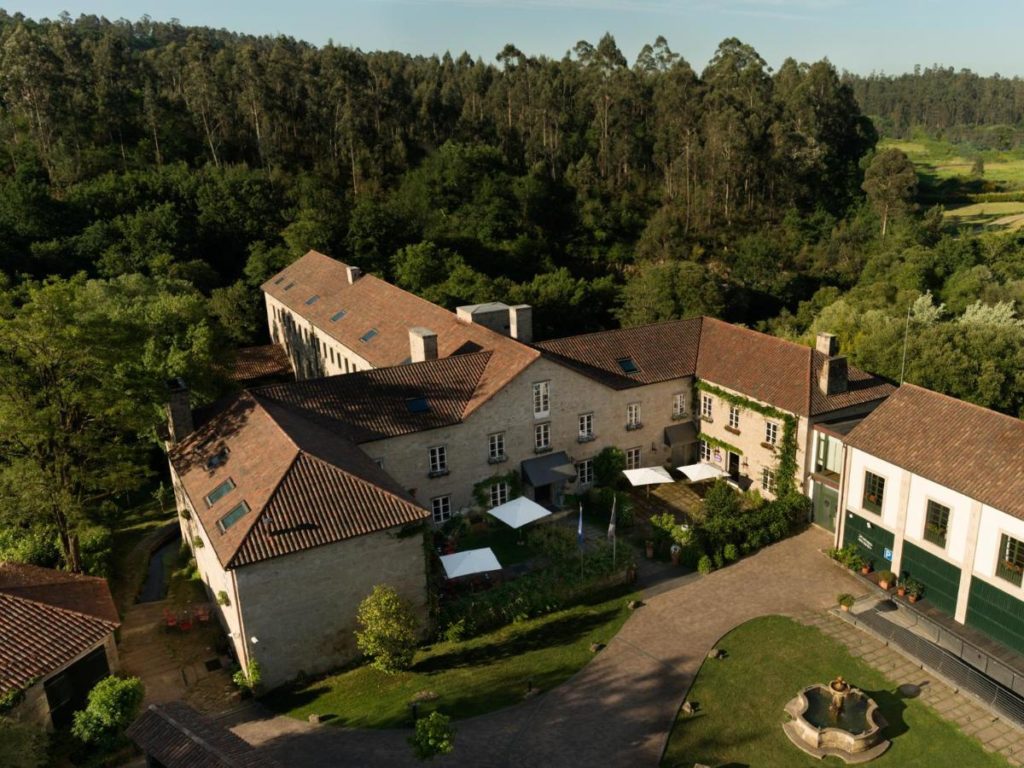 With a former life as a paper mill, this 18th-century traditional Galician building has plenty of character. Rooms here face onto the pretty garden, with its water fountain, colourful window boxes, lawns and terrace. Guests can book a treatment at the spa from a menu of oriental and occidental rituals which make use of high-quality natural products, enjoy a drink in the bistro-style bar and dine at the excellent Filigrana restaurant. Family-run, the romantic hotel has 51 bedrooms and three suites, the latter incorporating living spaces, a study and a jacuzzi, as well as a reading room and a social room.
Hospital Real De Santiago De Compostela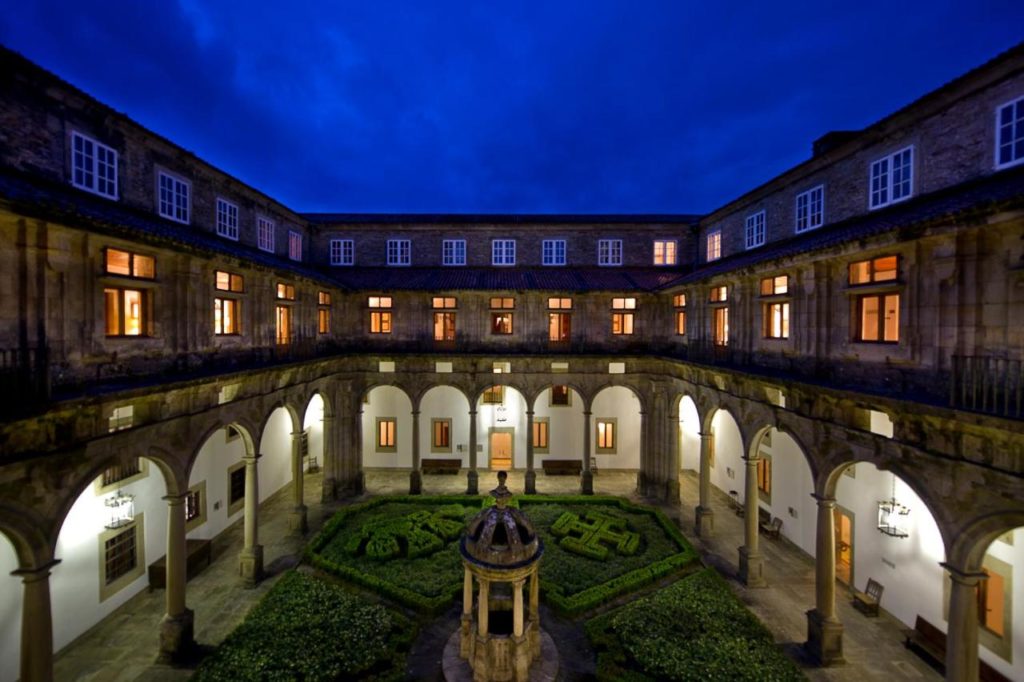 Converted from a hospital first built in the year 1499 and commissioned by King Ferdinand, this used to serve walkers who came here on pilgrimage. Hospital Real De Santiago De Compostela still caters to visitors but in the form of a luxe hotel – one of the oldest in the world. Ideally located in the Plaza do Obradoiro beside the cathedral, it immerses visitors into a bygone era. Cloisters, thick stone walls, an outdoor terrace overlooking the square and a manicured courtyard garden help evoke the ancient atmosphere. Rooms come with wifi, satellite TV, air-con and mini-bars, and there are two restaurants.
Hotel NH Collection Santiago De Compostela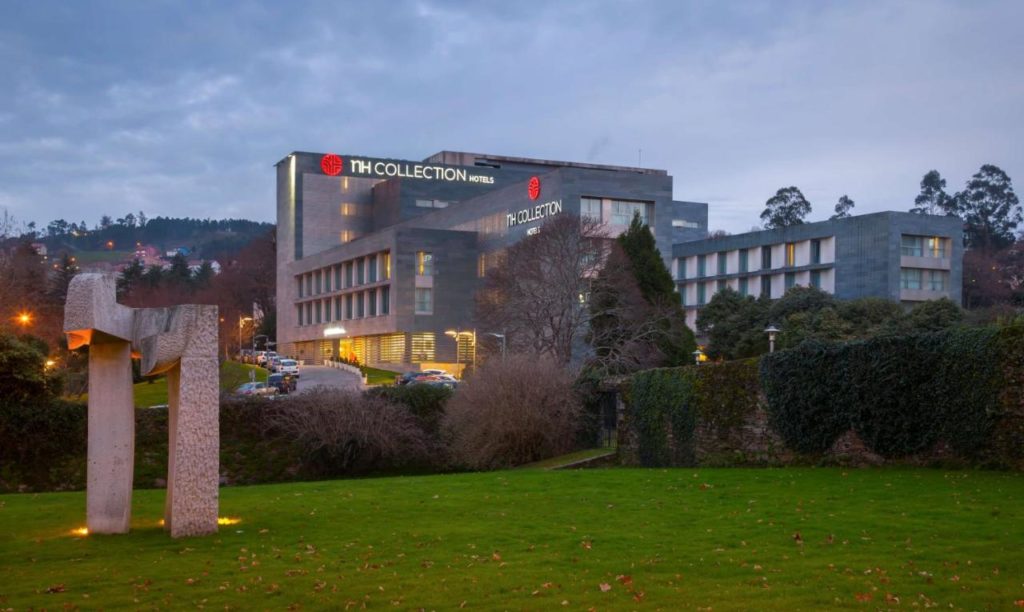 A sleek resort for the modern age, this NH property is set within peaceful gardens, surrounded by parkland and close to a lake. It's a striking feature on the landscape, designed by Aranguren & Gallegos Arquitectos. The grounds include a swimming pool and a terrace. Inside, there's another pool (with floor-to-ceiling windows looking onto the outdoor pool), a gym, sauna, Turkish bath, the Abeiro Restaurant with charming garden views and a lobby bar. Bedrooms are decorated in hues of white, chocolate and apple-green, with amenities including a pillow menu, high-quality mattresses, soundproofing and Nespresso machines.