The capital of Georgia is set in the picturesque valleys of the Mtkvari Rivera. With a captivating blend of ancient history, vibrant culture, indigenous cuisine, world-class wines and modern sophistication, it has much to enthral the discerning traveller. The city can be reached by air from Tbilisi International Airport; by rail via a scenic trip from Baku and Yerevan and by private road transfer. Once here, you can check into your choice of five-star hotels with impeccable service and facilities and once you've explored everything on your Tbilisi wish list make time to head to Kakheti and enjoy a wonderful stay at the historic and beautiful Tsinandali Estate.
EAT
Republic 24
Looking out onto First Republic Square, this restaurant is at the heart of the city, offering a modern dining experience. Open 24 hours a day on Fridays and Saturdays, it serves classic Georgian cuisine and unique dishes crafted especially for the restaurant by Brand Chef Irakli Asatiani. It follows the concept of a Georgian modern diner, having been designed in a loft style, featuring an open kitchen and "Tone" bakery. Close to the city's buzzing nightlife, it's ideal if you're seeking a meal after dancing the night away in one of the many local clubs.
Republic Restaurant
Found in the same building as Republic 24, the Republic Restaurant occupies the top floor, with a rooftop terrace. The design was created by the French Gilles & Boissier company, as a harmonious blend of local and contemporary elements. Here you can enjoy European fusion cuisine (including handmade pasta), a cosy atmosphere, live piano music and magnificent views of the city from its prime rooftop location.
Umami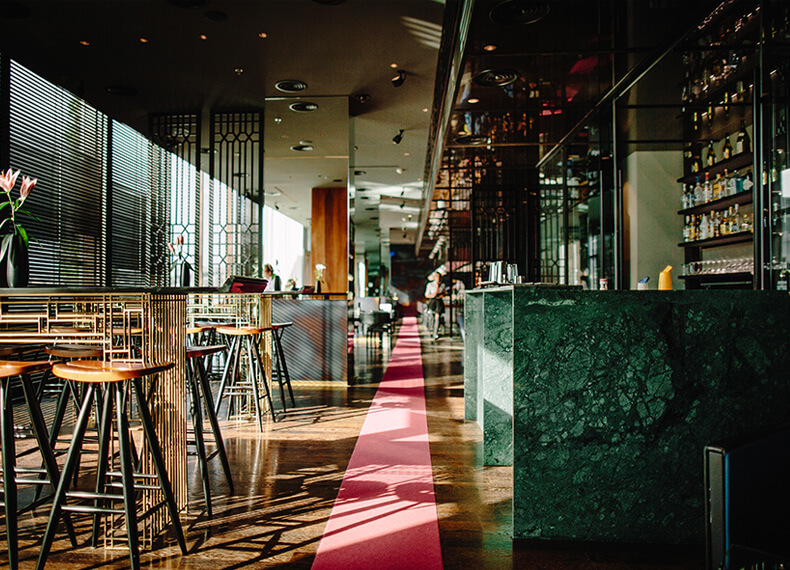 This is one of the capital's most renowned restaurants, specifically bringing Asian flavours to the fore, encompassing the cuisine of Japan, China, Vietnam, and Thailand. The open kitchen provides an element of theatre with your meal; grab a seat at the sushi counter if you want a front-row view of the action, as the chefs whip up salmon rolls, pork gyoza dumplings, Singapore noodles and sashimi right in front of you (it's a great way to build anticipation for the arrival of your meal). You'll find Umami inside the Radisson Blu Tbilisi, serving an a la carte menu from noon to 11 pm each day.
Noble Savage Night Club
Rediscover the golden era of underground disco, within this subterranean 1980s complex, found beneath Rose Revolution Square. It is one of the most popular nightclubs in Tbilisi synthesising a historical Soviet space and contemporary club music. The concept was developed by Till Hunter, a German promoter, while Mua Studio was a co-author of the design, which has retained a colourful mosaic wall and plenty of original character. Noble Savage Night Club encompasses three zones; a reception with a bar, a sunken outdoor courtyard with a fire pit and the main dance floor, all with a superior acoustic setup. It's a gathering space for artists, freethinkers and innovators.
DO
A Soak In Abanotubani, The Old Town's Iconic Sulfur Bath District.
The sulfur baths of Abanotubani (translating as "bath district") have been an essential part of life in Tbilisi for centuries. The district is situated in the Sololaki neighbourhood, at the foot of the Narikala Fortress, overlooking the Mtkvari River. Here, the natural hot springs are believed to have healing properties, and bathhouses, with distinct dome-shaped roofs constructed from brick and stone, contain areas for private and public bathing. Their architecture reflects the traditional Georgian style, with colourful facades and ornate decorations, while the interiors have marble walls and tranquil atmospheres. The Orbeliani Baths are among the oldest and most famous in the area.
Georgian Wine Tasting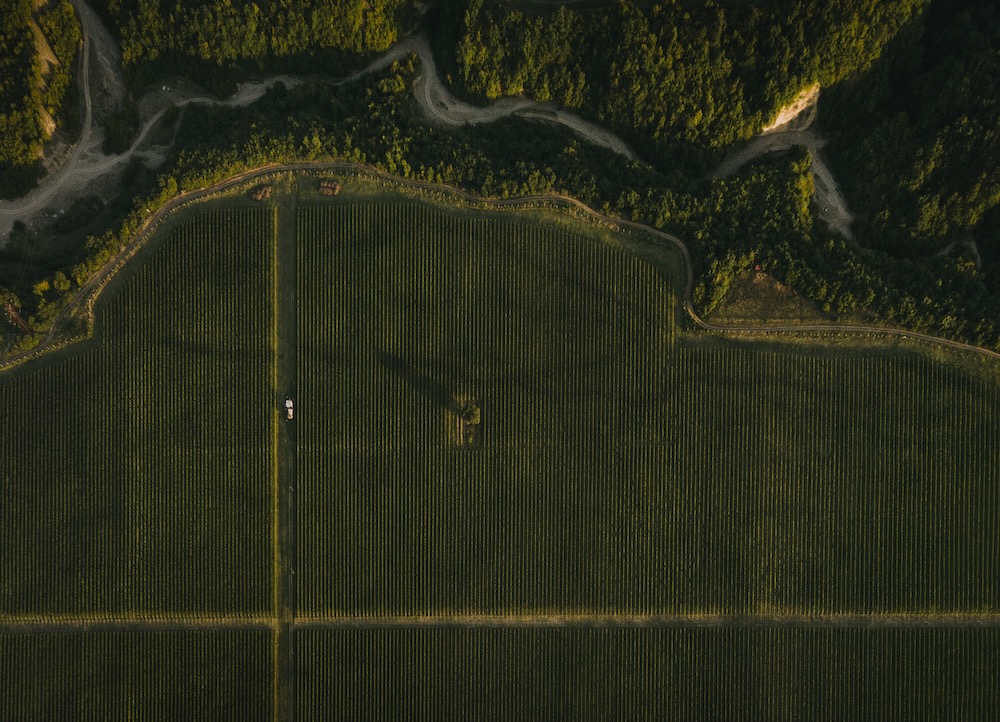 Wine here has its own process and flavour and with many bars and cellars throughout the city, you can try it without straying far from where you're staying. Tbilisi hosts various wine festivals throughout the year; including the Merano Wine Festival, the Tsinandali Wine Festival and the Rtveli Grape Harvest Festival in autumn showcasing a wide range of wines from different regions of Georgia. But if you have more time, it's well worth exploring wineries in proximity to Tbilisi.
Visit Holy Trinity Church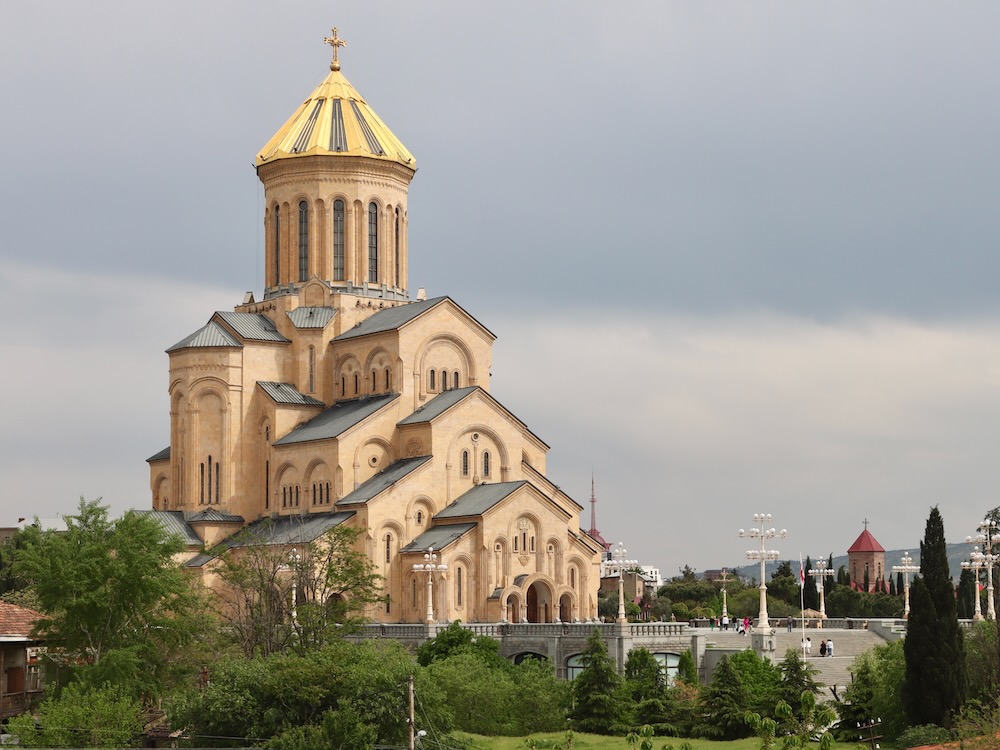 This important symbol of the country's Orthodox Christian faith is considered the largest of its kind in Georgia. Its construction began in 1995 and was completed in 2004, making it a relatively recent addition to Tbilisi's skyline. The exterior is adorned with golden crosses and intricate stone carvings, while the interior features stunning frescoes, ornate chandeliers and beautifully crafted iconostasis. The building's overall design reflects the spiritual and artistic traditions of the country, with pilgrims attending from many miles around (you'll need to dress modestly to enter). An impressive landmark, the church is found on the top of Elia Hill in the Avlabari district.
Wander the Old Town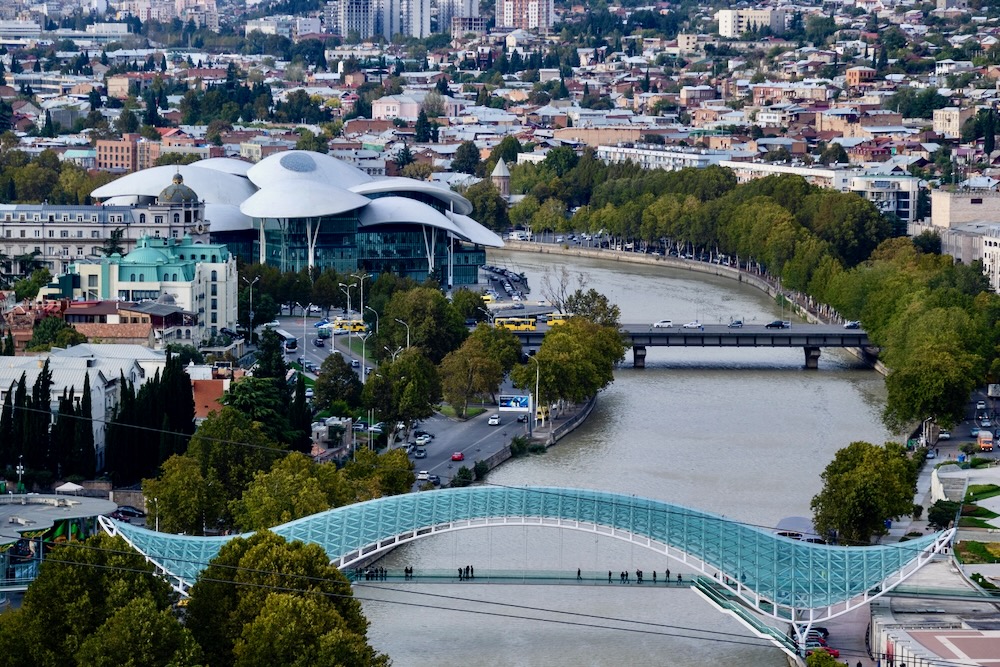 Juxtaposing ancient with modern, the Old Town is a place of contrast. Stroll past the Peace Bridge; designed by Italian architect Michele De Lucchi, it spans the Mtkvari River with a curved steel and glass canopy supported by steel arches. At night, the bridge illuminates with LED lights, creating a stunning visual display. As you explore the narrow winding streets you'll come across colourful and creative murals. Street art in Tbilisi often incorporates elements of Georgian culture, history and social commentary; head to Aghmashenebeli Avenue for some of the best, embedded among otherwise traditional surroundings.
Take An Excursion To The Tsindali Estate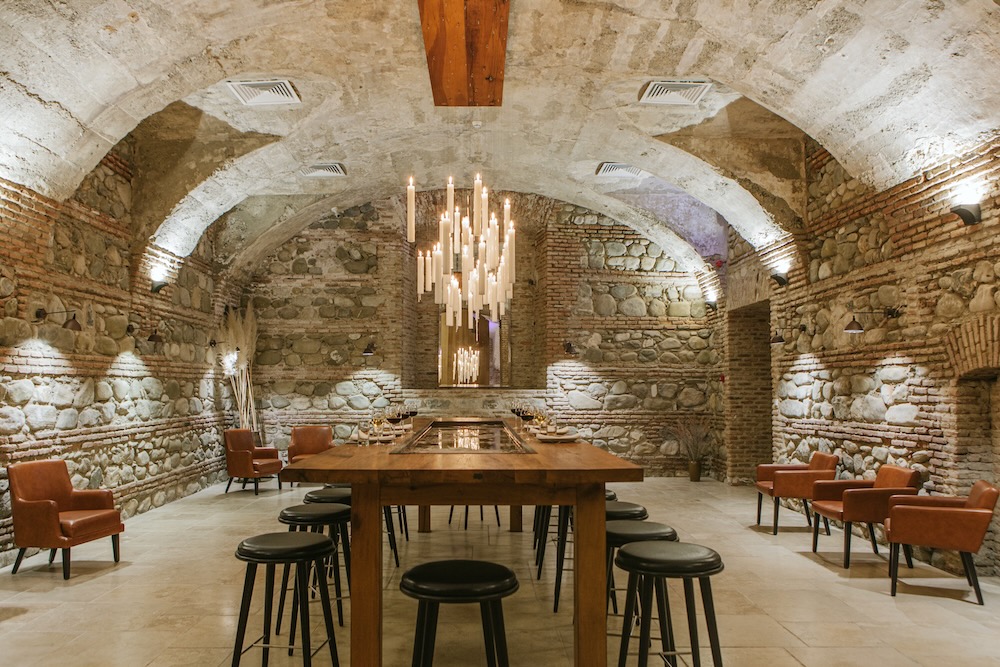 Two centuries of history convene in this 18-hectare royal estate in the Kakheti region which is surrounded by the Caucasus Mountains with beautiful views unfolding from the unique hotel. Once home to a prince, it's now home to an annual classical music festival, one of the country's foremost vineyards and an original enoteca (holding the nation's oldest vintage), an Anne Semonin Spa, a heritage museum; manicured parkland with thousands of exotic plants; fine eateries and an enormous amphitheatre for performances with incredible sound quality. Time your day here to coincide with a cultural event; take a tour of the wine cellar and tasting; explore local artefacts in the museum; book a massage; or simply wander the grounds and soak in the beauty and history of the place.
Sleep
Radisson Blu Tbilisi
Proximity to the Old Town and a setting within the commercial centre of the capital ensures this Radisson Blu suits both leisure and business. Visit the Filini Restaurant for an Italian meal; the Asian Fusion Restaurant for some teppanyaki or teriyaki cooked in the open kitchen; the Casino Iveria for a flutter and the spa for Anne Semonin treatments. 236 bedrooms here have floor-to-ceiling windows (some with panoramic mountain views) and coffee machines. Other facilities include a sauna, an indoor pool and an outdoor pool with a bar.
Tbilisi Marriott Hotel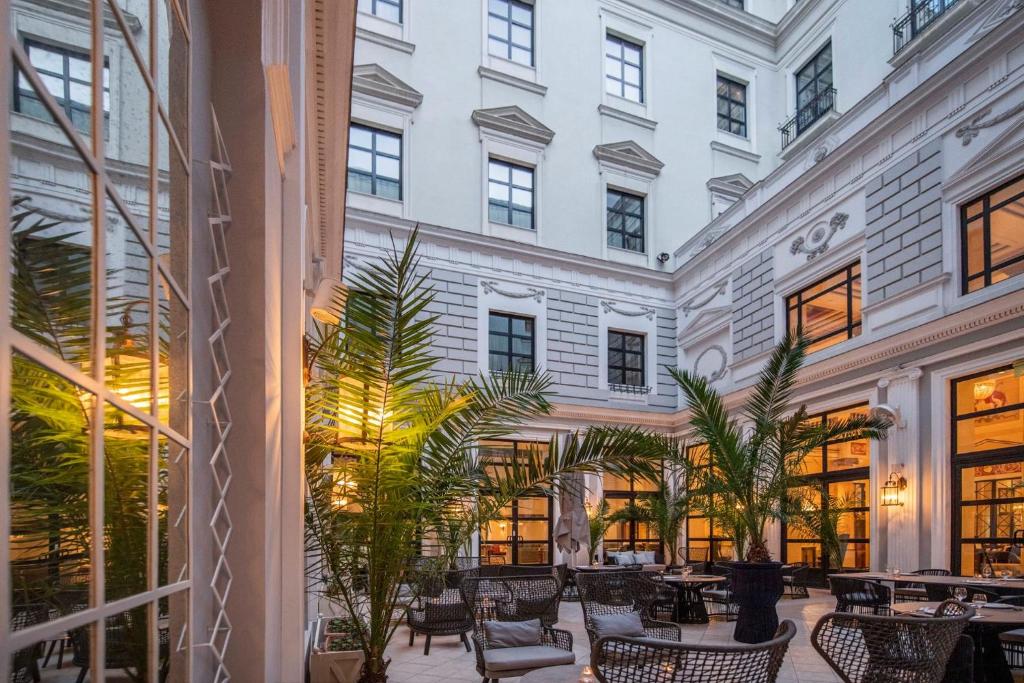 On the refined Rustaveli Avenue, this five-star Marriott hotel offers classic grandeur with its impressive frontage, huge crystal chandeliers, indoor palms and marble bathrooms. Bedrooms take on a more modern feel with geo-patterns, mid-century-inspired contemporary furnishings and a cosy, yet minimalist approach to decor. Each is soundproofed and comes with Acca Kappa toiletries, coffee makers, mini bars, light-up make-up mirrors, robes and slippers, Parnas Café is the hotel's signature restaurant, serving national and international fare, while daytime snacks and lunches can be taken at the Majestic Lounge & Bar.