Over the years I have often been asked which is the best part of Mallorca. Well, when it comes to a Mediterranean island as diverse as Mallorca, it's never a question of where's best, but what suits your travel style.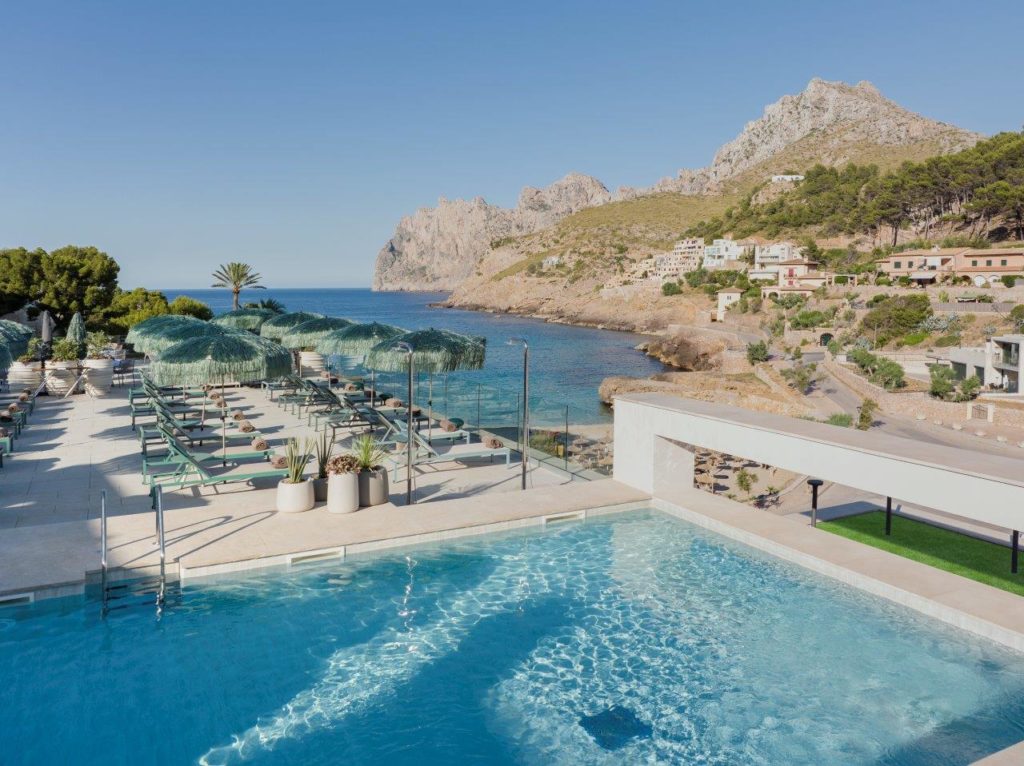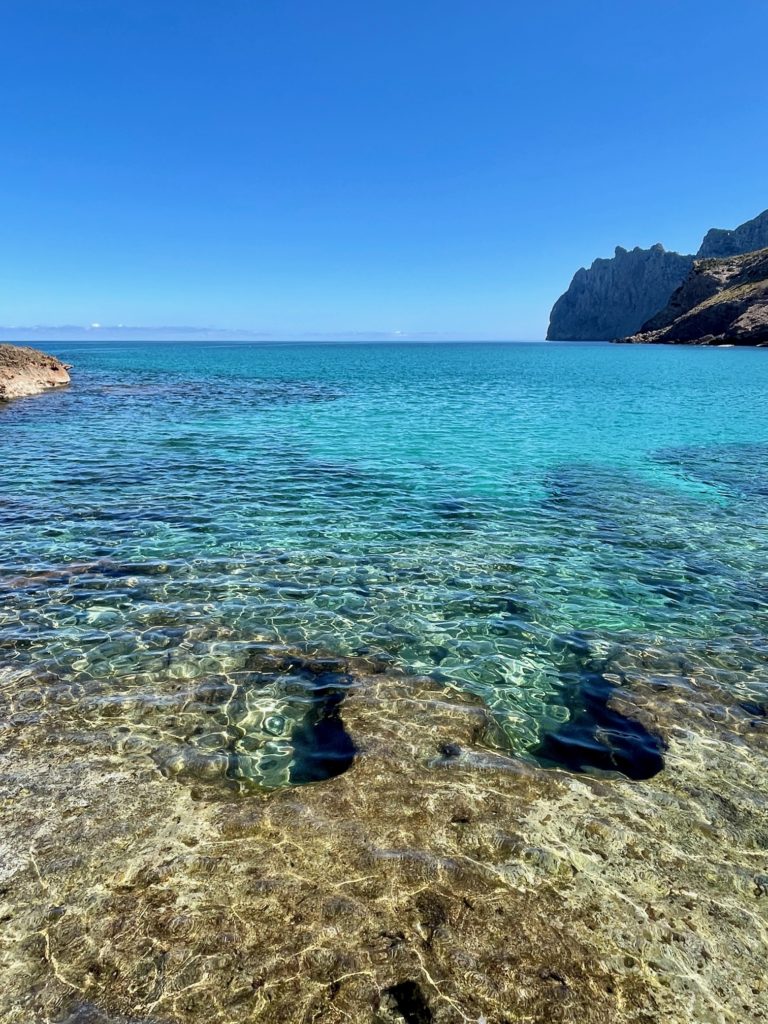 Discover the north of Mallorca
The east is renowned for its bays and coves, the south is well known for its beaches, nightlife, and the buzz of Palma, which in turn is a world's away from the scenic west coast and the craggy mountains of Tramuntana. For me I have always adored the rugged, rural interior with picture-perfect villages, as well as the north coast which really holds an allure. I adore the natural magnificence of the Cap Formentor, the most northern tip of the island, and the charm of the seaside town of Pollensa, with its striking sea views, and charming main square surrounded by pretty cafés and bars.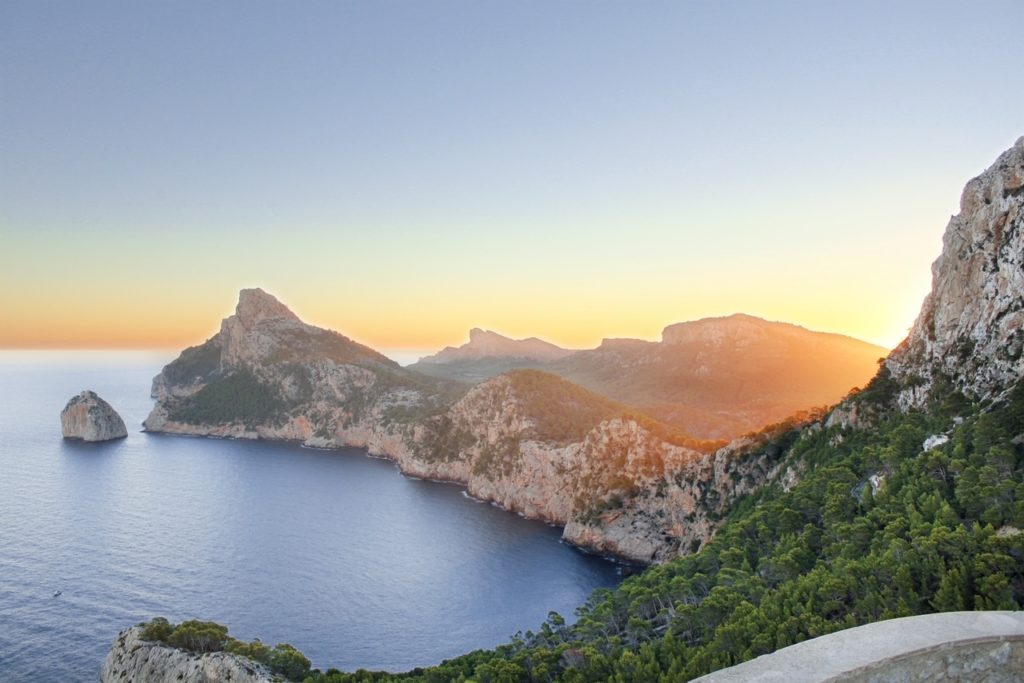 It is on this northern coast that one finds the lively beachside hamlet of Cala Sant Vicenç, and the exquisitely designed El Vicenç de la Mar hotel. Tucked into its hillside setting, overlooking the village and one of three beautiful bays, the hotel brings together the authentic, friendly style of a boutique hideaway, together with the style, gastronomy, and luxe touches of a fancy city bolthole.
Once you've picked up your rental car at Mallorca's airport, you could be ensconced in your room at El Vicenç de la Mar in less than an hour. Yet if you're arriving in the morning, why not meander a little, enjoying the country lanes lined with banks of lush wildflowers, and ancient carob trees, enjoying the surprising discoveries you might make along the way? I passed a beautiful Roman bridge on route and took a moment to stop and explore the nearby 'Coves de l'Alzinaret', a truly fascinating collection of ancient, prehistoric burial caves set into a pine-clad hillside close to the village of Cala Sant Vicenç.
Hotel El Vicenç de la Mar
Yet, I was undeniably excited to reach my destination and discover the new El Vicenç de la Mar hotel. Upon arrival, reception embraced me with the warmth of this unique Mediterranean island. This welcoming space, rich in the textures and colours of the destination, with local cork, stone, and textiles, was truly brought to life by the genuine friendliness of the front desk team.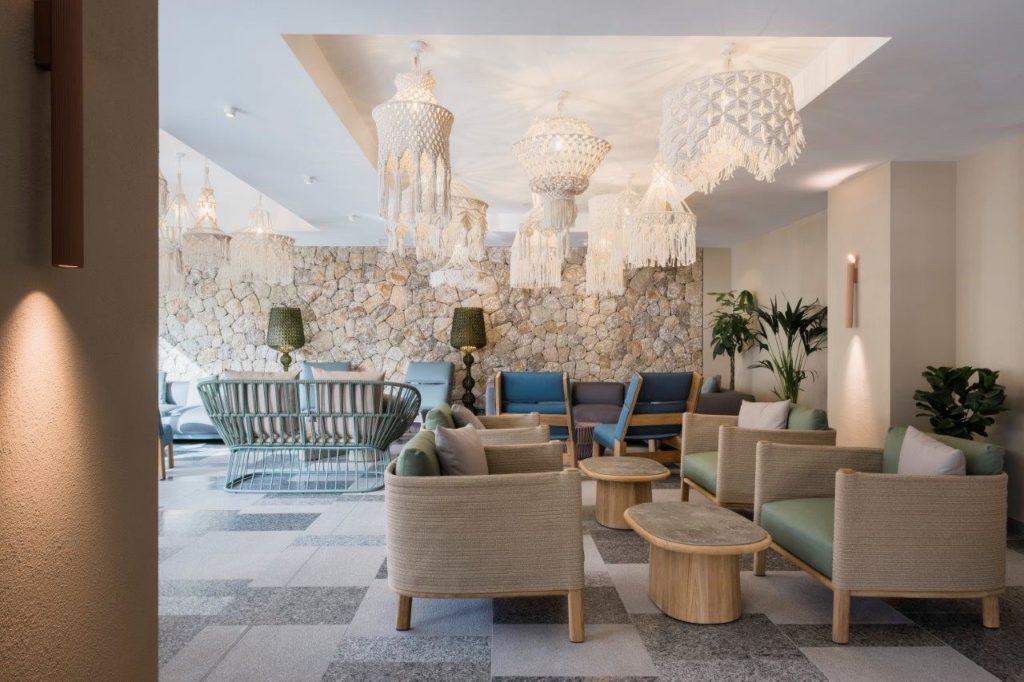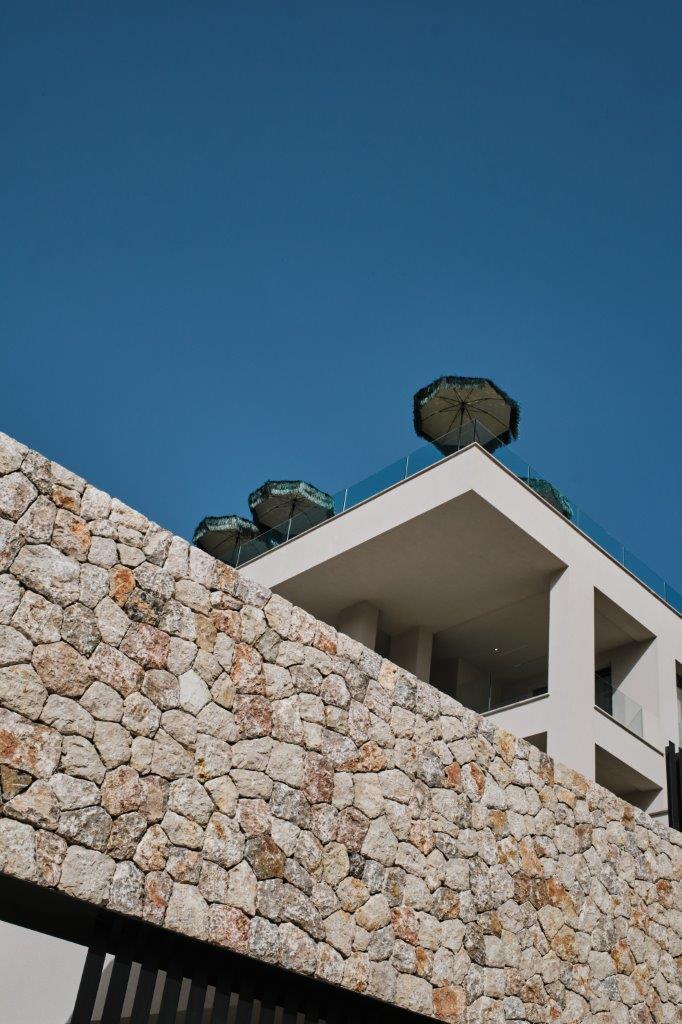 U Mayol bistro
Lunch at the terrace U Mayol, the relaxed bistro on the ground floor sets the scene for what is to be a truly delicious stay. Choose a table on the shaded terrace, in the company of visiting cyclists and hikers, or inside by the bar. Santi Taura is Mallorca's most celebrated chef, perfectly conveying the slow pace of authentic island life. His menus give new life to ancient recipes, made with exceptional local ingredients. His Michelin-star restaurant DINS, at sister property, El Llorenç de la Mar in Palma is usually fully booked, but here at El Vicenç de la Mar you can enjoy the memorable flavours and glorious dishes of his award-winning kitchen, perfectly prepared by Chef Santi Martorell.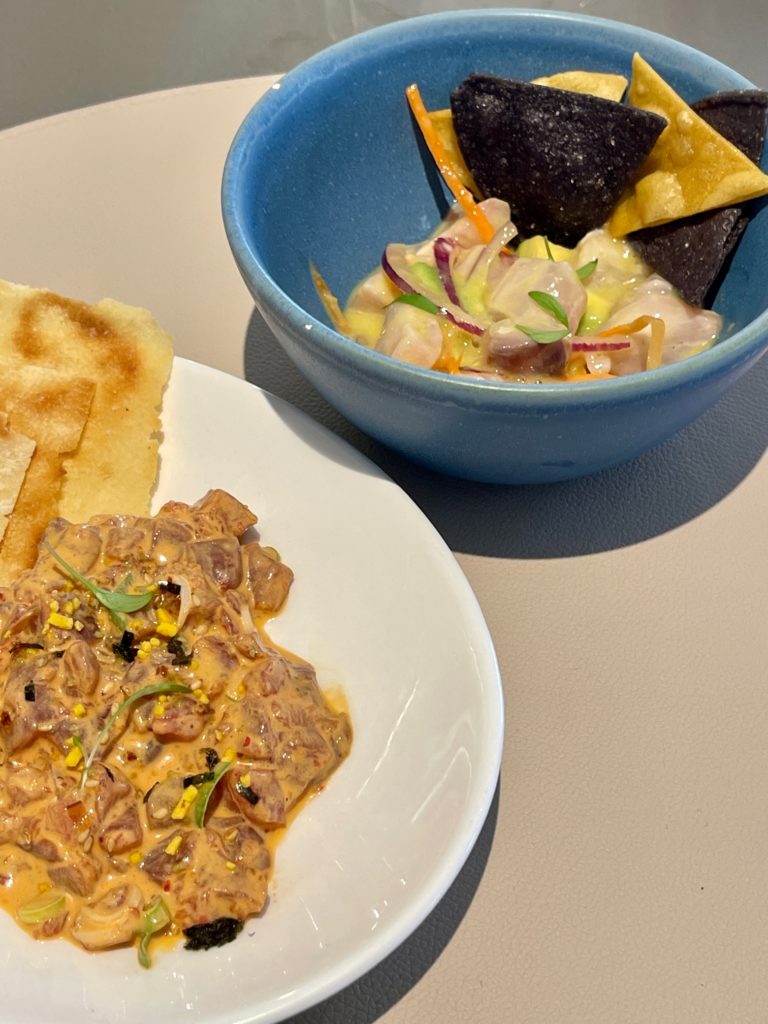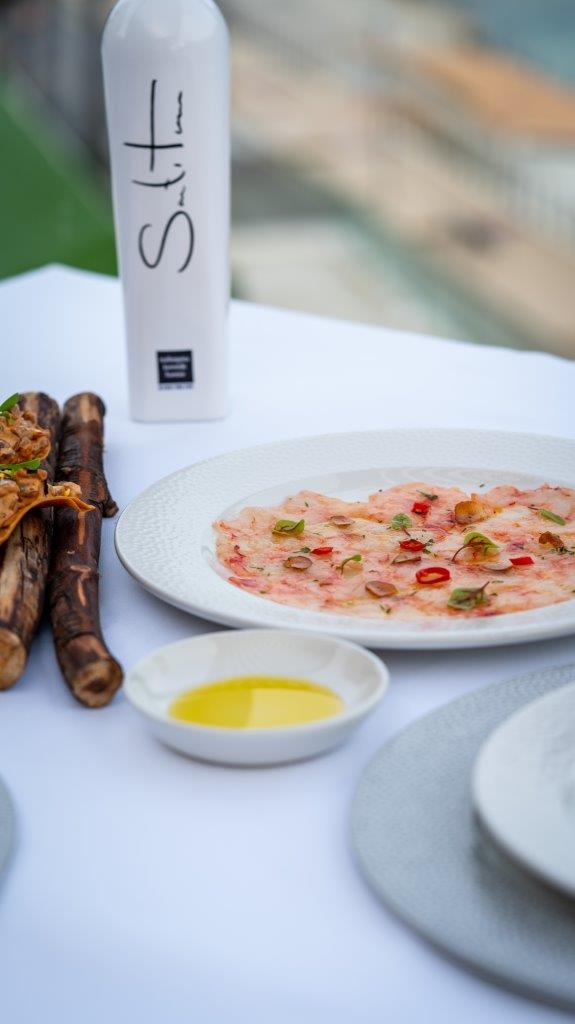 For lunch that meant tasty fried sea anemones, crispy on the outside and soft and flavoursome within. It was a good time of year to also try the tuna tartare with a spicy creamy dressing. The sea bass was perfectly prepared, with a traditional style side dish of sliced potatoes, made irresistibly tempting with pan-fried peppers and onions bursting the Mediterranean flavour.
Mediterranean design
Then it was time to relax in the room, with a siesta. A few years ago, I stayed at the sister property, El Llorenç de la Mar, with its extravagant design and styling.
You can read The Luxury Editor profile review of El Llorenç Parc de la Mar here.
Yet here at the sea view El Vicenç de la Mar, the Swedish designer Magnus Ehrland has fallen for the simplicity of a natural Mediterranean style. I really loved the abundance of natural materials and calming textures across the property with occasional pops of colour and creative surprises provided by the curated collection of art and photographic prints.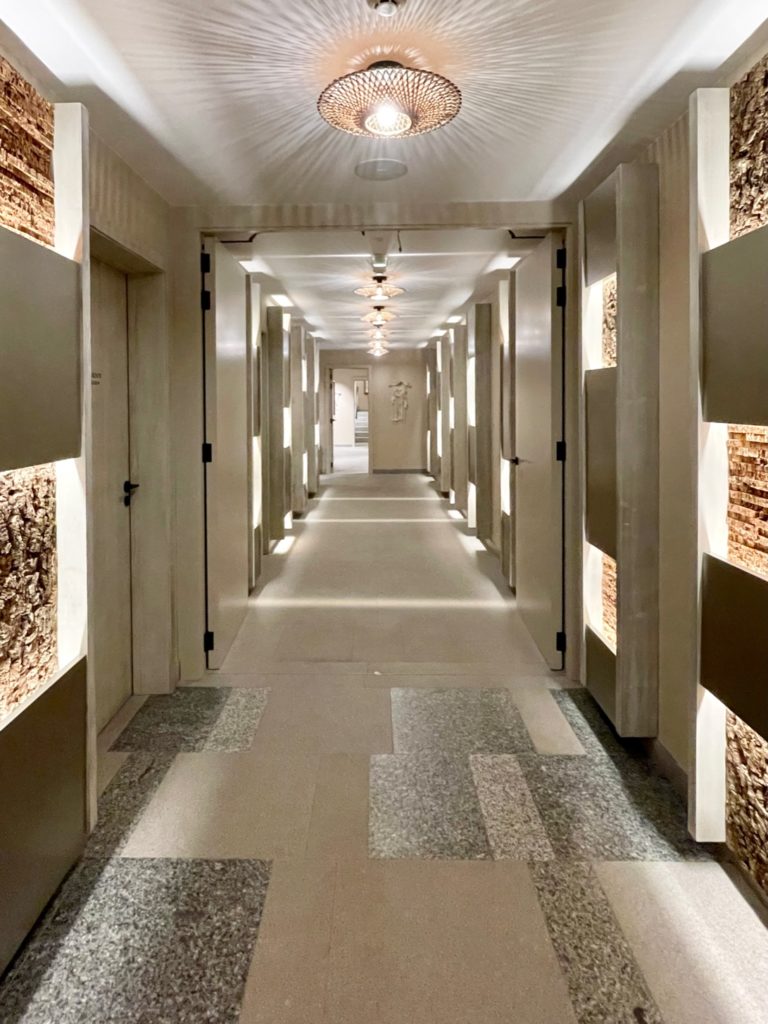 Rooms & suites
Yet my jaw really dropped when I made it to my room – or should I say suite. There are 35 guest rooms including swim-up rooms, with terraces and direct access to a 17-metre pool, junior suites, and a magnificent Penthouse suite, with private panoramic terraces and private pool.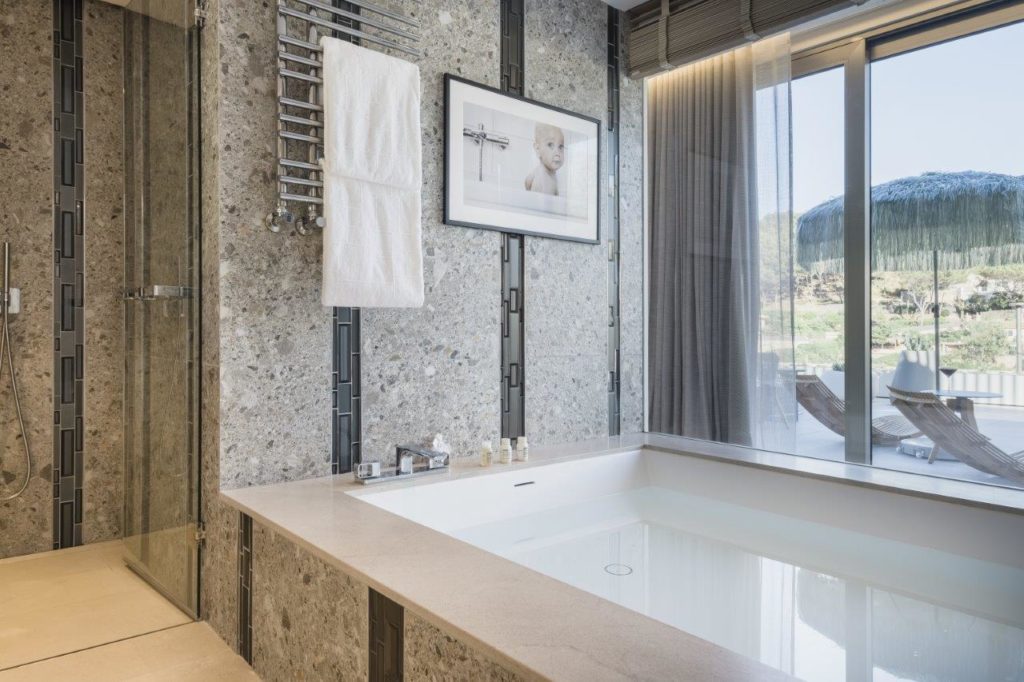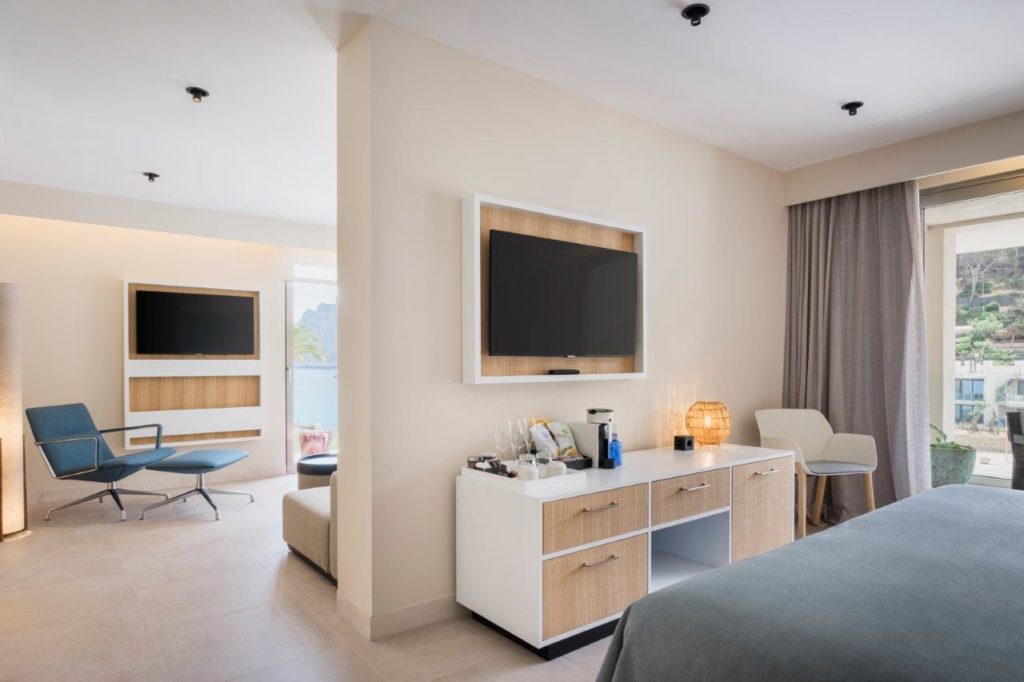 I was staying in the signature private pool suite – a 41 square metre sanctuary with a private salon, a large bedroom with a dressing area and a spacious bath and shower room.
It's like a perfect sea-view apartment, with a huge terrace that allows you to enjoy the best of the Mediterranean lifestyle, from a morning dip followed by an espresso to an evening sipping a fine cava under the stars. The view is out towards the cove and the mountains beyond that ignite with the warmth of the setting sun, creating beautiful shapes and shadows, famous on the island.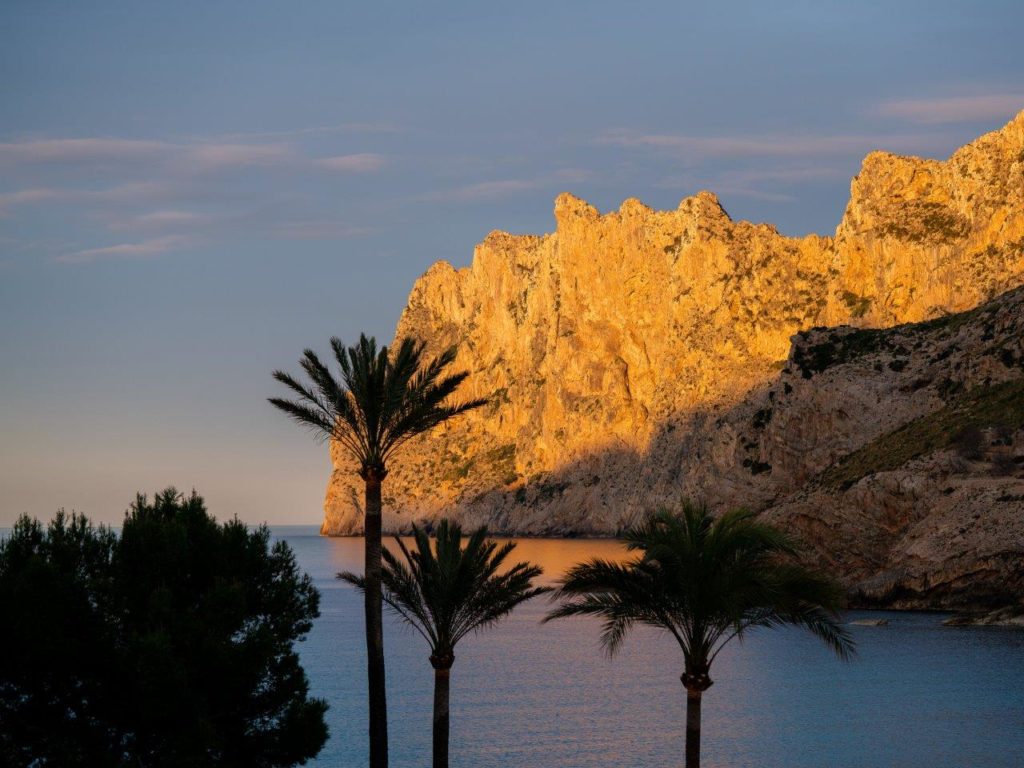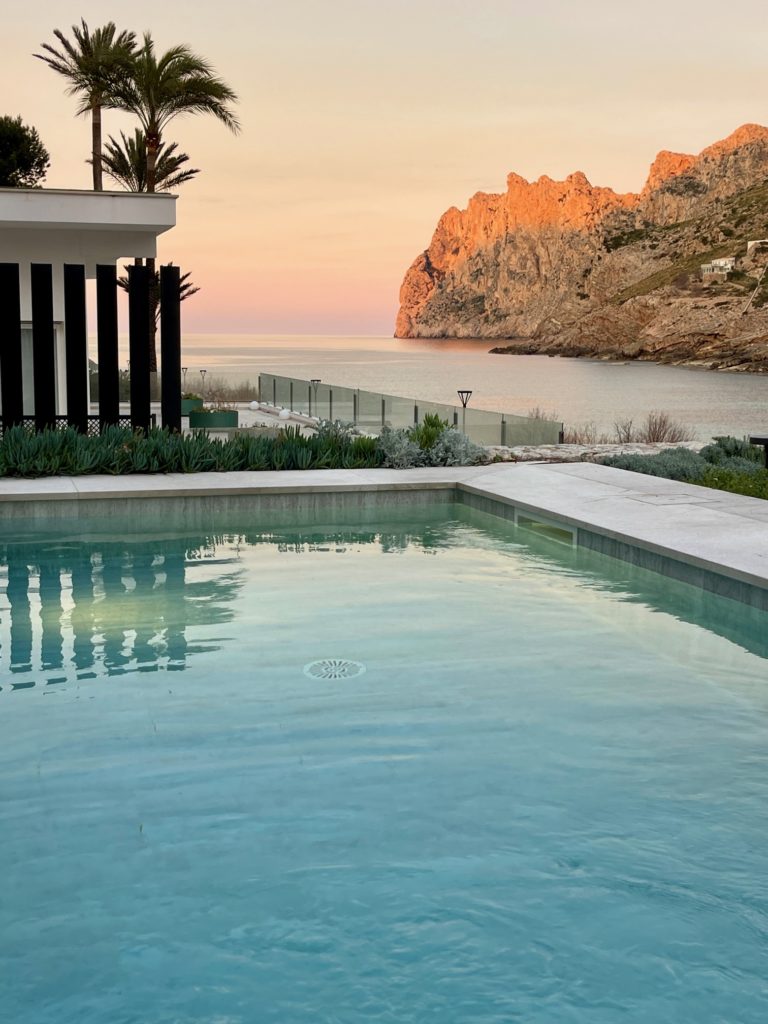 The attention to detail is everywhere throughout the suite, from comfy pool flip-flops and designer beach bag to luxurious bathrobe slippers and wonderful grooming amenities. The bathroom is so well designed, with a separate wet room area with the shower and large bathtub – there are plenty of plush towels too and all the amenities you need, from a natural loofah to bath salts.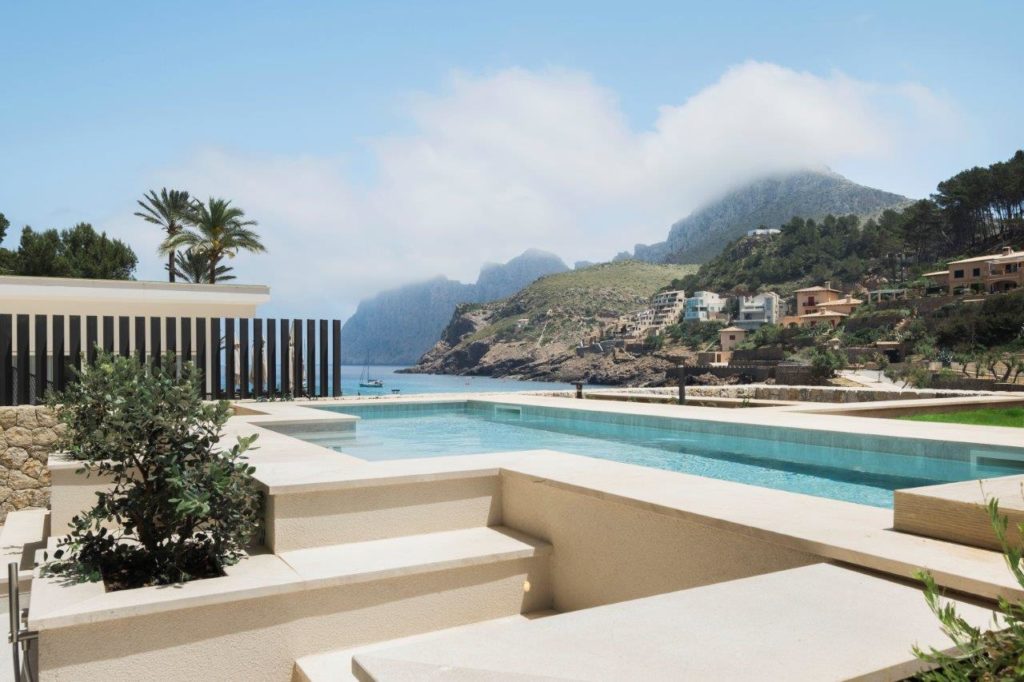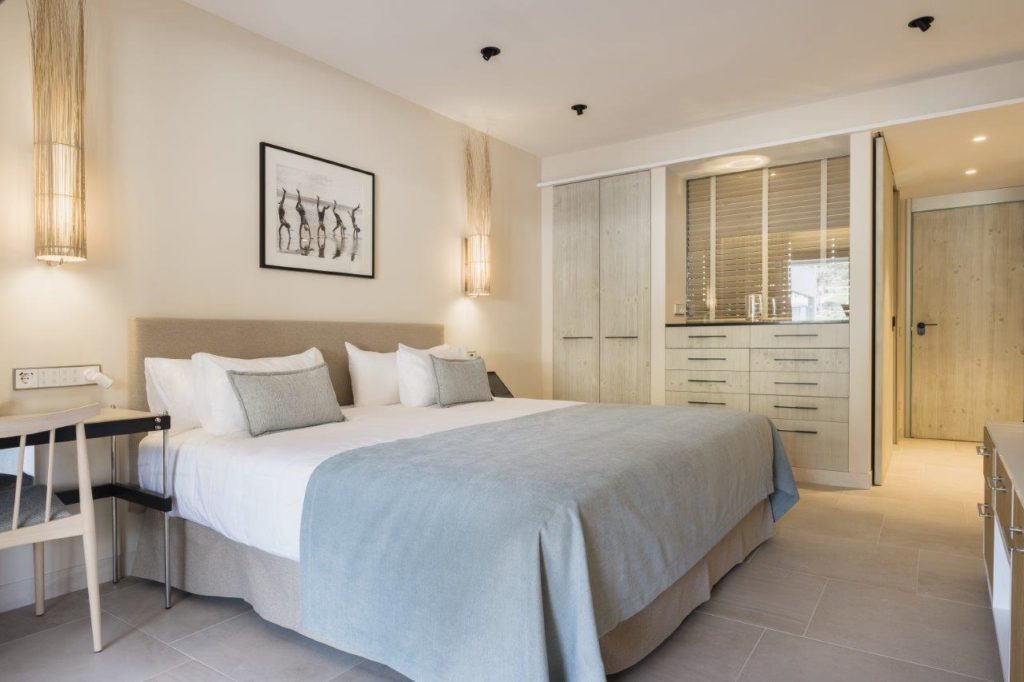 If you book directly with the hotel, you can expect more treats too, including the first minibar included, as well as a departure gift, like local olive and Mallorca salt.
El Vicenç restaurant
This island has become a sophisticated foodie destination, with tempting restaurants hidden away in villages and along the coast. But I can assure you that you'll not want to leave El Vicenç de la Mar. The signature dining is not to be missed.
The ambience of El Vicenç restaurant perfectly suits its coastal setting, with a relaxed, laid-back elegance, calming interiors and a large terrace for dining under the stars. Jesus my waiter and sommelier managed the perfect balance between a friendly relaxed welcome, and professional, well-informed service. His wine recommendations began a virtual journey to island wineries while the menu epitomised the signature style of Santi Taura, delivered with flair and passion by Chef Santi Martorell.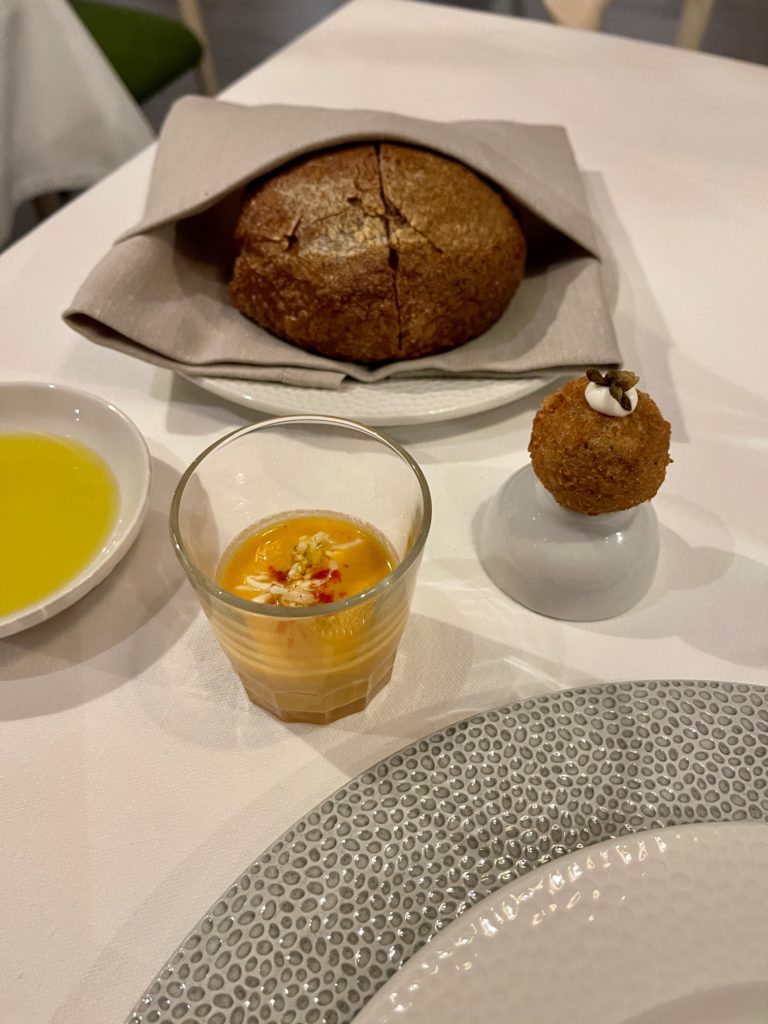 Homemade bread made with local carob flour, specially selected olive oil and pre-starters of salmorejo and prized beef croquettes began a memorable evening of food and wine.
The 'stuffed aubergines, Santi's way' is extraordinary. A classic dish, elevated to fine dining, thanks to layers of flavour. Chef Martorell tells me that to make the jus he starts with some 50 litres of stock, before finally reducing it to 8 litres of complex, rich flavours.
Suckling pig is an island delicacy, and here it can be enjoyed in a light, sophisticated way. The fish dishes are equally impressive, with hake loin in green sauce with potato gnocchi and snow peas providing a fresh feast of tastes and textures.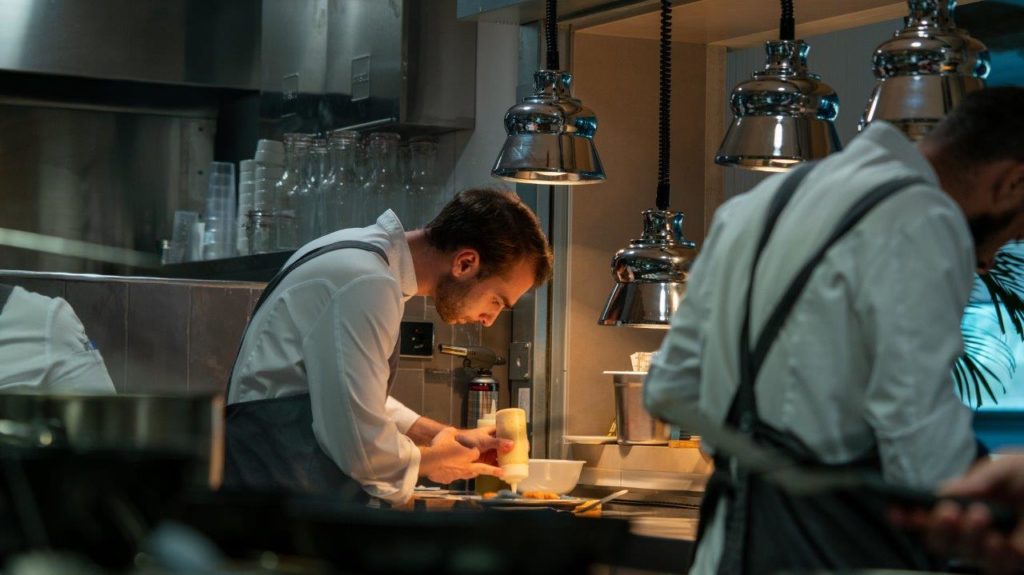 Classic deserts have been given the Santi Mediterranean touch, with the creation of a deconstructed 'no' lemon tart, as well as a Mallorcan take on the classic fondant with the local almond coolant with ice cream.
Breakfast
For me, a table service breakfast is a real luxury, and here at El Vicenç de la Mar, the first meal of the day is taken to the next level, literally, as it is served to your table on the roof terrace, with views to the Mediterranean.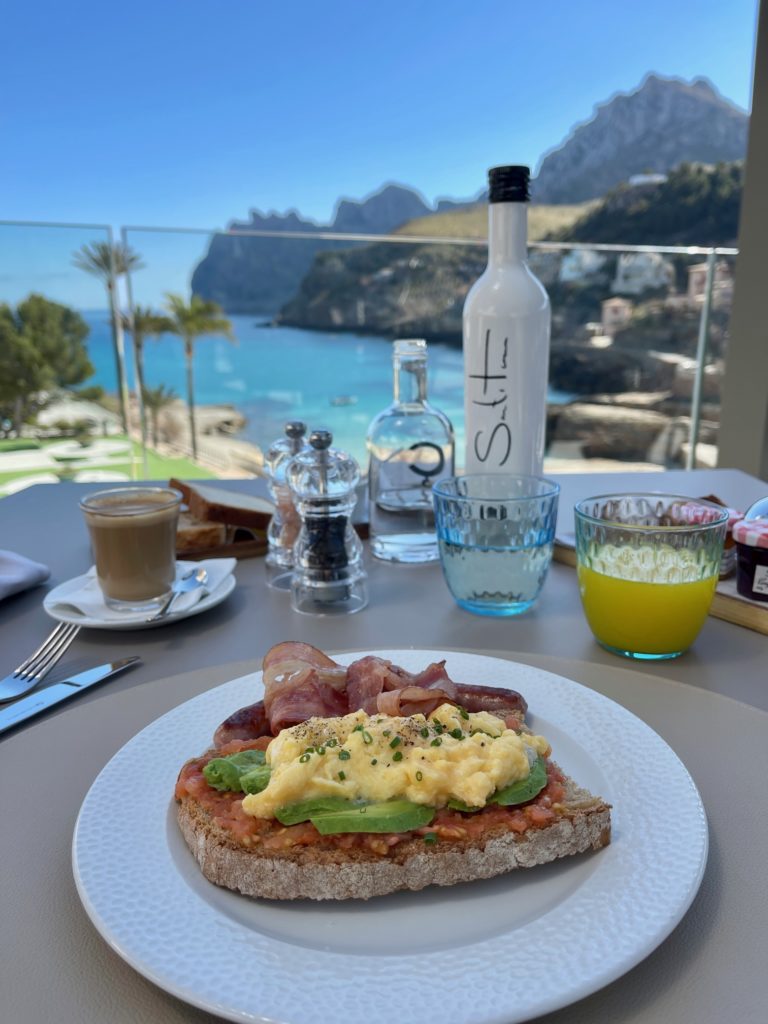 Wellness
The surprises continue the next day with my visit to the spa. This bijou hotel not only punches above its weight with gastronomy but wellness too. The spa is impressive, with a large pool, hydrotherapy circuit, sauna and steam rooms, and signature spa treatments using products from the renowned Natura Bissé.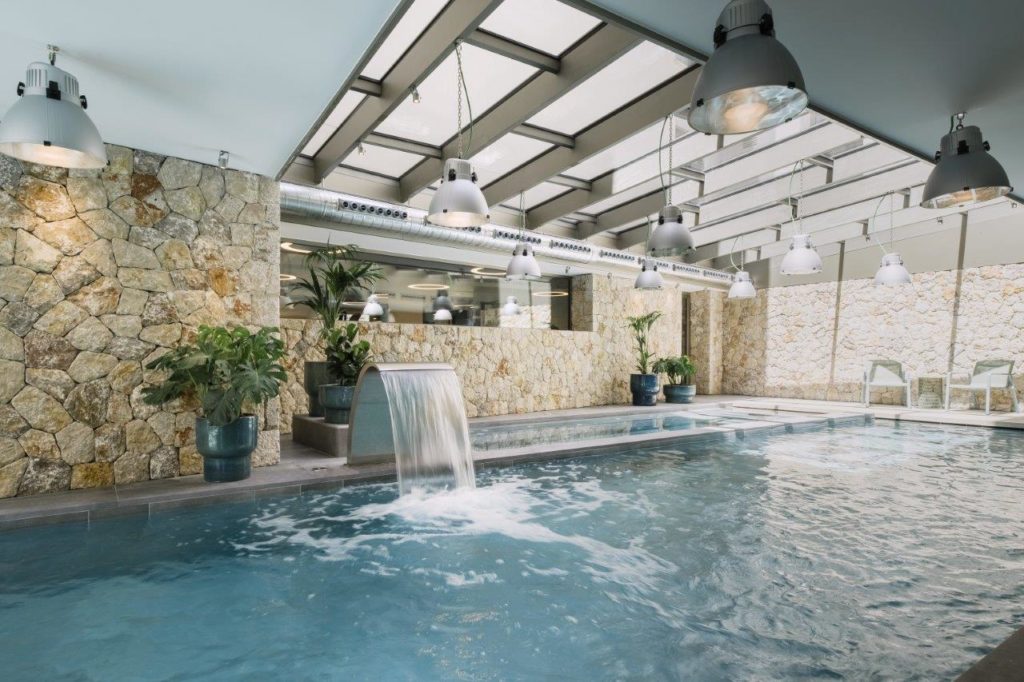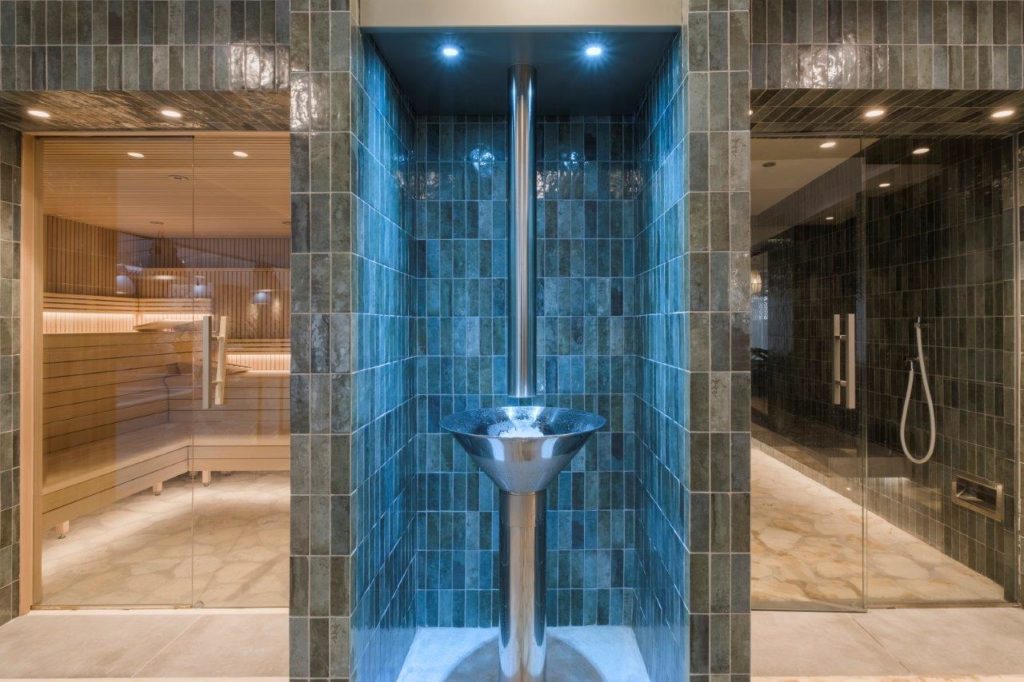 If you're feeling playful then there's also a games room and library, and yet another surprise, a cinema for private movie nights.
Experiences and activities
In addition to the three local sandy coves, the front desk will be happy to recommend nearby attractions, and scenic hiking trails. I can personally recommend a visit to the natural wonder or Cap Formentor which also offers a popular cycling route along the winding road, up to the lighthouse.
Additionally, there's snorkelling and scuba diving in the beautifully clear waters, and the caves I mentioned early. These hypogeum data back to the Bronze Age and are said to be the most spectacular in Mallorca. Bird lovers will enjoy the amazing variety of visiting species, as this is also an important point for migration.