Eneko at One Aldwych is conveniently located in the heart of London, south of Covent Garden on the corner of the Strand and Aldwych. The restaurant serves contemporary Basque dishes by three Michelin-starred chef Eneko Atxa. February saw the launch of a new brunch menu served on Saturday and Sunday. TLE went to check out Eneko's take on one of the UK's favourite weekend meals.
Background and Concept
Eneko has taken inspiration from the rich gastronomic heritage and traditional flavours of his home town of Bilbao and the surrounding region to build a brunch menu that bypasses the common staples of eggs benedict and pancakes. Located down two flights of stairs, the restaurant benefits from a glass atrium that streams in light from above. The ambience is in keeping with the contemporary theme of the food with modern furnishings in rustic, earthy colours of cream, beige, red and brown.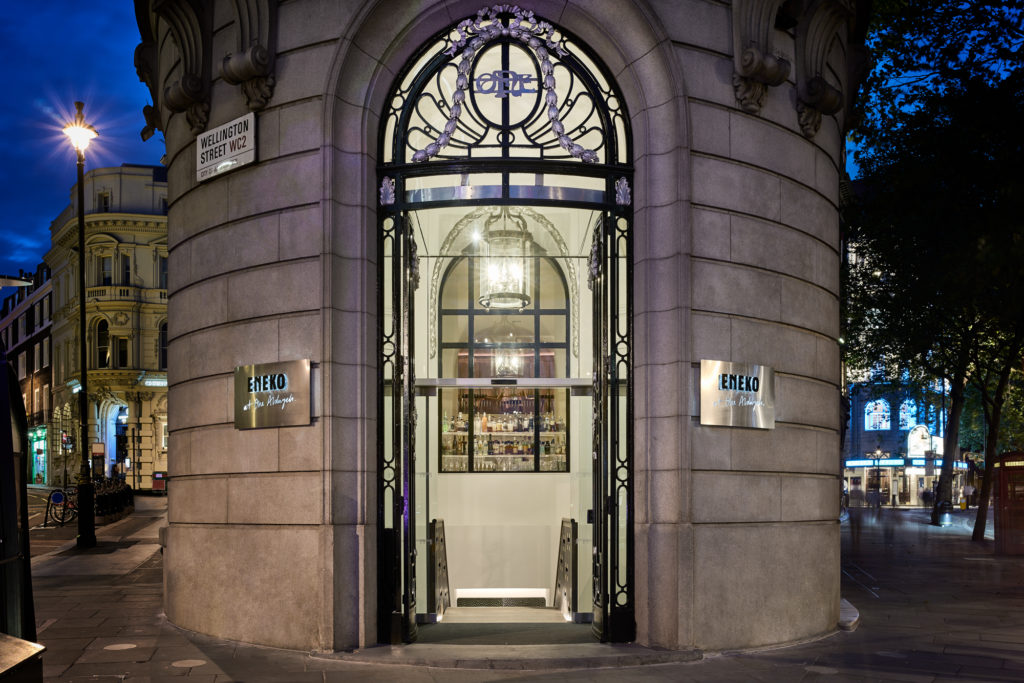 The Menu
The menu is divided under four headings – Euskal Azoka (street food), Gallinero (eggs), Txoko (Classics) and Asador (Grill). Guests are encouraged to choose from all sections and share dishes in the communal spirit of Spanish gatherings. There is also a list of enticing Aperitivos (brunch drinks). We enjoyed the Cava – and why not, as a complimentary glass is included with the brunch menu. However, Patxarini – Pacharan, coconut rum and coffee – sounded like a good hangover appeasing alternative to the traditional Bloody Mary.
The Food
As instructed by our amiable waiter Sebastian, whose passion for Spanish cuisine was in abundance and evidently ingrained in him from growing up on the island of Majorca, we chose from all four corners of the menu, minus the eggs.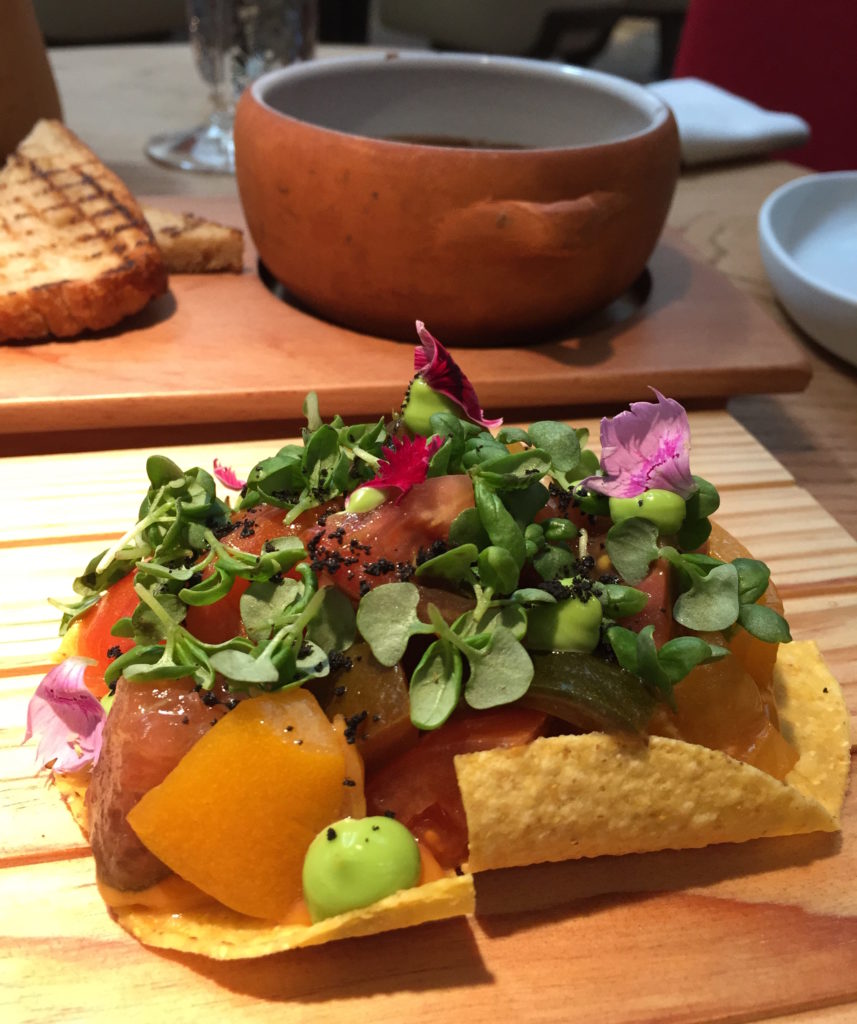 From street food we opted for the Traditional Talo and the Suckling pig brioche. The Talo painted a colourful picture with green, yellow and red heritage tomatoes and pretty, edible flower petals served on a corn base with basil emulsion and tomato mayonnaise. The suckling pig was not quite as we had envisioned as the creamy filling was encased within the brioche, which was surprisingly crispy. I could see guests re-enacting the snail scene from Pretty Woman as crunchy brioche balls fly across the restaurant, although I have no doubt Sebastian would have caught them! This was served along side a fresh leaf salad dressed in light vinaigrette.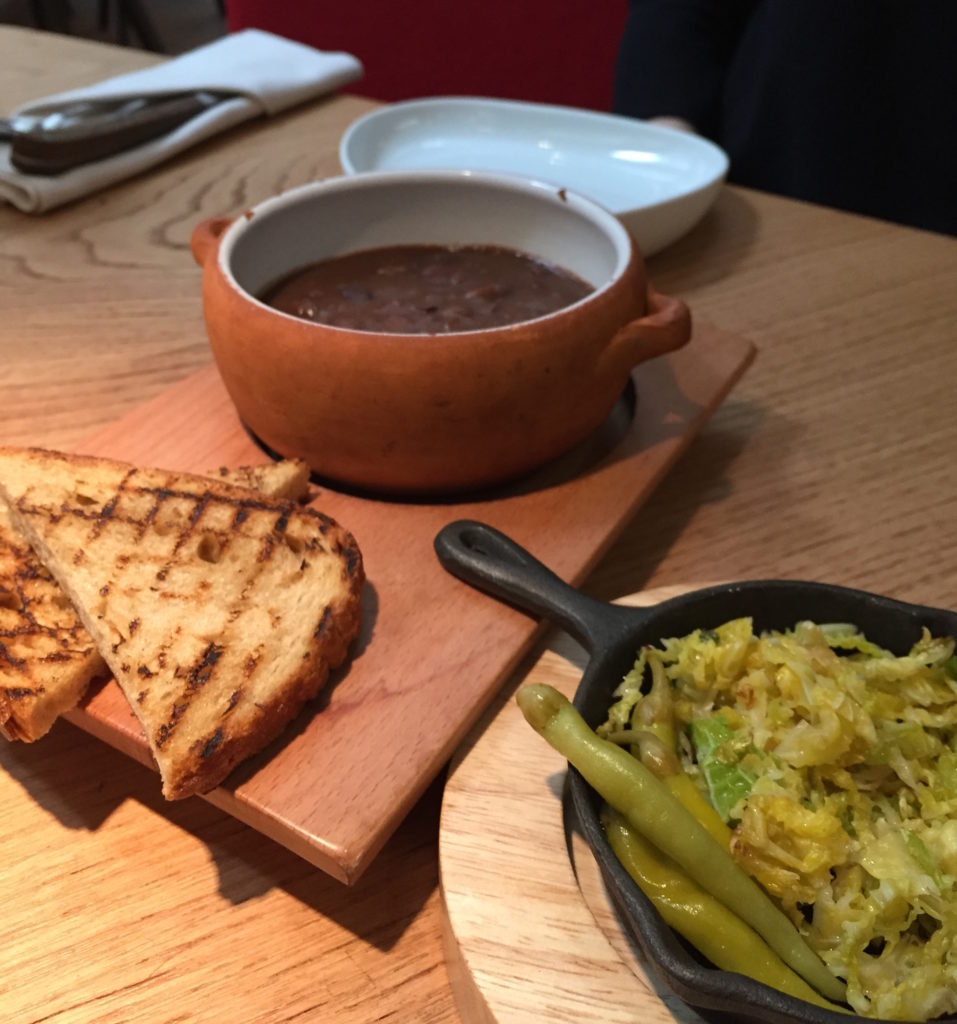 For a classic dish we choose the Gernika Beans. The smoky black beans in a rich sauce were complimented with a sweet and sour side of lightly sautéed savoy cabbage and pickled peppers served in a cast iron skillet, both well presented with grilled sourdough toast.
We chose the Duck from the grilled section. It was cooked beautifully moist, and the fat was satisfyingly charred. The fried padron peppers made a pleasant partner and were well seasoned. The duck was served with haystack fries which, served lukewarm, reminded us a little of a crushed packet of McCoy's ridge cut crisps, which may delight some.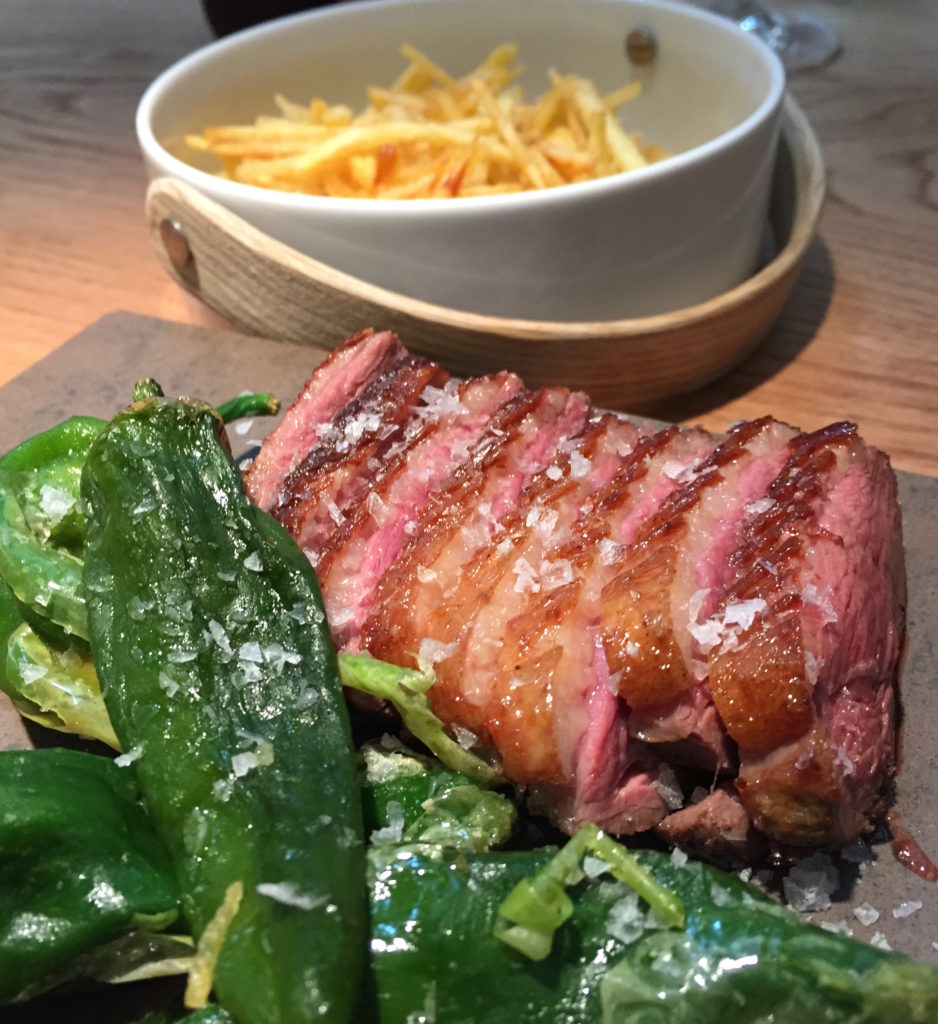 For dessert, I ordered a salted caramel mouse with cookie crumble and sheep's milk ice cream. The highlight of this dessert was the sweet white chocolate balls filled with a light caramel mouse. My guest opted for the cheese selection. When we asked a passing waitress to tell us about the cheeses, we were told we had a sheep's cheese, a cow's cheese and a goat's cheese. We both felt that the cheese selection was a little bland although the small squares of black olive bread and quince jelly went some way to bringing a little more excitement to the board.


Finances and details
The street food and eggs and classics are priced between £8 and £14. The grills are between £24 and £27 or £50 for a large Basque-style rib of beef. Guest's ordering brunch are treated to a complimentary glass of Cava. A bottle of Cava starts from £38.