Notting Hill's 'The Distillery' is a multi-faceted venue located at the Ladbroke Grove end of Notting Hill's colourful Portobello Road. It has a freshly painted powder blue facade, white window frames, midnight blue awnings and a red lion insignia, framed in a fiery gold stamp, which claws playfully yet proudly over the ground floor cocktail bar, The Resting Room. The building also houses a Ginstitutue, a handful of bedrooms and its newest venture, the 34-cover 'Angel above Portobello' restaurant.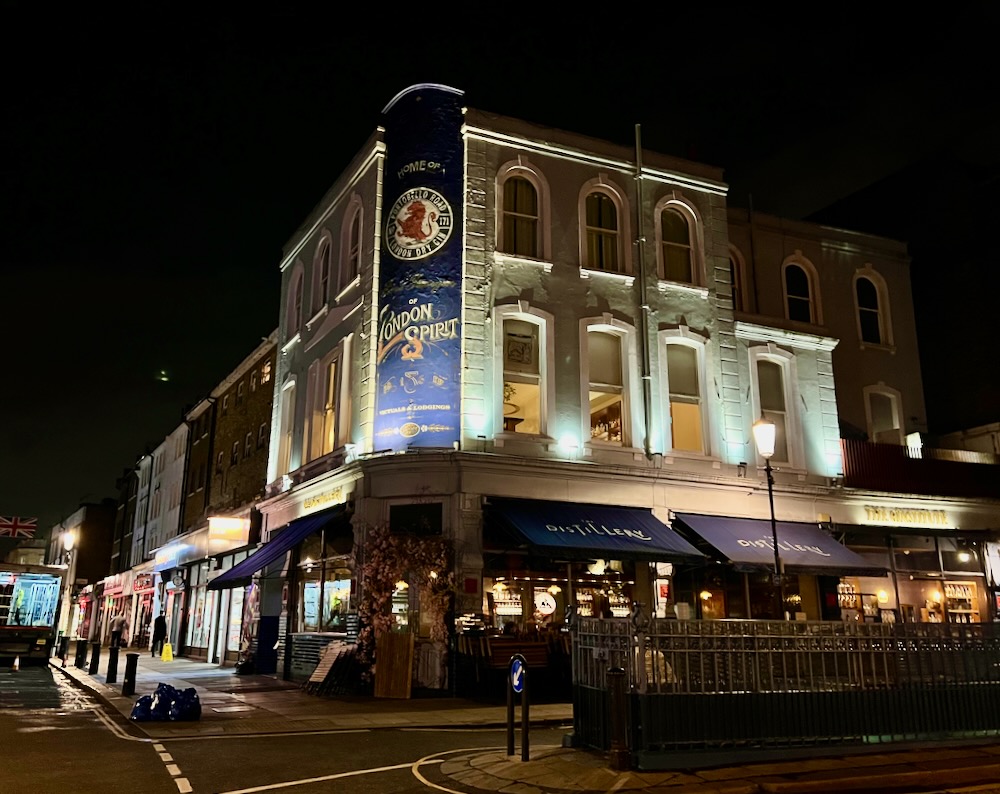 The restaurant is a square; no nooks and crannies in the Angel, no booths in which to hide or slink. Three large, vertical photographs of Scandinavian or Scottish forests, of swirling mists and turbulent waters dominate the room, and complement the pistachio walls, and the dark-hued tables and floors. A wooden halo hangs from the ceiling with burning candles. The ambience is formal yet elegant, proper yet dignified; the space demands to be taken seriously yet possesses intimacy and friendliness.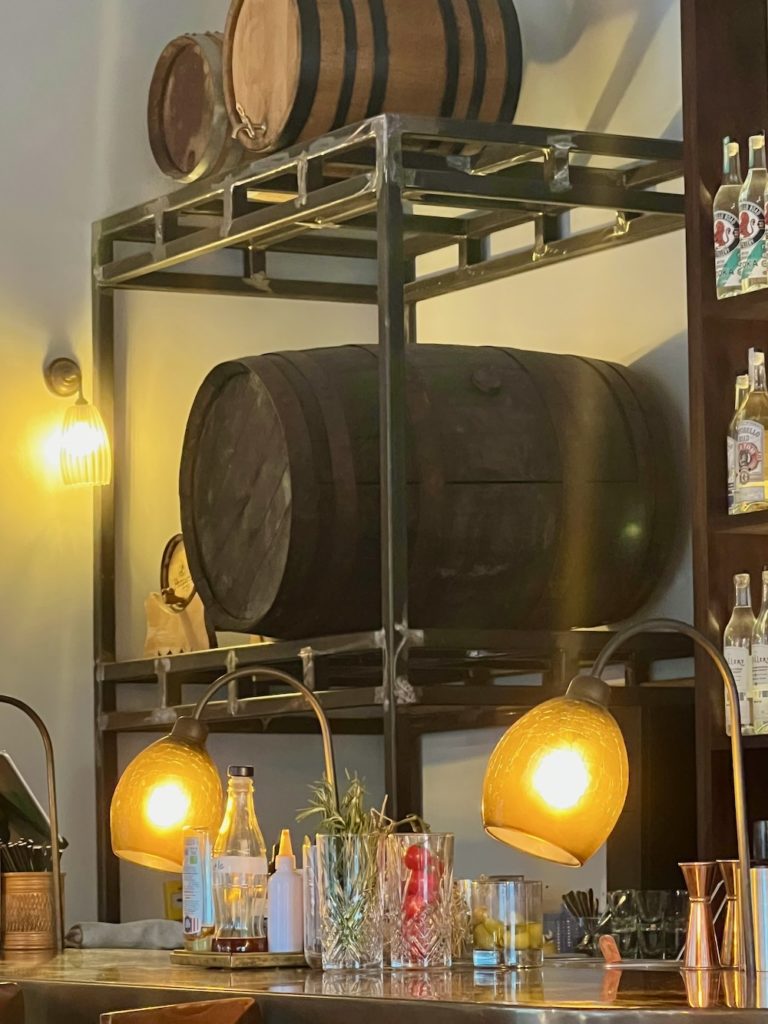 The menu features carefully crafted small plates like tea-smoked salmon and roasted hispi, along with sharing dishes that highlight premium and sustainable cuts of beef and pork, where you can enjoy six small plates for £66, mains from £19 and sharing plates from £55. We opted for four small plates and two mains. Irrespective of what you choose, the kitchen dictates which dish is served in which order and the Crab, Mariner's Relish, Mooli, and Sea Veg arrives first. Covered in green leaves, punctuated with yellow and white petals it looks like it could be a bridesmaid's avant-garde clutch; it's quite beautiful, a work of art in itself, almost a shame to dissect.
One reads about flavours exploding in mouths with some cynicism but that's exactly what happens here. The brown and white crab flakes form the larger part of the dish but suddenly there's a burst of parsley. And then lemon. And something nutty – a sunflower seed? And something chewier; some samphire. And then, what? A crunch amongst all this soft succulence? Yep, you got it; a wasabi pea! Beyond being incredibly tasteful, this is actually fun to eat because all the flavours keep bursting forth, demanding to be recognised. Call it a sharing plate? Absolutely not; no way I'd share this again; get your own!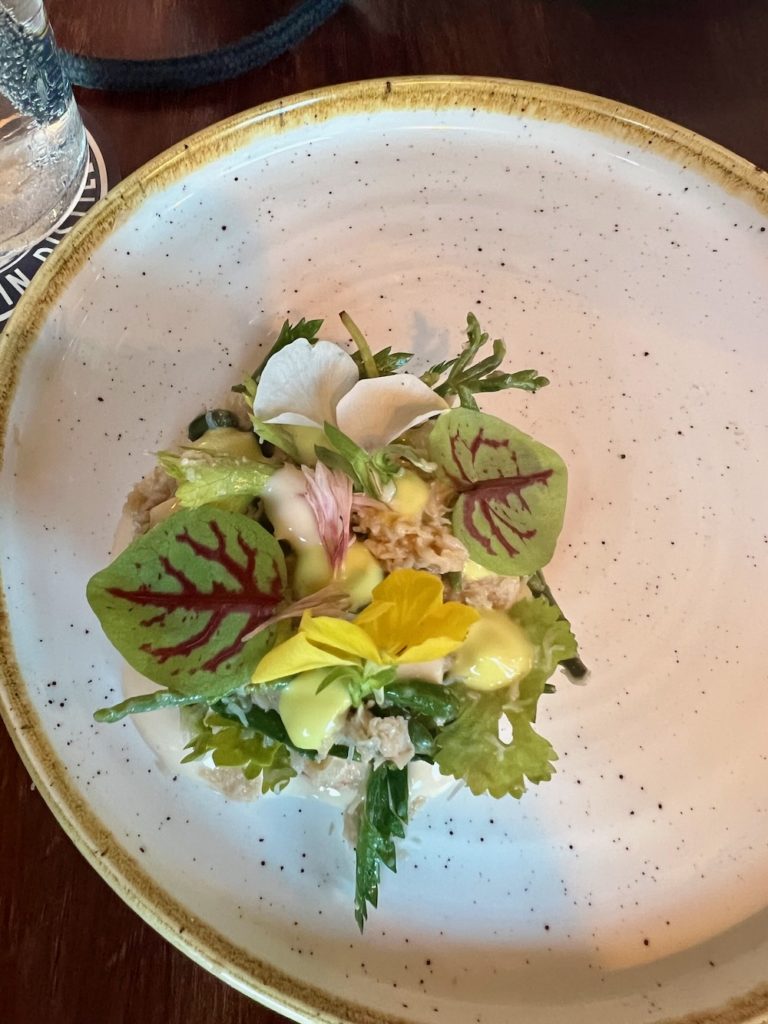 The next two plates share a similarly aesthetic presentation and flavourful joie de vivre. The baby beetroots and carrots are perfectly al dente and accompanied by sublime gin & tonic ricotta which is a surreal triumph, the texture as you'd expect but the taste subtle, the ricotta more a ghostly reminder, the G&T's presence, sophisticated. Venison with labneh (soft cream cheese), with oil, sesame and pomegranate seeds is sprightly and not sweet exactly, but comforting.
But then a fermented gooseberry comes along and propels the dish into another dimension. The surprise of the gooseberry, bitter but exciting, practically makes us laugh; it challenges our tastebuds but ultimately rewards them. The cod cheeks with spelt, fennel and tomato are less visually attractive than the previous dishes, and less busy, too, but with slight crispiness on the outside and slick succulence on the inside, they're no less delicious for it.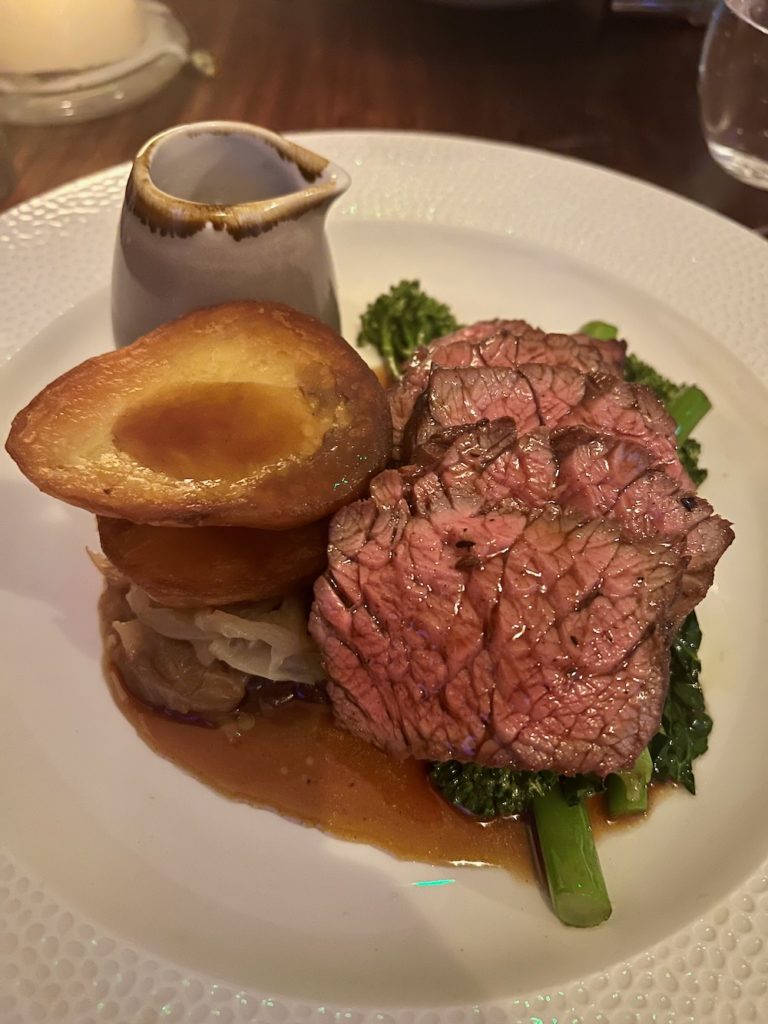 Both pork and beef 'Sharing Boards' feature on the menu as mains but these larger portions are not recommended after even four sharers. They sound intriguing and include obvious cuts of meat but less obvious ones, too; collar, shin, tail. We opt for Bavette Steak and Rare Breed Pork Chop single portions. Both are more formal than the sharer plates and less ebullient in their experimentation but are still perfect, the attention to detail, still intact. The roast potato with the Bavette is an especially pleasant and unusual surprise, it looks more like bone marrow, flat and round and fantastically crunchy on the outside. The berry Jus isn't sticky but more smooth and fluid, the steak itself, a picture-perfect presentation of pink meat with a small border of darker, better-cooked meat. Similarly, the pork is moist and comes with an oblong piece of pork scratching that's so exciting it should come wrapped.
After such a veritable feast, a dessert seems gluttonous but simultaneously a missed opportunity. We continue the night's theme and share a Peanut Butter and Salted Caramel Parfait. The parfait is the width of a plantain and remarkably, the desert isn't as rich as it sounds.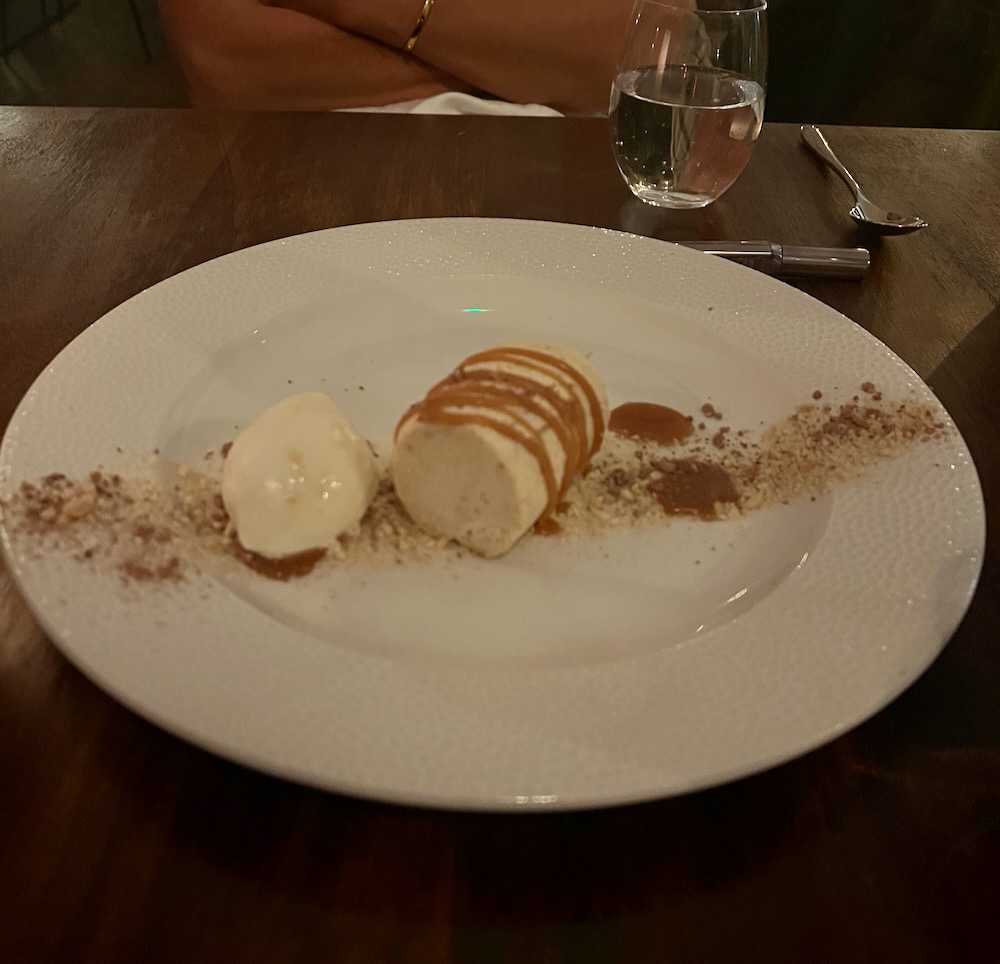 It's a fantastic resolution to a fantastic meal full of flair. Executive Chef Peter Breckon is a towering yet affable Geordie and an acolyte of Heston Blumenthal and Mark Hix. His mastery of both formal and less formal dishes is a testament to his education and culinary skillset and what he offers here is almost unheard of; essentially an extravagant taster menu at an extravagantly affordable price. The Angel has only been open a few weeks but one can't help but think the word will escape quickly once it does escape; treat yourself, book now, avoid disappointment!