Creating convergence between fashion and heritage liquor, the refined cognac brand has joined forces with the prestigious designer for the very first time, to present a special collection. Featuring a collectable sneaker, a Masterpiece decanter and a 'ready to wear' Limited Edition bottle of Hennessy X.O, it's a unique celebration of the legendary blend's impact on culture.
Kim Jones
One in a line of Hennessy X.O's formidable collaborators (including Frank Gehry, Cai Guo-Qiang and Ridley Scott) Kim Jones says of the partnership: "When I saw how the vintage Hennessy bottles were wrapped, it spoke volumes to me about how precious each one is, and how they were handled. I was particularly touched by their history, and the sense of how generations have dedicated their time to making each step of the process better and better. That same process also holds true with fashion."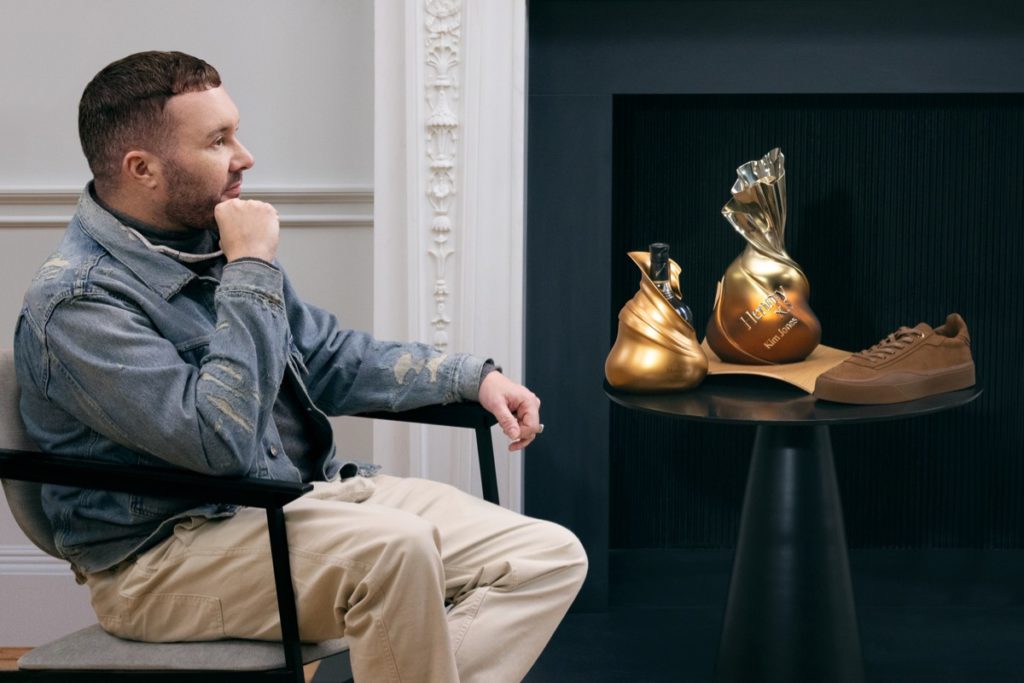 HNY Low
Made in an LVMH-owned shoe factory in Italy, the limited edition HNY Low is made from a light cognac-coloured nubuck leather (material that takes on the patina of time, a reference to the precious eaux-de-vie) and inspired by early basketball shoes. A technical sole in tonal grooved rubber features an imprint of cognac vines and the Hennessy X.O x Kim Jones logo on its underside, while the initials KJ and the Hennessy bras armé emblem can be seen on the heel.
"I wanted it to be elevated and chic, to reflect both the long heritage of cognac and my own design values," says Jones, who brought the curves of the Hennessy X.O bottle into the silhouette. "I wanted it to feel like you're almost looking into the bottle. It's a glass of cognac in sneaker form."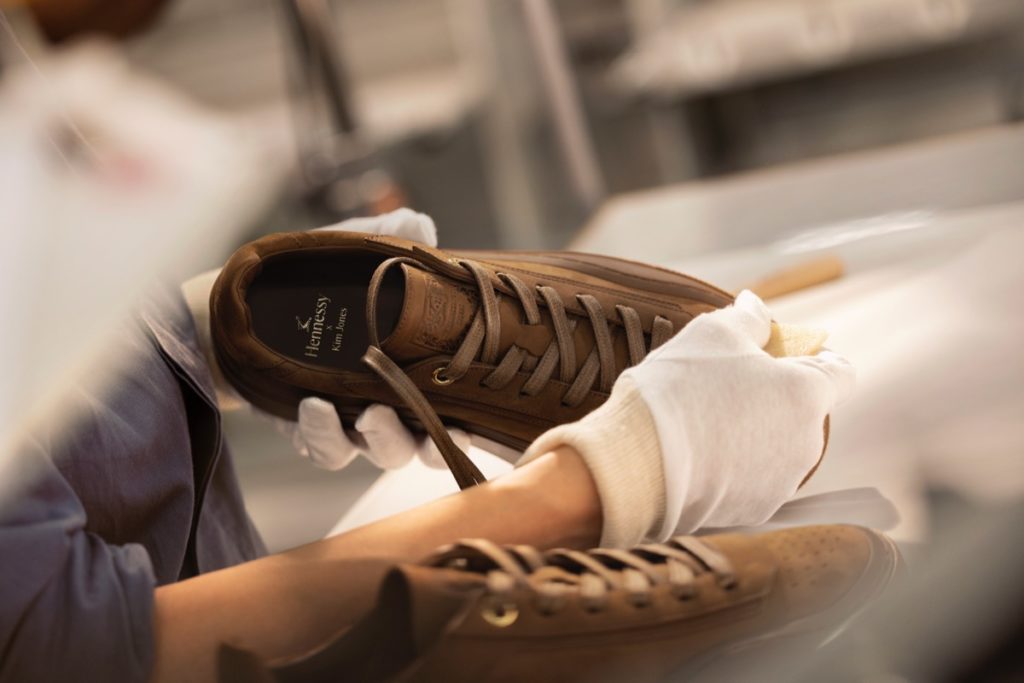 The shoes come in a cotton dust bag bound by a high-end drawstring, itself a reference to the bottles that used to be wrapped in a thick paper during travel. Finally, the sneakers are presented in an oak box reminiscent of maturation bottles, with a wavy top echoing the plateau used in Jones' take on the Hennessy X.O Masterpiece design.
Hennessy X.O Masterpiece
A mix of 3D printing technology and hand finishing has produced the Masterpiece in a limited edition of 200; a decanter described by Jones as being "like a piece of bespoke couture for a bottle". A specially developed titanium casing surrounds the bottle. Twisting folds follow the fashion technique of draping and the way in which, at the turn of the 20th century, Hennessy bottles were hand-enveloped in tissue paper to protect their fragile parchment paper labels. It sits on an undulating oak plateau, much like the barrels used to age the eaux-de-vie that would eventually be blended to create Hennessy X.O. Finally, the decanter is dipped in gradient colours — inspired by the hues of the different liquids selected by the Master Blender to compose Hennessy X.O.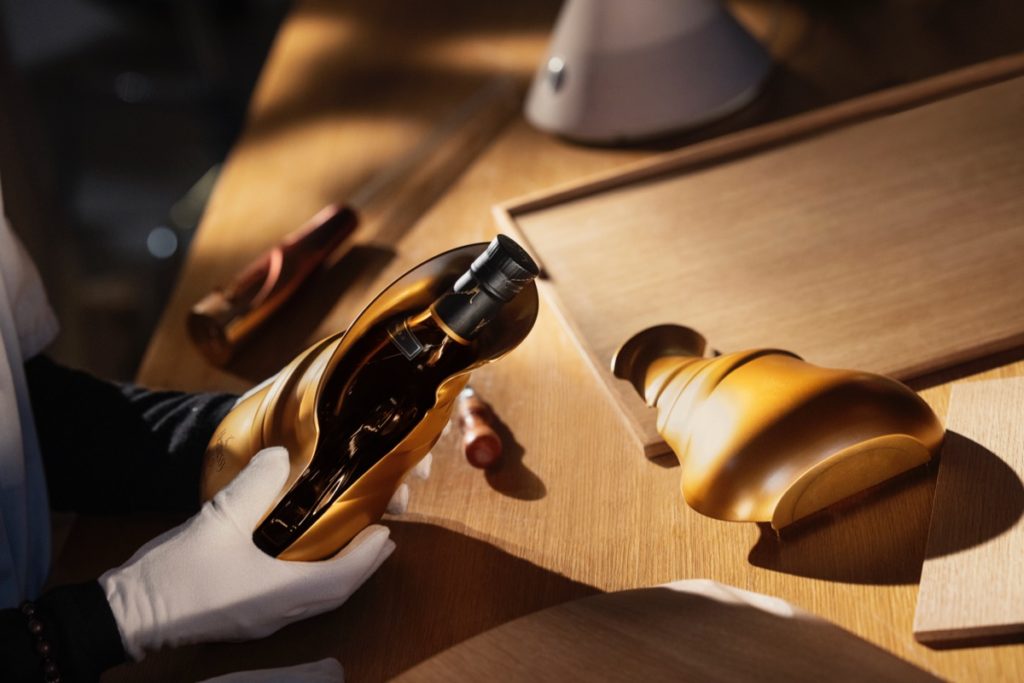 Ready to wear
The Hennessy X.O Limited Edition also offers a 'ready-to-wear' version of the decanter, also designed by Kim Jones. Here the bottle is encased in an aluminium second skin, its shape following that of the bottle, yurt recalling a couture-style silhouette.
"We are thrilled to embark on a new odyssey blending cognac-making and couture with Kim Jones, a creative master of our time," said Laurent Boillot, Hennessy CEO. "Inspired by the emblematic personality of Hennessy X.O, Kim has developed a resolutely contemporary collection that is destined to make an impact on culture today and in the future."
"I'm fascinated by the rich heritage of Hennessy, a household name behind which artisans have spent hundreds of years creating this special cognac," says Kim Jones. "Storytelling is very important for me regardless of what I'm designing or who I'm collaborating with – I want my designs to educate and inspire people through the stories they tell."
The full collection is available to purchase in-store at Flannels, Oxford Street in London alongside other select retailers.