On a warm summer's night (en route to Amsterdam via London) the TLE team checked into the capital to catch up with what was new in London for an evening. We had been invited to the Holborn Dining Room & Delicatessen, which is the latest addition to eateries at the 5 star Rosewood Hotel.
The Holborn Dining Room was formerly the East Banking Hall of Pearl Assurance but has been reborn into this masterpiece of marble, red leather, brass and chandeliers complete with eccentric head Maitre D wearing a checked pink and red suit which I loved. The hotel complex is in Holborn; now classified as London's 'midtown', a 15 minute walk from Leicester Square and Covent Garden and easy access from Holborn underground station.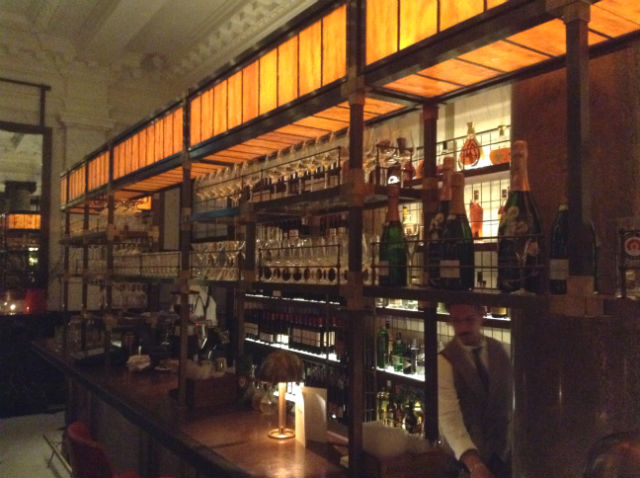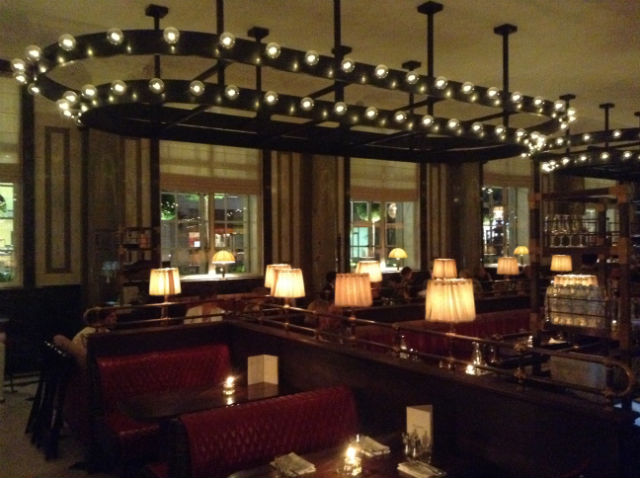 The restaurant itself is large – seating 200. But the use of furnishings combined with soft lighting and broken up with different seating options make it feel cosy and warm whatever your party size.
The menu is thoroughly British and somewhat traditional – but the dishes work well. Start off with something from the charcuterie or cold or hot section, move onto fish, or choose from the wide range of sandwiches or if you fancy something more substantial the hot range caters for most tastes, add a side and finish off with a classic and irresistible dessert.
Starters
I started with a firm favourite of mine – Asparagus with Hollandaise sauce, which was a generous portion of fresh stems with a light and buttery Hollandaise sauce. My dining partner had the chicken, bacon and avocado salad which got the thumbs up too. Both choices were nothing too fancy but the flavours worked well and were of superb quality.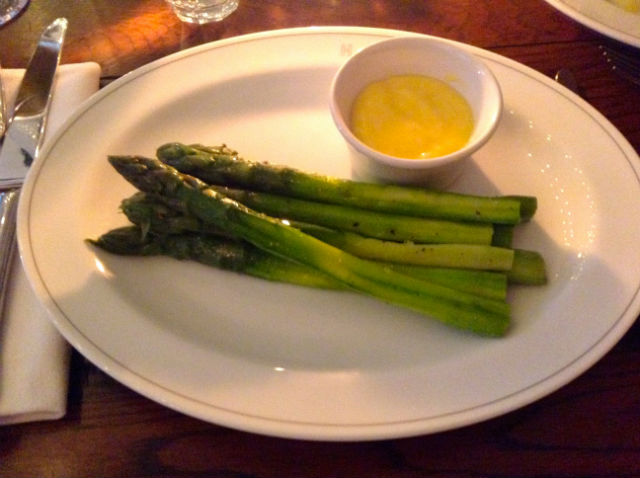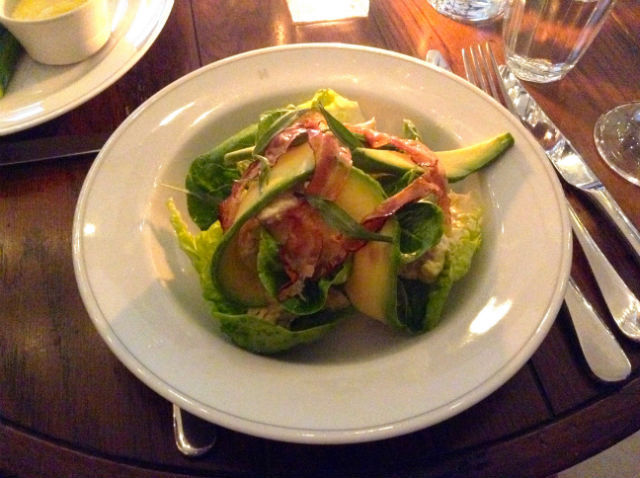 Mains
For mains I chose the spelt risotto, which was a decent sized portion, I like the use of spelt instead of plain risotto rice as an alternative and the addition of mint and pea shoots enhanced the overall taste and texture of the dish. My dining partner's steak sandwich was huge and was made with tender strips of steak – by all accounts it ticked all the boxes.
Moving away from the food momentarily, one point to note that shone through the whole experience were the staff and the service they offered. There was a genuine feeling of them really wanting to help all the customers. As soon as our drinks were running down, they topped our glass up again and we were asked during each course how the food was and that was not just for our table the guests next to me also had a similar experience.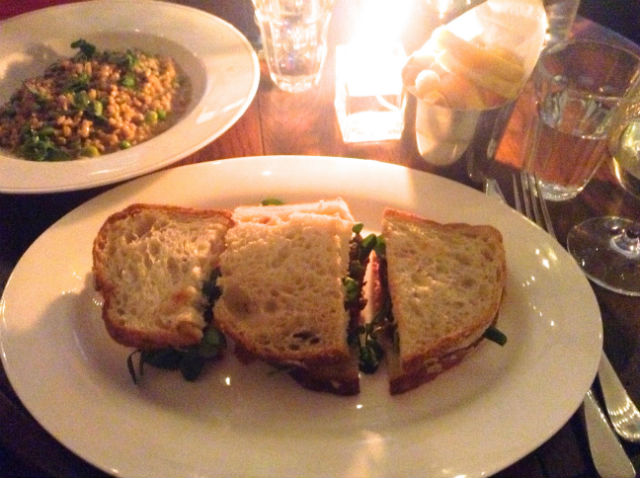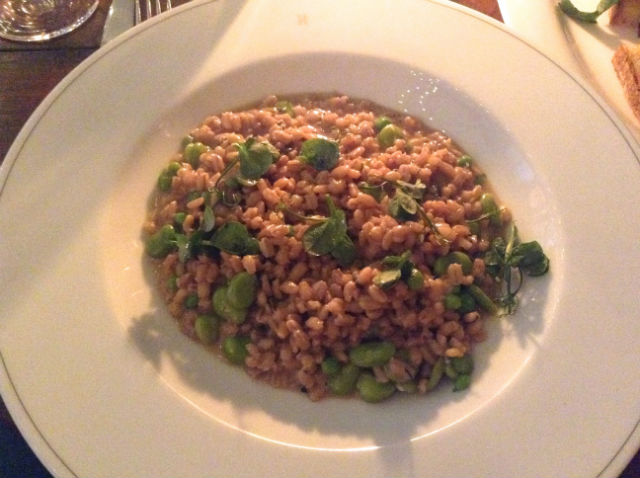 Dessert
For dessert we both opted for the Chester pie, I didn't work out why it was called that but it was delicious and a total sugar overload (it reminded me of lemon meringue pie that my mother used to make at home) and we went all out with the cheese board too – which consisted of three huge hung chunks of British cheese. – A Montgomery cheddar, a Cashel Blue and Kidderton Ash Goats cheese all of which were all absolutely delicious and complimented with a good selection of crackers.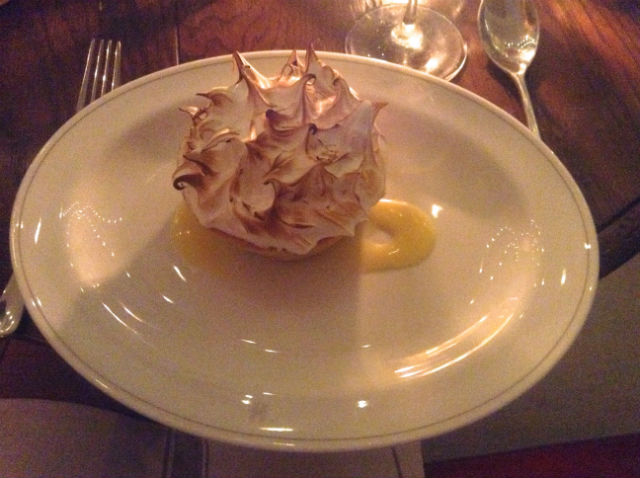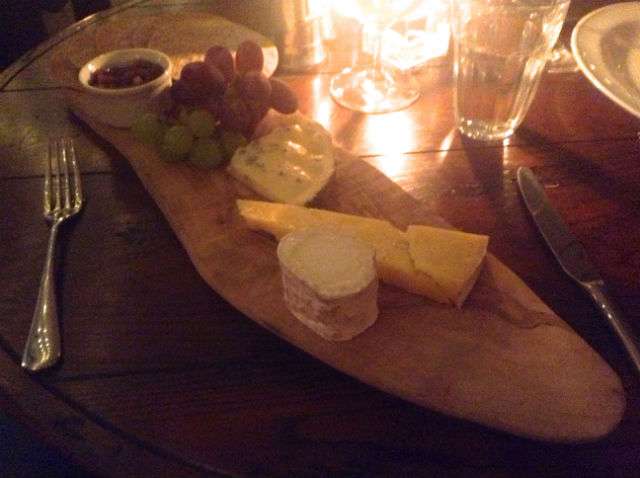 The restaurant also provides access to the hotels outdoor courtyard which you can use as a guest of the restaurant. This will definitely be handy in the summer months and I have heard good reports about the hotel bar Scarfes which would be perfect for a drink before or after your meal.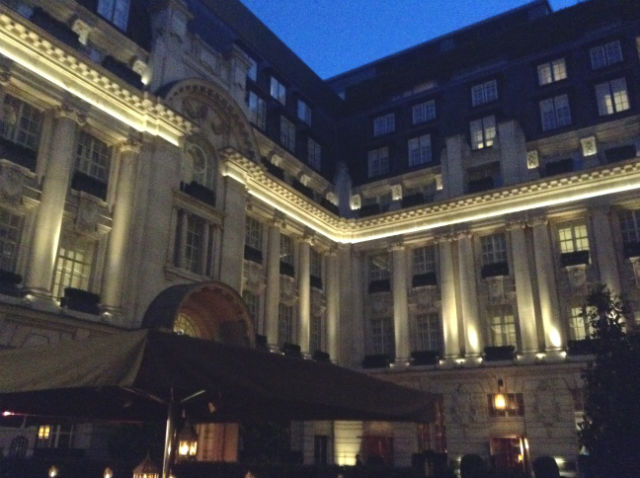 We finished the meal off by savouring a bottle of 2012 Château des Antonins Blanc Sauvignon Blanc and skipped coffee as by this point we were feeling rather stuffed after our superb 5 star dining experience.
If you would like to reserve dinner, visit their website at www.holborndiningroom.com/ or call 020 3747 8633 Address: 252 High Holborn, London WC1V 7EN