We were recently invited to experience a two-night stay at Hotel Claris in Barcelona. Not only was it our first visit to one of the hotels by the Derby Hotel Collection it was also my first time to Barcelona. Read on to discover whether Hotel Claris gets a thumbs-up from TLE.
Introduction
The Derby Hotels Collection has an interesting and relatively rare proposition in that each of the hotels within the portfolio houses their own art collection helping to define a unique identity based on both its history and location. The combination of art, luxury and culture are the key characteristics synonymous with the Derby Hotels Collection which is a result of Mr Jordi Clos, developer and Chairman of the Derby Hotels Collection, own personal passions.
Mr Clos is a patron of the Arts and is well renowned in Spain as collector and scholar and is the name-sake of The Clos Archaeological Foundation along with the Egyptian Museum of Barcelona.  The aim of this foundation is to preserve the Egyptian cultural heritage of humanity. Every guest who stays at one of the Derby Hotels Collection in Barcelona receives an invitation to visit the Egyptian Museum of Barcelona, with compliments of Mr Clos.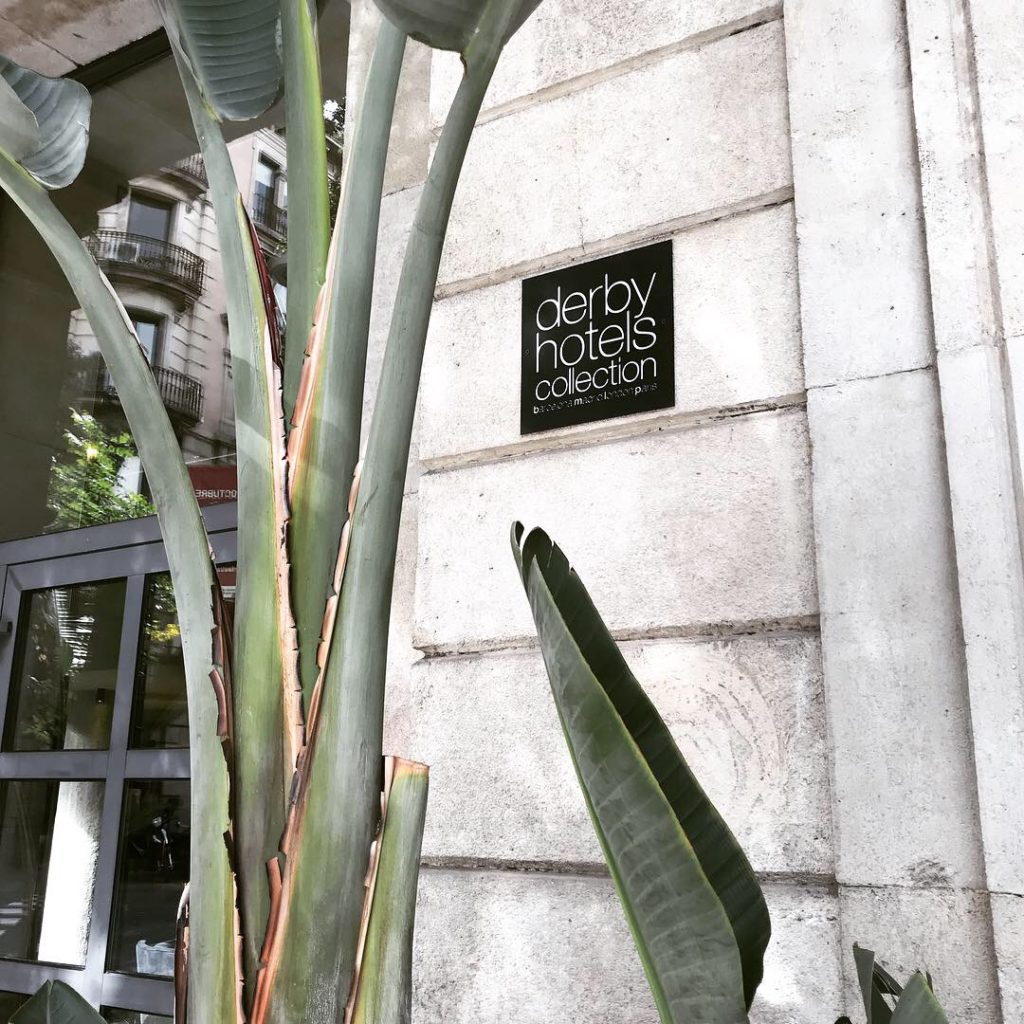 Hotel Claris
Located on Pau Claris in the central Eixample area of Barcelona, the Claris is a 5* Grand Lux Hotel & Spa, with rooftop terrace and rooftop pool, two restaurants, conference rooms and an impressive art museum room which showcases more than 250 works representing the most important pre-Columbian cultures.
It was my first visit to Barcelona and I couldn't have wished for a better location; easy to access all the main attractions, walking distance of great quality bars, restaurants, independent shops and of course all the designer and high street shops too.
The Gothic Quarter, El Born, Plaza Catalunya and Las Ramblas were all within walking distance with the metro station servicing the Airport route just a stone's throw away.
Reception / Check-in
The reception area presents an almost panoramic sweeping view of the sophisticated style that runs throughout the hotel; with a selection of inviting curving sofas and bright cushions, marble pillars, subdued lighting, travel books, art from around the world adorning the walls and sculptures strategically placed throughout this stylish space. A drinks cabinet perfectly stocked with champagne and chilled water ready for guests' arrival. Not only was the reception area visually striking but the scent that floats through the air is divine! I did ask what this was but was informed it is the Derby Hotels Collection signature scent which all hotels across the world use and is top-secret too.
Check-in was seamless, and was done with a glass of complimentary champagne in hand which always helps. The team was very informative about the hotel facilities and the art exhibition and museum (more to follow). Our room wasn't ready for us (we did arrive at 12pm and check-in isn't until 3pm) however this wasn't a problem as we could securely leave our luggage and the offer of a phone call to inform us when the room would be ready was offered. The phone call was a nice gesture but we declined as our city break was only two days we decided to explore more of the city while we waited.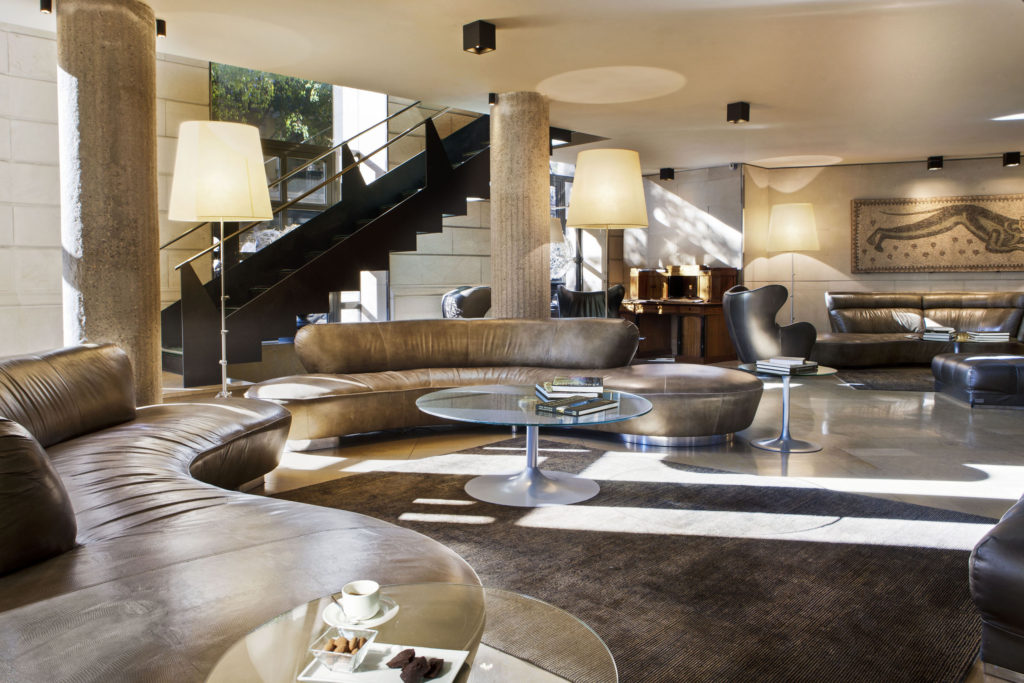 The Room
The rooms cover six floors and are accessed via a small glass lift which looks up to an atrium and down to a small water feature and pool (complete with artificial fish – it did take me a few moments to determine if they were real or not!). The atrium has man-made spaces so that when it rains the rain water trickles down into the pool. It didn't rain during our stay so we didn't experience this but I think it would have been quite dramatic.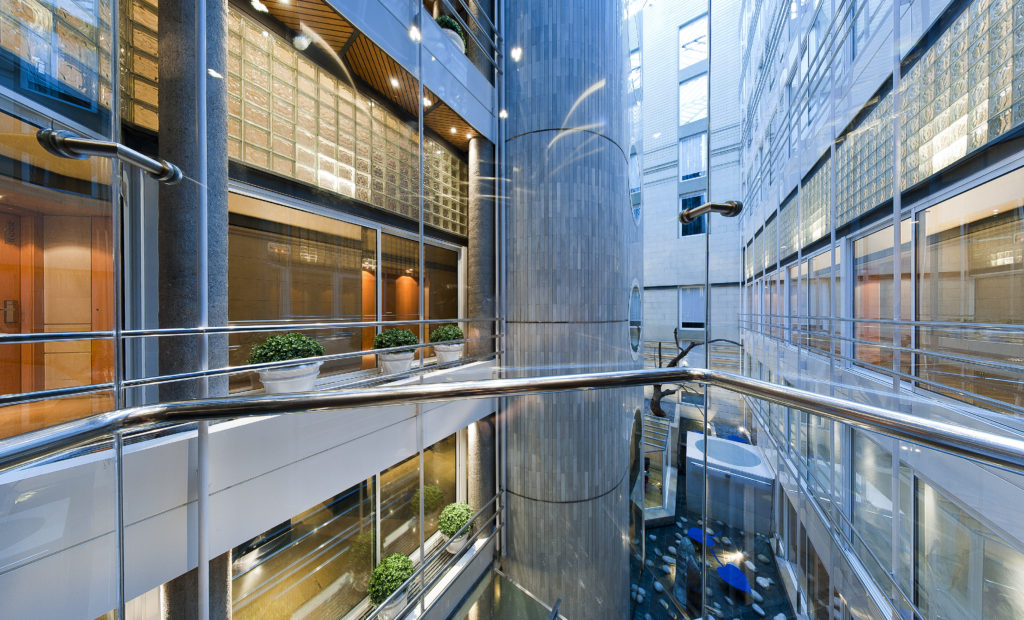 The rooms are all located off halls with glazed curtain walling which gives the hotel a real sense of light.
Our bags were taken to our suite for our arrival. As previously mentioned each of the hotel rooms have unique art and sculptures and even our large wardrobe-esque mini-bar looked like a piece of art – the soft furnishings enhanced the Mayan theme of the hotel. The lounge area comprided of a large corner sofa, complete with a hard-back guide to the best luxury hotels in the world and travel magazines, TV and a small table with two chairs sat as the centre piece on the rug over the wooden floors.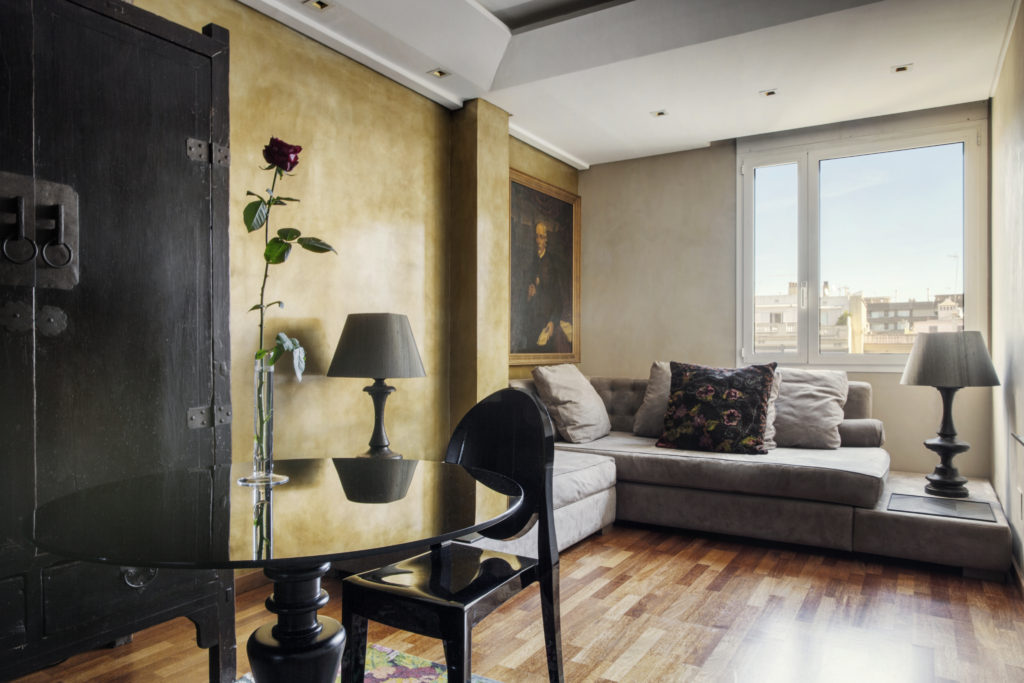 The bathroom was a bit more bling in terms of décor. The large walk-in rain shower, complete with a stool should you need to take the load of your feet, was very luxurious as was the Jacuzzi bath, oversized sink and mosaic floor.  The only thing I missed was a heated radiator. The bathroom was warm enough and dried out quickly enough but our swimwear and robes were still a bit damp the following day.
The White Company amenities were well presented by the sink and replenished each day.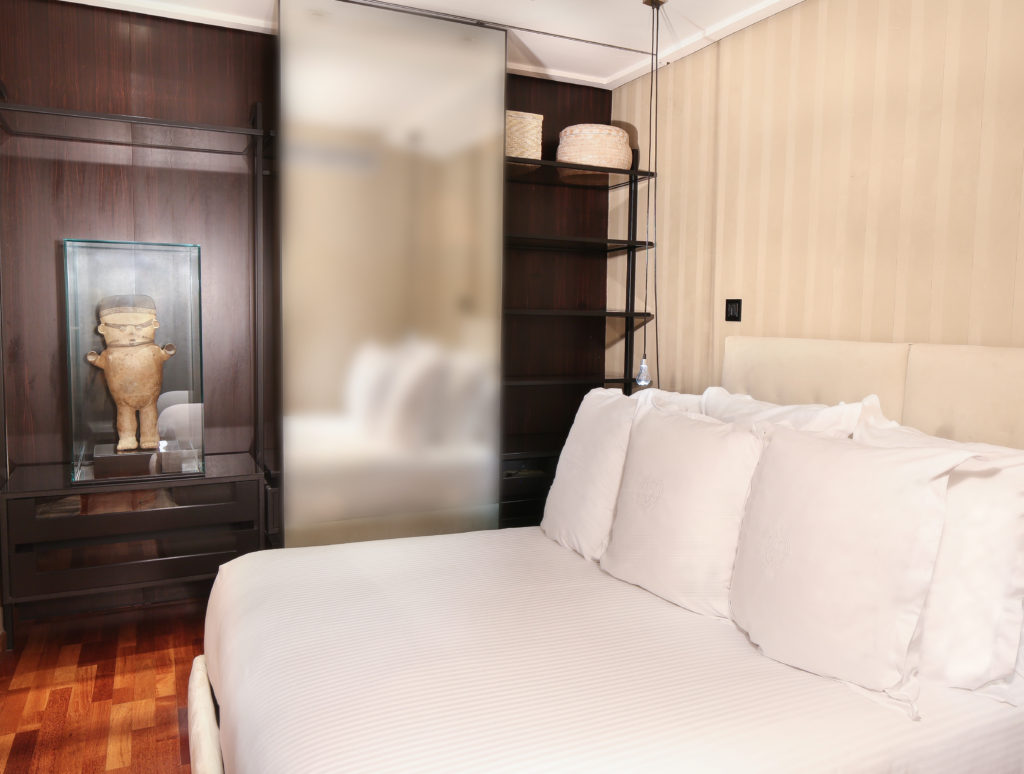 The bedroom wasn't huge but big enough with a built-in wardrobe (and covered coat hangers), safe, robes, slippers and a piece of encased art which was a vessel known as a 'china' dating back to 1100 – 1400 AD. Two quirky exposed oversized hanging light-bulbs were the feature bedside lamps. I really liked these and the minimalist look really complemented the rest of suite's interiors.
The bed was a super-king and extremely comfortable and well made with lux bedding. The electric blinds and dark wood throughout our suite meant that the room was really dark (when we needed it to be) and was perfect for a deep sleep (which I was very much in need of!!).
Each night the turn-down service fairly left us a naughty but very nice dark chocolate on our pillow.
Facilities
Pool: The rooftop pool was a real attraction for me. It is very small (approx. 10m long) but is the finishing touch on the rooftop terrace where the restaurant La Terraza del Claris is also located.  It adds a real lux element the hotel.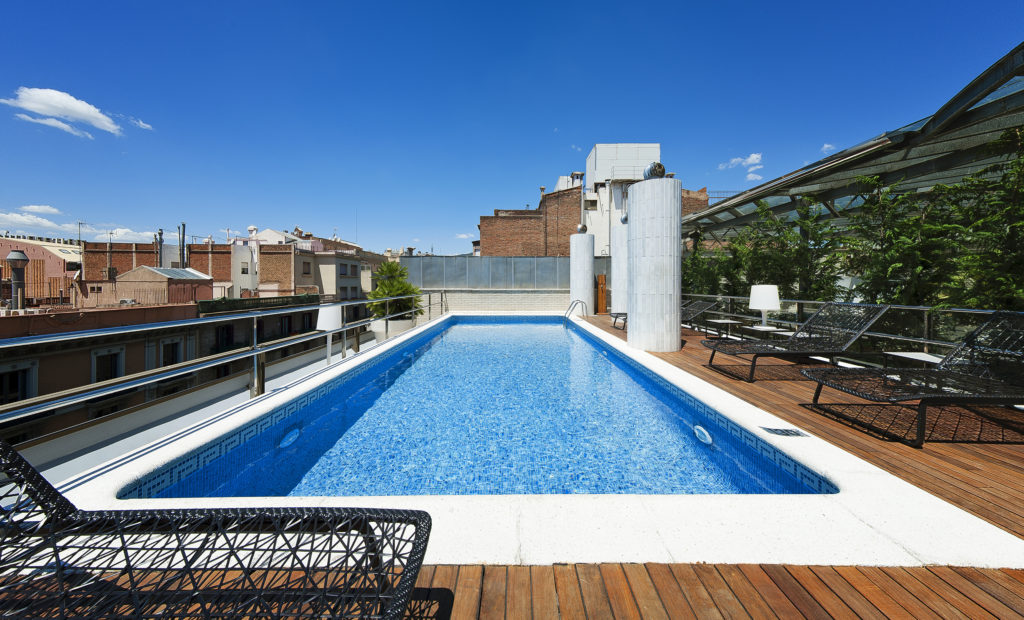 The rooftop bar is modern with a cool vibe. High bars and stools form the parameter with great views across the city, while large plants and dark wooden sun loungers and low tables provide a contrast to the crisp white cushions and sofas in the chill out areas. This bar is worth a visit even if you are not staying at the hotel.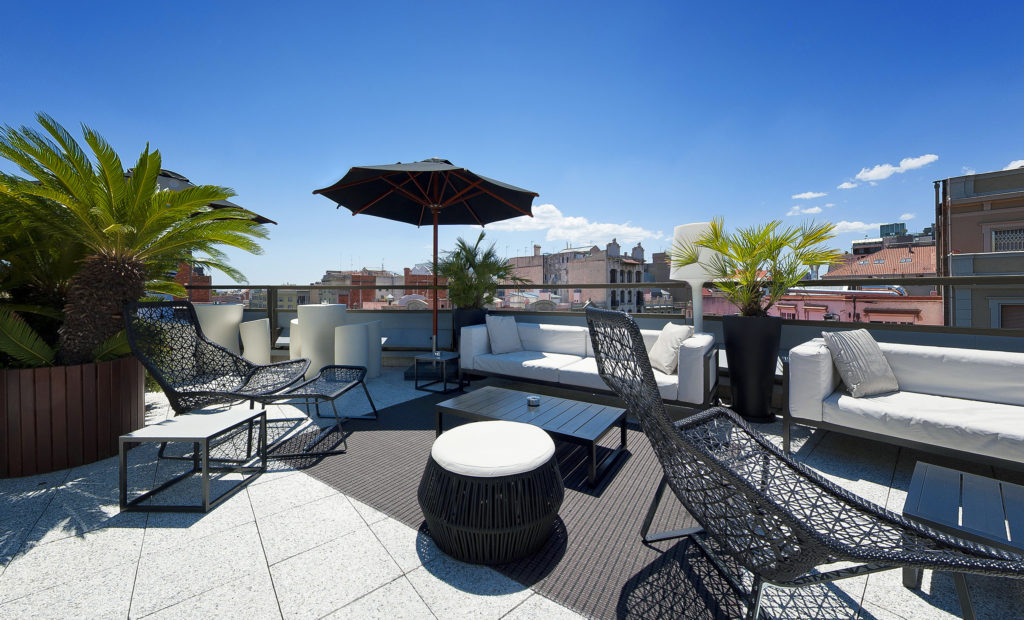 Spa: Sadly, as our trip was such a short one we didn't make the time to enjoy The Mayan Secret Spa at the hotel. The Sauna Temazcal (a pre-Hispanic style of sauna based on the traditional handcraft of the Mayan Culture) did look particularly inviting and the perfect place to unwind. Guests are offered a €25-euro discount on any treatment they choose which can be used on as many treatments as they wish. CARITA is an exclusive French cosmetic brand and these are the products used for spa treatments.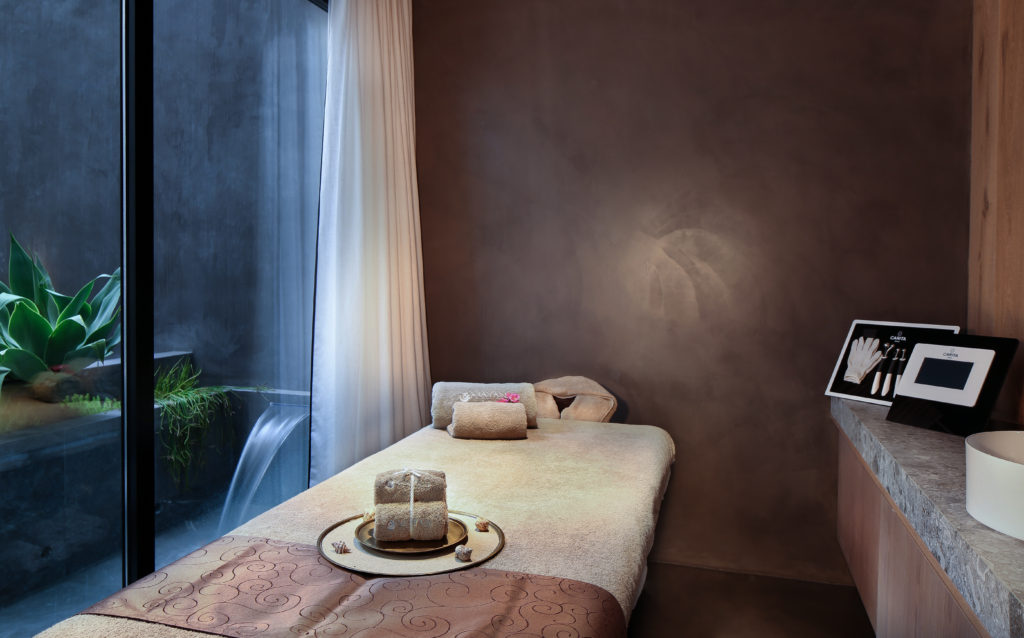 Gym: The hotel has a very small gym located on the seventh floor just next to the restaurant La Terraza Claris and rooftop pool. It was a warm room but had a treadmill, bike, cross-trainer and free weights. Ideal if you have single use but could get a bit tight if there were more than three or four wanting a work out.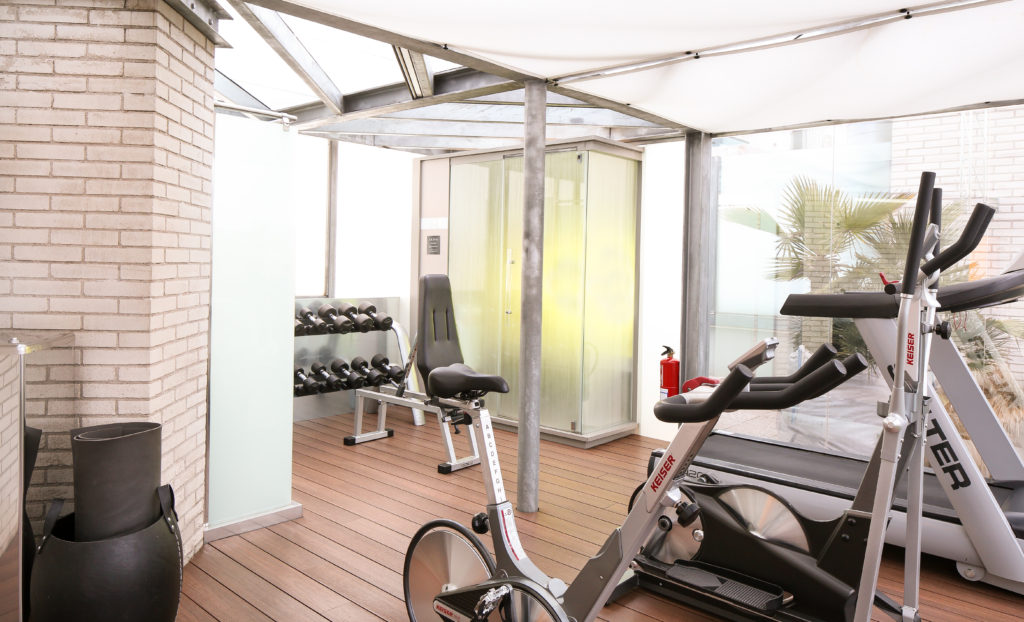 Art Exhibition: During our stay the first floor of the hotel was home to a temporary exhibition of 'The Mayas and the Splendor of America' There were some incredible pieces showing the culture of this community.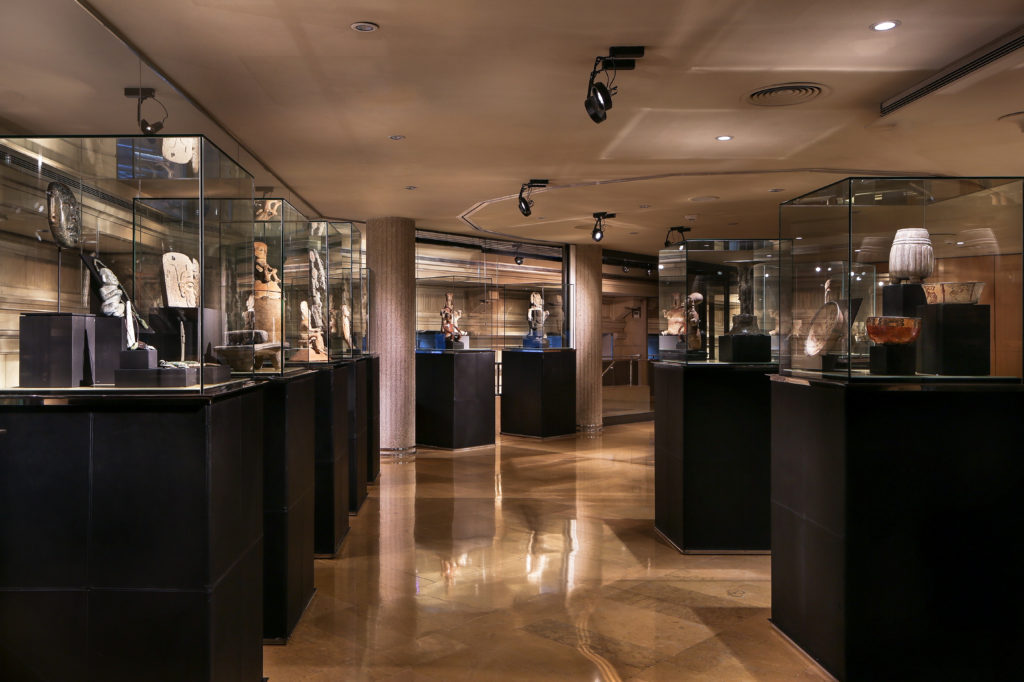 Business: In addition to the conference rooms and facilities two desktop Macs and located in reception and are for the use of guests. This was very convenient as we hadn't printed out our boarding pass (print? yes, we are archaic!) and we could easily do so from this work station.
Food and Drink
There are two restaurants within the hotel; Mr. Kao and La Terraza del Claris.
Mr. Kao is located on the ground floor of the hotel with separate on-street access. The menu is a fusion of classic Chinese dishes and Mediterranean ingredients. It is the first Dim Sum Club in Barcelona and is inspired by the private clubs of Shanghai. We didn't dine here but a select choice of Japanese whisky, sake and Asian cocktails are all served into the small hours.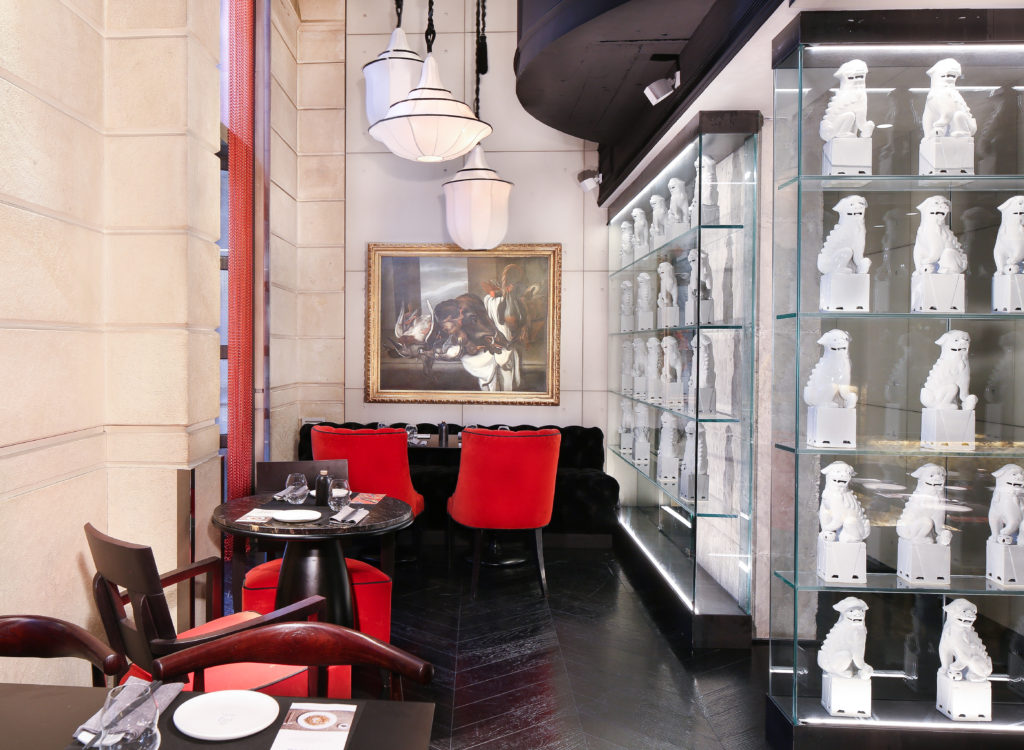 The restaurant La Terraza del Claris on the rooftop sets a modern and romantic vibe serving Mediterranean cuisine. Chef, Aurelio Morales, oversees the operation with Daniel Hernandez at the helm. We didn't dine in either of the restaurants but enjoyed (quite a few!!) cocktails and drinks at the bar and it really was a beautiful space to spend time. DJ nights are also hosted every Thursday and Friday – sadly we missed this but from what I gather it draws the cool crowd.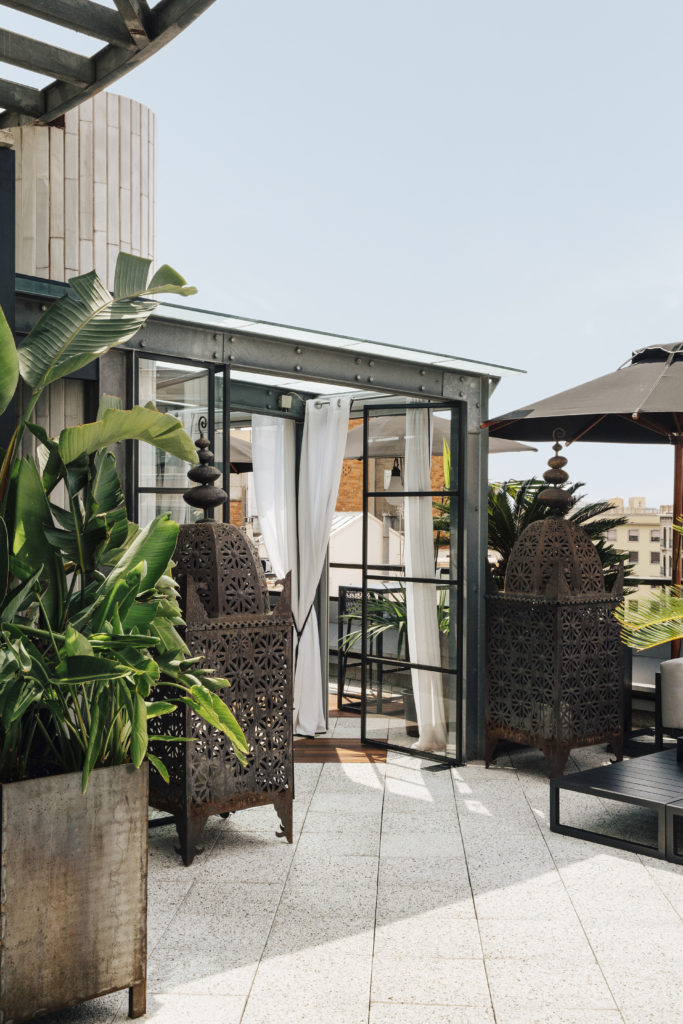 Our room was on the sixth floor and we didn't hear any noise from either of the bars.
Breakfast
We did enjoy breakfast at the hotel which was served on the lower ground floor in a restaurant which I think is reserved for conferences and other events. It was quite a formal arrangement with linen cloths and impeccable service. Breakfast was included in our stay, and as regular readers will know I LOVE breakfast! Especially a buffet breakfast. A very good selection of fresh fruit, yoghurt, standard breakfast cereals (no home-made granola!) and hams, fish, cheese, avocado from the continental side. The hot breakfast consisted of eggs in every imaginable form including pancakes but it was the sweet pastries and cakes that really did it for me; two cakes of the day, wholegrain croissants (who knew??!!) fresh and delicious cereal breads. Free flowing fresh coffee, tea and juice and for those feeling like an extra pick me up alongside the orange juice sat bottles of Cava. Definitely my kind of breakfast.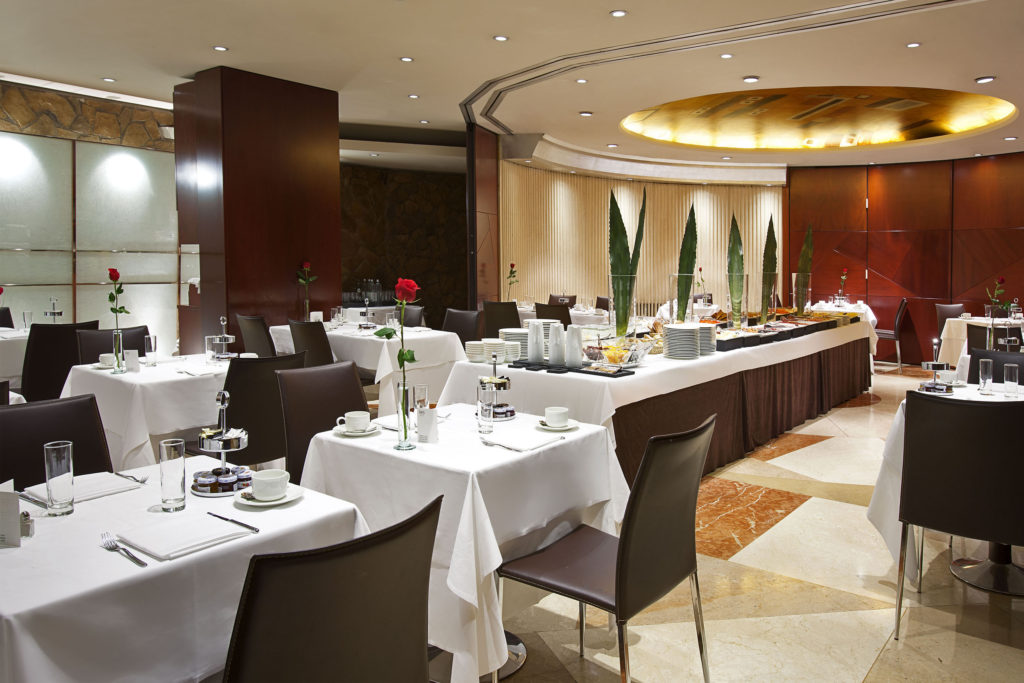 Final Thoughts
This hotel ticks every box; location, service, décor, history, food and drink and does so in an excellent and tasteful way. I'd highly recommend this hotel as the place to stay for a luxury Barcelona city break.
Cost
Prices are seasonal but for our stay in early October 2018 rooms are from £208 per night.
Book direct for the best rate.
Contact Details