Andalucía's capital is undoubtedly one of Spain's most evocative cities.I love visiting Seville, as it is a city where striking architecture and fascinating history is brought alive by the unique energy and culture of Southern Spain. It doesn't feel like a theme park – it's a vibrant, living city.
For a luxury city centre stay, in the heart of Seville's labyrinthine old town, then choose the family-owned Hotel Corral del Rey Seville, a historic property full of eclectic, creative style and upscale elegance, writes Andrew Forbes.
Andalusian Capital
Seville is emblematic of the warmth, colour and energy of Spanish culture.
…a vibrant, living city
This is a exotic, captivating city that makes for a compelling city break. Over the years I have got to know it well, and without doubt the best place to stay is within old town. Not only does this historic quarter convey the magic and charm of Seville, but it also means you are in walking distance of pretty much all the sights.
Casa Palacio
Corral del Rey is one of the most established boutique hotels in the city. Created by a family with a consistent track-record in luxury hospitality, the property is within converted 'casa palacios'; striking noble houses once homes to the city's wealthy when Seville was at the epicentre of world trade with the Americas.
One enters the 17th century Corral del Rey through huge old studded doors into a classic Andalusian courtyard patio, surrounded by ancient Roman columns.
Look up and you can take in the landings of each guest floor, each with evocative Mudéjar woodwork, right up to the top where one finds a roof terrace and honour bar.
The lobby is intimate, full of artistic and historic details, reflecting the personalised style of this boutique hotel.
The design is charming and authentic – you really feel you are in Southern Spain. The walls of each of the three buildings of Corral de Rey exude the spirit of old town, and the thoughtful, homey, cosy design touches make you not want to leave.
Each guest room has been thoughtfully decorated and styled – not only featured upscale materials but plenty of homey touches.
Over the years Corral del Rey has expanded, converting an adjacent noble house and a property opposite. Thanks to this new expansion, the hotel has been able to offer more rooms, including the very stylish Pool Terrace Suites.
Guest Rooms
There are now 17 rooms, including 5 splendid junior suites, two new pool terrace suites and a unique penthouse suite.
I have stayed in different rooms in the hotel, and all of them offer the same warm, welcoming feel. It's something about the décor, the eclectic mix of old and new; luxury features blended with boho chic details that all add up to a very special ambiance.
This is a hotel that is just so comfortable and relaxing. What's more the Corral del Rey street is a narrow residential street with no bars; so, you are assured a relaxing a quiet night's sleep.
If you want to feel even more relaxed, you can pre-book an in-room massage.
The personal touches extend beyond the lovely fresh flowers in the room, to a welcome card and a gift of olive oil from the family's estate hotel in the countryside outside Seville. You can read our review of the splendid Hacienda San Rafael here.
Each guest room has a well-stocked minibar, with a genuinely tempting selection of drinks. In addition, there is an easy-to-use coffee espresso maker machine with capsules; and a kettle for tea.
Bathrooms are of honey coloured marble or striking black granite, with stylish Rituals amenities, and all the expected hotel details like robes etc.
Pool Terrace Suites
Pool Terrace Suites take guest rooms to a new level; literally. On the top floor, these duplex rooms, offer all the cosy intimacy of a classic Corral del Rey room.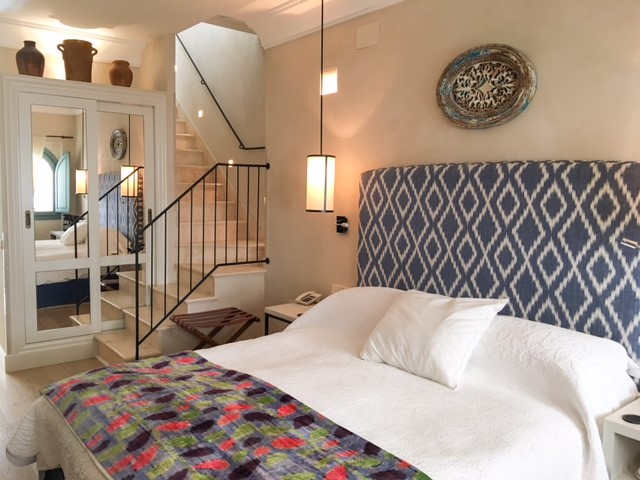 Yet these special rooms have the added luxury of one's own plunge pool, and seating area, amongst sun, shade and potted olive trees.
Relax
The hotel has plenty of relaxing areas to kick back and relax. The hotel's roof terrace, with views over the rooftops and spires of the Santa Cruz neighbourhood towards the striking Giralda clock tower of Seville's cathedral, has a plunge pool, tables for enjoying snacks (there is a full honour bar) as well as sunbeds.
The second building has a charming drawing room, full of travel guides and hard back coffee table books as well as another fully stocked honour bar, where you can enjoy a slice of homemade cake each afternoon.
Dining
The restaurant and bar, home to a find collection of original art, is a warm and sociable space for drinks, informal light bites, as well as tapas and late-night nibbles of Andalusian classic snacks.
This is also the place for breakfast. Thankfully the hotel operates a relaxed attitude and breakfast is served until quite late. It's a simple, mix of Mediterranean and classic breakfast treats. Small cakes are waiting for you at the table as you order your coffee or tea. Then a generous basket of breads arrives; together with the glorious orange juice. Butter and jams are there too – or olive oil and salt if you want to be a little more Andalusian.
Seville is quite the foodie destination these days – the city has always offered superb tapas, but now
the choices are even wider, from classic joints, tomore contemporary restaurants with creative, modern offerings.
As a regional capital expect plenty of culture too, from fine art galleries, to excellent flamenco shows; and concerts too. Or you can simply wander the streets discovering the city, its architecture and culture for yourself – it's a magical place. The team at Corral del Rey will be happy to arrange food or city tours, excursions to the surrounding countryside and activities. But chances are, if you're like me, you won't want to spend too long away from this romantic place to stay in Seville.
Information
Address: Corral del Rey, 12 , Seville, Andalucía, 41004, Spain
Tel: +34 954227116
Web: www.corraldelrey.com/