Capturing the timeless elegance of an upscale family residence, combined with the flair and style that is unique to Mallorca's Cappuccino bars, the new Hotel Cappuccino (formally Hotel Mama) endeavours to bring a touch of magic to the Palma del Mallorca hotel scene, writes Andrew Forbes.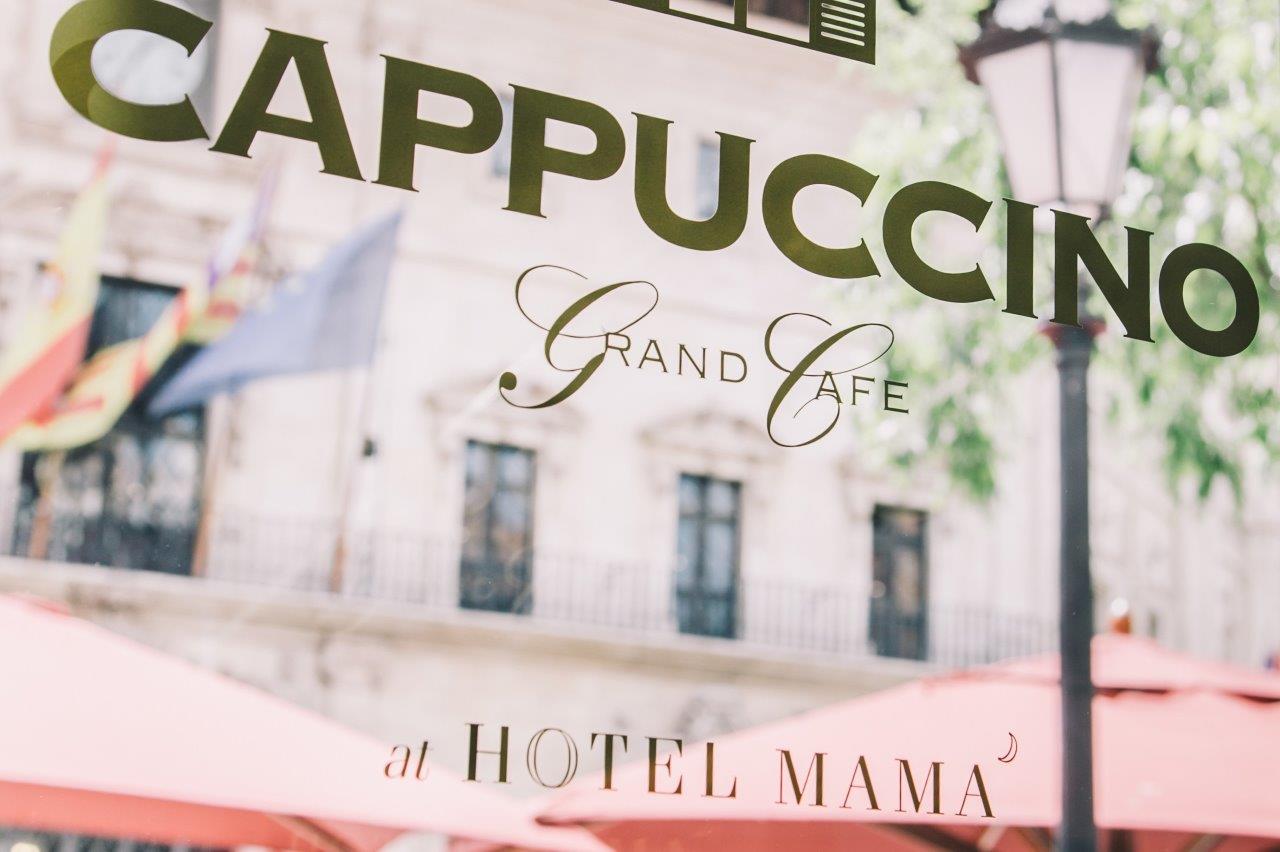 Mallorca is one of the Mediterranean's largest islands, with Spain's third largest airport – it's a major holiday destination. Yet it has genuine rural charm, with glorious mountain villages; as well as an historical capital, Palma, with an old town chockful of honey-coloured architectural delights. The city is rich in history, with a cultural legacy that embraces the Romans, the Al Andalus Moors, and the Kingdom of Aragon. It's a colourful, rich and complex and it's against this backdrop that Hotel Cappuccino seeks to create its own unique identity whilst reflecting elements of Mallorca's story.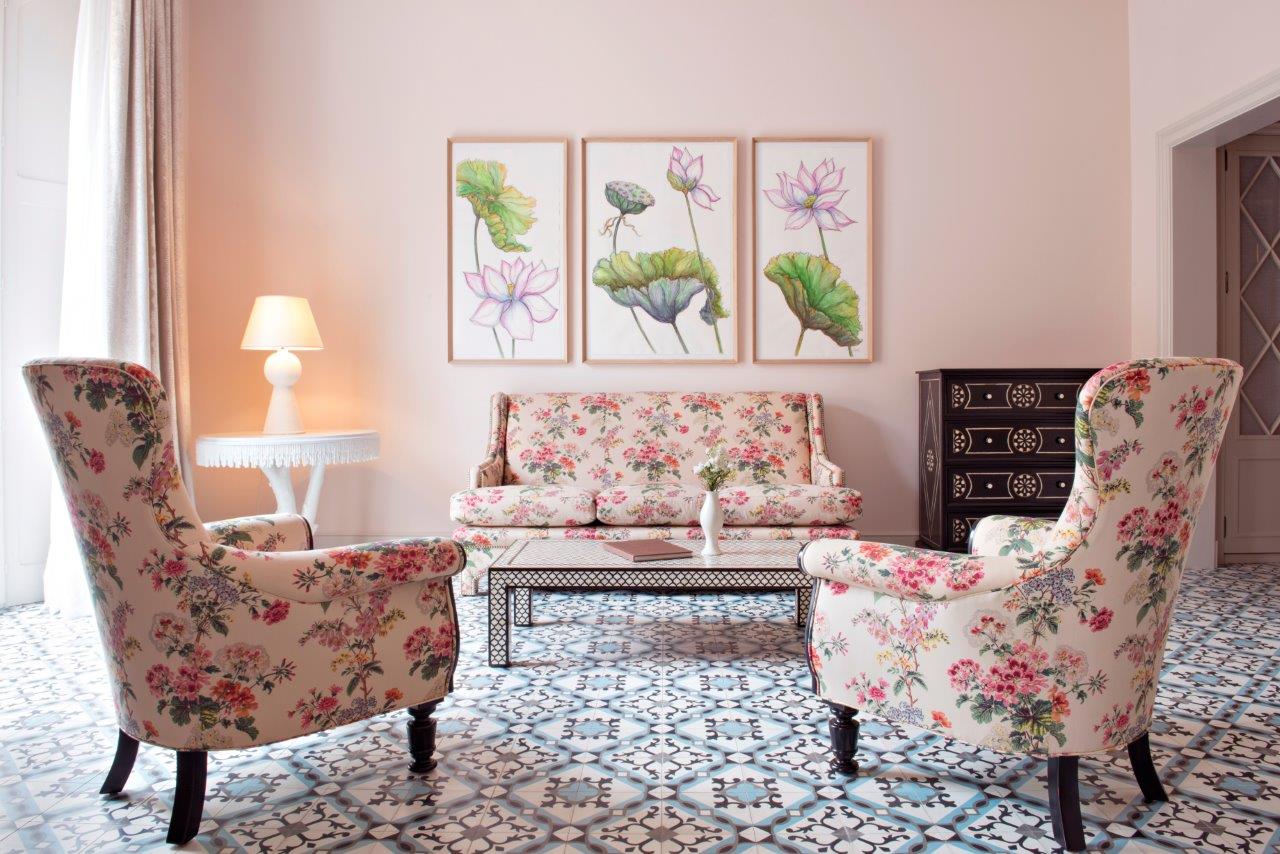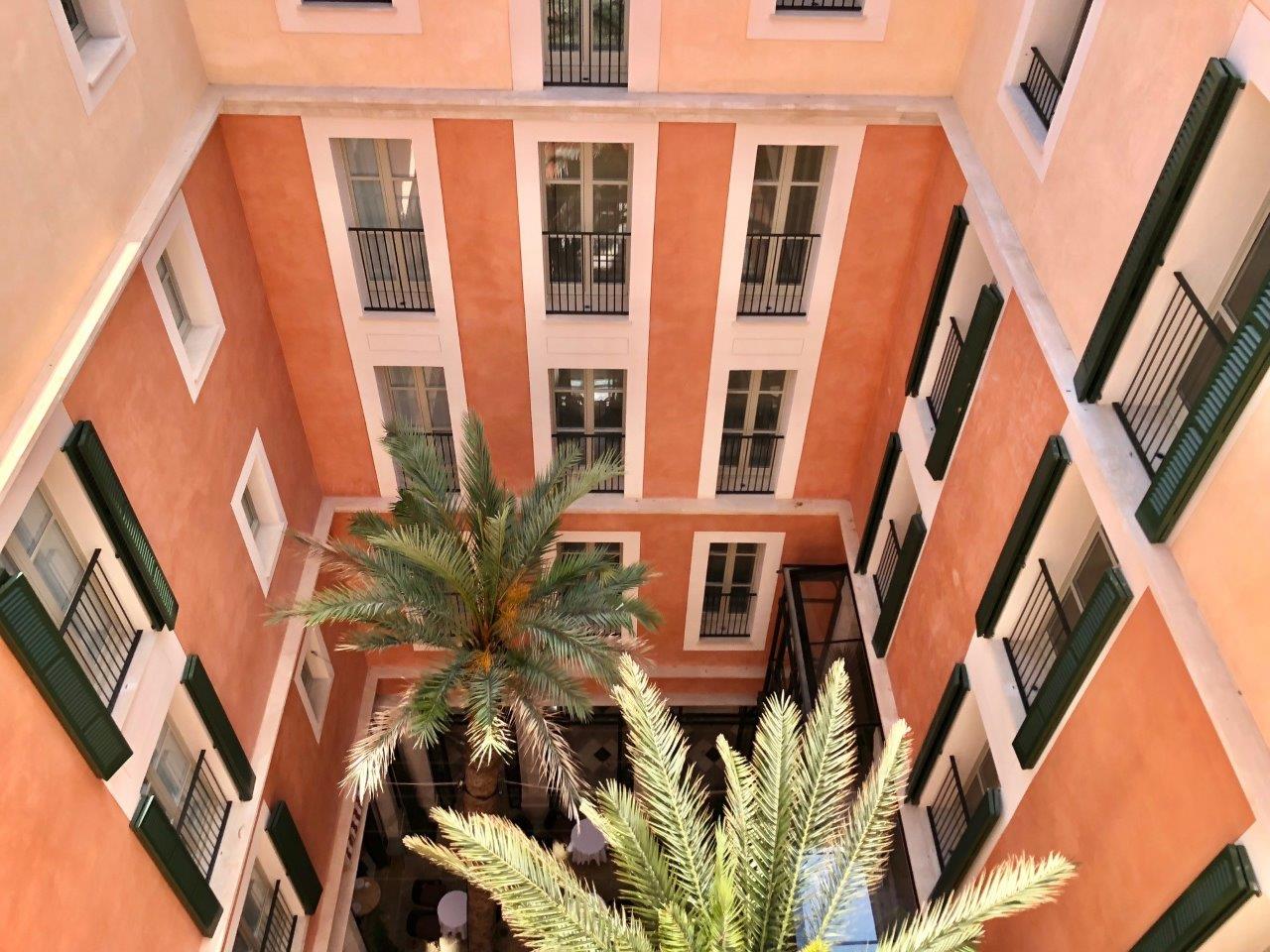 Palma's old town is a favourite, and it is a superb choice for an elegant Mediterranean city break. Hotel Cappuccino is part of a new wave of city centre properties offering the highlights of the city on their doorstep. The remarkable Gothic cathedral of Palma is a short walk away, as are some of the finest historical palaces. Yet a city break here is about enjoying relaxing Mediterranean lifestyle too, indulging in the finer things in life such as seductive cocktails, and gourmet dining. One can enjoy the Balearic bliss of the beaches and the cool, barefoot luxury of the beach bars and harbourside eateries of this chic island (for more information read our Eat Do Sleep Guide to Palma here).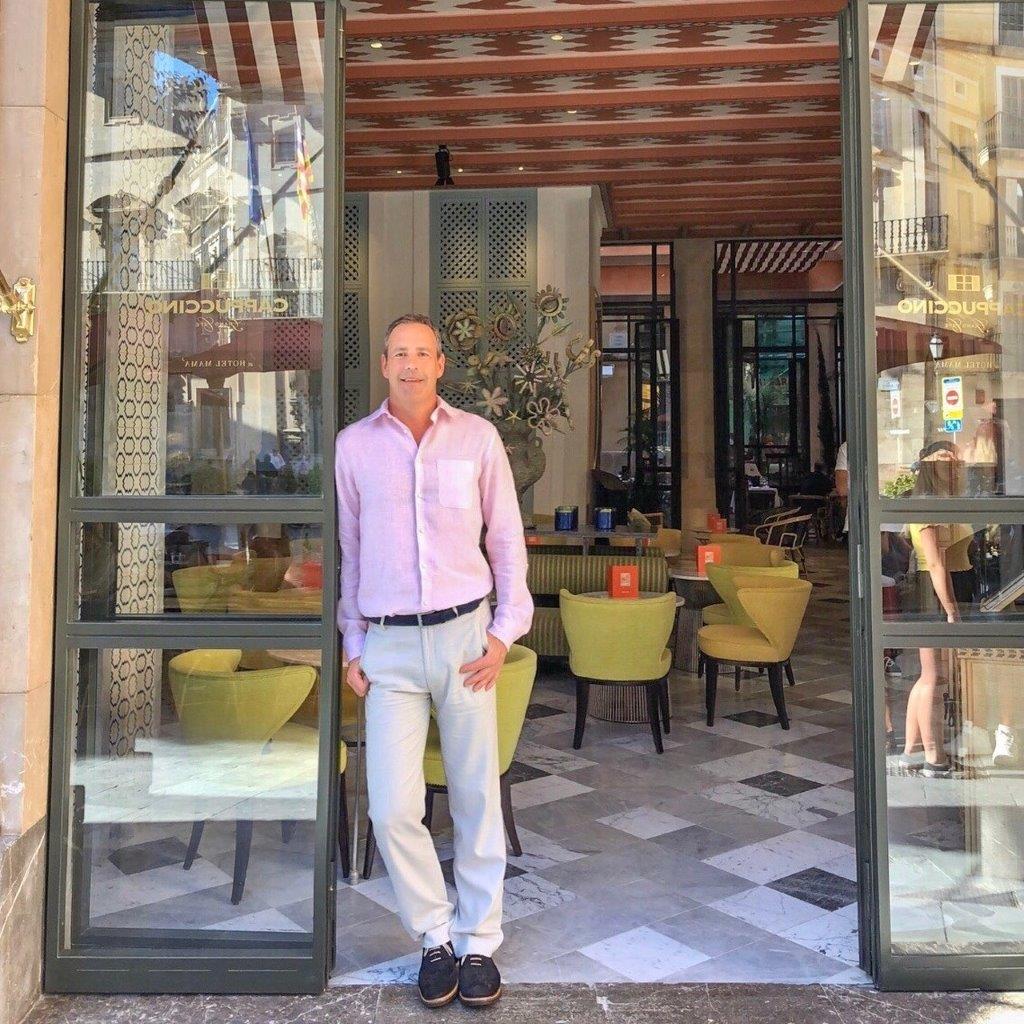 Overview
Hotel Cappuccino offers the kind of boutique luxury one is coming to expect in the Mallorca capital, with a rooftop pool; a new gym; a wellness spa with hamam; and a few surprises like the hotel's private cinema 'Cappucine' where guests can enjoy matinees of classic movies or book a private screening of a favourite flick within an intimate cinema with the style of 1920s Paris.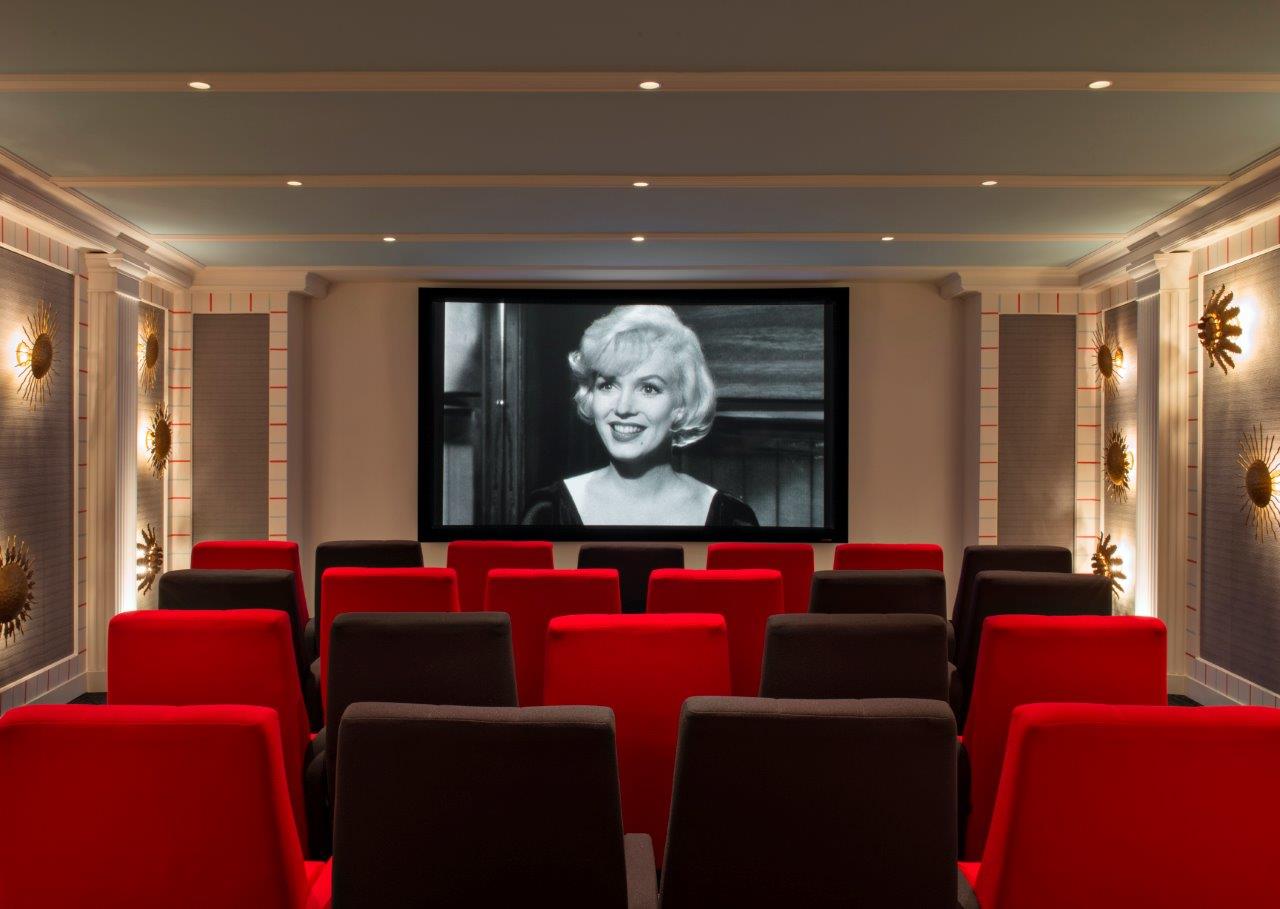 Of course, expect the city's newest Cappuccino Grand Café too, and the Cappuccino menu of gourmet coffees, teas, refreshments, light snacks as well as brunch dishes and tempting cocktails.  Dining at the hotel is an Asian affair with an outlet of the group's upscale Tahini Sushi Bar & Restaurant.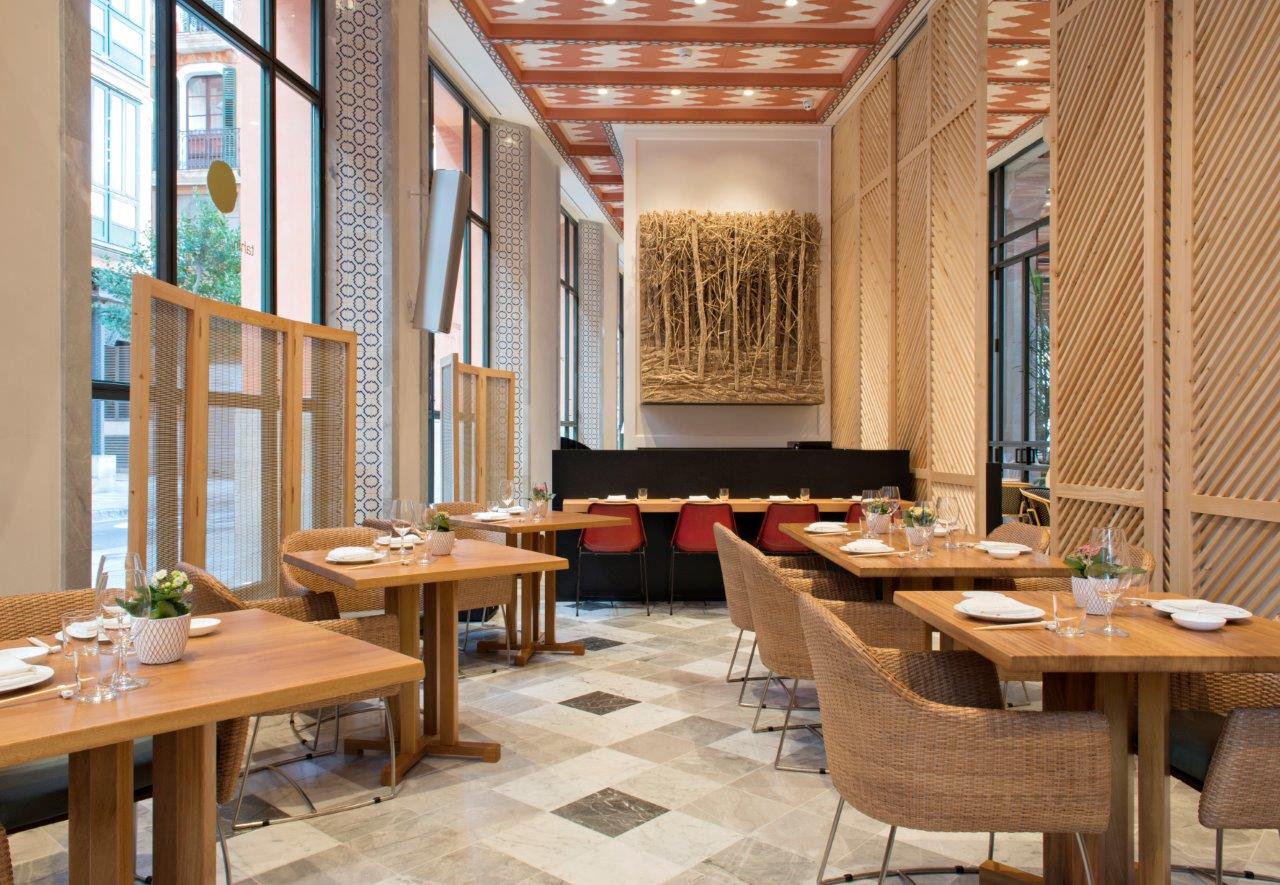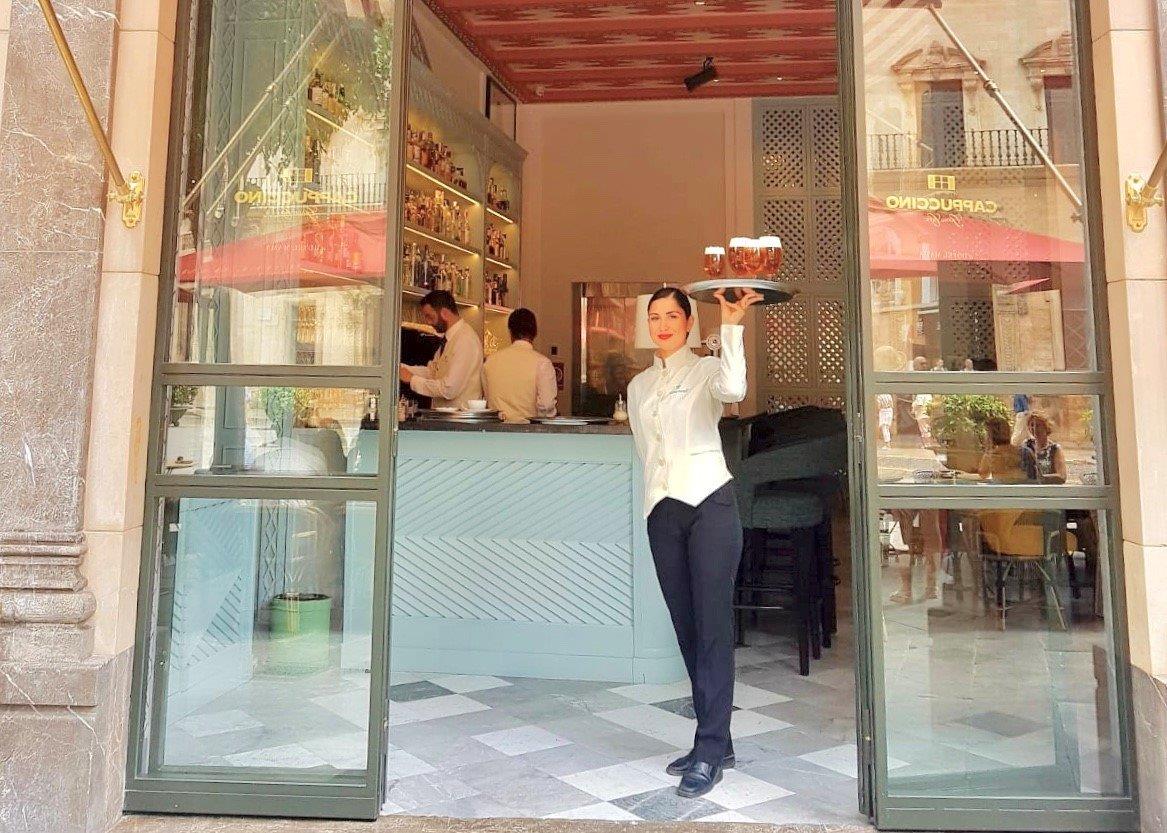 Location, Location, Location
Set directly on Plaza Cort, at the very centre of old town Palma, the hotel commands the 0km location; everything radiates out from here. The square is the perfect setting for this hotel's story, as it the flagship property of the Cappuccino Group, a hospitality company created by Mallorca businessman Juan Picornell. The group is best known for its Cappuccino Cafés, and here on Plaza Cort guests are welcomed by an elegant Cappuccino Grand Café, with tables, shaded by signature parasols, spreading out onto the stone cobbled square.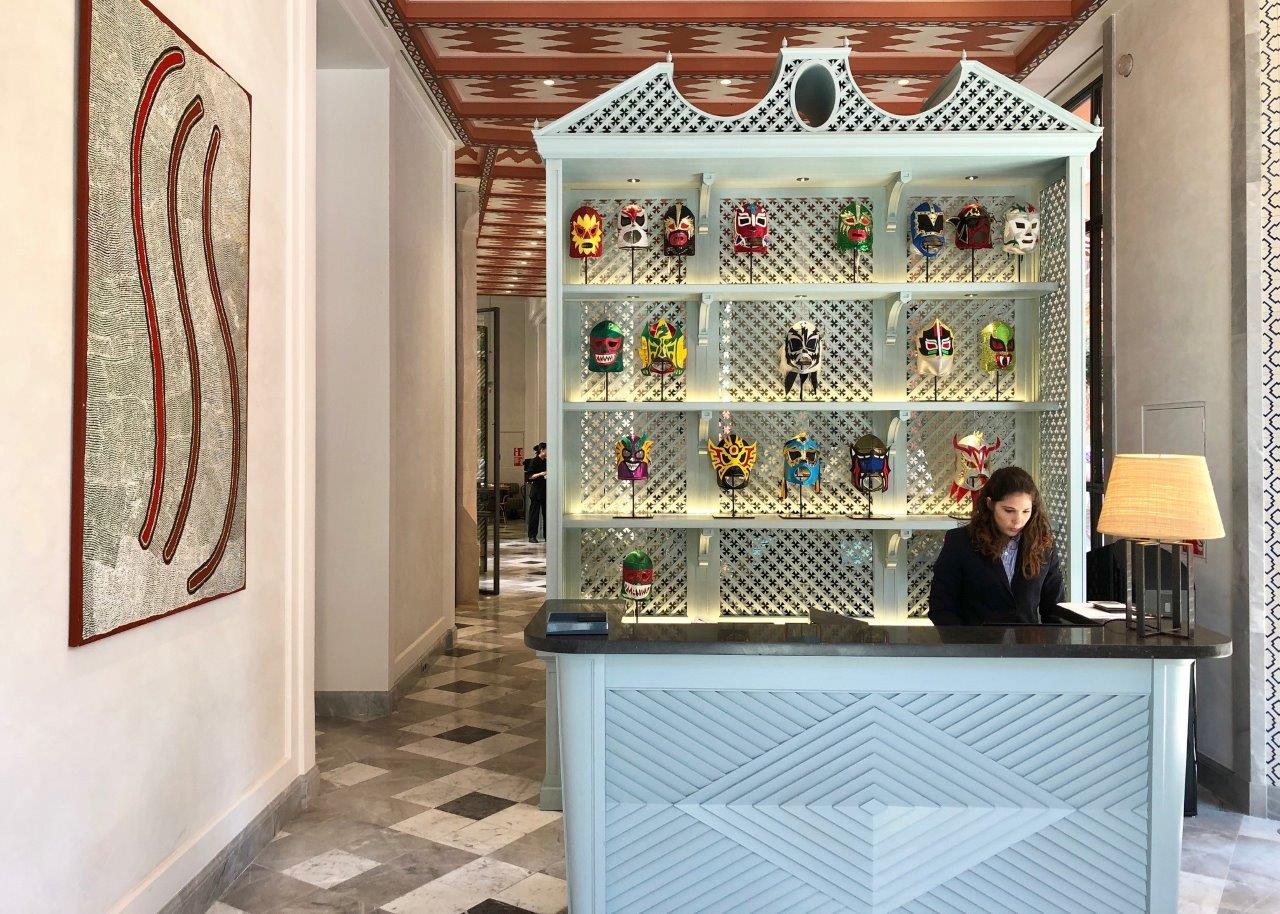 Check-in & Welcome
Hotel Cappuccino does away with the usual personalised guest card and gourmet treat in the room, and instead provides a personal welcome at reception together with the offer of a refreshment, tea or coffee from the Grand Café. This space is a destination in itself.  Even if you are not a guest at the hotel, then make a point to enjoy a creamy morning cappuccino; or a cold lunchtime beer here. It's super-stylish and in my mind the greatest success of the hotel's designer, Jacques Grange. It's a lofty space, with floor to ceiling steel and glass doors that allow the café bar to feel light and Mediterranean. Oversized black and white photographic artwork contribute to a unique, elegant ambiance, which is defined by stylish, immaculately presented bar staff.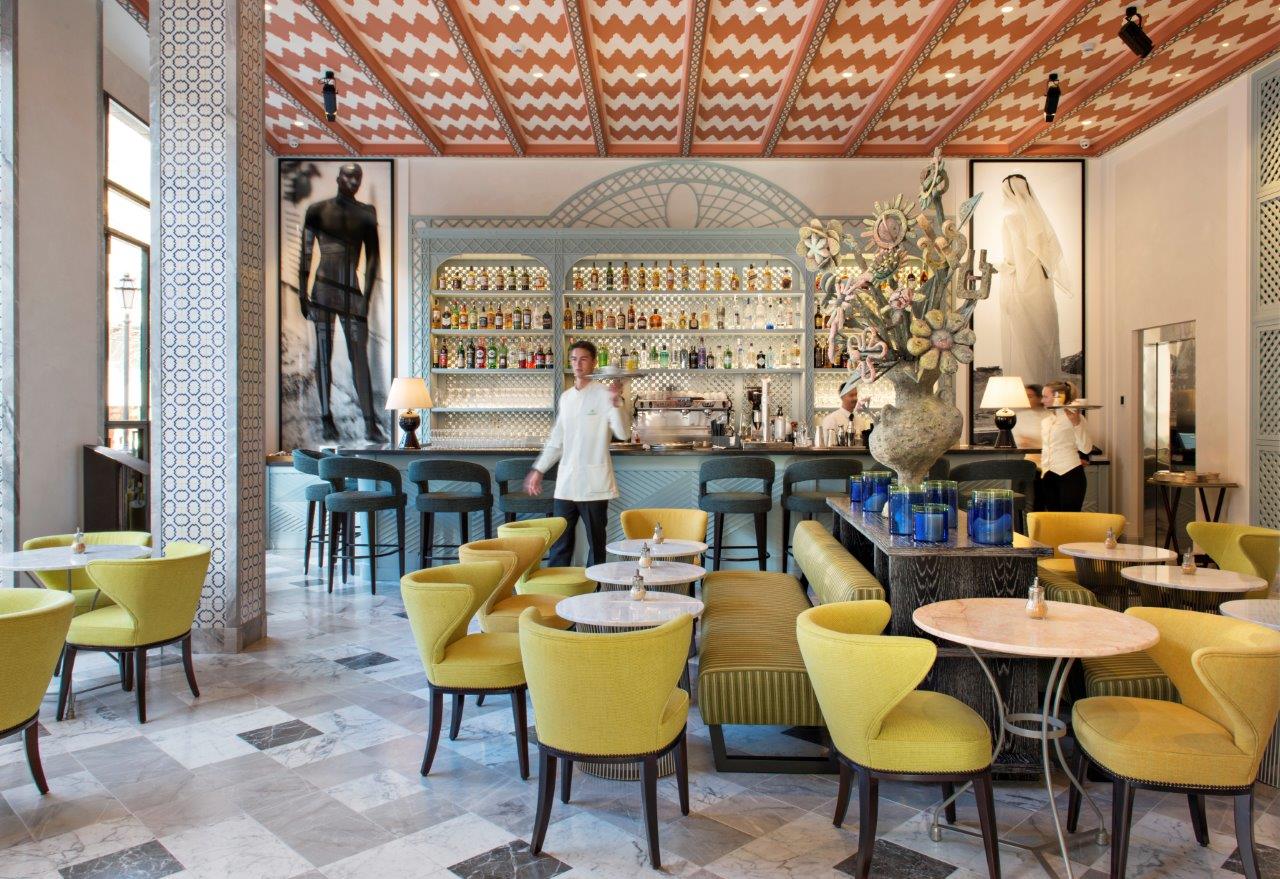 The notion of this hotel is that of a private home the General Manager Hotel Cappuccino conveys this with their warm welcome. He's typically working at a table in the lobby, behind front desk, so he is often around to meet guests. He kindly offered me a tour and took me to my room.
The Hotel
Remember as a child, the excitement you felt when you went to stay at your grandparents' house? The comfy furniture that's been added to over the years; the crisp linens on the guest bed; that cosy, safe feeling? Well Hotel Cappuccino is all about recreating that nostalgia of a bygone era; of family holidays; of saying in beautiful homes.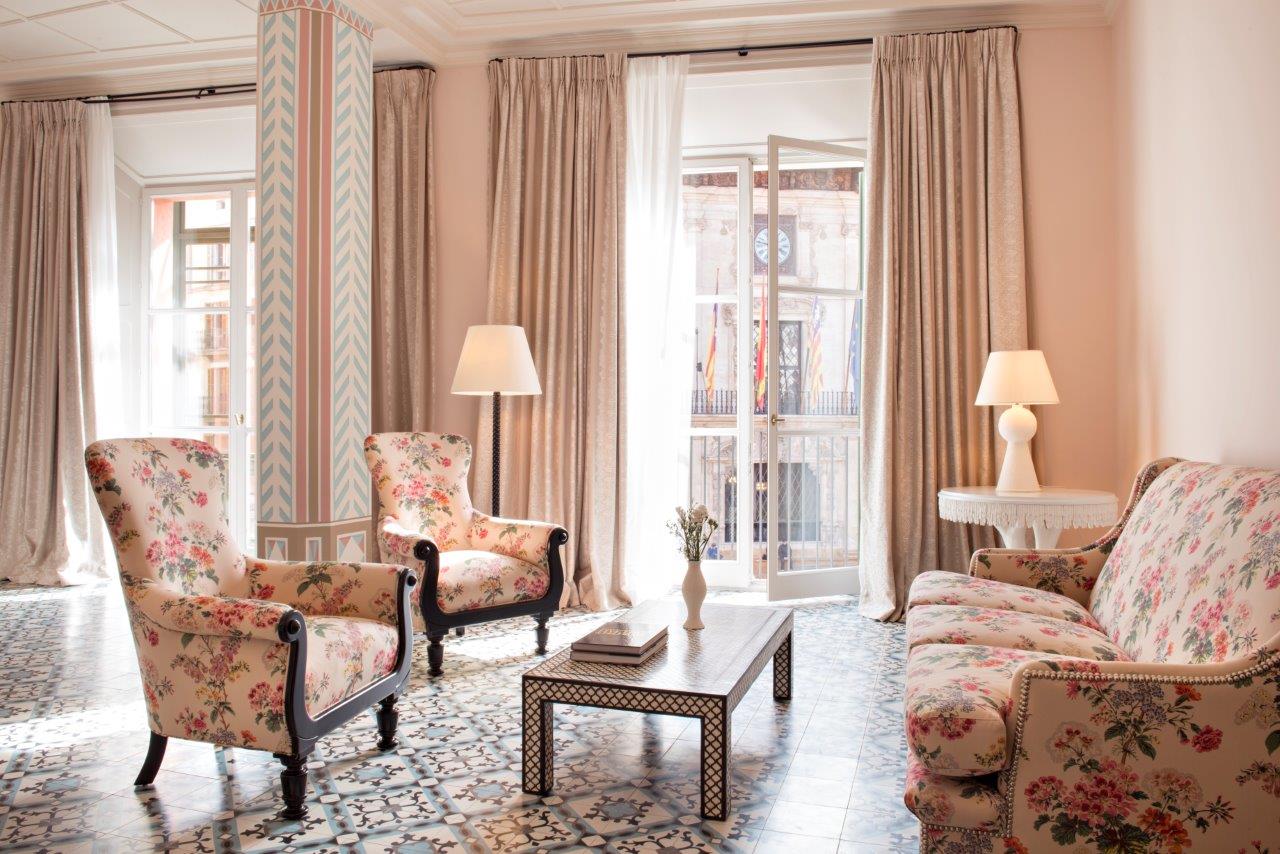 Parisian Designer Jacques Grange was given a completely free hand by Cappuccino Group founder Juan Picornell; allowing unconstrained creativity in the conception of this unique hotel in Palma. HHotel Cappuccino is the first hotel of the Cappuccino Group and it sets the tone with an eclectic approach that mixes styles, textures and colours. Grange endeavours, in his own words to capture the 'feeling' of the city and to reflect the 'soul' of Palma in this hotel.
The building is a 19th century Mallorcan property with a classic façade and a large interior courtyard patio with palm trees, typical of the city's old town architecture. Yet once inside the diverse original art and collectibles, from the South American wrestling masks behind the front desk, to the ceramic sculptures in the Grand Café create a singular ambiance. Artwork on display across the 4 floors of the hotel have been chosen by Picornell & Grange, reflecting not only their personal taste, but also the history of Palma and the different moods of the spaces in the hotel. Works by Sean Scully, Wendy Artin, Chales Maze, David Rochline, Marie Banier and Eva Jospin embrace painting, drawing, sculpture and photography. Each piece adds to the hotel's story.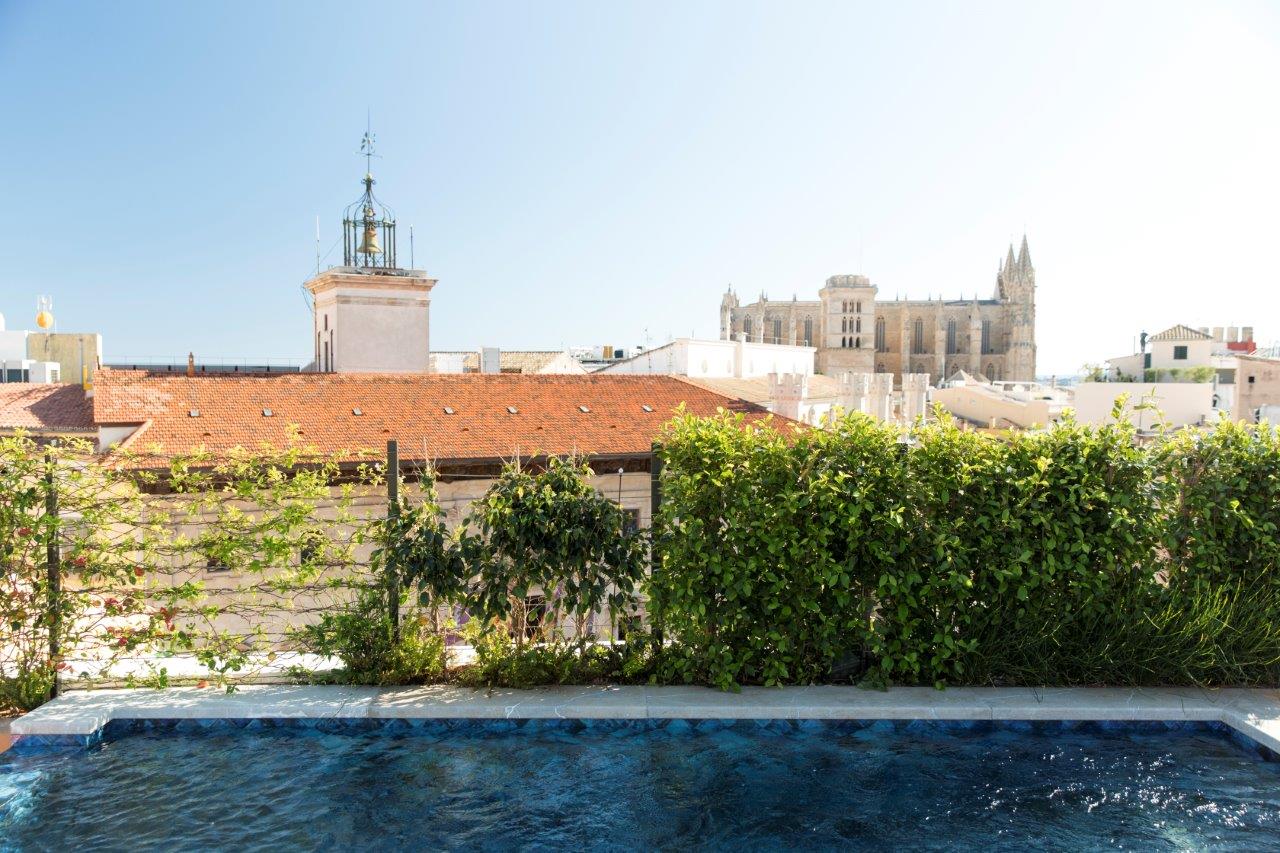 Pool Roof Terrace
My favourite space in the property was the roof terrace – bijou and elegant, it offered views out to Plaza Cort, to the historic townhall opposite, and across the rooftops to the bay of Palma.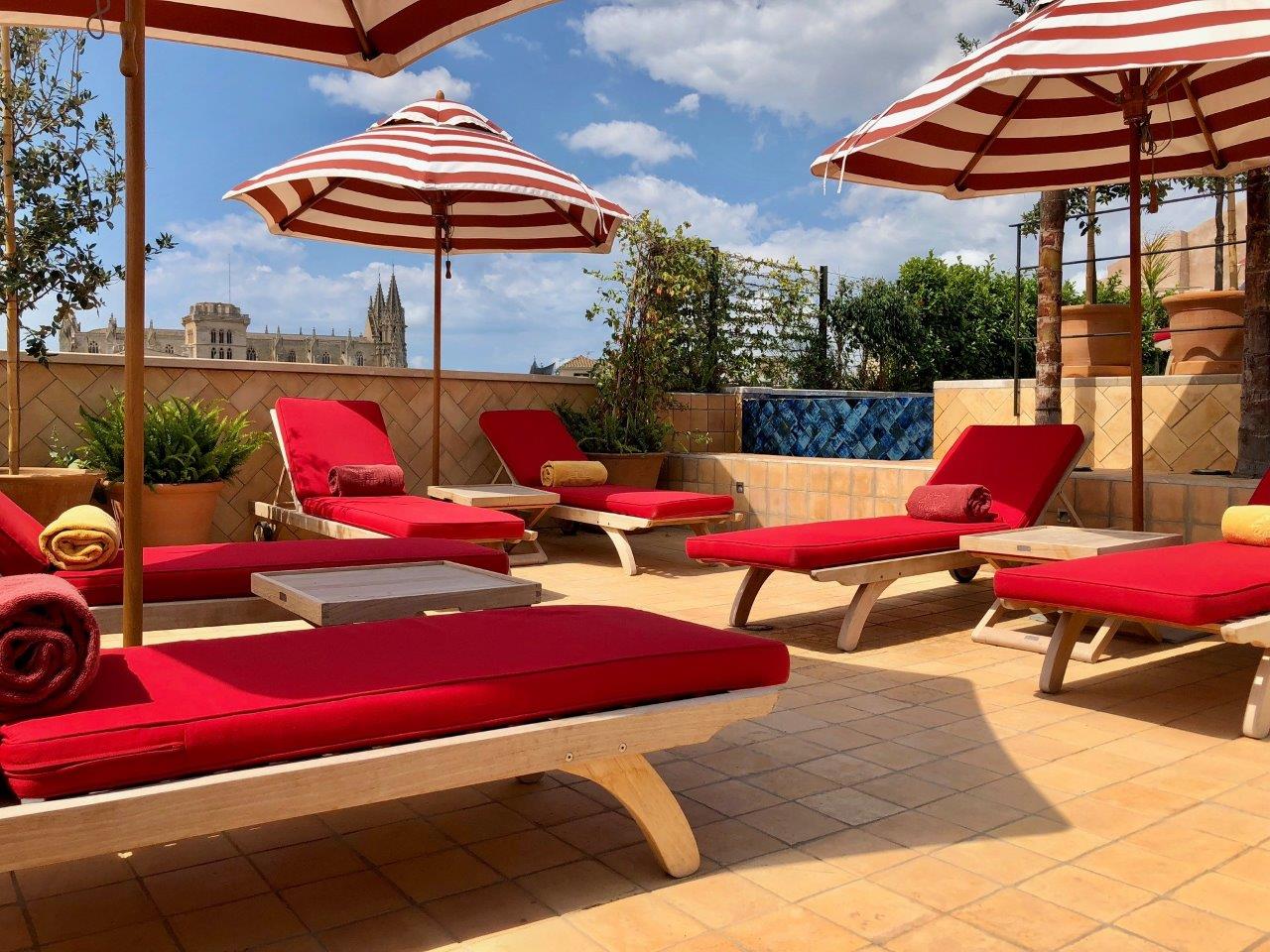 Chic sun loungers are arranged around a plunge pool – complimentary mineral water is offered, and bar service from the Grand Café on the Ground Floor. This feels like the hidden, private oasis of this bustling hotel.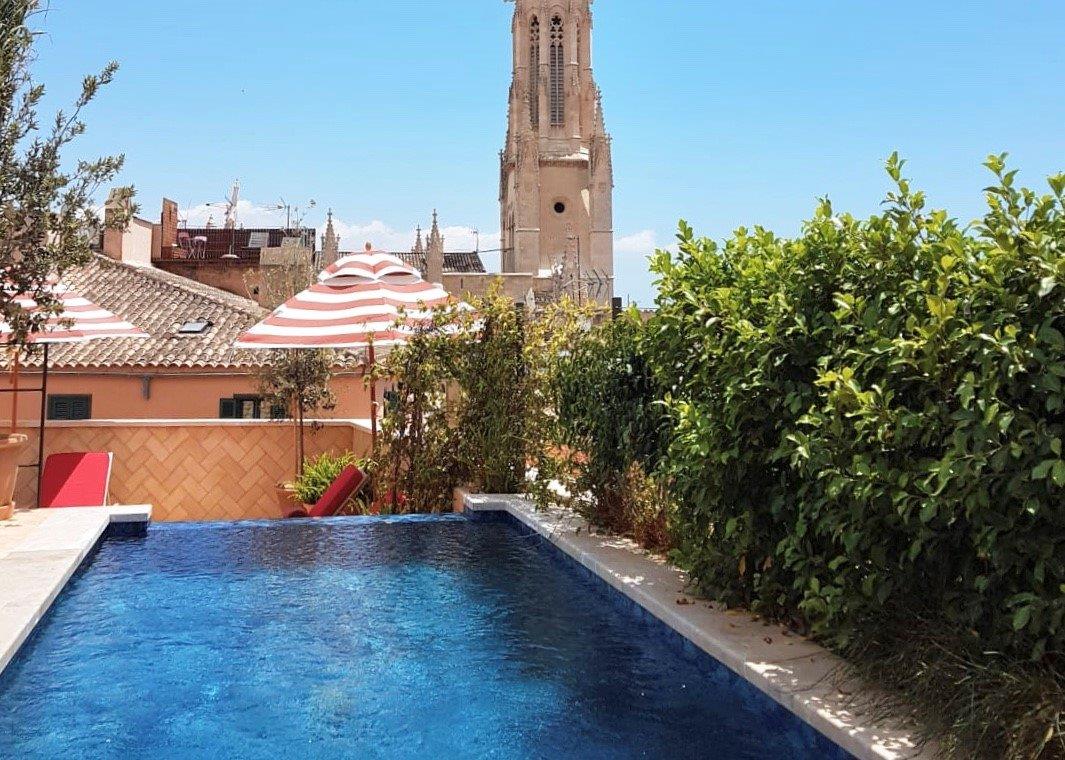 Guest rooms
From the elegance of the Mediterranean and North African style of the lobby, Grand Café, and courtyard, the look & feel of the hotel becomes even more distinctive when one reaches the guest rooms.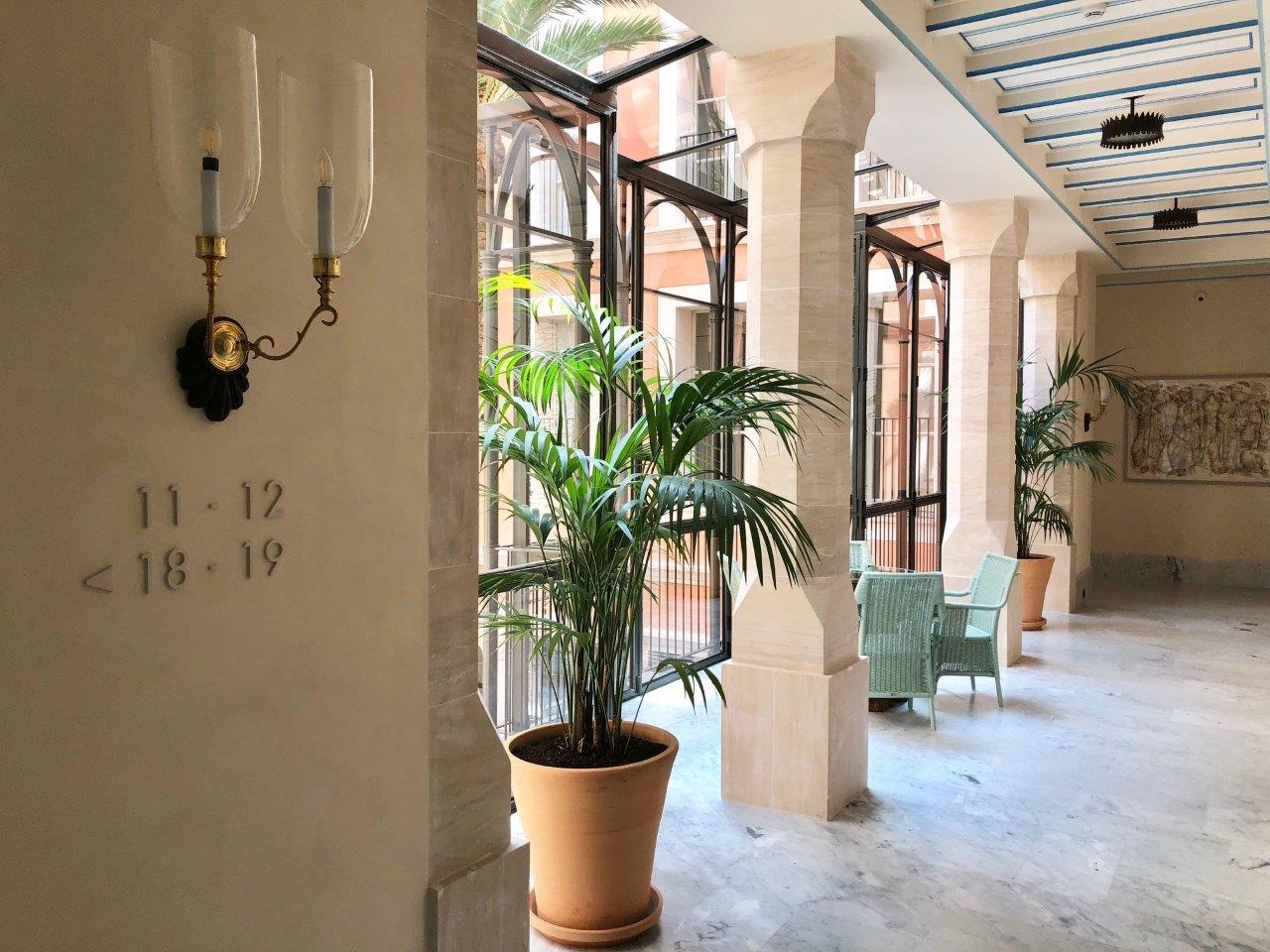 Many have now been given names, emphasising their individualistic identities.
There are 32 guest rooms, with five categories from standard 'Roman Rooms' to suites; each with its own 'look'. The categories were originally described as Marella, Celadon, Garden, Oriental and Roman. Now as the hotel settles down into its first full holiday season, the property is marketing its rooms under some different names, so it can be a little confusing to know exactly what type of room you are booking.
Designs vary from muted and more feminine, to bolder and more masculine.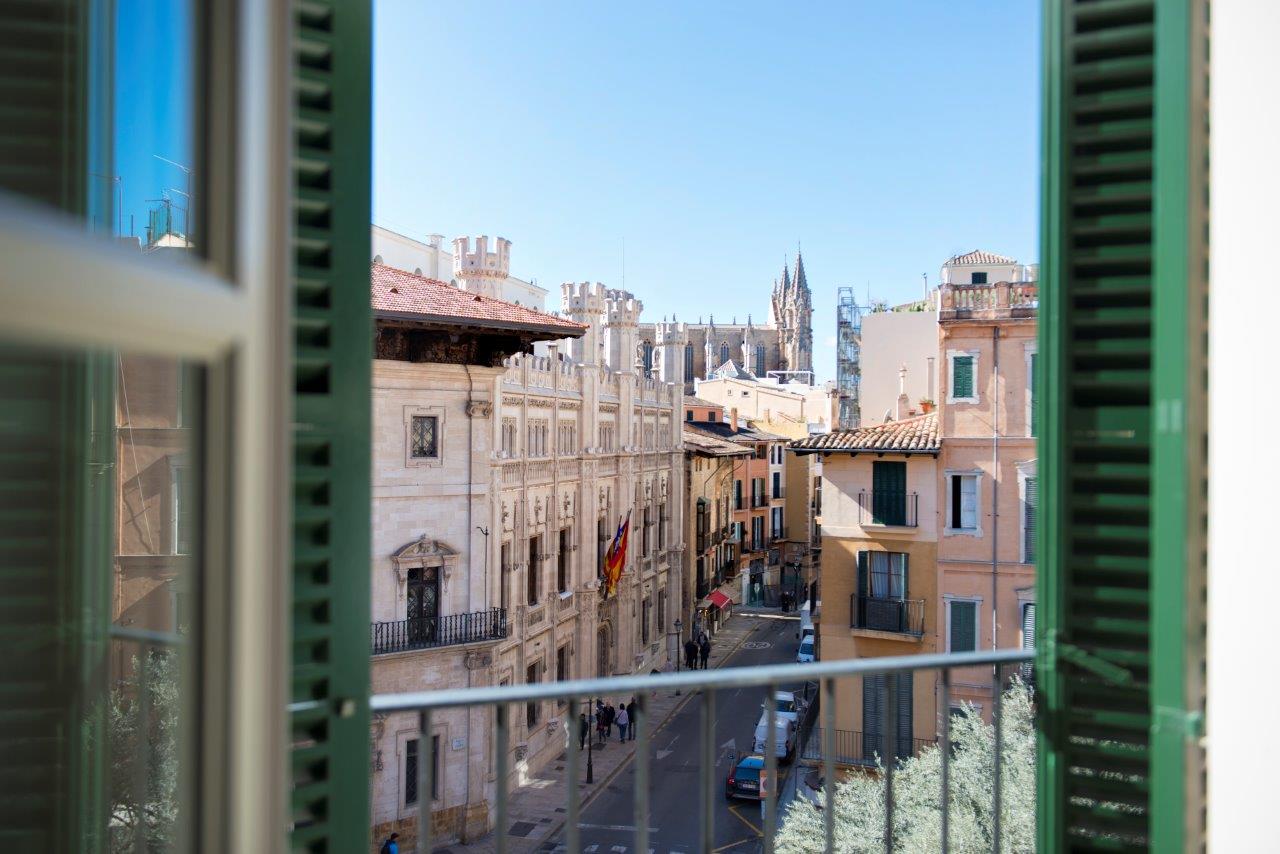 My first night was in Room 21, a charming Deluxe Room, with a neutral palette, with tall windows that opened out onto a Juliet balcony right on the Plaza Cort – spectacular location.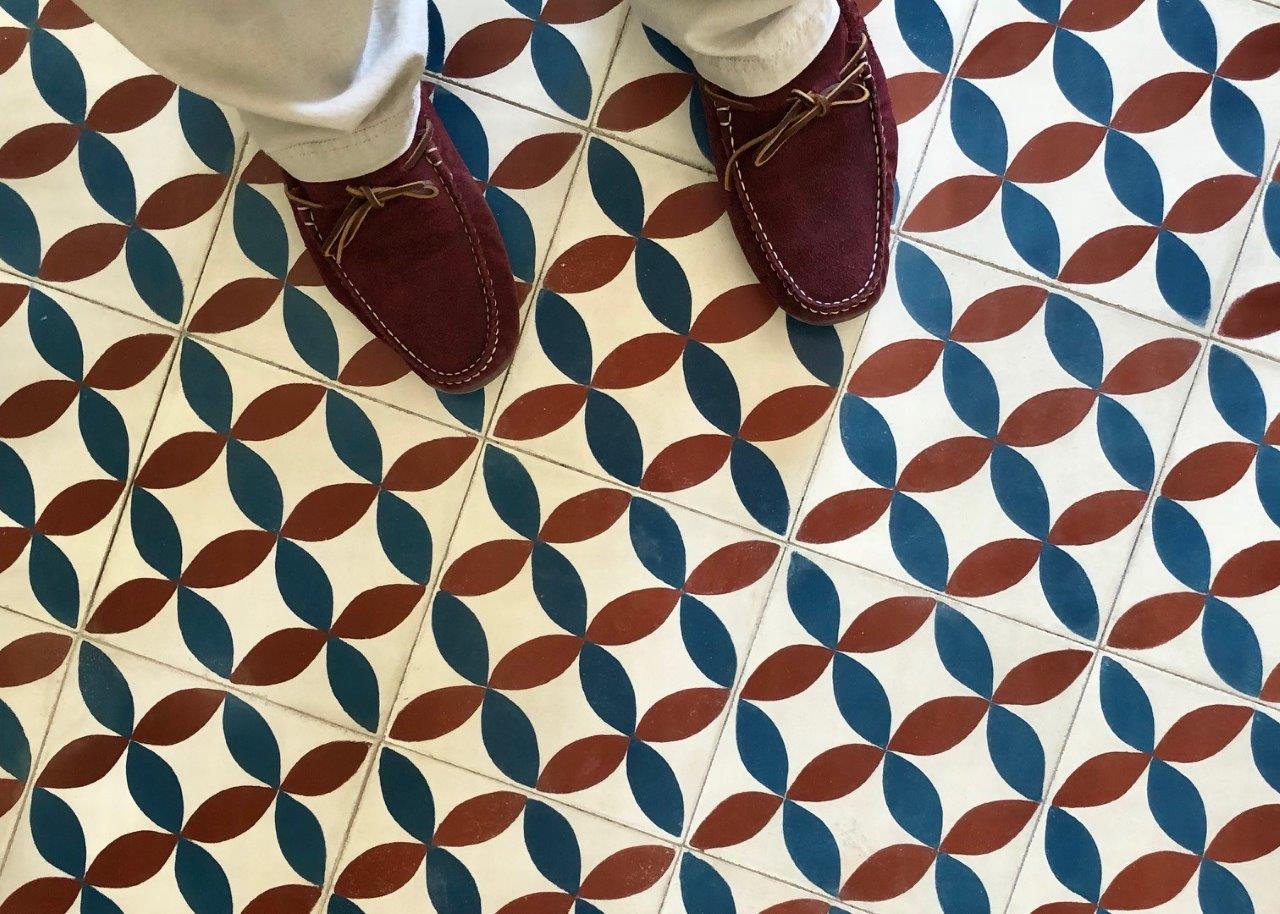 This room is more muted that most, with a subtle décor of whites and pale greens, with a classic floor of handmade tiles. Furniture has a timeless elegance, and the quality was superb.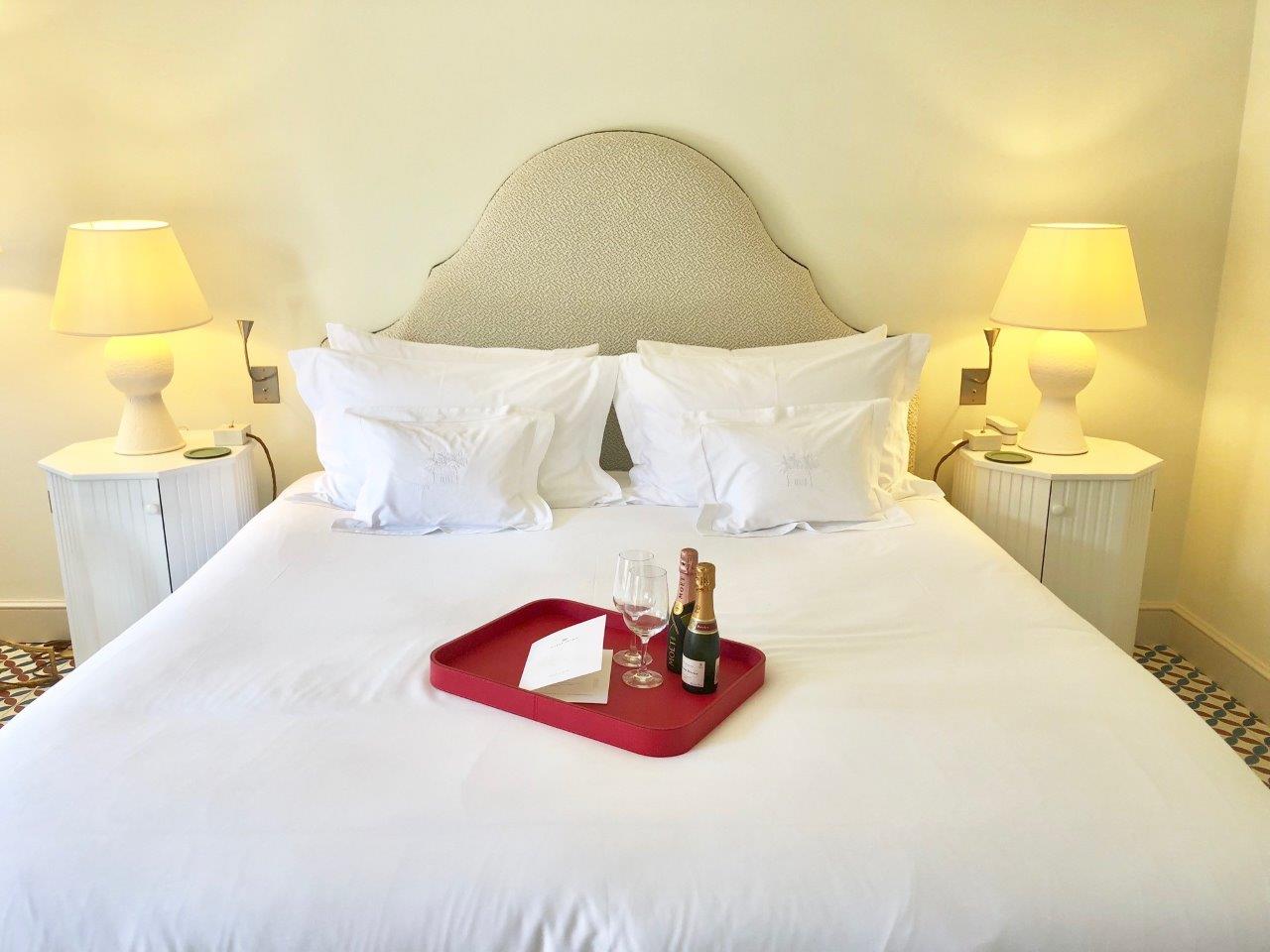 My only thought is that it would be great to have more power sockets by the bed and also some USB sockets.
The bathroom was beautifully appointed – exceptional quality and attention to detail, which is also reflected in the truly luxurious towels, robes etc and the Floris amenities.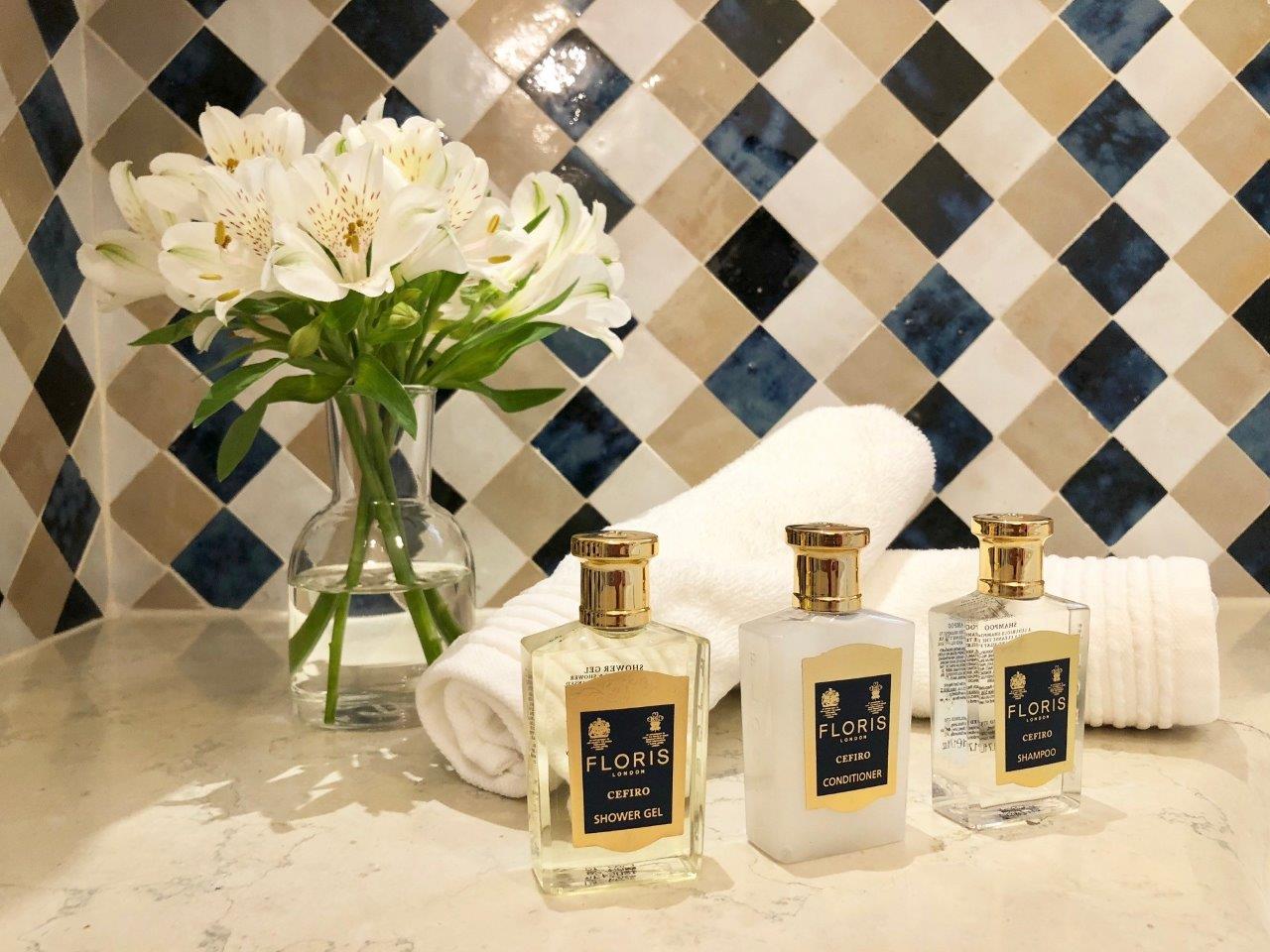 However, the shower is a traditional rose above the bath tub, which is a classic high tub, so bear this in mind when booking a room. Only 8 rooms have a walk-in shower – the other bathrooms require guests to climb into the high-sided tub to take a shower.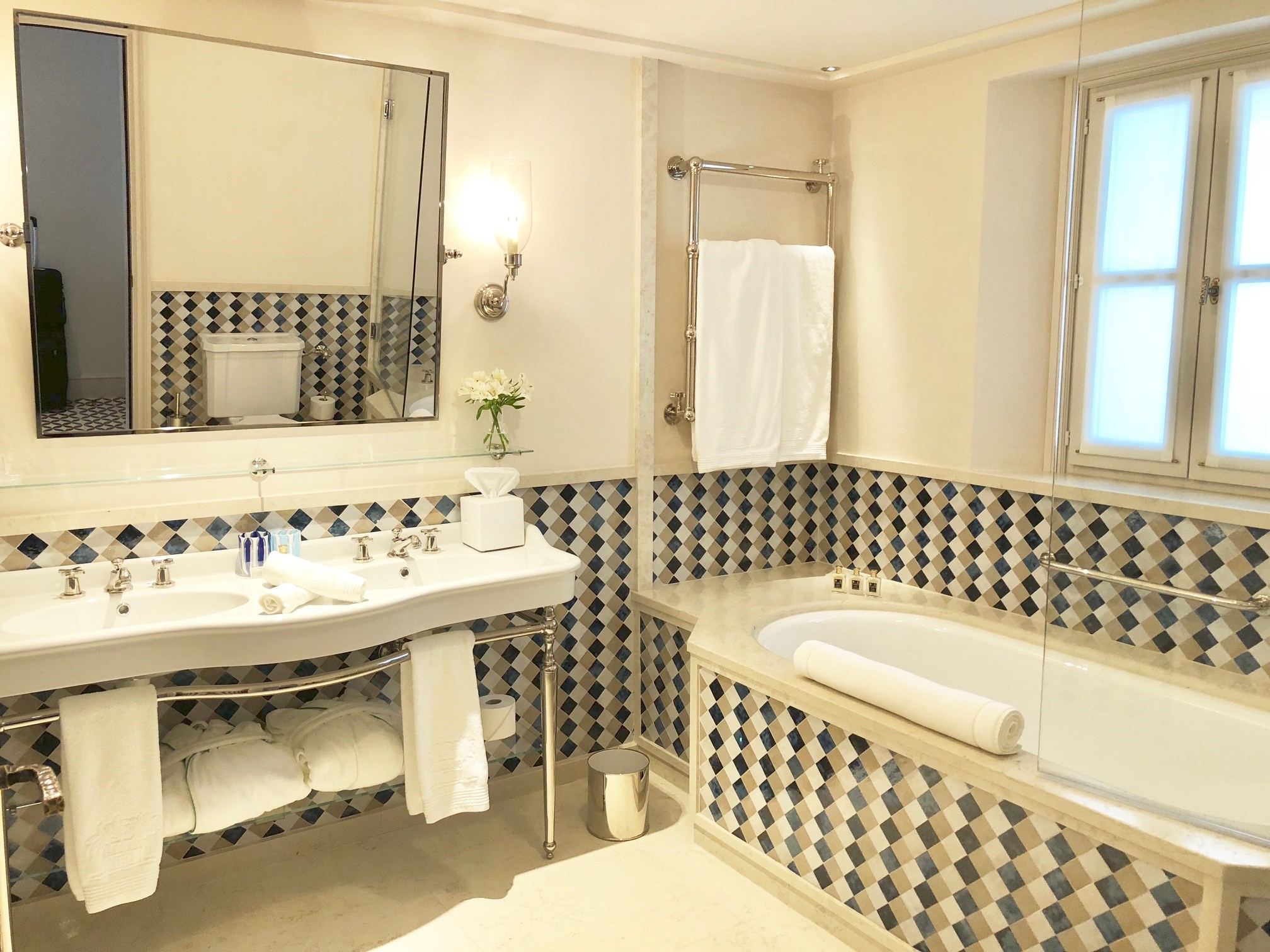 My second night was in room 24, the Celadon Suite. This is a striking space, that was, for my own taste, too visually demanding.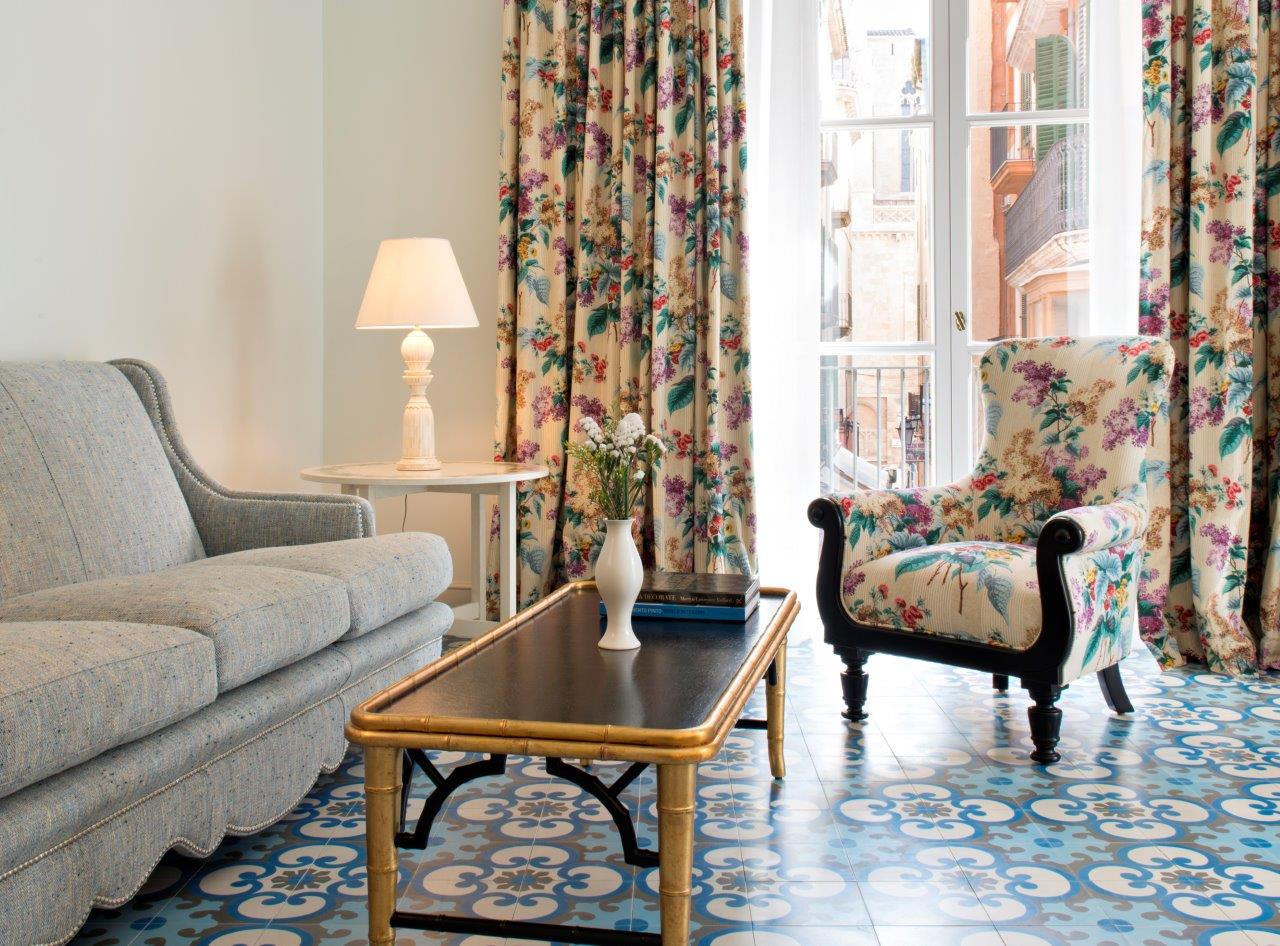 The retro armchairs upholstered in bold prints emphasised the curtains, and the brightly coloured tiles, which in turn were set against a hand painted column.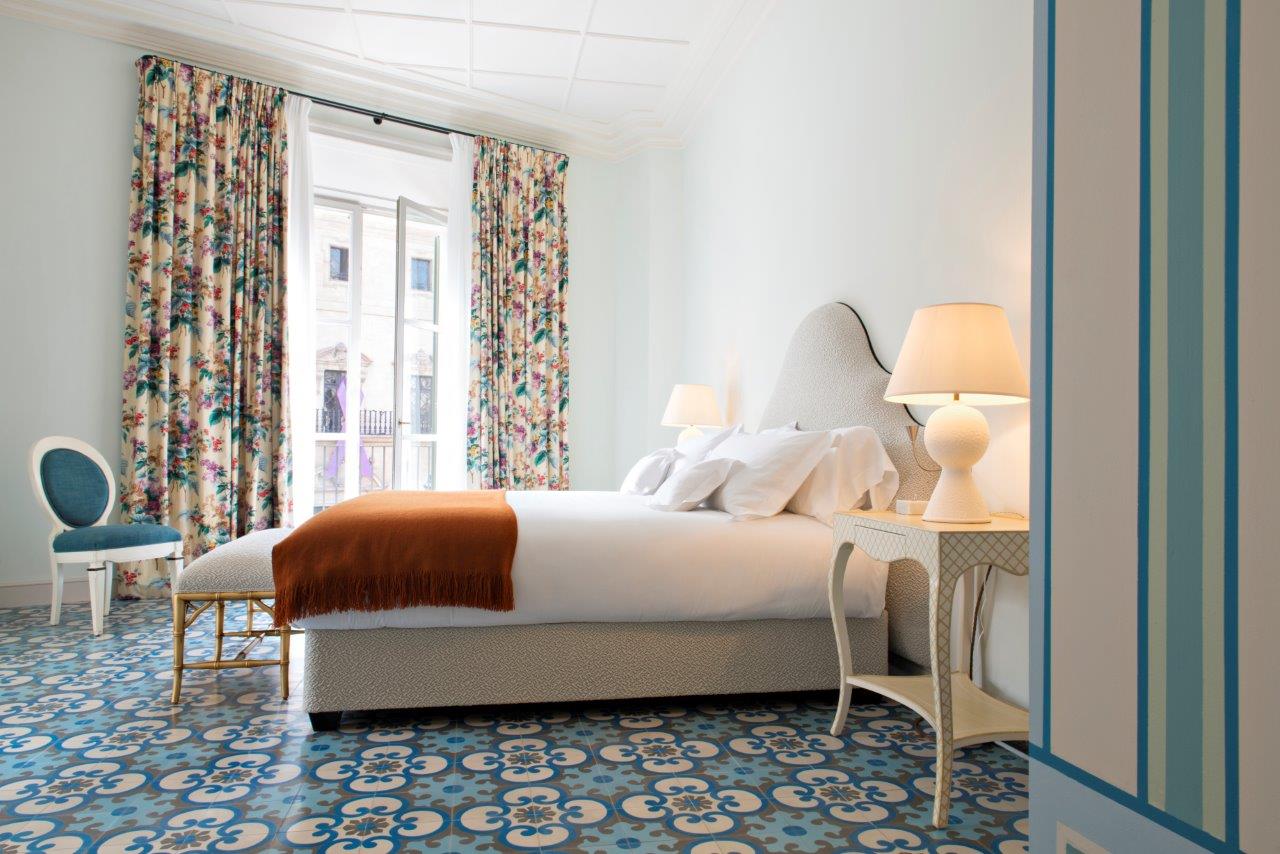 Some of the guests' rooms have specially commissioned hand painted columns and frescoes by artisans from Italy and Mallorca. On their own, these make interesting design elements but can seem somewhat lost within the striking visual collage that Jacques Grange has created. For one or two nights this room is interesting, even if not to everyone's taste – but if you are booking a longer stay, maybe a more subtle space would be better.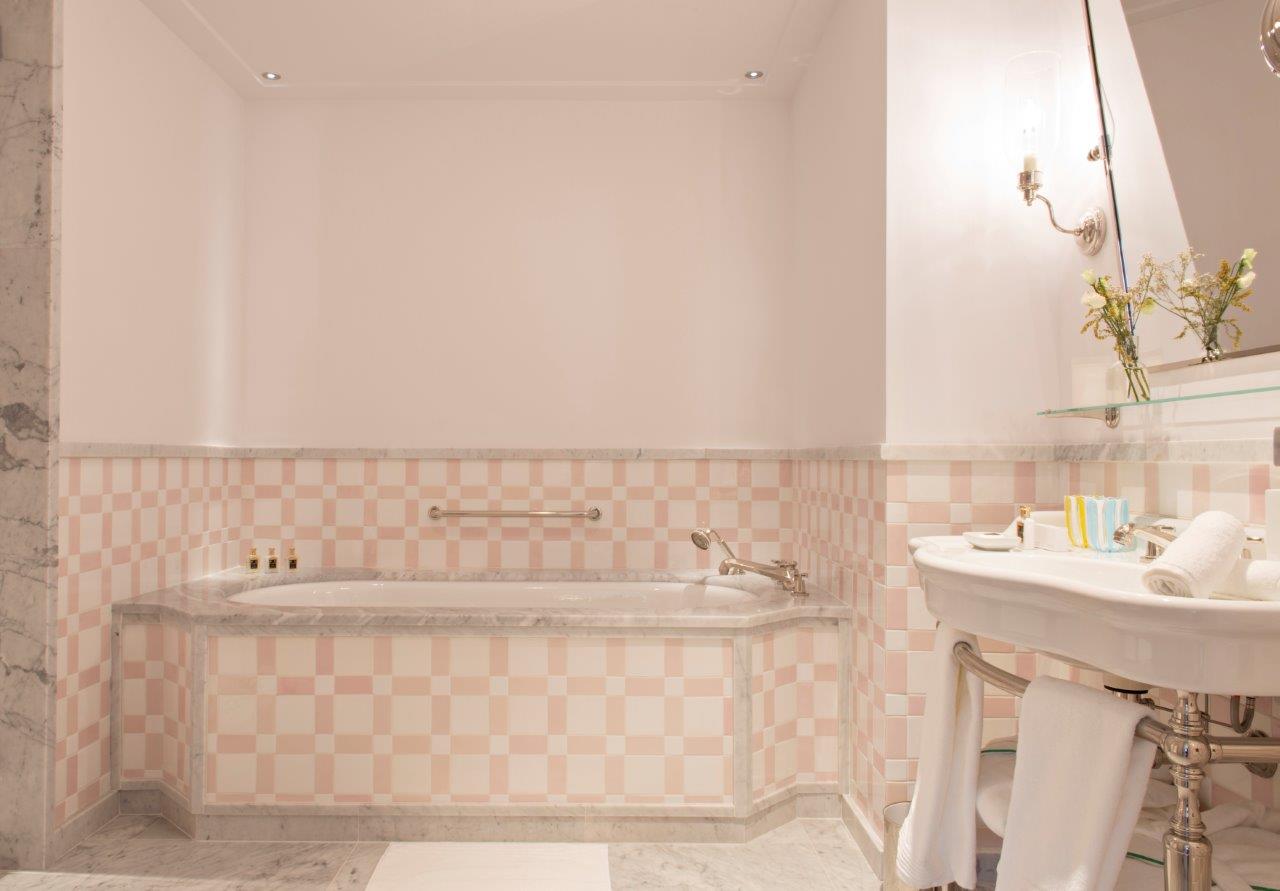 Each room includes thoughtful touches like fresh flowers and glossy magazines.
Breakfast
The best part of my stay was without doubt the relaxing breakfast, in the Grande Café.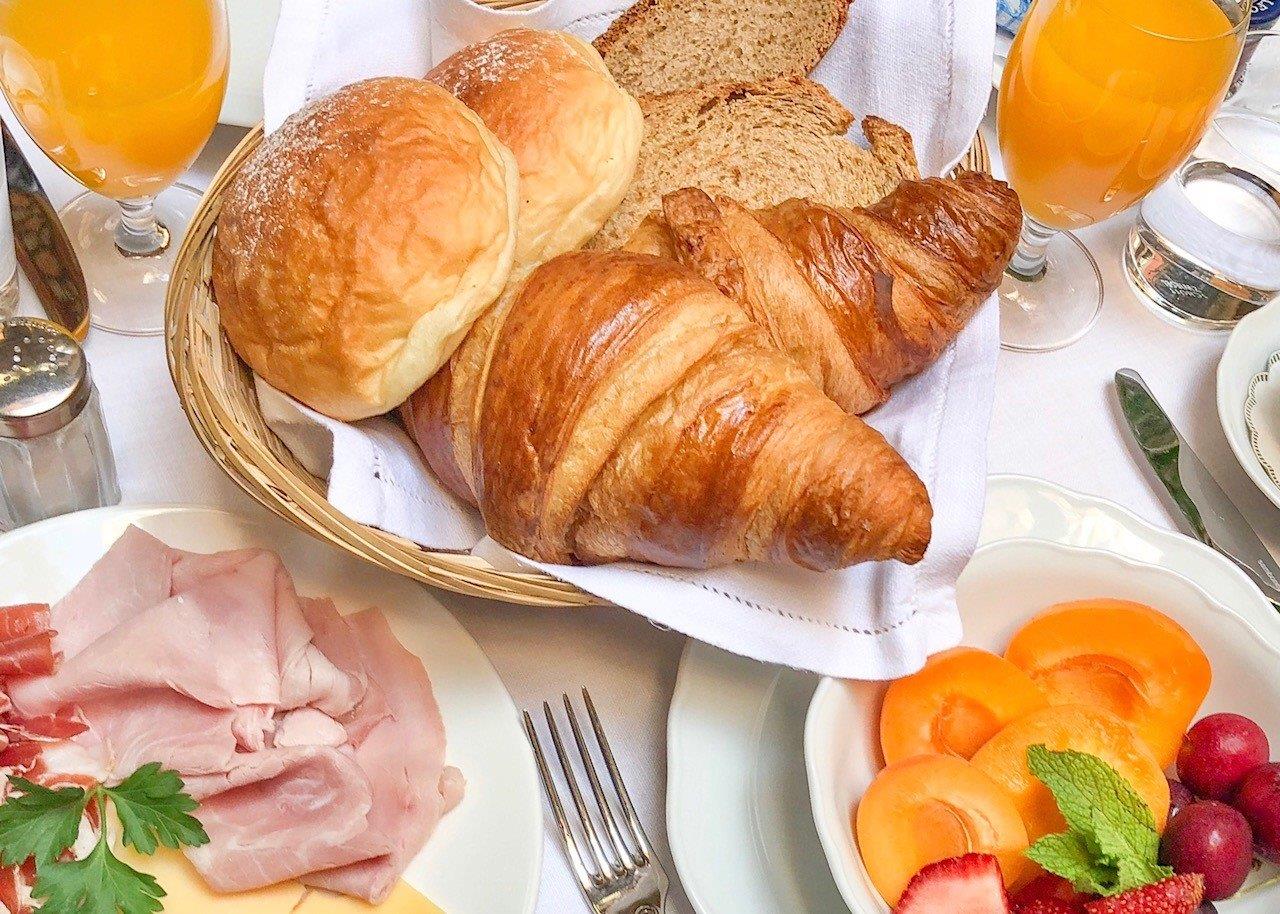 Choose a table on the terrace or in the lobby lounge, or in the cool patio courtyard. It is table service, offered by the highly professional Cappuccino waiters, impeccably presented. Tables are dressed in flawless linen, with vintage cutlery and fresh flowers.
I love this way of presenting breakfast, with a basket of breads, fresh fruit, coffee, juice and a choice of hot dishes to order. There was a suggestion that maybe in the future some buffet items may be offered, but in my mind the breakfast as perfect.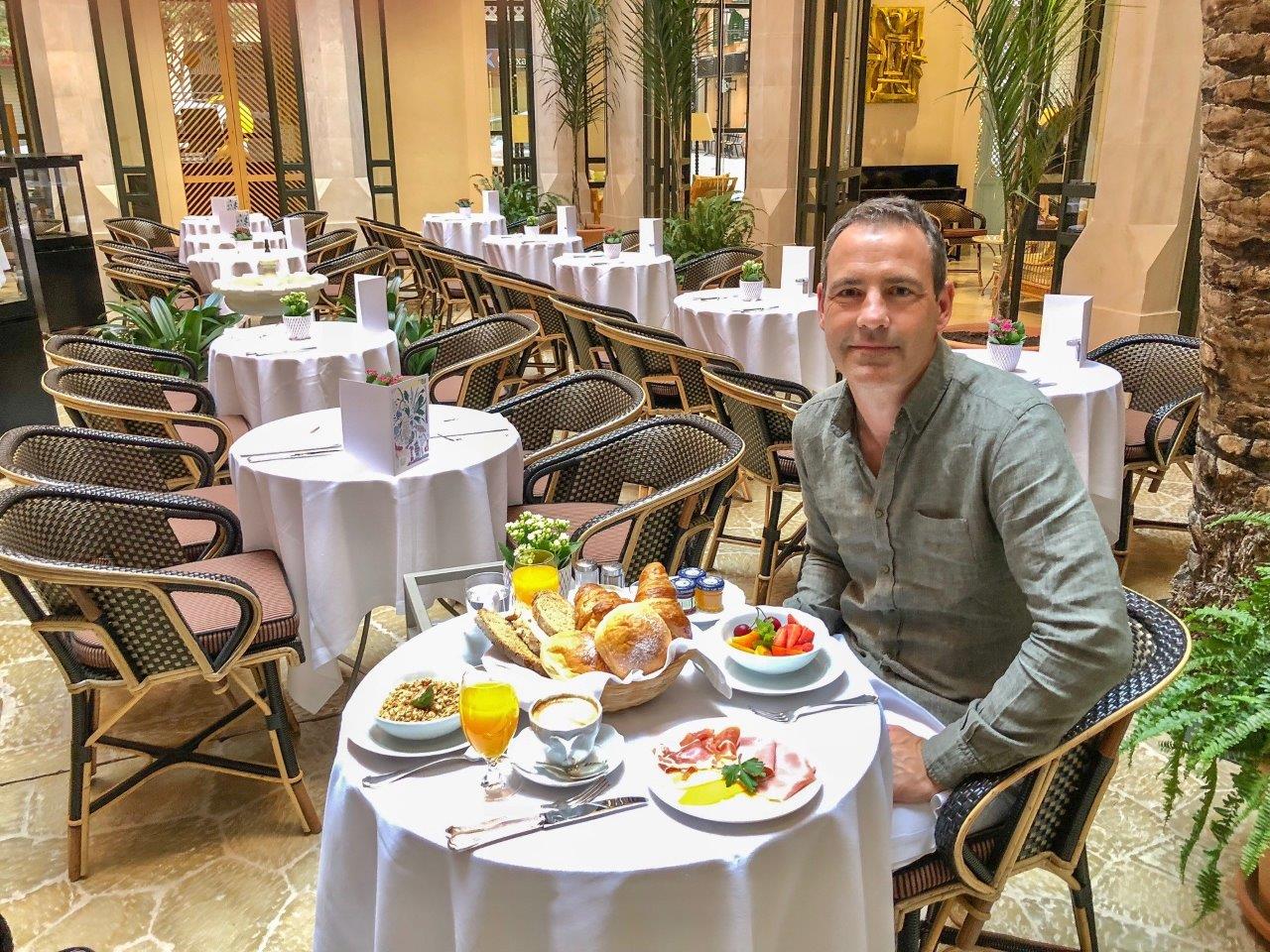 Wellness
The SPALMA wellness suite includes a classic Moroccan hamam, therapy rooms, gym and personal trainer services.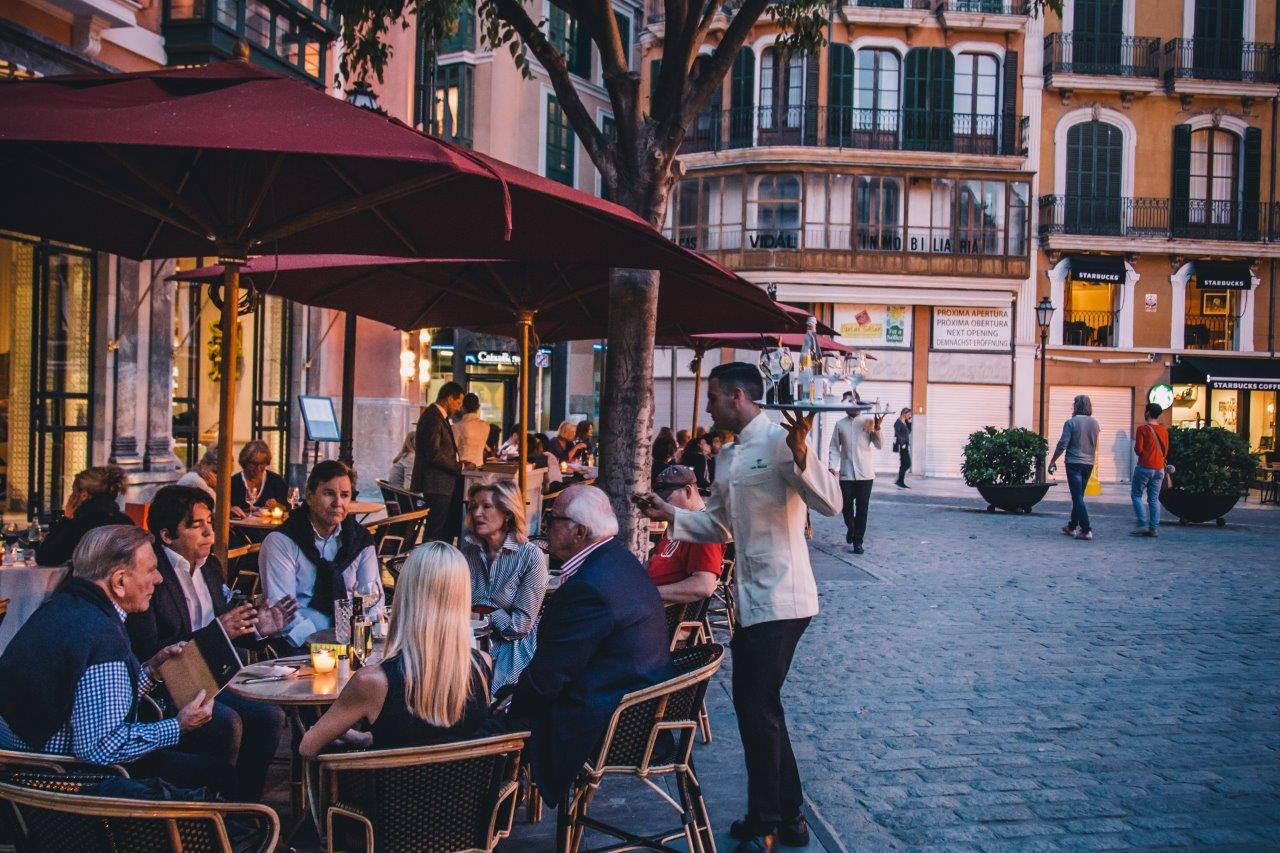 Information
Hotel Cappuccino
Plaza de Cort | Palma de Mallorca
Balearic Islands | 07001 | Spain
T: +34 871 037 437
Website: https://www.hotelcappuccino.com/
Disclaimer: I was an invited media guest; although my opinions remain my own. I only write about products, services, restaurants, hotels and travel experiences that I consider to be of value to readers, and where I have enjoyed a positive experience.