The new vibrant fragrance from the Signature of the Sun collection, Magnolia Infinita contains refined ingredients. Its strong, delicate scent enables the wearer to experience the familiar flower as though it were the first time, in a splendid kaleidoscope of emotions. Made exclusively in Italy, the eau de parfum comes from olfactory experts, Acqua di Parma.
A century-old art of perfumery
Acqua di Parma has brought its wealth of fragrance experience to this joyful and surprising expression, a homage to authentic Italian style. The elixir contains an initial burst of bergamot from Calabria, followed by orange and lemon citrus notes, balancing the potency of magnolia. As the scent develops, fresh, soft and enveloping sambac jasmine, rose and ylang-ylang are detected, complemented by the depth of patchouli and musk that evokes a sense of sensual harmony.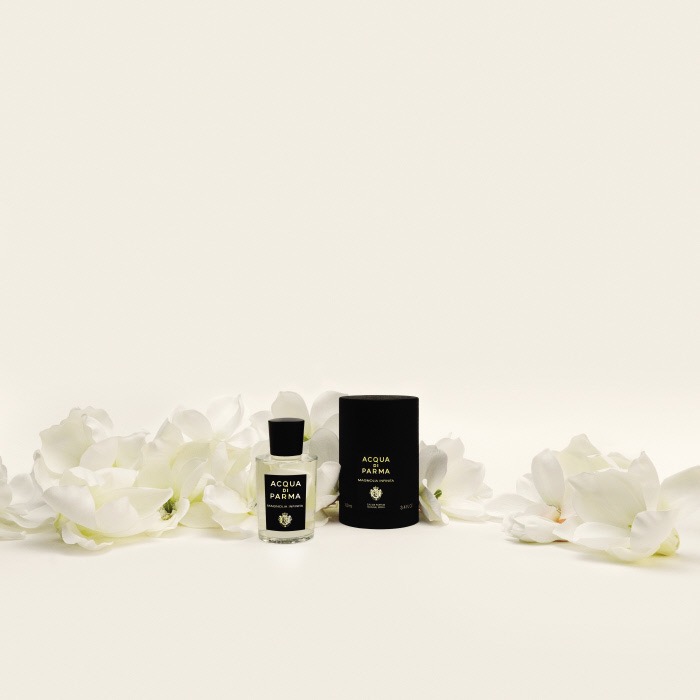 Black and gold
Magnolia Infinita can be purchased in 20ml, 100ml and 180ml formats, encased in an iconic Art Decò transparent glass bottle that further enhances the perfume's sunny and intense composition. As with the rest of the Signature of the Sun collection, the bottles come with a detachable dispenser for easy recycling and external packaging – in black hues – made of exquisite FSC paper, internationally certified for its responsible production. Finally, the bottle is illuminated by Aqua di Parma's inimitable black soft touch label with a gold embossed logo and fine gold print.
The exquisite Signature of the Sun, Magnolia Infinita, is available now at Selfridges (and will be available nationwide from 1st September) priced at £201.