Approximately two hours drive from Edinburgh and three hours from Glasgow lies the historic and beautiful Fife coastal town of St Andrews, home to golf and once to Prince William during his years at St Andrews university.
But more than just famous for these things, this compact town has everything you could wish for in a luxury break to unwind in the Scottish countryside, as TLE found out in a recent weekend trip there.
Where To Stay?
St Andrews offers a wealth of accommodation options for the discerning traveller and we highly recommend:
The Fairmont – Located just on the outskirts and to the east of St Andrews lies the 5 star Fairmont St Andrews Bay Hotel. Primarily a golf resort, with its own two courses it also has a spa centre, which we enjoyed using when we stayed. Uninterrupted views from the hotel out into the North Sea make it a fantastic place to unwind. If you want to explore St Andrews without the need to take a car they offer a shuttle service to the town, which is great for allowing you to enjoy a drink or two in the evening but the hotel has everything you could want so you don't even need to leave it.
Web: www.standrewsbay.com
Morton of Pitmilly – If you like the idea of more freedom than a hotel offers then Morton of Pitmilly is the place to stay. We have been going there for years and the new 5 star cottages are truly indulgent. This is definitely a place to unwind, and with some excellent coastal walks starting in the nearby town  of Kingsbarns it is a wonderful part of the world to forget all your worries.
Web: www.pitmilly.co.uk
St Andrews Old Course Hotel – In the centre of town, and offering complete luxury from the moment you step through the doors, the Old Course Hotel is something of an institution, it is of course attached to the world famous Old Course golf course so most people come for the golf. But with it's Kohler water spa and 3 AA rosette dining room as well as pub and grill every luxury box is ticked here.
Hotel Du Vin  – This brand needs no introduction with hotels dotted all over the country. Set looking out onto the Royal and Ancient course, this hotel boasts a superb location and oozes luxury by the bucketload.
Web: www.hotelduvin.com/locations/st-andrews/
What there is to do in St Andrews?
Golf is the obvious one and with six 18 hole courses and one 9 hole course there is a lot of choice and that is just in St Andrews alone – there are many more just outside of the town. You can find out more about golf in St Andrews here.
Golf isn't really our thing, but fine food, wine and relaxing are all favourite pass times of ours and thankfully there are lots of options for doing that in the pretty little town.
Eating
If you are looking for a light bite then we love Forgans on Market street as well as the Glass House restaurant and the hotel Du Vin bistro really does fit the bill for a lunch or brunch spot.
For evenings the Dolls House restaurant is a firm favourite, but make sure you book as it is very busy as is the Adamson in the centre of town which uses locally produced ingredients for its menu. Finally the Rocca which is winner of 3 AA rosettes is fabulous for a night of fine dining.
If you have a sweet tooth no trip to St Andrews would be complete without a trip to Jeanettas ice cream shop on Market Street.
Drinking
There is one word to describe St Andrews and that's 'cosy'. The town is made up of three main streets, with cobbled roads and lots of lovely pubs and bars dottled about. Forget the art of taxi hailing as you can walk from pub to pub in the town so here are a few to kick off the evening with.
R-Bar – www.rbar-standrews.com
Ma Bels – www.hotelduvin.com/locations/st-andrews/ma-bells
The Vic – www.vicstandrews.co.uk
West Port – www.thewestport.co.uk
Outdoors
St Andrews is peppered with historic sites worth visiting and a morning can easily be spent visiting the Castle and St Andrews cathedral.
Further afield the National Trust property of Hill of Tarvit is great for an afternoon (check opening times as it changes throughout the year.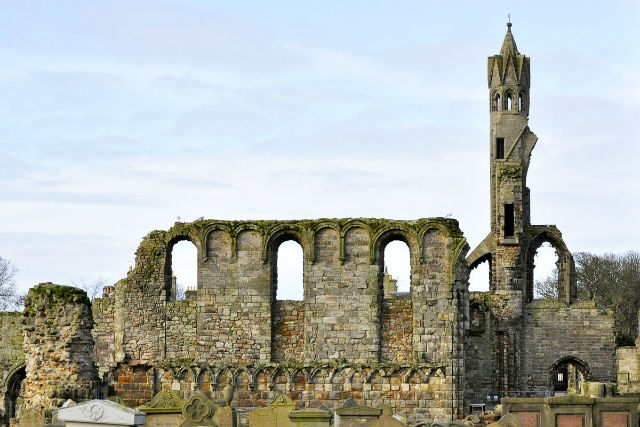 If you like walking, the beach to the left of St Andrews is great for a long walk and further afield Cambo Estate is beautiful, especially in spring when the snowdrops are on display.
Relaxing
Even if you are not staying in the St Andrews Old course hotel you can still visit the Kohler Water Spa, which offers a range treatment packages for non residents and the Fairmont hotel has a spa with an extensive spa menu for day guests.