With more and more holidays becoming adventure and experience orientated we are compiling a series of luxury experiences to help inspire your travel decision; from adrenaline induced super-car road trips in Europe and diamond safari's in South Africa to luxury yachts around the world. The options are limitless.
In this edition of our experience series, we explore luxury family holidays in the Galapagos islands with Visit Galapagos. Read on to find out more.
Traveling to the Galapagos islands is quite an adventure, especially If you are traveling with your family. A luxury yacht charter is the perfect way to spend quality time with your family while creating unforgettable moments together.
A great option is the WildAid's Passion Galapagos luxury cruise. The yacht is owned and operated by Andando Tours, its CEO Fiddi Angermeyer travels the world looking for new ideas and ways to improve accommodations and service. Fiddi, was born in the Galapagos islands from one of Galapagos' first settlers. He built his first boat when he was a kid and has sailed in the ocean his all life, you could say that he is one with the sea. His philosophy is that every sailing should feel like a true family experience. For the Angermeyers,  ships have always been a second home and everybody is welcome as a guest. You are invited to explore the islands and get a close look to the wonderful creatures that inhabit them. While on board the Passion, the real luxury is the opportunity to have a once-in-a-lifetime experience that you will cherish with your loved ones.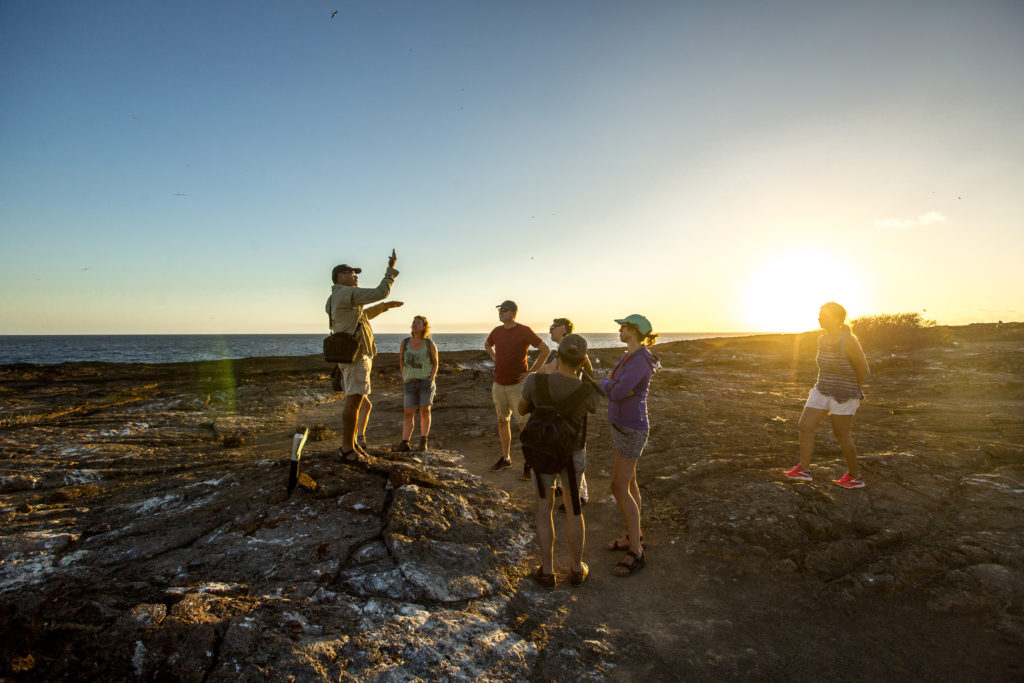 A Galapagos cruise not only offers an intimate experience, but it's also filled with activities that will entertain every family member: water sports, daily excursions with new places to explore and private movie screenings with a friendly crew dedicated entirely to satisfy every need on board, a luxury yacht offers the best luxurious experience for every family member.
Whether you'd like to include additional services during your family yacht vacations such as a dedicated nanny so the adults can exercise in the morning or enjoy a private moment in the bar admiring the beautiful landscapes of Galapagos or enjoy a massage by your private masseuse, or request a dedicated photographer to capture every special moment of your cruise, a chef that can make every meal special for children and adults, everything about your vacation will be perfectly crafted to your family's needs.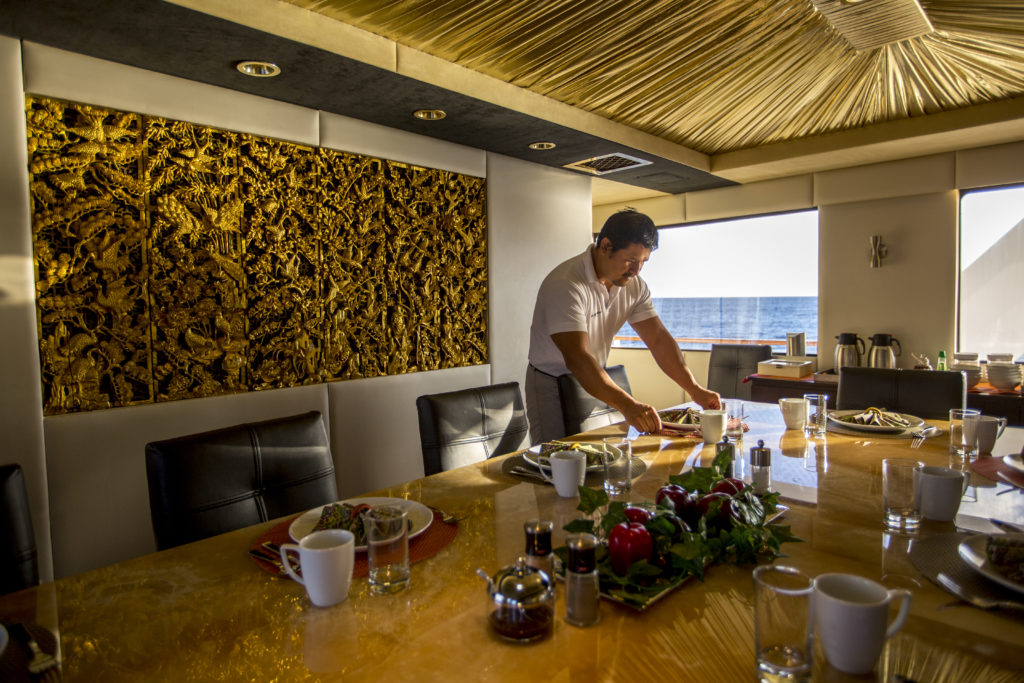 Why a luxury charter?
A luxury charter on a small boat charter will always offer a more bespoke experience than a mega yacht or land based excursions. The great advantage of a smaller cruise ship, is that you are not just a name on a manifest, you are a member of an extended Galapagos family.
As you move from island to island, the service and accommodations will not change. Everything will be taken care of at all times, you just need to enjoy the many activities during your cruise.
You will have a dedicated Galapagos National Park with you throughout your stay.  Luxury cruises always work with the best staff available in the islands and of course, the better the cruise, the better the guide. A great guide can make this experience unforgettable and the all family will be able to learn more in every activity.
A luxury charter means you can enjoy quality time with loved ones, making indelible memories, and not have to worry about small details. Eating together, snorkelling together and watching the unique marine life of Galapagos, learning as a family about the incredible Galapagos natural history or just resting in the Jacuzzi surrounded by the breathtaking landscapes of the enchanted archipelago that once inspired Charles Darwin during his voyage.
A luxury yacht not only offers comfort but ample spaces that will allow every family member to enjoy a different activity during navigations.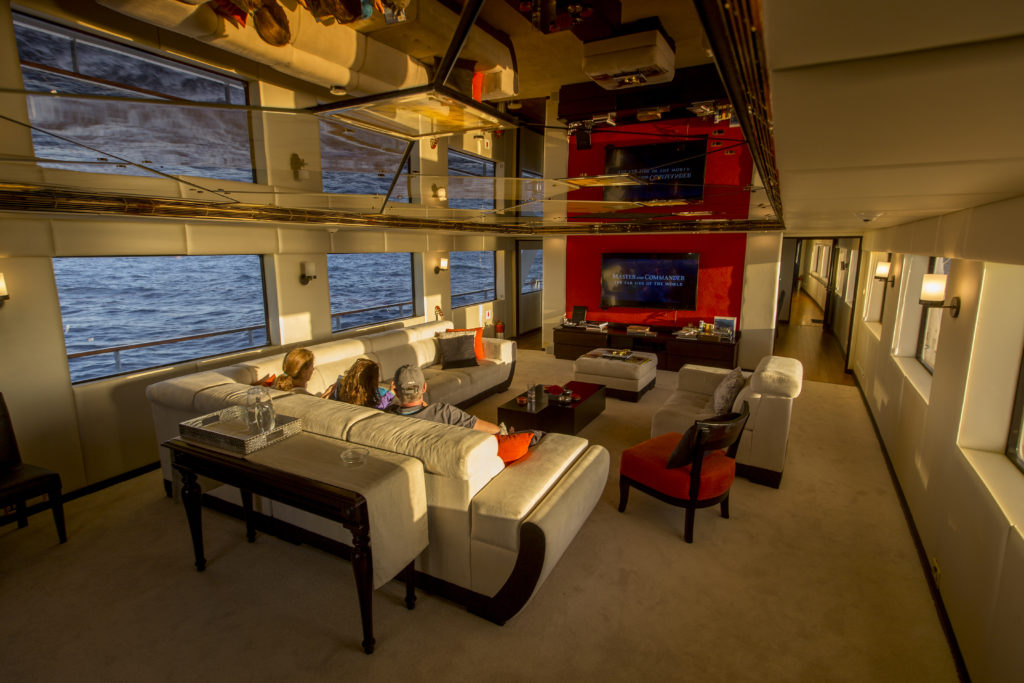 The best luxury yacht charter in Galapagos
If you are thinking about a luxury cruise in the Galapagos islands that can accommodate the most demanding needs, M/Y Passion is the one to choose.
This luxury yacht is the only one of its kind in the Galapagos. Its 159 ft. for 14 passengers make it one of the biggest yachts for this number of passengers, passengers who have the opportunity to experience this luxury adventure can enjoy a panoramic lounge with a bar, Jacuzzi, al fresco dining area, original teakwood decks and Italian marble bathrooms and a ratio of 1 crew member per passenger on board to ensure that every need is covered. The aim of this cruise is to make things as easy as possible so you can just enjoy every part of this experience.
The M/Y Passion offers two charter options:
Regular charter and Diamond charter.
A regular charter offers accommodations, transportation, meals on board, dedicated tour guide, an English-speaking certified guide, snacks and soft drinks.
But If you are looking for something a bit extra you may go for the Diamond charter, which includes all the features of your regular charter with an open bar and extra services such as masseuse or a dedicated nanny for your children.
If you would like to enjoy a luxury experience in the Galapagos Islands, then you will definitely have to get on board the M/Y Passion.
Contact Details: