When temperatures dip below freezing and daylight hours shorten, it's time to think about planning a luxury holiday for some winter sun. Lazing on golden beaches, discover enchanting sunny cities or driving with the top down will help you to feel relaxed, refreshed and recharged for returning to the rainy UK. Our helpful guide has everything you need for planning the perfect luxury winter sun holiday from top Europe and international destinations to five-star hotels and must-see attractions (if you ever get sick of lounging on beautiful beaches).
Barcelona
Oh, Barcelona. One of Europe's only cities where you can sunbathe on golden beaches during the day, sightsee at world-renowned art museums and historic buildings in the afternoon and party till dawn. With its otherworldly architecture, world-class restaurant and nightlife scene, and sun-drenched shorelines, Barcelona is the perfect European destination for a luxury winter sun holiday.
When to Visit
Barcelona has sunshine year-round. During the winter the weather can be relatively mild, but temperatures around 15 degrees in February. Rain showers are rare so you'll have plenty of opportunities to enjoy the Spanish sunshine without the crowds or hot temperatures of the summer months.
Things to Do
Barcelona has more on offer than golden beaches. Spend your days at world-class art museums admiring internationally acclaimed works, goggling at funky Gaudi buildings or shopping at flagship stores. Whether you're a culture addict, foodie, sun worshipper or hipster, Barcelona has something for everyone.
Picasso Museum. Rated one of the must-see attractions in Barcelona, the Picasso Museum features Barcelona's favourite painter's works. Here you can view Picasso's pre-Cubist and lesser-known works with highlights including the Las Meninas series.
Basilica and Expiatory Church of the Holy Family. You can't come to Barcelona and not see Gaudi's famous Basilica. Combining both Gothic and Art Nouveau forms, this church captivates audiences with its funky, intricate design and is a UNESCO World Heritage Site. Take a tour and learn about this basilica's fascinating history and never-ending construction.
La Rambla. As the Spanish poet Federico Garcia Lorca once said, La Rambla is "the only street in the world which I wish would never end". Running through the heart of Barcelona and connecting Placa de Catalunya with the Christopher Columbus Monument at Port Vell, it's here that you'll find some of Barcelona's best shopping and pavement cafes where you can sip coffee in the Spanish sunshine.
Where to Stay
Read our guide to the best hotels in Barcelona
Miami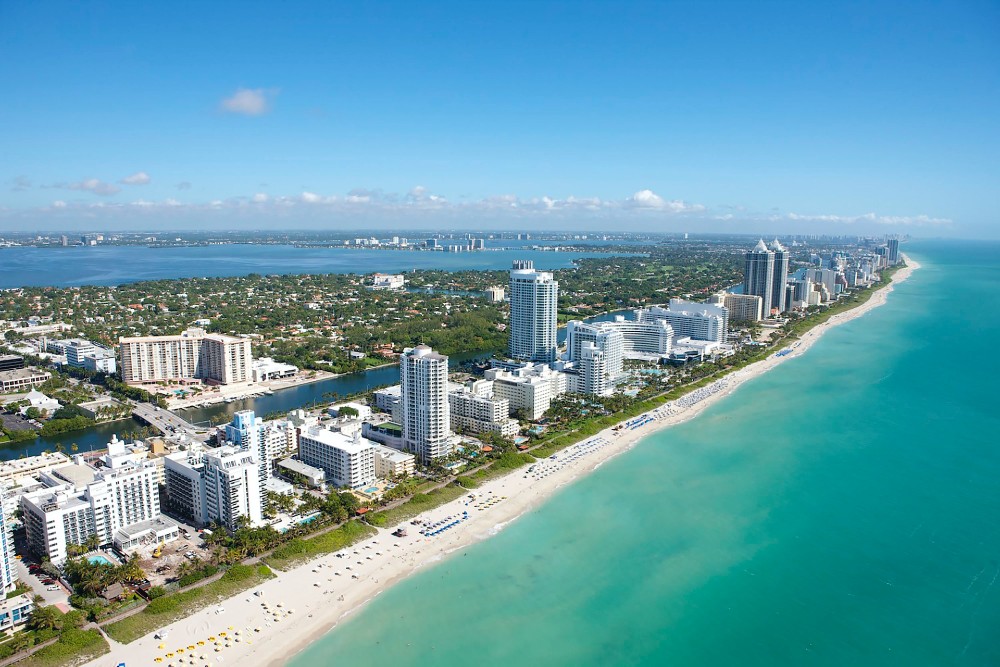 Travel to Southern Florida for a luxury winter sun holiday in Miami, a vibrant city full of creativity and diversity. Miami's culture is the perfect mixture of American and Cuban with Cuban cigars, sidewalk cafes and American hospitality the norm (especially in neighbourhoods like Little Havana). As you roll down Ocean Drive Blvd with the top down, you'll be glad you booked a luxury winter sun holiday to Miami.
When to Visit
Miami's subtropical climate practically guarantees winter sunshine. Temperatures remain stable throughout the year with lows of 23 degrees Celsius in January. Winter is Miami's dry season, so you're likely to have sunny days with clear skis. During the winter, you can also catch some fabulous festivals like the Art Deco Weekend in January or the South Beach Wine and Food Festival in February.
Things to Do
Whether you're sunbathing on Miami's iconic beaches, stepping back in time by admiring art-deco buildings or playing some beach volleyball, Miami has plenty of sunny activities on offer.
Ocean Drive. Home to the world's most extensive collection of art-deco buildings, Ocean Drive is an iconic part of Miami city. Make sure to check out The Sunray Apartments, which served as a backdrop to the Scarface films, or the Carlyle, which appeared in the BirdCage. Ocean Drive is also where you'll find some fantastic restaurants.
Crandon Park. If you're looking for Miami's best beaches, head to Crandon Park. The park covers over 800 acres, including two miles of protected beach, and is the ideal place to escape the crowds and relax in your own corner of paradise.
Venetian Pool. Almost one hundred years old, this spring water pool is one classy way to relax. With its two waterfalls, cool cave-like grottos, and poolside views of Miami, there's plenty to explore without leaving the refreshing waters.
Where to Stay
Read our guide to the best hotels in Miami
South Africa
Travel to a land of dreamy beaches, safari parks with exotic animals and world-class vineyards. Meet elephants and lions at Kruger National Park, admire clear star-lit nights, experience Cape Town's dining and drinking scene or get active at Table Mountain. However you spend your days, a luxury winter sun holiday to South Africa promises to be the adventure of a lifetime. Plus, as a winter sun seeker, you're guaranteed sunny, warm days.
When to Visit
South Africa has some of the best winter weather. The winter months of December to March are generally dry and warm, ideal for watching the wildlife or lounging on the beaches. Temperatures are around 25 degrees Celsius and there's plenty of sunshine.
Things to Do
South Africa is packed with attractions and has plenty of things to do for all types of travellers. You can lounge on white sand beaches, meet penguins in Cape Town, drive along the iconic Garden Route with the top down, or tour world-class vineyards. Here are some of our favourite attractions:
Kruger National Park. As the only self-drive National Park in Africa, visiting Kruger lets you experience South Africa's wild side. The park is home to a vast array of animals and you'll easily spot giraffes, rhinos, hippos, zebras and elephants as you drive through its 7,5000 of protected terrain. You can hire a guide to help you find the harder to spot animals like lions and jaguars.
Table Mountain. Serving as Cape Town's dazzling background, the formidable Table Mountain calls hikers and adventurers from across the world. Hiking to the top, on the easiest route, isn't that difficult and can be accomplished in a few hours. If you're not keen on the walk, you can take a gondola to the top for stunning views.
Wineland Vineyard Tours. A short drive from Cape Town lies South Africa's world-renowned Cape Winelands. The area produces unique, excellent grapes due to the microclimates created by the nearby mountain ranges. You can explore the vineyards on private guided tours, by bicycle or on the Franschhoek Wine Tram.
Where to Stay
Read our guide to the best hotels in South Africa
Tenerife
The spacious beaches, colonial architecture, lush valleys and stark lunar-like landscapes of this volcanic Spanish island have long made it a favourite with short-haul holidaymakers. It's the largest of the Canaries – an archipelago found in the Atlantic Ocean off the west coast of Africa – with a wide variety of resort options offering everything from lively nightlife to serene spa breaks. If you're keen to experience traditional culture, taste authentic local cuisine and be surrounded by breathtaking landscapes, you'll love the north. While those wishing to maximise sunshine and be close to tourist or family-friendly amenities should check out places to stay on the southern coast. 
When to Visit
The Canary Islands' subtropical climate makes them a wonderful year-round choice. However, the searing summers can prove too much for some. Instead, book a break for November, which sees little rainfall and retains sea temperatures of over 20 C, with air temperatures also averaging in the early 20s. 
Things To Do
Teide National Park. Explore the island's stunning mountain terrain at this National Park. Here you can take a cable car to the summit of Mount Teide – the highest peak in Europe and an active volcano – where epic panoramas await. You won't need to pay to get in or to park at this UNESCO-listed site. 
MUNA Museum of Nature and Archaeology. Housed in the Old Civilian Hospital in Santa Cruz, this fascinating museum reveals much about the island's incredible biodiverse environment and pre-Castillian heritage, with artefacts dating back to prehistoric times.
Loro Parque. On the outskirts of one of Tenerife's largest resorts, this 33-acre zoo offers attractions for all the family. See orcas, dolphins and penguins, tigers, chimps and gorillas, and of course, its namesake, the parrot ("loro" in Spanish), in internationally themed areas designed to replicate the creatures' natural habitats. 
Siam Park. Fancy plunging 60ft, near vertically? Pay a visit to this amusement park in Adeje for some thrills. It also has a lazy river, chutes and flumes. It does get very busy, so book in advance and arrive early. 
Where to Stay
Read our guide to the best hotels in Tenerife
Thailand
Blissful beaches with crystal clear waters, castaway coastlines with swaying palm trees, bustling street markets with colourful produce and ancient temples with unique architecture; it's no wonder the Land of the Smiles has been used as the setting for countless Hollywood blockbusters. Bangkok is a city break favourite; assaulting the senses in the best possible way. Thai islands like Phuket and mainland costal resorts such as Krabi provide idyllic backdrops for five-star resorts dripping with elegant luxury, old and new. Thailand is well recognised as a place to unwind, escape and find yourself; not least due to a spirituality that underpins its warm and welcoming culture. 
When To Visit
Anytime from November to early March. After this it can become oppressively hot for those accustomed to the northern hemisphere. Avoid July to early October if you'd prefer not to get caught in frequent monsoon showers. 
Things To Do
Erawan National Park. Everyone knows about Thailand's beach lifestyle, but its inland treasures less so. There are many excellent National Parks with dense mangroves, ancient forestry and lakes to paddle. This particular park is home to an iconic seven tier waterfall which can be hiked via a series of trails and bridges.
Phuket Elephant Sanctuary. Like National Parks, there are several elephant sanctuaries dotted around the country. So if getting up close to these gentle giants has long been a dream, book an afternoon, day, or even a multiple-day volunteering trip, to create memories that will last a lifetime. 
The White Temple. It's tough to single out just one temple when the nation is peppered with unusual and awe-inspiring structures. However, if you only have time for one, consider Wat Rong Khun (aka The White Temple). Its stark exterior contrasts the bright blue sky and has an almost filigree quality from afar. But its contrasts don't end there; along with classical Buddhist iconography, you'll happen upon modern pop art, as the structure is also a gallery. 
Where to Stay
Read our guide to the best hotels in Thailand
Barbados
Arriving in Bridgetown on the Caribbean island of Barbados, you can feel your entire body exhale. Greeted by the comforting warm air, gentle ocean breeze, likely the sound of some steel drums and the prospect of a cocktail in hand and you're fully on holiday. Barbados is part of the Lesser Antilles of the West Indies, a celebrity hotspot with vibrant nightlife, fine cuisine and beautiful beaches. 
When To Visit
While the rainy season doesn't amount to much here, if you're hoping for endless blue skies, minimal wind and maximum sunshine, opt for Mid December to April. Many come for Christmas, with temperatures averaging around 29 °C. 
Things To Do
Set on perfect white sand with pure blue sea, this beach club is idyllic, but lots of fun. Inflatable trampolines and slides float on the water allowing grown adults to rediscover their inner child, while a rope swing from The Boatyard's pier dumps shrieking daredevils into the warm water. The bar has a rustic tropical feel, with an upbeat atmosphere and a tasty range of summery frozen drinks. Grab a daiquiri and a lounger, relax and listen to the beats, or hire a jetski and catch some thrills. 
Swimming With Turtles. Don a snorkel or dive mask and peek beneath the ocean's surface to interact with some of the world's cutest sea creatures. Hilton Beach is one of the best spots on the island for this, as it's the busiest place for Hawksbill Turtle nesting in the Eastern Caribbean, but otherwise, the south and west coasts are generally the go-to areas to increase your chances of an encounter. And if you don't fancy getting in the water, you can still take a look while on the water, in a kayak. 
St. Nicholas Abbey Heritage Railway. Located on a historic plantation and distillery, this new attraction was only completed in 2018 but takes place on a heritage steam train. Your one-hour journey will take in the exterior of the Grand House, colourful resident birdlife, a lake, mature mahogany woodlands and a mesmerising viewpoint. It's a wonderful way to immerse in Barbados' bygone era. 
Where to Stay
Read our guide to the best hotels in Barbados
Argentina
A land of immense geographical diversity, the world's eighth largest country has buzzing Latin cities, glaciers, hot dusty ranches and the largest group of waterfalls on earth. Blending European culture and Latin American traditions, it's a passionate and fiery land; home of the tango, empanadas and iconic historic figures including Che Guevara and Eva Peron. Given the country spans 1,073,500 sq miles, touring is often the way to go, lingering in each destination for at least a few days to absorb the essence of each region. 
When To Visit
The climate varies enormously depending on which part of the country you visit, so temperatures will vary based on location as well as the time of year. However, the country's springtime (October to mid-December in the UK) is an excellent choice, with fewer tourists than the peak season. And if seeing the glaciers is a key part of your trip, book from November to March, when they are at their most majestic. 
Things To Do
Iguazú Falls. This Unesco World Heritage site lies on the Argentine-Brazilian border, with a network of trails and viewpoints enabling tourists to observe the crashing falls from various angles. Take a boat trip to get right into the cascade and feel the force of some splashback. 
Glacier Perito Moreno. Found in the Parque Nacional Los Glaciares in Patagonia (land shared between Argentina and Chile), this wall of ice stretches for almost 19 miles. Steel observation points ensure you're completely secure, and if you're lucky you might see and hear the unique sounds of bergs cracking and reforming while you're here. 
Buenos Aires. Spot the famed balcony of the Casa Rosada, take a dance class, see the Thursday vigils at Plaza de Mayo and dine at a steakhouse. This ebullient, cosmopolitan city is the beating heart of Argentine life. 
The Andes. Trek a section of the highest mountain range outside Asia. The Andes are hauntingly beautiful and offer many experiences including climbing, skiing, or winetasting at the vineyards en route.
Where to Stay