Shakespeare's iconic Scottish play has been brought to life in limited-edition liquor form, with illustrations provided by Sir Quentin Blake and tasting notes in lyrical prose by whisky writer Dave Broom. Act One (containing nine characters) launched in February 2023, the first in a six-part series to be released, each evoking the personalities of Macbeth's cast.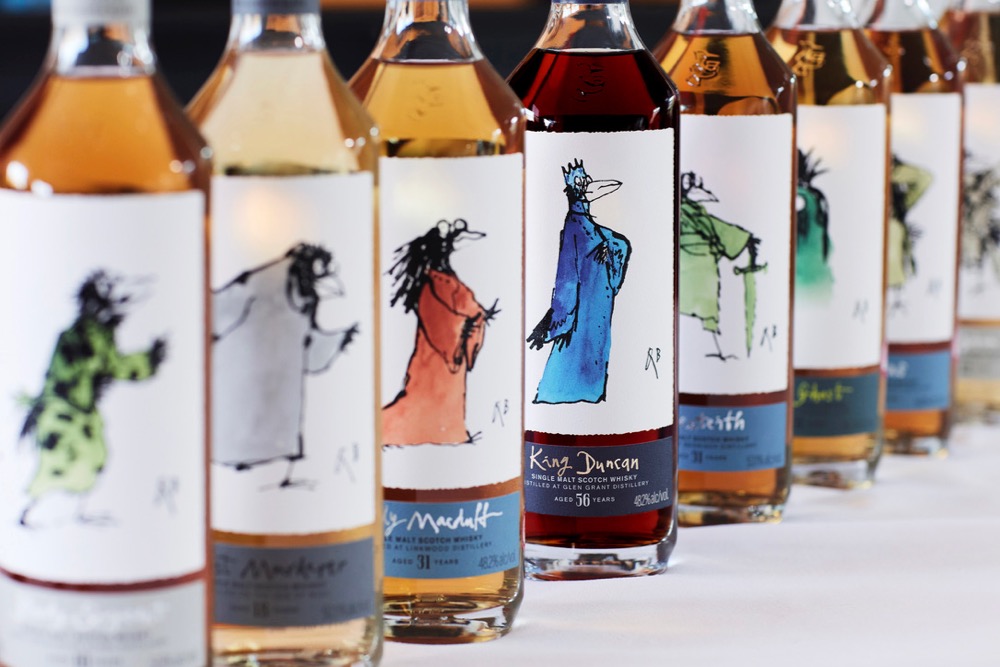 Gathering The Team
The collaborative team already has considerable form in this area; Lexi Livingstone Burgess, founder of Livingstone and also Burgess Studio is renowned for creative design work in Scotch; Sukhinder Singh is the owner of the award-winning independent bottler, Elixir Distillers; Dave Broom is a respected specialist writer and author with three decades of related experience; and then there are the inimitable illustrations of Sir Quentin Blake, who received a knighthood for his work (including notably with Roald Dahl).
The First Meeting
It was Lexi's fascination with the histories of whisky distilleries and the people around them that drove the project; the stories of allegiances, collective endeavour, ruthless ambition and intense rivalries that struck a chord. "I thought 'this is just like Macbeth'… and that was it," says Lexi. "The whole structure appeared in that one moment: the most famous Scottish play full of fantastic characters… all waiting to be cast as Scotch whiskies."
Lexi also shared the idea with Sukhinder, who found the connection with the Scottish king intriguing: "Sometimes in our industry a project presents itself that you can't say no to. This was one of them, a real one-off." Oliver Chilton, whisky aficionado and head blender for Elixir Distillers was also in at the ground: "It was a chance to create a remarkable compilation of whiskies, tapping into every corner of our stocks, from a different perspective, each one inspired by some of the most complete characters ever written and written about. It was a real passion project" he says.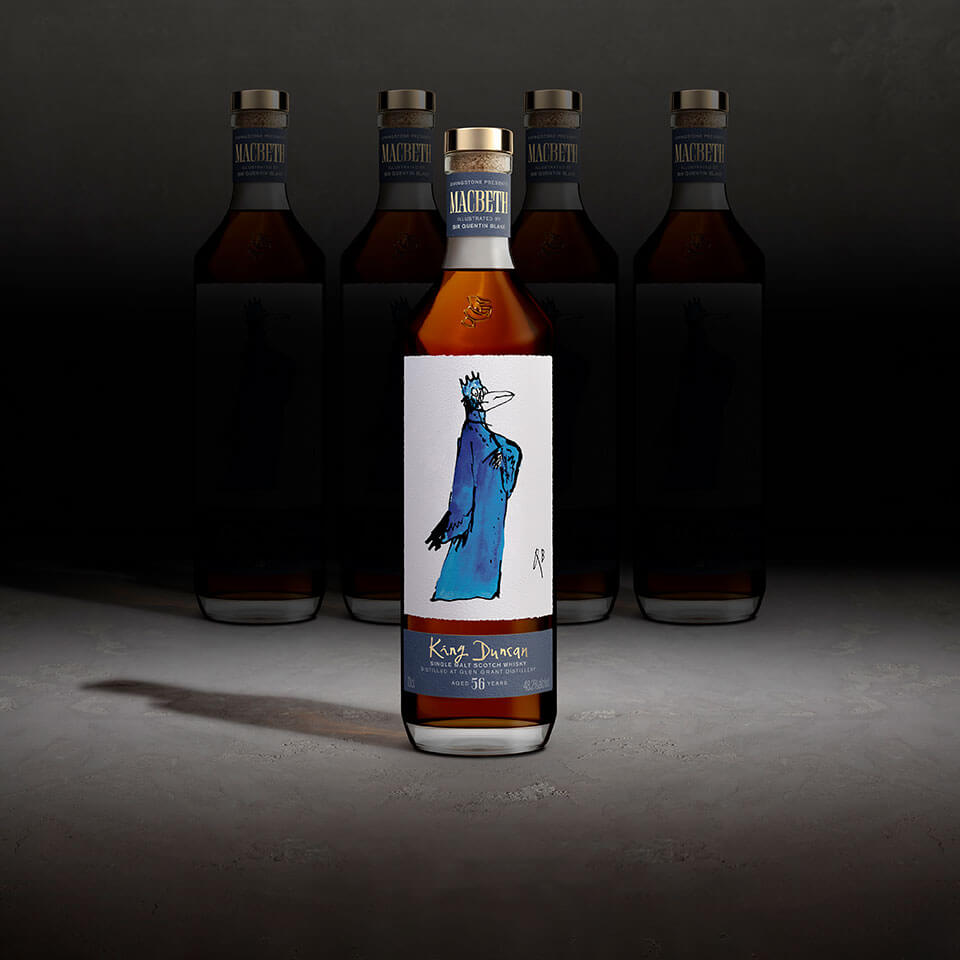 Defining Strong Characters
Lexi had worked alongside Sir Quentin Blake for over two decades while designing books and exhibitions. "He is an extraordinary person – 90 years old and still drawing all day, every day. Obviously, I wanted Quentin to illustrate the characters; he showed limited interest until I suggested drawing them as birds." Quentin, who has drawn anthropomorphic birds for decades and speaks of illustrating as a kind of acting, feeling rather than observing the gestures, rang the following day to say he had woken at 4am and completed a full set of rough drawings. "It was one of the most exciting moments of my working life," remembers Lexi.
With the drawings taken care of, it was time to assemble suitably dramatic text: cue Dave Broom. Character-led profiles were created following reading and re-reading of the play: "Smoke lends itself to creating the impression of wildness and danger, a straying to the dark side; the blood and gore of this tragedy brought to mind rich, sherried whiskies; light and 'goodness' felt best conveyed by refill American oak: golden, honeyed, soft, gentle and sweet," explains Dave.
Read about our favourite whisky here
Act One
The Macbeth collection will consist of six series, each containing a considered selection of the finest Scotch: The Leads (5 regal malts), The Thanes (12 noble malts), The Ghosts (6 ghost distilleries), The Witches (3 malts and a blend), The Murderers (4 island malts), and The Household (10 characterful whiskies). Appealing to whisky lovers and collectors alike, the collection will be released over a period of three years, revealed in 'Acts' featuring characters from across the six series. Available in limited quantities in select domestic markets around the world, they can be purchased in the UK exclusively at The Whisky Exchange and Livingstone.
Reflecting on the Macbeth series, Lexi Burgess commented: "It's a testament to the play. We felt an enormous responsibility to live up to it, and I see the evidence of that hard work in the extraordinary whiskies selected by Elixir Distillers, the eloquence and precision of Dave Broom's character notes, and in the illustrations by Sir Quentin Blake, who somehow makes everything look effortless."
The Macbeth Collection Act One is available now via The Whisky Exchange