Indulging in the world of whisky is akin to stepping into a realm of unparalleled sophistication and history. This amber elixir, born from grains with meticulous care, holds within its depths a story that unfolds with each sip. Whisky is not merely a drink; it is an embodiment of craftsmanship, an art form refined over time. From the smoky allure of Islay to the delicate allure of Speyside, the diversity of whisky flavours mirrors the tapestry of human taste itself.
As you hold a glass of whisky, the very act bespeaks of elegance and leisure. It's a drink meant for savouring, a companion for contemplative evenings and spirited conversations. From its inception through the intricate distillation process to the final liquid that cascades into your glass, every drop of whisky carries the legacy of generations, the wisdom of tradition, and the daring of innovation.
Join us on a journey through the world of our favourite whisky, where we explore its myriad expressions, from the bold and peaty to the sweet and delicate.
Smokehead Tequila Cask Terminado Islay Single Malt Scotch Whisky 
Smokehead, the daring Islay single malt scotch whisky brand continues its audacious trajectory with the introduction of Tequila Cask Terminado. This fresh addition to the portfolio this yeah amplifies Smokehead's already exceptional and experimental collection. Maturing in ex-Bourbon barrels before a finish in Tequila oak casks which produces a uniquely enticing whisky. The interplay of fiery peat and wild agave lends a distinct character, merging with meringue, blood orange, and barbecued pineapple notes, as well as hints of toffee, lime, and peaches. The long, sweet, and warming finish evokes an unparalleled experience. Embracing their unconventional ethos, Smokehead positions Tequila Cask Terminado as a versatile, captivating choice for both intimate and social occasions.
Edinburgh Castle Whisky
This exclusive whisky from Historic Scotland, Edinburgh Castle Whisky, is a highland single malt scotch whisky that has been aged for 10 years. On the nose, you will experience shortbread biscuit aromas with a touch of vanilla and honey. Upon tasting, you will be met with a variety of earthy sherry notes, orange peel, vanilla, and shortbread, all culminating in a subtle earthy finish from the ex-sherry casks.
Talisker 10 Year Old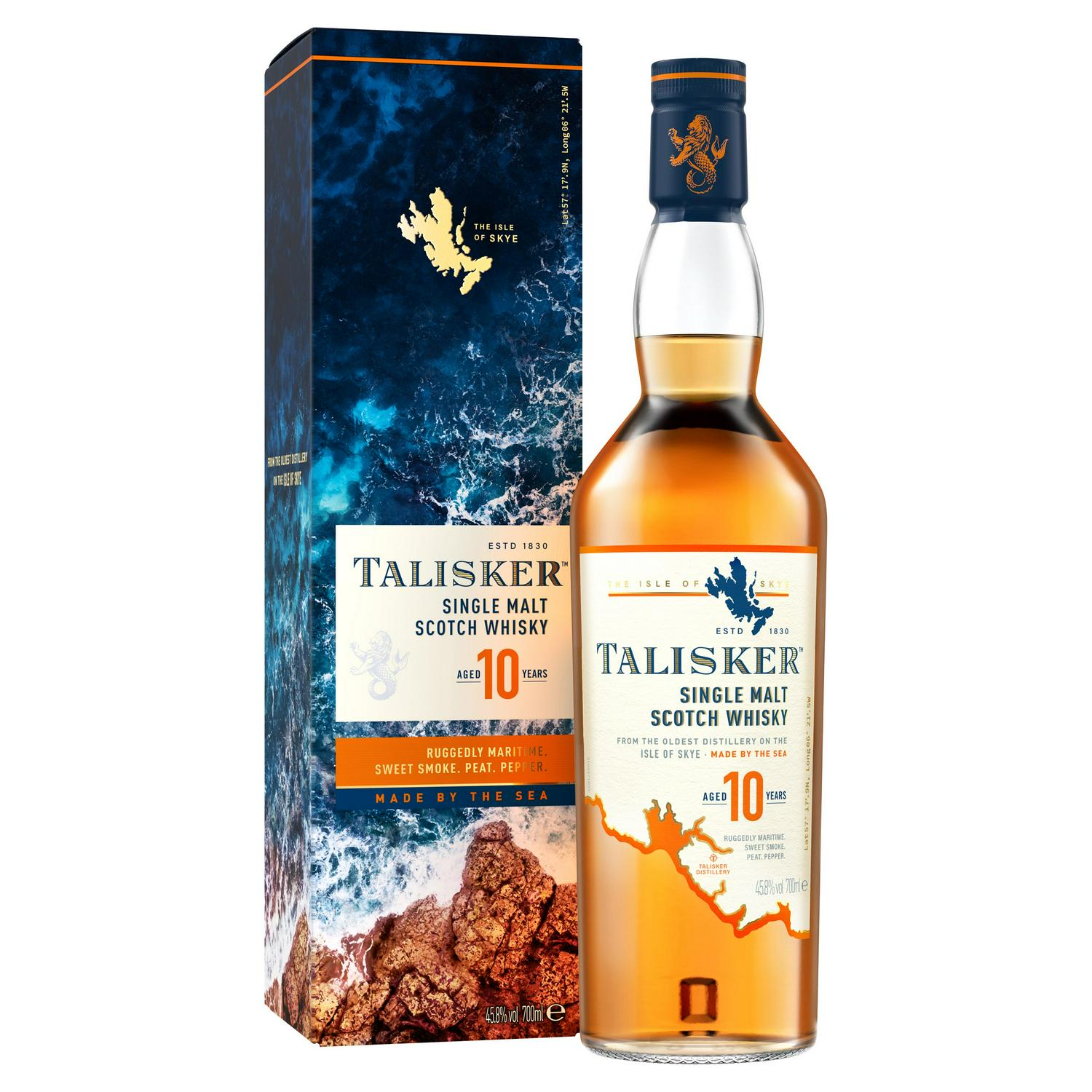 Talisker 10–Year–Old Single Malt Scotch Whisky is a highly–prized whisky made at the oldest distillery on the Isle of Skye, Scotland. It is double distilled and aged for a minimum of 10 years in American oak casks, and has won multiple awards, including Double Gold for the fourth year in a row at the San Francisco World Spirits Competition. It has a rich, deep character embodying the maritime characteristics of a coastal whisky, making it an ideal present for adventurers.
anCnoc 12
anCnoc 12-year-old is an award–winning single malt whisky from the Highlands of Scotland. It is complex yet smooth, with a nose of citrus fruits and sweet honeycomb, a creamy mouthfeel, and a long, fruity finish. Matured in a combination of second-fill American oak, ex–bourbon, and ex–sherry casks, it is the perfect whisky for any occasion.
The Whisky Exchange A Good Old-Fashioned Christmas Whisky
This year's Christmas Whisky from The Whisky Exchange is a rich, sherry-matured whisky from Blair Athol, blended with elegant old grain from Strathclyde and Cameronbridge, classic Speyside malt from Glen Elgin, and spicy new-oak-matured Linkwood. The result is a dram packed with Christmas flavour, perfect for the holiday season. The bottle design is a nod to tradition, with a festive orange and gold design that will make a great addition to any home bar.
Glenmorangie A Tale of the Forest Single Malt
The Glenmorangie A Tale of the Forest is a limited edition whisky that is made from barley that is kilned with woodland botanicals. The whisky is inspired by the woods near the whisky creator's home and is matured in ex-bourbon barrels. The whisky has notes of pine needles, woodland moss, eucalyptus, bitter orange, coriander, oak, peppermint, roasted chestnut, gentle wisps of smoke and juniper.
The Glendronach 12 Year Old
Nestled in the valley of Forgue, deep in the East Highland hills, is The GlenDronach, one of the oldest licensed distilleries in Scotland. The GlenDronach is of true Highland style: a complex and full-bodied spirit, perfect for slow maturation in Spanish sherry oak. This superb richly sherried single malt is matured for at least 12 years in a combination of the finest Spanish Pedro Ximénez and Oloroso sherry casks. Natural colour and bottled at 43%, The GlenDronach 12 year old is a sweet, creamy dram.
The Glasgow Distillery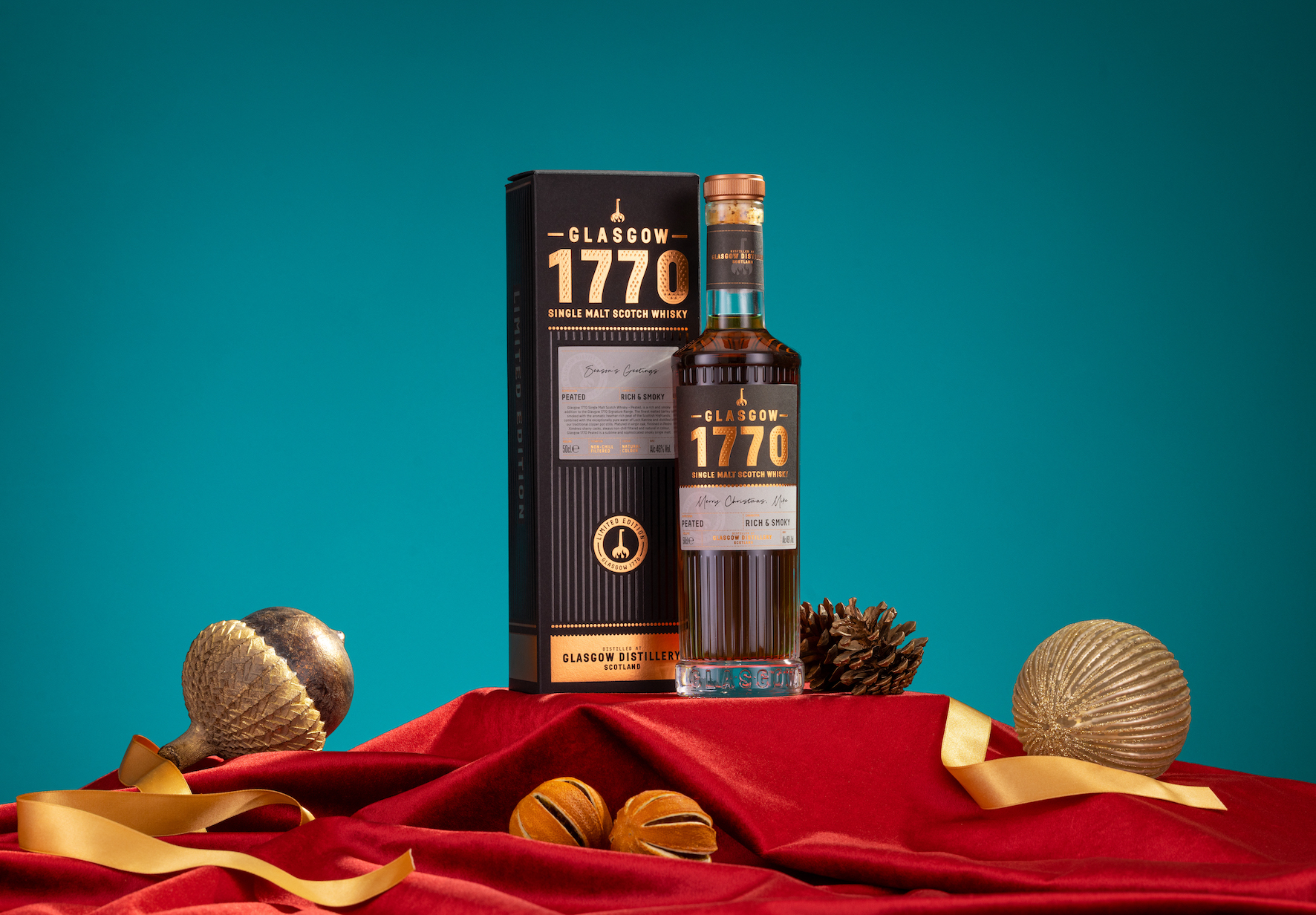 Bottling the best of Glasgow since 2014, The Glasgow Distillery is the home of contemporary distillers who are reinvigorating the spirit scene in the city. An independent, free-thinking distillery committed to sharing the stories of Glasgow, The Glasgow Distillery's 1770 range has something for every whisky fan, from whisky crackers to personalised bottles of its Glasgow 1770 Single Malt – ready to be shared and enjoyed.
Benriach
Known for its long-standing tradition of distilling classic, peated and triple distilled whisky and a vast eclectic cask inventory sourced from around the world, Benriach's portfolio has been artistically crafted by Master Blender Dr. Rachel Barrie and her team. Displaying the diversity and versatility of Benriach's orchard fruit-laden style, The Benriach range spans the full spectrum of whisky flavour – lending itself to a variety of flavour palates and creative serves.
Berry Bros. & Rudd Sherry Cask Matured – The Classic Range
With two Royal Warrants and over 300 years of history, Berry Brothers & Rudd is Britain's original wine and spirits merchant is family-owned and run and still trades from No.3 St James's Street, home since 1698. The team have selected a blend of sherry cask single malts to create this beautiful example of a well-sherried whisky. Sherry casks are a luxury in whisky making and these expensive barrels imbue a spirit with distinctive notes of deep fruit, citrus and nuts making their Classic Sherry Cask Malt deliver a balanced expression in a uniquely engaging style. Their Classic Range is a remarkable range of malt whiskies that epitomise the best of the four classic styles of Scottish Malt – The Regions of Islay and Speyside, and the distinctive cask styles of Sherry and Peat.
Ardgowan Distillery Clydebuilt Sailmaker
Ardgowan Distillery has invested in world-class technologies to put sustainability at the heart of its plans, aiming to become carbon negative. The distillery will begin production in 2024 with capacity to produce up to 1 million litres of premium whisky per year, and the combined facilities will create up to 47 new local jobs. Their latest release, Sailmaker, a new maritime whisky inspired by the rich heritage of Scottish shipbuilding, comprises a blend of six premium whiskies from Highland, Lowland and Speyside distilleries matured in first fill Oloroso sherry casks.
Talisker 10-Year-Old Single Malt Scotch Whisky
As one of the most awarded single malt Scottish whiskies in the world, with its smoky and spicy notes and comforting afterglow, Talisker 10-Year-Old Whisky has a famously rich and powerful peat–smoke flavour while the finish leaves you with a warm peppery taste at the back of the mouth. Double distilled to create a rich, deep character embodying the maritime characteristics of a coastal whisky, and then aged for a minimum of 10 years in American oak casks, this whisky is best served neat.
Glenfiddich Orchard Experiment Single Malt Scotch Whisky
Glenfiddich Orchard (43% ABV) is a single malt Scotch whisky that is finished in Somerset Pomona Spirit casks. This gives the whisky a sweet and fruity flavour that is unique to Glenfiddich. The Orchard is part of the Glenfiddich Experimental series, which brings together two maverick families. The Glenfiddich family is known for their Scotch whiskies, while the Somerset family is known for their Pomona spirits. Together, they create a Scottish whisky that is bathed in the sweet warmth of an English summer's day.
The Macallan 12-Year-Old Double Cask Single Malt Whisky
The Macallan Double Cask 12 Years Old is part of the brand's Double Cask range, which marries the classic Macallan style with the unmistakable sweetness of American oak. Creating a distinctive style thanks to maturation in both European and American oak casks, Macallan's 12-year-old, sherry-seasoned whisky is sweet and rounded. On the nose is an aroma of creamy butterscotch with hints of toffee apple, candied orange, and vanilla custard, while the palate is honeyed, balancing wood spices and citrus with raisins and caramel.
Sagamore Spirit Rye American Whiskey
Sagamore Spirit Rye Whiskey is a blend of two different straight rye mash bills. One is high in rye, which gives it a cinnamon and clove flavour. The other is low in rye, which gives it more of a caramel, honey, and citrus peel taste. The final spirit is made with water that has been filtered through limestone, and it represents Sagamore's thoughtful approach to crafting a classic Maryland-style rye whiskey.
Highland Park
Highland Park 12 Year Old Single Malt whisky is matured mostly in European and American sherry seasoned oak casks. It's spicy and well-rounded, with the flavours of Seville oranges and fruitcake spiced with cinnamon, nutmeg, and cloves coming through. You'll also find heather honey and peat smoke in this whisky. Perfect wasabi peas, a pan-fried rib-eye steak, or smoked salmon and sour cream.
Coachbuild Whisky
George Koutsakis and Jenson Button have announced the launch of their new premium Scotch blended whisky, Coachbuilt. The whisky is a blend of liquids sourced from all five iconic whisky–producing regions of Scotland: Islay, Speyside, Campbeltown, Highlands and Lowlands. Aged in premium sherry casks for a marrying period, resulting in a beautifully balanced whisky with rich depth and complexity of flavour.
Aberlour A'bunadh Alba
Aberlour A'bunadh Alba is handcrafted in the Speyside village of Aberlour and is the first whisky by the brand to be matured in 1st fill American White Oak barrels that previously held bourbon. Bottled at cask strength (ABV 62.7%), this whisky is the closest you will get to experiencing whisky straight from the cask. This groundbreaking release is created in small batches to ensure a single malt of the highest standard is produced.
Glenlivet Licenced Dram
The distillery was the first to be licensed in Speyside, back in 1823, and Glenlivet's new dram pays homage to this heritage. It's the second limited edition from The Glenlivet Original Stories series, a 12-year-old bottling dedicated to the brand founder George Smith, who received the licence. Matured in first-fill American and first-fill European Oak-Casks, this whisky is bottled without chill-filtration with an ABV of 48%vol.
Bunnahabhain Stiuireadair Islay Single Malt Scotch Whisky
Stiùireadair means 'helmsman' in Scots Gaelic and specifically the Bunnahabhain helmsman in this instance. This expression celebrates the sea and the coast where the whisky was matured (by the Sound of Islay) in first and second fill sherry casks. It's non-chill-filtered and left with its natural colouring. The result is a creamy liquid with notes of dried fruit, sea salt, caramel, nuts and gentle spice. This particular Islay single malt is unpeated, allowing for a sweeter flavour, representative of its home island.
Black Bottle's Island Smoke
Brand new in 2021, is Black Bottle's  Alchemy Series. It's made up of two whiskies, including this blended Scotch whisky titled Island Smoke and the Double Cask expression. Island Smoke it one for those who prefer a peatier, smoky taste to their tipple and for those who enjoy a hint of something coastal – the liquor has a nose of coastal air, scorched oak and seaweed and alongside vanilla sweetness and kicks of spice.
Tobermory 23-year-old Oloroso
Derived from the popular Tobermory 15-Year-Old release in 2008, this incarnation has luxuriated in extra years of maturation, for a deeper flavour profile. The 23 year old single malt has been finished in Gonzales Byass sherry casks after ageing in refill hogsheads. It has notes of caramelised dates and walnuts, orange, barley, blackcurrant jam and brioche, with a palate of crunchie bars, melted butter, rum cake, sultana, fig, vanilla tablet and milk chocolate.
Glenmorangie X
The Highland single malt has been created in collaboration with leading bartenders, as, unlike others from the distillery, it's been made with a view to mixing, rather than drinking straight. It contains notes of pear, vanilla, orange and fudge, lending itself nicely to a fruity, rich cocktail.
Ardbeg Blaaack Single Scotch Limited Edition

A very special and unusual whisky from the monster-themed distillery, it's a limited edition and comes in a beautifully designed presentation box. It's a feisty liquor celebrating Ardberg's 20 years in the business. Pinot noir casks from New Zealand have been used to mature the liquid, resulting in flavours evocative of summer fruit pudding, bitter cherry, soot and Ardbeg's hallmark smoke.
Blue Spot 7-Year-Old
Another great option for those who like their whisky spicy! This brand has had a recent resurgence after disappearing from supermarkets and off licences back in the 1960s. Relaunched by Mitchell & Son as a triple distilled 7-year-old single pot still Irish whiskey, Blue Spot is matured in bourbon, sherry, and Madeira casks, then bottled at cask strength. As such, it's full of character, flavour and packs a punch.
Glen Scotia 30-Year-Old
This is the latest release from the Campbeltown-based distillery. This single malt was drawn from European oak casks and bottled up at cask strength and with only 500 bottles produced, it's a limited edition. It has notes of violet, lavender, seaspray, green apple, nutmeg and allspice. Honeyed pear and candied lemon peel break through the spiciness and into the smoothness of dark chocolate and espresso.
Benromach Classic Speyside 15-Year-Old Whisky
Like your whisky neat? Choose this 15-year-old Speyside designed to be enjoyed by itself (or perhaps with a little splash of water). It comes from the family-run Benromach distillery and has a deep flavour. Sherry aromas blend with vanilla pod, zesty orange and spicy ginger along with chamomile and menthol notes. To taste, it's reminiscent of fruit cake with stewed plum, red apple skin and the tanginess of kiwi fruit.
Tamdhu Batch Strength #6
The perfect festive gift or digestif for the yuletide season, this bottle contains notes of Christmas cake, cinnamon and dates. It's Tamdhu's sixth batch of this single malt strength and has been matured in Oloroso sherry casks, before being bottled at a whopping 56.8% ABV. As such, it's sure to last you a while and will certainly keep you toasty on chilly nights.