In this day and age it is so easy to plan a weekend break outside of the UK; hop on a plane and you can be across in mainland Europe in next to no time (which I love doing). However the whole process or flying does leave me feeling tired afterwards and a weekend break to a capital city in Europe often doesn't help me recharge my batteries. With this in mind I have been looking for weekend break spots in the UK close to Edinburgh, where I can jump on a train, sit back, relax and unwind which is where we hit upon the idea of a short break to the historic city of York – an easy 2.5 hours train journey from Edinburgh and you are in the heart of beautiful York.
York has a good range of boutique and luxury hotels, but we wanted to stay  somewhere extra special, to really make the weekend something to remember, which is why we decided to stay at Middlethorpe Hall, located in the countryside on the outskirts of the city.
Read on and find out more about this stunning Stately Home hotel.
Background and Concept
Located just two miles outside the city centre, Middlethorpe Hall is a William III country house set into 20 acres of manicured gardens and parkland. This stately home was built in 1699 and today it's a beautiful country house hotel managed by The National Trust.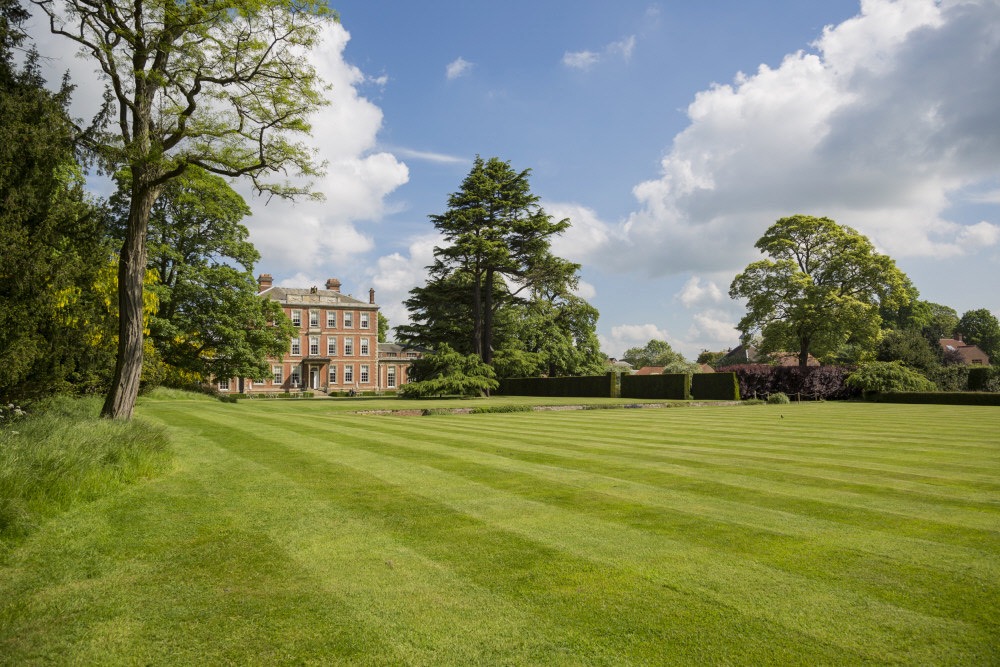 Style
Middlethorpe Hall is sophisticated and relaxed at the same time, which works perfectly for me. Expect to be greeted at the door by the doorman, have your luggage carried up to your room, a turndown service at night and treated like a king at dinner time.
Yes you need to dress up for dinner, but there isn't a pretentious feel to the hotel, you can truly relax and let the incredibly friendly staff take care of you. Relaxation is what you are there to do and they have an onsite spa to help you do this.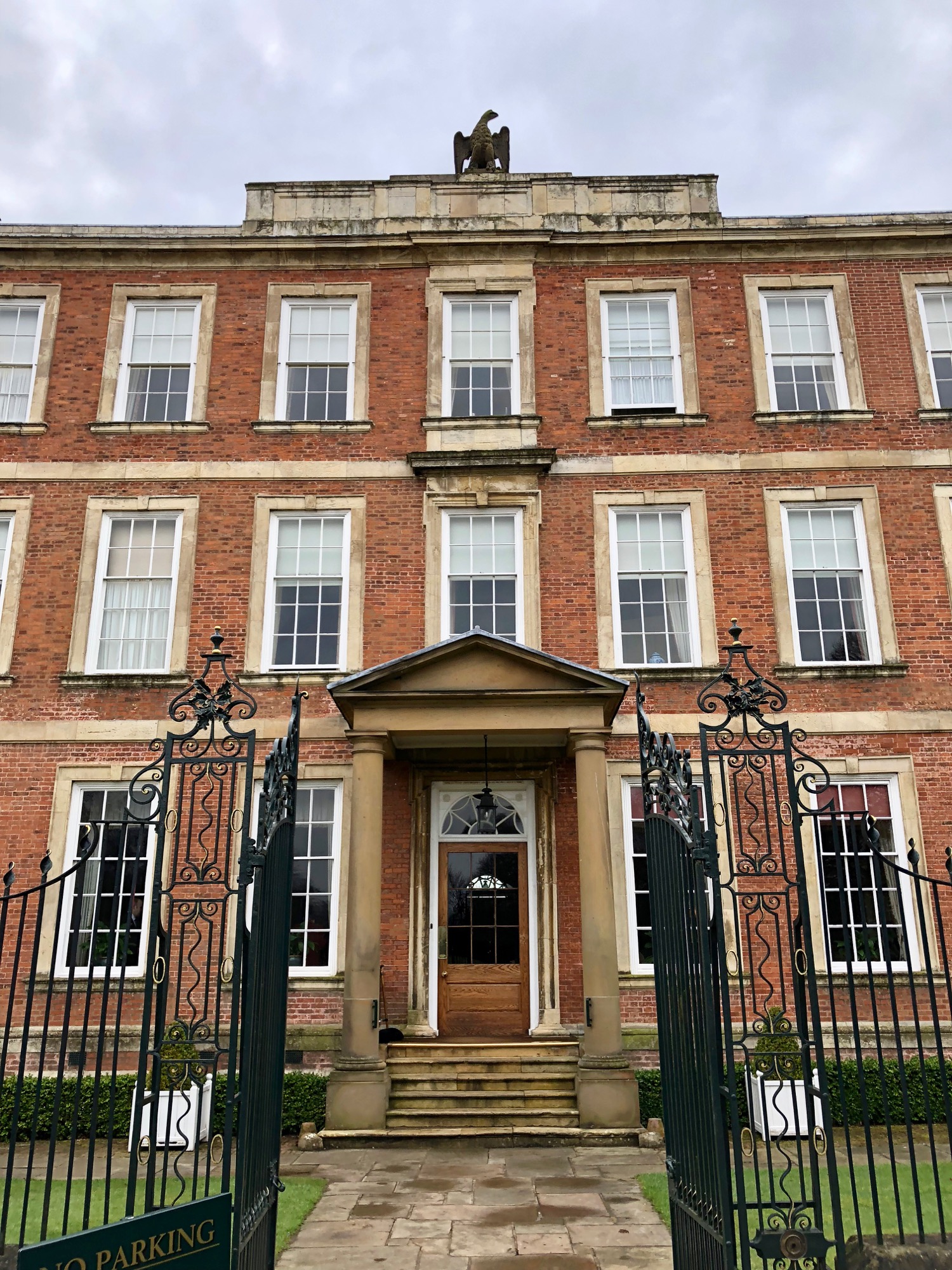 The building is over 300 years old, so it comes with some squeaky floor boards and scuffs here and there. If you are after state of the art luxury experiences, Nespresso machine, Alexa sound system and rain showers in the bathroom you won't find them here.
Instead we have a touch of old school luxury; coffee and tea brought to your room on a tray, a trouser press in your room and a tin of freshly baked biscuits in your room each day which I think this just adds to the hotel's charm.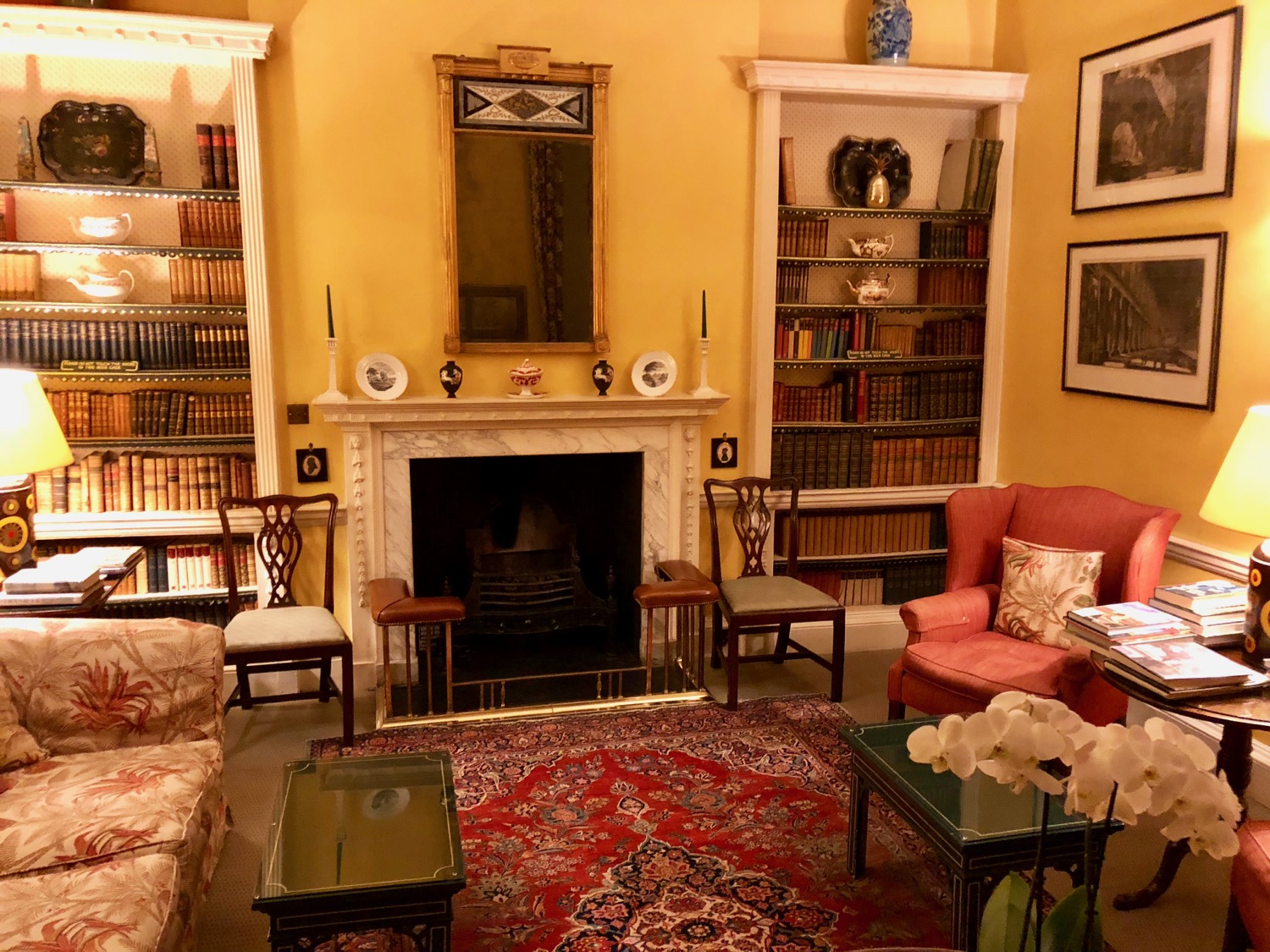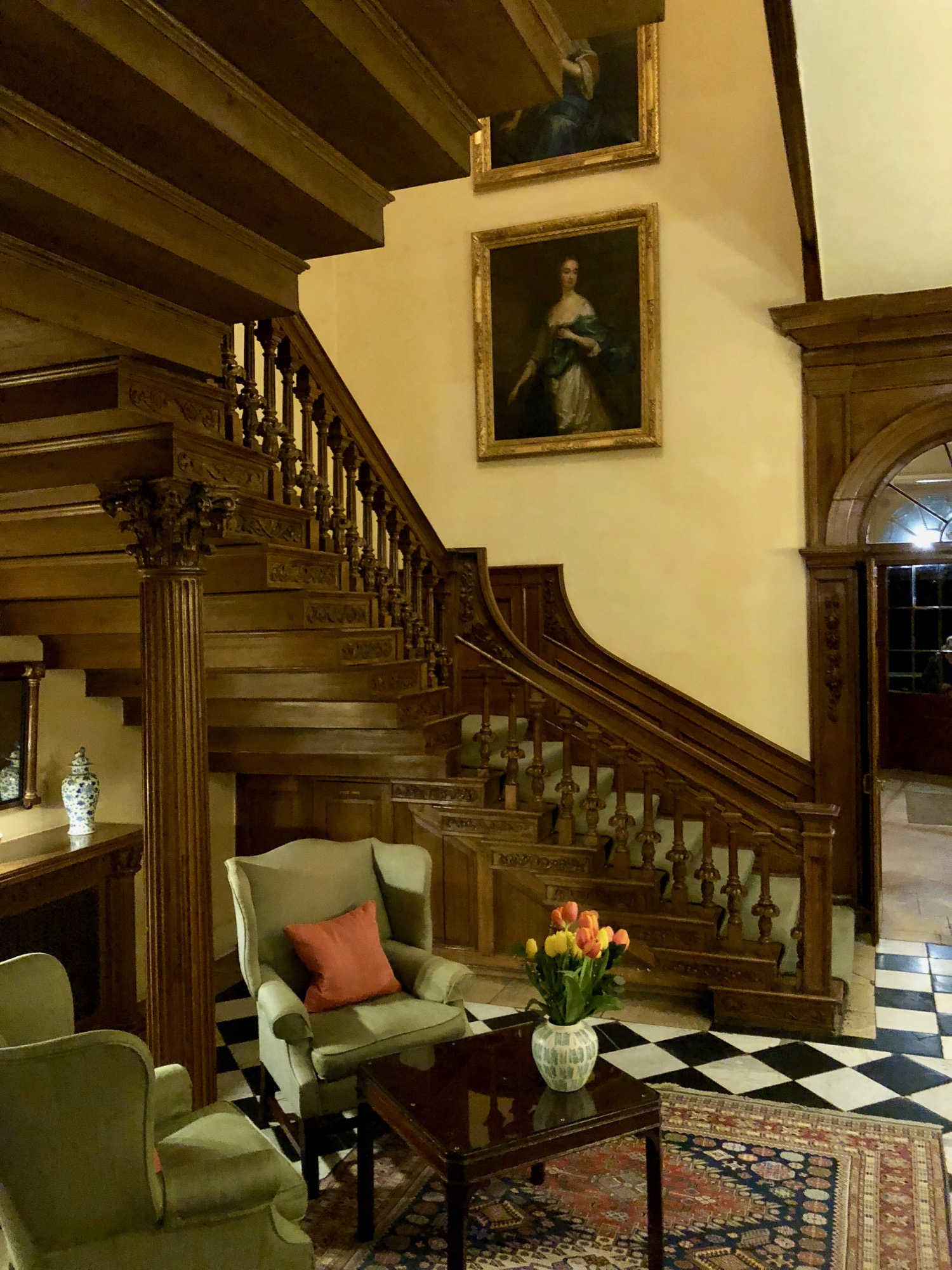 Location
You really have the best of both worlds as you are just 2.5 miles south of York city centre in manicured countryside next to York race track. You can enjoy the trapping of the city day time and relax back in the hotel and enjoy the countryside in the evening.
It's quite a nice walk from the hotel to the city centre and around £10 in a taxi to the heart of York so all very convenient.
Public Rooms
Middlethorpe Hall has a number of public rooms to call your own. Including the Grand Sitting Room when you can spend an afternoon reading a good book as well as having pre dinner drinks in it before your meal.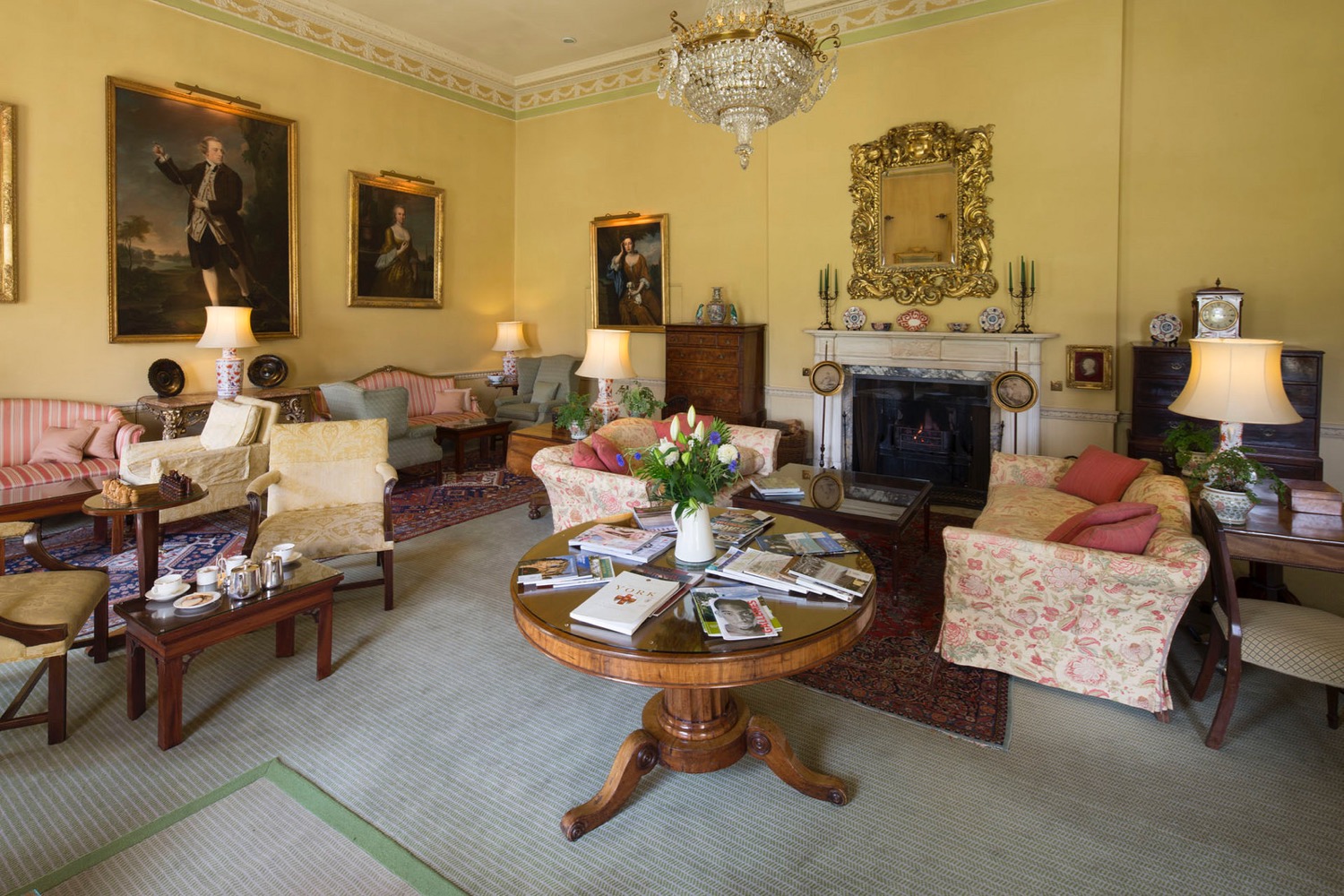 Accommodation
There are only 29 rooms and suites split across the main hotel and the courtyard, which means there is a nice buzz to the place, without feeling like you are tripping over guests. Bedrooms and suites in the main house are filled with antiques and curios, think writing desk in your room four poster beds and ottoman dressers and knick-knack giving each room its own character.
Our Bedroom Suite
We had room number 9, which is a suite in the main house up in the top floor.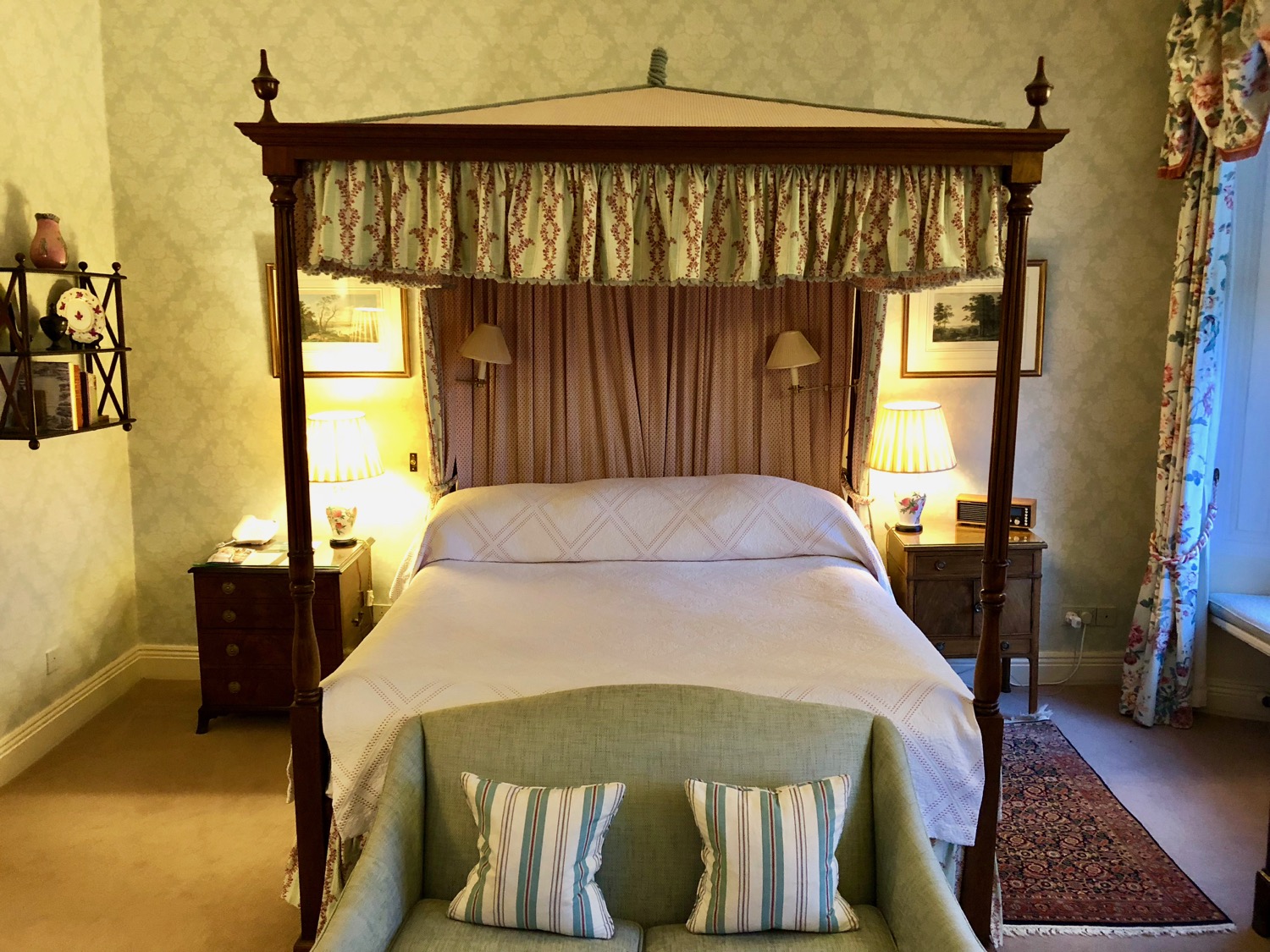 Rooms in the house have views out the garden, what an amazing view to wake up to in the morning.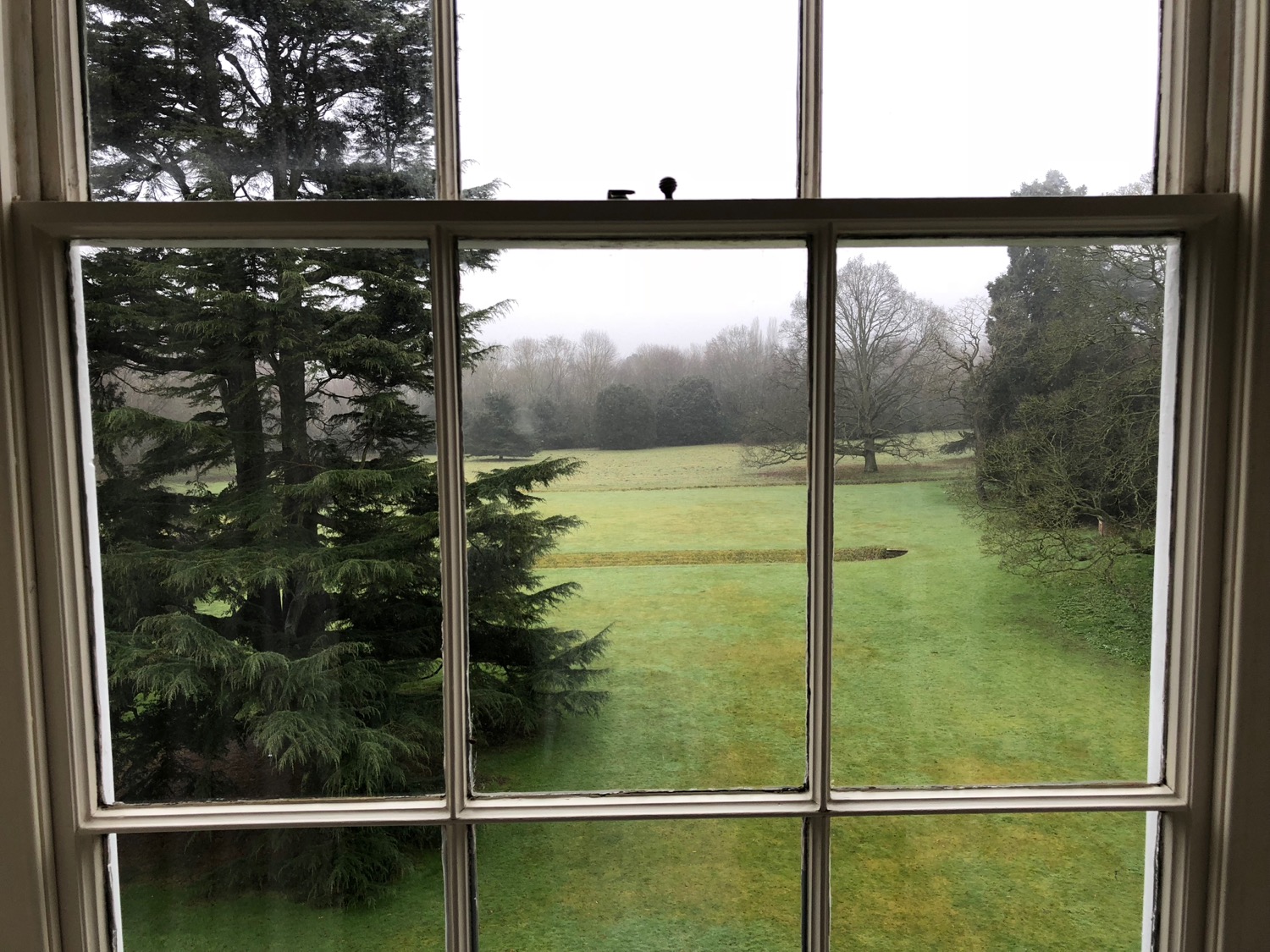 You really do feel like you are in a stately home, rooms are furnished in keeping with the period of the building.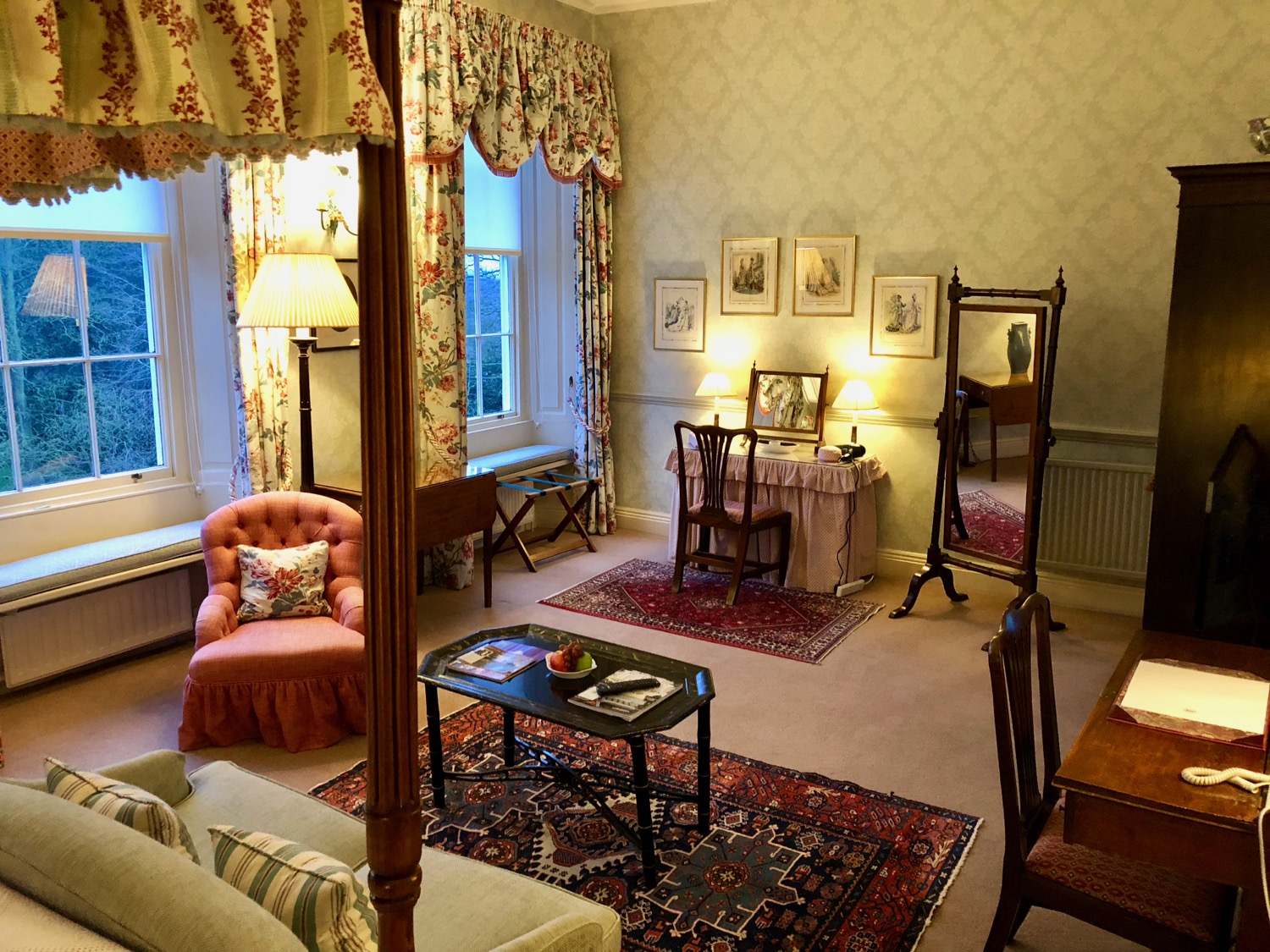 A tray of fresh water and homemade shortbread is left for you in your room.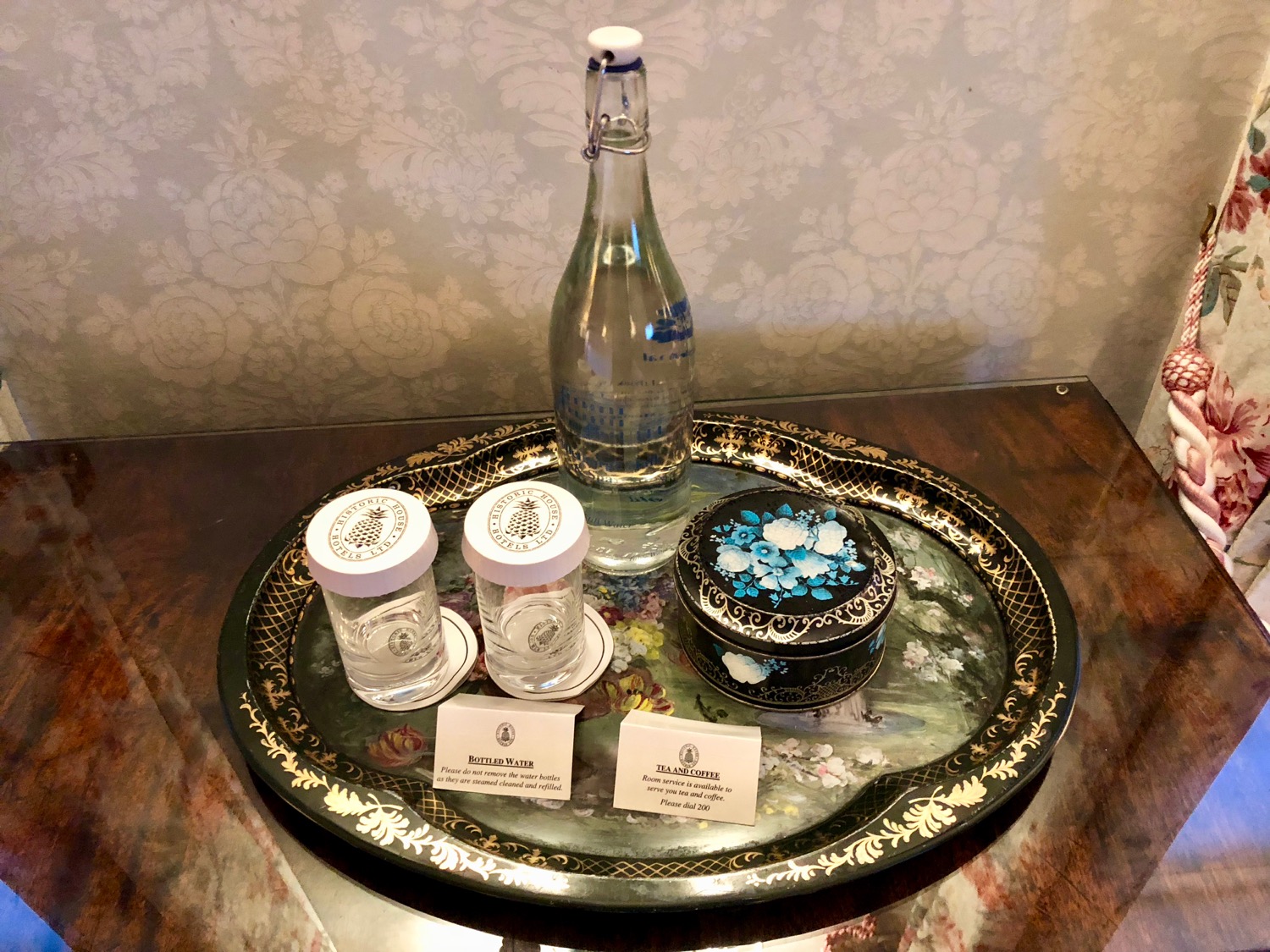 I loved the fact that you could order a pot of coffee to your room, (I must admit I do love my Nespresso machine) but I could get used to a tea-tray!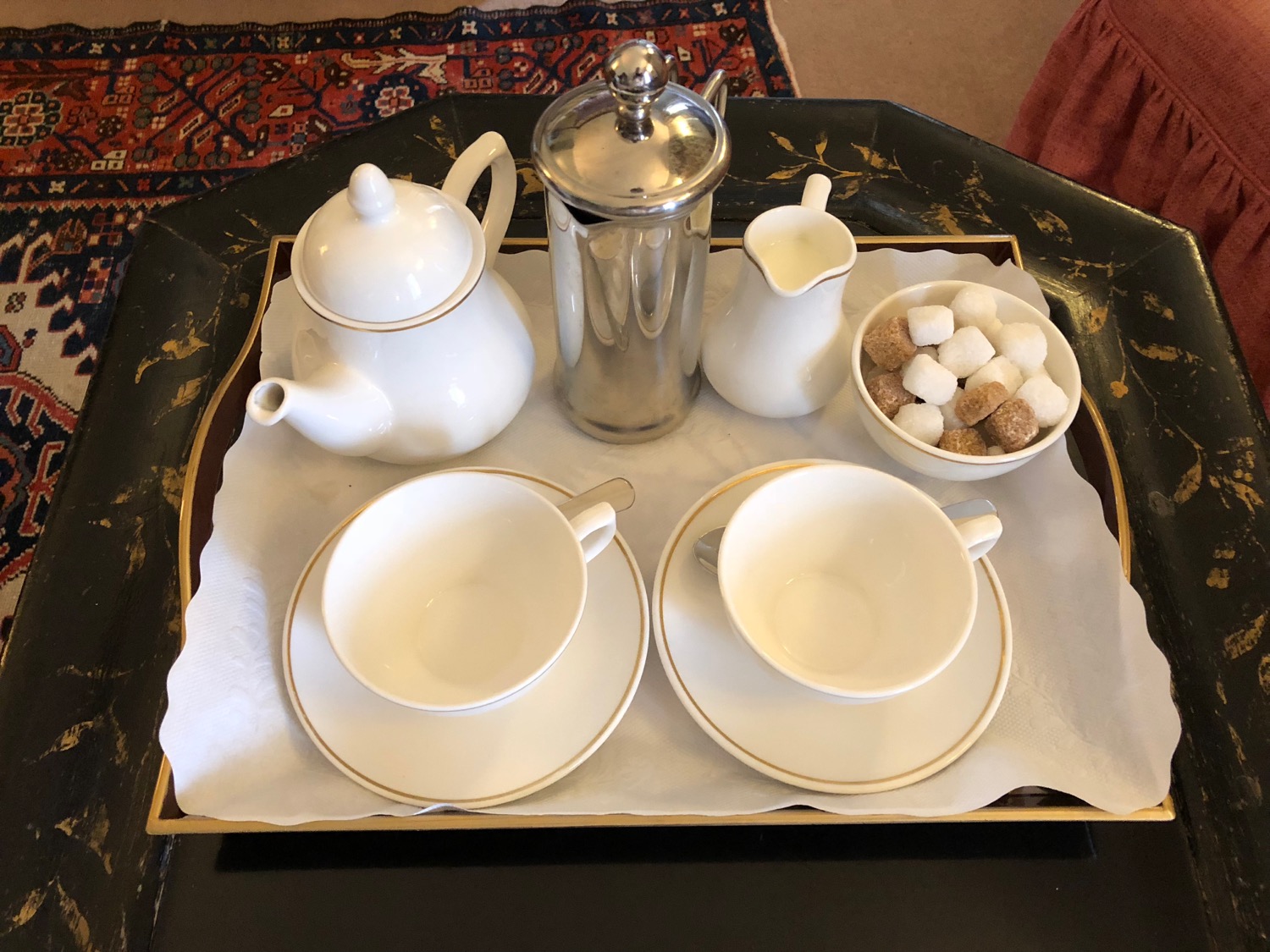 The room became super cosy in the evening and there is a turn down service so your curtains are drawn and bed turned down when you arrive back after dinner.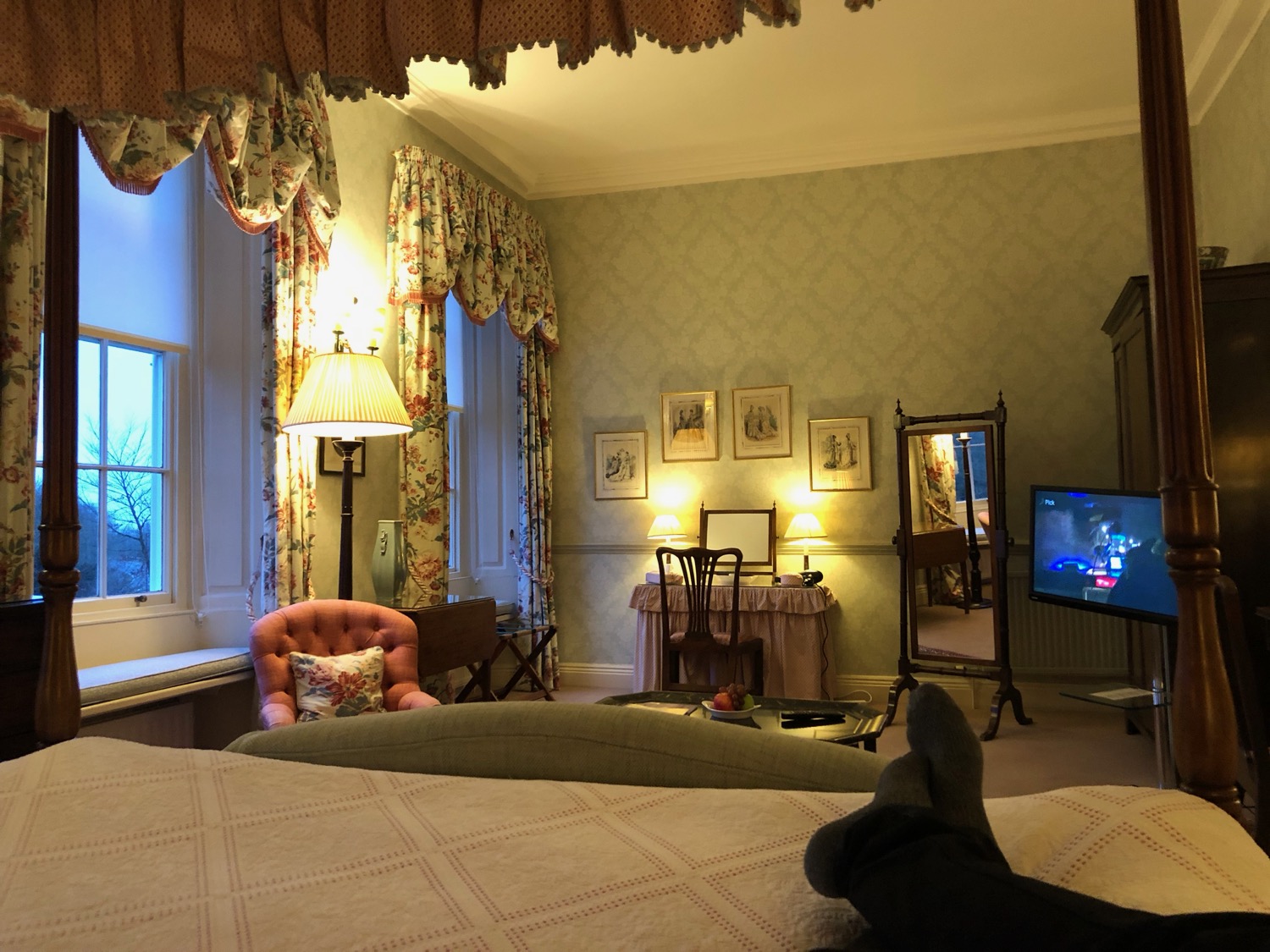 Food and Drink
Dinner and breakfast are served in the 1699 wood panelled dining room at the back of the house which looks onto the garden. The restaurant has become a destination in itself with many people visiting the hotel just for dinner so it does get booked up quickly dues to its popularity.
Dinner starts off with pre dinner drinks in the drawing-room, settle into one of the sofas and start to leaf through the various menus presented to you.
Head Chef Ashley Binder and Pastry Chef Paul Harrison have created two dinner experiences. Go all out with their six course tasting menu which can be paired up with matched wines or pick from the A la carte menu.
The restaurant has been awarded two AA Rosettes, which is no mean feat, but given the quality of the food and overall dining experience I can see why.
Dress code is smart so pack a shirt and trousers.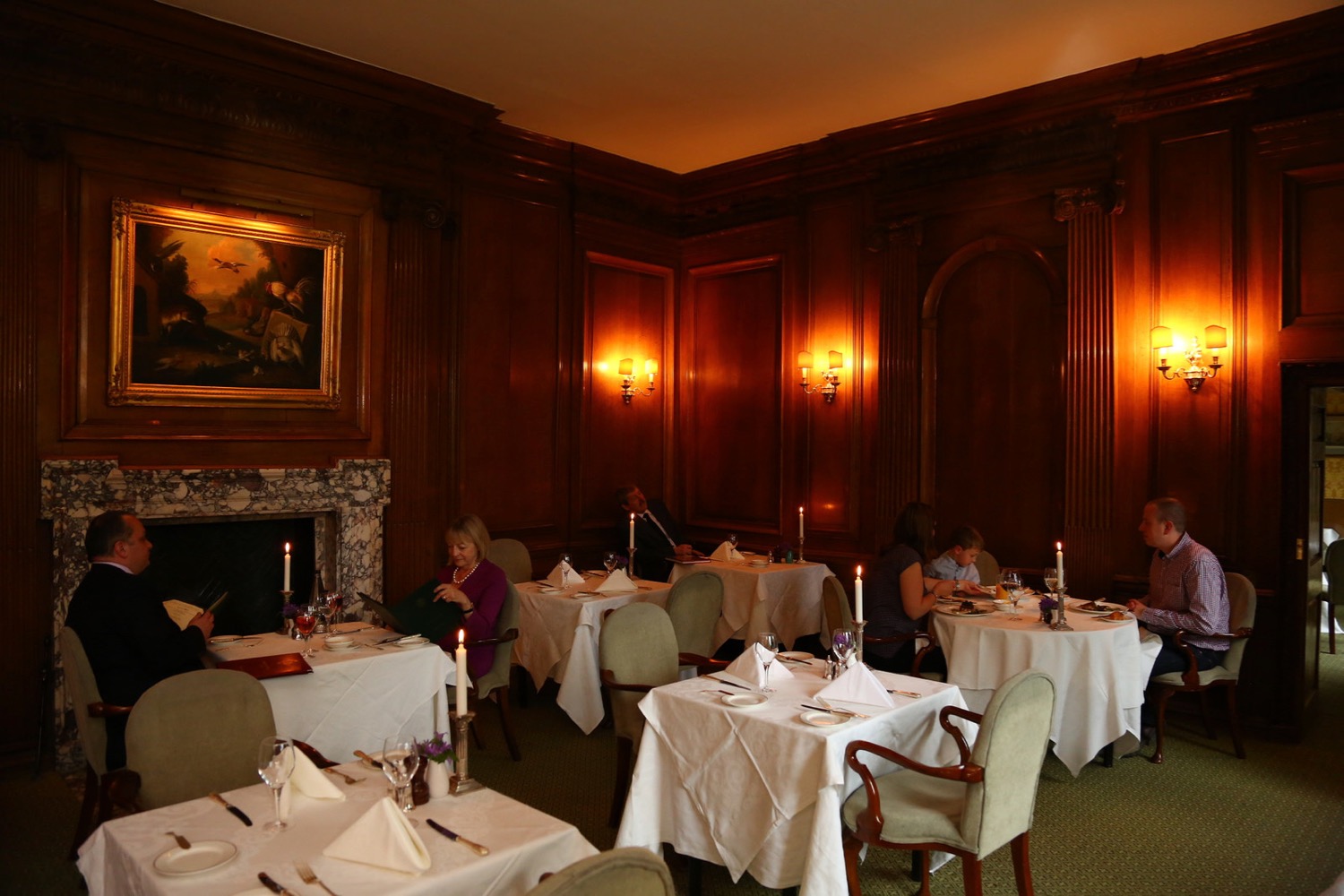 Menu options focus around meat, fish and game with a focus on using locally sources ingredients.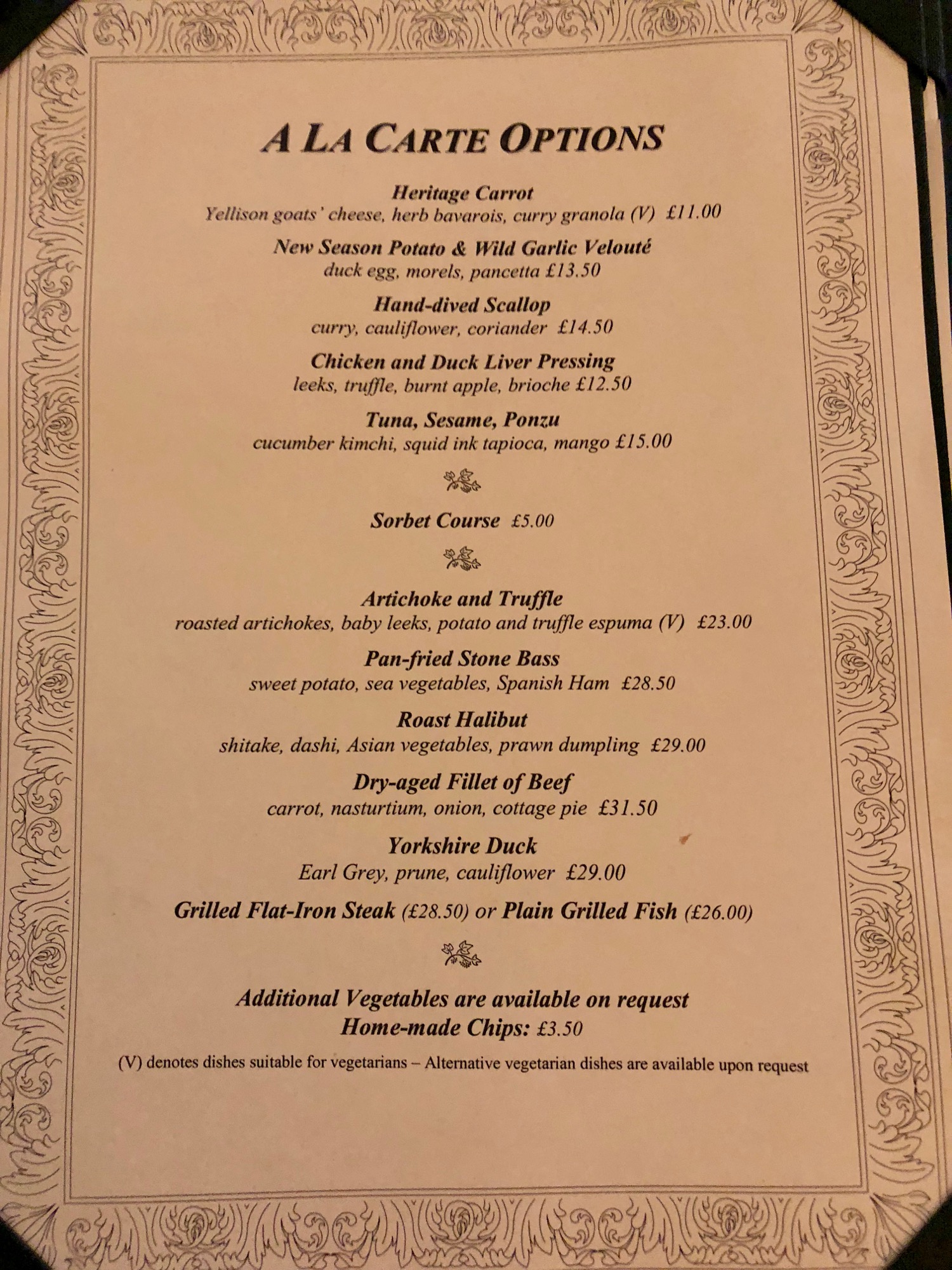 What We Ate
Our dinner was a beautiful experience, made even more special by the bubbly waitress who we got talking to.
Amose Bouche
We started off by having a small Amouse Bouche in the drawing room while we ordered out dinner. I also must say that they have very large wine cellar, with a huge range of wines. Bottles start around £30 and increase in price up to vintage wine prices.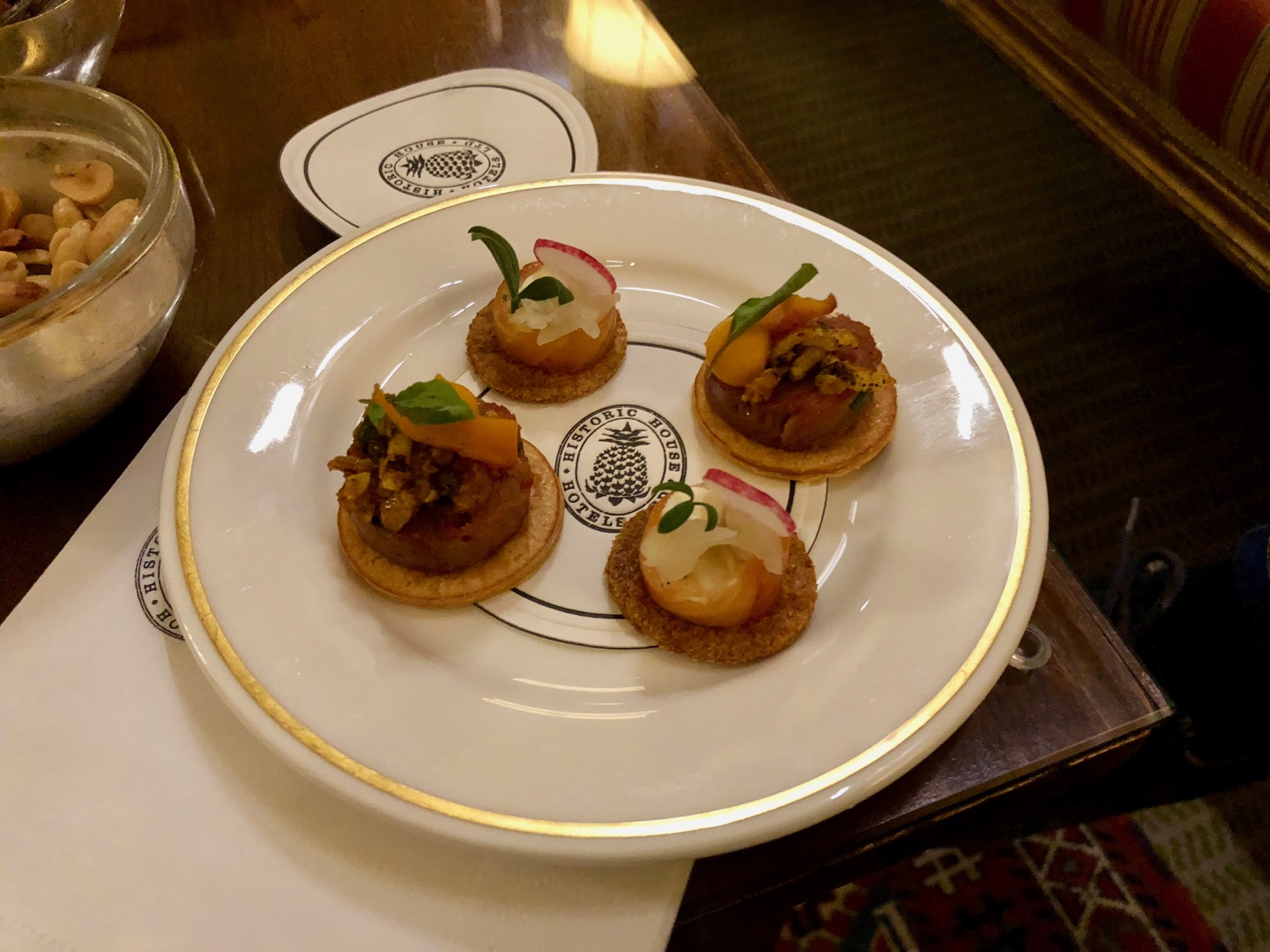 Starters
I opted for the scallops while my dining partner went for the tuna, both incredibly beautiful to look at and taste.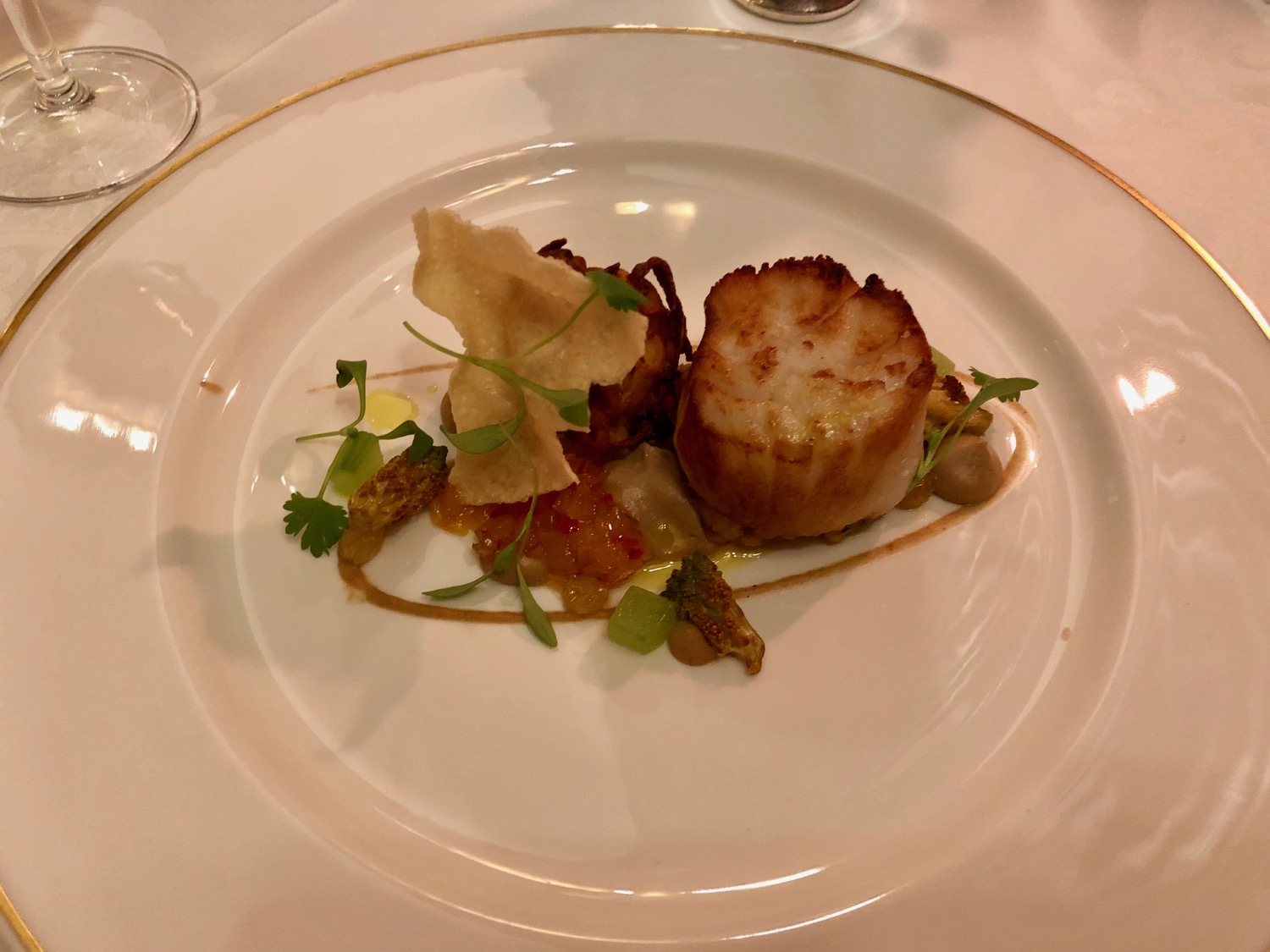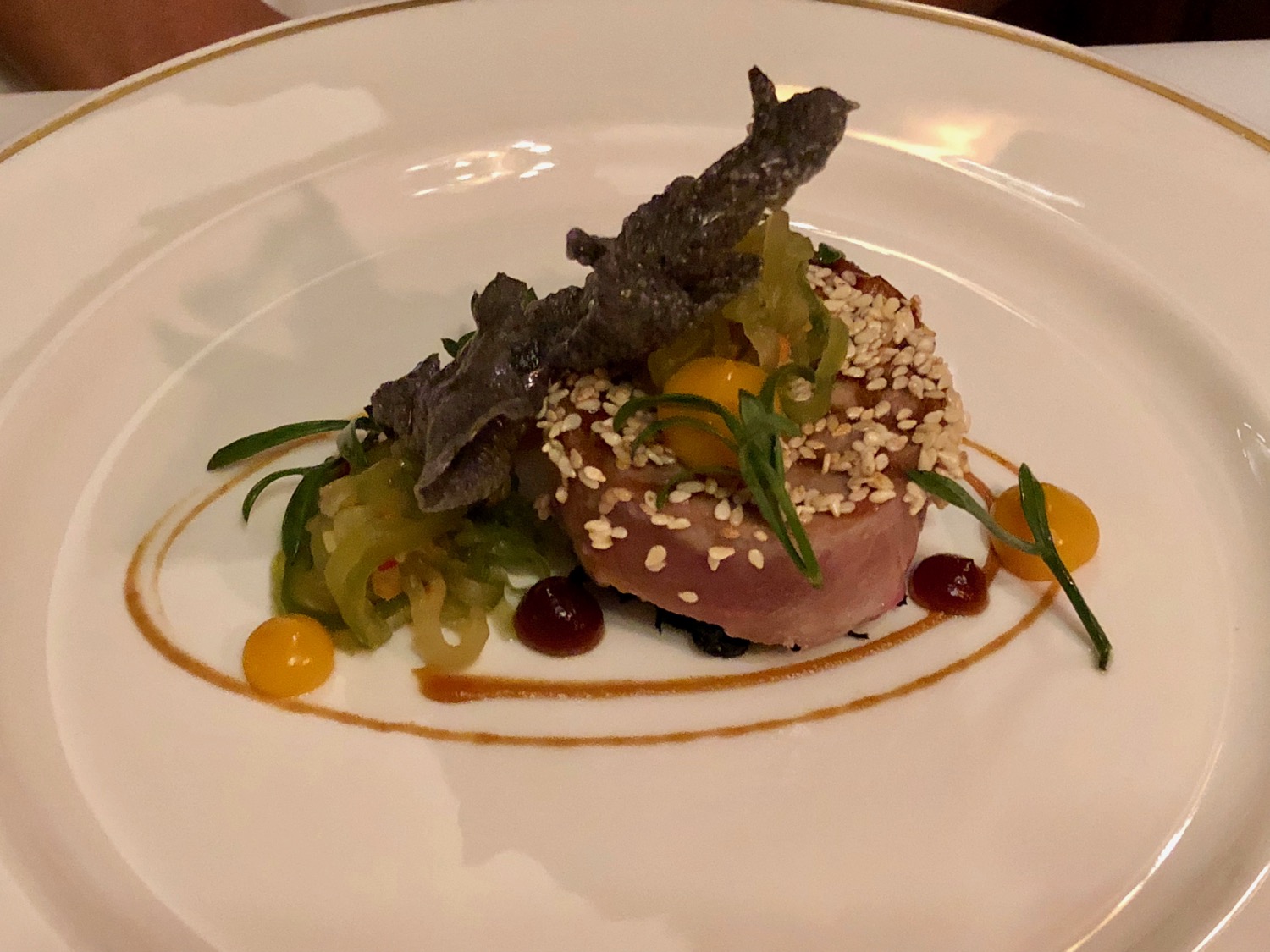 Mains
For mains we went for the duck and I had the beef which I really couldn't fault – sensational.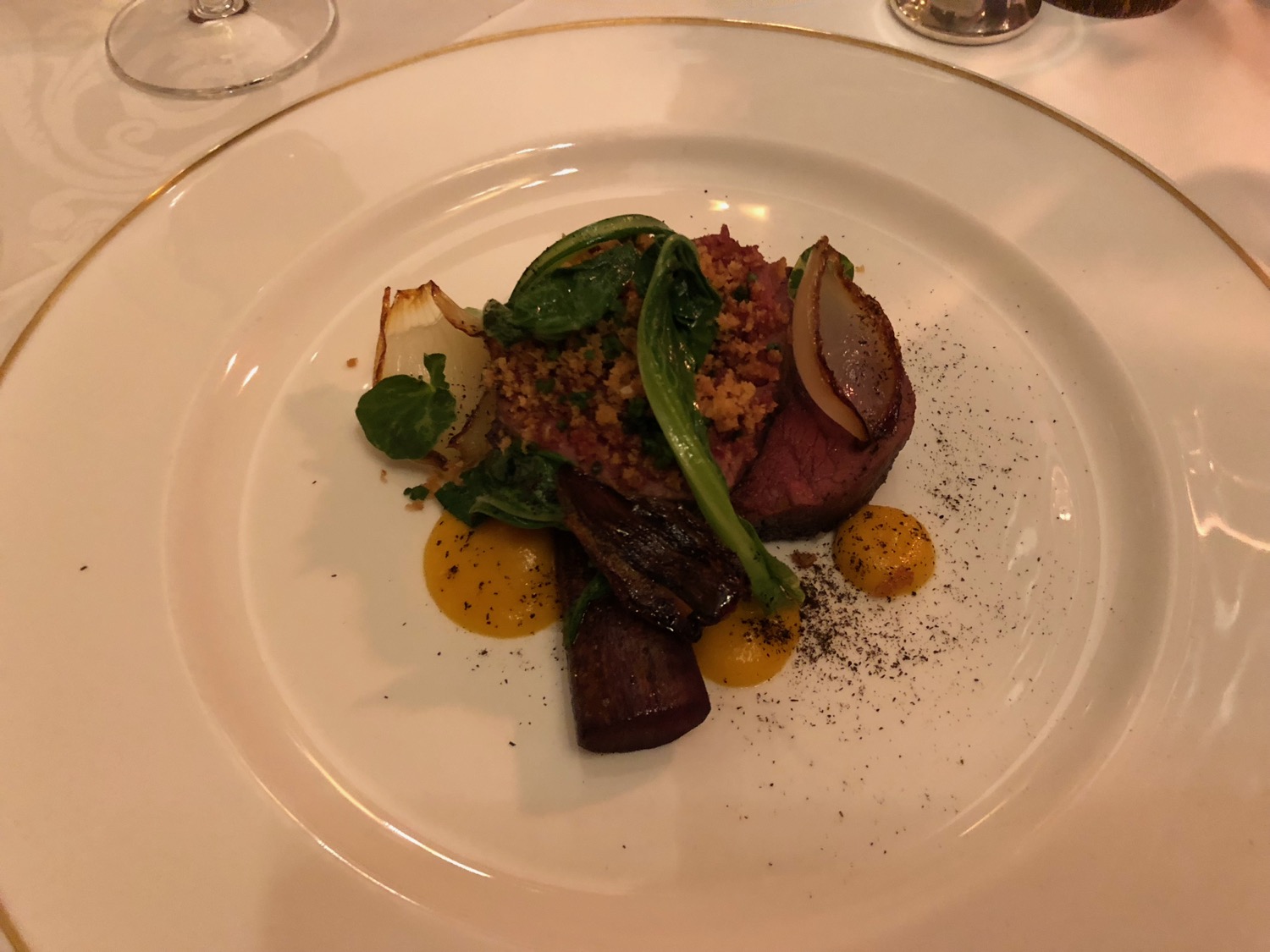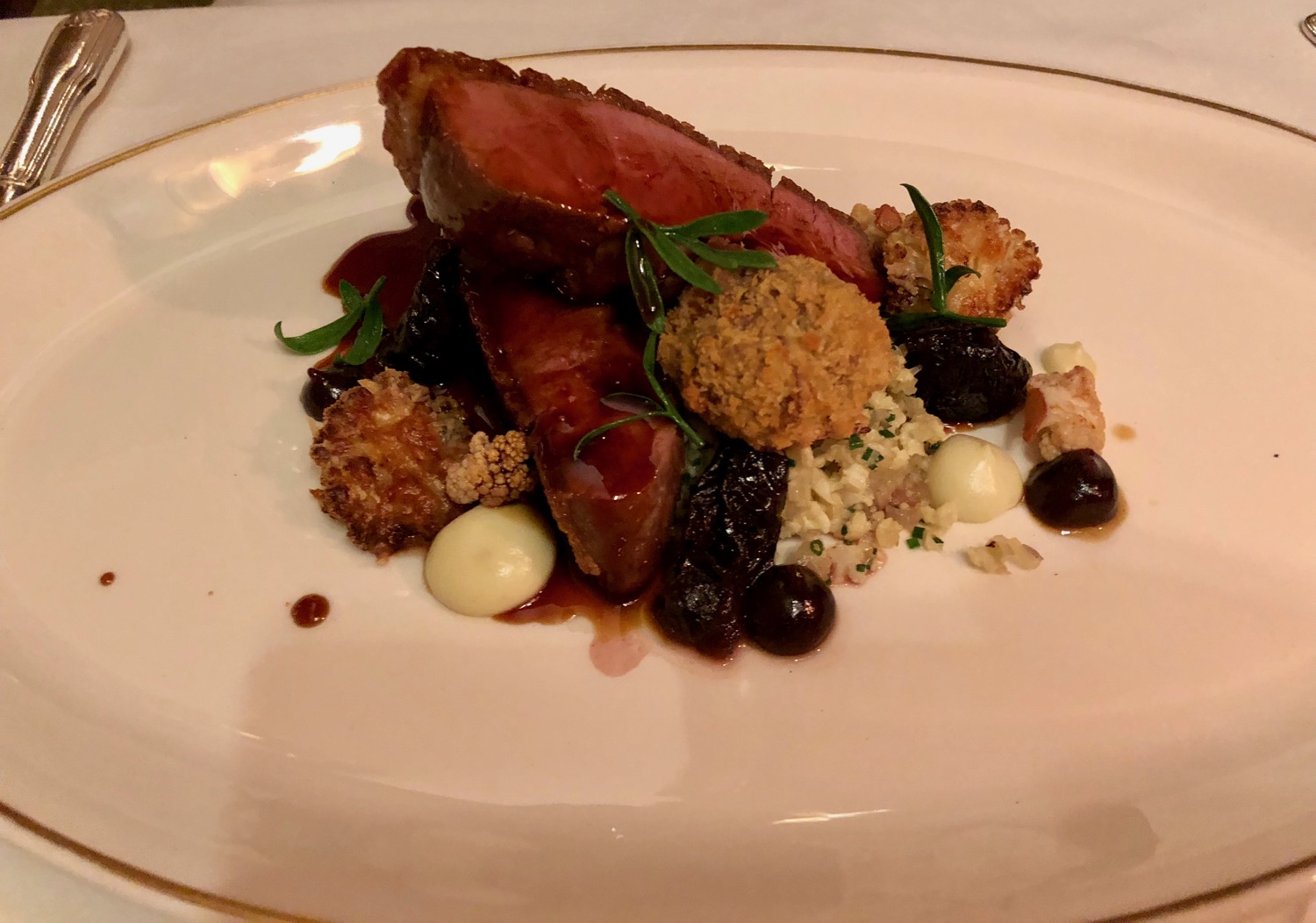 Desserts
If you are old school like me and like a bit of cheese, you can slip in a cheese course before dessert. (which we did!) We then went for a deconstructed lemon meringue pie. This dessert was a staple when I was growing up so it was lovely to see a new take on it which worked equally as well!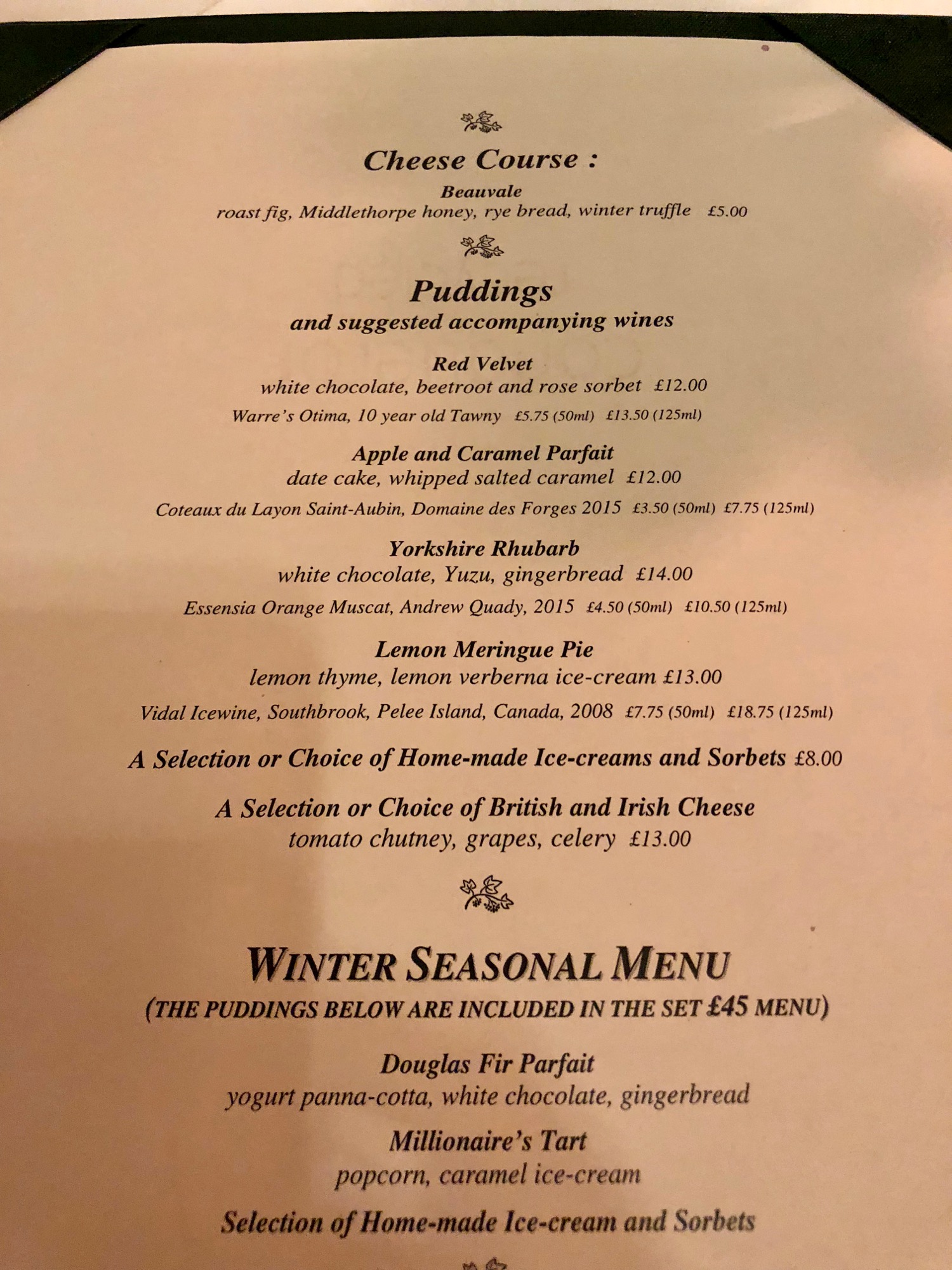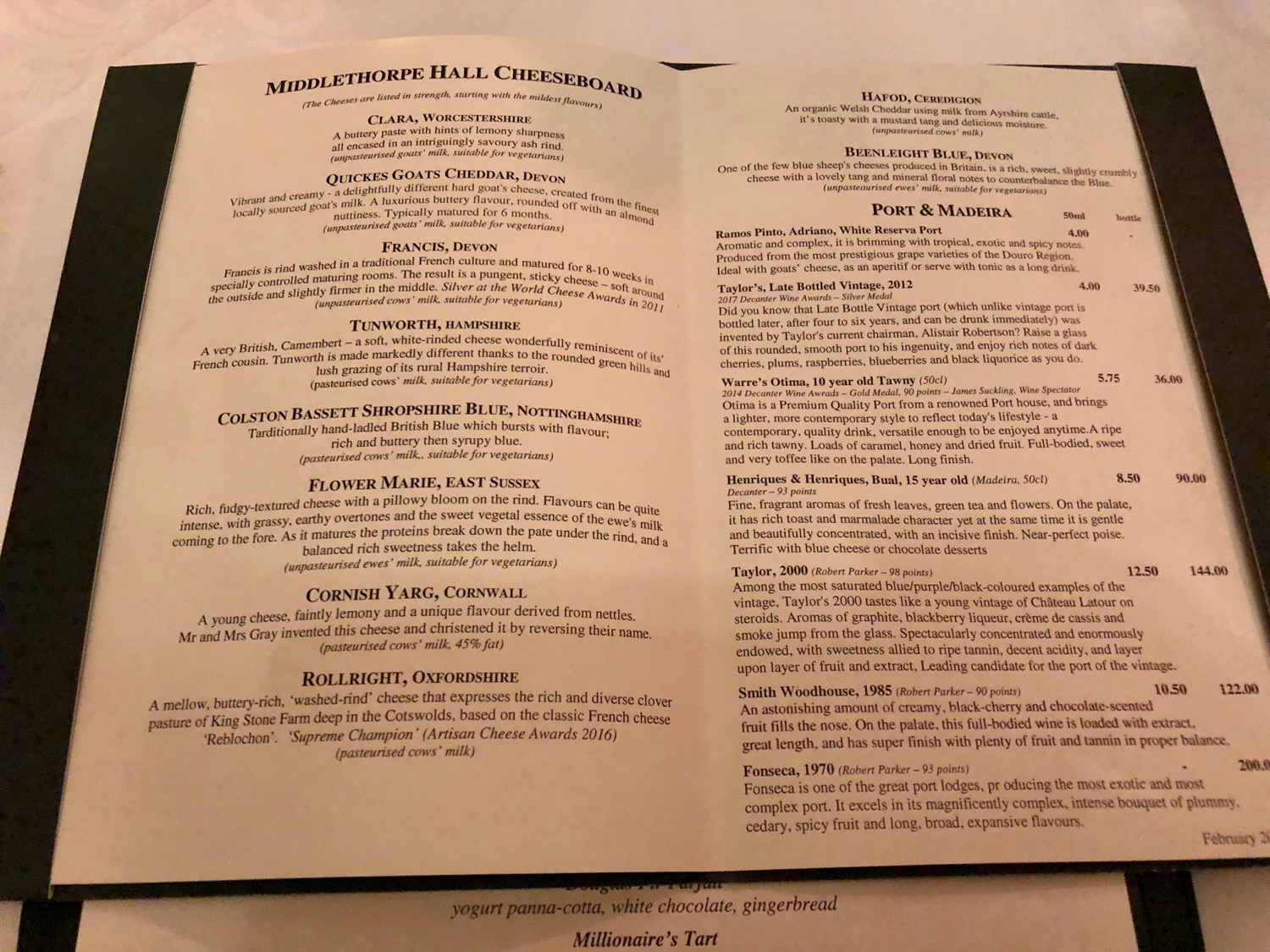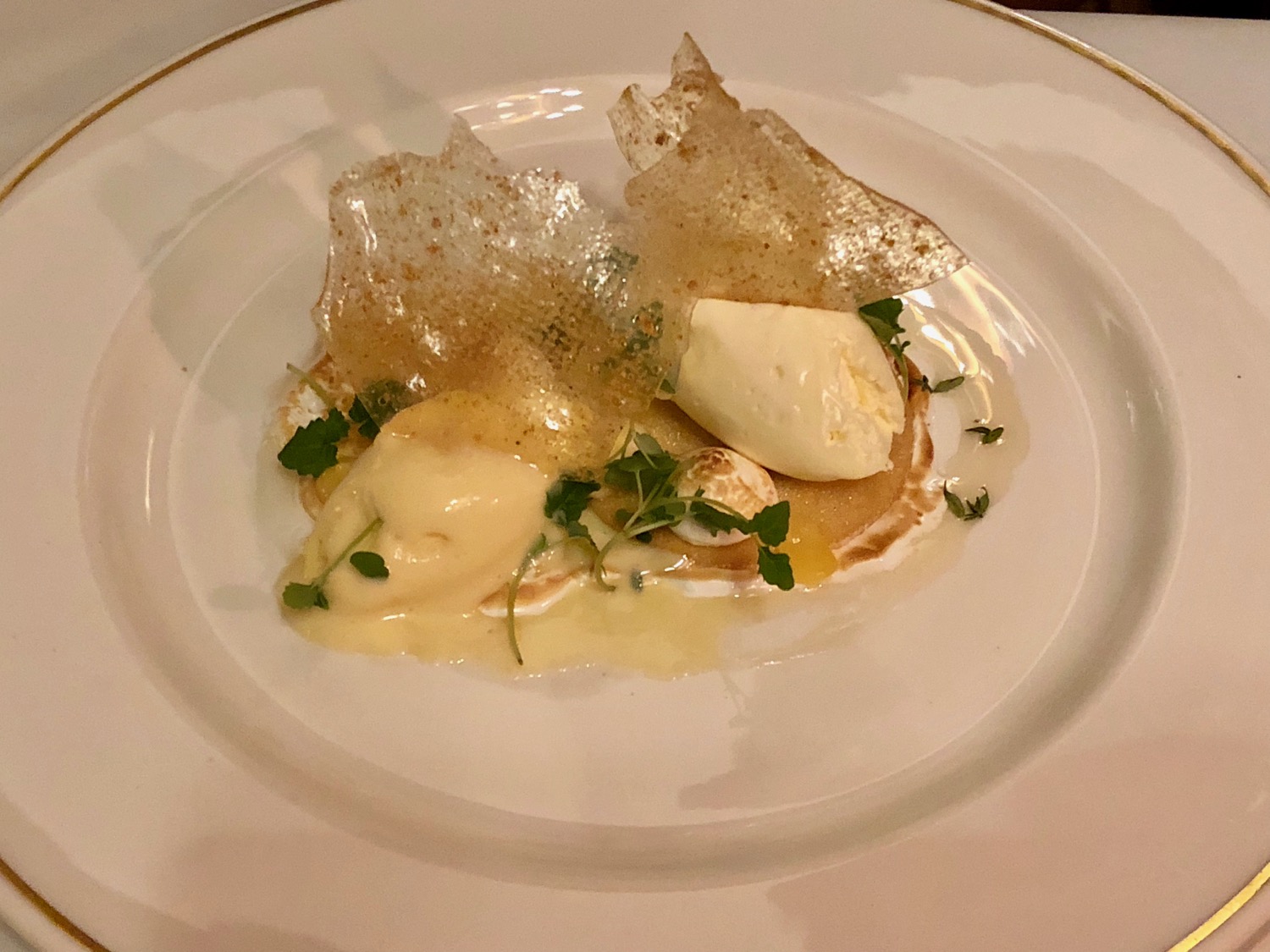 Spa
What other hotels in York don't have is an onside pool and spa centre. Head out from the main building and cross the road to what were two former Edwardian cottages that has been turned into a fabulous spa area complete with three treatment rooms and spa treatments using Decléor, Neom Organics, Shellac and Jessica products, with products , large pool, jacuzzi, steamroom and sauna.
Testament to the popularity of the spa treatments it was fully booked the whole weekend that I was staying there, so pre booking is essential.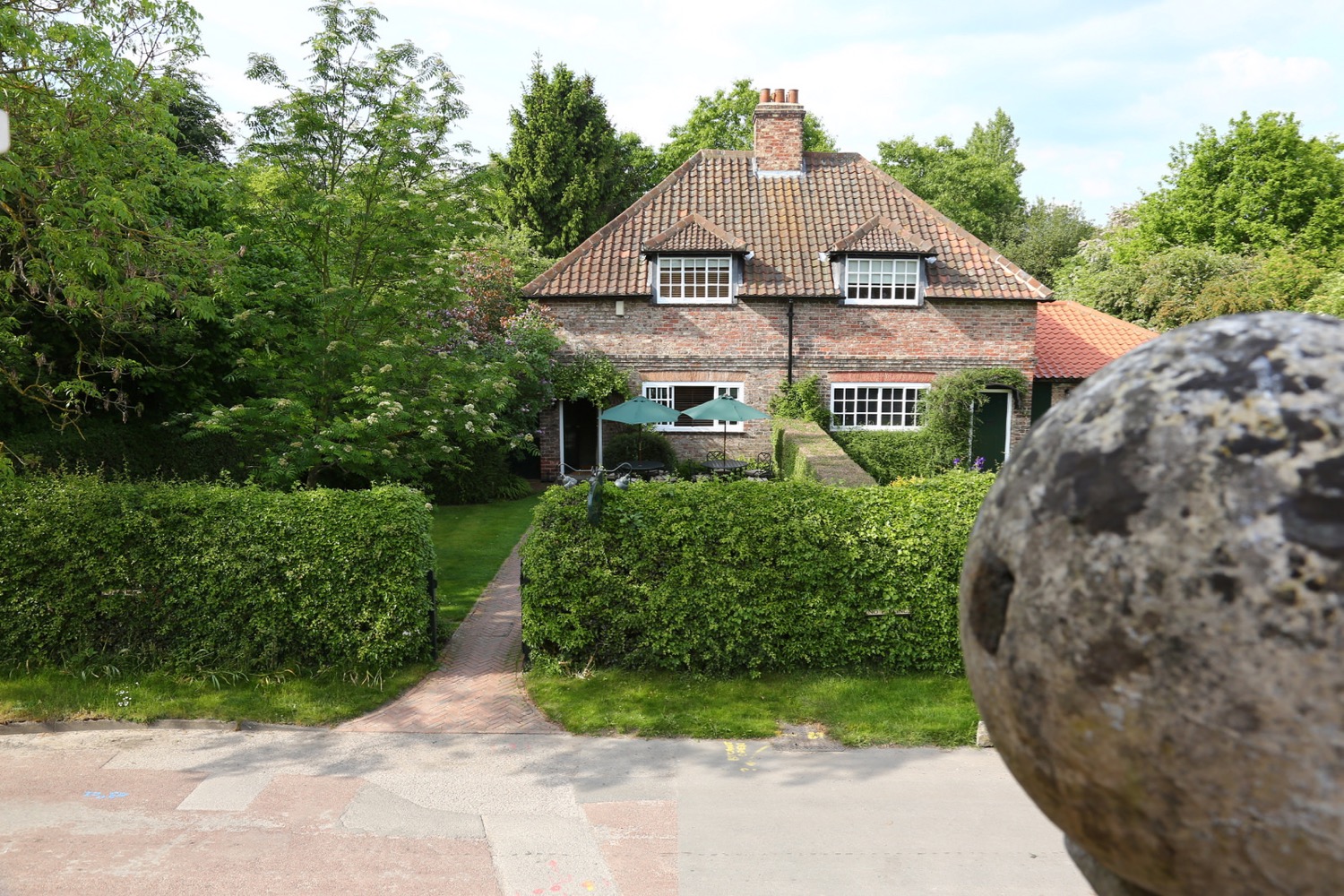 Final Thoughts
I loved Middlethorpe Hall and I love stately homes, I actually had a National Trust for Scotland card for many years and have visited most of the stately homes in Scotland so there is something quite extra special to be able to spend a weekend in one.
If you are going for weekend break to York – make sure you stay here, you won't regret it.
Address: Bishopthorpe Rd, York YO23 2GB
Web: www.middlethorpe.com