Luxury Hotel in Historic Province with Beautiful Landscape and Iconic Cave Suites
This Spring, luxury hotel brand AJWA will open its second hotel, AJWA Cappadocia, in the province of Nevşehir, Turkey. Set across three buildings, the hotel will feature 98 decorative guest rooms and cave suites, an experiential concept restaurant, luxurious spa, kids club, a small farm and a beautifully landscaped garden.
With an exceptional location and direct access to the Beydere Valley, the resort will celebrate Cappadocia's natural and cultural heritage. The resort has been designed to recreate the historical Keravansaray experience, with luxurious, handcrafted mother of pearl furniture and striking décor, including traditional Turkish rugs, guests will lavish in the hotel's authentic design.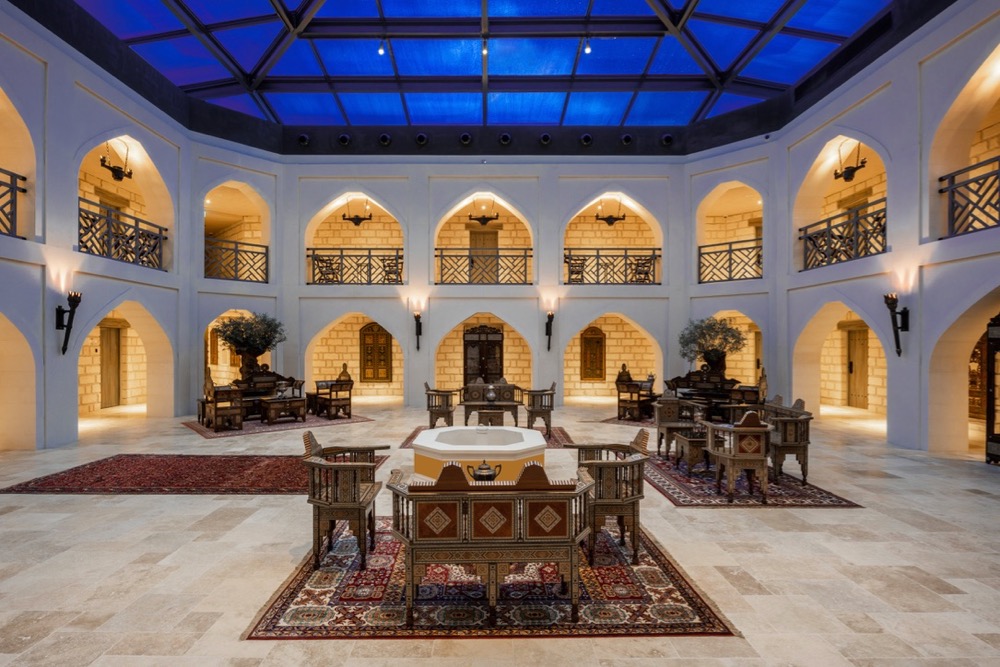 Rare for the location, AJWA Cappadocia will be surrounded by greenery in its stunning landscaped garden with over 130 plant varieties. With 120 Sakura Trees, an abundance of lavender, colourful roses, assorted herbs including thyme, sage, rosemary, and sumac, the fragrant garden will create an unrivalled visual and aromatic atmosphere around the resort. Designed to complement Cappadocia's famous natural landscape, the hotel and its garden aim to create an enchanting retreat where guests can relax and explore.
Guest Rooms and Cave Suites
Across the resort, the hotel will feature 98 guest rooms boasting views of the hotel's garden and Cappadocia's renowned natural landscape. The 10 guest rooms categories are set across three buildings; Kervansaray, Sakura and Çarşı, each fitted with luxury furniture and amenities. True to the area's famous rocky and cavernous landscape, AJWA Cappadocia will also include nine luxury Cave Suites within the estate.
Read our guide to the best luxury hotels in Cappadocia
Across the accommodation offering, AJWA Cappadocia's rooms will feature; ornate mother-of-pearl-furniture, decorative hand-painted artworks, traditional woollen carpets and rugs, top-of-the-range Dornbracht bathroom fittings and soft lighting for a comforting guest experience.
Overlooking the resort's garden, the four Kervansaray room types will range from 32sqm-52sqm in size. The eye-catching décor evokes the Caravanserais style that existed the during the time of the Silk Road trade, providing travellers a place to rest and recover from the day's journey.
Each of the Sakura guest rooms will provide a unique experience. The compact Sakura Superior Rooms aim to offer comfort and refined amenities to ensure a relaxing day. The Sakura Deluxe Rooms will boast 180-degree views of the gardens. With their own terrace, the Sakura Deluxe Terrace Rooms will allow guests to full immerse in the scents and sights of the gardens. The largest of the rooms, the Sakura Junior Suites will offer extensive space with a sperate living room and bedroom.
Guests of the Çarşı rooms will relish in the peaceful ambiance and can enjoy AJWA Cappadocia's onsite gallery and shops located in the building. The Çarşı Junior Suite will provide the same amenities and offering as the Çarşı Deluxe Room, with the addition of a separate living room area.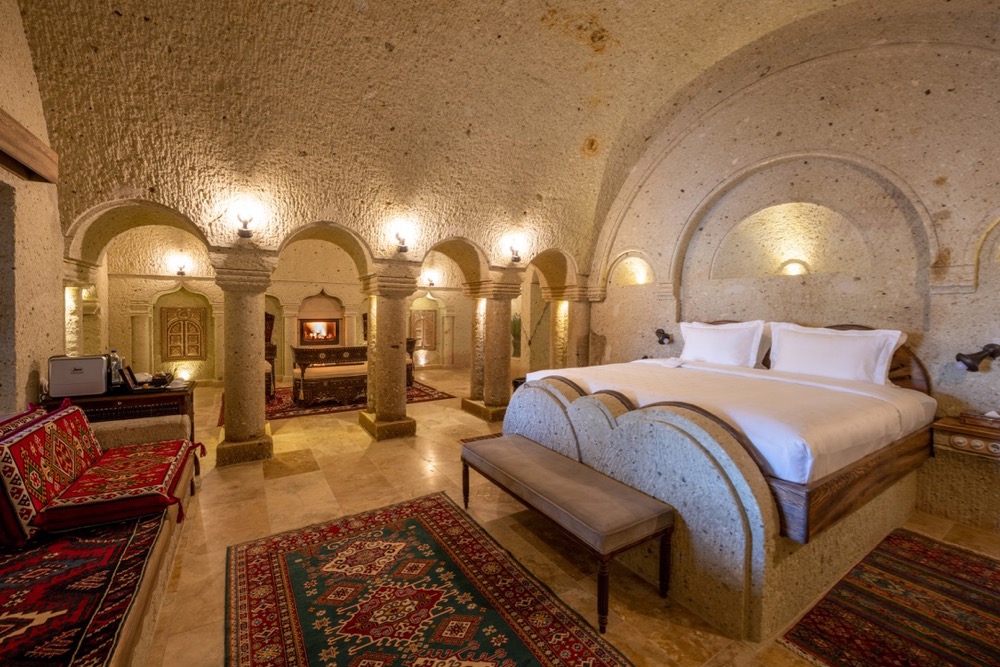 The luxurious Cave Suites have been designed as a small mansion, including a large living room area and one-three bedrooms. The largest of the suites will include an additional workspace which can accommodate additional beds if required. The stunning Cave Suites will incorporate the most luxurious furnishings and its own fireplace to give guests that homely feeling.
Dining at Zeferan Restaurant
The hotel's fine-dining Zeferan Restaurant will offer a unique and exceptional dining experience. The restaurant will theatrically serve a fusion of authentic Azerbaijan, Turkish and Sinasos Village cuisine with international influence. Amongst its varied cooking equipment, the restaurant will feature a traditional quarry and tandoor oven, allowing the restaurant to serve a diverse range of dishes. The extensive menu will include; uniquely served homemade soups, Trout and Carp served in salt, Azerbaijan shah pilaf presentation, Azerbaijan kebab presentation show and more.
Wellness at the Afiya SPA
Afiya SPA is the perfect place for those looking for ultimate relaxation. Amongst a wide range of international treatments, Afiya SPA's extensive menu offers traditional Turkish Hammam. This beautiful facility will live up to the meaning of its name which, apart from an expression of wishing someone good health, means 'health and cleanliness'.
Fun for the family with AJWA Kids Club and AJWA Farm
A fantastic resort for all the family, AJWA Cappadocia's Kids Club will include an exciting playground area and offer an endless choice of games and activities to entertain children of all ages.
For the perfect family adventure, guests can enjoy AJWA's own Farm. Families can see and interact with small reptiles such as iguanas and turtles, as well as fish, exotic birds, sheep, goats and rabbits.
Local Area
Famed for is distinctive landscape of 'fairy chimneys', valleys and caves, Cappadocia is one of Turkey's most treasured destinations. Perfect for culture junkies, adventure seekers, families or friends, Cappadocia is a must-visit destination. Due to its exceptional location, AJWA Cappadocia has direct access to the Beydere Valley, where guests can explore Cappadocia's famous chimneys and historic church. The resort's knowledgeable concierge team can assist guests in booking a number of excursions to experience and explore Cappadocia's wonders.