Anantara Kihavah Maldives Villas has unveiled an exciting new underwater-aged wine-tasting experience. Taking place six metres below the Indian Ocean's surface in SEA restaurant, the exclusive and private event offers guests the opportunity to sample a unique Dom Perignon champagne that has been ageing for 365 days in open water. Previously, this rare delicacy was only available at select celebratory dinners.
In 2020, the wine experts at Anantara Kihavah began a groundbreaking experiment, submerging 12 bottles of Dom Perignon 2008 vintage champagne below the ocean's surface for 365 days. After the submerged bottles were retrieved, they were found to have acquired distinct flavour notes such as seaweed, minerals, and salinity, which complement the classic components of Dom Perignon including citrus, brioche, and nutty characters.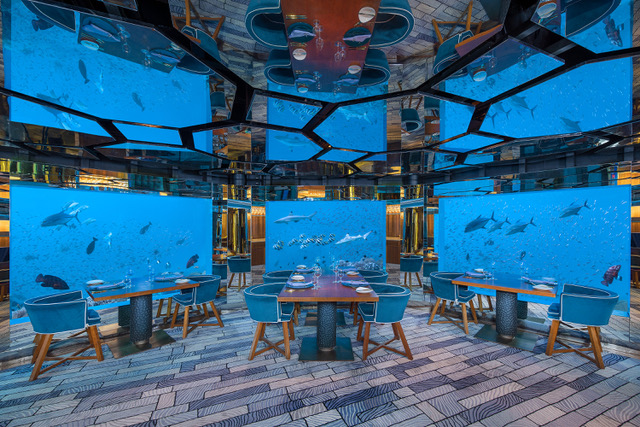 Each year, Anantara Kihavah Resorts submerges a limited number of premium bottles at its house reef without enclosures and away from direct sunlight. This allows the wine to age faster, absorbing the sea minerals and salinity. Resort wine experts regularly diversify the selection of sunken wines to include a variety of classic wines and Dom Perignon champagnes. To better understand the ageing process of the sunken wines, Anantara Kihavah periodically conducts comparative tastings between an underwater-aged wine and a cellar-aged wine to detect the changes in flavour and components. Currently, there are 22 sunken champagne and wines in the reef, including Dom Perignon Brut Millesime, Épernay, France 2012, Umbria IGT 'Cervaro della Sala' Chardonnay, Castello della Sala 2018 and Chassagne-Montrachet, Morgeot Les Fairendes VV, Francois Jouard 2014 975.
Read our guide to the best luxury hotels in the Maldives
At SEA restaurant, located in the Baa Atoll UNESCO Biosphere Reserve, oenophiles have the exclusive opportunity to partake in a wine tasting event, where they can sample Dom Perignon champagne that has been aged both underwater and in a cellar. These champagnes are accompanied by canapés and premium cheeses. Guests can also admire the beautiful, panoramic views of the underwater life, including turtles, manta rays and clownfish, through the glass curved walls. The wine cellar contains over 450 bottles from twenty-four countries, and its underwater position allows for wines to be stored in cooler temperatures, which allows them to age gracefully.
The private underwater-aged wine tasting experience starts from 2,455 USD (approx. £1,993) for two people while Villas at Anantara Kihavah Maldives Villas start from £1,100 per night with breakfast.