Located in the quaint rural town of Santanyí in the south east of Mallorca, Can Ferrereta will be one of Europe's most exciting new hotel openings in 2020. The team behind Sant Francesc Hotel Singular, Palma has meticulously restored a historic 17th century building, comprising 31 individually designed rooms and suites, surrounded by verdant gardens.  Many of the bedrooms will feature private patios and terraces, while the hotel's signature suite will offer a private swimming pool and garden. Can Ferrereta will also be home to a Mediterranean restaurant complete with a Mallorcan patio, serving delicious seasonal dishes made with local produce, as well as two bars, an 25m swimming pool, gym and a beautifully designed spa with hammam and indoor pool.
Read Andrew's review of the Sant Francesc Hotel Singular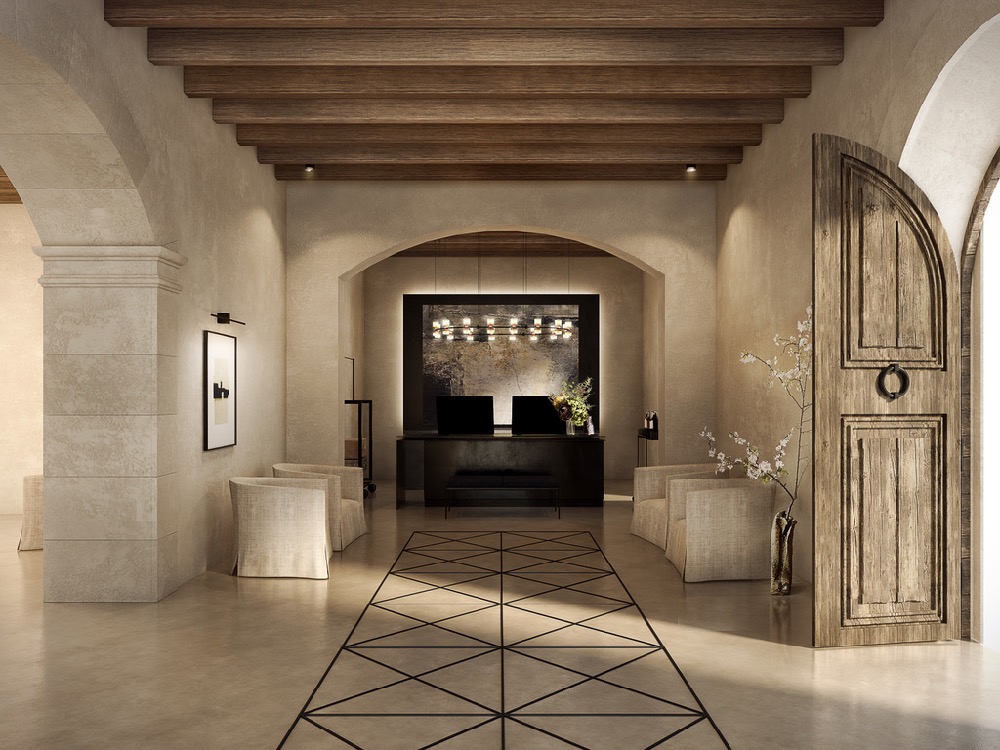 Mallorcan-based BASTIDAS Architecture and Spanish design house WIT are the team behind the property, alongside the Soldevila-Ferrer family who own the hotel and have carefully overseen the project from start to finish. During the restoration of the main 17th century building, the team was mindful of the history and tradition, while the hotel's two new structures have been sensitively developed in harmony with its original features. The interiors will be reminiscent of a grand summer house, featuring simple, light and airy design. The rustic wooden beams and original stone, work in juxtaposition with sleek furnishings and the eclectic collection of modern and contemporary art.
Read our guide to the best luxury hotels in Mallorca
Art will be a defining characteristic of the hotel, with a focus on local and Spanish artists. Some of the pieces will come from the Soldevila-Ferrer family's private collection and will include work by the likes of Guillem Nadal, Dominica Sanchez, Miquel Planas, Manolo Ballesteros, Riera i Aragó and Jordi Alcaraz. Additionally, contemporary photography by local Barbara Vidal, will adorn the walls, featuring images of the original buildings before the renovation.
The village of Santanyí is situated in one of the most authentic and historic locations in south east Mallorca, occupying a privileged position slightly inland from more than 48km of spectacular coastline. It is known as the 'gold-stone village', as this small, formally walled town, is the source of the golden sandstone (which is still quarried today) used in Palma's cathedral and La Llotja among others. Santanyí is next to the second-largest nature park in the Balearics, Mondragó Natural Park, a paradise for hiking and nature lovers. It also offers easy access to some of Mallorca's most beautiful and unspoilt beaches, complete with fine-grained white sand, hidden coves and crystal-clear sea such as s'Amarador and Cala Santanyí and Cala Llombards. The streets around the church in Santanyí host one of Mallorca's liveliest markets on Wednesdays and Saturdays, selling fresh fruit, vegetables, delicatessen products and local handicrafts. The area is also home to several vineyards which guests can visit for tours and tastings. Over the years, Santanyí has attracted many international artists and today, art plays a central role. Guests will stumble upon various galleries and workshops in the narrow alleys of this quiet country town. There is currently only one small boutique hotel in Santanyí, meaning the exciting opening of Can Ferrereta will open up this destination to disconcerting luxury travellers for the first time.
The opening of Can Ferrereta will create a new and exciting Mallorcan twin centre trip with sister hotel Sant Francesc, Palma as the hotels are only 50 minutes apart. Fans of Sant Francesc, which is situated in the heart of Palma's historical quarter, will recognise the synergy in design, whilst appreciating the unique heritage of the two historical buildings. Sant Francesc is set within a former Mallorcan mansion, built in 1860, which was lovingly restored in 2015. It is now home to 42 elegant rooms and signature suites, three restaurants & bars, stunning rooftop pool and a wellbeing centre. Sant Francesc offers the perfect base to explore the cultural highlights of Palma before heading to the coast to relax in Santanyí.