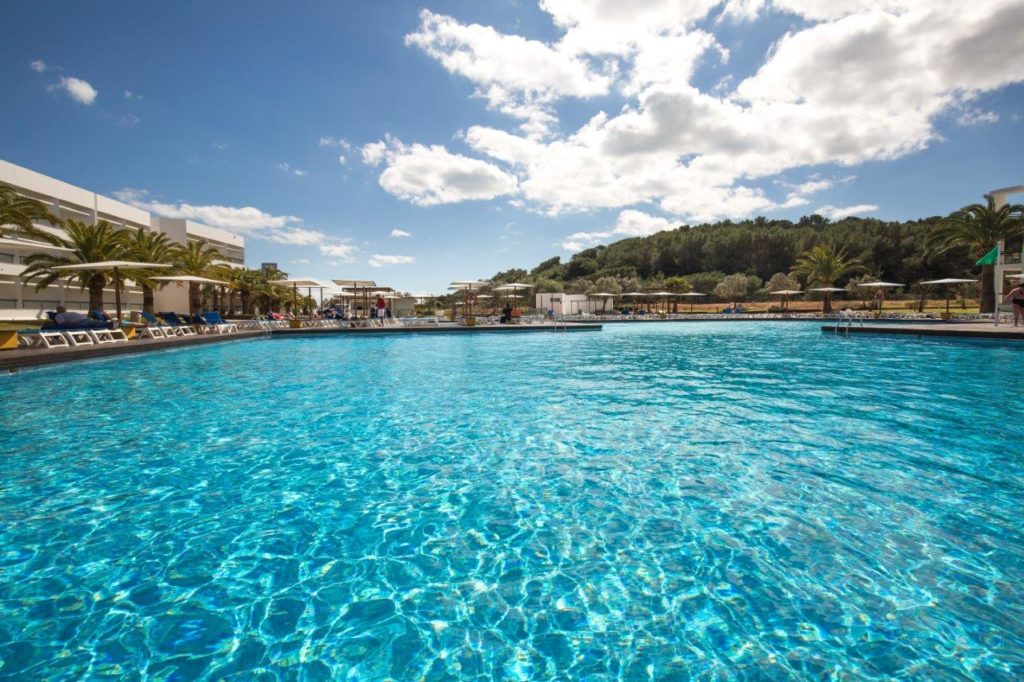 Grand Palladium Palace Ibiza Resort & Spa is set to open on 30 April, kicking off the 2021 summer season in the White Isle. This is the first Palladium Hotel Group property to open its doors this summer, offering an exceptional combination of leisure, gastronomy and wellness for all types of travellers. 
Playa d'en Bossa in Ibiza
Located in the well-known Playa d'en Bossa in Ibiza, Grand Palladium Palace Ibiza Resort & Spa will launch the 2021 summer season for the group, followed soon after by Grand Palladium White Island Resort & Spa (date to be announced soon) and other properties of the group a little later on in the season, offering couples, families and friends the ideal options to enjoy the island of Ibiza for a much needed and desired break away. 
Grand Palladium Hotels & Resorts encourages its guests to relax and enjoy themselves without limits with its Infinity Indulgence® package which takes all-inclusive to the next level, in a safe environment with the utmost attention to detail. In addition, thanks to the Dine Around programme, guests can choose from any of the 3 à la carte restaurants and 7 bars that make up the resort, where the reservation systems and menus have been fully digitalized and are accessible via the hotel's App, thus guaranteeing the appropriate measures to safely enjoy every minute of their stay. 
Health & Safety
Palladium Hotel Group's first aim is to always put people at the centre, so that its guests can enjoy a carefree holiday. For this reason, guests at Grand Palladium Palace Ibiza Resort & Spa and Grand Palladium White Island Resort & Spa will have at their disposal an on-demand service that will allow them to take COVID tests, as well as the subsequent analysis and delivery of results to the client. This involves antigen testing with results in less than an hour and PCR with results in less than 24 hours, which will be carried out within the resort's facilities by one of the most reputable laboratories in Ibiza.
All the group's hotels have a rigorous hygienic-safety protocol, certified with SGS, whereby the application of technology and the digitalisation of experiences and processes play an important role. 
Gastronomy & Wellness
To provide an even more personalised experience, this summer Grand Palladium Hotels & Resorts is offering the Palladium Premium Experience Pack. This gives guests preferential access to à la carte restaurant reservations and a selection of premium beverages, which can be enjoyed throughout the resort.
Those guests with a greater gastronomic curiosity, can choose the Palladium Premium Experience Pack that will enable them to discover the wide variety of the group's restaurants also located in the Playa d'en Bossa area, with a 10% discount.
Finally, wellness lovers will be able to enjoy free access to the hydrotherapy circuit of the Zentropia Palladium Spa & Wellness, as well as the option to book massages and treatments with priority time slots.
Palladium Rewards
Palladium Rewards, Palladium Hotel Group's loyalty programme, launched in 2020, is one more of the group's efforts to improve the customer experience. Its format is fully digital and is aligned with the group's mission to "turn customers into fans".
Palladium Rewards members are offered exclusive discounts and benefits, which they can take advantage of during their stay to make it an even more personal and unique experience. Palladium Rewards members will be able to accumulate points that will allow them to continue enjoying special moments at each of the 10 brands under which Palladium Hotel Group operates, even without having to stay at the hotel.
Guests who sign up for the Palladium Rewards programme will be able to get up to 20% discount on bookings and 2,500 welcome points upon registration. In addition, Palladium Rewards offers the option of inviting up to 10 friends, earning an additional 500 points for each accepted invitation.
Information
Guests who book directly through the website www.palladiumhotelgroup.com will enjoy multiple advantages and benefits, such as up to 25% discount, flexible cancellation, and special discounts for families, such as a free stay for the first child. 
Palladium Hotel Group is a Spanish hotel chain with fifty years of experience. The chain has 48 hotels and more than 14,000 rooms in six countries: Spain, Mexico, Dominican Republic, Jamaica, Italy and Brazil, and operates 10 brands: TRS Hotels, Grand Palladium Hotels & Resorts, Palladium Hotels, Palladium Boutique Hotels, Fiesta Hotels & Resorts, Ushuaïa Unexpected Hotels, BLESS Collection Hotels, Ayre Hoteles, Only YOU Hotels, as well as licensed brand Hard Rock Hotels in Ibiza and Tenerife. The Palladium Hotel Group hotels are characterised by their philosophy of offering customers a high standard of quality in its products and services and excellent value.