On the 24th of December Kempinski Hotel Bahía will host its annual Christmas Eve Dinner in the Alminar Restaurant, with a delightful six course menu designed by Chef Adrian Topan, it's the ideal was to begin your family celebrations and comes complete with live music to get everyone in a festive mood! After dinner guests are welcome to continue the evening with a night cap under the twinkling lights of the Christmas Tree in Black Rose the Bar.
"We are delighted to be open this Christmas 2021, last year the hotel remained closed, along with many others so we are pleased to be able to stay open and welcome both local and international guests to enjoy our Festive Season" says Axel Bethke of Kempinski Hotel Bahía.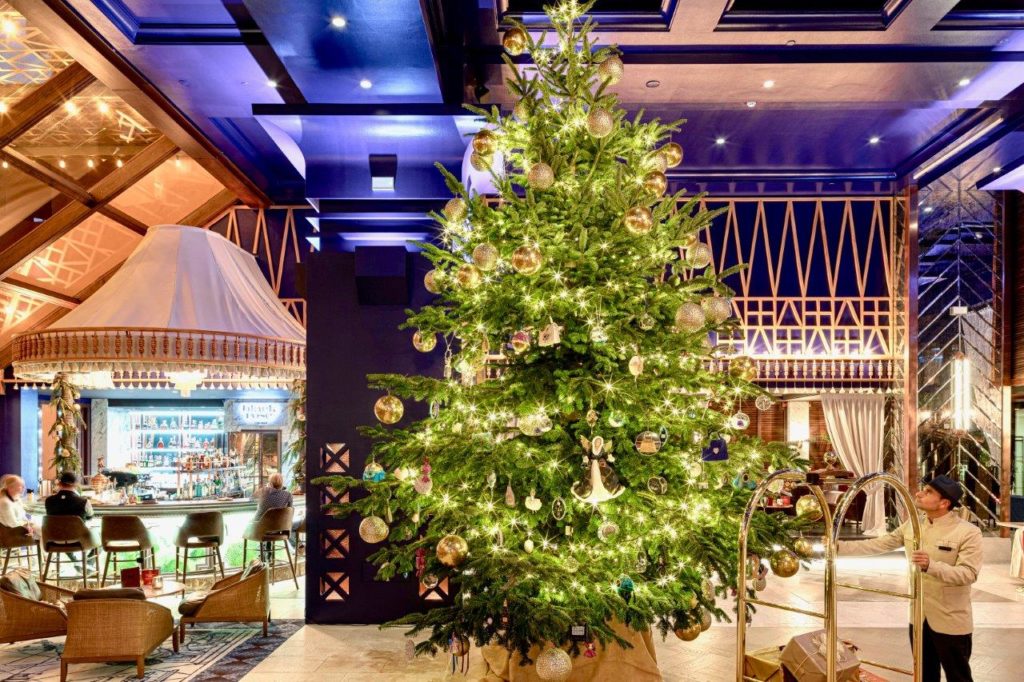 Christmas Day welcomes a very special and popular event, the Christmas Day Lunch from at El Mirador Restaurant, complete with live music, a visit from Santa and kids entertainment. The buffet style lunch will include cooking and carving stations, salads, sushi and smoked dishes as well as all Christmas favourites with trimmings, desserts and free flowing cava throughout the event.
New Year's Eve 'The Roaring 20's'
New Year's Eve is another wonderful event at the hotel, this year there will be two parties to choose from. The 'Jazz Speakeasy' or 'The Great Gatsby'. Begin the evening with a cocktail reception in the elegant Black Rose the Bar located in the lobby. After the cocktail reception guests will make their way down to either the Alminar Restaurant for 'The Great Gatsby' event or to Baltazar Bar & Grill for the 'Jazz Speakeasy' party.
At the Alminar Restaurant 'The Great Gatsby' party, the guests will enjoy a wonderful six course meal with live music, grapes at midnight, a champagne toast, and fireworks before joining the wonderful Roaring 20's themed party in Black Rose the Bar till the early hours of the New Years Day!
Read our guide to the best luxury hotels in Marbella
The Baltazar Bar & Grill 'Jazz Speakeasy' party will also have live music, a more relaxed atmosphere and guests will end with grapes at midnight a champagne toast and fireworks, if guests wish to join the 'Roaring 20's' party with an open bar, they are welcome to pay a supplement per person. So get your dancing shoes on! Dust off the sparkles and begin the year as we all wish for it to continue, with health, happiness and joy!
Kempinski Hotel Bahia
Kempinski Hotel Bahía: is in a priviledged location on the coast , close to Estepona as well as Marbella. Kempinski Hotel Bahía, which celebrated its 20th anniversary in 2019, is a breathtaking luxury frontline beach resort with 145 rooms (including 17 suites) overlooking the Mediterranean Sea and hotel, with subtropical gardens and pools, and also features a meeting and events centre, trendy culinary concepts and the exclusive Kempinski Spa.
You can read our profile on the Kempinski Hotel Bahia Estepona here.