The exhibition analyses the work of Jonni Cheatwood (USA, 1986), Matthew Eguavoen (Nigeria, 1988), Amir H Fallah (Iran, 1979), Margaux Henry-Thieullent (Biarritz, 1988), Iván Forcadell (Tarragona, 1993), Alexander James (London, 1993) and Lucía Tello (Seville, 1996), all under the same subject: the portrait.
Badr El Jundi gallery, led by gallery owner Badr El Jundi and María Gracia de Pedro, as director, is located in the Anantara Villa Padierna Palace Hotel in Marbella. The different spaces of the gallery, which is committed to international emerging art, make Badr El Jundi a unique space for art and tourism in the south of Europe.
In the history of art, the portrait has been the ultimate expression of the representation of the human figure. A category that, through different styles, describes people by means of brush strokes. With this theme, Badr El Jundi has chosen portrait as the main topic of his latest exhibition.
'It's Not Just a Portrait' takes on portrait from a variety of perspectives and with a broad definition: from the self-portrait, which allows for self-awareness, to the portrait of what surrounds us. In this way, some of the works in the exhibition will explicitly present faces and others will have to be guessed by the viewer.
Jonni Cheatwood is a Brazilian-American visual artist who works in many differents disciplines, including painting, photography, graphic design and textile art. Cheatwood's work describes the broad visual ideas that emerge from still life, abstraction and minimalism, but his focus is a wonderful amalgam of his artistic disciplines in which real pieces of canvas are stitched together by hand before applying his idiosyncratic mark to new designs.
A small example of the work of French visual artist Margaux Henry-Thieullent can also be seen in this exhibition. Influenced by her architectural education, her plastic practice preserves a certain approach to drawing as a physical space to be conquered within which the artist unfolds bizarre perspectives that seem to absorb the viewer.
It's not just a portrait' also includes works by Amir H. Fallah. This artist creates paintings, sculptures and installations that use personal history as an entry point to discuss race, representation, the body and memories of cultures and countries left behind. Through this process, the artist's works employ nuanced and emotive narratives that evoke an investigation into identity, the immigrant experience and the history of portrait. The portraits of veiled subjects take advantage of ambiguity to deftly weave reality and fiction, while questioning how to create a portrait without representing the physicality of the model.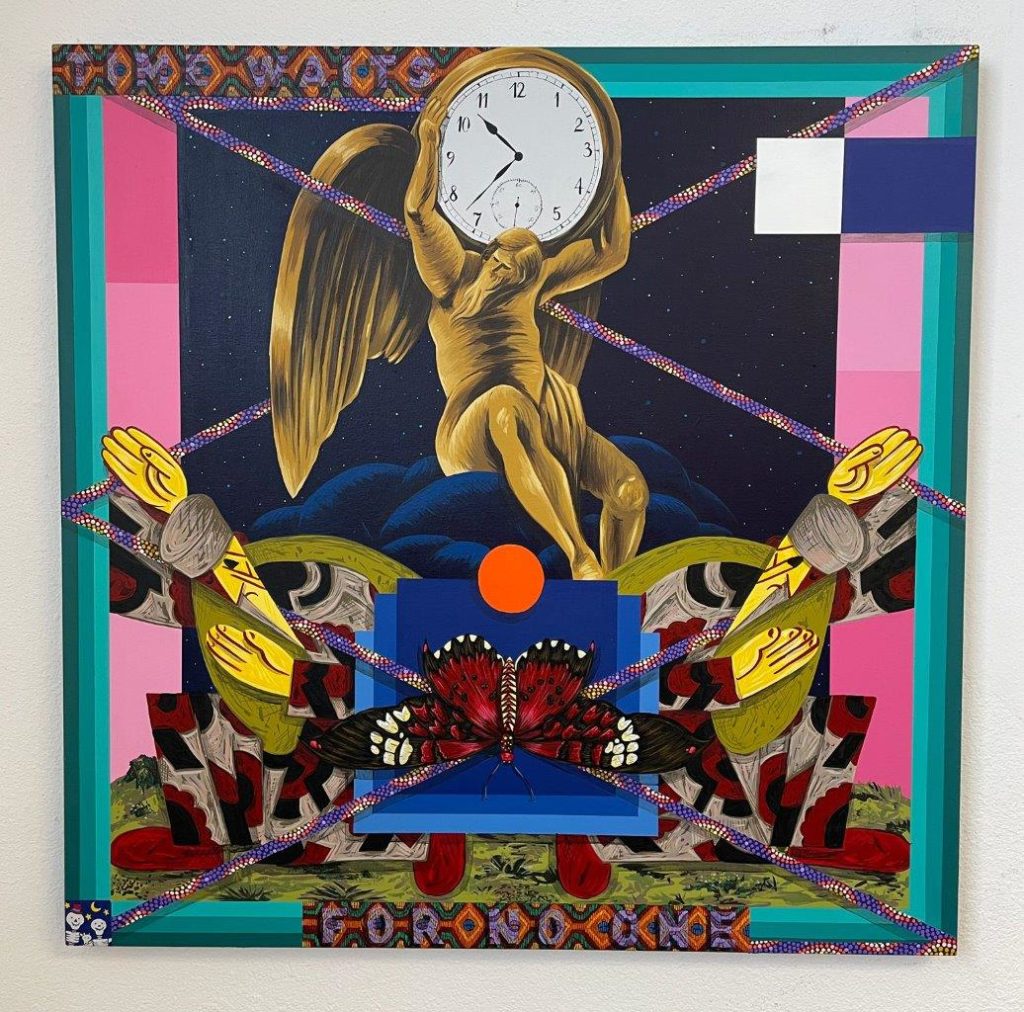 On the other hand, contemporary artist Matthew Eguavoen creates his portrait using a combination of oil paint, acrylic paint, charcoal and graphite pencils to document stories that cover the emotions and behaviour of his muse for the viewer of his work. Matthew uses his work to explore social, economic and political viewpoints through the complex intersectionality that Nigerians face in different aspects of life.
Spain is also present in this exhibition through Iván Forcadell and Lucía Tello. Forcadell is a multidisciplinary artist focused on painting, sculpture, installation and recently on video art and performance. With a casual attitude and without forced formulas, the artist mixes narratives of his childhood in the countryside, folklore and irony. On the other hand, the work of Lucía Tello focuses on the aesthetic questions from the contemporary feminine stereotype and offers a reflection on gender identity from a personal perspective.
Another member of this choral exhibition is Alexander James. Patching elements of James' past, present and anticipated future, his works look to reflectively tell a story about time. James' works manifest characters and scenarios unleashed from his childhood memories and stories, projecting them into present-day existence.
Information
Badr El Jundi gallery is located in the prestigious Anantara Villa Padierna Palace Hotel in Marbella. Three locations – the gallery, the gardens and the neoclassical Sala Linares, located inside the hotel – makes Badr El Jundi a unique space and reference point for art and tourism in the south of Europe. The gallery has become a signficant voice for a wide variety of international and emerging artists.
The founder of this singular space is Badr El Jundi, an art dealer with a long career who now opens the doors of his eponymous art gallery. His international spirit – he has lived in Lebanon, Turkey, China, Guinea and the United Arab Emirates, and also in Spain – and his passion for art led him to specialise as an art dealer in the secondary market, specifically in modern and impressionist art. To begin this project, Badr El Jundi relies on the experience of María Gracia de Pedro as the gallery's director.