Opening early November, 'Mthr' is the brand-new restaurant and lounge concept from co-living pioneer The Collective at the world's largest co-living space, The Collective Canary Wharf. Offering bold flavours and diverse ingredients with a strong focus on sharing dishes, Mthr is situated on the 20th floor with panoramic views of London and will be open to the public as well as members. 
A new community-focused place to live, socialise, eat and work, The Collective Canary Wharf reflects the next step in the company's vision for the future of co-living, designed to bring people together. It is this communal spirit that is woven throughout the food and beverage offerings of Mthr. Executive Head Chef Arnaud Delannay, who brings with him over a decade of experience in the hospitality industry, has developed a menu with innovative sharing dishes to emphasise a 'collective' dining experience that brings people together around the table. Inspired by global culinary influences, Mthr offers dining in a welcoming and convivial environment.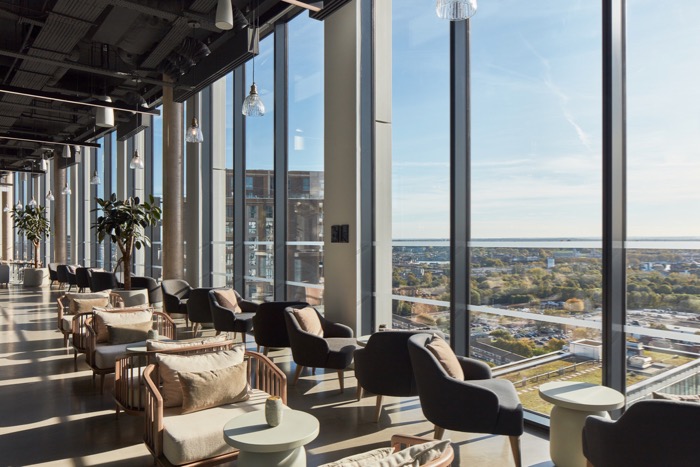 Featuring an array of ever-changing seasonal salads, meats, and fish, the menu provides diners with a variety of new options on a daily basis. The menu includes snacks, small and large plates, as well as bigger 'Family Style' share dishes to be placed in the middle to generate a relaxed and informal shared dining experience. 
Snacks such as Camembert Croquettes, Guacamole with Popped Black Beans and Cauliflower Pakora with Lime Yogurt sit alongside small plates such as Sea Bass Ceviche and a Duck Rillette Espelette Pepper with Grilled Sourdough. 
Larger plates on Mthr's menu continue the restaurant's mission of bringing people together around the table. These include a NY Steak; Shorthorn 8oz Ribeye with Caramelised Onion, Grape Mustard Aioli and Fries, followed by Coq au Vin with Bourguignonne Garnish and Pommery Glazed New Potatoes, as well as Peterhead Cod with Chorizo and White Bean Stew.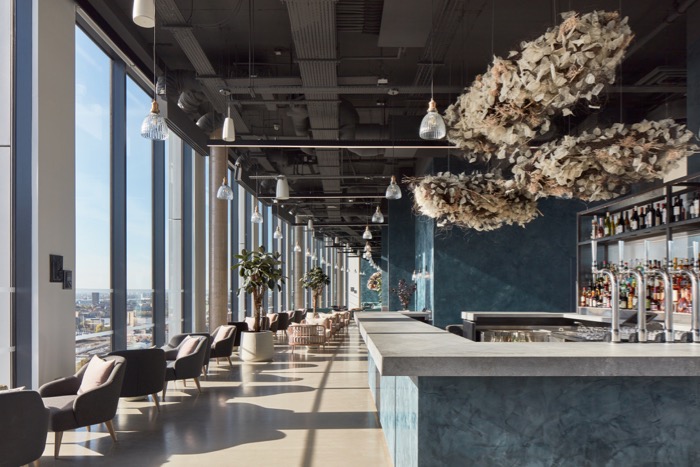 Larger 'Family Style' dishes to be shared include a Baked Whole Sea Bream with Harissa, Blackened Asparagus with a Fennel and Orange Salad with Lemon Aioli as well as a flavoursome Five Spiced Pork Shoulder accompanied by Bao Buns, Hoisin Brush and Garnishes. 
Desserts such as Eton Mess and a whole Tarte Tatin round out the menu alongside sweet treats, including the Chocolate Nemesis, a fruity Coconut Panna Cotta and a Lemon Tart.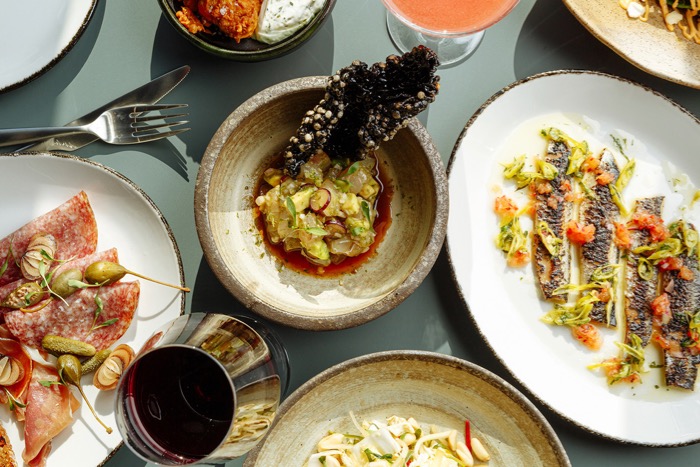 A focal point of Mthr is the roving food trolley in the restaurant; changing regularly with different seasonal and culinary focuses. From Ceviche to Bloody Marys, the trolley will float around the restaurant visiting each table, allowing guests to grab dishes of their choosing, adding a theatrical experience. 
Mthr's cocktail list comprises of signature creations using fresh ingredients and global flavourings. These include the Eastern Promise which combines Vodka, Lemongrass, Ginger, Turmeric and Kaffir Lime Leaf for a revitalising afternoon or evening tipple, whilst the Tokyo Rose offers a sweeter addition with Gin, Yuzu Sake, Lemon, Rose, Lychee and Egg Whites, garnished with a delicate rose bud. Served in a whisky tumbler, Dusk Till Dawn is an innovative fusion of Tequila, Lime, Pineapple, Coriander and Habanero; offering a spicy kick for those with a more adventurous palette. With striking views of the London skyline, the panoramic windows of the restaurant enables guests to dine and enjoy cocktails while taking in the stunning city skyscape. 
Read our guide to the best cool luxury hotels in London
For breakfast, Mthr features a Market Table where guests can serve themselves from a bountiful selection of breakfast favourites. Guests can also order breakfast from an a la carte menu. For those in a hurry, there is also a Grab & Go café called Morning, Afternoon, Evening or (M.A.E) which offers coffee and other beverages, as well as a selection of baked goods, sandwiches, and other on the go selections. 
Built from the ground up, The Collective Canary Wharf is now the largest co-living space in the world, with 705 rooms spanning 21 storeys. As the latest building in the portfolio The Collective Canary Wharf introduces flexible residencies to the model, allowing members to stay from a single night up to 12 months, with access to the full range of amenities and cultural activities that The Collective is known for. 
www.mthrlondon.com