The Ruby Group has two exceedingly successful products, and its latest launch (the first in the Netherlands) combines both. A design hotel and innovative co-working space in one, Ruby Emma is stylish and sustainable. 
A place of positive energy
Found in Amsterdam's Amstelkwartier district, the hotel is close to the fashionable De Pijp district, littered with excellent bars and restaurants; bicycles are available on-site, so you can get around easily and quickly. Amsterdam Centraal Station is just 10 minutes by S-Bahn and the airport is but 15 minutes away by car, or 25 minutes by public transport. The hotel's manager, Hermen Nijhuis has gained a wealth of international experience, but is Netherlands-born and knows the Dutch hotel market well. Hermen says: "There are already a few hotels in the up-and-coming Amstelkwarier, but so far no real lifestyle hotel. The special sustainability of the building, which has won several awards for its innovative building technology, and the typical Ruby vibe make Ruby Emma a place full of positive energy."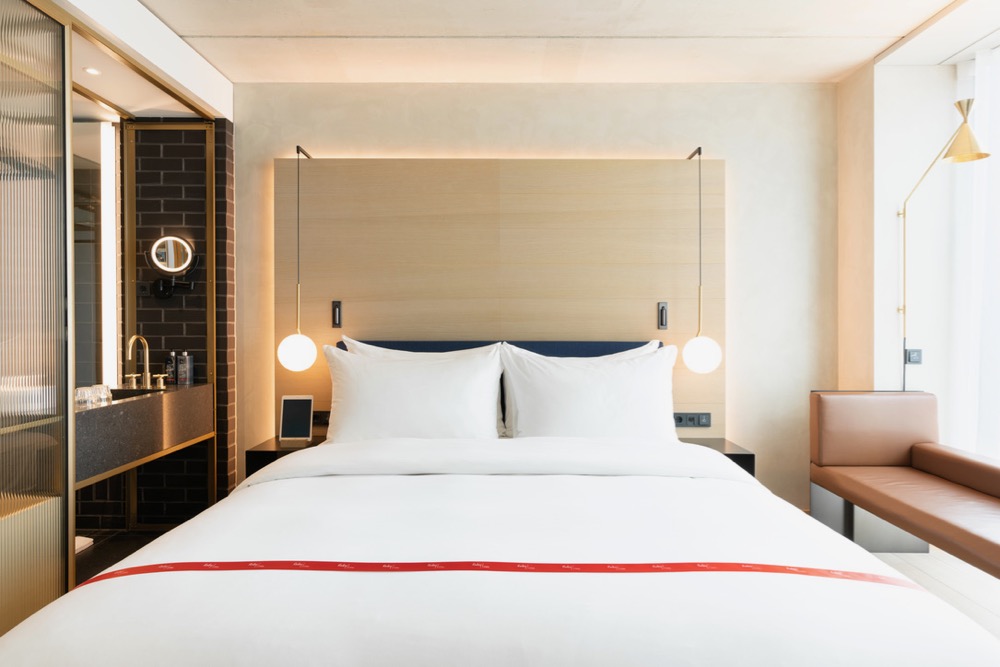 Truly Ruby
The Munich-based company opened its doors in Amsterdam in September 2022, with 291 bedrooms across 18 floors, spanning a total area of 24,230 sqm2. Ruby's Luuk Workspaces encompass three floors, providing 138 workstations and extensive meeting spaces. Its interior design tells the story of the location's pioneering role in energy production and uses in Amsterdam; ever since ships first sailed along the Amstel. This maritime history is echoed with a collection of sails over the entire three floors of the lobby, also the setting for its epic twelve-metre-long bar is also located. Ruby's signature style is also evident in the property, with plenty of vintage furnishings and thoughtfully curated pieces, alongside high-quality and sustainable build materials.
Playing a role in urban sustainability
Following Amsterdam's commitment to sustainability, the building has been constructed using and energy efficiency systems; it was the first in Europe to be LEED Platinum certified in 2018 and fits perfectly into its surroundings. A clever shading system on the facade automatically darkens the rooms, with solar sails that retract and extend automatically and with geothermal energy generation, it can self-produce both cold and heat.
Read our guide to the best luxury hotels in Amsterdam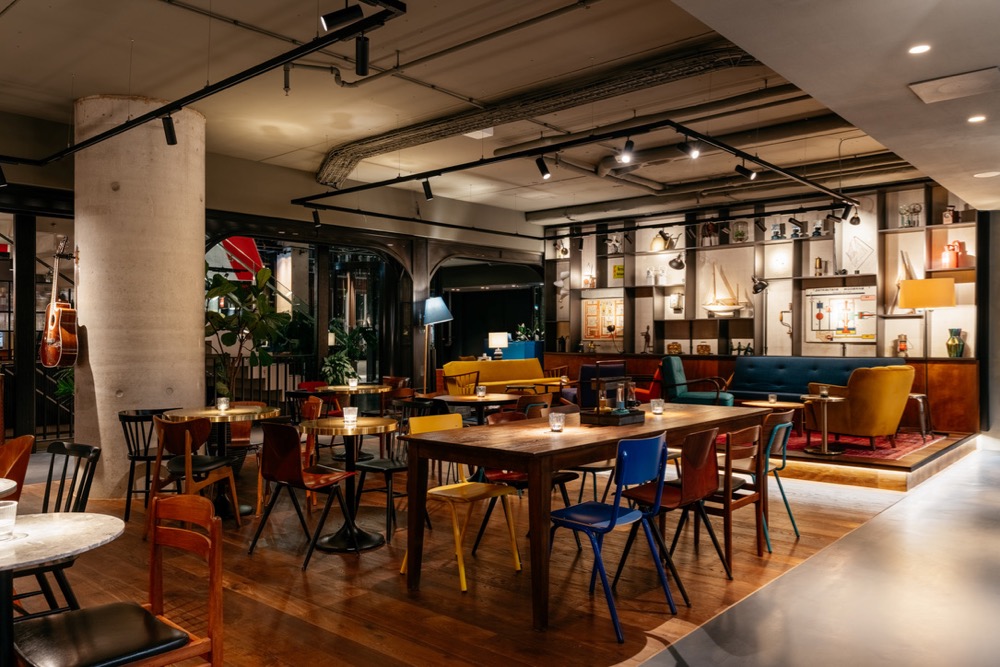 Six bedroom categories 
Choose from a COSY Room (approximately 22 sqm2), MATE Rooms (approximately 25 sqm2) with twin beds, LOVELY Rooms for weekends for two (approximately 24 sqm2), WOW Rooms (up to 25 sqm2) and LOFT Rooms with bathtubs and up to 35 sqm2. For longer stays, the Ruby Emma also offers RESIDENT Rooms, with a living area and separate bedrooms (approximately 47 sqm2).
Ruby Luuk Workspaces 
This is the fifth of Ruby's co-working spaces, but the first with a Ruby Hotel in the same building. Encompassing 800 sqm2 its has inspiring public areas and intelligently designed offices with well-equipped workstations, ergonomic chairs, daylight lamps and height-adjustable individual tables. Private offices cater for six to 24 workers and there are fixed or flex desks; these can all be rented with flexible terms and short notice periods. Membership prices start at 60€ (approx. £52) a month and day passes are available from 18€ (approx £16), with barista coffee, tea, fresh fruit, internet and cleaning all included in the package. Meeting rooms for six to 70 people have state-of-the-art equipment conducive to brainstorming, presentations or (hybrid) team meetings; these can be booked by non-tenants and hotel guests by the hour.
Fabian Zellinger, Director Corporate Development, New Ventures & Workspaces at Ruby, speaks of the new venture: "We are proud to combine two successful Ruby products in one building for the first time. We see this further development as an opportunity to provide business travellers with a comprehensive offer to work productively during their stay. In addition, we are creating a community of guests, businesses and local communities that meets their need for inspiration and networking. At the same time, the space potential is ideally utilised and the achievable turnover per square metre is optimised, also to the benefit of our investors and partners."