Following a complete head-to-toe redesign in 2021 of Ofício unveiling an entirely redesigned dining area, image and menu, the new concept follows that of a Tasco, or street restaurant, serving traditional dishes in a more refined style with a dash of playfulness and plenty of flavours and TLE was recently asked along to find out more about this incredible restaurant in Lisbon's Chiado neighbourhood.
Reopened and reimagined
Ofício meaning "craft" is a reflection of the new generation of foodies in Lisbon, it is a restaurant for people who like to eat, who value where their food comes from and the traditions associated with recipes. But it's also about breaking rules, comfort, ordered informality, relaxed but competent service and excellent wines.
Ofício reopened on 2nd June 2021, with Hugo Candeias as the Executive Chef behind the menu, complemented by Executive Sous Chef Micael Duarte and Chef Rodolfo Lavrador.
Hugo Candeias' work at the fine-dining restaurant The Art Gate (just steps away from Ofício) is renowned. In the last few years, he worked in Albert Adriá's restaurants in Spain before moving to Portugal to join the team at The Art Gate and now Ofício.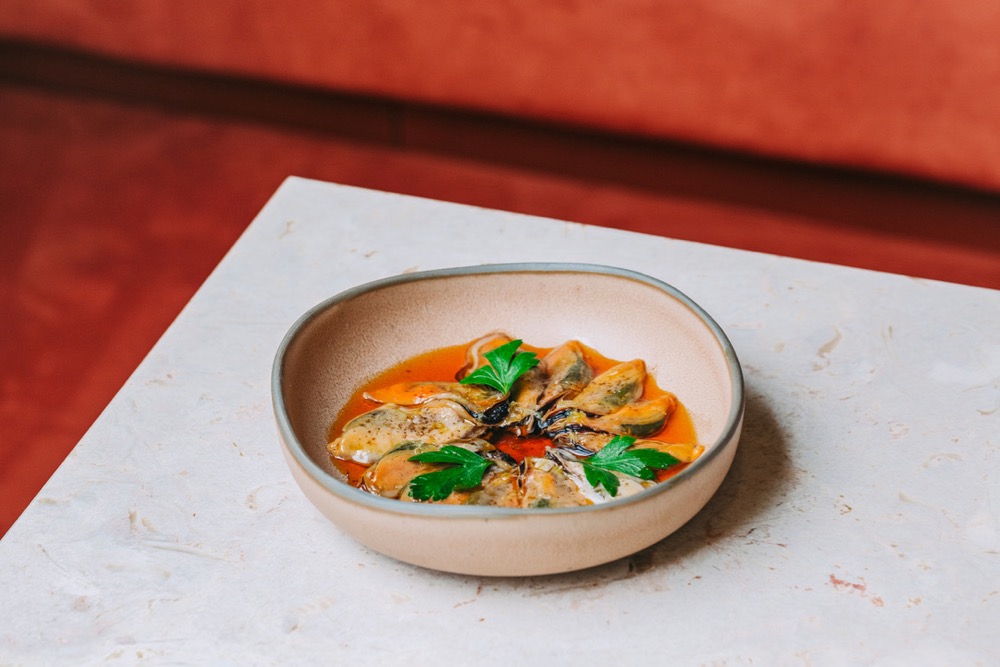 Micael Duarte brings his experience of working with Nuno Mendes in London, both at Chiltern Firehouse and the defunct Taberna do Mercado. In Lisbon, he has worked at Prado and on the We Are Ona project.
Rodolfo Lavrador's experience has taken in the Michelin-starred Agern in New York, Mãos in London with Nuno Mendes and Bairro Alto Hotel in Lisbon, also with Nuno Mendes and Bruno Rocha. Part of the menu was developed during the second lockdown when The Art Gate and Ofício created weekly takeaway and delivery menus, allowing the team to test several recipes that were then integrated into the project.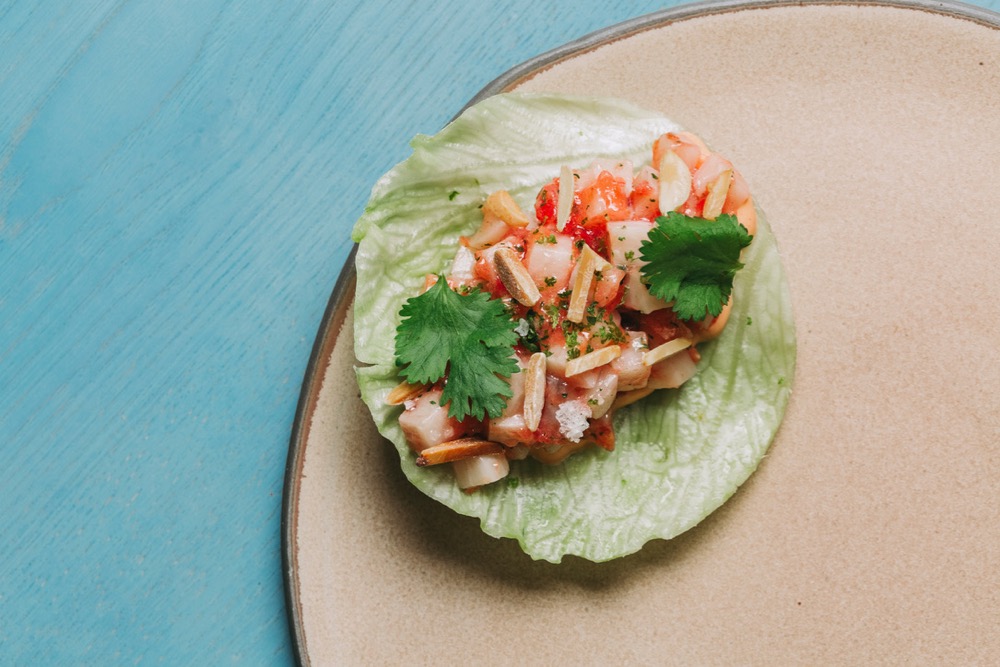 Something old, something new, something borrowed
Rebranded by Savvy and designed by Spacegram, the new Ofício is located in the street where the Convento da Trindade once stood. As such the space has had a relationship with food for 50 years as the refectory where monks would come together to eat and talk. The team that developed Ofício's image combined tradition and modernity in the logo. The first letter in the name, "O", is written simply and directly in sans serif, and then evolves into a typographic interpretation reminiscent of the Gothic lettering used in religious manuscripts. Like the project, the logo is also split between the past and the future.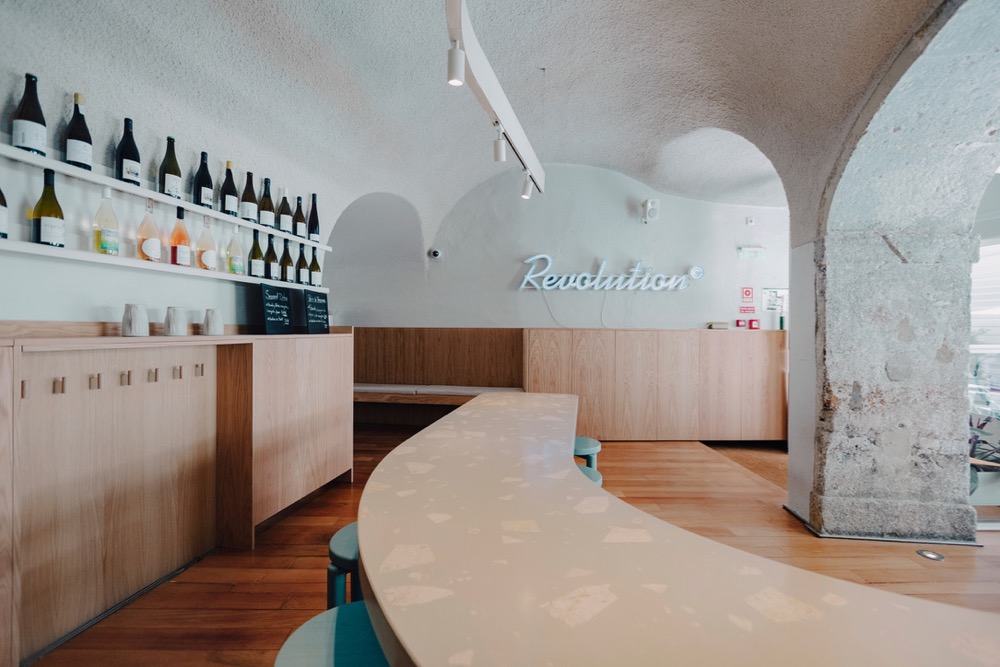 The change is dramatic. There are 24 seats outside – Rua Nova da Trindade has been pedestrianised in the last year making it conducive to outdoor dining. Inside, a low counter has been added with 14 places designed in resin and featuring small splashes of lioz marble across its surface.
Next to this is an inviting display of oysters on ice. 40 covers are catered for inside, the dining room divided by a central mirror lit by a large window. Only the chairs remain from the previous design, restored and upholstered in blue velvet, combined with light-coloured marble, brick-like hues and pieces of art.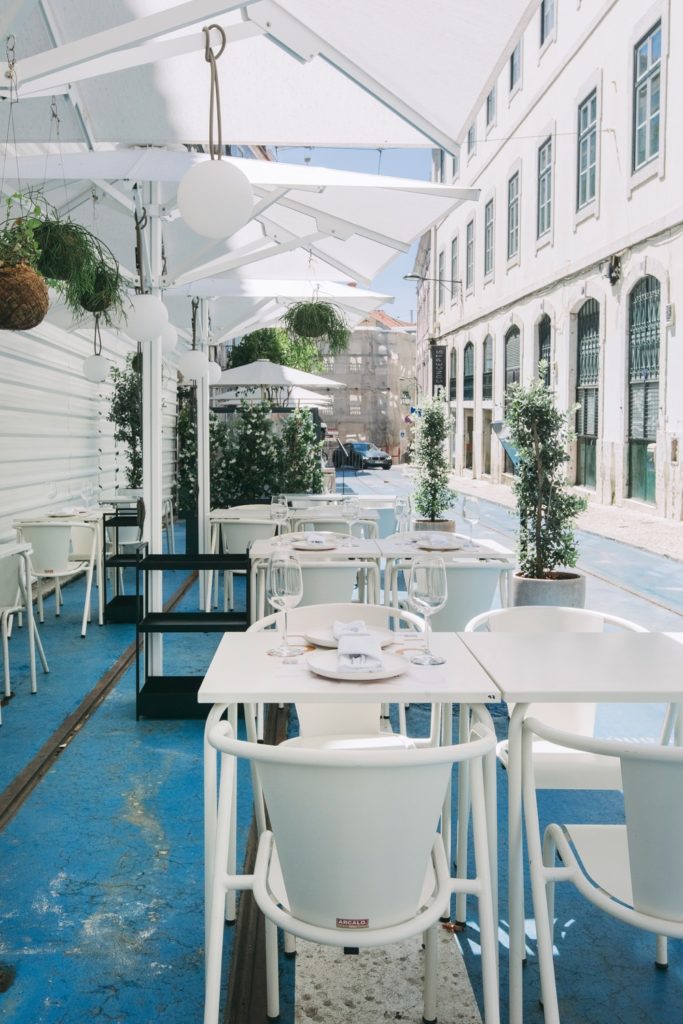 Art and design
Like TAG, a project by the same owners, art also features at Ofício. João Louro's Revolution provides a neon welcome at the entrance, while two engraved mirrors by Daniel Blaufuks – Original Copy and Copy Original – feature on approach to the dining room. Paul Harrison's How to Drink Wine is the final piece diners encounter on the journey to their seats.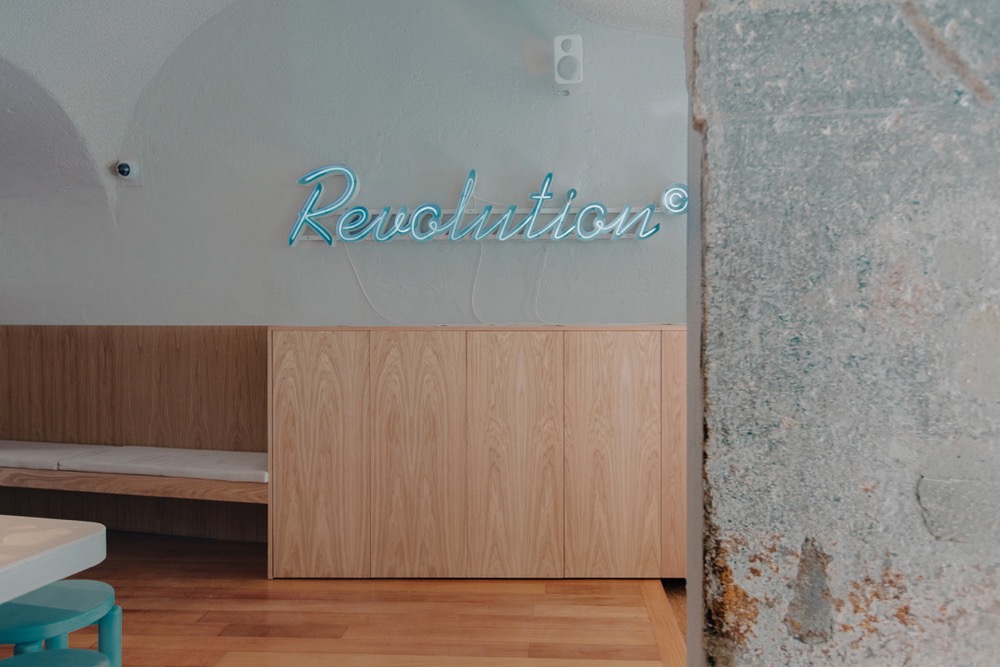 On the exterior wall and on the placemats is a QR code with the menu. Containing idiomatic Portuguese expressions, the menu is like a page for scribbling on – erasing, noting, drawing arrows and underlining important things. The coasters also have a secret QR code for an Ofício playlist, which the restaurant carefully follows. Employees' t-shirts are emblazoned with a series of food-related sayings in Portuguese and with a direct translation: De pequenino se torce o pepino (From Little you twist the Cucumber), Vai à fava (Go to the Broad Bean), Soltar a franga (Release the Chicken) and Estar com os azeites (Be with the Olive Oil).
Playing with food
Playing with convention, food is served alternatively. Dishes found on the menu include Algarve Crab (Recheio de Santola do Algarve); Beef Tartar (Tártaro de Novilho) served with a grilled rosemary olive oil brioche made by Isco, an artisanal bakery in Alvalade; "Alheira" Sausage Croquette (Croquete de Alheira) with a runny quail's egg at its centre, like a Portuguese version of a Scotch Egg.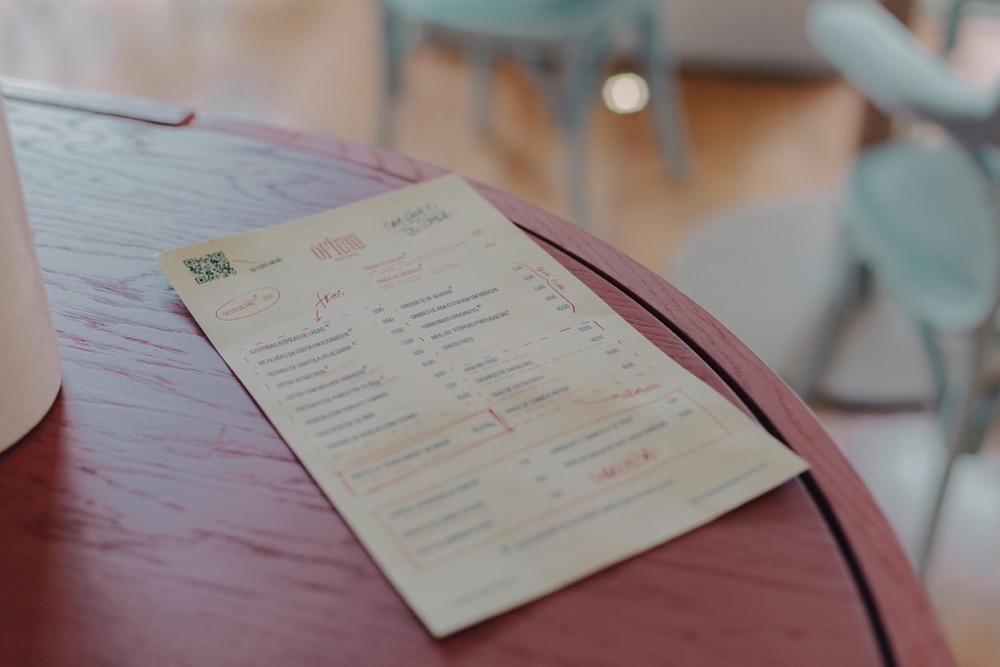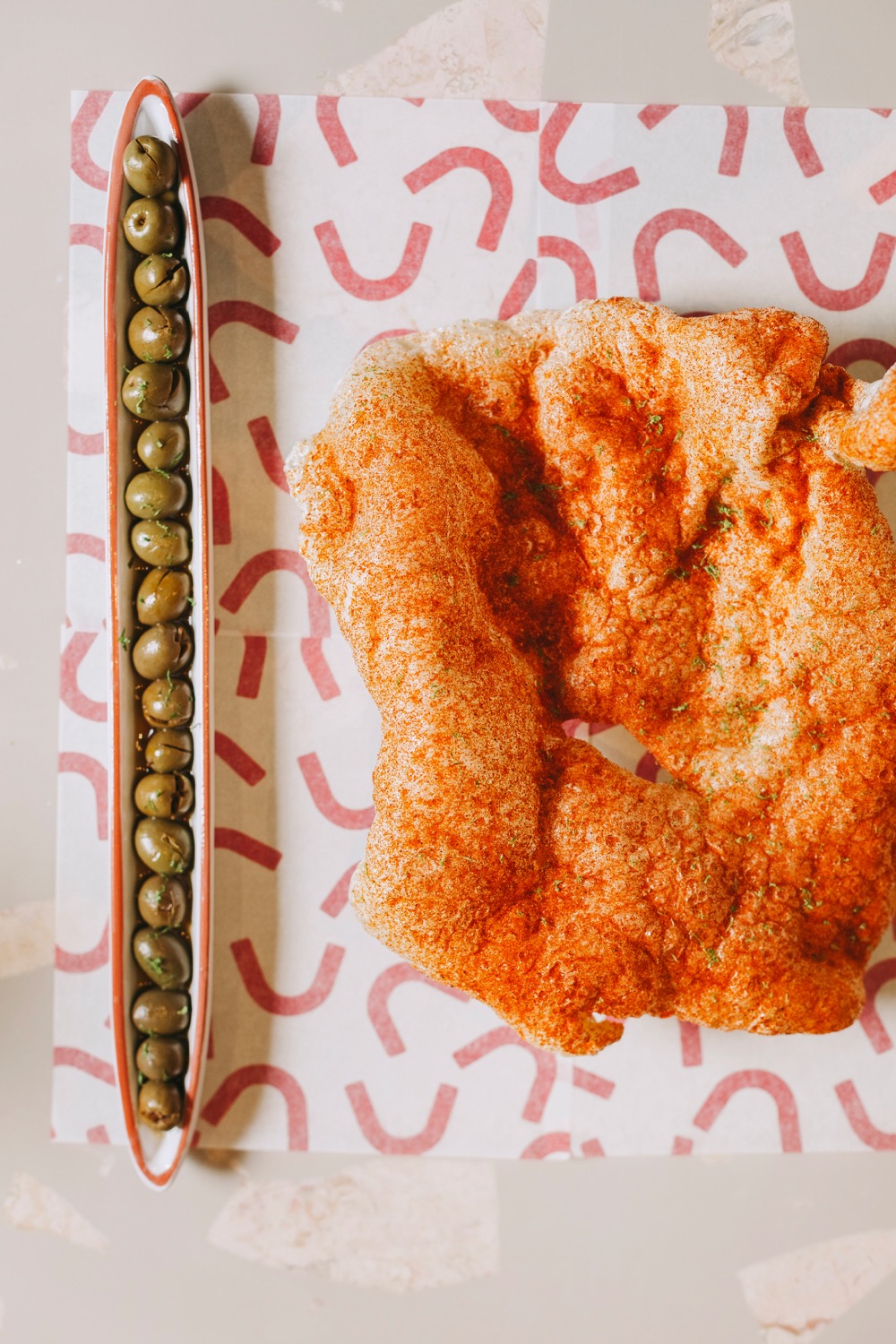 Shoulder of salt cod (Cachaço de Bacalhau) with chickpea and onion flavours in two different creamy sauces; and old-style baked rice (Arroz de Forno à Antiga) cooked over a slow heat for hours, like the paella made by Spanish grandmothers, with chicken and smoked meats and three different broths – it's based on a recipe Candeias found in a book by Maria de Lurdes Modesto.
Read our guide to the best restaurants in Lisbon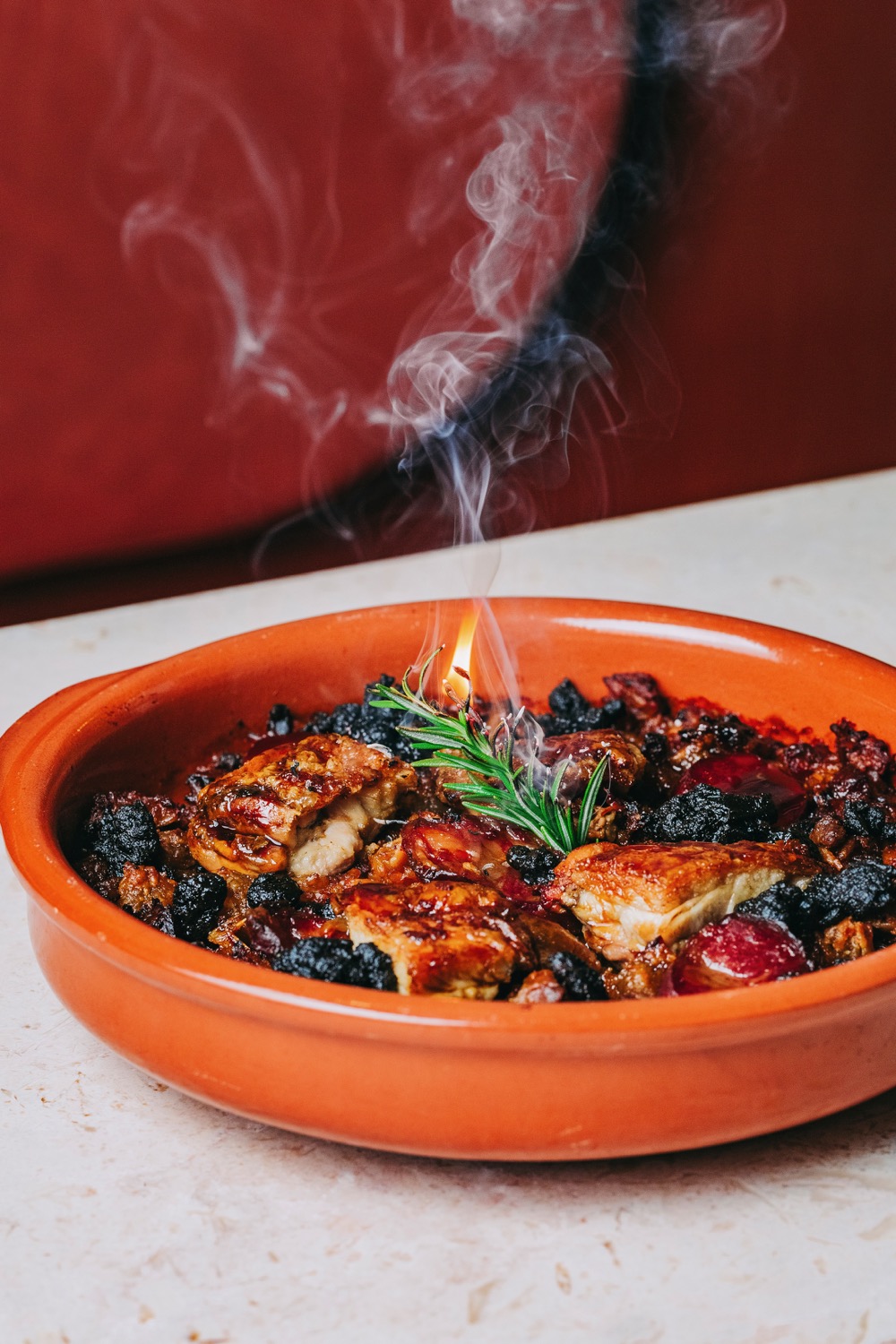 The dessert list features a ride pudding-like toasted rice panna cotta (Panna Cotta de Arroz Tostado), hot chocolate foam (Es puma quente de Chocolate) with Mexican cocoa and almond tart (Tarte de Amêndoa) inspired by a recipe belonging to Micael Duarte's grandmother. The whole cheese tart (Tarte de Queijo) is already a signature dish. Sommelier João Pombo is on hand to introduce diners to everything from conventional lesser-known wines to more challenging ones. The list is long and original and there's an abundance of options served by the glass.
Contact Details
Ofício is open Tuesday to Saturday for lunch and dinner, as well as being open all afternoon with a reduced list of menu options, ideal for sampling while enjoying a drink. And with a retail section, you can purchase some of the brand's delicacies – like Absoluto ham or its famous cheese tart – to take home.
Website: www.oficiolisboa.pt
Address: R. Nova da Trindade 11k, 1200-301 Lisboa, Portugal