Last week my trusted luxury travelling companion (Ross!) and I were lucky enough to spend a somewhat grey and rainy afternoon in the capital, indulging in a little bit of city centre spa heaven. The kind invitation to experience the centre of relaxation was extended to us by the team at the Sheraton and of course we were delighted to accept.
Arrival
We were welcomed with a cool refreshment before being escorted up to the changing rooms by a knowledgeable and friendly Charlene, our host for the day. Personally shown to my allocated locker, I quickly adorned by swim wear and enveloped myself in the soft robe and fixed my feet into the flip-flops awaiting my arrival. Meeting Ross back out in the communal area, we then headed up to the thermal suit where Charlene gave us a guided tour.
The Thermal Suit
The Thermal Suit is a tranquil place that comprises of 11 areas / suits each boasting different qualities to help relax refresh and stimulate the mind and body. To maximise the benefits the Thermal Suit has to offer there is a recommended order in which you should visit each of the areas; following this recommendation to the 't' would take around 2.5 hours – what a wonderful way to while away the hours!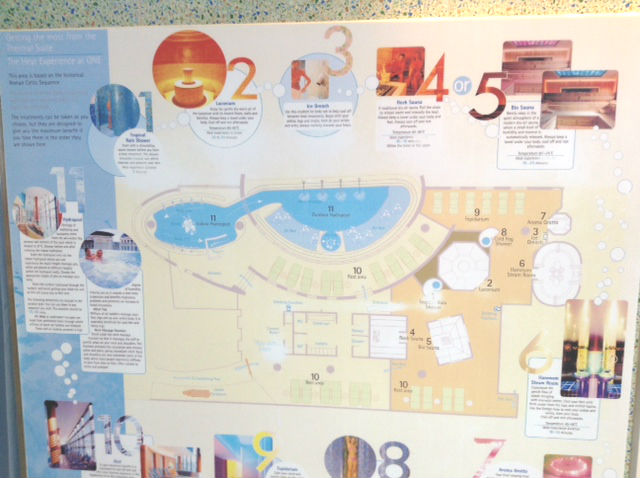 So we dropped our robes and hit up the Tropical Rain Shower to prepare our skin next port of call was Laconium although the recommended time for this room is 20 – 30 minutes Ross and I could only stand about 10 minutes before the heat got the better of us. Time for a lie down on the heated relaxation bed (decorated with a large thistle for that all important Scottish touch!) before we moved on to our first Ice Drench.
I won't bore you with the intricate details of our every thermal suit movement but needless to say we emerged from this hub of tranquillity feeling a lot more chilled than when we entered.
My personal favourite was the Cold Fog Shower – I just loved how exhilarating it made me feel and the blue lights and minty scent made the whole 3 minute experience almost futuristic.
Hydropool
Next, to the outdoor hydropool; the use of which seemed even more indulgent given that it was 4pm on a Thursday afternoon with many 'suits' beavering away at their desks in the Financial District of the city in which One Spa is located.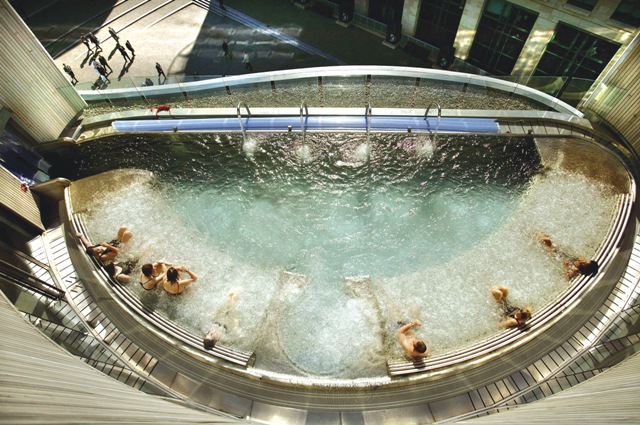 The combination of fresh air, fab view of the city and hot powerful water jets was invigorating yet relaxing both at the same time. I have visited One Spa once before (about 12 years ago) and it was late at night and I must say that the view of the city all light up with the dark and moody backdrop is breath-taking – an extremely romantic setting! I'd recommend that a night visit is essential to really appreciate the full grandeur of the hydropool.
After we'd become suitably prune like we decided we should do a little bit of exercise so ventured to the 19m swimming pool (to get even more prune like!). We had the pool to ourselves which was amazing – no lanes, no splashing children (bar Ross) just the sound of our own ripples. The ESPA products provided within the poolside shower areas also added that extra touch of luxury.
Changing Facilities
When we could take no more of the relaxation we'd been subject to we headed back to our respective changing areas to prepare ourselves for the real world once more. Great shower facilities with full body driers (I love these!) mean that the transition from poolside to dry side is an easy transition. The lockers and changing area (with plenty private cubicles) offer ample space and comfort.
The dressing tables are nicely spaced with awesomely powerful hair-driers and Cloud 9 straighteners for guests to use as they wish. I've been dying to try out the Cloud 9 straighteners and I must say I was extremely impressed my unruly mop of curls were sleek (and almost sexy!) within minutes.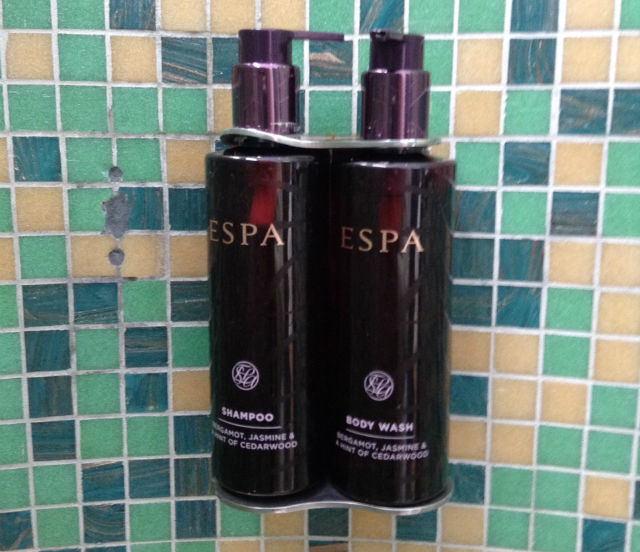 ESPA moisturiser and hand cream is also freely available; however I was surprised to find that there wasn't any eye-make up remover. I think I was expecting this as the gym I go to has a squirty dispenser with it. Never fear, however as the extremely helpful staff (who seem to have the habit of appearing out of no-where just when you need them) kindly sourced some from the beauty treatment parlour for me. Not only did she ask if I had any allergies before she went to retrieve it, upon her return she could even gave me a full description of its ingredients and their benefits. I was impressed…..and no longer suffering from mascara streaks.
Conclusion
A city sanctuary with wonderful service.
However, one point to note was that the pool area will be closed in the next few weeks for maintenance, which in all honesty I think is needed to a small extent. My memory from my first visit all those years ago was WOW!! I think the extra TLC from the maintenance work will definitely restore the WOW that I felt was slightly lacking this time round.
Essential Information
Day packages start at £70 for access to the thermal suite and One Spa and if you are staying at the hotel club rooms start at £235 and offer complementary access to the One Spa Thermal Suite and normal rooms there is a £30 supplement.
Address: 8 Conference Square, Edinburgh, United Kingdom EH3 8AN
Phone: 0131 221 7777
Web: onespa.com