I must admit coming from Scotland and living in Edinburgh I am woefully versed on most of the northern part of Scotland, traveling these days often makes it easier to fly out to another country then spend time visiting your own. So when the latest luxury accommodation option to open in Aberdeen city centre the Sandman Signature Hotel Aberdeen asked us to come up and visit I jumped at the chance and I wasn't left disappointed!
Background and Concept
Transforming the previous Robert Gordon University building on St Andrew Street, the vast new hotel (218 rooms)  is part of Aberdeen's granite conservation area as well as being one of the largest granite buildings in the world. Thanks to family-run, Canadian hotelier, Northland Properties, it has been given a new lease of life with a multi-million pound investment from the hotel group and offers a fantastic new value for money luxury hotel option for both leisure and business guests visiting Aberdeen.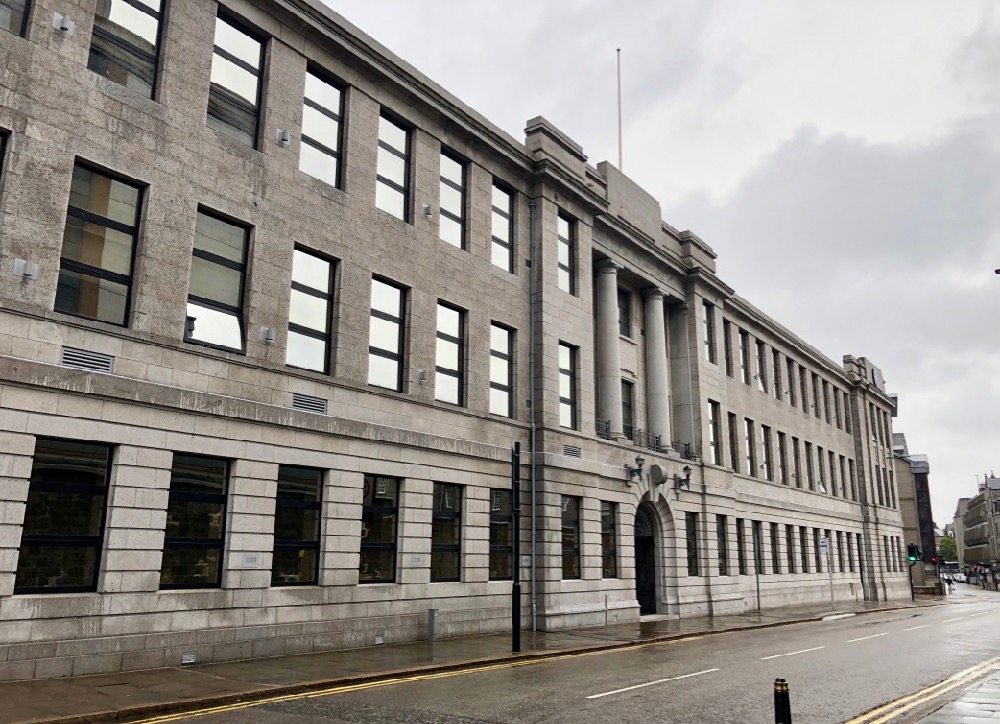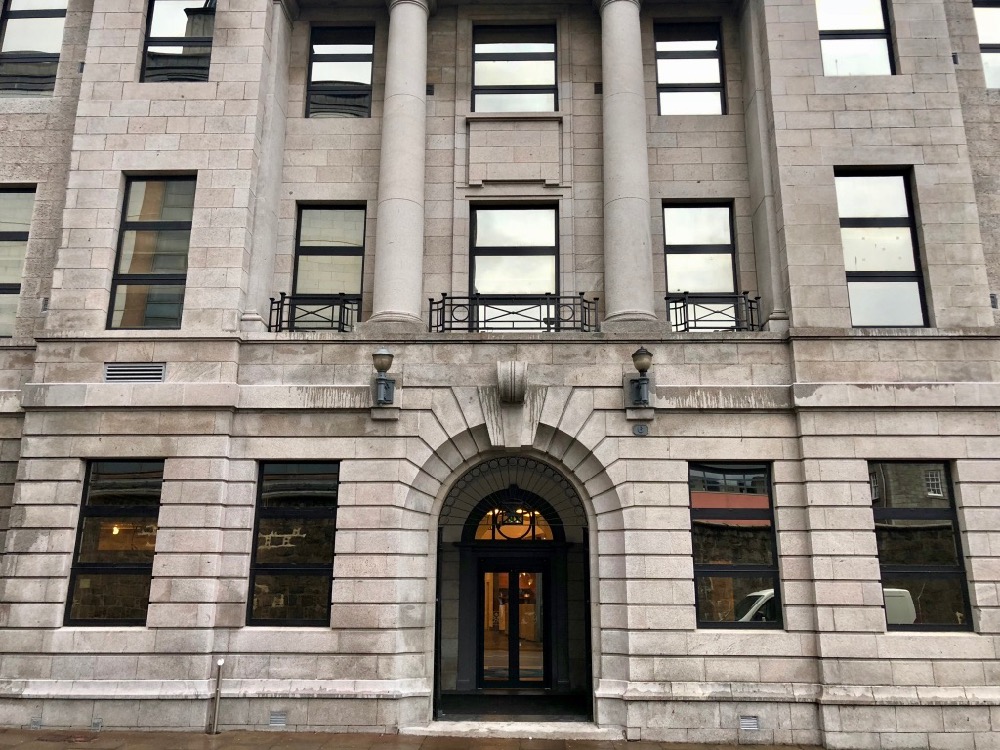 Location
Located in the heart of city centre, the hotel is a few minutes walk to Union Street and a ten minute walk to Union Square and the train station. There is ample on site parking, which was brilliant as we drove up from Edinburgh to Aberdeen.
The Lobby
You do get the WOW factor when you walk into the large contemporary lobby, there are lots of little finishes that draw your eye all over the space, like the glass umbrellas in the roof, which I am assuming is a nod towards our hit and miss Scottish weather and the beautiful cow hide upholstered chairs and large yellow banquette sofas with subtle tartan cushions.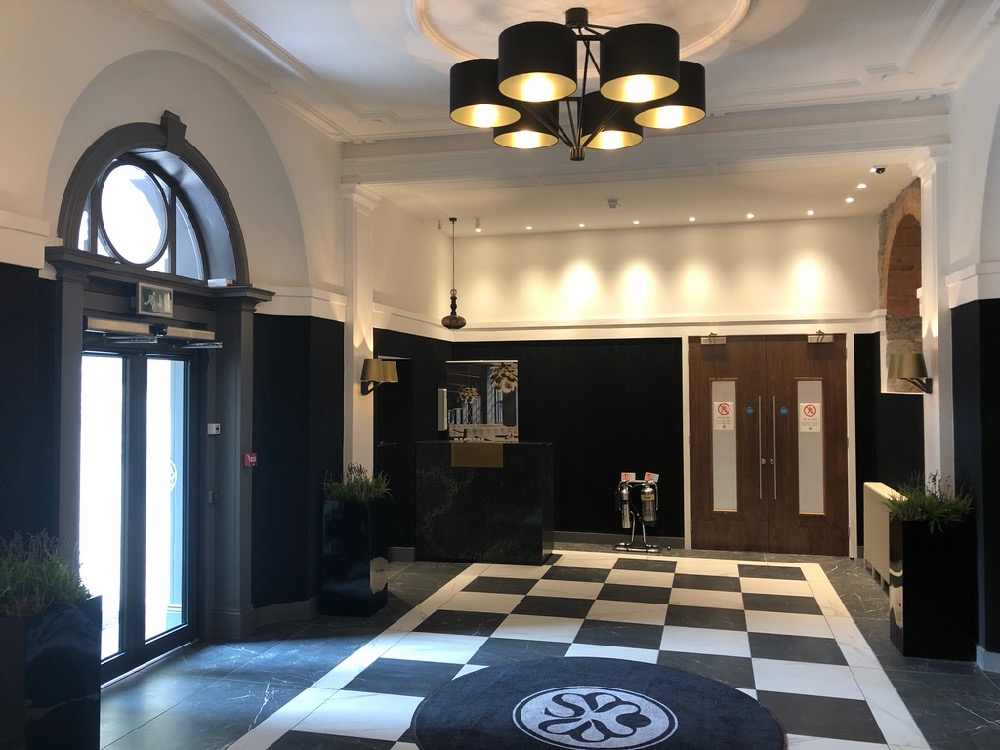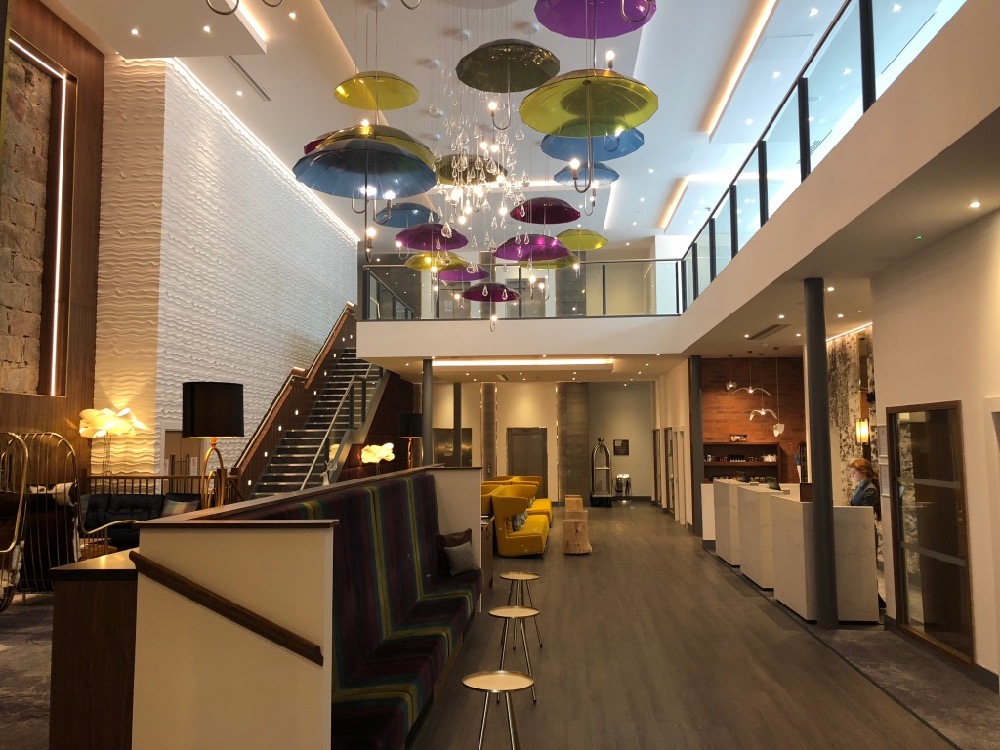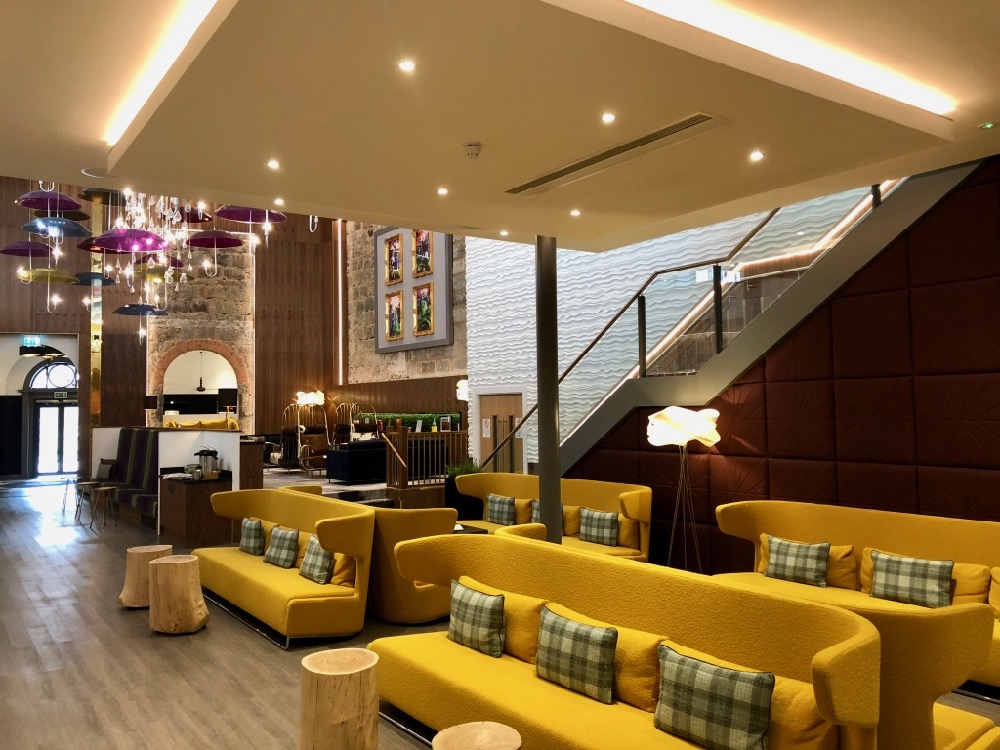 Accommodation
The hotel is large and does have a maze like feel to it when you reach the bedroom floors (well I got lost). Rooms come in various room categories. Signature, Signature King, Corporate King Suite, Executive King Suite, all around the same size, but with varying room extras.
We had a gorgeous Corporate King Room. The room has everything to make your stay just perfect. The King sized bed has a mattress by Glencraft which I guarantee you will sleep like a baby on. Either side of the bed are sockets and the sockets also include USB chargers a must these days!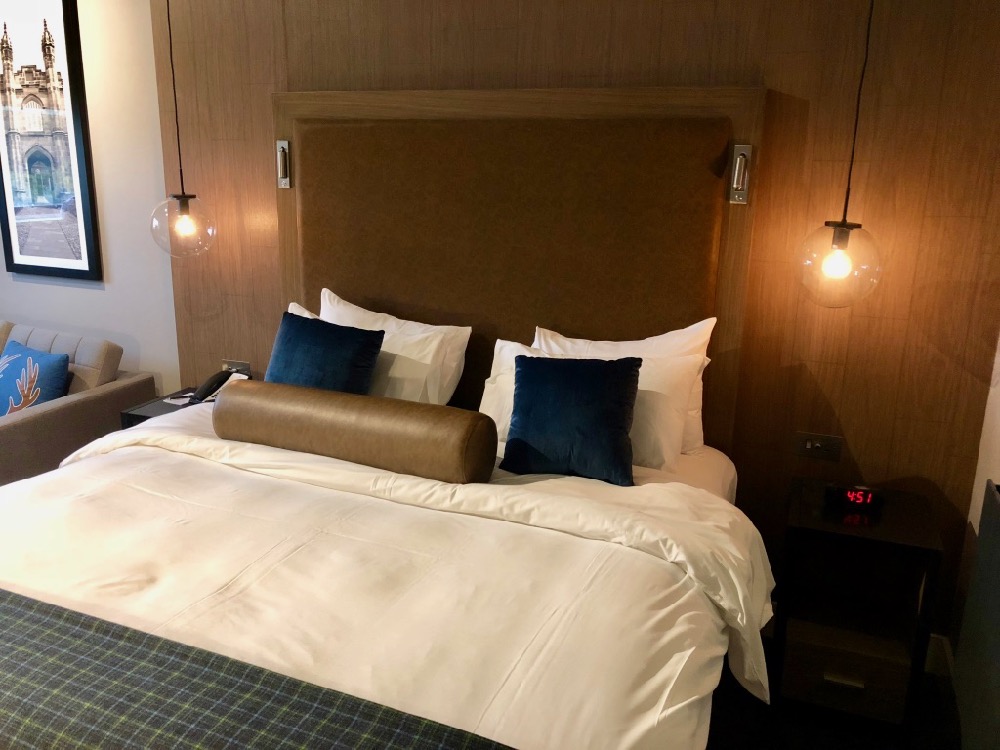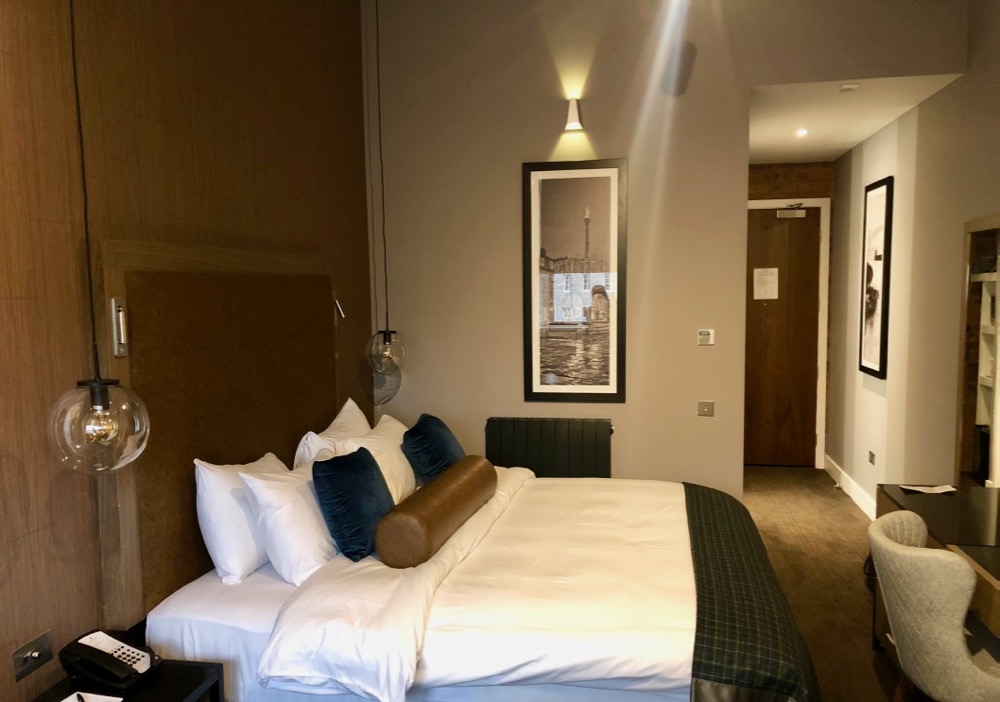 If you are planning on doing work there is a neat desk with plenty of plug sockets and above the desk a large flat screen TV which comes with a wide array of satellite channels.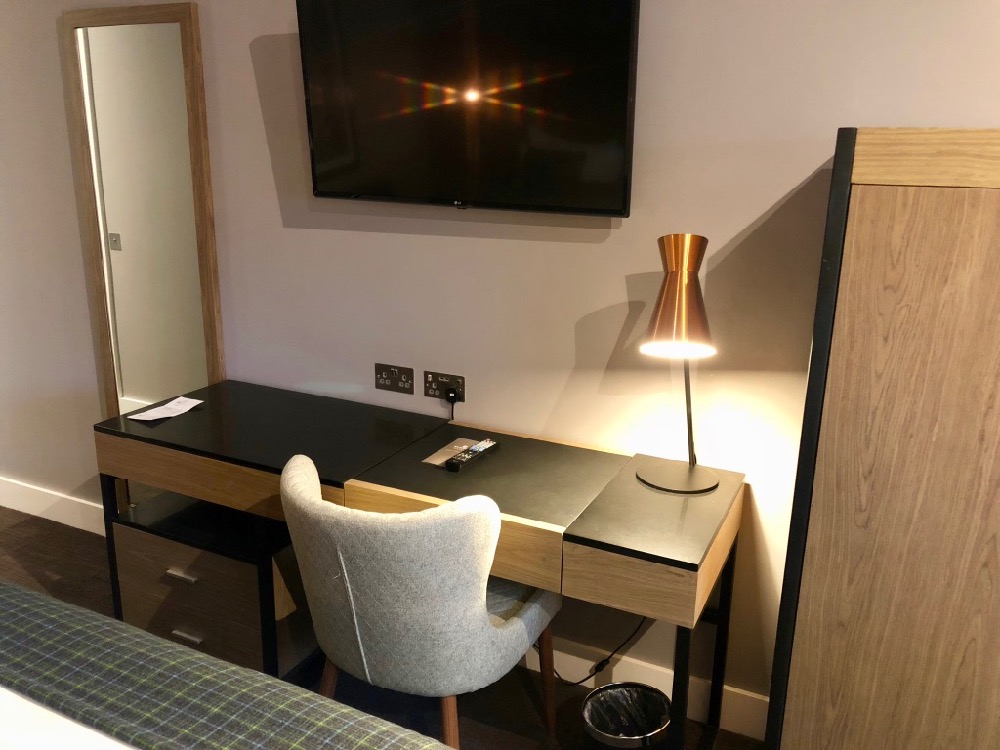 Bathroom
I loved this bathroom, the open brickwork has a very NY feel to it, and sitting juxtaposition against the white butchers tiles gives it a contemporary but warm feel to the space. The bathroom came with a standalone bath and separate walk in rain shower (not all rooms have a bath)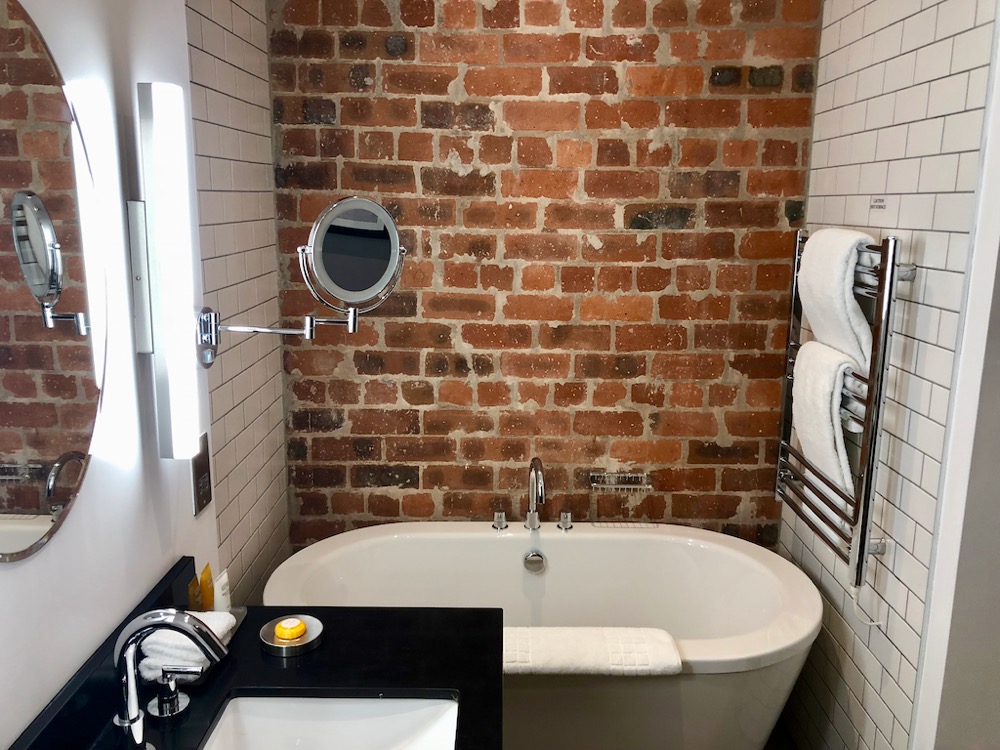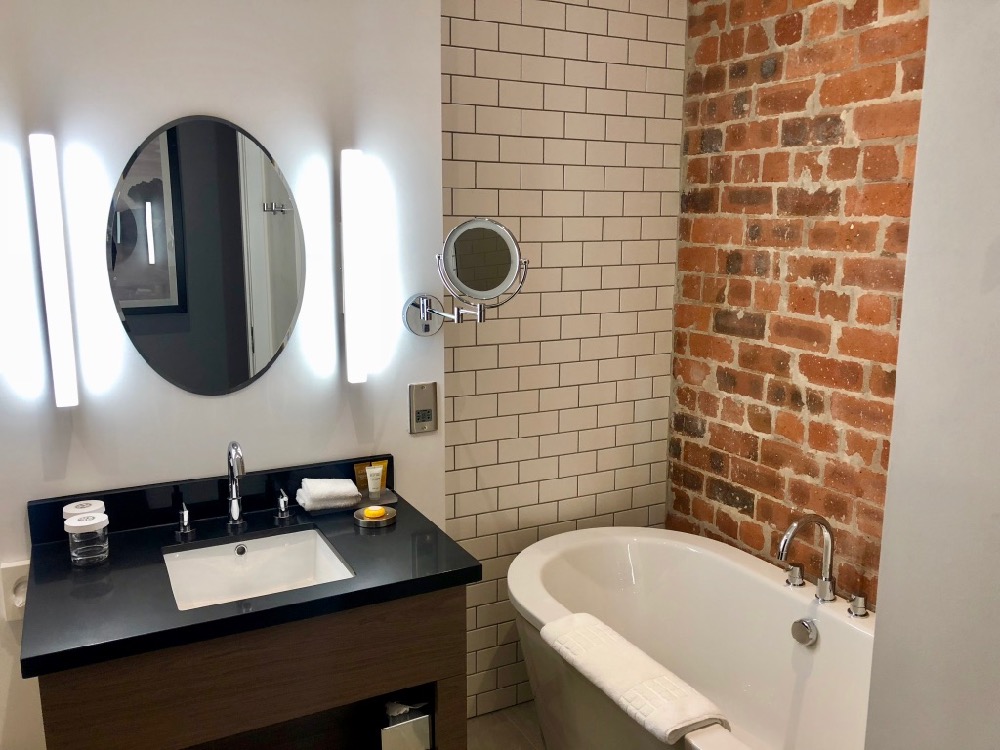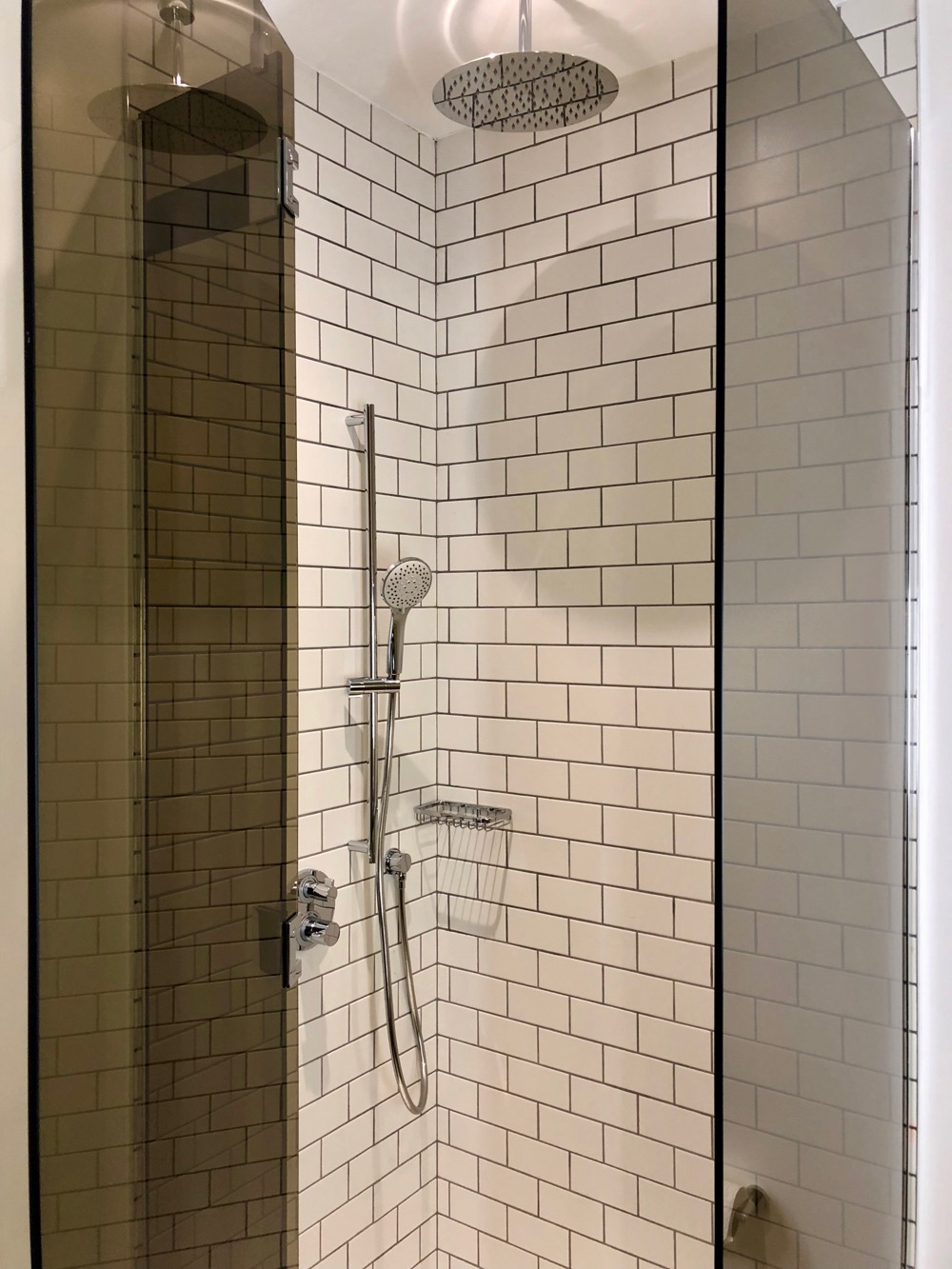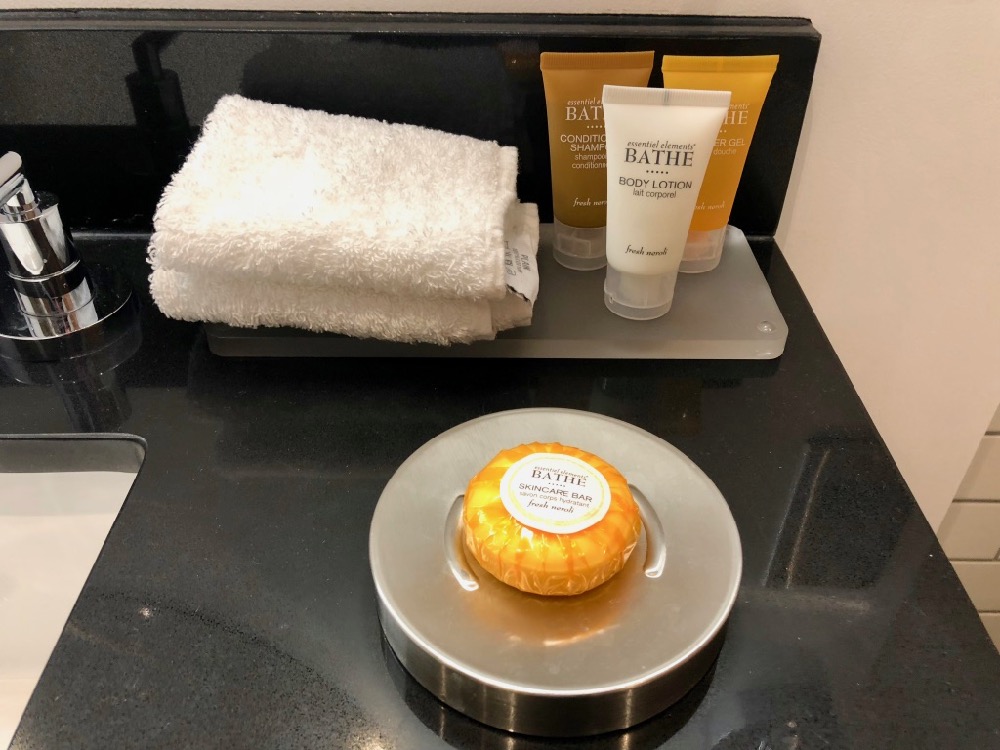 There are tea and coffee-making facilities and well as a small fridge in the room too.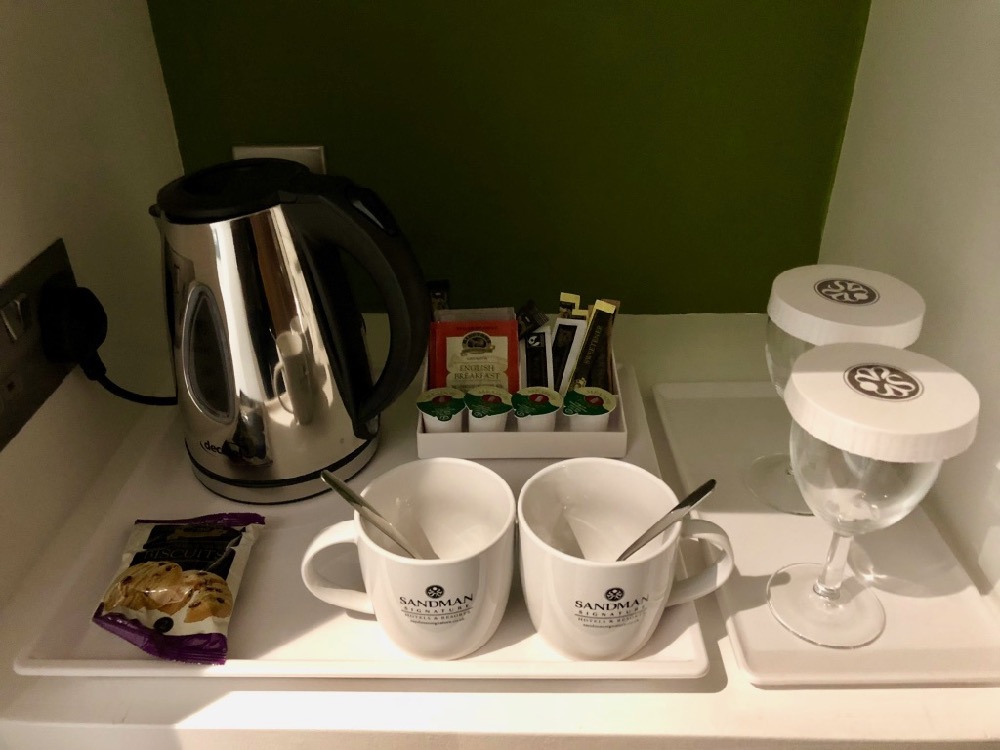 Food And Drink
The hotel restaurant, Chop Grill & Bar, offers a contemporary dining space and bar and soon to open whisky room. The restaurant, like the rest of the hotel, has a warm and modern feel to it, with booths to snuggle up in as well as tables and bar tops and stools.  The menu focuses on Canadian hospitality using locally sourced ingredients. It's a grill style restaurant so a lot of the menu is red meat focused (steak and burgers), as well as a selection of chicken, fish, vegetable and pork based mains. There is a good selection of sharing plates too which are ideal if you are just going in for a cocktail or wine or as a starter. Word of warning portions are big and I mean big, even I struggled to finish everything and I have a big appetite so it certainly does offer value for money.
You can access the menu here.
Dinner
To kick off the night we started with cocktails. I went for a Mai Tai, which was beautifully presented, they have a full selection of cocktail based drinks as well as extensive wine and spirits list. You can access the drinks menu here.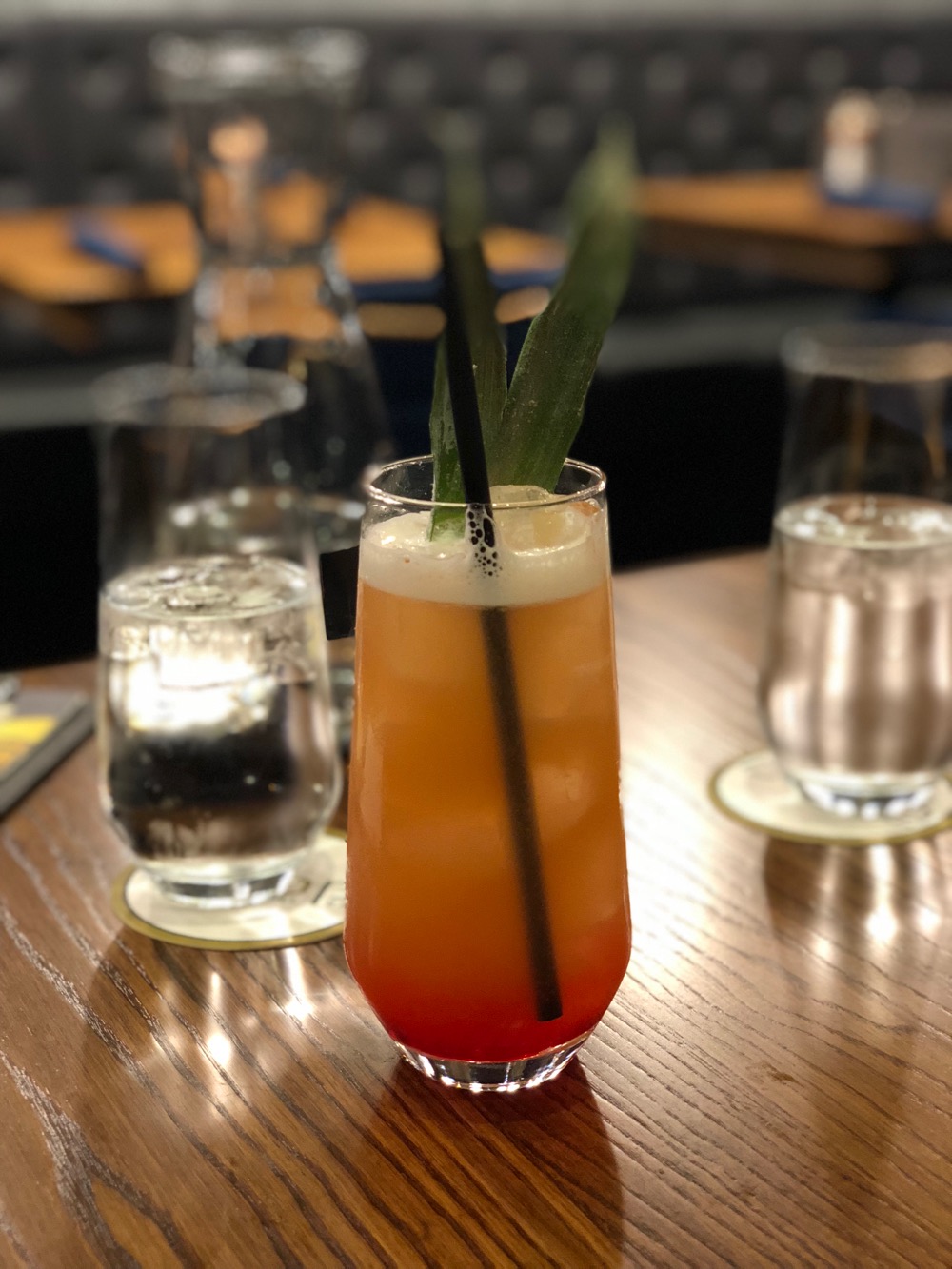 We ordered a couple of the sharing plates to start off with, the Canadian style nachos which are massive and the haggis bon-bons.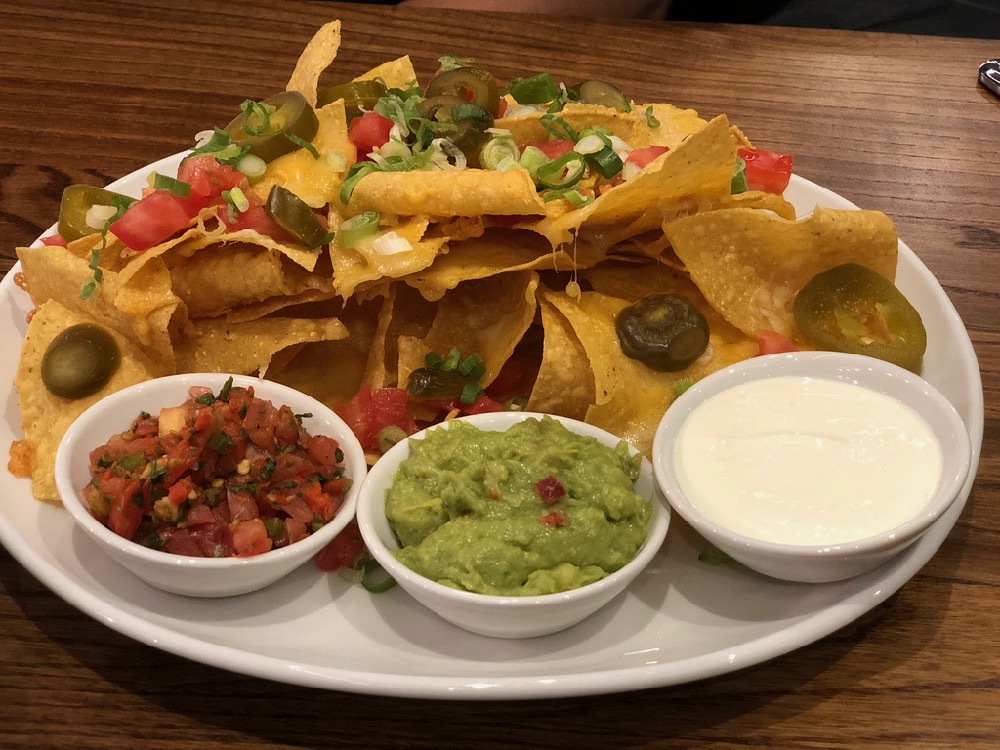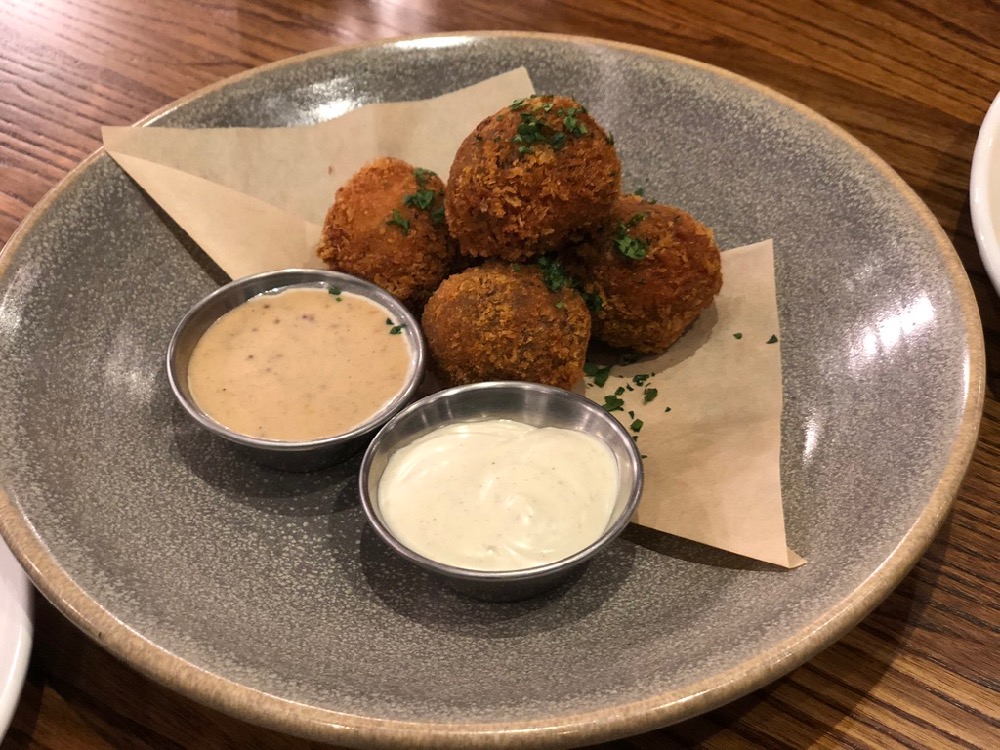 For mains we went for steak, we both had the fillet. which comes in 7oz sizes (approx 200g), there are a range of the signature sauces for the steaks too. I went for the peppercorn sauce and the main also comes with choice of mash, skin-on chips, or jasmine rice, plus fresh seasonal vegetables sautéed in garlic butter. the steaks are from JK Fine Foods of Aberdeen and hung for a minimum of 28 days and you can really tell, my steak was cooked as I wanted it medium rare and was incredible, melt in the mouth steak.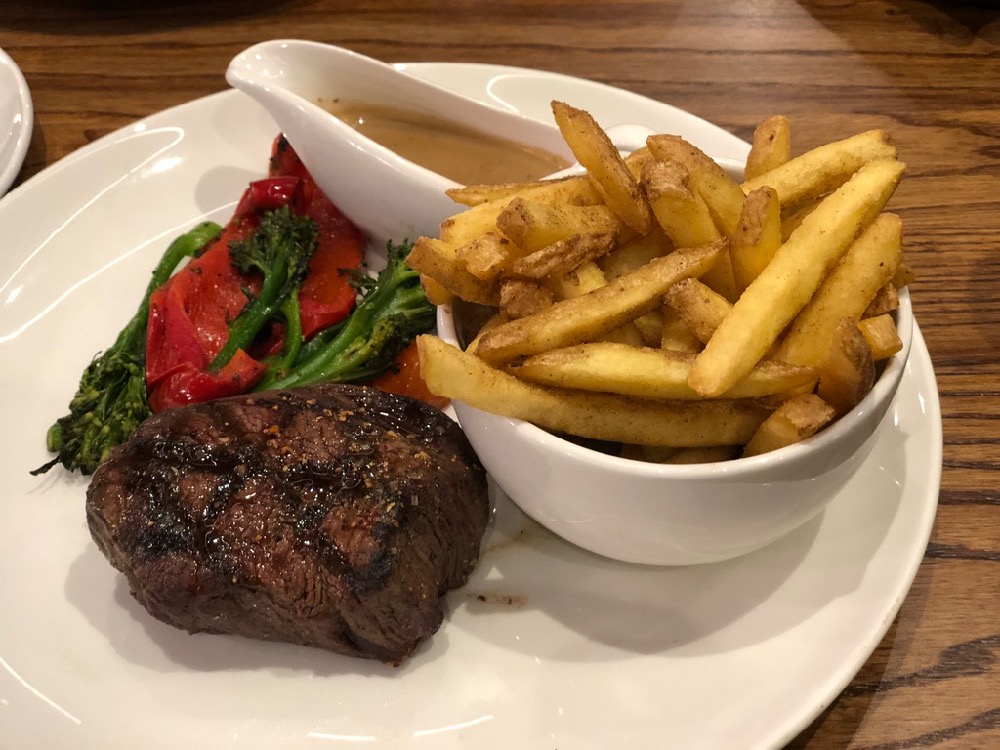 I was full by this point, but who can resist a dessert, our waiter said his favourite dessert with the White Chocolate Brownie and Dark & Deadly Chocolate Cake. So that was an easy decision we ordered one of each. Now again word of warning, the desserts are gigantic, I think one would be enough for two people. They were incredibly delicious, he was correct about the white chocolate brownie being amazing, it really was.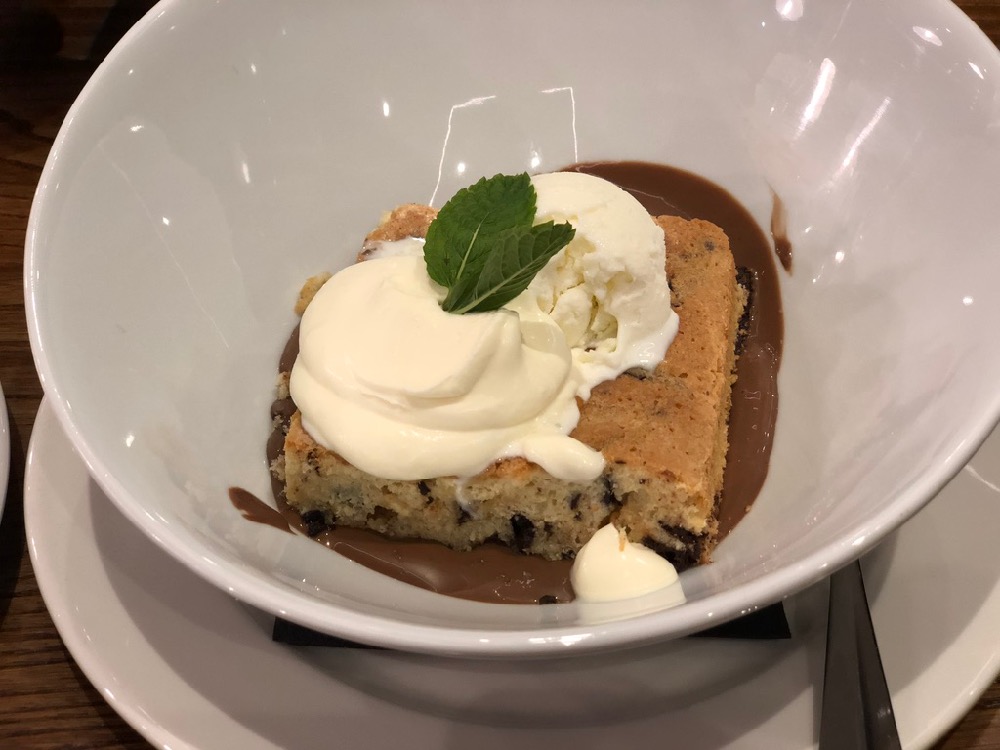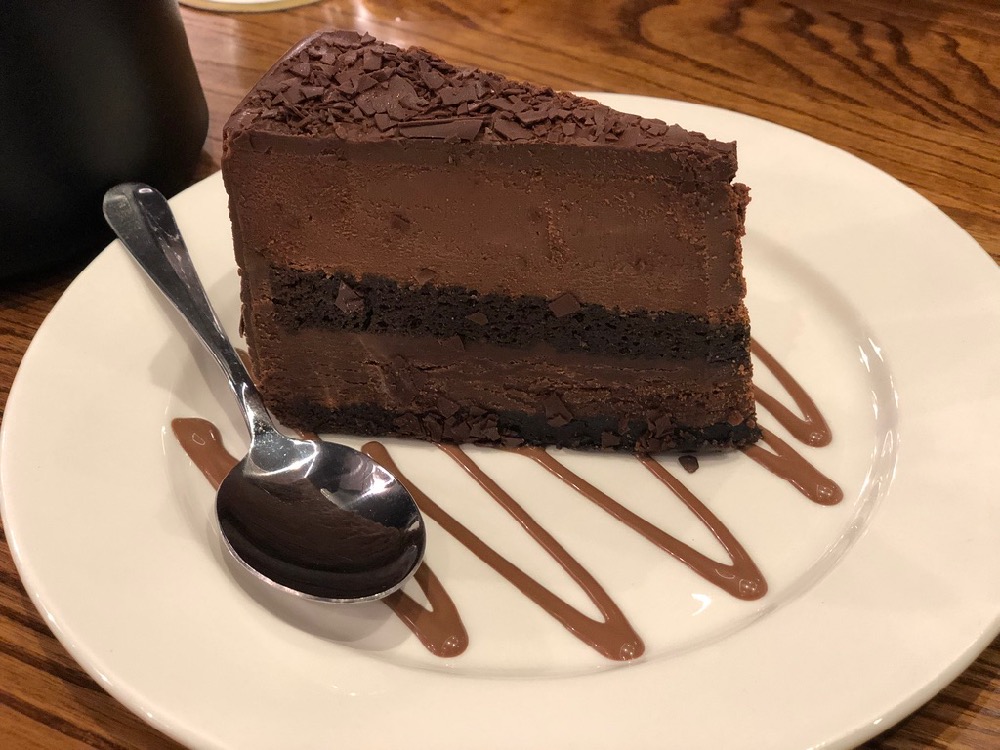 Breakfast
After a great night sleep we went down for breakfast, which is served until 11am daily so you can afford a little lie in when you stay here. It is served buffet style, and includes all the usual hot and cold options you would expect.
Final Thoughts
The Sandman Signature Hotel Aberdeen, is really stunning, it offers great value for money and the quality of the hotel's interiors, staff and food is very good. I have no hesitation recommending this property to anyone visiting Aberdeen.
Address: St Andrew St, Aberdeen AB25 1AD
Web: www.sandmansignature.co.uk/hotels/signature-aberdeen-zabe