Secret Bay, Dominica's exclusive six-star, all-villa, Relais & Châteaux rainforest resort and residences has unveiled a first look at three new amenities inspired by biophilic design; Mouben Welcome House, Gwiyavye' Lap Pool & Bar and Zing Zing Lounge.
Mouben Welcome House. This will be the new resort hub from which guests kickstart their Secret Bay experience. It will be home to a fleet of electric vehicles which will transport guests to their villas and present easy access to Secret Bay's beachfront. The Welcome House will also feature the new Adventure Concierge Desk, where guests can arrange an array of life-altering island experiences—a service that is also available in-villa. Secret Bay will continue to have a "no front desk" concept, allowing guests to check in and out directly from their villa.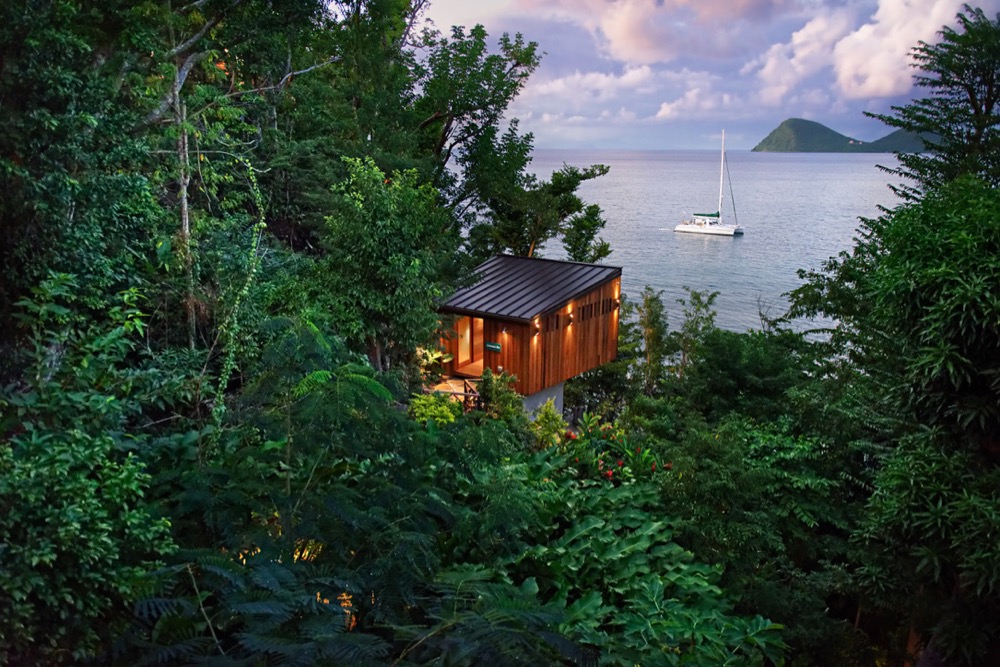 Gwiyavye' Lap Pool & Bar. Serves as an elevated oasis for all guests to enjoy. The relaxing oceanfront destination features an in-nature lap pool for guests to use at their own leisure, a cantilevered deck with lounge chairs to soak up the warm Dominican sunshine and a spacious, full-service bar handcrafted with Guyanese Greenheart wood. Enveloped in lush rainforest landscape, the space offers spectacular views of the Caribbean Sea amid an orchard of guava trees.
Zing Zing Lounge. An extension of Secret Bay's existing gourmet Zing Zing restaurant, the Zing Zing Lounge is a more casual offering that serves up specialty curated cocktails by expert mixologists paired with authentic Dominican bites. The Bar & Lounge is open daily from 5pm to 10pm.
The architecturally stunning amenities are the first undertakings being introduced as part of the 10-year-old, award-winning resorts' multi-year, master plan. This evolution – spread over 40-plus acres of coastal land – allows for an array of new amenities, more private villas and the introduction of a for-sale residence programme — all while lowering the resort's overall density and granting guests the utmost in the luxury of time and space.
"Secret Bay is continually evolving to meet the needs of our guests and stand out as a superior resort experience," said Dinesh Kissoon, General Manager of Secret Bay.
In addition to these three new amenities, the masterplan of intimate amenities also includes a funicular, an art barn and a microbrewery, all slated for completion in early 2023.
For more information, visit: secretbay.dm/residences