In a city famous for typically Andalusian taverns and bars in narrow old town streets, it was a real pleasure to eat in a contemporary restaurant in Seville during my last visit. Restaurante Abades, on the Triana side of Seville's might Guadalquivir River, is a welcoming, contemporary restaurant with a stunning, on-trend riverside terrace – and it offers romantic city views, writes Andrew Forbes.
Triana, Sevilla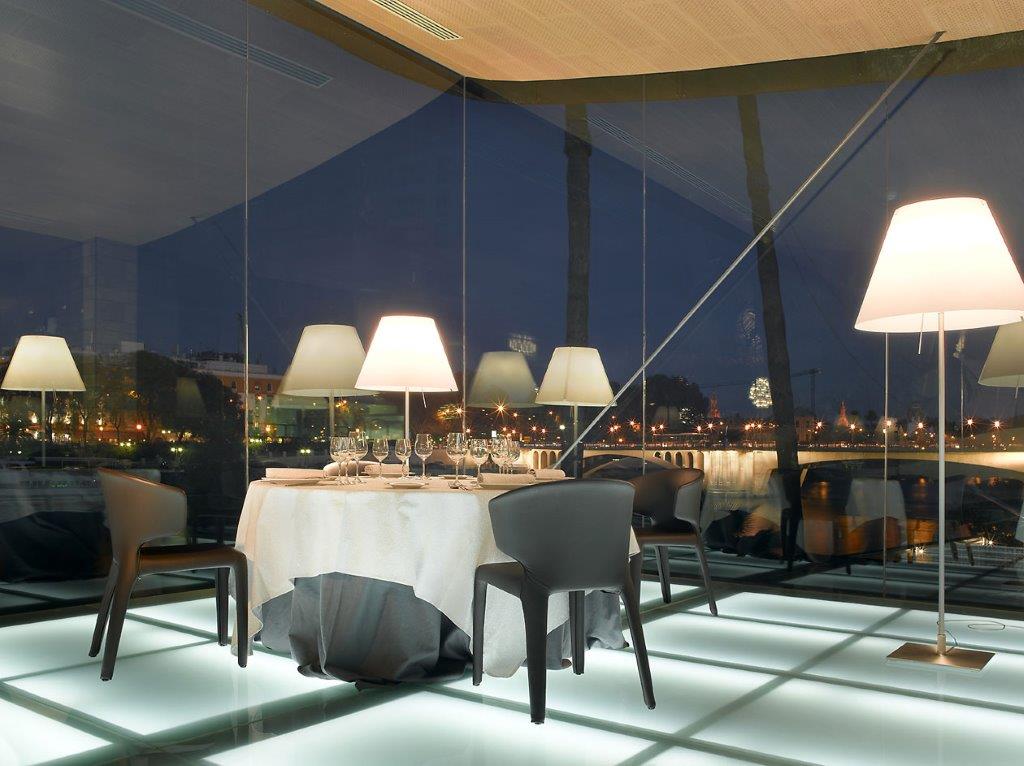 Tale of Two Cities
To some extent, Seville is a tale of two cities. On the west bank of the Guadalquivir one finds Triana, a community that dates to Roman times. Now seen as a neighbourhood of the Andalusian capital, many residents still identify Triana as a village or town within a city; a distinct area with a strong identity associated with flamenco and gitanos.
Here in this authentic, evocative Andalusian district, on the banks of the river, one finds Restaurante Abades Triana. The building is a strikingly contemporary structure of glass, with an oxidised metal roof, looking like an upturned hull of a ship, echoing the use of this mighty navigable river that connects Seville to the Bay of Cadiz in the Atlantic Ocean.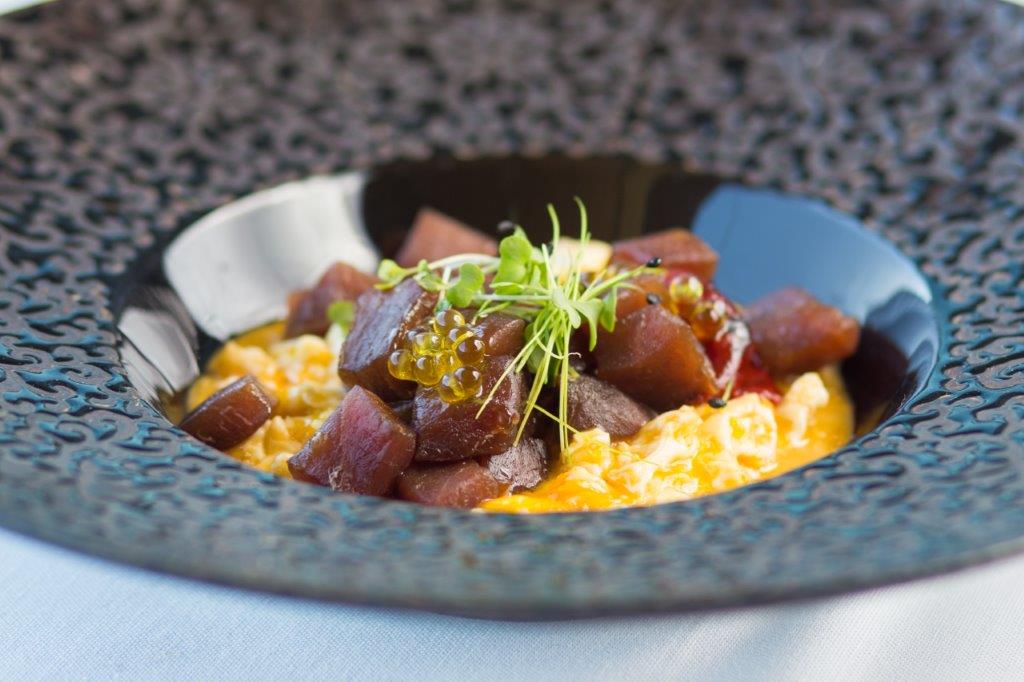 Diced Almadraba tuna, with organic eggs, and truffle
Triana Terrace
The Terraza Mirador of Restaurante Abades, beyond the main dining room offers spectacular panoramic views of Seville, taking in the river, the iconic Torre del Oro, and the city skyline including the unique Giralda bell tower of Seville's cathedral.
This is the place for cool tunes, cocktails, Andalusian light bites and creative tapas sharing plates. There are also dining tables here too for those wishing to enjoy the balmy evenings of this sultry city.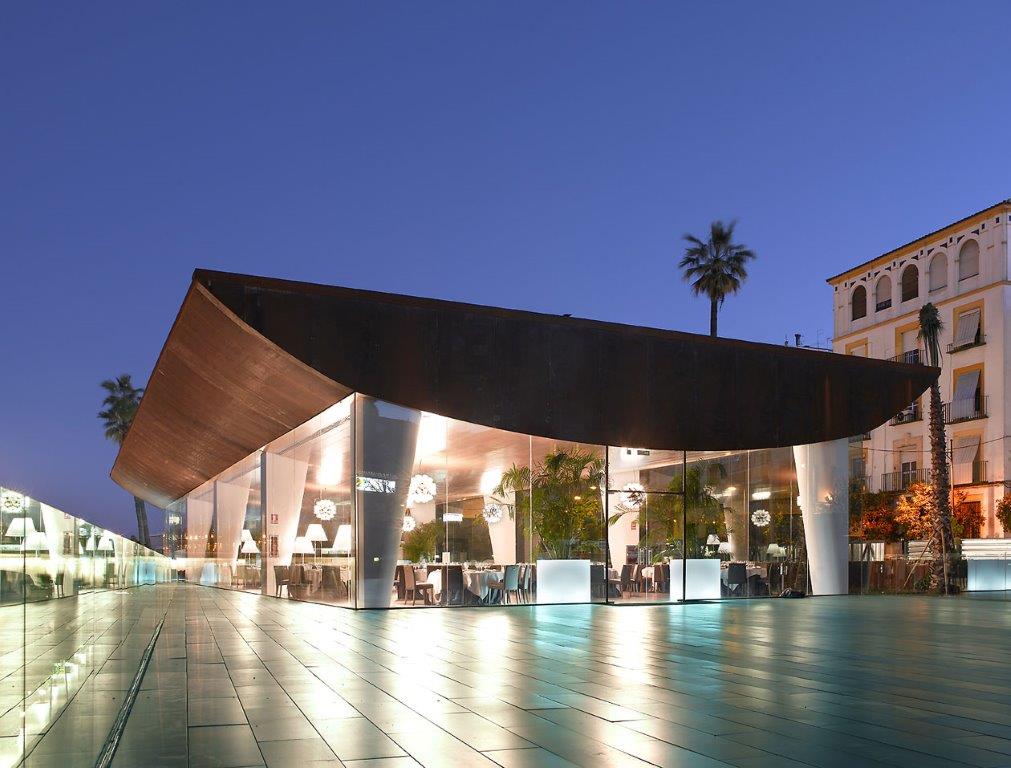 Dining
The dining room is open for lunch and dinner, and is well suited to private parties, family dinners and corporate events.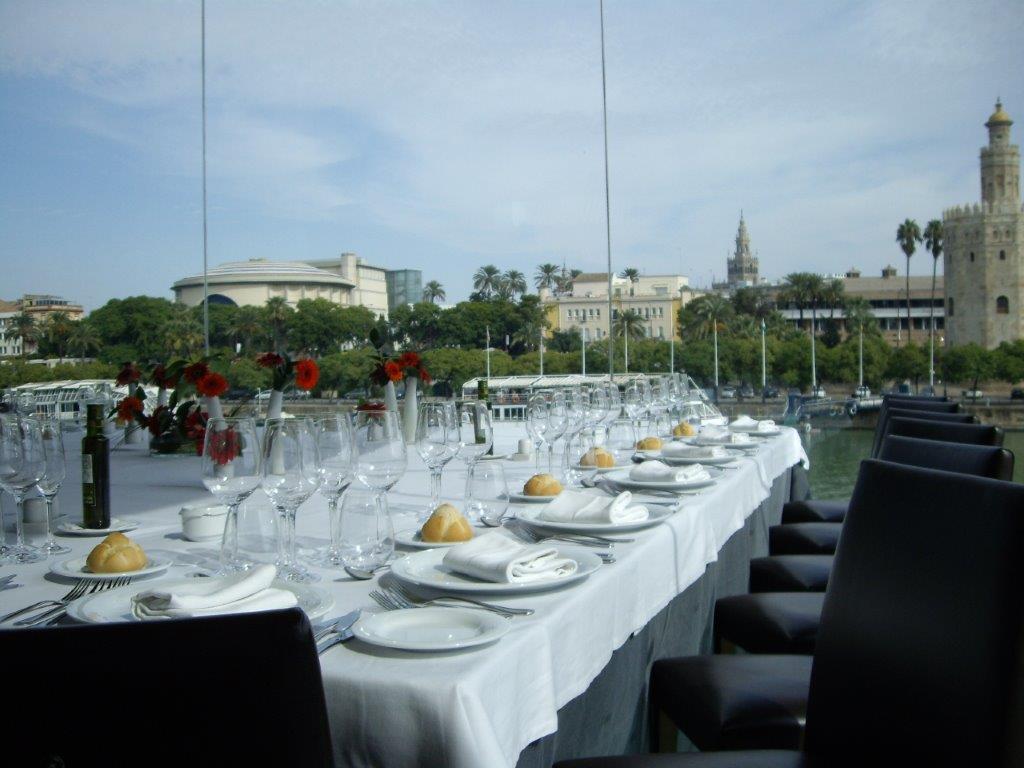 El Cubo
For more intimate dining, make a reservation in The Cube, a private dining area, made completely in glass, that appears to float above the water. This is where I enjoyed dinner. Sipping a chilled Manzanilla sherry from nearby Sanluca de Barrameda, I watched as the sun set and the warmth of the day was replaced with the romantically lit historic skyline.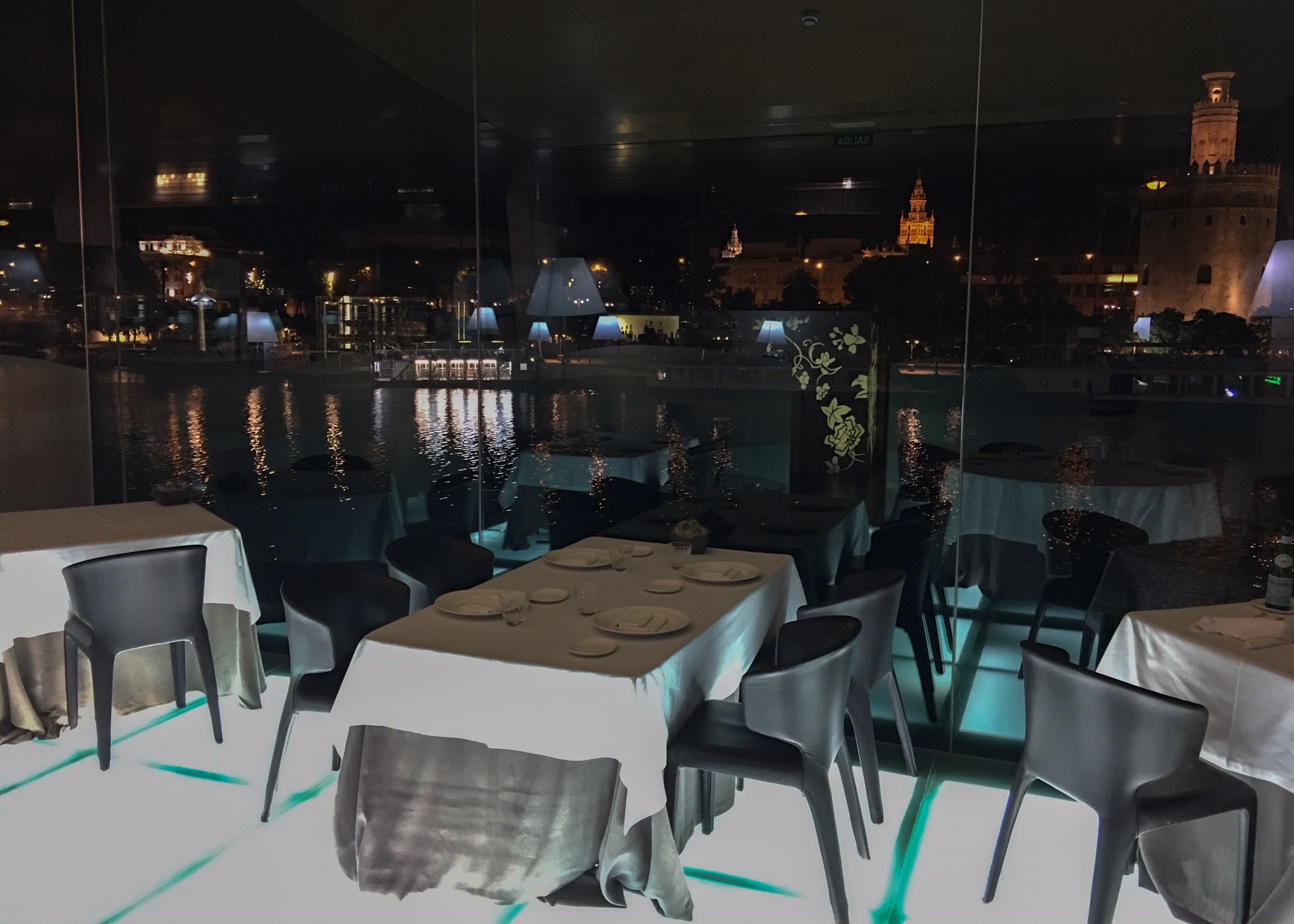 Menus
In addition to the 'a la carte' menus, guests of Restaurante Abades Triana an choose between some imaginative set menus, including the Tapas Menu (2 starters + 2 main dishes of fish and meat + 1 Dessert); the Gourmet Tasting Menu (8 signature dishes selected by the Chef); and finally, the Gourmet Tasting Menu (a selection of 8 gourmet dishes including Foie, Caviar 'Riofrío', Clawed Lobster, Red Tuna, Dark Sirloin, sorbet, and a fine pudding). Menus with prices can be downloaded from the website.
Tapas Menu
I chose the Tapas Tasting Menu, but don't let the name mislead you. This isn't simply a presentation of Andalusian snacks – no, this is a tasting menu of delicious, classic dishes from Southern Spain offered in generous portions, in a contemporary, creative way.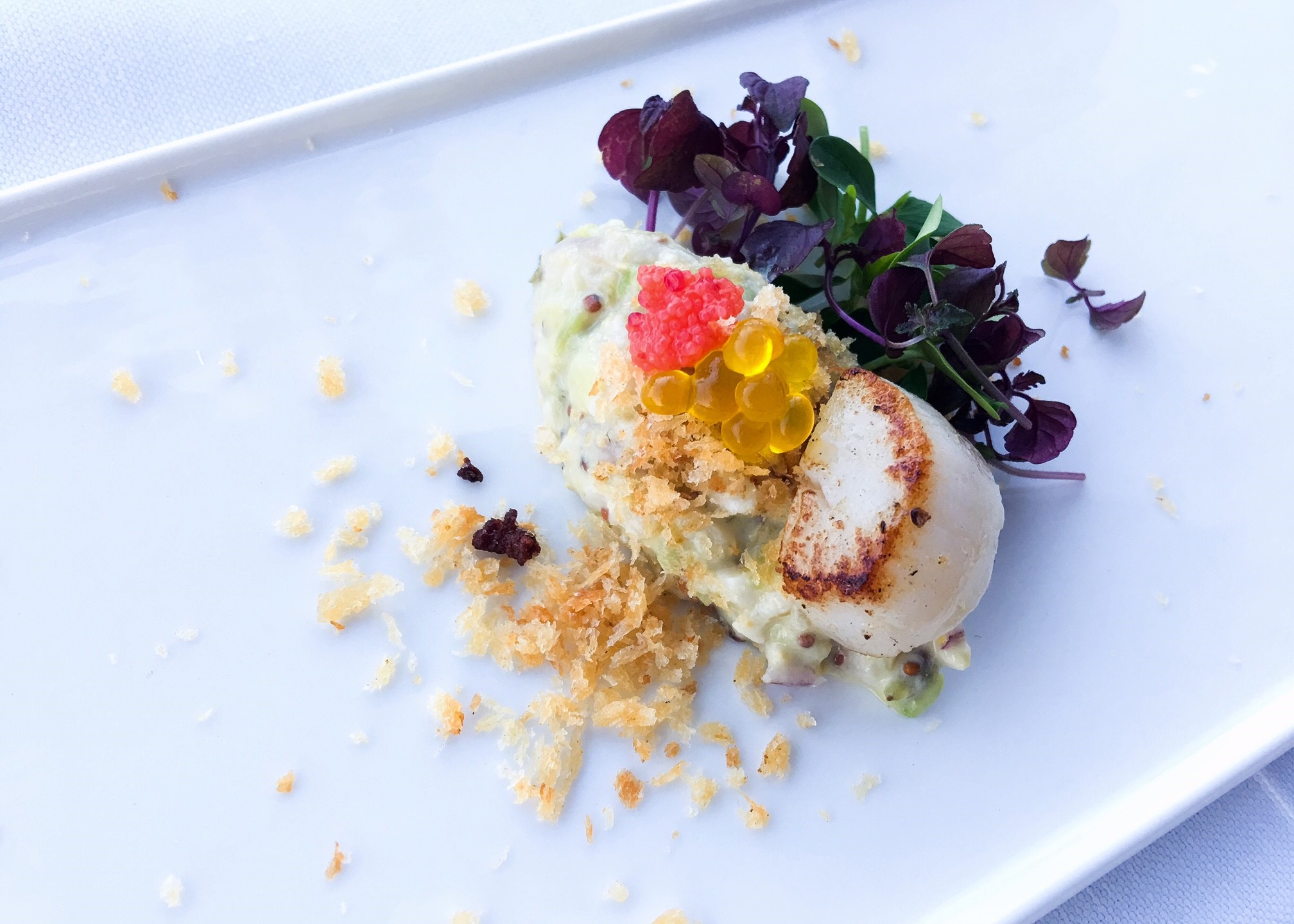 Chef's Pre-starter: Scallops & Mango, with ham and bread crumbs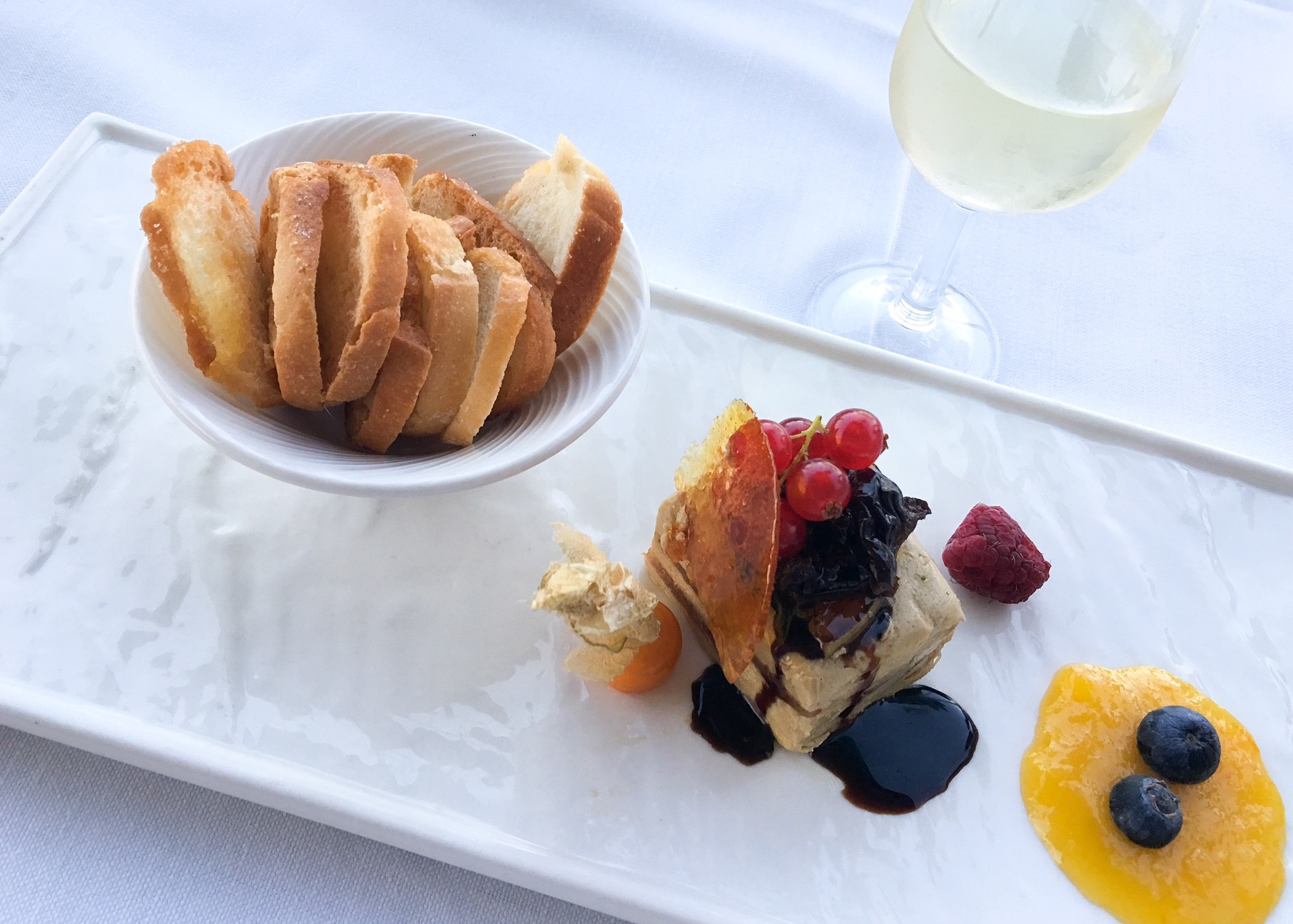 Starter: Home-made foie pate with Seville quince jelly, cinnamon and red fruits
Diced Almadraba tuna, with organic eggs, and truffle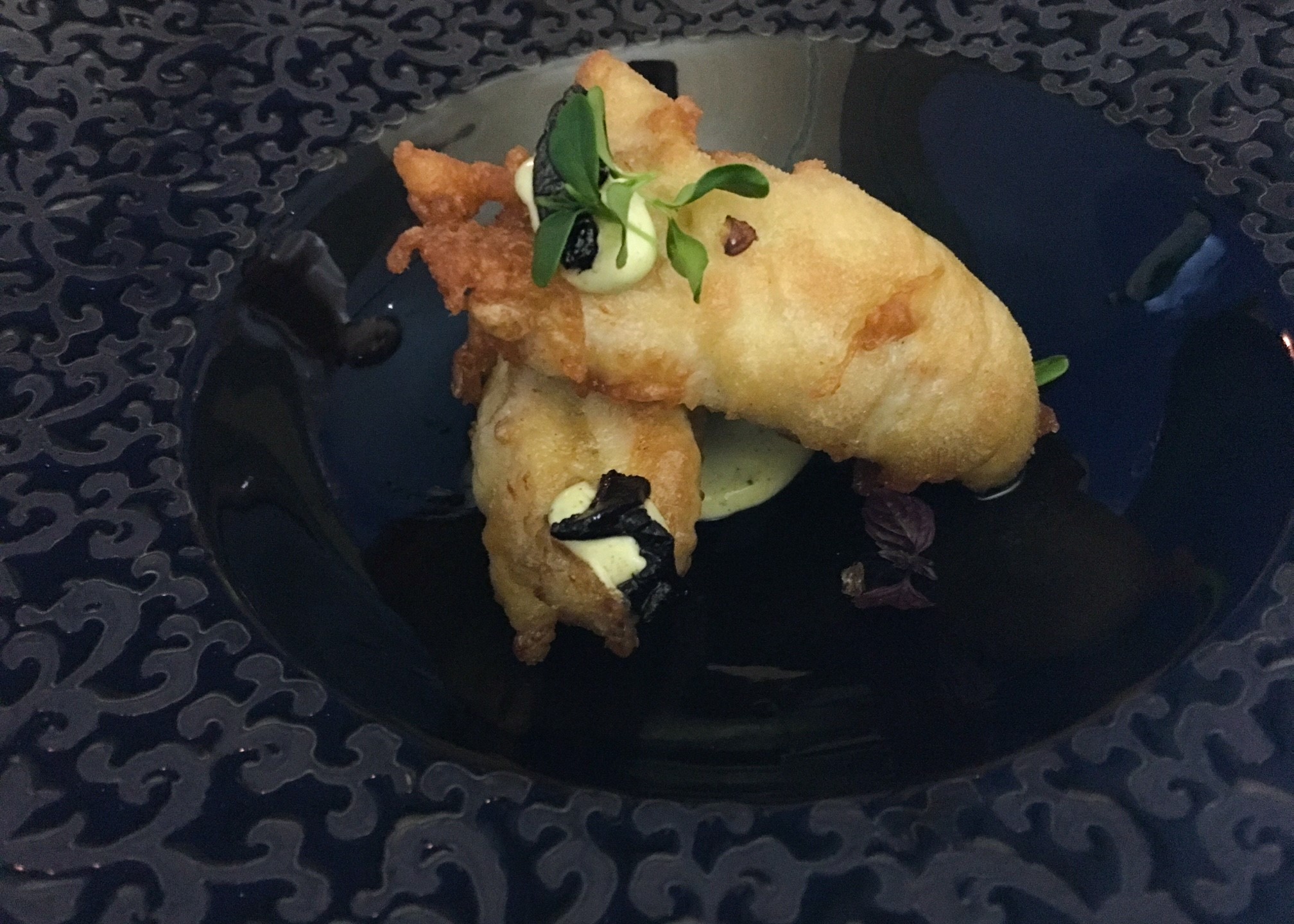 Hake, tempura style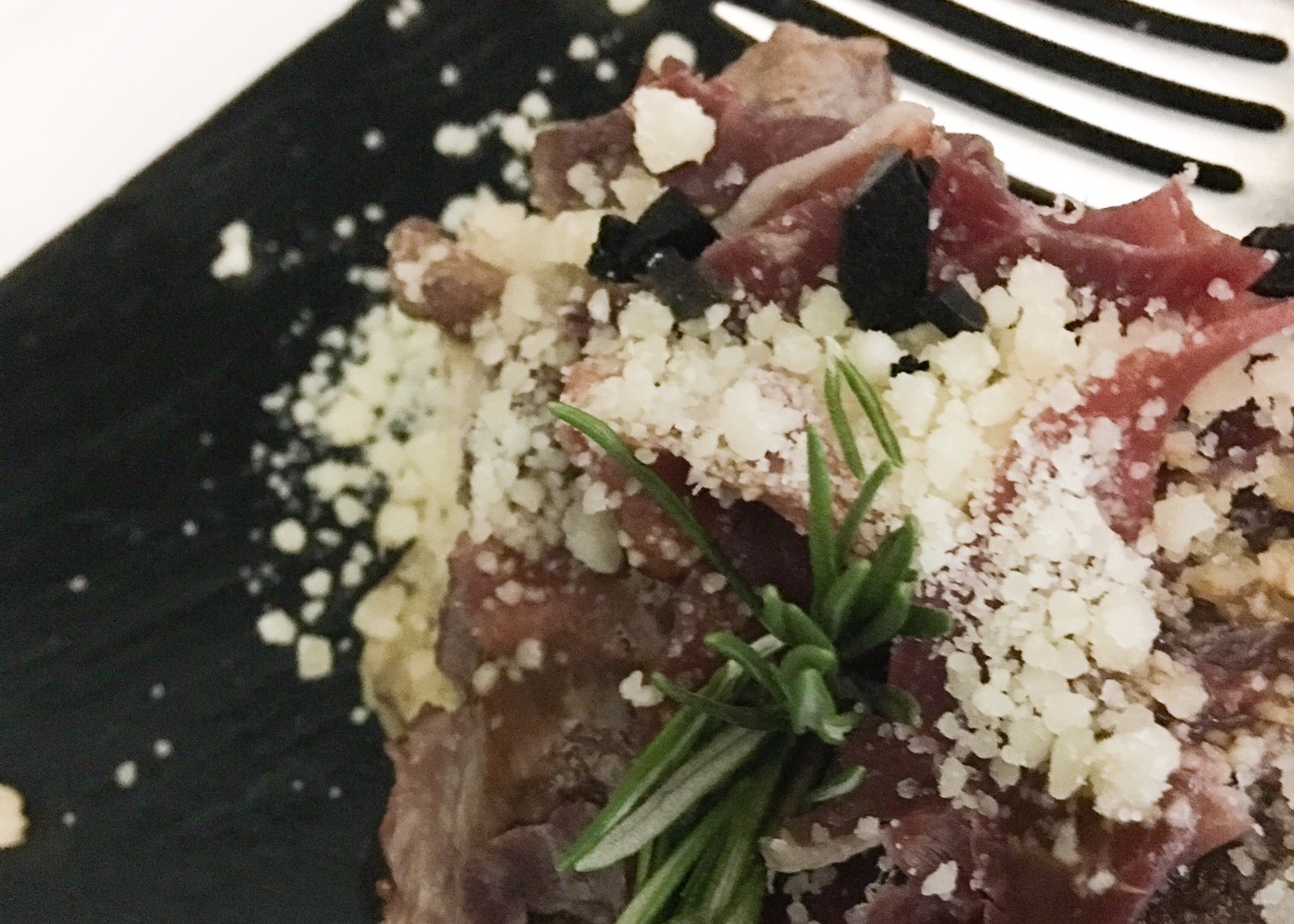 Mushroom & Truffle risotto with Iberian 'Pluma' pork and ham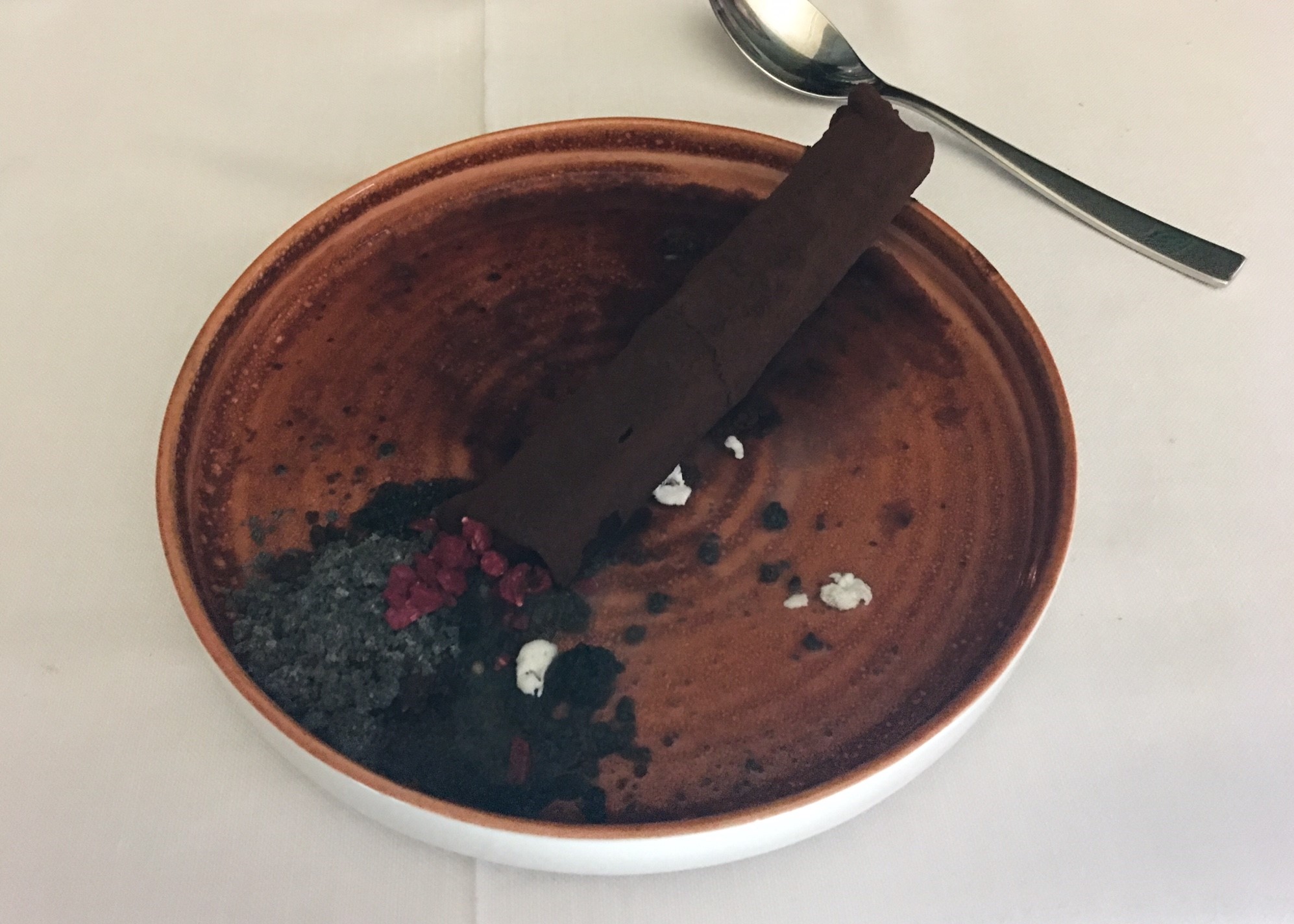 Pudding: an edible cigar with dry ice smoke
Andalucía's kitchen is remarkably diverse thanks to the richness of its waters, from river caught fish, to shellfish and tuna from its Atlantic coasts and of course catches from the Mediterranean. Some of the best fruit, vegetables, herbs and nuts in Europe are also grown here; and despite the warm climate, there is an award-winning dairy industry too, based upon artisan cheeses made from goats' and sheep's milk. The region's forests offer wild game too; and you can expect some superb ham here too! Abades celebrates the produce of Andalucia, as well as using ingredients from across the nation.
Wine O'clock
Service at Abades Triana is polished, professional and with the warmth and friendliness you come to expect from Andalucia. The serving staff were in my experience very knowledgeable about the menu and the wine expert could suggest well-priced Spanish wines by the glass to accompany the dishes. I was encouraged to be a little adventurous and I chose some relatively unknown wines from Huelva in western Andalucia – an excellent choice. Abades Triana is close to the heart of Seville's historic centre, yet offers something refreshingly different – classic dishes with a contemporary style, served in a light-filled restaurant with outstanding views. Next time you're in the capital of Southern Spain I recommend you pay a visit.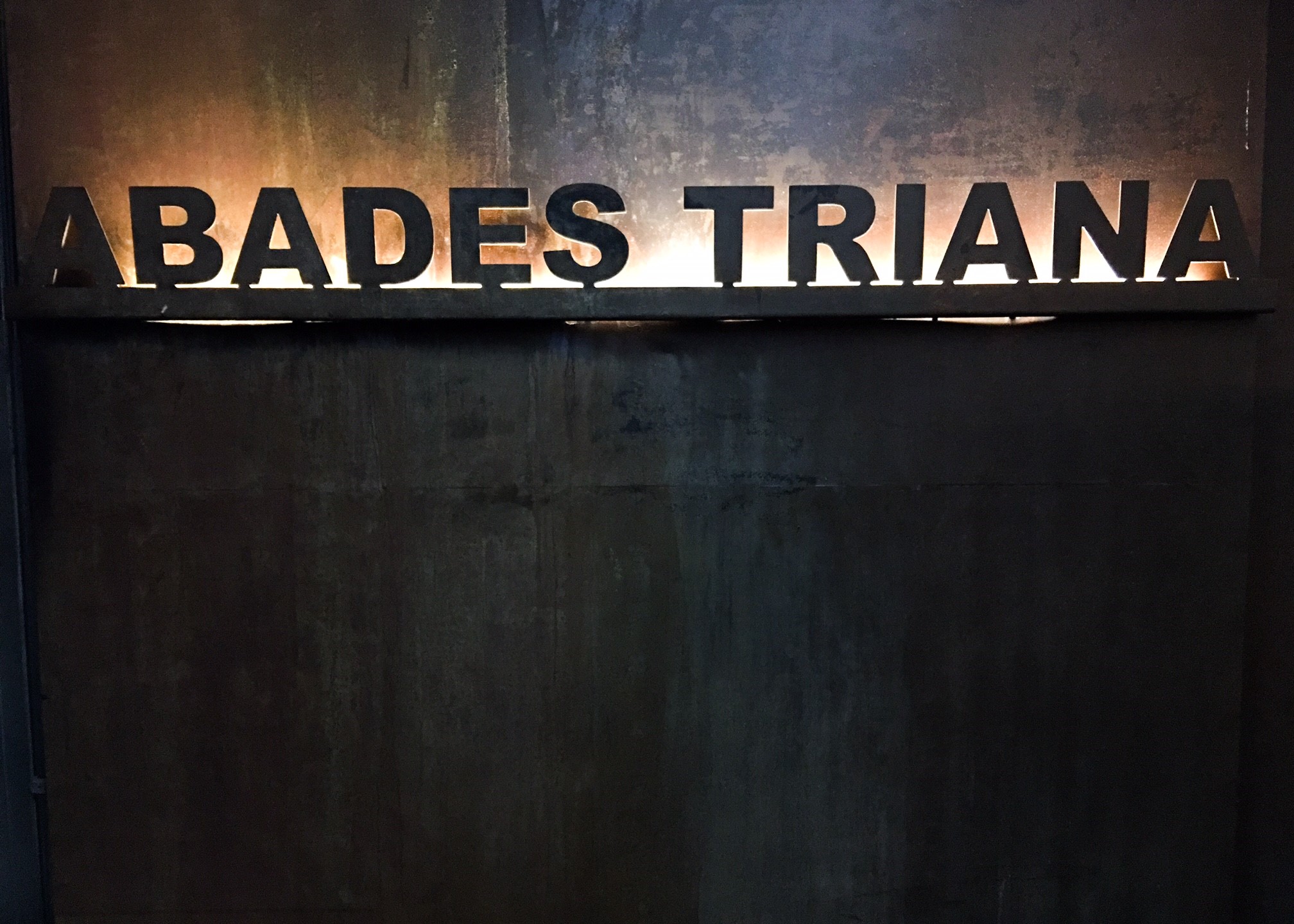 Information
Restaurante Abades Triana
Calle Betis 69, Sevilla
Tel: +34 954 28 64 59