Megeve Ski Holiday: Tried and Tested
We've done this trip quite a few times now and each in a slightly different way so I thought I'd share with you the best alternatives we've taken so that if you choose Megeve as your winter getaway you will benefit from the lessons I've learned.
Car Hire 'v' Private Transfer
On previous occasions (whether travelling as a two or foursome) we've always opted for a private transfer as although relatively expensive (approx. £120 pp) it seemed like the safest, most reliable and time efficient option. However this trip as we were concerned that the snow conditions were not going to be as good we opted to hire a car; thinking that if the conditions were not so good in Megeve we could use the car to drive to nearby Chamonix.
As there were only two of us this year we choose the smallest and car hire option which cost £310 – expensive due to New Year! Plus the taxes and road tolls.
Recommendation: If there are only two of you travelling use a private transfer, 4 or more go for a hire car.
Late December  'v' Late January   
Due to the way my husband's holidays worked out this year along with another ski-trip to Chamonix in Feb we decided to visit Megeve over the festive break (28th Dec to 4th Jan) and welcome in the New Year Megeve style!
Although the place is still beautiful and there was enough snow to board,  the conditions were not half as good as when we've visited in late January or early Feb. Icy patches and that horrible grind noise is the theme of late December as opposed to soft pow and the swoosh of fresh snow you encounter later in the season.
Also it goes without saying that flights and accommodation were more expensive (almost double to be precise) and it was more difficult to get a reservation at certain restaurants. In fact we booked one of our favourites, Le Vieux Megeve early in December before we got there.
I know I'm probably stating the obvious here but somehow I thought that the whole New Year's Eve experience would make up for it. But did it?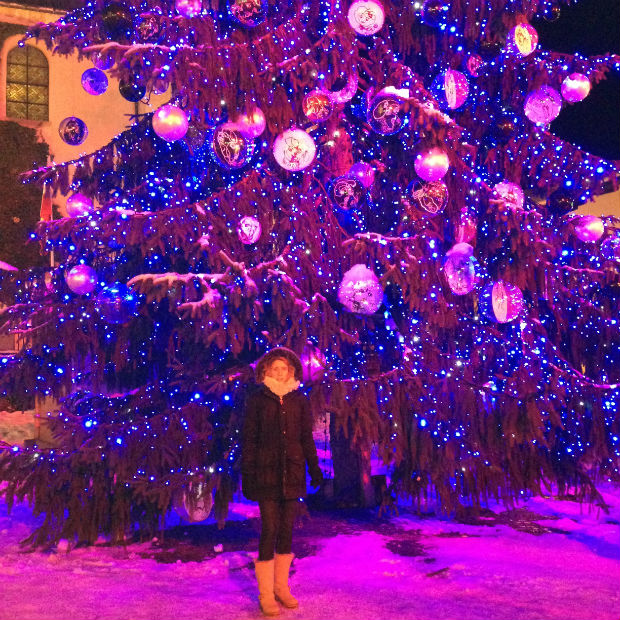 New Year's Eve Party 'v' No Party
Living in Edinburgh I've not really had much need to venture too far to enjoy a spectacular New Year's Eve / Hogmanay celebration. However this year we thought we'd relocate and enjoy the magic of Megeve. I celebrated my birthday out there last year and heard tales from friends so knew what the possibilities could be and so my hopes were high.
Perhaps it was through our lack of planning but it wasn't quite what I'd envisaged. We spent the morning on the slopes but finished early for a cheeky glass of champers at the Veuve Cliquot pop up bar. I say pop up bar but it's a permanent fixture in the main square which I think is an extension of another good little haunt La Caleche. Anyway the 'pop-up' consists of a bar, a high wooden bench around which patron congregate, a couple of heat lamps and serves only champagne and mulled wine. I love it! We then headed back to the apartment for our self-concocted feast and some more wine. After which we'd planned to visit a few bars before gathering in the town square to watch the fireworks and welcome in 2014. The plan was all going well until about 9.30pm when after being asked to vacate the bar we were enjoying some more wine in as they were setting up for a private party. No probs we'll move on to the next place we thought. The infamous Jazz Club perhaps?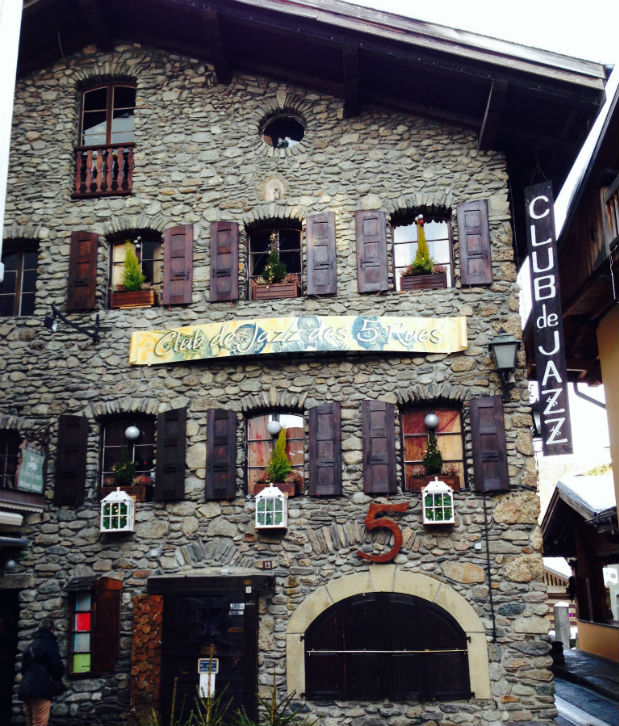 This is a curious place as from the outside it is difficult to tell that it is a club and even more difficult to work out how to enter the building. With our inside info we knew to ring a certain bell and speak in our best French accent and drop a few hints that although not locals ourselves we were family of and staying in the chalet of a local. Ding dong. A few minutes later and the curtain shielding a small window of glass twitched and a face appeared. A few minutes later still, the door opened less than half way and we were greeted by a door man who clearly had a penchant for St Tropez fake tan. Our French banter clearly wasn't French enough and we were turned away.  From friends that have visited they recommend going early (around 7pm) as it gets busy and after 9pm it is difficult to get in. Live music is played most nights and cocktails are priced from 17euros.
Anyway to cut an even longer story short we ended up in the outdoor (inside was another private party) bar area on our own (everyone seemed to be at a private party!) of the beautiful Le Bistrot De Megeve just a stone's throw from the town square. Here we supped our way through a magnum of Pommery before enjoying the fireworks and celebrations in the main square at midnight.
Recommendation: Without a doubt the best time to visit Megeve is last week in January. This way you avoid school holidays (both Christmas and half term), have a better chance of improved snow conditions and have more availability when it comes to bars and restaurant choices.
Eating In 'v' Eating Out
There is a good selection of restaurants, bars, cafes and creperies both in the town centre and strategically located across the mountain ranges.
Lunch: Our favourite lunch spot is Les Javen D'en Haut which is located at the bottom of the Petite Fontaine run. With 'plat du jour' being a hearty portion priced at 18 euros, examples include lamb curry and rice, rabbit with cream sauce and potatoes or mushroom ravioli. Entrecote steak and frites is another firm favourite priced at 23 euros or you can't go wrong with the home made Lasagne (16 euros).  A glass of the house wine will set you back about 4 euros.  We eat here most days to give us more time on the slopes as this is on our favourite side of the mountain.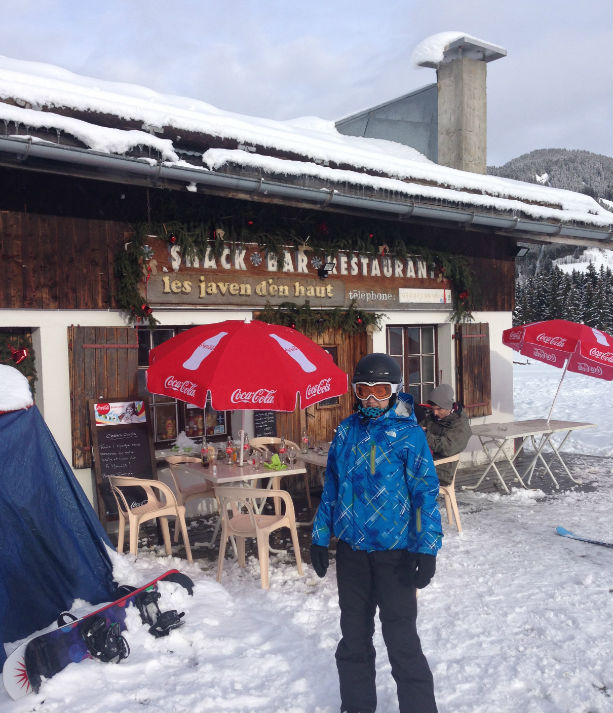 There are some great picnic spots so if you are one for carrying lunch with you then head the Le Mazot bakery in the town and pick up some pastries or a baguette (approx. 4 euros).
If you do head back into town for lunch and fancy a fast and cheaper option then there is a spot on Rue Charles Feige (one of the main streets that lead into the town square) called Sel au Sucre. It doesn't look much but the fresh pasta pots with a choice of sauces are delicious and is a real steal at 7euros.
Dinner: Our dinner options are quite varied; eating out at restaurants a few times a week with firm favourites being; Le Vieux de Megeve for traditional mountain food – melted cheese, meats and potatoes are this family run restaurants speciality, Le Bistrot De Megeve for a more contemporary mountain lodge style surroundings and a French menu or Tante Alice which is quite old fashioned in terms of décor but very modern and gourmet style cuisine. Main dishes at these restaurants start from approx. 24 euros with a glass of house wine approx. 6 euros.
On the evenings we choose to dine in we pay a visit to one of the many deli's and stock up on pate, foie gras, cheese, tomatoes, a selection of relishes and of course some freshly baked bread from Le Mazot. The local Casino supermarket stocks a good range of wine, beers and spirits. With a case of 12 Heineken costing approx. 7 euros and good wine of the region around about 6 euros.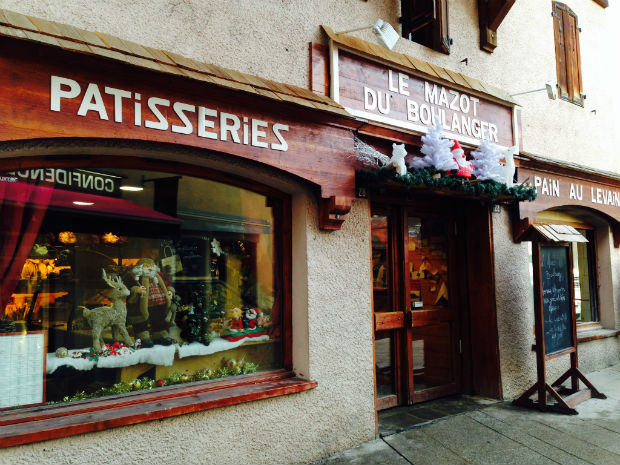 Recommendations: I think the format we have with a mix of eating out some evenings and creating a feast from the local delis is a great option. I do find the food quite rich so a night of bread, pate and fresh tomatoes is something I always look forward to.
Le Vieux Megeve: http://www.restaurant-vieux-megeve.fr
Le Bistrot De Megeve: http://www.lebistrotdemegeve.com
L'épicier de Megeve: 28 Rue Saint-François, 74120 Megève, France
Late Riser 'v' Early Bird
Not really a restful pair, my husband and I are usually first on the slopes however as the conditions weren't up to our usual standards we thought we try heading out a bit later one day. Now one of the characteristics we've noted is that although the morning may appear a little dark and mysterious if you head over to the Petit Fontaine run the sun is often breaking through and within a few hours the sun is in full glory. Many people wait until the sun is in full beam so the afternoon does get so much busier.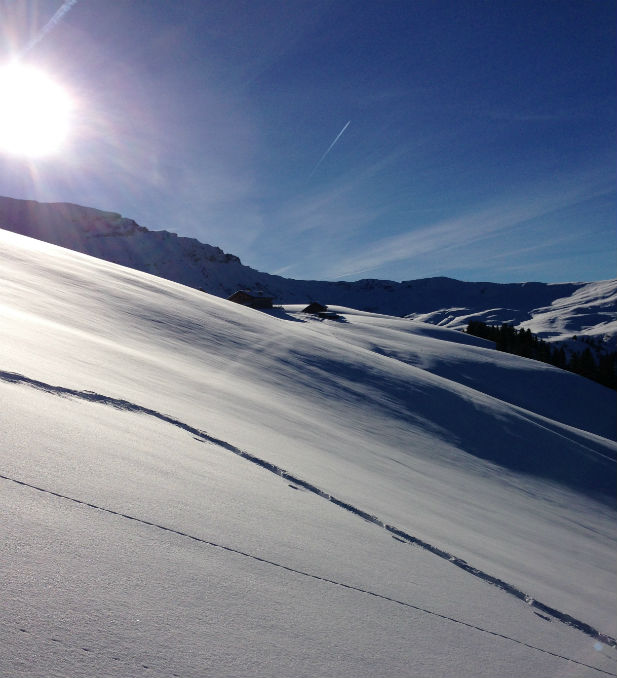 Recommendation: In this case the early bird definitely gets the worm, or rather winding, fir tree lined slopes all to yourself –  for a couple of hours at least.
Self Catering 'v' Hotels
Now, I'm not in a position to make a fair judgement on this having only stayed in my sister-in-laws' chalet. However there are some beautiful hotels located right in the centre of town which are only a five minute walk (although most still provide a chauffeur to drive you) to the lift.
If the family accommodation was not available these are the hotel options I would go for:
Hotel M: Check prices for Hotel MK
Le Fer a Cheval: Check prices for Le Fer a Cheval
Other useful information:
Lift Pass: Six days approx. £178 (2013/14)
Transfer time from Geneva Airport:  Approx. 1hr 15mins