This month sees the opening of Mallorca's most striking new spa, at the exclusive Cap Rocat Hotel, on the bay, overlooking the island's capital, Palma.
Before the spa opened, I was invited for a sneak peek, and tried one of the signature holistic Ayurveda massage treatments, writes Andrew Forbes.
Cap Rocat is a truly remarkable place. Fine hotels always set my heart racing a little, but when I discovered this property, within a 19th century former military fortress, I was spellbound.
The Hotel
The golden limestone fort has a timeless, almost movie-set ambiance. The bold architecture of the fortress has been transformed into a luxury hotel by Mallorcan designer, (and original owner) Antonio Obrador.
The elegant, unique furnishings bring a sense of the exotic to this extraordinary hotel. Colonial, North African, vintage European and Mediterranean – all combine in a serene and calm manner that makes each space, however immense, feel intimate and welcoming.
There are 29 suites, spread out across the property, from the Fortaleza guest rooms by the original defensive moat, to the exclusive Sentinel suites hidden in the rock cliffs, over-looking the bay.
The Spa
As well as the fine-dining from chef Víctor García, wellbeing is an integral part of the guest experience at Cap Rocat.
The new spa is in the depth of the fortress, with a striking saltwater swimming pool at its centre. Although some 12 metres below ground level the spa is flooded with light from the conservatory style glass roof.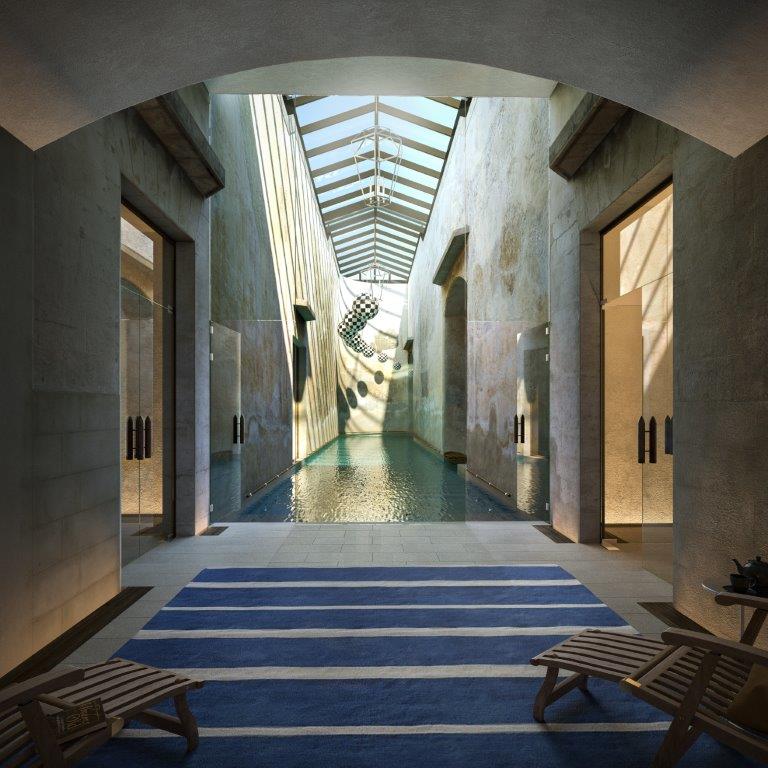 The unique design and setting of the spa maintains a feeling of intimacy and privacy. The property's limestone walls are highlighted with sophisticated lighting, and warm and comfort are conveyed with the use of natural woods and soft local fabrics.
In addition to the Hammam and the large relaxing room, (with individual day-beds, theatrically dressed with huge curtains) are the five treatment rooms.
My Ayurveda massage was offered in one of this well-soundproofed and appointed spaces. An over-sized black & white print adorned the rough-hewn wall, whilst underfoot was warm hardwood flooring. The wide therapy bed made for a comfortable treatment, using oils from the spa's bespoke range of products using Mallorcan natural ingredients, embracing island citrus, almonds and extra virgin olive oil.
The experience is calming. The therapist invited me to choose the oil, and gave me time to adjust to the space. After the treatment one can enjoy the relaxing room with a herbal tea.
This is truly a magical place.
Information
The Spa at Cap Rocat will open on 10 May, 2017. Treatments from 100 €.
Overnight stays from €450 per night based on two sharing on a B&B basis.
Tel: +34 971 74 78 78