For friends and family looking for the utmost in discretion, privacy and seclusion, yet with all the amenities of an upscale boutique spa hotel, then a summer at Villa Romana might just be the ticket, writes Andrew Forbes.
Imagine an exceptional, interior-designed private home, with its own professional quality spa, including indoor and outdoor pools, sauna, Turkish bath, treatment rooms, work-out area and more – all within a private Andalusian villa with beautiful manicured Mediterranean gardens. That's Villa Romana, near Marbella.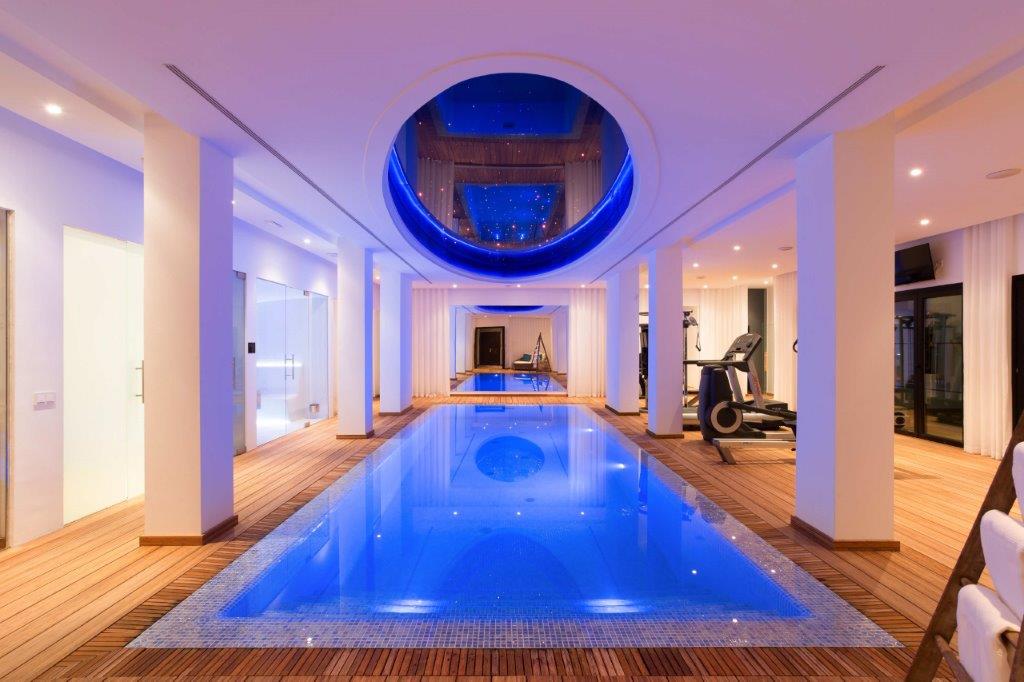 This spring I stayed at Villa Romana, a unique 'wellness villa' in the hills above Marbella, as a guest of Empire Villas (a family-owned company specialising in unique Marbella properties for sale and rent).
…this villa is now available for summer rental, exclusively through Empire Villas.
Hillside Retreat
Heading north from the beaches of Marbella and San Pedro, is the 'Ronda road'; a picturesque highway flanked by Mediterranean pines and ancient oak trees.
It leads to some of the most exclusive real estate in Europe; unique homes within exclusive, gated enclaves including El Madroñal, an established estate with beautiful Spanish cortijos, haciendas and villas.
Many of these elite homes have famous owners, from world-leaders, industrialists, to musicians, actors and artist. Discretion and privacy are paramount.
Beyond the electronic gates and cameras that protect the residents of El Madroñal from prying eyes, lies a peaceful lane that takes you to Villa Romana; secluded within its own gated grounds.
The brick and river stone driveway sweeps down to this classic Spanish property with brilliant white walls, terracotta tiles, and charming details such as windows in the eaves, and wrought iron balconies from the bedrooms.
Quintessentially Andalusian
This is a dream home; with quintessential Andalusian features, such a tranquil, sheltered courtyard with trickling fountain.
Parked in the double garage is a Maserati should you wish to nip down to Puerto Banus, 10 minutes away, for a spot of designer retail therapy; or take a run up the road to the beautiful mountain town of Ronda just 35 minutes way.
your summer dream home…
The heart of the house is a double-height salon with fireplace that opens onto the broad covered terrace overlooking the pool and gardens, with views of the sea, and the majestic La Concha mountain in the distance.
The salon's mezzanine landing leads to an exceptional master bedroom; complete with terrace with sea views; and a bathtub overlooking the mountains.
There is a spacious family farmhouse-style kitchen, with adjacent family breakfast room that opens out onto a covered entrance with views across the countryside and down to the Mediterranean.
A private chef is available for preparing meals; or you can take advantage of a delivery service.
The formal dining room is ideal for entertaining guests, or for enjoying celebratory meals you're your friends and family.
There is even a private bar; games room & family salon for pre-dinner cocktails and post-dinner partying.
Each of the 6 additional guest bedrooms are thoughtfully decorated, with style and warmth – each with character; a genuine luxury, home-from-home.
Why share a hotel spa when you can have your own?
Private Wellness Spa
Impressive as all this may seem, the most striking quality of this beautiful home is the villa's state-of-the-art private spa; a compete wellness area dedicated to relaxation and health. It includes a work-out area, and a climate-controlled spa and indoor pool, with treatment rooms for massage, pedicure and manicure etc.
The pool area and Turkish bath have the latest in sensory LED mood lighting that can be tailored to the time of day and ambiance required.
Outside is a relaxation area, with plunge pool, sun loungers and designer seating.
With each villa rental, you can have wellness staff; including massage and beauty therapists. The spa experience can be tailored to your needs.
Information
Marbella boasts some remarkable real estate, but in my opinion, few properties can offer the wellness facilities of Villa Romana, from Empire Villas.
Tel: +34 677 437 783
Email: info@empirevillas.es