BBQ season is here so entertain your guests in succulent style with the very best British produce from Dukeshill, the home of luxury fine foods.
Founded over 30 years ago, Dukeshill had a vision of producing the very best hams, cured the "old-fashioned" way, with a real focus on flavour and texture. This commitment to quality led to Dukeshill being selected by some of London's most discerning Food Halls including Selfridges, Harrods, and Fortnum & Mason to produce their hams, and in 2003 they were awarded a Royal Warrant for manufacturing hams from HM The Queen – the ultimate accolade!
Still renowned for its uncompromising attitude towards provenance and quality, Dukeshill produces more than just first-class hams. Maintaining its traditional approach to crafting fine foods and working in partnership with British farmers and small artisan producers, Dukeshill now produces and supplies a wonderful selection of cured and fresh meats, smoked fish, cheeses, puddings, hampers and more, including its special summer offering.
Gourmet BBQ boxes, an array of hampers and celebratory centrepieces are all part of the collection which presents something for every seasonal occasion; from al fresco banquets and BBQs to picnics and outdoor parties. Read on to discover more about the summer collection, all of which can be delivered direct to your door.
BBQ Feast Box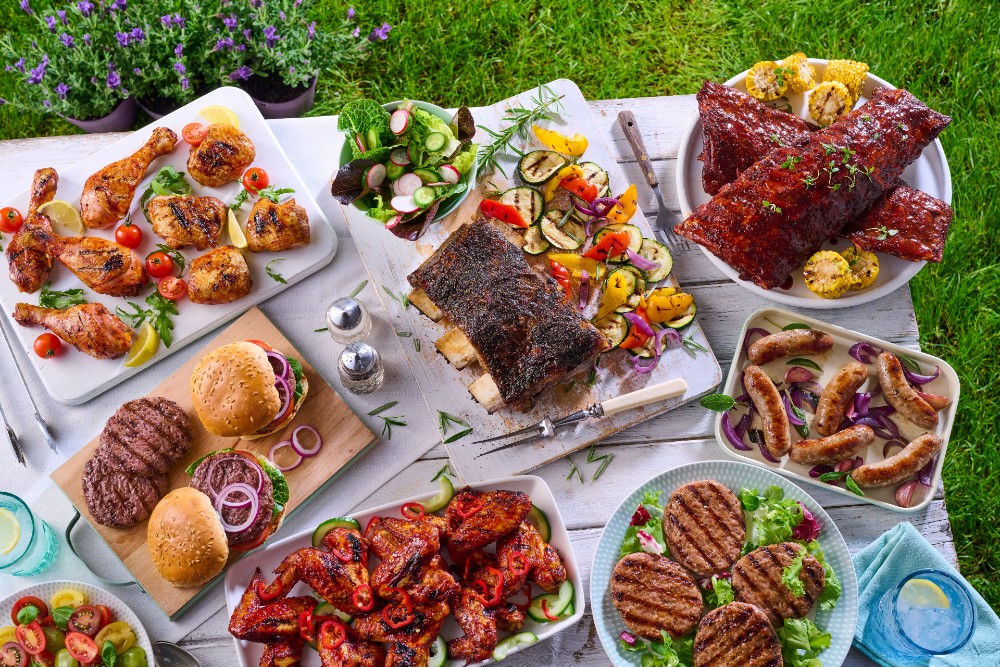 Bursting full of the finest goodies, this is ideal for a special barbecue party. Highlights include the slow-cooked Grass Fed Aberdeen Angus Beef Rib and BBQ Pork Rib Racks, both deliciously tender and ready to just fall off the bone. Burger lovers will be more than impressed with the combination of steak burgers, which feature the very best cuts of prime West Country Beef, and the all-meat bacon burgers, that combine smoked and unsmoked streaky bacon, prime British pork shoulder meat and Dukeshill's own blend of seasoning. There's also a delicious spicy Mediterranean marinade glazed onto the free-range chicken wings and drumsticks, with the extra meaty pork sausages included also guaranteed to be a firm favourite amongst friends and family. This truly is a gourmet BBQ feast!
TLE Tried and Tested: We were kindly sent this BBQ Feast Box and it surpassed all expectations. The quantity and more importantly, the quality of the produce was absolutley outstanding. The meat on the rib racks was melt-in-the-mouth delicious and the marinades were so tasty. We highly recommend this BBQ banquet – a word of advice be sure you work up an appetite in advance!
BBQ Classics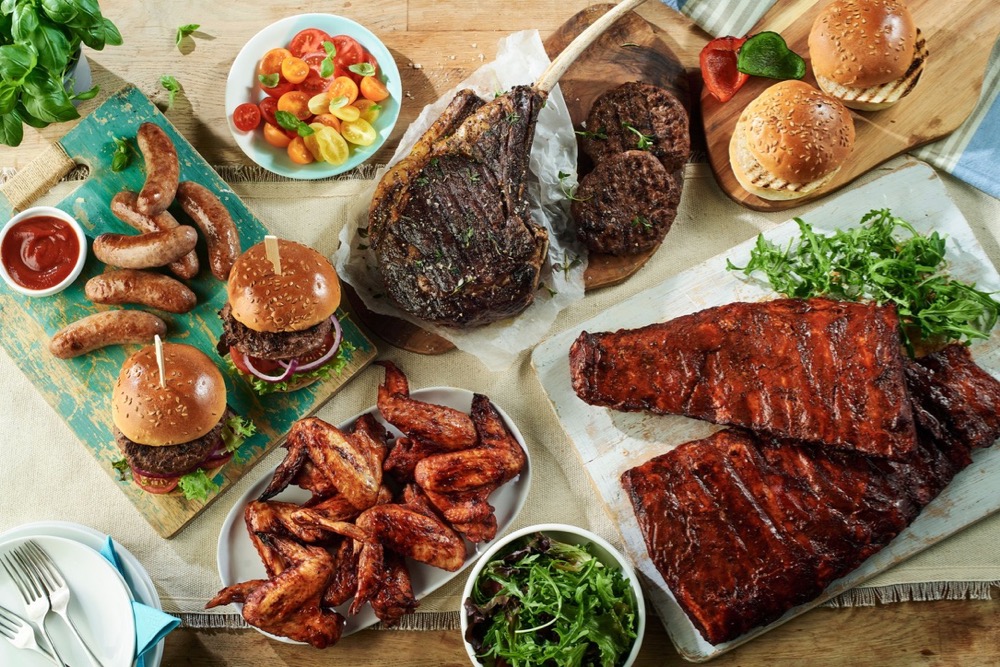 At the heart of the offering is the succulent on the bone 1kg Tomahawk Steak that's ideal for sharing and the two generous BBQ Pork Rib Racks, which are lightly cured, marinated and slow cooked for ten hours to deliver the very best rib-eating experience. Steak burgers and buns, Mediterranean glazed Chicken Wings and six extra meaty pork sausages, made with nothing but the finest cuts of outdoor-reared pork and Dukeshill's special blend of seasonings, complete the pick. It's easy to become master of the barbecue, with this box of expertly curated classics.
Summer Centrepieces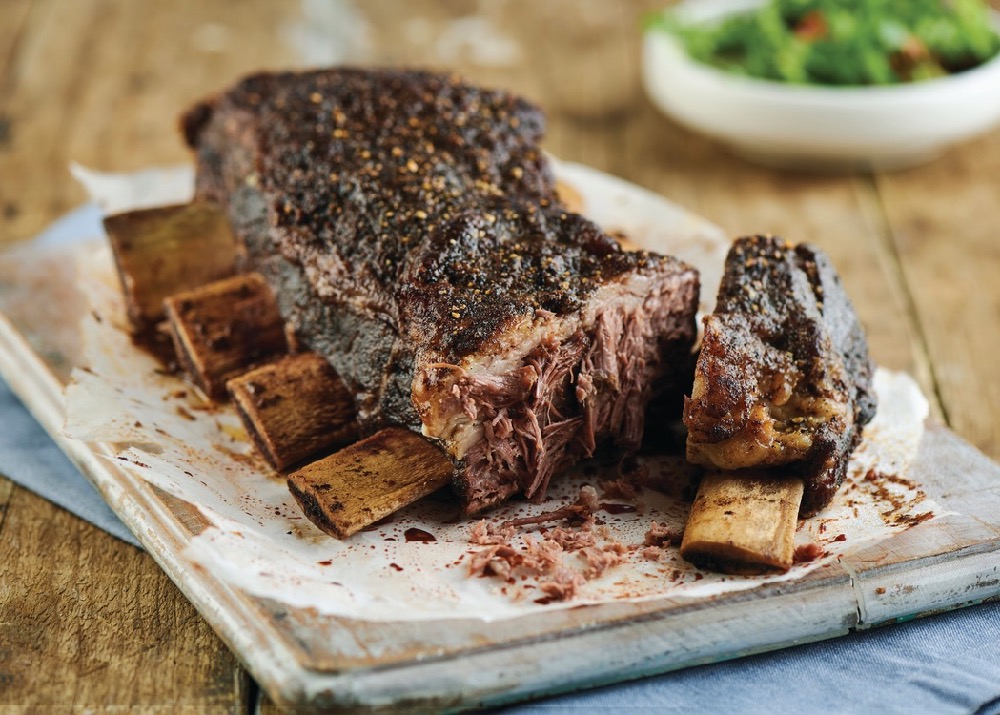 Alternatively, curate your own BBQ selection and pick from the impressive range of individual cuts, ready marinated meats and top quality classics available from Dukeshill. Celebratory stunners include the Grass-fed Aberdeen Angus Beef Rib expertly butchered and slow-cooked, the Butterflied Leg of Lamb featuring the finest, naturally reared British Lamb and the impressive, on-the-bone Tomahawk Steak that's melt in the mouth and perfect for sharing.
Chetton Picnic Delights Box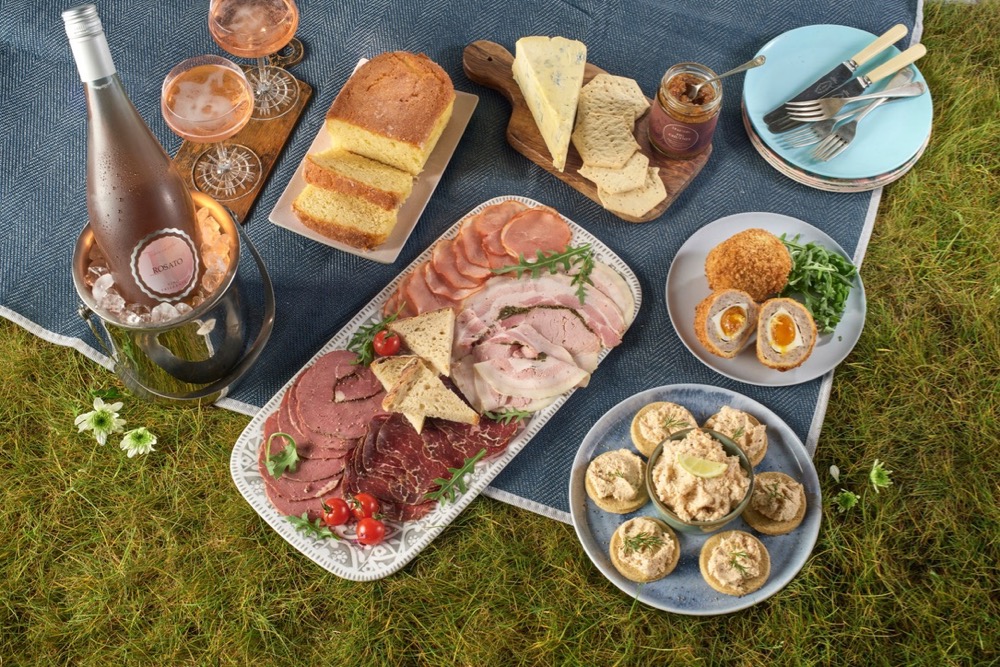 A picnic lover's dream, this selection features a perfect array of summery delights. Discover an expertly curated continental style charcuterie board, featuring Porchetta, Lomo, Bresaola and Pastrami, alongside a pair of delectable, handmade Scotch Eggs and a Luxury Smoked Salmon Pâté, made with traditionally oak smoked salmon. The gourmet goodies also include the Beauvale, a creamy, mild, soft blue cheese and a sweet and intense Fig Chutney. Finish with the handmade Almond Lemon Drizzle Cake and enjoy all paired with the bottle of fruity Rosé Vino Frizzante.
Cheese & Ham Hamper
This perfectly formed hamper features a Wiltshire Baby Ham that has been steeped in oodles of clear blossom honey for over 24 hours to impart its wonderful flavour before baking. It's paired with Cote HIll Blue, a soft blue Lincolnshire cheese that offers a robust blue punch and a wonderfully creamy consistency and a tasty Isle of Mull Cheddar. Apple & Sultana Chutney, Proper Piccalilli and Scottish Oatcakes complete the offering.
Fish Lover's Hamper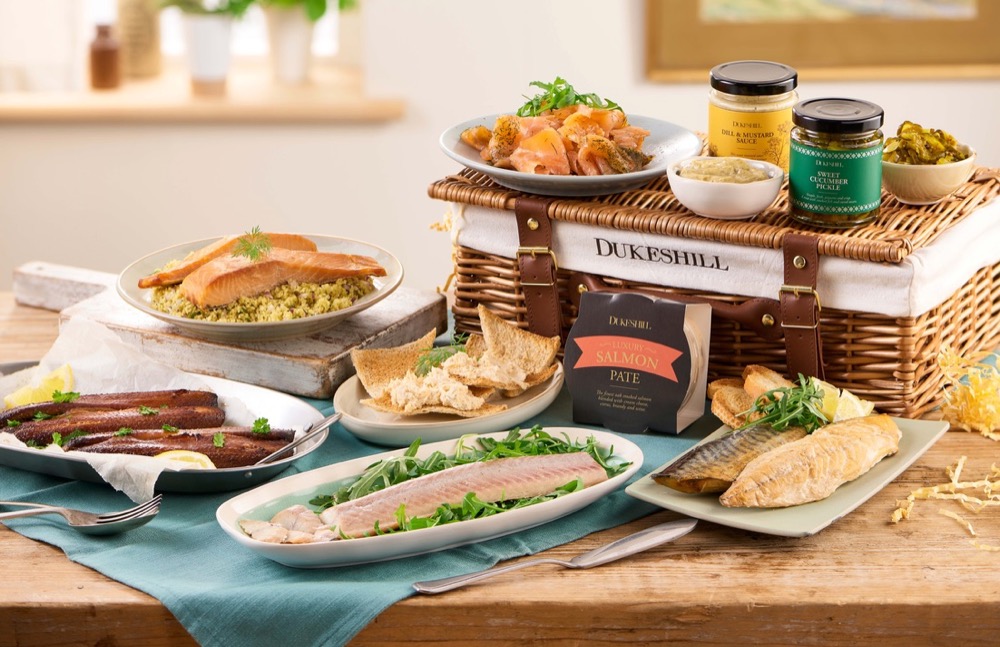 A must-try for fans of the finest fish and accompaniments, this hamper features everything from Hot Smoked Salmon, Luxury Smoked Salmon Pâté and Sliced Gravadlax, made with the finest quality Shetland Salmon, to delicately and traditionally Smoked Mackerel, delicious Craster Kipper Fillets and succulent, sustainably sourced Smoked Eel. Serve with the Dill & Mustard sauce and Sweet Cucumber Pickle for a truly heavenly fish picnic.
Royal Afternoon Tea Hamper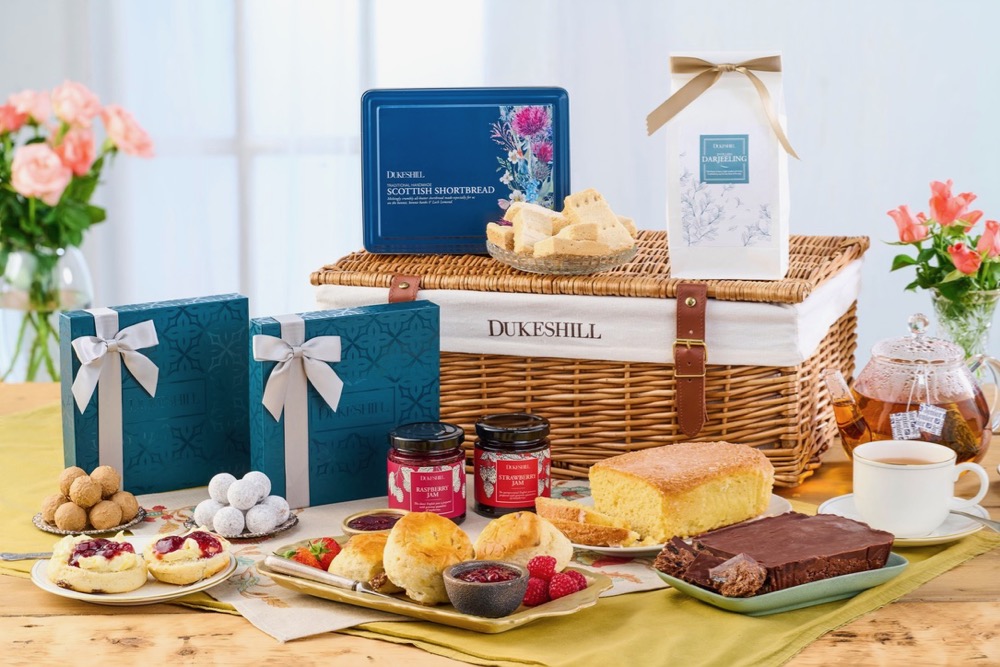 Ideal for sophisticated summer picnics, the Royal Afternoon Tea Hamper includes a host of delicious sweet treats. From homemade scones paired with generously fruit jams, to the gooey luxury brownie made with the finest Valrhona Chocolate, it makes for a truly fine feast. Also expect to find traditional melt in the mouth all-butter Scottish shortbread, Almond Lemon Drizzle Cake and an assortment of truffles.