Seville, with its costumes, music and lifestyle, is typically how outsiders see Spain. This iconic and historic city was occupied by the Moors for many years before being reconquered by the Catholic monarchs Ferdinand and Isabella, and the influence of both remains, while flamenco originated with the gypsies of Andalucía. The summer heat and strong sun of Southern Spain is too much for some, although good use of ceramic tiles, running water (an Arab custom) and shady palm trees is a help. Go when it's cooler in April for the Feria's daily display of local society, the horse-riding, the dressing-up, and of course, the partying; or arrive two weeks earlier during Semana Santa (Holy Week) for a spectacular but more sombre experience. Whenever you go, there is plenty to see within easy reach and here is the TLE pick of the best hotels in this beautiful city.
Nobu Hotel Sevilla
Nobu Hotel Sevilla is a luxury hotel located in the heart of the Andalusian capital, Plaza de San Francisco. It features 25 stylish guest rooms and suites, a rooftop terrace with a swimming pool and views of the Cathedral and Giralda, a Nobu restaurant, a Nobu Bar, a solarium, a 24-hour gym, and a meeting & events space. The design of the hotel pays homage to Nobu's Japanese roots and the traditional architecture of the city. The rooms are luxurious and feature materials inspired by the Far East and rain showers, Eight & Bob amenities, and a Smart TV.
Los Seises Seville, a Tribute Portfolio Hotel
A former 16th-century palace, this building has been restored to include Roman mosaics, marble and tiled floors and avant-garde furniture from the Renaissance era. But its rooftop is a most modern affair, with a swimming pool, banana leaf plants, a patio and four-poster daybeds proffering close-up views of the Seville Cathedral. Tuck into tapas at Pura Vida Terraza, take a tipple at the Sherry Bar and watch one of Los Seises' live flamenco shows. Its room categories are originally named as Azahar, Olive, Sherry, La Cartuja and the Legend Terrace. The hotel is located in the Santa Cruz neighbourhood.
Radisson Collection Hotel, Magdalena Plaza Sevilla
Set in the centre of Seville, one of Europe's most captivating cities, is the sparkling new Radisson Collection Hotel, Magdalena Plaza Sevilla. This property, Spain's first Radisson Collection Hotel, is a place of distinctive contemporary elegance, and exquisite attention to detail, offering guests and city visitors outstanding signature dining, with its Eneko Basque restaurant, created by Michelin Star chef Eneko Atxa, as well as the Justa Rufina 'taste & sky' restaurant and rooftop bar.
CoolRooms Palacio de Villapanes Hotel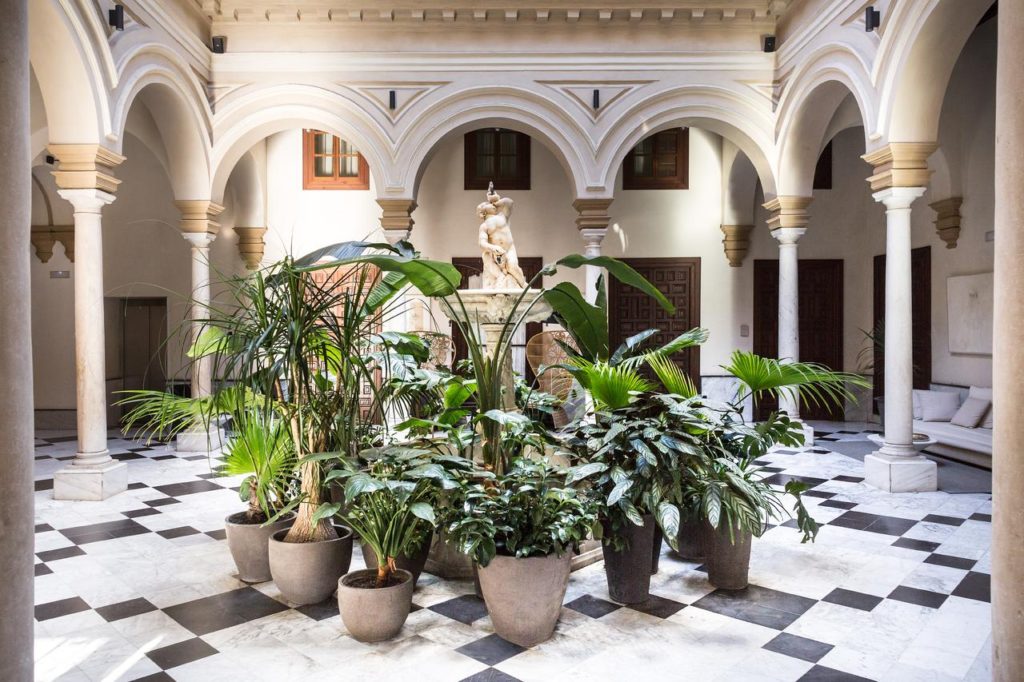 An exceptional, contemporary hotel within an eighteenth-century palace, with spectacular rooms and suites that benefit from high ceilings, wooden floors and an elegant, residential style of interior design. Amenities are in keeping with its well-deserved five-star rating. CoolRooms Palacio Villapanes Hotel has Junior suites have sitting areas, while suites have expansive living areas, richly decorated with art, and a curated choice of coffee table books, and even iMac computers. Guests can also choose rooms with balconies and views over the city. Clients can take advantage of the wellness facilities, including a steam bath and a gym, and then relax in one of three typically-Spanish courtyards. Or take a dip in the rooftop pool and enjoy the sight of the iconic Giralda tower.
Hotel Casa del Poeta
Said to be the birthplace of the poet Ximinez de Enciso, this boutique hotel in the Barrio de Santa Cruz is a short walk from the Gothic cathedral and the Alcázar palace. The seventeenth-century building has been carefully restored, and retains the typical architectural style of a central courtyard with a fountain. Guests can look forward to daily live guitar music, and can enjoy an art gallery and a roof terrace with views to the cathedral and its baroque bell tower, the Giralda. Rooms vary in size, with suites and duplex available, and there is also a luxury apartment.
Mercer Sevilla
Set in a nineteenth-century palace in the lively El Arenal district, this twelve-room hotel is four minutes along a narrow cobbled street from the Plaza Nueva metro station, and slightly further to the cathedral. Rooms have all amenities, with some boasting balconies, or terraces complete with orange trees. Other facilities include a rooftop bar next to a plunge pool, and an on-site restaurant and cocktail bar. A lounge area is overlooked by a traditional courtyard and fountain, featuring the original marble spiral staircase in one corner.
Casa Romana Hotel Boutique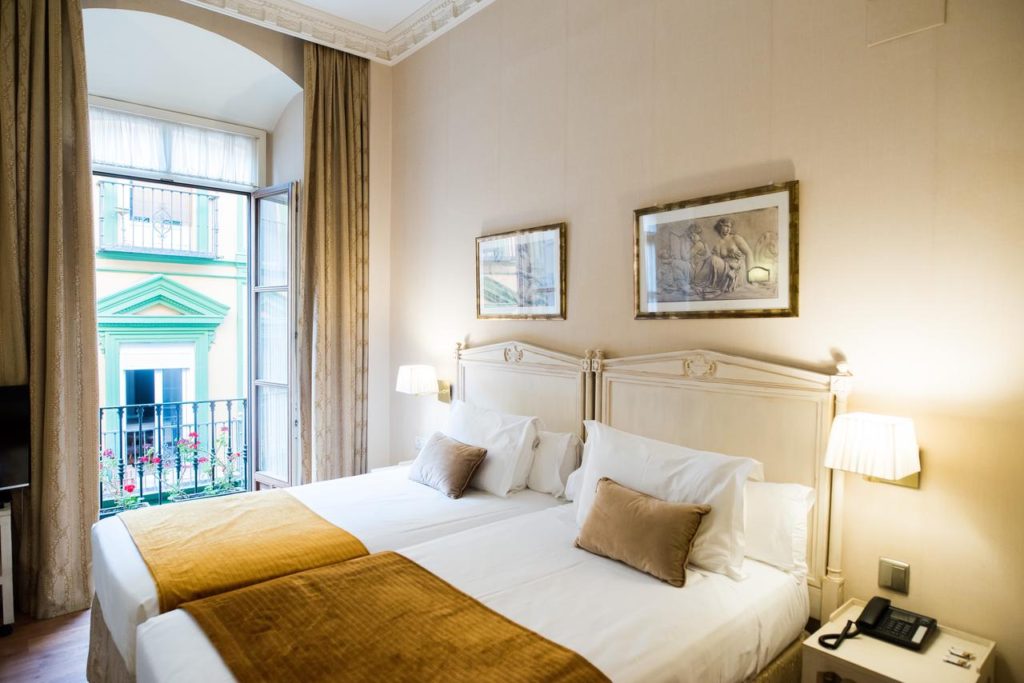 In the city where Roman Emperors Trajan and Hadrian were born, the eighteenth-century Casa Romana has been re-designed as a Roman-style dwelling on harmonious lines. Guests can choose from the extensive cocktail menu while enjoying the panorama from the roof terrace, where there is also a swimming pool. The light and airy soundproofed bedrooms offer every amenity, with de luxe options and suites available, and there is even an on-site DJ. Located in the old town, it takes around fifteen minutes to reach the burial place of Christopher Columbus in the cathedral, while the Museum of Fine Arts is a little nearer.
Hotel Casa 1800 Seville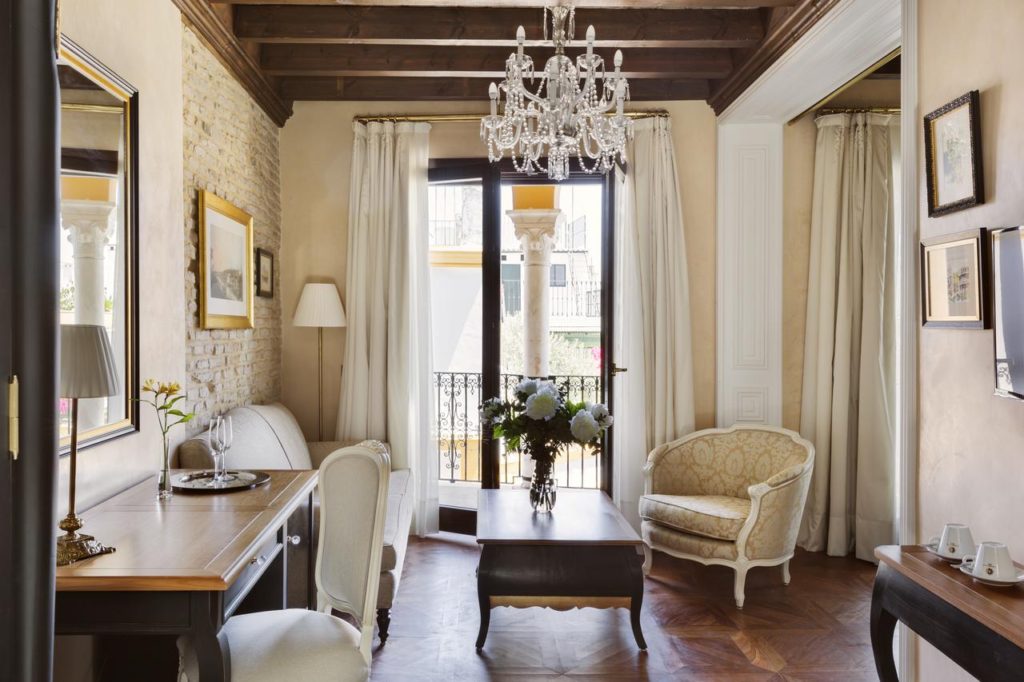 Superbly situated in the historic Jewish Quarter of Santa Cruz, with the Giralda as a backdrop, this family-friendly converted mansion is an ideal starting point for flamenco clubs, tapas bars and the main shopping drag. The Flamenco Dance Museum is a must-see before you take in a show at La Casa del Flamenco. The Casa 1800 Sevilla has individually-decorated rooms sport hand-carved furniture, marbled bathrooms, and all facilities, while suites have terraces and outdoor Jacuzzis. Chandeliers light up the elegant public areas and the central patio. The rooftop salt-water pool carries a reflection of the bell tower and boasts amazing vistas.
Aguilas5 SevillaSuites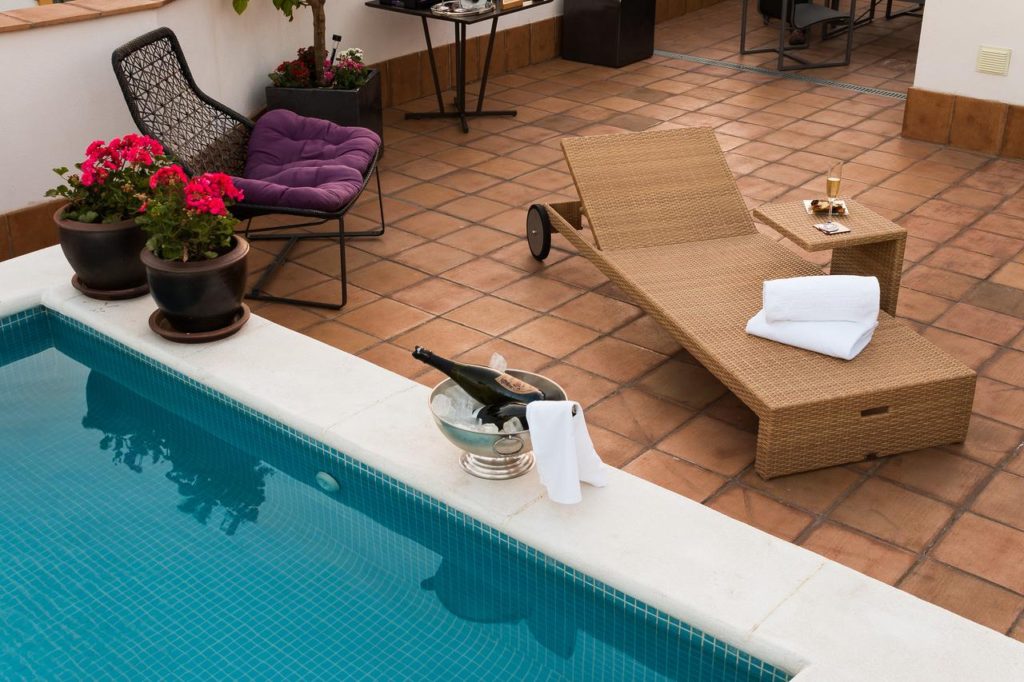 This upmarket apartment hotel sits conveniently on a street of bars, restaurants and shops, not far from the Alcázar, and two kilometres from the buzz of the Plaza de España. Each one-bedroom unit here offers two single beds that can be converted to a double, free WiFi, two smart TVs and a kitchenette, with a pull-out sofa bed in the living area. The child and pet-friendly complex is completed by a roof terrace with a pool and loungers. Limited parking and bike hire are available, and there is a laundry service.
Hotel Alfonso XIII, a Luxury Collection Hotel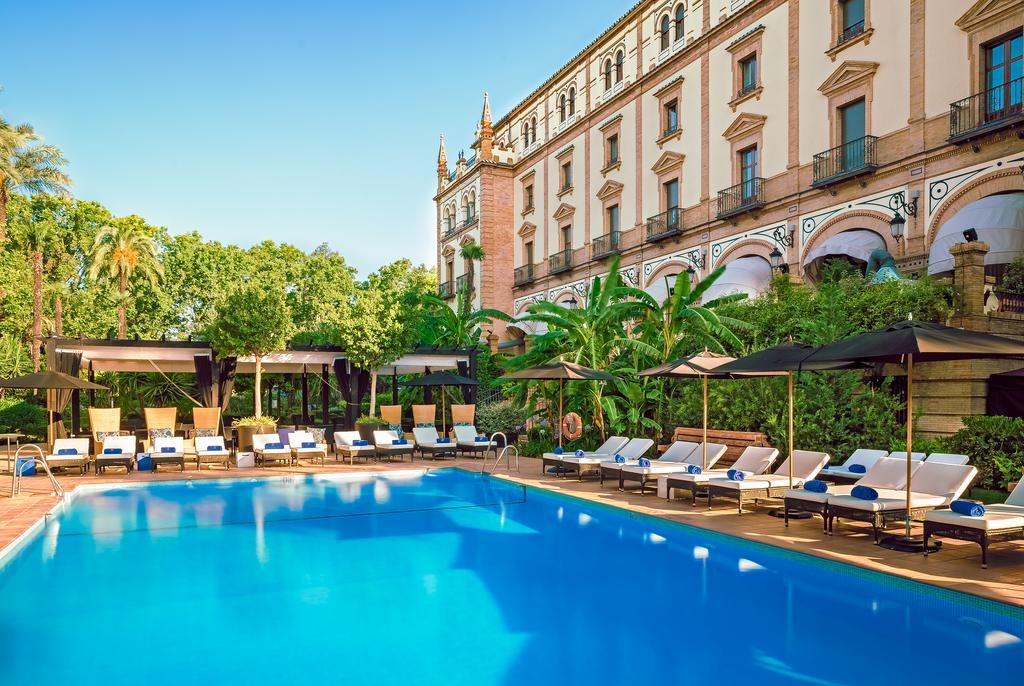 Alfonso XIII, great-grandfather of the present king, ruled until Spain declared itself a republic in 1931, and commissioned this centrally-situated hotel during 1929's Expo 29 in Seville. Modernity mixes with Moorish and Spanish tradition in its elegant interior and stunning facade, while dining outlets complement the meeting and function rooms. Sample authentic Andalusian cooking in the restaurant, or share tapas favourites in ENA by Carles Abellán. Meanwhile, as you might guess, the Bar Americano shakes (or stirs) a mean cocktail in an Art Deco setting.
Hotel Boutique Palacio Pinello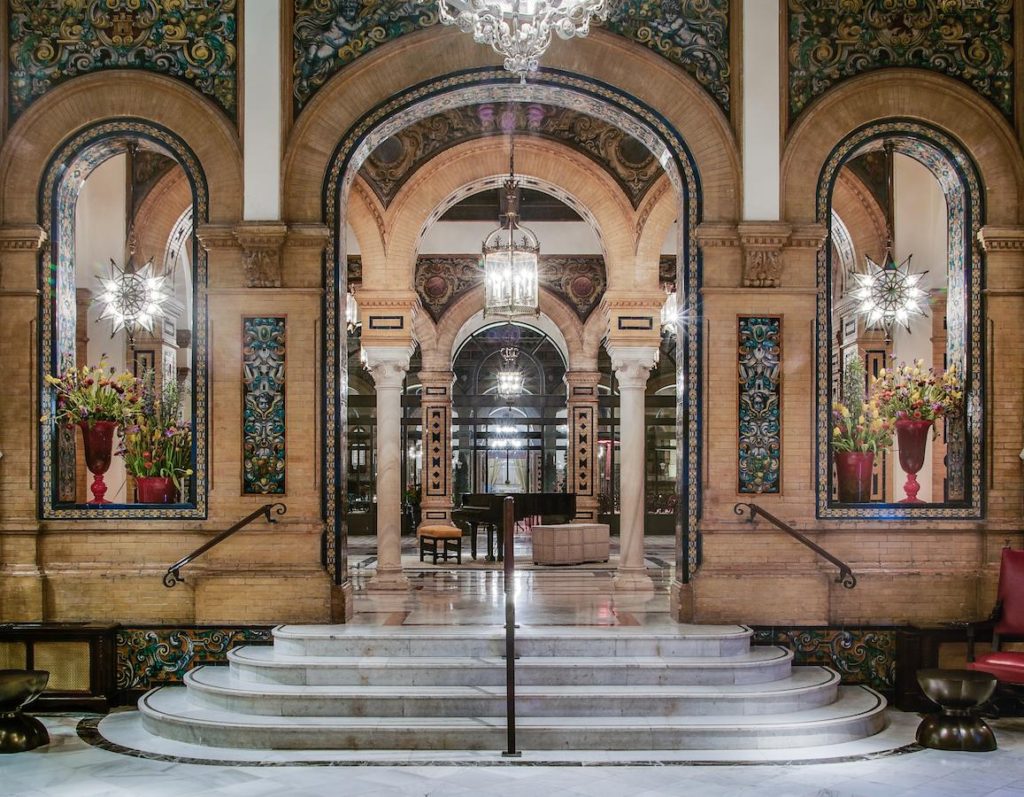 This is another converted palace with a view of the bell tower, but this one dates from the fifteenth century. Despite the recent renovation, the original features and style have been respected, with rooms grouped round the central indoor courtyard, while another patio has its own well. The attention to detail continues with the care and attention that staff give to their visitors, with even kettles being provided. Terracotta flooring cools the bedrooms, some of which contain carved wooden ceilings; spaces range from standard double to suites, and there is disabled access. A Basque restaurant features a charcoal grill, and in another nod to that region, there's also a Pintxos Bar.
Corral del Rey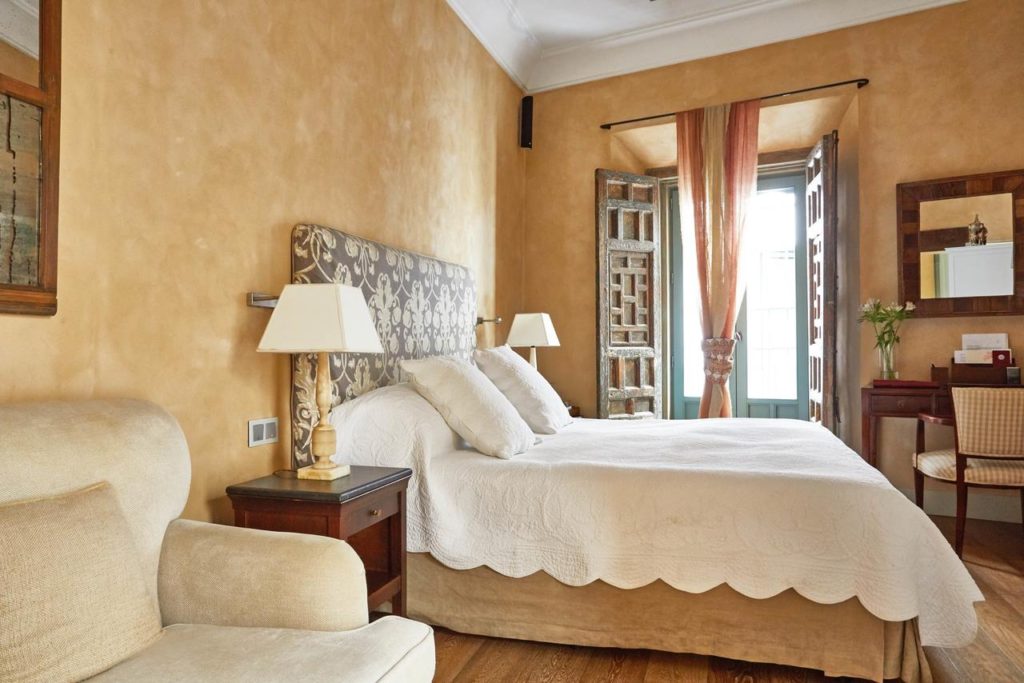 For a luxury city centre stay, in the heart of Seville's labyrinthine old town, then choose the family-owned Hotel Corral del Rey Seville, a historic property full of eclectic, creative style and upscale elegance. Corral del Rey is one of the most established boutique hotels in the city. Created by a family with a consistent track record in luxury hospitality, the property is within converted 'casa palacios'; striking noble houses once homes to the city's wealthy when Seville was at the epicentre of world trade with the Americas.
Hacienda San Rafael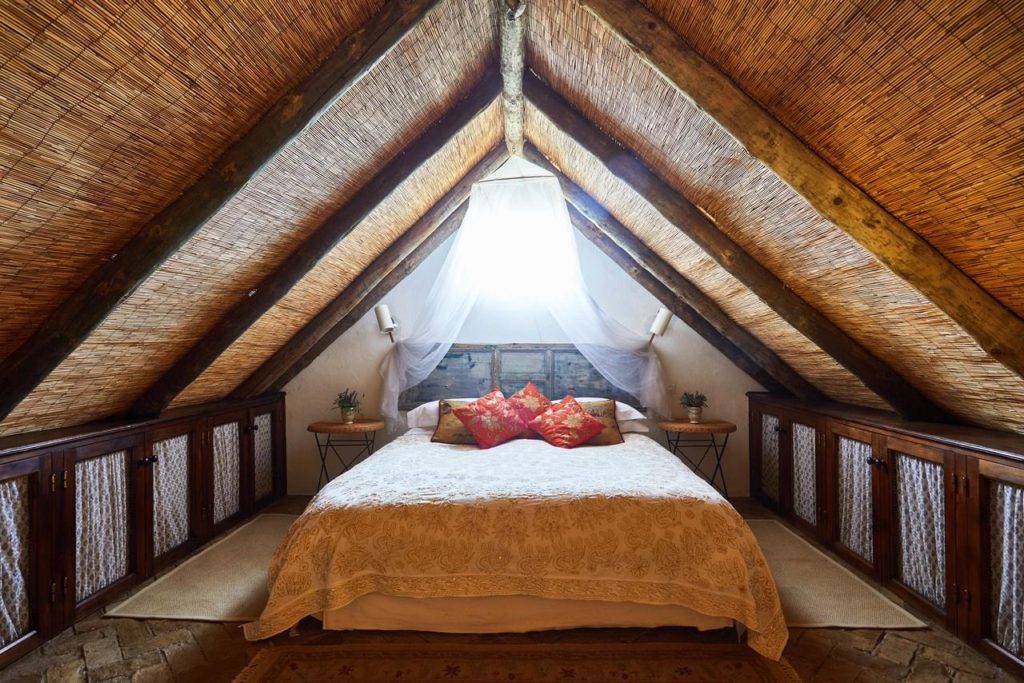 Hacienda de San Rafael is a classic Spanish hacienda surrounded by rural estate farmland, close to the romantic Andalusian capital of Seville. This palatial estate is a luxe Andalusian retreat. Guest rooms and duplex suites are found within the main manor house; whilst in the landscaped grounds are individual villa suites or 'casitas' with access to a dedicated pool. Facilities include a restaurant, bar; and sports like tennis and padel, as well as swimming pools, yoga and massage. Activities on offer embrace horse-riding, and cultural tours to nearby cities such as the sherry wine city of Jerez, and Seville, the capital of Andalucia.